11 Best Places to Live in Florida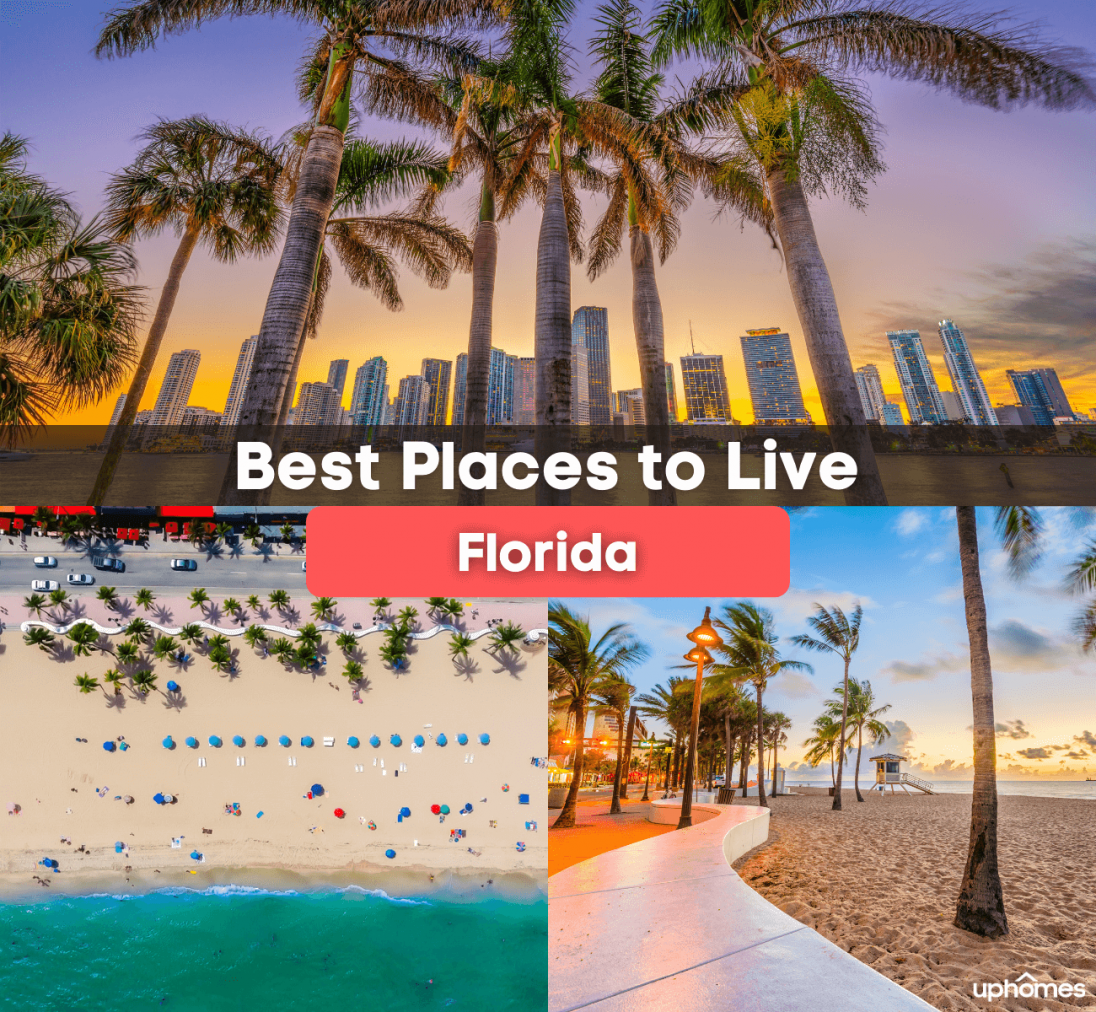 Best Places to Live in Florida
What are the Best Cities to Live in the state of Florida?
It's no wonder people are asking what the best places to live are in Florida when you consider that there are over 1,000 people who move to Florida every day. Florida is known for its warm weather, abundant golf courses, and pristine beaches, so moving to Florida is an appealing option for many. If you are moving to the Sunshine State, you will be happy to know that the eight cities that made this list are some of the most popular in the United States and just so happen to be located in Florida. This southeastern state is home to quiet coastal towns and metropolitan cities, lakes, canals surrounding areas, the Gulf of Mexico, and the Atlantic Ocean.
Factoring in safety and affordability, you and your family need to find the city best for you when deciding on a place to live in Florida. Our team has compiled this list of the Best Places to Live in Florida to give you plenty of options while making it easier to decide which area is perfect for you. Read on to learn more about each city and what it is like to live there.
Naples
Famous for high-end shopping and extravagant dining, this desirable southwest Florida city ranks at the top of our list for numerous reasons. Situated next to the Gulf of Mexico and near the Everglades, Naples has become a prime destination for retirees and seasonal residents. While the area is notorious for its sophisticated lifestyle and culture, Naples is an affordable destination for families. Only about a two-hour drive from the cities of Miami and Tampa, Naples is in the perfect location. You can check out homes for sale in Naples here.
Enjoy the white sand and gorgeous sunset views at Naples Beach, perfect for any beach lover. Sightsee off the Naples Pier or wine and dine at one of the many fine-dining establishments with ocean and beachfront views. Check out The Turtle Club Restaurant, where you can dine on fresh-caught seafood in the sand. If you love shopping, head to Fifth Avenue South or Third Street South in the Historic Naples Downtown District. Have your choice of art galleries and local boutiques. With an expansive selection of golf courses, a low crime rate, and a high-ranking school district, Naples continues to be named one of the best places to live in Florida.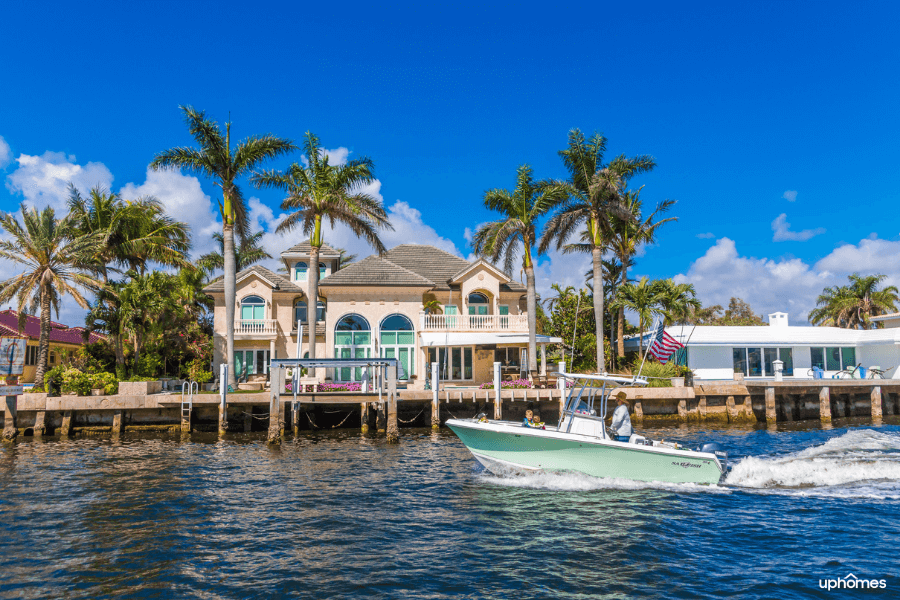 Sarasota
An hour's drive south of Tampa and two hours from Orlando, Sarasota is a thriving community on the Florida Gulf Coast. Home to both retirees and families expect warm weather all year long. The healthcare and tourism industries are prosperous, with a booming economy and job market. Prized for its great art and cultural scene, check out one of the many fine art galleries, the Ringling Museum of Art or the Sarasota Orchestra. Most notable for its breathtaking beaches, Sarasota is a great place to live, paradise, and beach vacation spot. You can view homes for sale in Sarasota here.
With miles of beaches adorned with fine white sand and shallow blue waters, Siesta Key, Lido Beach, and Crescent Beach are all located off the Sarasota coast. Named the top beach in America year after year, Siesta Key is a gorgeous Island getaway full of fun for the entire family. Meanwhile, If you have always wanted to see bioluminescent waters, Sarasota Bay hosts glowing plankton that tend to grow in the summer and fall. Join us on a night kayaking tour to experience this natural phenomenon up close and personal. Full of hiking and biking trails, there are more ways than one to enjoy the natural beauty of Sarasota.
Melbourne
Southeast of Orlando lies the beautiful city of Melbourne, Florida. Bordering the Atlantic Ocean, families, young professionals, and retirees alike love the area. Less than an hour's drive to Cape Canaveral, those living in Melbourne will have the best view of satellite and rocket launches on a clear day. Referred to as the Space Coast, living in Melbourne mixes art and science with natural beauty. This coastal community and the popular metropolitan area offer residents a relaxed and easy-going atmosphere. Find the hottest homes for sale in Melbourne here.
With a current population of 576,808 people, the city continues to grow. Thanks to no state income tax, home prices in Melbourne are lower than the national average. Not only will you find a good deal on housing, but expect prized amenities and attractions everyone will enjoy. If you love hiking, head to the Viera Wetlands, which is also a perfect place for birdwatching. On the other hand, not only is Melbourne Beach a fantastic place to enjoy ocean views, but you can volunteer to help save and protect Loggerhead and Green Sea Turtles at the Archie Carr National Wildlife Refuge.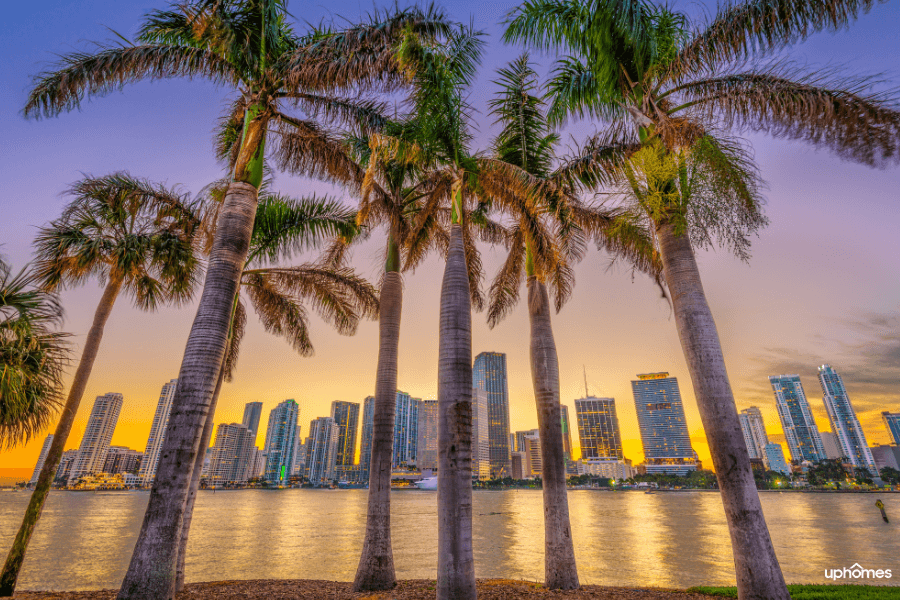 Miami
It wouldn't be the best place to live in Florida's list without the city of Miami making an appearance. Miami is also known as 'Little Cuba' or the 'Magic City'; you can tell from the image above that it lives up to its nickname. Miami is unique, and no other city is quite like it. There's a reason Miami has the second-highest population of any city in Florida after Jacksonville, and that is in large part thanks to the economic opportunity and the overall attraction Miami offers. Check out homes for sale in Miami.
Living in Miami has many pros and cons, and before you decide to move to Miami, you'll want to know what to expect. With all the pros that come with living in South Beach, from the award-winning restaurants to the unparalleled nightlife, come some of the cons you will find in most major cities across the country, from a higher crime rating to a higher cost of living. Unlike anywhere else, Miami is a city in Florida, and you have to experience it to understand if it is the right city for you.
Fort Lauderdale
Miami and Fort Lauderdale are different cities and places to live. They are, however, close to one another. It likely depends on what you're looking for when choosing the best place to live in Florida because you have several options that offer different experiences for each individual. Fort Lauderdale is 30 miles from Miami and about a 45-minute drive. Fort Lauderdale is a quieter and safer place to live than many of the other major metros in Florida, and it's somewhere the whole family can enjoy. Find properties for sale in Fort Lauderdale, from homes to condos/townhomes to new construction.
People who live in Fort Lauderdale will be quick to tell you all the reasons Fort Lauderdale trumps Miami, and those who live in Miami will be the first to tell you why the Fort Lauderdale area doesn't measure up to South Beach. Both areas are different, and like Miami, the only way to figure out if one or the other is for you is by visiting and experiencing them both firsthand.
Jacksonville
Jacksonville is the largest and most populated city in Florida — it's also the largest and most populated in the southeastern United States, with over 900,000 people. Jacksonville is located in northern Florida, close to the Georgia line. The city is named after Andrew Jackson, the seventh President of the United States. Find homes for sale in Jacksonville.
Jacksonville has restaurants, parks, and things to do for the whole family. It's a big reason so many people are moving to Jacksonville and Florida. With so many professional sports teams in Florida, it's surprising that Jacksonville only has one, the Jacksonville Jaguars. The two other NFL teams are in Miami and Tampa Bay, while the NBA, MLB, and NHL teams are outside Jacksonville. The lower cost of living, the nicer weather, and the great economic opportunity make Jacksonville one of the best places to live in Florida.
Tampa
As one of the safest places to live in Florida, this central business center is known for its museums, rich culture, and exciting attractions. Sports are a big part of life in Tampa, home to the Tampa Bay Lightning National Hockey League Team, the Tampa Bay Rays Major League Baseball Team, and the Tampa Bay Buccaneers National Football League Team. Tampa is the best of both worlds, providing residents with a large metro feel alongside a laid-back beach lifestyle. The Tampa Bay Metro Area comprises Tampa, St. Petersburg, and Clearwater, Florida. This diverse area has become a popular vacation spot and hip place. With high temperatures year-round, residents are no strangers to humidity or heavy rainfall. View homes for sale in Tampa.
Not only does Tampa offer an array of dining options, but it is also a prime nightlife destination. The Tampa Riverwalk in the residential district is a great way to immerse yourself in all Tampa offers. Stroll on this 2.4-mile riverwalk with museums, restaurants, shops, and parks. Check out Busch Gardens, The Florida Aquarium, and Zoo Tampa at Lowry Park. With an affordable cost of living and so much to do, it is no wonder everyone wants to move to Tampa. In our opinion - Tampa is one of the best places to live in Florida.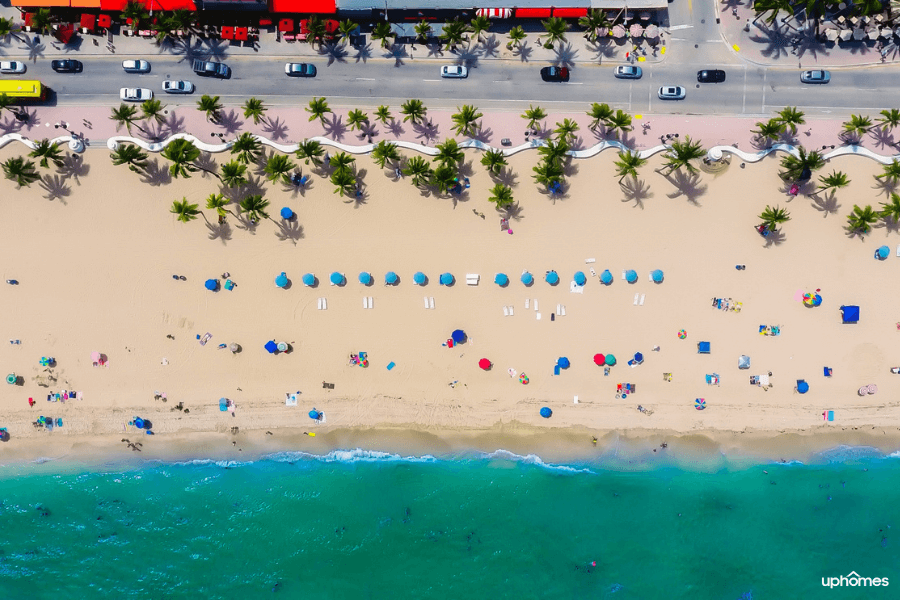 Pensacola
Found in the Florida Panhandle, the city of Pensacola offers a dense suburban feel to its residents. Not only is Pensacola one of the best places to live in Florida, but this growing community is the perfect weekend getaway or long vacation destination. This small beach town has a population of about 53,876 residents and is known for its clear emerald waters and quartz white sand beaches. With an interesting past, Native Americans were the first to inhabit the area before the arrival of the Spanish in the 16th century. Considered the "City of Five Flags," Pensacola has been claimed by the Spanish, French, British, Confederate, and American governments throughout its history. View real estate listings in Pensacola.
Today, Pensacola is a great place to live, with a thriving downtown area full of culture, local boutiques, art galleries, and beloved restaurants. Home to the National Naval Aviation Museum and the Blue Angels Naval Aerobatics Team, this city is where all naval pilots train. Residents admire all things aviation and fishing in the deep Gulf waters of Pensacola, which is a pastime. Catch some grouper, snapper, or mahi-mahi while enjoying an air show in the sky. Drawn to the area for its many employment opportunities, residents can find healthcare, manufacturing, and tourism jobs.
Orlando
Orlando is a top business, living, entertainment, and recreation spot. Due to its world-renowned theme parks, Orlando has become a top tourist destination and one of the most popular vacation spots in the United States. Orlando is a large central Florida metropolitan city with over a dozen theme parks. Walt Disney World and Universal Orlando are among the driving forces of popularity in the city. Walt Disney World itself makes up 25,000 acres of the Orlando area. While the tourist area of Orlando is what outsiders know when they think of the city, Downtown Orlando and residential Orlando offer residents a different feel. Check out the homes for sale in Orlando.
While Florida is known for being the state of retirement, Orlando residents are primarily young and of working age. Downtown Orlando is the hotspot for nightlife, world-class cuisine, and a place to catch a concert, sporting event, or performance. With a growing bar and craft beer scene, check out ICEBAR Orlando to enjoy a drink in a below-freezing room at a bar carved completely out of ice. Play golf, admire art at the Orlando Museum of Art, or try out water sports such as waterskiing or jet skiing at nearby beaches. When exploring residential Orlando, this beautiful part of the city features lakefront bungalows and even planned communities.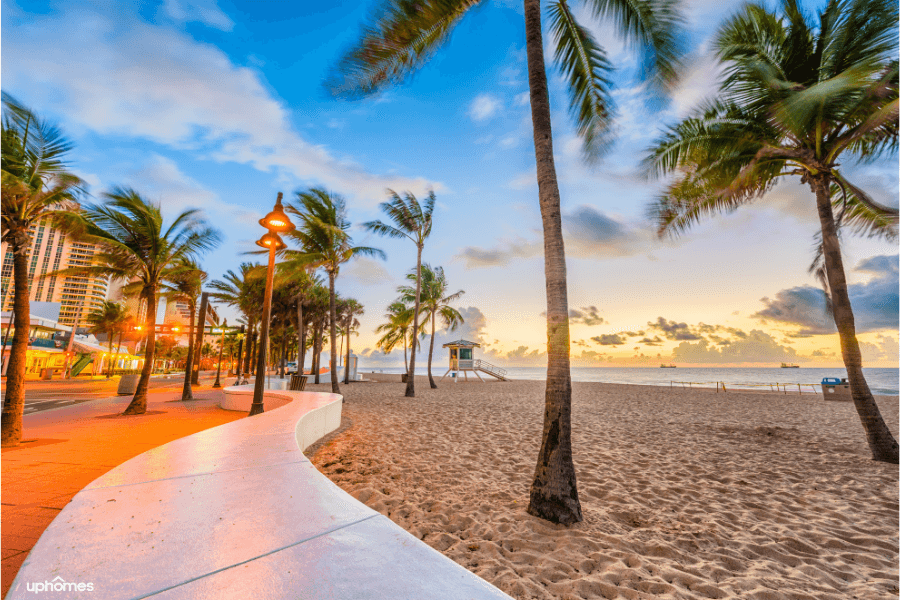 Fort Myers
Ranked as the second-best place to retire in America, Fort Myers has an older demographic, with the median age of residents being 40.9. But with famous beaches, prime fishing, and luxurious shopping, young professionals and business leaders are packing up and heading to Fort Myers, Florida. The lightbulb inventor Thomas Edison and industrialist Henry Ford loved Fort Myers so much that they bought themselves a vacation home. You can visit the Edison Ford Winter Estates today, which were Thomas Edison's and Henry Ford's homes. Find homes for sale in Fort Myers.
Fort Myers is a retiree's dream come true, home to various gated communities, yacht clubs, fine dining, and beautiful golf courses. If you want to spend the day in the sand, Fort Myers Beach is a fabulous seven-mile beach facing the Gulf of Mexico that has become a popular spring break destination. After a long day under the sun, head to Love Boat for some homemade ice cream. If crowded beaches are not your thing, then Sanibel Island may be more of your style. Sanibel Island and Captiva Island were ranked as one of the "Top Ten Best Florida Beach Towns," according to USA Today. Great for shelling and spotting wildlife, Sanibel Island is only a short drive from Fort Myers and is notable for its sunsets.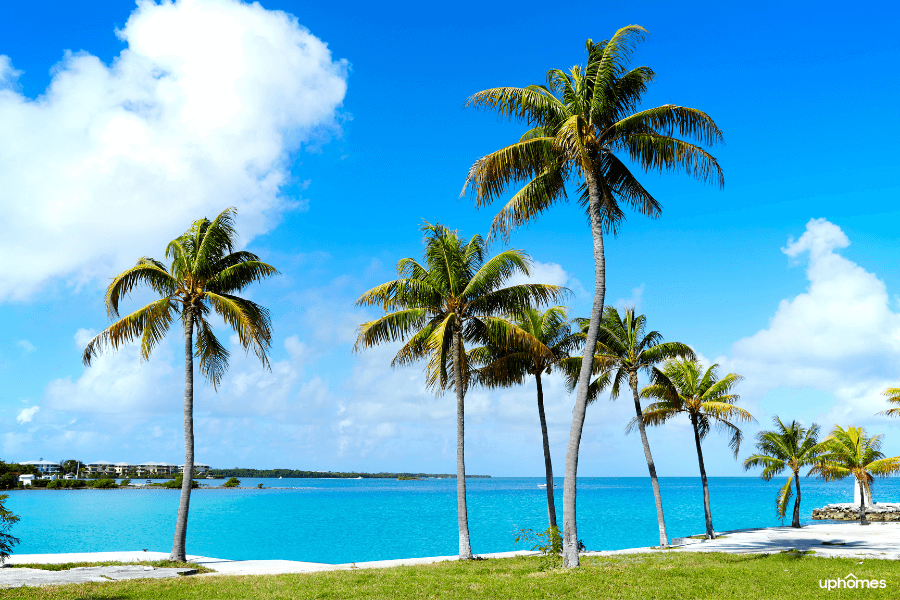 Cape Coral
Found in southwest Florida, Cape Coral is a lively community with over 400 miles of canals that lead to the Gulf of Mexico and are perfect for fishing and boating. Not only do residents love Cape Coral, but manatees love it too. When out boating or kayaking, do not be surprised if you catch sight of a manatee. Located around the Fort Myers area, Cape Coral is known as the largest city between Tampa and Miami. Considered the eighth-largest city in Florida based on population, Cape Coral has seen a growing number of younger residents over the past few years. View the newest homes for sale in Cape Coral.
With an expanding school system, the Lee County Public School District is highly ranked. Florida Gulf Coast University, Southwest Florida College, and Cape Coral Technical College are nearby sought-after institutions. While Cape Coral may not have its own beach, Fort Myers Beach and Sanibel Island are within 15 miles. Known as one of the cheapest places to live in Florida, Cape Coral provides residents with an abundance of amenities at an affordable price. Living in Cape Coral is also safe since crime levels are low, making this one of the best places to live in Florida.
The Bottom Line on Best Places in Florida:
If you are moving to the Sunshine State, you must consider all your options, and there are many great ones to consider. Keeping affordability and safety in mind, this list provides you with the best and safest places to live in Florida. From the high-end shopping in Naples to the business district in Tampa, choosing to live in one of these popular locations could be one of the best decisions you could make. Reach out to one of our Realty Specialists today so we can help answer more specific questions on each area in Florida.
Check Out These Fun Facts About Florida:
Florida has the longest coastline in the United States, with over 825 miles of beaches to access.

Florida has the most golf courses out of all the other states in the country.

Florida is the flattest state.

80% of America's citrus fruits are grown in Florida.

No dinosaur fossils have been found in Florida since it was once underwater millions of years ago.

The official state reptile is the alligator.

Florida became a state on March 3rd, 1845.

Tallahassee is the capital of Florida.

Florida has more than 9,200 hiking and biking trails to enjoy.

Florida is the boating and fishing capital of the world.
#blog-moving-florida-cta#

Find your new home
Search real estate and homes for sale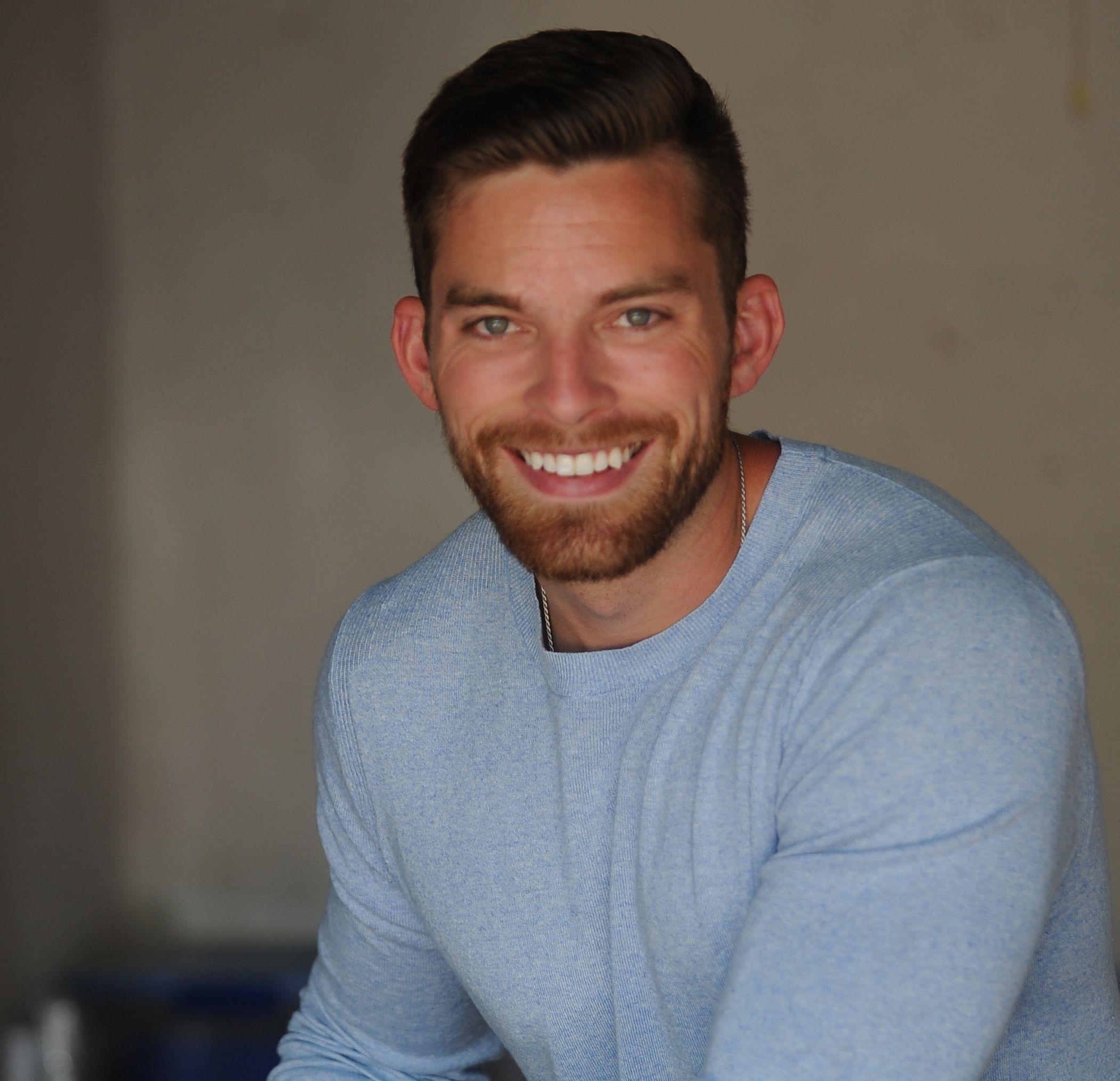 Ryan Fitzgerald
Hi there! My name is Ryan Fitzgerald, and I am a REALTOR®. My goal is to help you learn more about real estate through our Real Estate Blog! Hopefully, you enjoyed the above blog post and it found a way to provide help or value to you. When you're ready to buy or sell a home of your own let us know here. Please feel free to join the conversation by dropping us a comment below.