9 Things to Know BEFORE Moving to Orlando, FL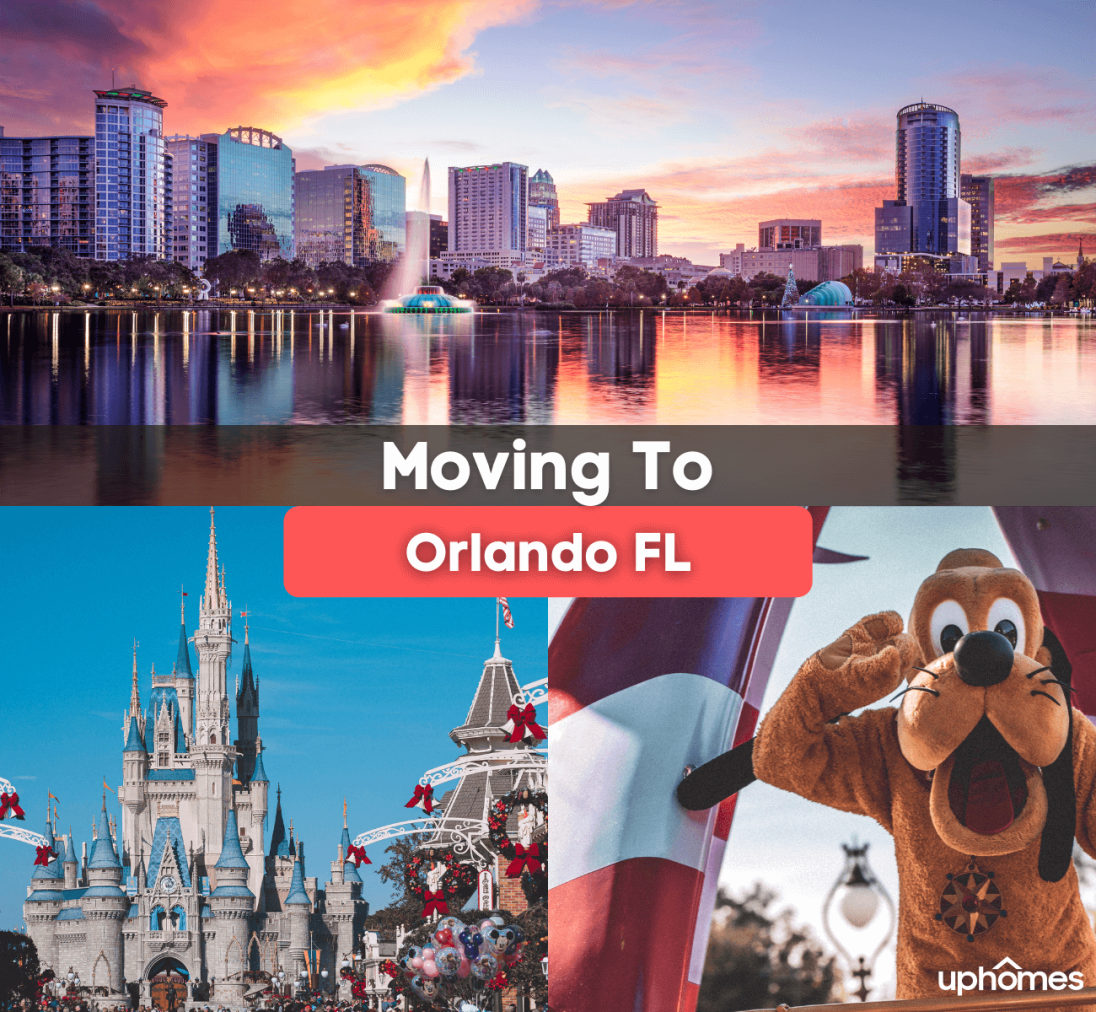 Living in Orlando, FL
Did you know 138 people are moving to Orlando, FL every day? Here are 9 things to know about life in Orlando!
Home to dozens of theme parks and world-renowned attractions, Orlando, Florida is the 23rd largest metropolitan area in the United States. With over two million current residents living in the Orlando area, the city is continually growing fast and has some great neighborhoods to live. In fact, roughly 138 people move to Orlando every single day. Considered the most visited tourist destination in the country, the city sees more than 70 million visitors each year. While the economy may be driven by tourism and the desire for making long-lasting memories, Orlando is more than just a great place to visit.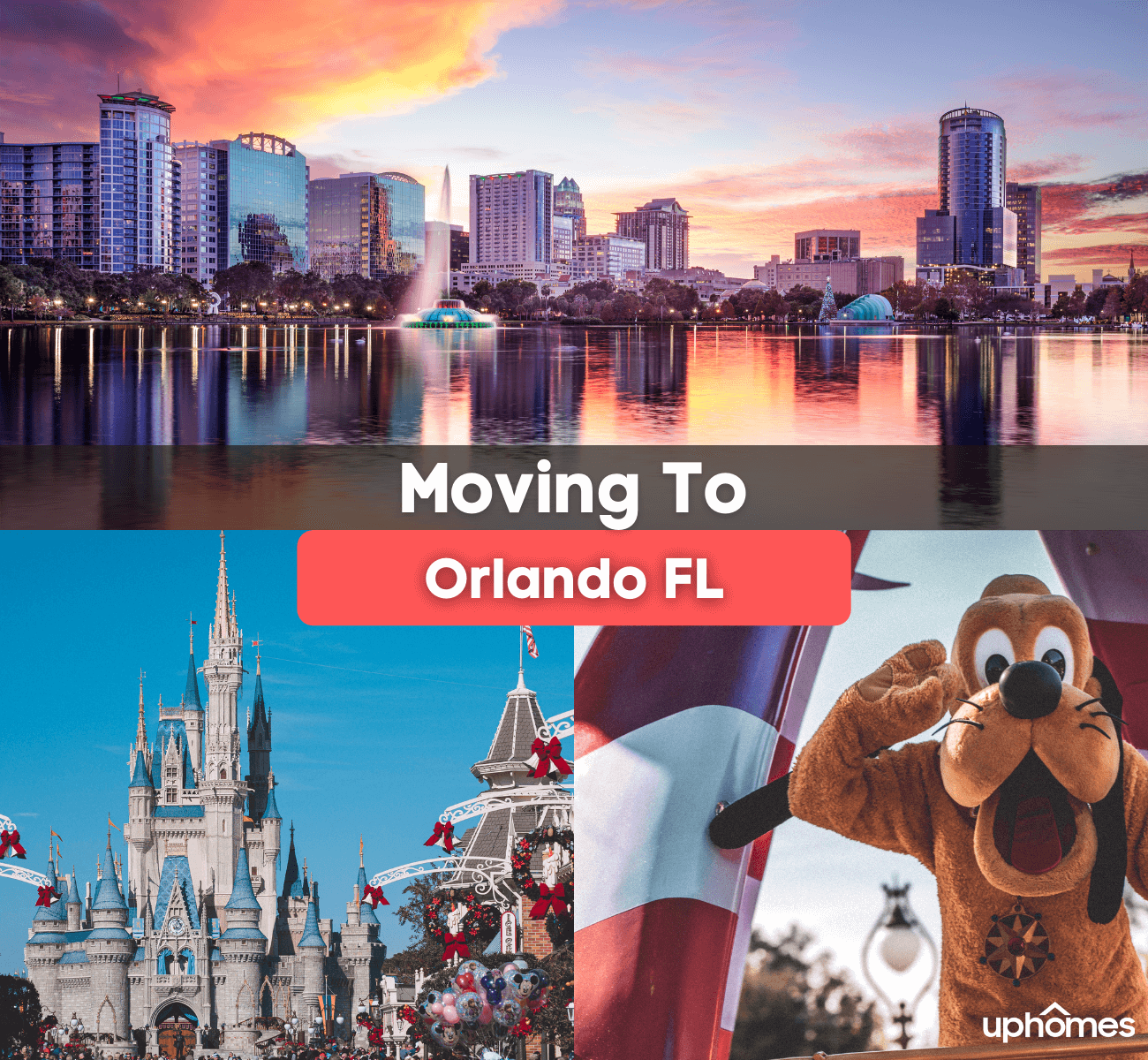 Nicknamed "The City Beautiful," Orlando is located in Orange County and is one of the best places to live in Florida. Providing its residents with a nice mixture of urban and suburban living, Orlando has a variety of restaurants, parks, and things to do. If you are wondering if you should move to Orlando, Florida, then you have come to the right place. With the help of this moving guide, get to know the pros and cons of the area before making a moving decision. By staying well informed, find out why thousands of people are calling Orlando their new home. Read on to learn more about the 9 Things to Know BEFORE Moving to Orlando, Florida! 
The cost of living.
With a cost of living 2% lower than the national average and 3% lower than the Florida average, living in Orlando can be affordable. If you are thinking about moving to Orlando then it is important to be able to live comfortably. A typical worker in the city makes an average of $85,000 a year which is a good and liveable salary. Compared to other cities in the state such as Miami, the lower cost of living in Orlando attracts many residents. 
Another reason to move to Orlando is the no state income tax that Florida provides to its residents. Yes, you read that right. Say goodbye to income tax, inheritance tax, and estate tax. No matter where you may be relocating from, moving to Orlando can help you and your family save money. Since less money is coming out of your paycheck each month, be able to spend and save this extra cash in other ways. Not only that, but property taxes are below the national average at .97%. With the housing market trending up 1.9% over the past year, now is the time to buy a home.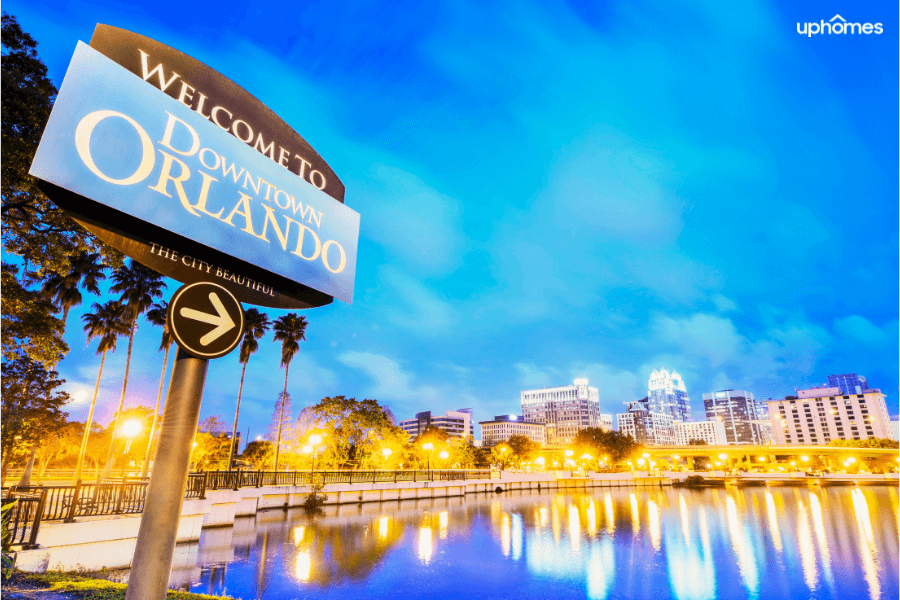 Prepare for the weather. 
Living in Orlando means that you will have to embrace the humid subtropical climate of central Florida. Known for its mild winters and very hot and sunny summers, residents will have a love-hate relationship with mother nature. Ranking as the 10th hottest for summer weather, it may take up to three weeks to officially adjust to the Orlando heat. In the summer expect average daily temperatures to reach up to 90 degrees. Meanwhile, in the winter Orlando can get surprisingly cold and dry. The coldest month is January with an average high temperature of 70 degrees and a low of 50 degrees. So if you are relocating to the area, make sure to pack some warm clothes. 
While the seasons tend to blend together, there is an annual rainy period to prepare for that will require the use of a rain jacket and umbrella. In the months of June through September, afternoon rain showers and thunderstorms are a part of day-to-day life. With temperatures at or above 90 degrees, the humidity is sure to pack a punch. With an average of 105 days out of the year experiencing 90-degree weather in Orlando, this rain might be a nice reprieve from the scorching heat.
Live next to a theme park.
Did you know that the Walt Disney World resort area is so big that it can fit the entire city of San Francisco? Most notable for being the hot spot of theme parks, moving to Orlando means having direct access to some of the most popular attractions and tourist destinations in the world. Walt Disney World, Universal Orlando, Seaworld, Discovery Cove, and LEGOland are all located in Orlando, Florida. While living near these mega theme parks might seem hectic and not worth the hassle, residents will get a leg up when it comes to purchasing tickets. Since these theme parks want to fill the parks when there are fewer tourists, most parks offer insane discounts to residents. If you want to take advantage of the resident discounts, make sure to check with the theme park websites to purchase tickets and to start planning your day trip. Who wouldn't want to have Mickey in their backyard?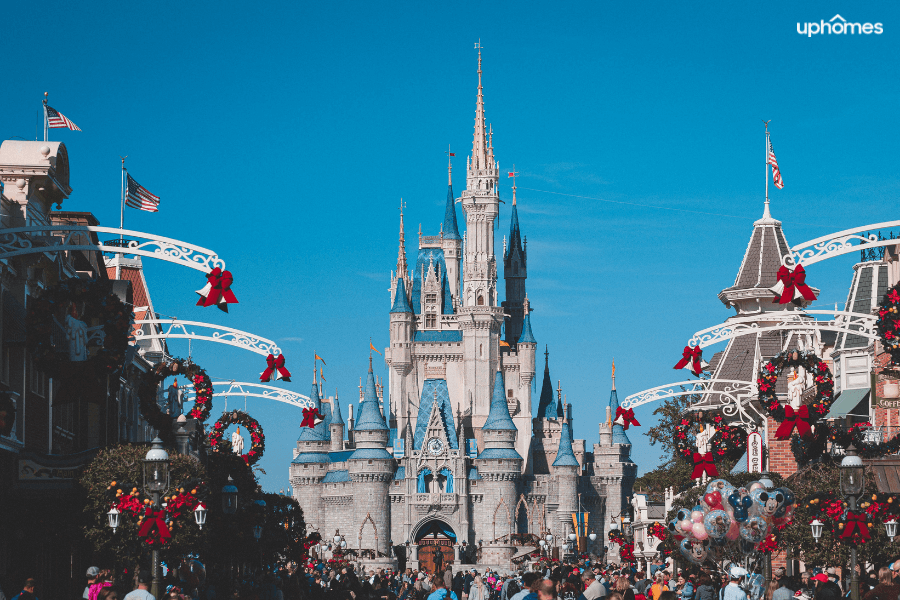 There is always something to do.
If theme parks are not your thing, there is still something in Orlando for you. Whether you are a young professional or are relocating with family, there is always an event to attend or something to do that will make your impending move to Orlando more exciting. Without having to travel too far, experience all that Orlando has to offer outside of a theme park.
Check out some of these fun events and destinations:
Orlando Film Festival: Dedicated to independent filmmakers to showcase their work, the Orlando Film Festival is celebrating its 11th year and brings in over 1,000 entries from filmmakers worldwide. 
The Orlando Science Center: Learn all about science and technology in this state-of-the-art museum through hands-on learning and discovery. 
The Orlando Museum of Art: Founded in 1924, admire exhibits and beautiful works of art. Check the website to enjoy free admission on select days.
5. Orlando is the perfect place to find a job
Ranking among the best cities for job seekers in 2021, if you are relocating to Orlando and in need of a job then you are in luck. While the service industry may be the biggest industry hiring, there is no shortage of employment opportunities. On the downside, many available jobs are low-wage unless it is a management position. Unfortunately, the workers in Orlando are known to make 22% less than the national average since most jobs are hospitality-related. But if you have always dreamed of working at Walt Disney World, Universal Studios, or one of the many Orlando hotels, then this is the place for you. 
If you are determined to find a job paying higher than minimum wage and are not moving with a current employer, there are some other options and industries to explore ranging from technology to construction. If you are interested in the healthcare industry, Orlando Health and AdventHealth Orlando are fantastic hospitals to work for near Downtown Orlando and Lake Nona. Home to multiple Fortune 500 companies, Orlando has been ranked at number seven in the United States in terms of job growth. With over 88% of companies in Orlando with current job opportunities, there is a job for everyone in the city. 
Check out some of these other large companies headquartered in the Orlando area: 
NBC Universal
Amazon
AAA
Siemens
JetBlue
The Golf Channel
Orange County Public Schools
Merlin Entertainment Group
Oracle Corporation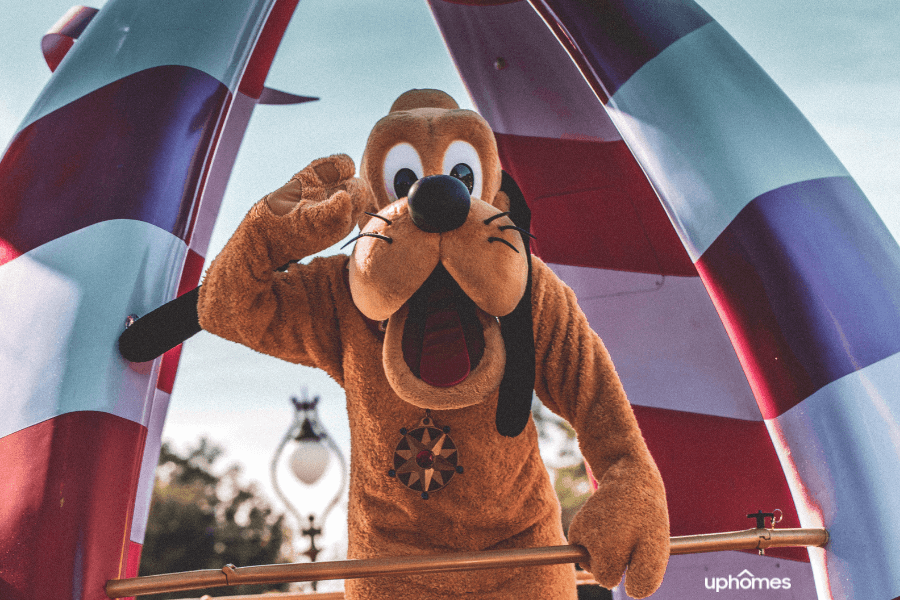 The amazing opportunities.
The Orlando area is praised for its highly rated school systems. Home to multiple top-notch school districts, your school-aged children will be provided with some of the best education in the country. One of the finest public school districts in Orlando is the Seminole County Public School System which teaches over 66,000 students and currently holds a 14 to 1 student to teacher ratio. With over 60% of students proficient in reading and math, your children will excel both inside and outside of the classroom.
The Orange County Public School System is another school system in the area that teaches over 200,000 students. With 202 public schools in the district alone, have your choice of elementary, middle, and high school. Before finding a home, it might be a good idea to research schools beforehand and choose a neighborhood that directly feeds into the schools that you would want your kids to attend. Keep in mind that there are many private school options in the area to also consider.
For those interested in higher education opportunities, the University of Central Florida is located in Orlando which happens to be the second-largest university in the United States. This public research university has almost 72,000 students and offers up to 230 different degree programs. On the other hand, if you are searching for a state university at half of the cost then consider attending Valencia College. Offering over 120 programs to its students, earn a two or four-year degree. Valencia College is now also offering a dual enrollment program to high school students that will allow them to take college courses and earn college credit. Through this program students enrolled can earn both a high school diploma and a college degree at the same time.
One of the benefits of moving to Orlando is having access to some of the best higher education institutions in the country. Since there are 40 public colleges and universities in the state of Florida, use your in-state tuition status to your advantage. Whether you are seeking a K-12 or college education, visit the Florida Department of Education website for more information regarding school districts or scholarships.
It is a sports fan haven.
Orlando loves all things sports. Whether it be a college or professional team, residents will cheer them on with pride. If you love basketball, baseball, football, soccer, hockey, or any other sport that you can think of, Orlando will support it. The Orlando Magic professional basketball team is based in Orlando and is part of the Eastern Conference Southeast Divison in the NBA. Playing at the Amway Stadium downtown, make sure to bring the family and catch a game. The Orlando Solar Bears ice hockey team which is an affiliate of the Tampa Bay Lighting also plays at the Amway Stadium. For soccer fans, the Orlando City Soccer Club competes in the Eastern Conference in Major League Soccer and plays at the Exploria Stadium. With the abundance of sports teams playing in and around the area, there is never a shortage of games to watch.
Public transportation is a must. 
Since so many tourists are visiting the local theme parks, traffic is a daily occurrence. This frequent highway congestion on Interstate 4 can add unwanted stress to your daily work commute. Fortunately, Interstate 4 is undergoing a 21-mile highway makeover that should be completed by the end of 2021. This highway construction is aiming to improve commute time and cut overall traffic congestion in the city of Orlando.
In the meantime, it might be a good idea to consider utilizing the public transportation options that are available to Orlando residents. The LYNX bus system is a popular mode of transportation that has routes all over the city. Or, hop aboard the SunRail which is a diesel and electric commuter train. Instead of sitting in standstill traffic, save yourself time and stress by taking public transportation. Make sure to also factor in commuting time when buying a home.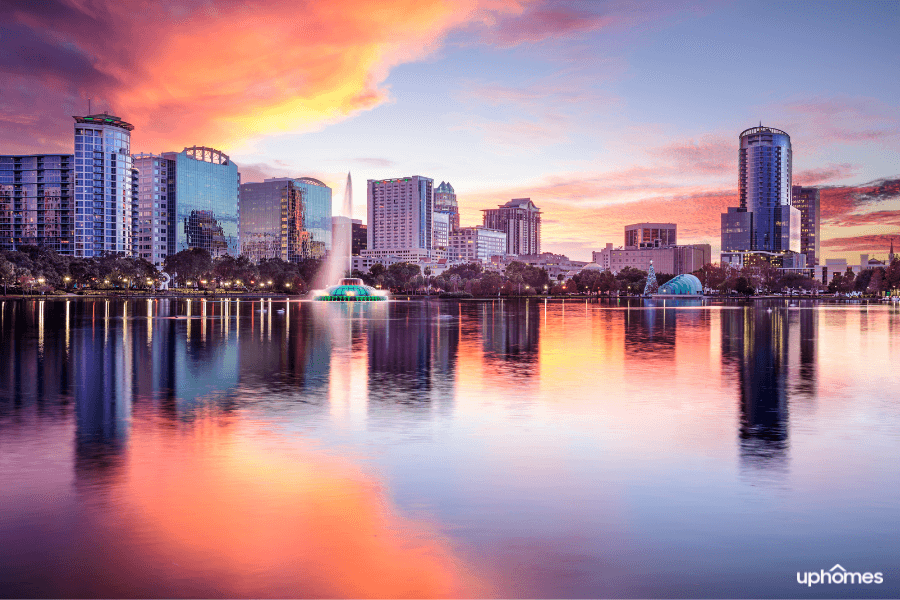 The diverse dining options. 
Becoming one of the hottest spots for new restaurant openings, Orlando is quickly becoming a foodie destination. Experiencing tremendous growth over the past few years, the dining scene in Orlando is transitioning into a new era. What was once only the land of chain restaurants has now transformed into a city of international cuisine and vibrant flavors. From fine dining establishments to contemporary chic eateries, dining out in Orlando is a tasty experience. Plus, with Disney Springs in Walt Disney World bringing in top chef-branded restaurants, you will want to eat out every day.
Check out these Orlando favorite restaurants:
The best restaurants to try in Orlando:
The Polite Pig: Located in Disney Springs, this eatery is serving up some of the best southern cuisines in Orlando. Enjoy pulled pork, fennel-apple slaw, and grilled street corn paired with the companies Swine Family Beers, cocktails, ciders, and bourbon.
Frontera Cocina: Also found in Disney Springs, chef Rick Bayless is bringing flavors dedicated to the Yucatan Penninsula to life. Try chipotle chicken enchiladas or spicy grilled bass alongside a classic margarita.
Artisan's Table: Serving burgers, freshly brewed coffee, and other modern American favorites in a light and airy space in the Church District of Downtown Orlando.
Moving to Orlando, FL - The Bottom Line 
Famous for its beautiful scenery, tourist attractions, and warm climate, it is no surprise why Orlando is gaining thousands of new residents every year. Ranked as the third fastest-growing market in the United States, now is the perfect time to move here. If you are thinking about moving to Orlando, you will quickly find out why it is such an incredible place to live. With the help of our team of knowledgeable real estate specialists in Orlando! Find a home that meets your needs while keeping safety in mind - Contact us today!
#blog-moving-florida-cta#

Find your new home
Search real estate and homes for sale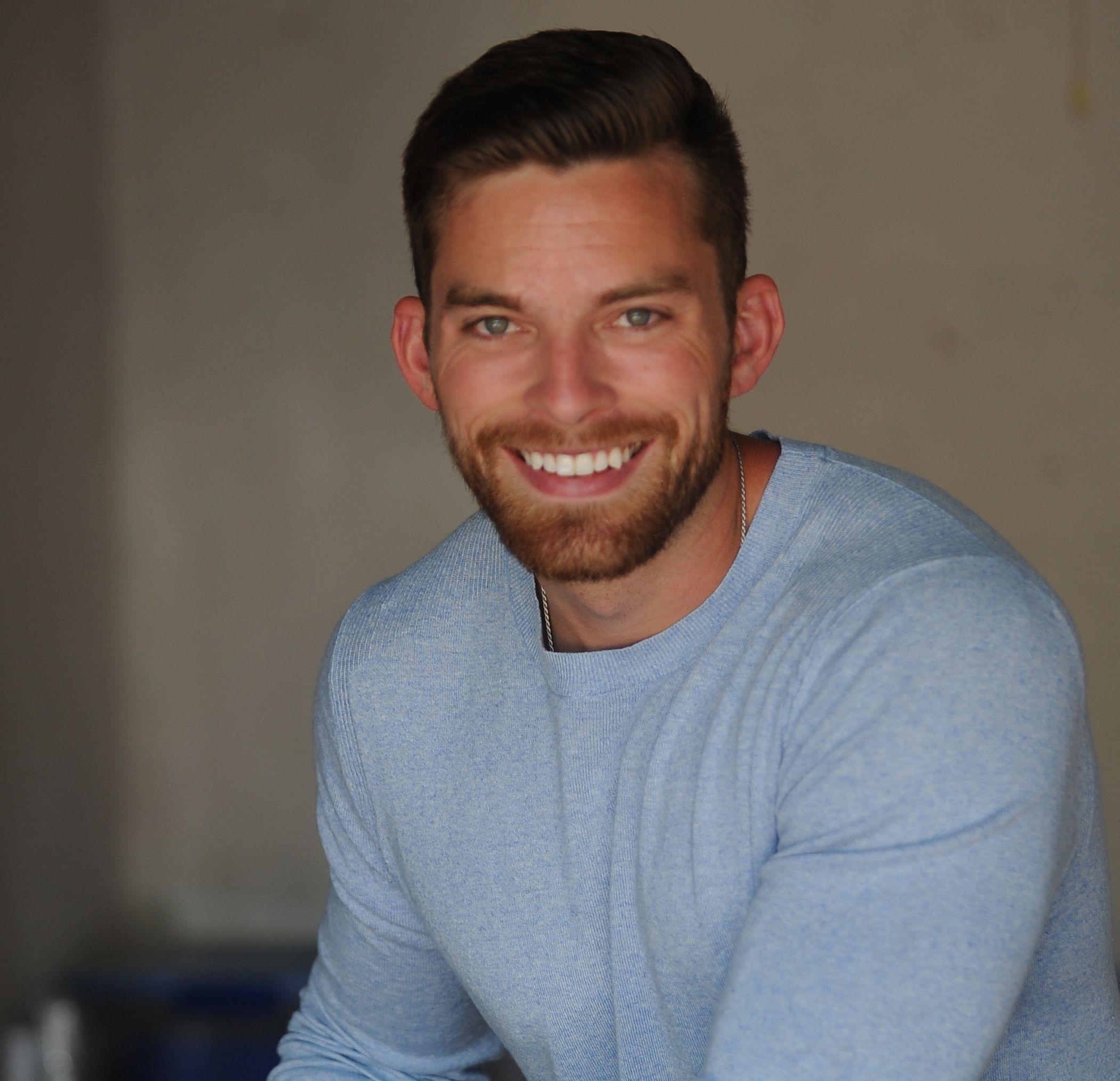 Ryan Fitzgerald
Hi there! My name is Ryan Fitzgerald, and I am a REALTOR®. My goal is to help you learn more about real estate through our Real Estate Blog! Hopefully, you enjoyed the above blog post and it found a way to provide help or value to you. When you're ready to buy or sell a home of your own let us know here. Please feel free to join the conversation by dropping us a comment below.