10 Things to Know BEFORE Moving to Miami, Florida
Living in Miami, FL
Thinking about moving to Miami, FL? You're not alone. Nearly 1,000 people per day are relocating to Florida!
Miami, Florida is the city of warm weather, pool parties, popular beaches, and exciting nightlife. Known as the third most popular city in the eastern United States and the seventh-largest city in the country, the Miami lifestyle is what attracts thousands of residents and visitors every year. In fact, more than 40,000 people move to Miami annually from South America and the Caribbean alone. An international city, 70% of its residents are Hispanic and 57% are from another country. Praised for this diversity and vibrant culture, the city of Miami is truly magical.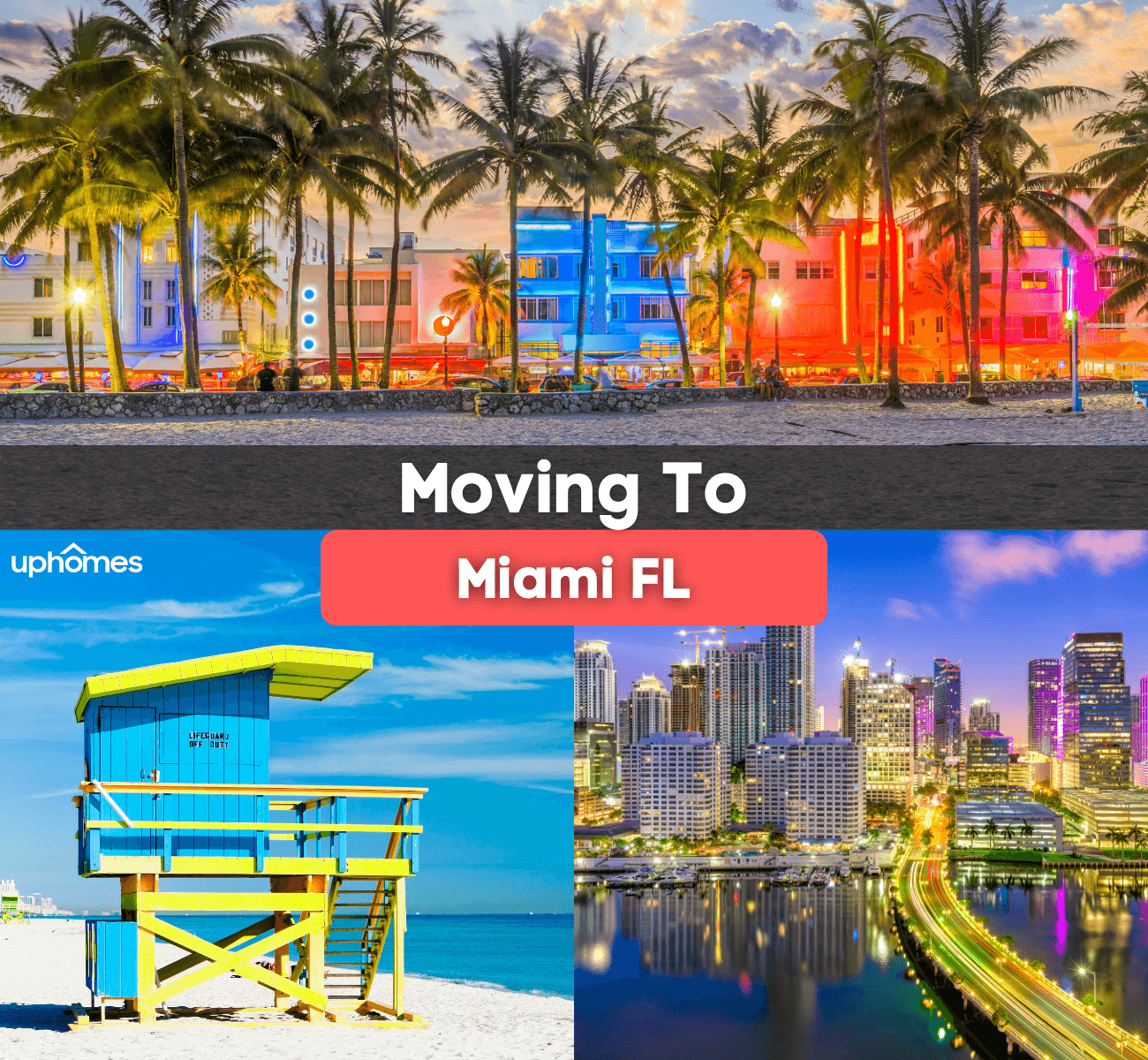 A leader in international trade, finance, and the arts, this city has a lot of opportunity and potential. There are many reasons people are making the move and not the least of which that living in Florida offers the sunshine many crave. Whether you're moving to Jacksonville or Tampa, Florida is the place to be - one city that is particularly attractive to many, is Miami.
Experiencing rapid growth, Miami is the perfect destination for those looking for an adventure or a fresh start. If you are considering moving to Miami, Florida then you have come to the right place. With this guide, our team hopes to make your decision easier while making any newcomer feel like a local. Read on to learn more about the 10 Things to Know BEFORE Moving to Miami, Florida!
Expect many tourists.
When moving to Miami do not be surprised when all of your friends and family want to visit your new home. In 2018, more than 23 million tourists visited Miami. This record-breaking number and continued large amounts of tourism play a huge role in the cities economy. While the tourism industry may be great for local businesses, residents will have to get used to the fact that there will always be visitors in their city. Since Miami is such a hotspot for its warm weather and party atmosphere, the city tends to be crowded all year long. Many tourists visit the area from northern states especially during spring break and the winter months.  Meanwhile, international travelers from Canada, the UK, Brazil, and Columbia visit often. As far as tourists are concerned, Miami is a relatively safe city to visit and it is definitely worth the trip.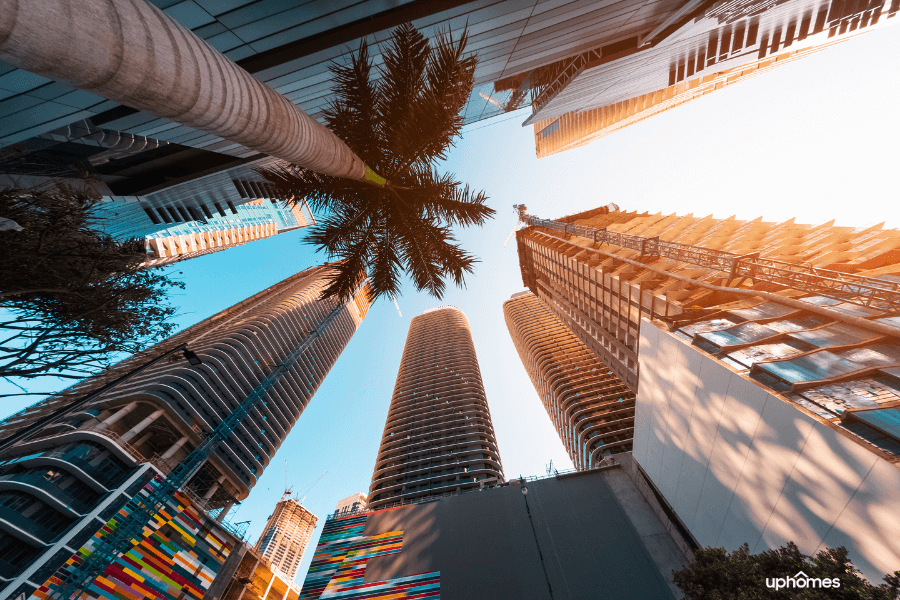 Miami is affordable but jobs pay less.
While the cost of living in Miami is about 14% higher than the national average, it is still relatively affordable considering its location and popularity. Compared to other big cities such as New York City, the cost of living in Miami is 22% lower which is a pretty drastic difference. On the plus side, those living in Miami will experience the benefits of living in Florida such as Florida's no-state income tax. Not only will residents be able to buy things at a reasonable price, but food, car rentals, and other products and services can be purchased without breaking the bank. Depending on which area of the city you decide to buy a home in, housing prices and apartment rentals can also be affordable. 
Before moving to Miami, it might be a good idea to ensure that you have a job first. In order to live comfortably in Miami, it is recommended that residents need to be making up to $77,000 a year. The average rent for a one-bedroom apartment is about $2,000 a month. One important thing to note is that while the cost of living may be relatively affordable, job payment in the city is low. Due to a combination of factors, the low-wage mentality affects both part-time and full-time employees. Only 3% of jobs in the Miami area pay employees six figures while a recent study found that 63% of jobs in Miami pay less than the national median wage.
You might want to learn Spanish.
Being able to speak Spanish in Miami is not a necessity to live here, but it will certainly come in handy. Since most of the population of Miami are originally from Spanish-speaking countries, being bilingual is an advantage. Spoken by 60% of the population in the city, it might be a good idea to know a word or two. Even if you only know a few simple words and phrases it may help you fit in and meet more people easily. The more that you practice it, the easier it will become. Make your high school Spanish teacher proud and flaunt your skills.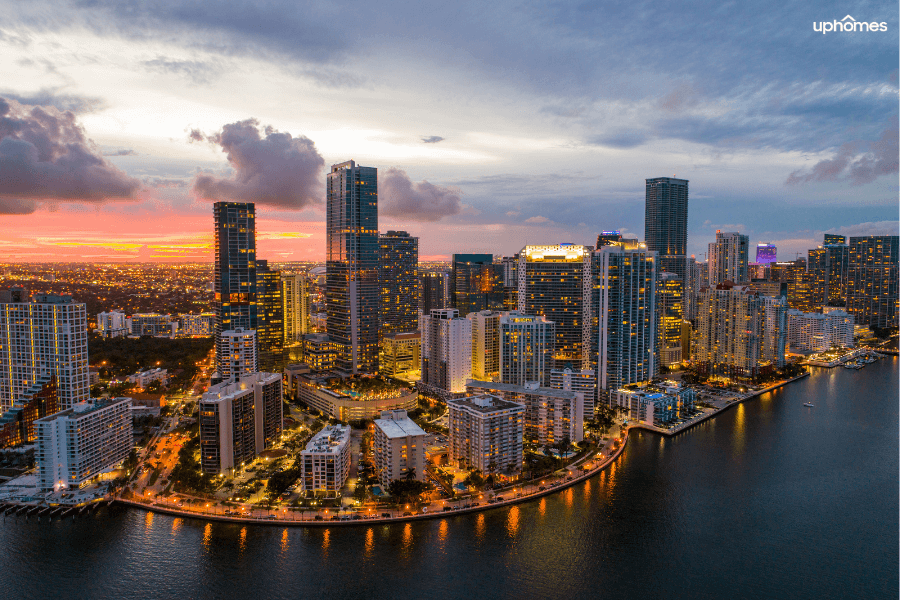 There are more than just beaches to enjoy. 
Famous for its crystal blue waters and white sand, Miami has 16 great beaches to choose from. If you know anything about Miami then you have probably already heard of Miami Beach and the infamous South Beach. Miami Beach is safe for visitors and tends to get crowded. While Miami Beach has more of a party atmosphere, it can also be kid and family-friendly. Meanwhile, South Beach is located on the southern tip of Miami Beach and is the international beach of the city. Home to various models and celebrities, South Beach can get wild so prepare for overpriced drinks and expensive meals. 
While the beaches may be the hot spot for tourists, residents actually tend to avoid these popular areas as much as possible. This includes South Beach. Not only are the beaches far from residential areas, but residents prefer to spend their days at the less crowded beaches or decide to totally ditch their swimsuit altogether. For a more laid-back atmosphere, catch the locals at Crandon Park which has the clearest water in Miami alongside a relaxing atmosphere. Or step away from the shells and sand and check out one of the many things to do in Miami that do not require the beach. Explore these local favorites:
The Vizcaya Museum and Gardens: Built in the early 1900s, this Italian villa was the home of millionaire and executive James Deering. Now a National Historic Landmark, visit this mansion and garden full of antiques and history.
The Venetian Pool in Coral Gables: Only $20 for the whole day, take a dip and cool down in this beautiful Mediterranean-inspired pool. There are even waterfalls! 
Zoo Miami: The oldest and largest zoo in Florida, this zoo is a cage-free animal experience featuring over 750 acres and 3,000 animals to admire.
Many businesses stay open late.
If you are prone to being late then you are in luck because in Miami being late means that you are actually on time. Miami is a big city and there is a lot of traffic. As part of the Miami lifestyle, locals hardly ever make it anywhere on time. So if you are meeting someone for dinner, do not be surprised if they are running behind. On top of the residents running late, businesses do as well. Many restaurants, bars, and popular tourist destinations stay open later than they would in other cities. Keep in mind that with the COVID 19 pandemic, businesses and attractions may have different hours and rules. It might be a good idea to check with businesses first before making plans.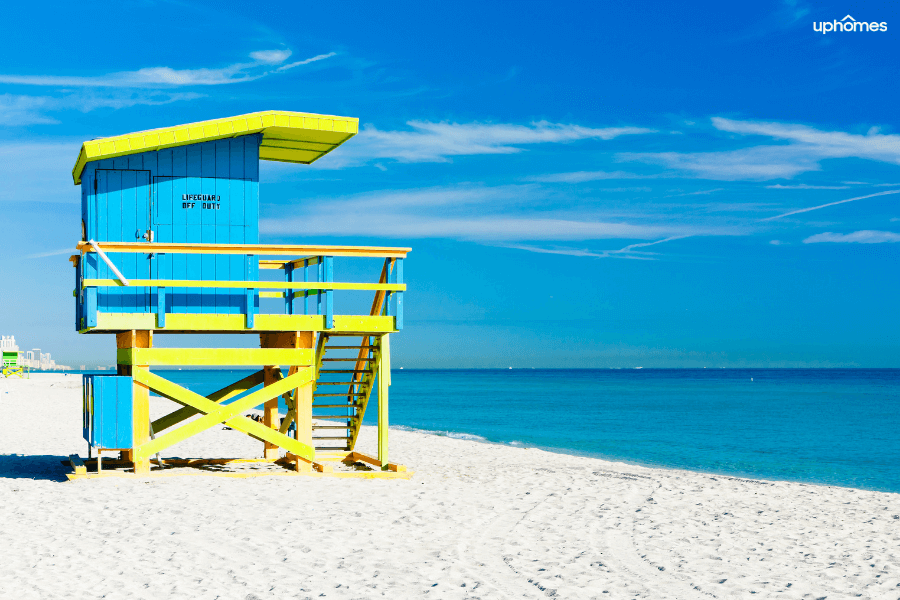 Prepare to party.
Two words: Happy hour. Miami is perhaps the most renowned for its party and nightlife scene. If you love dance halls, intimate lounges, hip rooftop bars, and hot nightclubs then Miami is the city for you. There is always a party to attend at any hour of the day and a club to dance the night away at. Not only are the clubs a place to have fun but they are the perfect spot to meet new people. There is no better way to become better acquainted with your new city than to become a part of this Miami tradition. Since the nightlife scene is so big, many bars and nightclubs stay open until five in the morning. Check out the nightlife scene at these favorites:
No. 3 Social: This rooftop bar offers beautiful views of the city, handcrafted cocktails, and cool event nights such as girl's night and cinema night. 
Basement Miami Beach: Found inside the Edition Hotel, Basement is a bar, dance club, bowling alley, and skating rink all in one. 
Sweet Liberty: Prized for its drinks and casual setting, try the Collins Park cocktail which is a classic loved by locals.
Pay attention to the weather.
Get ready to crank the air conditioning. Much like the rest of Florida, Miami is hot. Considered a tropical monsoon climate, when moving to the area expect lots of heat and humidity. For those that love warm weather, Miami may be your dream destination since the winters are so short. January is the coldest month and even then it does not get very cold since the average high temperature is 73 degrees and the low is 65 degrees. The summers are known to belong but keep in mind that the muggy rainy season is from June through September. The downside of all of this amazing weather is that Miami is prone to flooding. Due to the rising sea levels and large amounts of rainfall during the rainy season, residents, unfortunately, always have to live with the risk of flooding. When buying your new home in Miami it might be a good idea to avoid moving to a flood zone. And If you choose to buy real estate close to the water, do not underestimate good homeowners insurance.
Miami loves to make fashion statements.
Fashion is Miami's middle name. Not only are the people of Miami good-looking but they are also well dressed. Celebrated for being an international fashion capital, Miami is constantly setting and inspiring trends of the world. A well-known and beloved destination for designers, models, and fashion influencers, experience international fashion through Miami style. Set your own trends or be inspired by looks on the streets and at the beach. Miami is also the destination for some of the most well-known fashion events showcasing local and international designers. Miami Fashion Week and Miami Swim Week are some of the most highly anticipated events happening in the city for the fashion industry. If you are a fashionista at heart then you will love shopping at the one-of-a-kind boutiques and luxurious shops. For all of your designer needs check out some of these Miami upscale shops and high-end boutiques: 
Miami Design District: This Miami shopping district spans a few blocks and features designer labels such as Dior, Prada, Max Mara, and Fendi. 
Bal Harbour Shops: A chic open-air mall, shop at Burberry, Prada, and Chanel while stopping at some of the best eateries in the city. 
The Webster Miami: This 20,000 square feet three-story boutique is the most prestigious spot to shop luxury labels and designers from Givenchy to Burberry.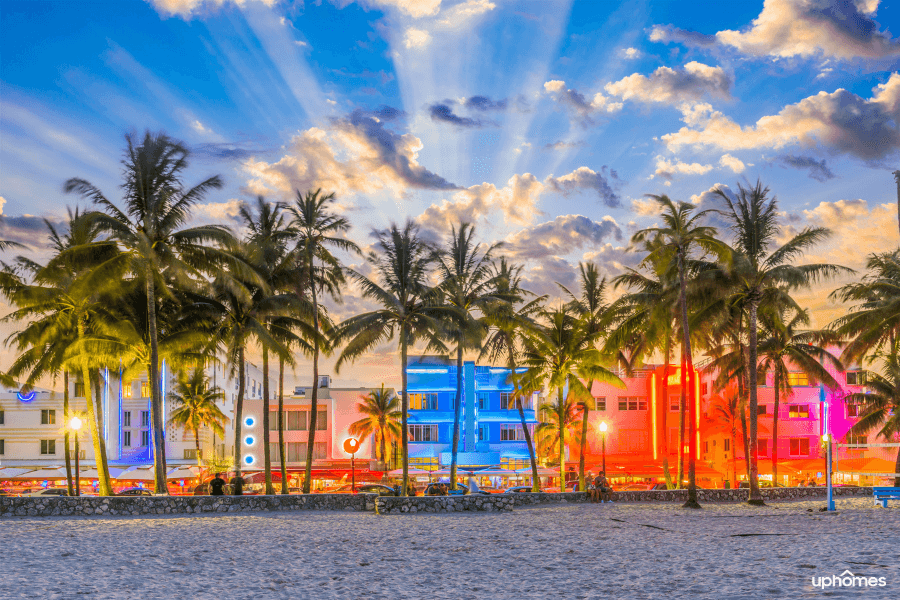 You will learn to appreciate the art scene.
The art scene in Miami is at the forefront of the city. Gifted artists, galleries, and exhibits thrive in this city of beaches and high-rises. The contemporary art scene can be admired in all corners of Miami from South Beach to the Design District downtown. Since becoming a popular art destination, the culture of Miami can be described as cool and unique. Bringing in thousands of visitors every year, Miami admires and celebrates the masterpieces of contemporary artists from all over the world. In particular, Art Basal in Miami Beach has become an annual stop for artists and collectors. Featuring architectural, historical, and contemporary art and designs, Design Miami is another go-to in the area.  
The food is amazing.
With so much international influence, bold flavors, and culturally inspired dishes is what makes the food in Miami so great. Since new restaurants seem to be popping up in the city every day, there is always something different for any palette to enjoy. When in Miami make sure to try the classic Cuban Sandwich at Enriqueta's Sandwich Shop, the Key Lime Pie at Fireman Derek's Bake Shop, or the Florida famous Alligator Bites at KUSH. Empanadas, stone crab claws, and flan are just some of the many other iconic dishes that the Miami population has been enjoying for years.  
Moving to Miami - The Bottom Line 
Miami is a southeastern Florida treasure. Fun and wild, this breathtaking city is one of the most notorious cities in the state. Only a three-hour drive to Key West, Florida, and a one-hour flight to the Bahamas, Miami is centrally located in paradise. Before moving to Miami, you might want to stay up to date on the latest fashion trends and brush up on your Spanish.
While you explore the beautiful city of Miami, Contact our realty specialists today to help you find your dream home. Our local Real Estate Agents are ready to help you find your next home in Miami.
#blog-moving-florida-cta#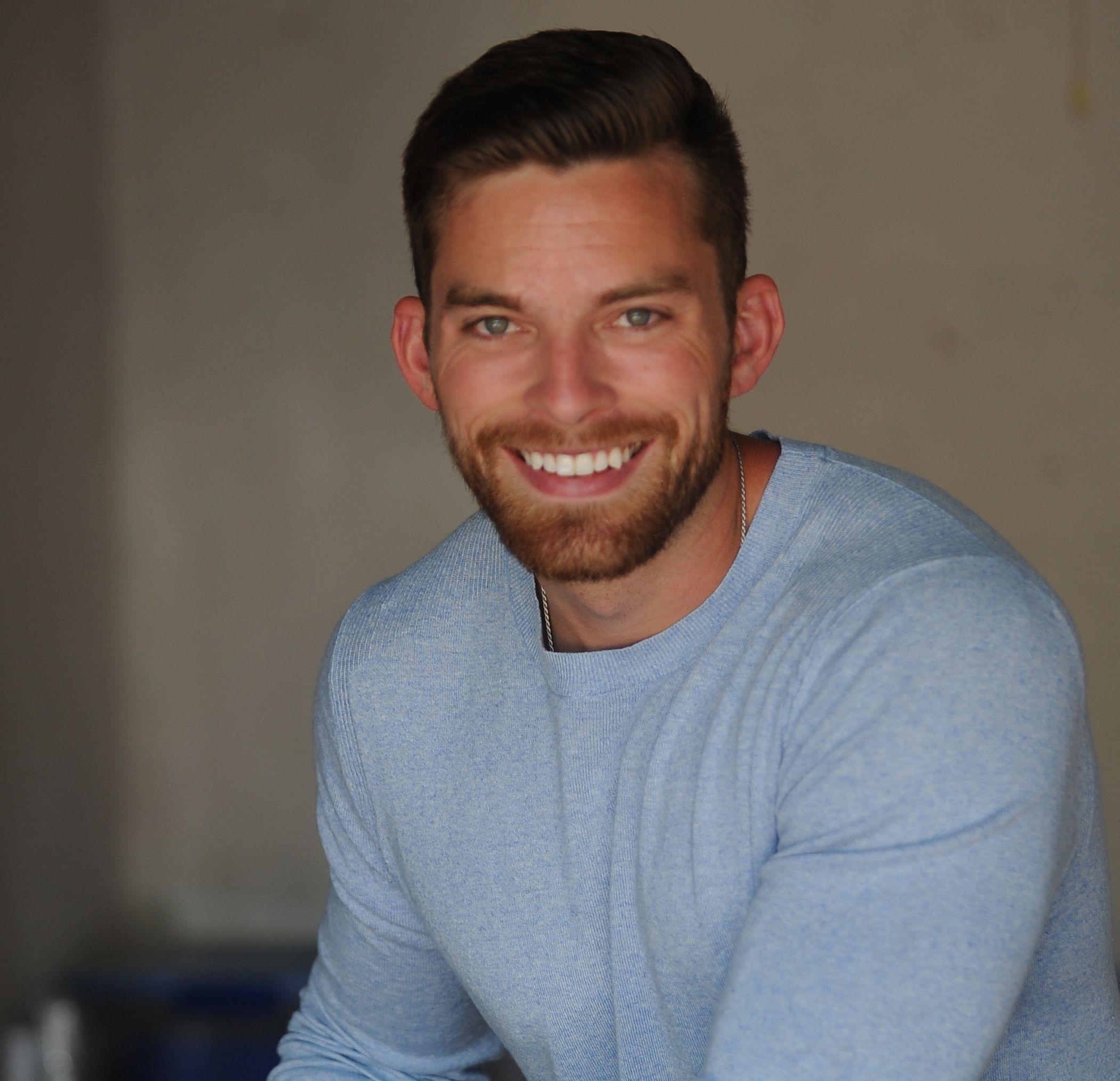 Ryan Fitzgerald
Hi there! My name is Ryan Fitzgerald, and I am a REALTOR®. My goal is to help you learn more about real estate through our Real Estate Blog! Hopefully, you enjoyed the above blog post and it found a way to provide help or value to you. When you're ready to buy or sell a home of your own let us know here. Please feel free to join the conversation by dropping us a comment below.