9 Things You Need To Know Before Moving To Tampa, FL
Living in Tampa
So you're thinking about moving to Tampa, Florida? There are a few things you need to know about living here before you pack up the car and head to the sunshine state. Did you know 1,000 people a day are moving to Florida?
From the people of the Sunshine State to the beaches, the sports, and the nightlife — the entertainment options are endless. The city of Tampa offers a little bit of the best of both worlds: the benefits of living in a metropolitan area with the feeling of a permanent vacation in the air.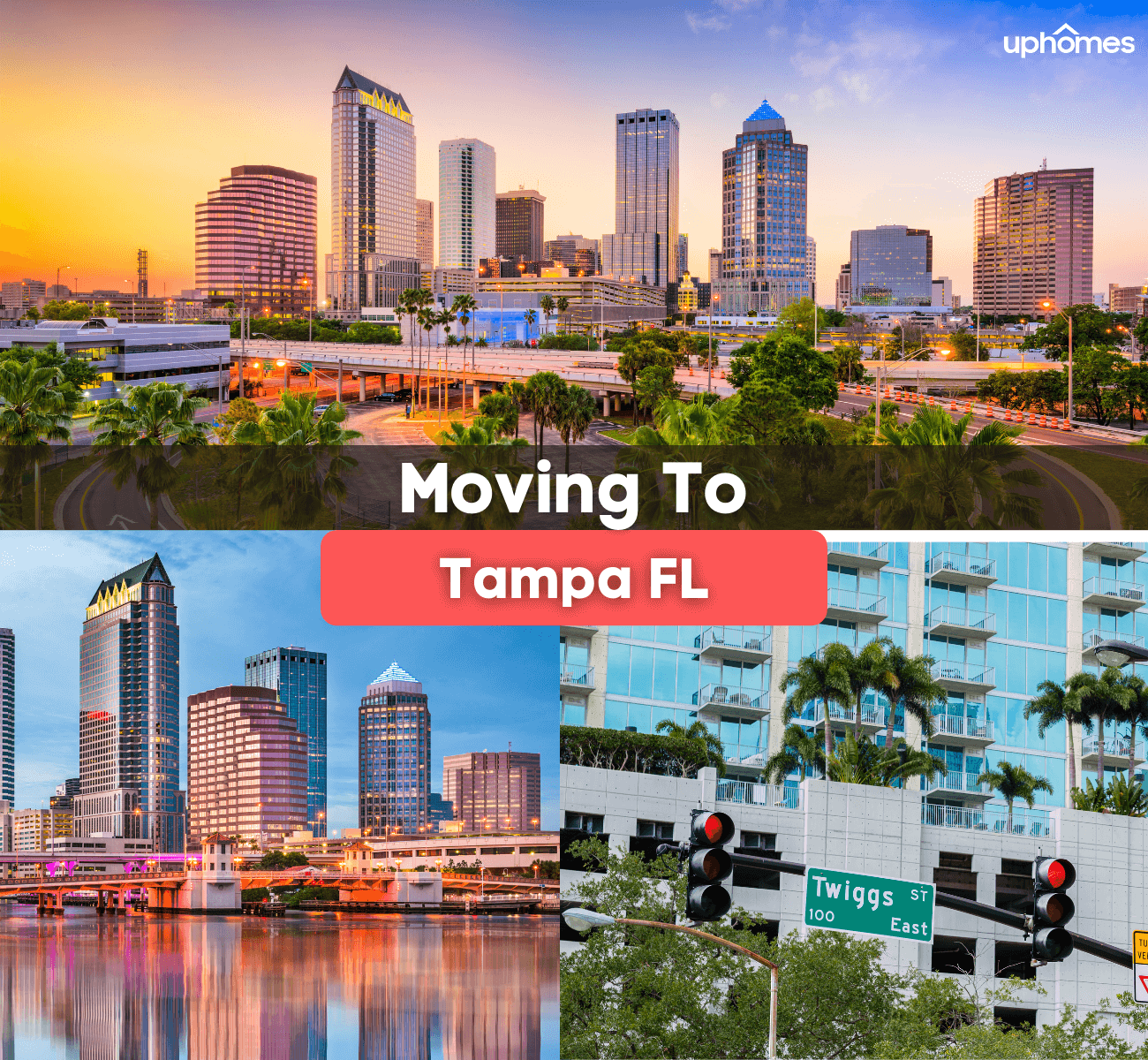 While you may have heard Tampa and Tampa Bay used interchangeably, there's just a little different you should know — Tampa is the biggest city in the greater metropolitan area of Tampa Bay, and the whole metro area consists of Tampa, St. Petersburg, Clearwater, and the four surrounding counties. The greater Tampa area also encompasses Sarasota, so you can be considered a Tampanian wherever you end up. Jacksonville, Miami, and Tampa are the three most populated cities in Florida.
And if you choose to live in the city, you'll be among nearly 400,000 others who also crave the skyscrapers, sunny days, and salty air. Get ready to spend many, many hours soaking up the year-round warm weather, relaxing on the white sand beaches, and enjoying the slower pace of life.
The People who Live in Tampa
The city of Tampa is booming, and young people are moving in from all over. Young professionals, couples, and families alike are settling down to kick start their lives under the sun. Similar to Austin, TX, Tampa is undergoing a wave of innovation — tech and tech-fueled innovation, that is. With more and more businesses calling Tampa home, the city is becoming a bit more diverse, modern and lively over time. It's a place full of people from other places and that's just a part of this port city's charm.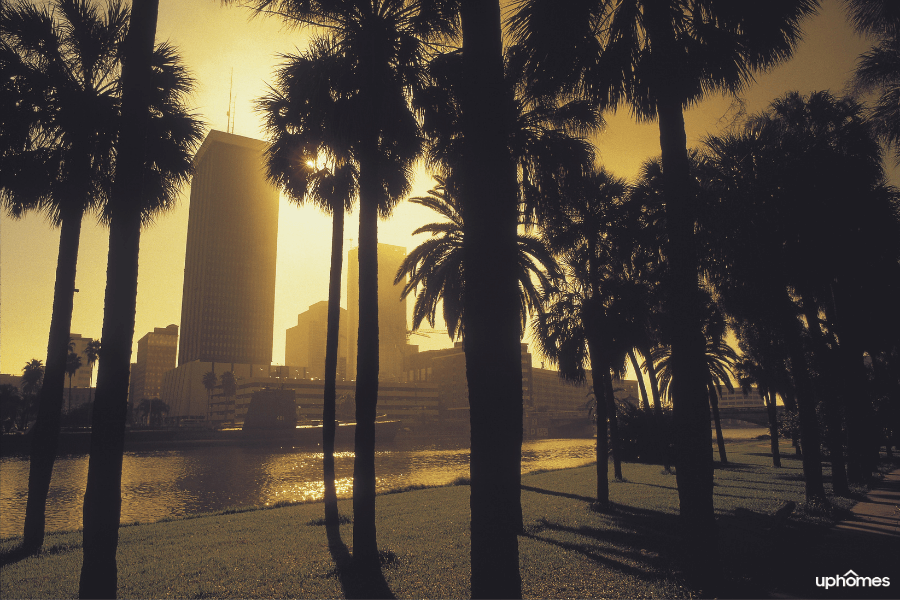 The History of Tampa
The City of Tampa wouldn't be what it is today without the historical trading reliance on port access via Tampa Bay and the Hillsborough River. Waves of wealth and industrial development aligned with the increasing popularity of the port and greater access to the city. For many years in the 1800s, Tampa's port was used as the hub for phosphate mining and shipping. Today, the nation's seventh-largest port is a popular destination for both cruise lines and the shrimp trade. The hustle and bustle of a city on the water is a feeling like no other — high energy and tranquility at the same time, creating a perfect balance.
The Culture
The arts & culture scene of Tampa Bay shines just like the Florida sun: year-round. From the murals adorning the cement walls to the various art installations throughout the city, there's no shortage of creative expression or celebrated individualism. With the intention to connect the city's past, present, and future, the Division of Arts & Cultural Affairs dedicates commissioned work to "humanize the built environment and invigorate public spaces."
That same invigorating Tampa Bay energy comes out in full force annually during the historic, city-wide "Gasparilla season" — which runs from mid-January to mid-March. And you may have already heard about the main Pirate-themed event, but we bet you haven't heard the history! Inspired by the party capital of the country — New Orleans — the first Gasparilla was planned for May of 1904, to coincide with the city's May Day and bring in a new theme to the festivities. The Gasparilla pirate invasion parade began on automobiles, but after a few years on land, it shifted to the Bay. Now, Gasparilla is strongly associated with the greater Tampa community, partying, and family fun. It's also the third-largest parade in the United States (per Wikipedia). No matter your age, Gasparilla season is sure to entertain.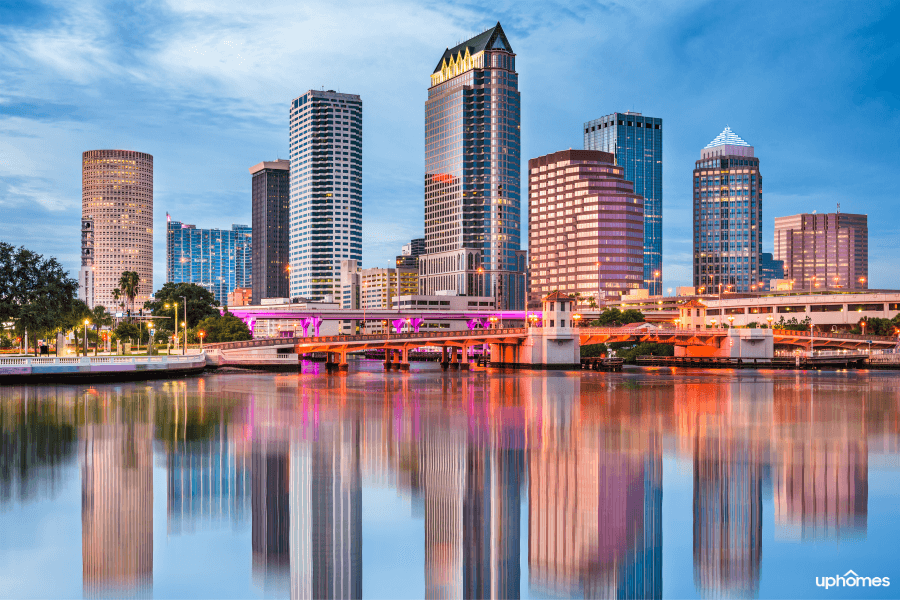 The Outdoor Activities
In other outdoor activity-related talks, it's time to dive into the various offerings the Tampa area and western part of Florida have to offer. If you're an outdoor enthusiast (or general wildlife appreciator), Tampa should be right up your alley.  From easy water access to rivers, the Bay, and Florida's wetlands to nature preserves, parks, and manatee viewing spots, Tampa has a deep list of outdoor destinations for you to explore. VisitTampaBay.com took the words right out of our mouths: "Tampa Bay boasts some of Florida's best natural surroundings for outdoor activities and ecotourism. Three scenic rivers—Alafia, Hillsborough, and Little Manatee—with tidal inlets leading out to open bay water invite endless enjoyment for all ages. In Tampa, you'll feel one with nature." 
If you'd prefer to enjoy the beautiful weather on a boat, you're in luck. Tampa Bay's boating community is something special. Everyone you meet on a boat is just as excited to be on the water as you are — fanatics if you will. Several locales near Tampa consistently rank in the list of Florida's best boating spots. Clearwater and St. Petersburg, especially, offer miles of shoreline and stunning views perfect for a day on the beach. And if you're an avid sportsman or casual fisherman, the fishing in and around Tampa is sure to excite. Think Grouper, Snappr, Barracuda, sharks, and Mackerel.
For those less inclined to fish and more inclined to observe nature, Tampa is known for its Manatee watching. These magnificent sea creatures make their seasonal appearances during Florida's winter months, ya know, when the water temps drop below 70 degrees Fahrenheit (brrrrr!)
The Weather
Speaking of 70-degree water temps (cold for Florida), it's a good time to discuss the number one reason snowbirds come to Florida for the winter, stay a bit longer, and eventually move south for the long term: the weather.  Can you blame them? The average temperatures year-round range from 52 degrees on the colder end and 90 degrees on the warmer. 
We have grown to love the hot and humid weather, however, if you're not used to it … it can be … a hard adjustment. But once you get used to it (after a few hot and sticky summers) there's no turning back. You'll grow to love air conditioning,  swimsuits, water, and an iced cold beer more than you could ever imagine.  You will even get chills thinking about the temperature dropping below 50. You won't need to pack much of your winter wardrobe, usually, a light sweater, jeans, and a jacket can get you through the coldest days in Florida.
The Things to Do: Nightlife, Shopping
Tampa Bay's hot days and warm summer nights make for a pretty enjoyable and lively nightlife. But we have to say, it's a bit tamer than Miami's ( that's OK, Miami is close enough). There are a few popular areas known for hosting a Saturday night out on the town, including the neighborhoods of Ybor City and SoHo — home to some of the city's "top spots." Each neighborhood in the city has its gem or two, so it's a good idea to venture out and about to uncover your soon-to-be local favorite. For a quick Sparknotes-like run-down, check out these top 10 nightlife spots from USA Today.
After a wild night out, subsequent recovery brunch, and a few glasses of water, you might be up for a day of shopping. Tampa's got you covered. Whether you prefer the traditional mall setting or an open-air experience, you can find what you need (or, want) at many of Tampa's retail destinations. The International Plaza and Bay Street offer an upscale mall shopping experience, with big retailers like Neiman Marcus and Nordstrom, designer brands like Gucci and Burberry, and name brands like Zara and Loft. Or, you could head to Hyde Park Village, a stylish and hip outdoor mall full of boutique shops, restaurants, and a few bars.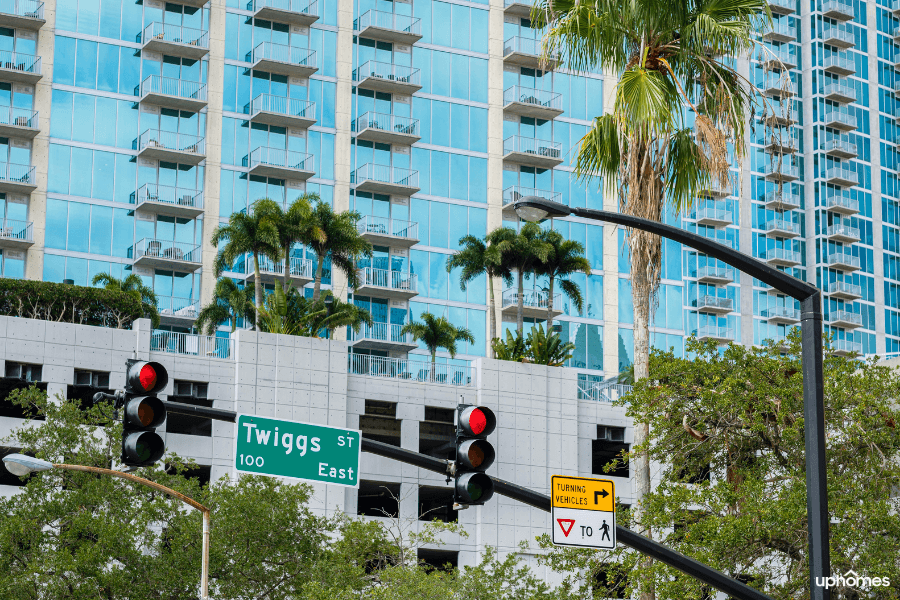 The Neighborhoods in Tampa
The City of Tampa has a unique location on the Bay, surrounded by beach communities to the west, a wilderness preserve to the north, and the lively City of St. Petersburg to the south. Within the city limits, though, are some great neighborhoods — especially for college students attending the University of Tampa, young professionals moving to the city for work, or families looking to relocate to the warmer climate.
These neighborhoods each have their own sense of community, charm, and a bit of history. Here's a quick rundown:
Downtown - For young professionals and college students, the Downtown district is the place to experience the city's energy at its fullest — especially at the Curtis Hixon Waterfront Park. This park hosts the city's popular festivals, cultural celebrations, and of course, the Gasparilla Parade.
Hyde Park - One of the most desirable locations in Tampa;  Hyde Park is the area's most prestigious and historic neighborhood, with convenient access to fine dining, shopping, and nightlife right outside your front door. Plus, Hyde Park is situated on the Bayshore Boulevard — a 5-mile linear park connecting to Downtown Tampa.
SoHo - This isn't quite a neighborhood, but more of a residential district within Hyde Park. South Howard Avenue, "SoHo" for short, is a foodie and shopping destination by day, and a lively social scene by night. SoHo has something for everybody.
Ybor City - This neighborhood is Tampa's historic Latin quarter and former center of cigar manufacturing. Ybor City offers a lively Cuban feel paired with a dense center of restaurants, bars, and entertainment. This district breathes life into the city, and, even if you don't live in Ybor City, you'll probably find yourself there enjoying a cup of coffee and maybe even a cigar.
Seminole Heights - If you are after a sunshine-filled, Bohemian vibe, look no further than the Seminole Heights neighborhood. Its quirky, young, and eclectic spirit attracts young families, artists, musicians, and hipsters to the neighborhood.
Now, if you want to live near city amenities but crave a little more beach access, you should check out these three popular cities in the Tampa Bay area:
Dunedin - known for its breweries, young and hip crowd, and Honeymoon Island State Park, Dunedin is a great place for people of all ages wanting to live on the coast. Young couples, families, and the retired population alike, can enjoy the best of Florida's sunny days sitting out by water.
St. Petersburg - Casually referred to as "St. Pete" or "Sunshine City," this beach town is what dreams are made of — if you're dreaming of pleasant weather, golfing, boating, fishing, and beach-going. Let's be real, who isn't?
Clearwater - Clearwater is home a bit older of a crowd, but that doesn't stop this town from consistently ranking as a top beach destination in the US for families. Clearwater Beach is a three-mile stretch of beautiful white sands and sunny weather.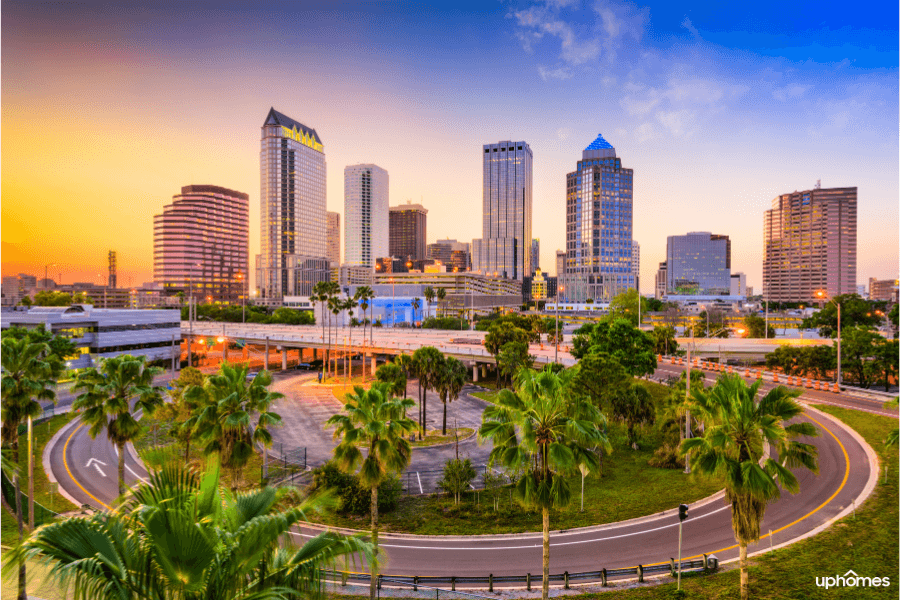 How Far is Tampa to?
This section is a personal favorite because if you end up living in Tampa, not only are you getting a hustlin' and bustlin' city on the water, but you're also close to just about everything. The proximity to some of Florida's best beach communities alone is enough to sell us on Tampa. That's not even considering the 1.5-hour drive to the family-friendly destination of all destinations, Orlando (a.k.a. home of THE Disney World). Or the 4-hour drive to the more adult-centered fun-in-the-sun City of Miami, or the 2-hour drive to Gainesville — Gator country! Not only is Tampa easily accessible for visitors, but the city offers a great deal of accessibility for residents to travel around, too. The Tampa International Airport and Tampa Cruise Port are the main hubs of travel-related activity, but the highways running in and around the city is easy to hop on as well.  
Like any other major life decision, choosing where you want to live is a big decision. It's important to get a feel for the area, the culture, and the lifestyle your future home caters to. The Tampa Bay area continues to climb the ranks as a top city to live in, in Florida, and in the greater US. Plus, the city's pretty good at sports, too (Hello, Super Bowl LV Champs!). And, while we probably don't have to tell you twice, there are countless pros to choosing a slower pace of life, access to white-sand beaches, and beautiful weather year-round. If you're ready to get your move on, let us know how we can help!
The Real Estate and Cost of Living in Tampa
Homes in Tampa are affordable making them a great value for anyone who wants to live or invest here - especially after Tom Brady and the Tampa Bay Buccaneers won the Super Bowl. If you're looking at an area to move to in Florida Tampa, the median price of a home in Tampa is actually less than the average home in Florida. This makes Tampa relatively affordable when it comes to real estate in comparison to many other Florida cities. 
The housing expenses in Tampa are 22% lower than the national average and the utility prices are 18% higher than the national average. Transportation is also a slight bit more than the national average with the bus fares and gas prices about 6% higher than other cities. Groceries in Tampa are around the same price as the national average.
Final Thoughts on Moving to Tampa:
Living in Tampa is not for everyone, though it is a great place to live for many! The city of Tampa is a great place to live, work, and play. If you're considering a move to Tampa get in touch with one of our local real estate experts who can assist you in finding your next Tampa area home!
#blog-moving-florida-cta#

Find your new home
Search real estate and homes for sale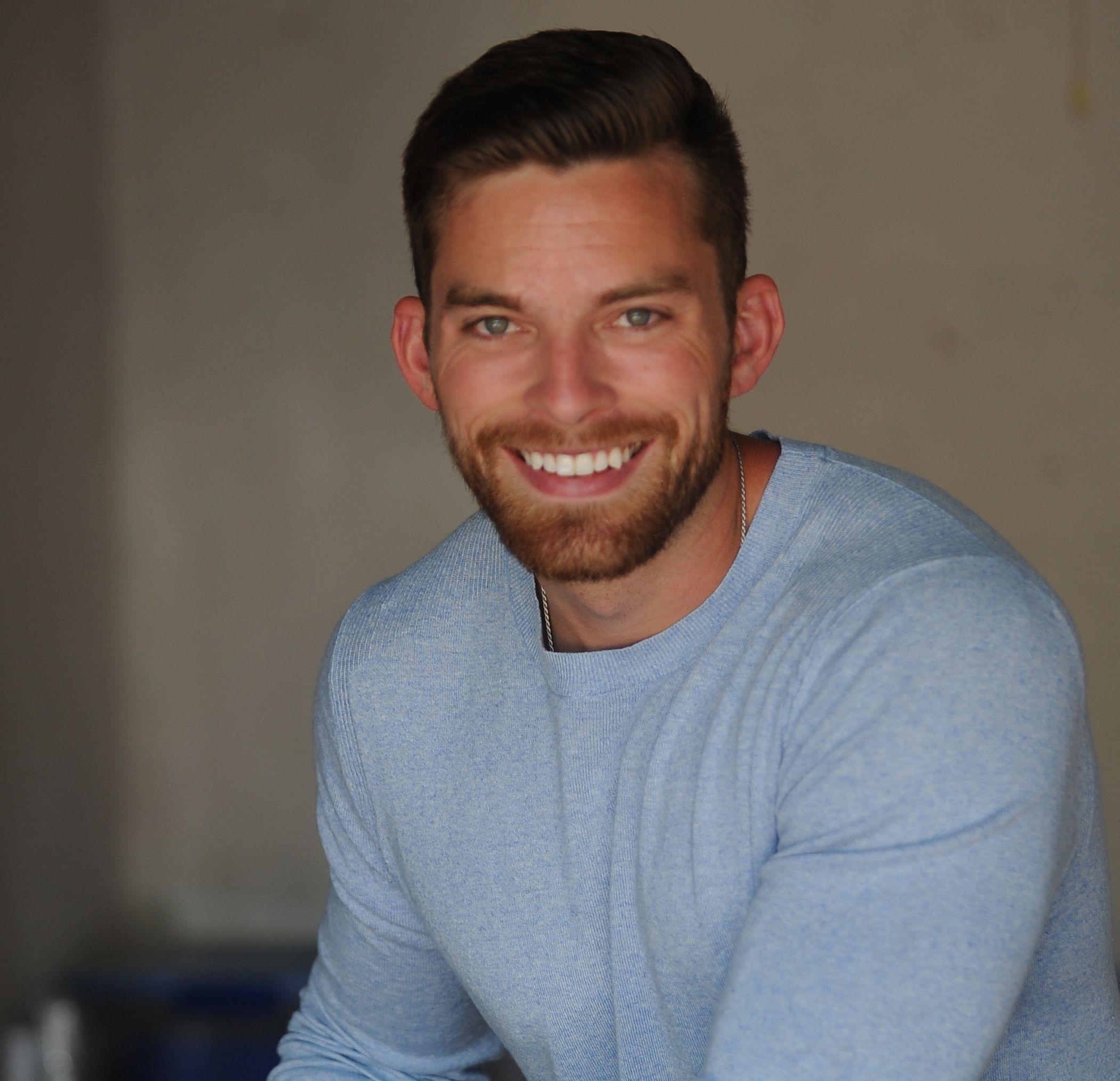 Ryan Fitzgerald
Hi there! My name is Ryan Fitzgerald, and I am a REALTOR®. My goal is to help you learn more about real estate through our Real Estate Blog! Hopefully, you enjoyed the above blog post and it found a way to provide help or value to you. When you're ready to buy or sell a home of your own let us know here. Please feel free to join the conversation by dropping us a comment below.