10 Things To Know BEFORE Moving To Sarasota, FL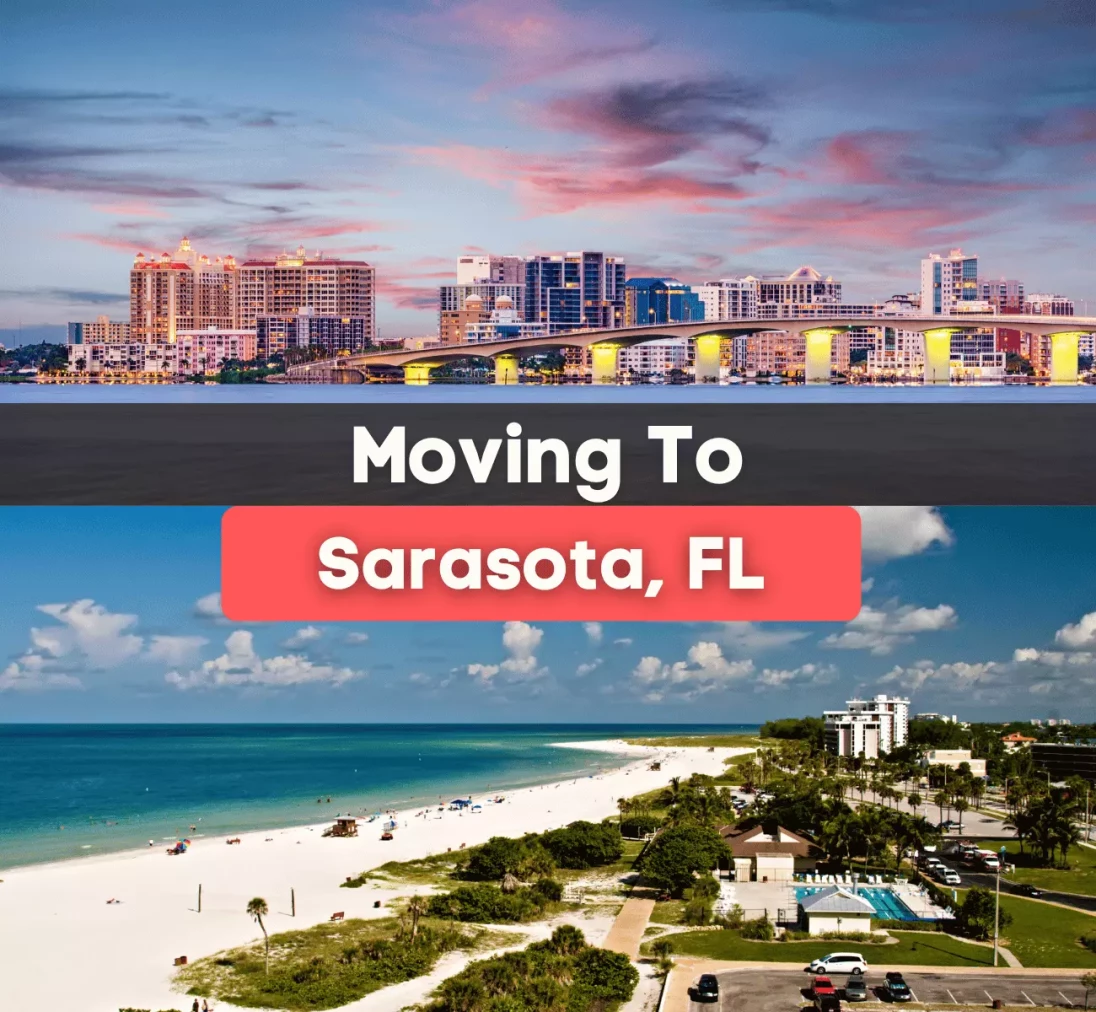 Living in Sarasota
Are you considering moving to Sarasota, Florida? Keep reading to understand why people are flocking to the area and discover what life is like in Sarasota!
Sarasota has been the city people move to and retire in for many years. Considered to be one of the best places to live in Florida, this city is located on the Gulf of Mexico coast and is known for its beautiful beaches with pearl white sand. Fifteen new residents move to the area daily, bringing Sarasota to its current population of nearly 55,000. 
Sarasota is roughly 24 square miles and is full of the most breathtaking scenery. This town is the only place in the world where you walk through the treetops of a subtropical forest! Sarasota is home to the Myakka Canopy Walkway, which is an 85-foot-long boardwalk that is 25 feet above the ground. Whether you are planning on moving to the area or just visiting, this walkway is truly something everyone should experience!
People tend to flock to Florida from northern states to either retire or move to a warmer climate. But Sarasota offers something different than other cities within Florida, a calm, forestry atmosphere that is perfect to live in. Sarasota is located just east of Tampa, west of Orlando, and North of Fort Myers. This city grants you quick access to other major cities and beautiful beaches!
Let's dive into the things you should know about Sarasota before moving to the city!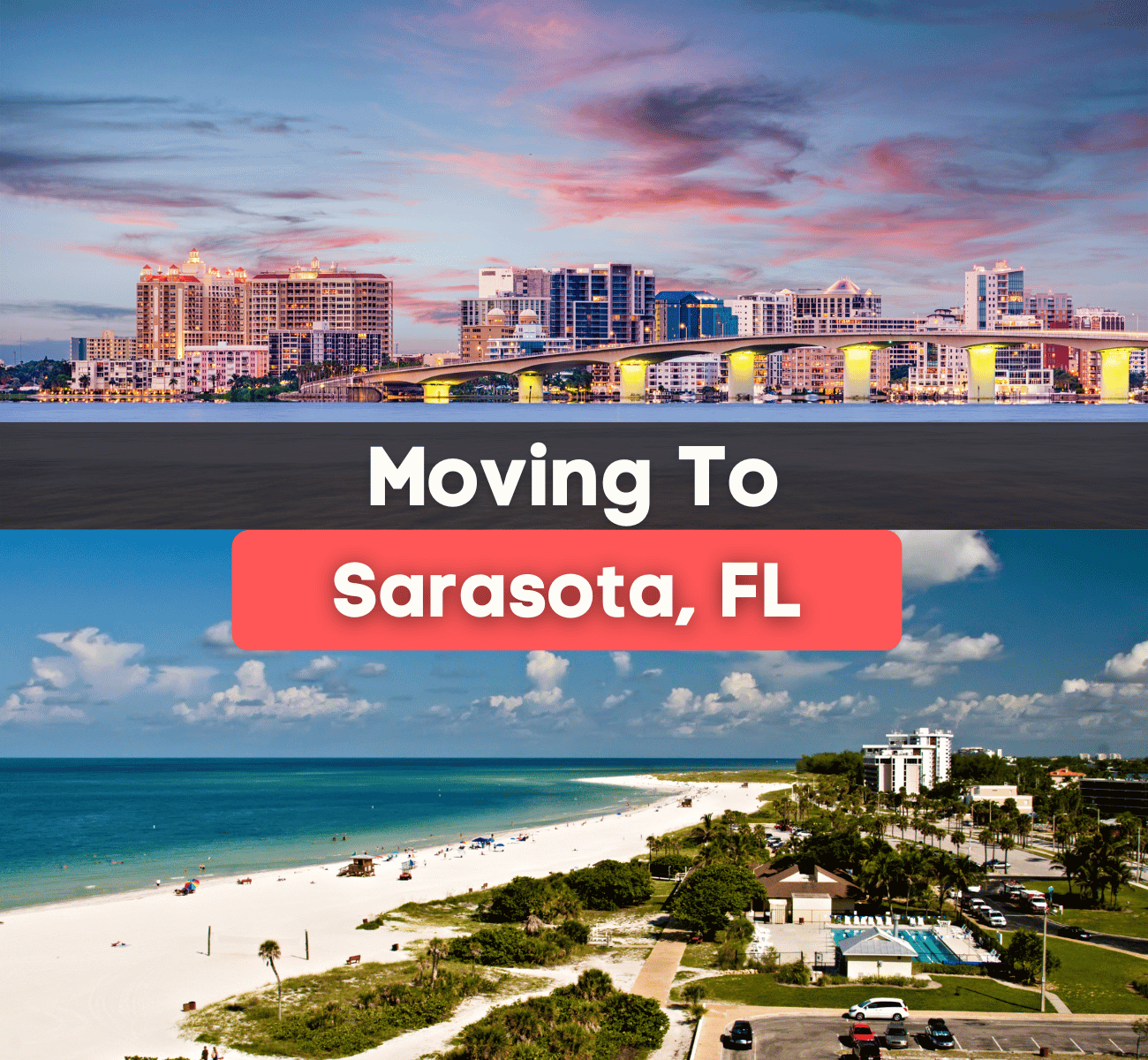 Here are ten things to know about Sarasota!
History
A backstory about how Sarasota got its name: the earliest identification of this name was found on a Sheepskin Spanish map from 1763 with the word "Zarazote" written over the location that is now the city. They kept the same name when Sarasota was established as a town in1902 with only 53 residents. 
The Ringling family plays a massive role in Sarasota's history and today's society. John Ringling was huge in Circus fame and was one of the earliest investors in the new town. Sarasota became the winter quarters of the Ringling Brothers, Barnum and Bailey circus which gave Sarasota its nickname "Circus City."
Sarasota started to grow when a millionaire, Bertha Palmer, decided to buy more than 80,000 acres of land in the area in 1910. She became a considerable land developer, banker, cattle rancher, farmer, and a Florida socialite. With her recognition, she encouraged many wealthy friends to spend their winters in Sarasota.
Some of the lands she owned are still known today as Palmer Ranch! She also founded Palmer Bank, now known as Southeast Bank, which has become one of the most important banks in Sarasota. The family eventually transferred their cattle ranch to the state of Florida, now known as Myakka River State Park! 
Because of the Palmer family, more and more socialites moved to the Sarasota area to develop and grow the city into what it is today.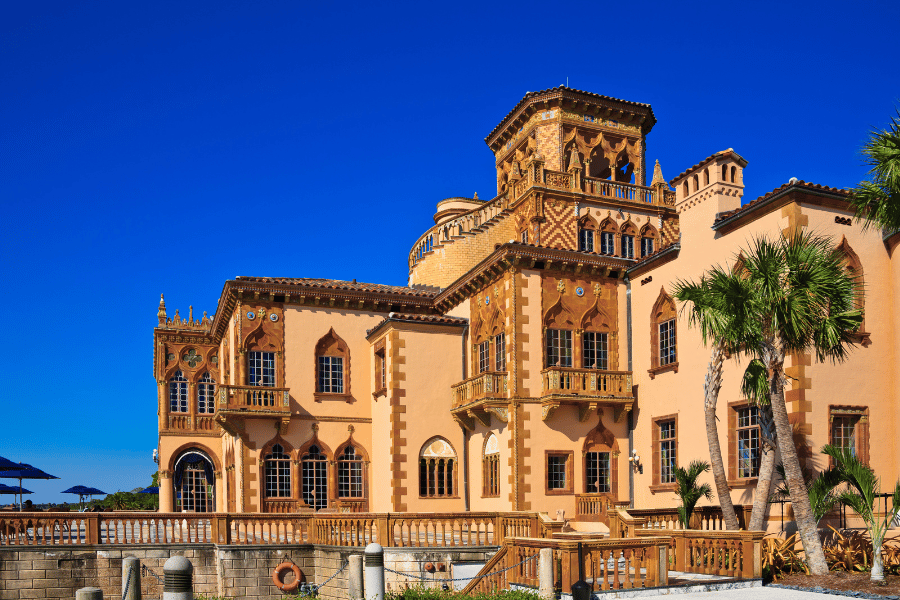 Cost of Living
The overall cost of living in Sarasota, Florida, is 6% higher than the national average. The cost of groceries is around 3% higher than the national average. On the plus side, the price of utilities in Sarasota is 3% lower than the national average! 
For one person living in Sarasota, the total cost of living per month is around $2,500, including rent. Without rent, one person would spend $850 a month on necessities such as food, gas, etc. A family of four will likely pay around $5,380, including rent, and around $2,650 without rent, on necessities.
The bright side of living in Sarasota, even though the cost of living is higher than most, is that Florida doesn't have state taxes. So although your overall living cost is a little more, you need to pay those extra taxes on your income, leaving you with more money in your paychecks. 
| | |
| --- | --- |
| Item | Price |
| Gas | $4.68 per gallon |
| Bread | $3.59 per loaf |
| Milk | $2.30 per gallon |
| Eggs | $1.62 per carton |
Source: Payscale
Housing Market
Sarasota's housing market is more competitive than the market in other cities. Data recorded in December 2022 show that the median sold price of a home was $475,000. The market has been trending up 18.7% since last year in Sarasota. More and more people are moving to the area because of all the perks that come with living on the coast in Florida.
Another thing to note about the housing market in Sarasota is that the market is still leaning toward a seller's market. There is more of a demand for buyers than sellers, so homes' prices tend to be higher and sell faster. Homes in Sarasota usually sell for the list price or more. Only 2.29% of homes sold for below asking price in December 2022. 
Job Market
Over the last few years, Sarasota's population has seen so much growth, with new residents coming to town. There are significant business headquarters located right in Sarasota and around. The average salary in Sarasota is $48,180, which is lower than the national average, but the unemployment rate of 6.9% is also less than the national average.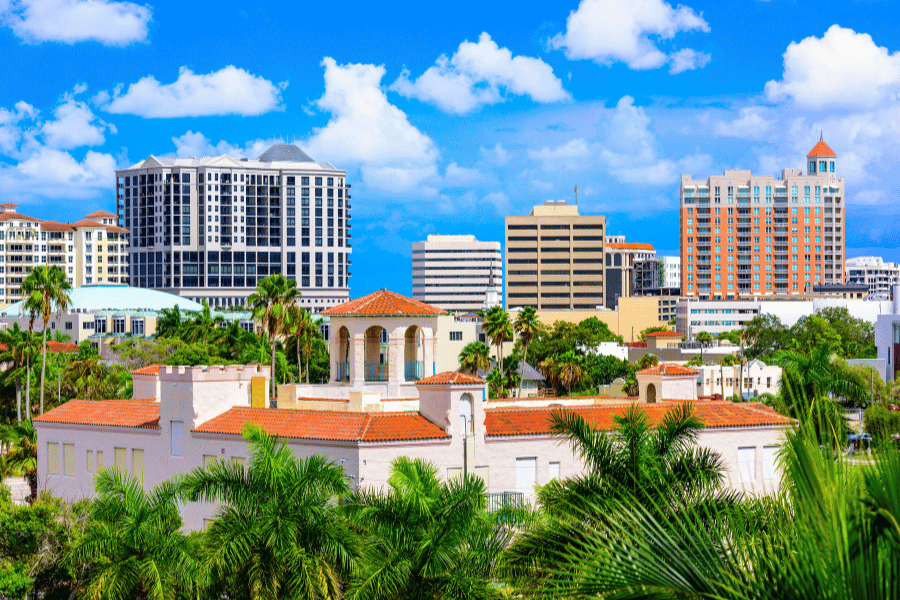 One of the most known companies in Sarasota is the Ritz-Carlton Hotel Company. This allows for many open job opportunities in service and hospitality. Another big industry in Sarasota is the healthcare industry. Because of Sarasota's high population of elderly and retired residents, the influx of healthcare workers has grown. Sarasota also has a large hospital, Sarasota Memorial Hospital, that employs more than 6,500 staff.
If you are looking for a job in manufacturing, then Sarasota is the place for you! It is home to one of the country's most prominent window installers, PGT Innovations which employs almost 2,000 people! 
Education
The city of Sarasota is located in Sarasota County School District. In this district, 62 public schools have 42,618 students. Sarasota schools are ranked higher than other school districts in all of Florida. They are ranked #2 best school district in Florida out of 67 school districts! Their school system has excellent academics, and teachers offer a variety of clubs and activities! 
Here are some of the top education schools in Sarasota: 
Sarasota has six colleges in the area. Some colleges are the State College of Florida, Ringling College of Art and Design, the University of South Florida, and more!
The University of South Florida is ranked fifth best in the nation. They offer over 40 bachelor's degrees, master's degrees, and certificate programs. This college is nestled along Sarasota Bay, allowing the campus to have a beach feel. USF has three different campuses in Florida. You can find USF in Tampa, St. Petersburg, and Sarasota. Throughout all three campuses, USF serves around 50,000 students!
Restaurants
Finding the perfect restaurant to go on a date or take your family and friends to can be stressful. Here are a few of the favorite local restaurants in Sarasota to help when deciding where to eat lunch or dinner or grab a drink!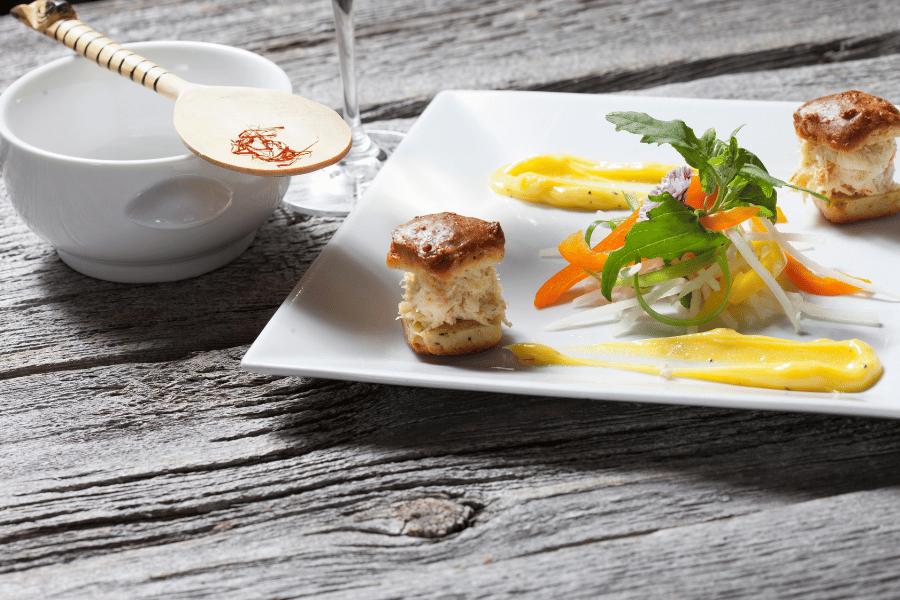 Downtown Night Life
Sarasota tends to attract a younger crowd because of its famous beaches, downtown area, and colleges within the town. Whether you are looking for a nice place to grab a cocktail with friends, or to put on your dancing shoes to the party, here are a few of the local favorite nightlife destinations in Sarasota, Florida!
Beaches
Who doesn't love a Florida beach on the Gulf of Mexico?! Most of these beaches are taken care of and clean, with crystal blue waters and warm white sand! Sarasota is located directly next to a handful of beaches. The most popular beaches are;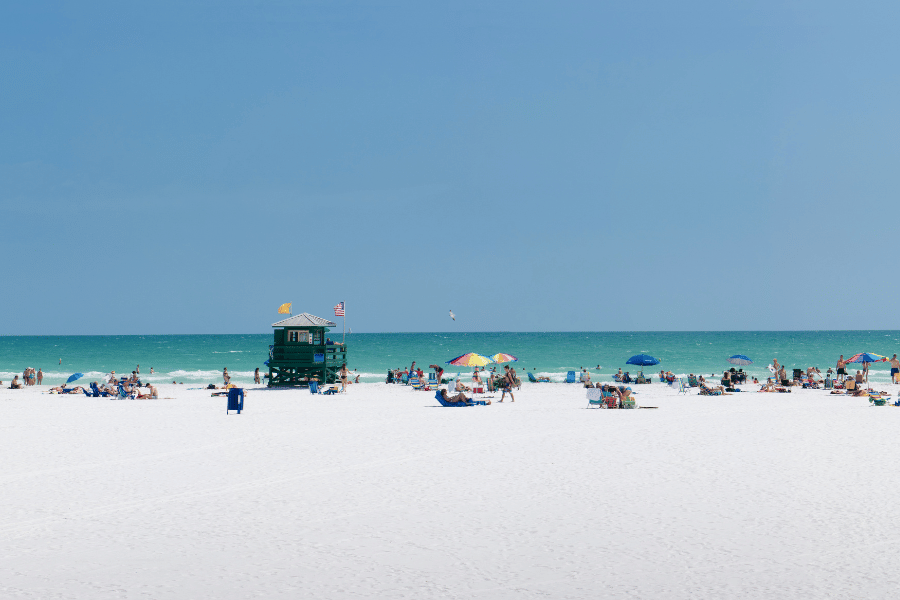 Weather
The weather in Sarasota, Florida, is what many locals love about the city. The warm weather attracts residents to relocate to the area, mainly from New York and Washington! Sarasota's climate is described as a tropical climate. They have hot, humid summers and warm, dry winters.
Sarasota, Florida, gets a ton of rain in the spring and summer seasons, so bring your umbrella! One thing you will never see in this city is snow. The temperatures in Sarasota average between 40 degrees and 95 degrees. Because of this, the climate is never cold enough for snow to form or stick on the ground.
Amazingly, Sarasota is located on the coast and is within driving distance (or walking) to various beaches. If you get too hot in the summer, you can take a quick trip to the ocean to cool off! 
Crime Rate
Sarasota may be a dream come real place for people to move to, but the crime rate is one thing to be cautious of. This city is considered a dangerous town when comparing Sarasota's property and violent crime to other cities in America. Sarasota is only safer than 7% of other cities.
With that being said, some areas of Sarasota are considered safe. You will likely find these neighborhoods in the more inland areas of the city near the Myakka River State Park. The more dangerous areas will be near downtown Sarasota or along the coast, where more people flock. 
Living in Sarasota - Final Thoughts
After reading about the ten things you should know before moving to Sarasota, you can realize why so many people flock to the area. It has beautiful beaches, a welcoming environment, fantastic restaurants, and much more! This place is perfect if you want a family-friendly town to move to. 
Sarasota's lifestyle is all derived from being a "beach town." However, Sarasota has more residents than it does tourists, so it is different from other seasonal beach areas. There are so many activities and attractions to do and see in Sarasota that it would take a lot of work to get bored while living in Sarasota. It is also located near other large cities like Tampa and Fort Myers if you want to explore areas outside Sarasota.
Even though the housing market is still competitive, and it can be challenging to get home, finding the perfect house in or around Sarasota is very doable if you have the right help! Please reach out to us to connect with a trusted real estate professional to help you in your home-buying process. Contact us today! 
If you are moving to Florida, check out our other local area guides for more information, including moving to St. Petersburg, moving to Fort Myers, moving to Naples, and moving to Orlando! 

Find your new home
Search real estate and homes for sale