7 Best Neighborhoods in Sarasota, FL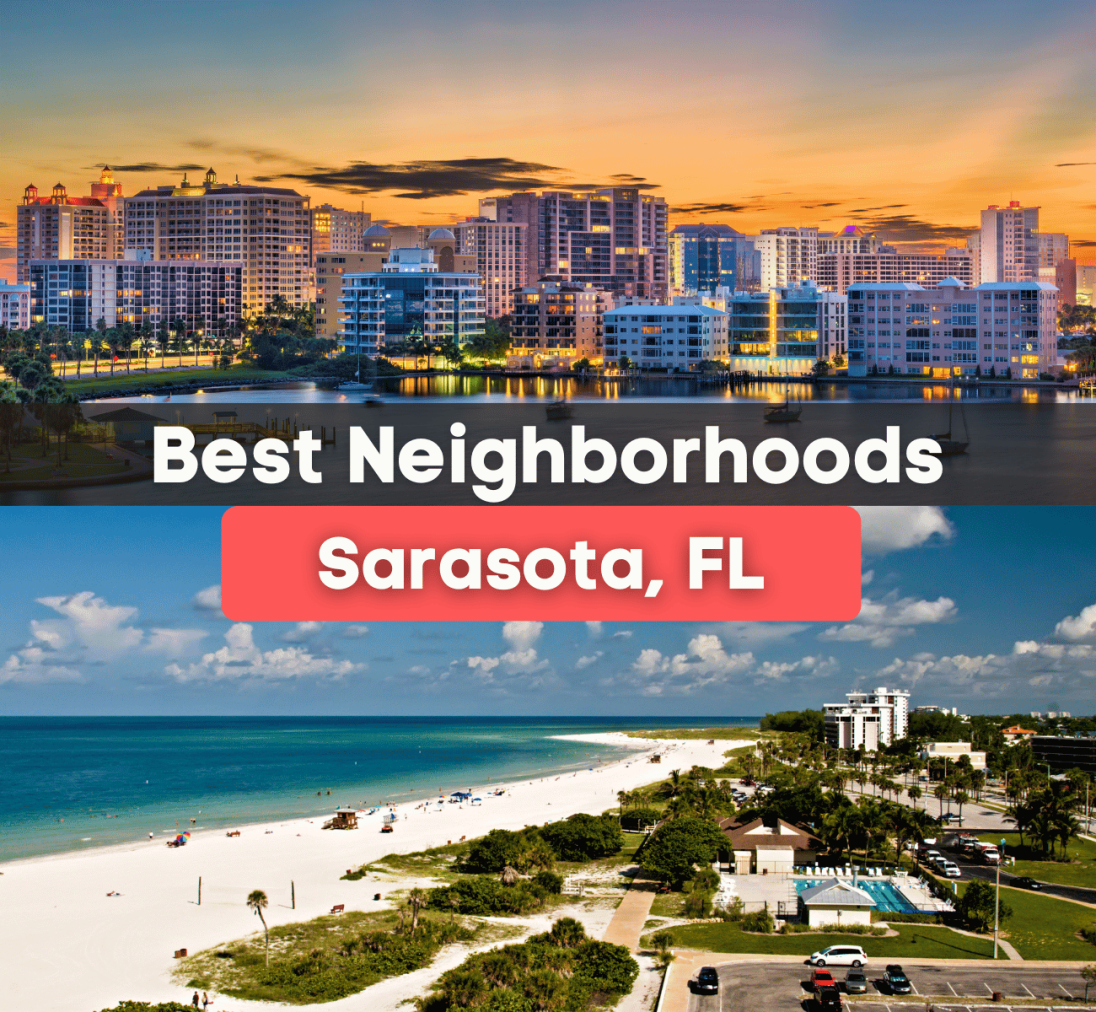 Best Places to Live in Sarasota
Are you considering moving to Sarasota, FL, and need to figure out the best neighborhoods in the city? Here is a guide to help you navigate some of the highly-rated areas to live in Sarasota!
If Sarasota is one of the top places you would like to live, you are not alone! People are constantly flocking to this Florida city every day, whether to settle down and call it home or to visit for a weekend vacation; Sarasota is the perfect destination for both. Moving to a new place can be exciting yet intimidating. You might need to learn the area better, but finding a neighborhood or subdivision that best suits your lifestyle is essential when relocating to any city!
Not only is Sarasota a great place to live for families and retirees, but its beautiful natural surroundings and proximity to white-sand beaches and clear waters attract plenty of college students and young professionals to the area. As one of the best places to live in Florida, Sarasota is constantly sought after for its warm weather, sprawling scenic parks, and world-class amenities. 
Home to Myakka Canopy Walkway and the Ringling Brothers Circus Museum, there is always something fun to do, no matter your age or interests. Located on the Gulf Coast and just south of Tampa, Sarasota is recognized as an affluent area in Florida that is home to a population of nearly 55,000.
Offering its residents a peaceful and relaxed way of life that is often uncommon for a city of its size, it is no wonder that so many people are deciding to call Sarasota home. Whether searching for a beautiful place to retire, an affordable suburb, or the safest area to live, there is no right or wrong when searching for homes for sale in Sarasota. 
Since finding a neighborhood you will be happy in is crucial, you must consider all your options! Luckily, since this Southwestern Florida city has so many beautiful areas to choose from, you will be able to find your dream home in Sarasota in no time.
Whether you want to live near downtown or closer to the beach, keep reading to learn more about the best neighborhoods in Sarasota that you can call home one day!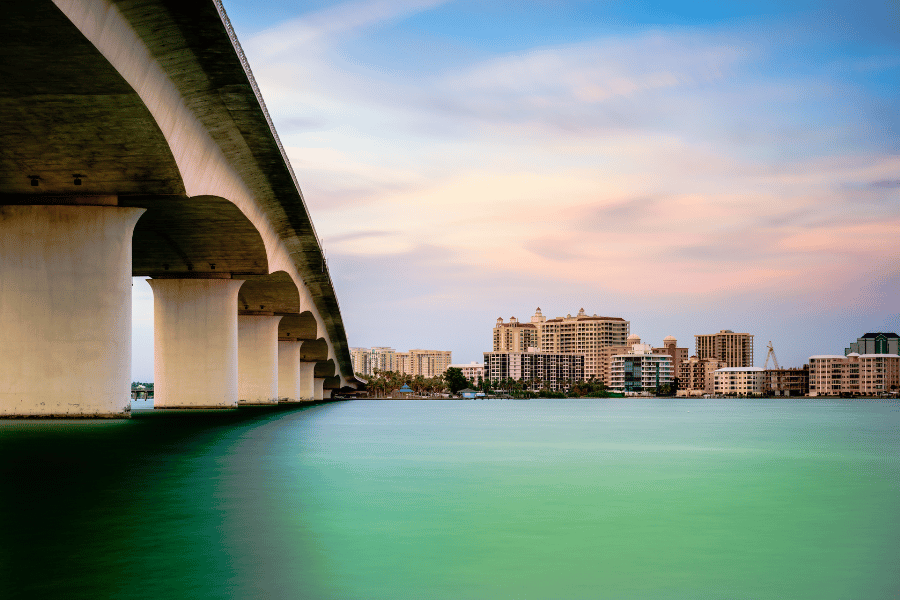 Here are seven of the top-rated neighborhoods in Sarasota! 
Indian Beach Sapphire Shores
The Indian Beach Sapphire Shores neighborhood features the most beautiful homes! All the houses are uniquely designed, from historic architecture to modern. It is located on the bayside near the John and Mable Ringling Museum of Art. This museum plays a significant role in what Sarasota is today.
This neighborhood has residents who contain both families and young professionals! This neighborhood is considered on the higher end of the spectrum regarding home prices. It will all be worth it when you see the parks and sunsets from the Indian Beach Sapphire Shores bayfront! 
Local Favorites:
Arlington Park
If you are moving to Sarasota and looking for a family-based neighborhood, you should check out Arlington Park! This subdivision is full of families and younger children and even has attractions to help entertain them. Located inside the neighborhood is Arlington Park. This park is perfect for children to play and socialize, just a couple-minute walk from your home.
Arlington Park has your average modern bungalow Florida home architecture throughout the neighborhood and is only the more affordable side based on the average family income in Sarasota. These homes are stunning and are only located near the prettiest beaches like Lido Beach and Siesta Key!
Local Favorites: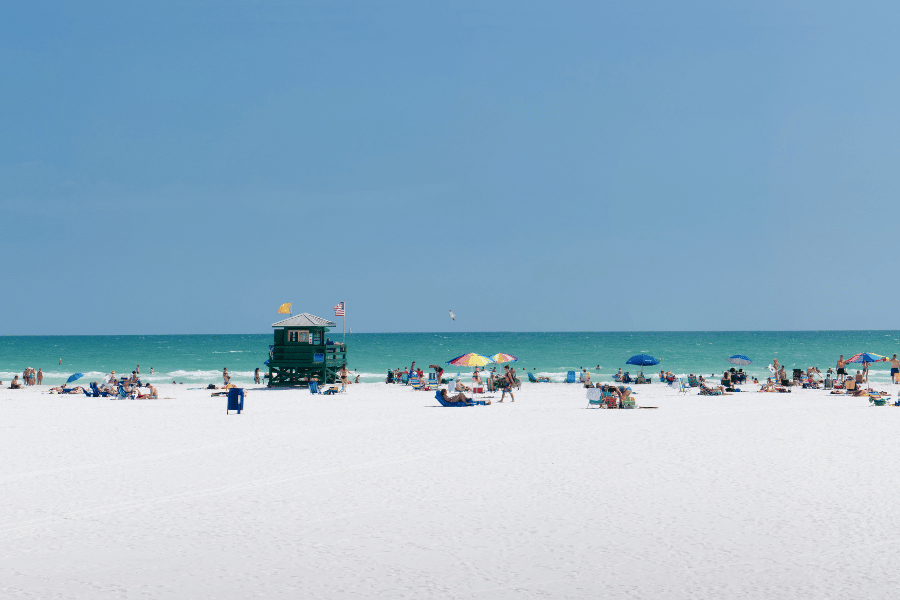 Southside Village
The Southside Village neighborhood is unique and full of character because of the mixture of modern and historic homes located here. This neighborhood is located near downtown Sarasota allowing for quick access to various establishments, businesses, and the best restaurants in Sarasota. Even though it is near the downtown area, it is still considered a family-friendly neighborhood. 
Southside Village is so large that it has sub-neighborhoods within it. Here you can choose between ranch-style homes, bungalows, or modern-style homes. Not only does it have a variety of home styles to choose from, but it also has sidewalks throughout the neighborhood, perfect for walks at any time! 
Local Favorites:
Palmer Ranch
This neighborhood played a massive role in Sarasota's history. One of the very first settlers in Sarasota bought this land to build their summer home. Over the years, it had turned into a large community! In Palmer Ranch, you will find a wide range of housing, from condominiums to million-dollar homes! 
Palmer Ranch is one of the first planned neighborhoods and ranked the best neighborhood in Sarasota! Living in Palmer Ranch gives you easy access to many restaurants, bike trails, an aquatics center, and beaches! This neighborhood also has smaller communities within it that you can check out! 
Local Favorites:
Rosemary District
Another neighborhood that is located near downtown Sarasota is the Rosemary District. This subdivision is energetic and lively and is full of apartment buildings and condos. This neighborhood has been a part of Sarasota for a long time and is now being built up with new construction. However, it still holds some older-built homes if that is what you want in your new Florida home.
This neighborhood has mainly young professionals and singles who reside here. Living in the Rosemary District allows you to have something to do at all times of the day and even at night. It is surrounded by shopping centers, bars, gyms, and even some of the best local restaurants!
Local Favorites: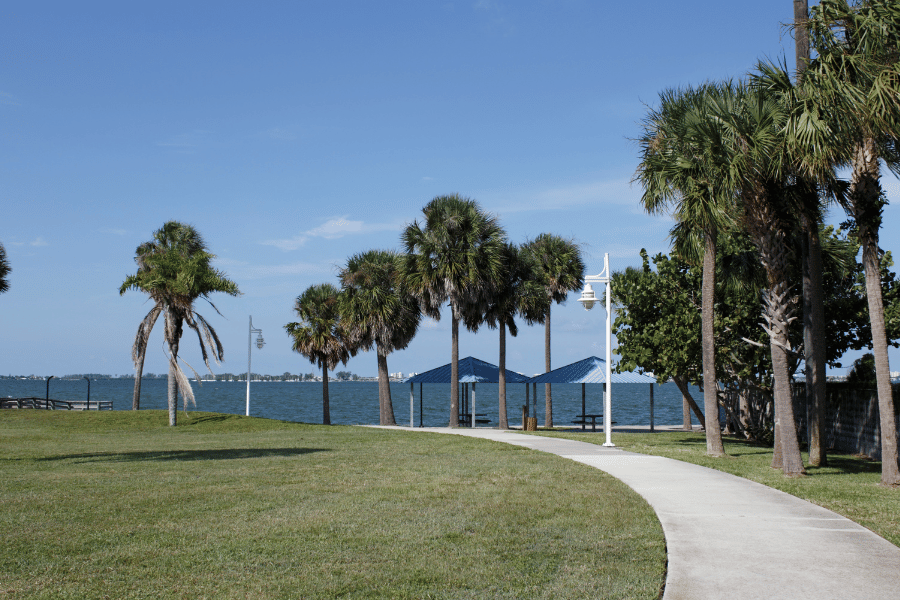 Laurel Park
Laurel Park is located in downtown Sarasota and has the most vibrant homes! Choosing this neighborhood will allow you to have the "downtown city still" feel while still being able to have privacy at the same time. It is perfect for anyone, whether you have a family, are retiring, or are a young professional.
Living in this neighborhood allows you to enjoy all of the perks of living in a downtown area since it is located just blocks from the best local cafes, restaurants, and shops! There are so many entertaining attractions in downtown Sarasota, and you can easily access it all. 
There is also a large grassy park and playground inside the neighborhood for your children to enjoy. Laurel Park also has trails and benches if you like taking walks or going for a jog.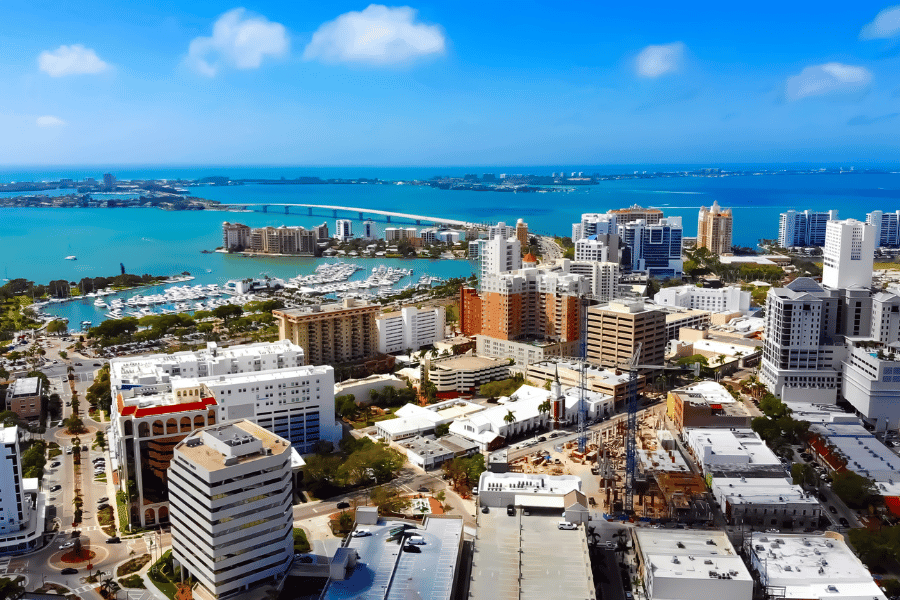 Local Favorites:
McClellan Park
Sarasota prides itself on its architecture throughout the city. This neighborhood consists of just that! In McClellan Park, you will see how it has a unique range of vintage homes and is also near downtown Sarasota. Here you will find cottages designed in the 1920s and newer modern homes. 
The cool thing about this neighborhood is that it still holds onto Sarasota's history. The street names you will see throughout this subdivision are named after the Calusa Indians who initially settled here in Sarasota. 
This neighborhood is considered one of the pricier subdivisions. The average price range of this neighborhood is $500,000 up to $3 million! McClellan Park is so different from all the other favored neighborhoods in Sarasota. 
Local Favorites: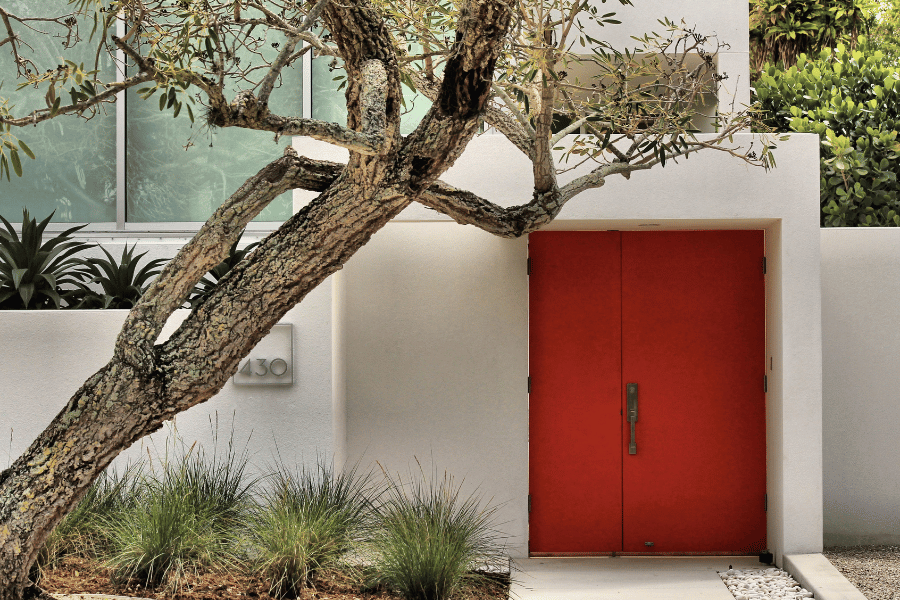 Best Neighborhoods in Sarasota - Our Final Thoughts
Finding the perfect neighborhood to settle down in when moving to a new city is essential to some. No matter which area you move into in Sarasota, you will be amazed by how beautiful and friendly the community is. Almost every neighborhood in Sarasota is near family-friendly attractions, beaches, restaurants, shopping, and more!
If you would like assistance in relocating to Florida, reach out to us to be connected with a trusted Real Estate agent that can help answer any questions you may have. Choosing a Realtor is essential when thinking of selling or buying a home. Our team is here to support your decisions while giving you the best advice! Contact us today! 

Find your new home
Search real estate and homes for sale