13 Best Restaurants in Sarasota, FL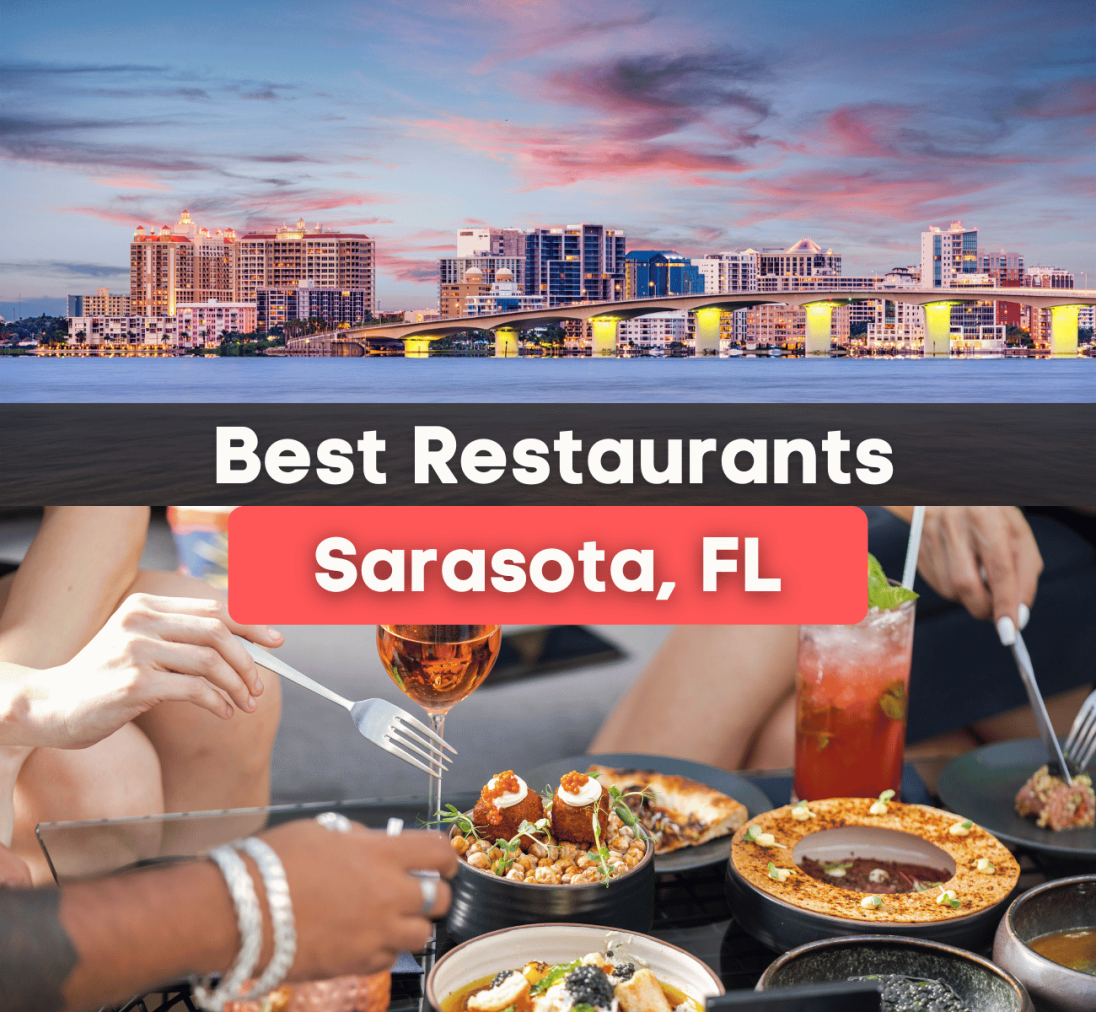 Best Places to Eat in Sarasota
Are you moving to Sarasota, FL, and looking for the best places to eat? You're in luck! We did the research and found the local favorites in Sarasota that are a must-try!
Sarasota has been the city people move to and retire in for many years. This city is located right on the Gulf of Mexico coast and is known for its beautiful beaches, family-friendly attractions, and top-notch restaurants!
Sarasota is roughly 24 square miles and is full of the most breathtaking scenery. This town is the only place in the world where you walk through the treetops of a subtropical forest. Every restaurant established in the city is unique and was designed to match the aesthetic of Sarasota. If you are looking for fresh seafood, high-quality meats, and locally grown vegetables, restaurants in this town have it all!
People tend to flock to Florida from northern states to either retire or move to a warmer climate. Considered one of the best places to live in Florida, Sarasota offers a calm, forestry atmosphere that is perfect to live in or even visit, which is different from other cities within Florida. Whether you are a foodie or just looking for a restaurant to enjoy with your family, this guide will help you find the right place!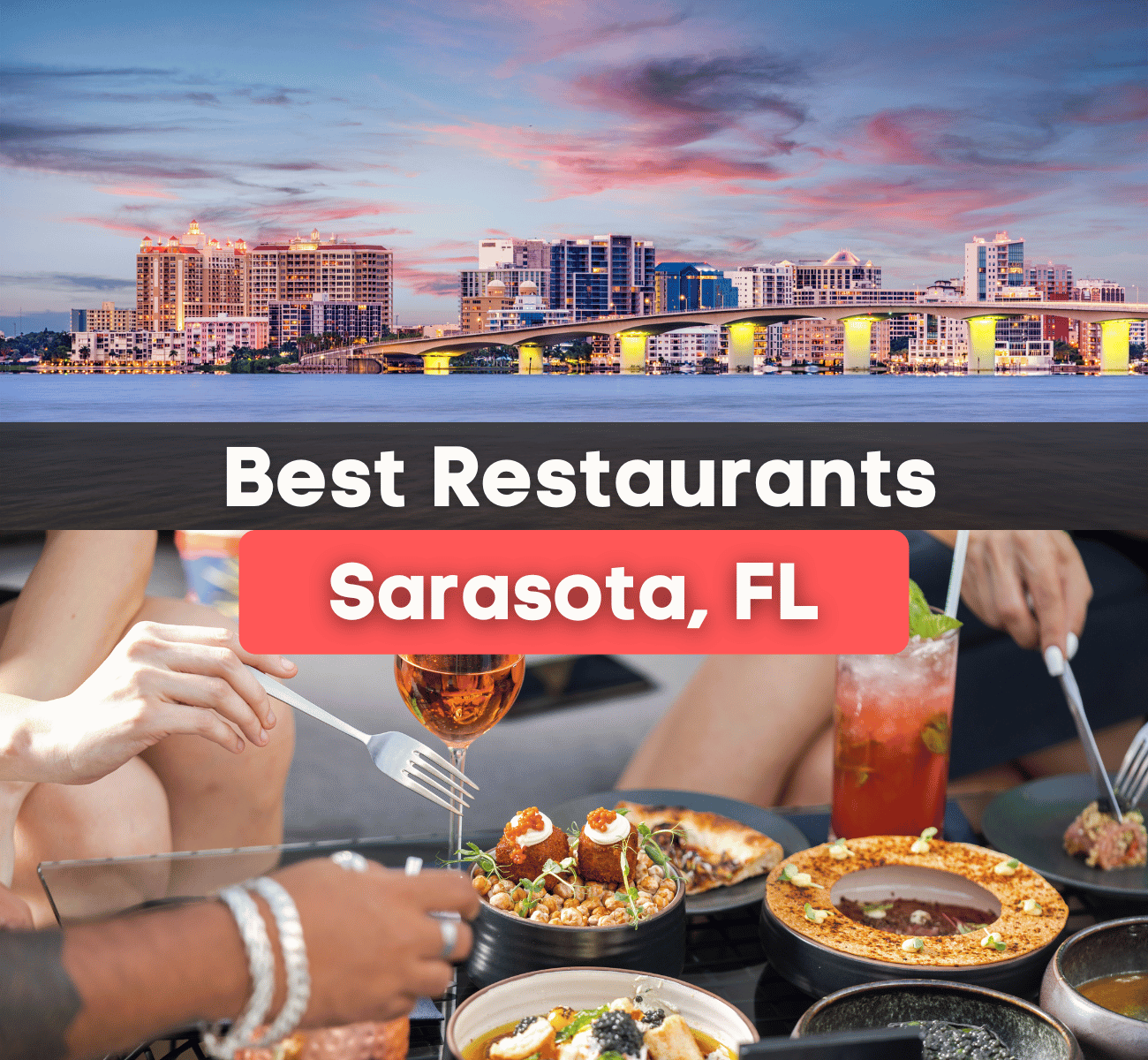 Here are the thirteen best restaurants to visit in Sarasota, Florida!
Indigenous Restaurant
Indigenous was established in 2011 in the area and has had a fantastic reputation for being an inspirational and educational restaurant for years. This restaurant is one of America's top restaurants, renowned for its passion for food, the community, and the plant!
As mentioned earlier, restaurants in Sarasota are built and designed to follow the entire aesthetic of the community. This restaurant showcases that aspect! It is located in the historic Towles Court district in the city's downtown area. The building was restored to compliment its surroundings with sophisticated indoor and outdoor decor! Eating at this establishment will give you a historic and welcoming feel.
Their menu is full of seasonal American cuisine! It is ever-changing depending on the season and which products will be the freshest and the highest quality. Indigenous has won awards over the years since being open. Some of those awards are Edible Communities Award for Sustainability in 2020, Florida Trend Golden Spoon Award: Best Restaurant in 2013, 2014, 2015, 2016, 2018, and 2019, and many more!
Owen's Fish Camp
This establishment is located in the heart of Sarasota and has been a local favorite for years! Owen's Fish Camp prides itself on having the freshest seafood from the bay. Not only do they serve seafood dishes at this restaurant they also are known for their Southern classics! Enjoy your meals with your friends and family while viewing the craft beer and wine selection.
Owen's Fish Camp is in downtown Sarasota's heart of Burns Court. This restaurant shares the town's history throughout the building and even outdoors. There is a looming Banyan tree in the front of the restaurant given to the developer of Sarasota, Owen Burns, by Thomas Edison. Visit this welcoming, casual atmosphere to enjoy what Florida has to offer. 
meLange
meLange is known as Sarasota's most creative dining experience serving flavors of the imagination since it was founded in 2007. Closed on Mondays and Tuesdays, but the other day meLange is doing the best quality and creative dishes to their customers!
This establishment changes its menu seasonally by its chef, Lan Bradeen. meLange is constantly adding new flavors and techniques to its dishes inspired by the chef's travels. Another thing you will find at this restaurant is impressive handmade cocktails! These cocktails are award-winning and have also been created to pair with each dish.
You can find excellent starters like Bay Scallop Ceviche, Charcuterie, Bruschetta, and more. They also have dishes with duck, quail, venison, salmon, and more! Each menu item not only looks beautiful as soon as it comes to your table, but they also taste insanely good! 
MADE Restaurant
MADE is located in downtown Sarasota and was established in 2013. This establishment proudly supports local farms, growers, and ranchers in finding the best produce. The menu at MADE is inspired by award-winning modern American comfort food in a welcoming, cozy environment. 
MADE has been named the iconic Sarasota best restaurant for all the enjoy! The food is created and executed by Chef Mark Woodruff, who started his career out in Texas. Mark's family owned many restaurants in Texas that had different concepts from Italian, Southern, and Tex-Mex. Mark prides himself on the bold dishes he creates for his customers to enjoy!
Selva Grill
One of its best accomplishments of Selva is being featured in the New York Times as "serving possibly the best food in Sarasota." If that says anything about how amazingly delicious and unique these dishes are! They have won awards like Zagat Rated, Golden Spoon, Diners' Choice, Open Table Top 100, and Best Chefs America!
Selva is a Latin Fusion cuisine representing exotic flavors from Latin America and the United States. This restaurant also has a particular emphasis on Peruvian dishes! Here you will find innovative prepared dishes, plated and presented as works of art! People travel to Sarasota for this restaurant! 
Some mouthwatering menu items are nine different ceviches and a variety of starters, from crab cake to empanadas! Their menu is easy to navigate as they have categories like "From the Sea" and "Fruits of the Sea"! Selva is a must-try, for sure!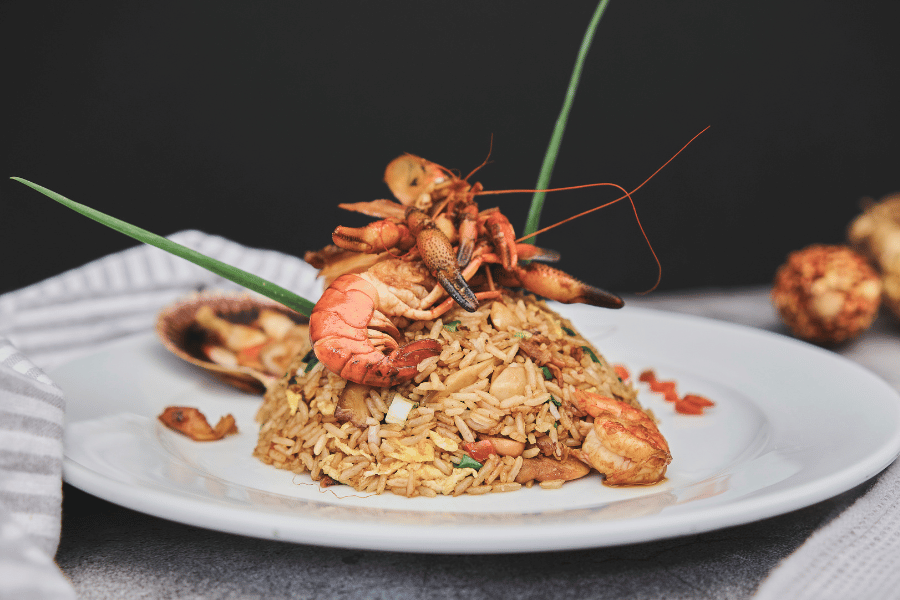 Antoine's 
Antoine's is one of Sarasota's favorite fine dining destinations. This restaurant is perfect for birthdays, celebrations, anniversaries, and more! It was established in 2013 and has been a massive hit since then!
Antoine's serves artisanal cuisine that offers elaborate seafood specials like mussels prepared in ten different ways! Every Monday at the restaurant is Monday Mussel Mania which serves all-you-can-eat mussels. Who doesn't love an all-you-can-eat special?!
This establishment has mussels and Steak Tartare, Duck Breast, and Filet Mignon en Croute. If you are a meat lover, you will love Antoine's Restaurant's menu options!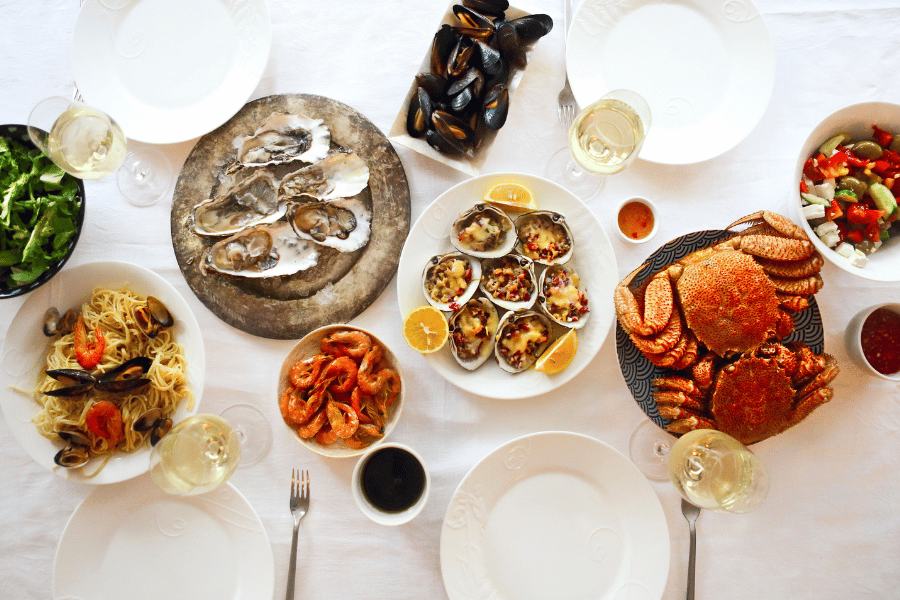 Boca
Boca is located in Sarasota and Winter Park, FL. The location of the Sarasota restaurant was chosen based on the welcoming and cozy energy of downtown, which matches the Boca experience! Boca has room to enjoy with your friends and family, but it also has space for groups, meetings, and events!
This restaurant has a menu of locally inspired dishes that are always made fresh! They offer salads, soups, sandwiches, flatbreads, and more for lunch. The dinner menu at Boca is quite different where. They serve Skirt, Steak, Sweet Potato Gnocchi, Shrimp and Grits, etc.
The atmosphere and dishes prepared for you while visiting Boca are unmatched! One visit to this restaurant, and you will want to return for more!
La Mucca Ballerina
Who doesn't love a good Italian restaurant that serves actual authentic dishes? That is precisely what you will find at La Mucca Ballerina! This restaurant is owned and operated by the Zappaterreno family, that moved from Italy. This family prides itself on their dishes being crafted with ingredients produced on their certified organic farm.
Here at La Mucca Ballerina, you will find the culture and authentic taste of the Lazio region of Italy. The menu has a variety of pizzas, pasta, sandwiches, salads, and desserts! You also have many options for vegan or vegetarian dishes. La Mucca has something for everyone and is all prepared from the heart.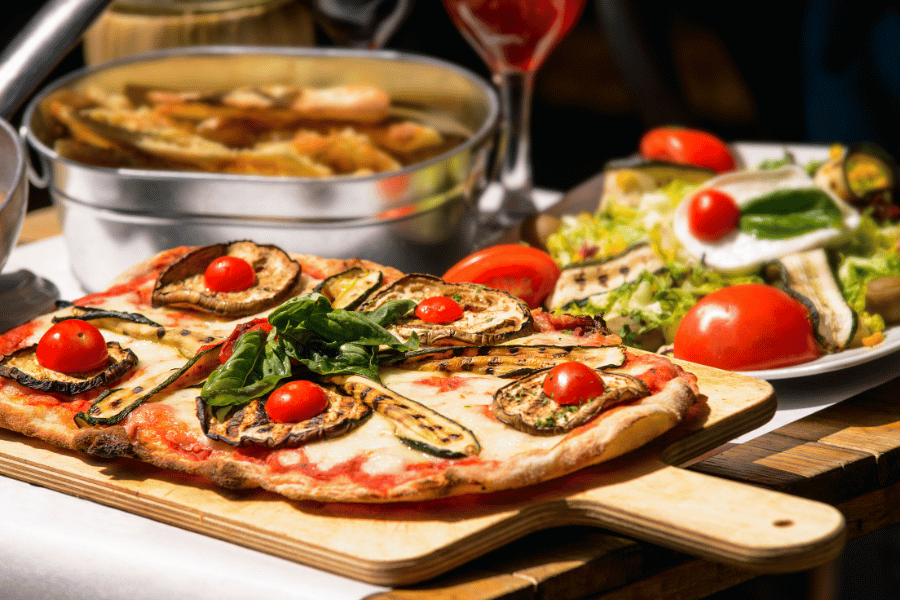 State Street Eating House 
A popular rustic establishment located in Sarasota, Florida. As soon as you walk through the doors of State Street, you will enter into a Mid-Century Industrial Chic atmosphere. This restaurant still has the original walls, rafters, and everything in between that still leaves the urban feel and greenery.
State Street Eating House has won awards such as Best New Restaurant, Best Burger, and Best Cocktail for eight years! You will be satisfied with what this restaurant has to offer its customers. Stop by State Street to enjoy a burger, brunch, or tasty cocktails!
Speaks Clam Bar
Speaks Clam Bar has two locations in Florida: Lakewood Ranch and Sarasota! This restaurant has been voted the best place to eat lunch in Sarasota. They have a variety of dishes, from pasta to New England seafood dishes. All meals are prepared with the freshest ingredients and with love.
Start off trying the shell bar at Speaks! You can order clams, oysters, or a shrimp cocktail! You can have these dishes prepared raw, Rockefeller, or scampi! You can enjoy some of the starters offered at Speaks Clam Bar. They have Meatballs, Calamari, Crab Dip, and more! Each of these items is made to perfection by the Speaks crew.
This place is perfect if you are in the Sarasota area!
Siegfried's Restaurant
All of Sarasota and its visitors highly love Siegfried's Restaurant! This restaurant was established in 2018 by Kim and Rene, who had just recently moved to America from Germany. The main goal of this restaurant is to provide personal service and high-quality authentic german food based on family recipes.
You can enjoy the most delicious meals at Siegfried's with an exclusive german beer or wine! You can check out Siegfried's beer garden if you want a place to get drinks and chat. When visiting this place, you will feel the authenticity and love behind this business which makes the experience even better.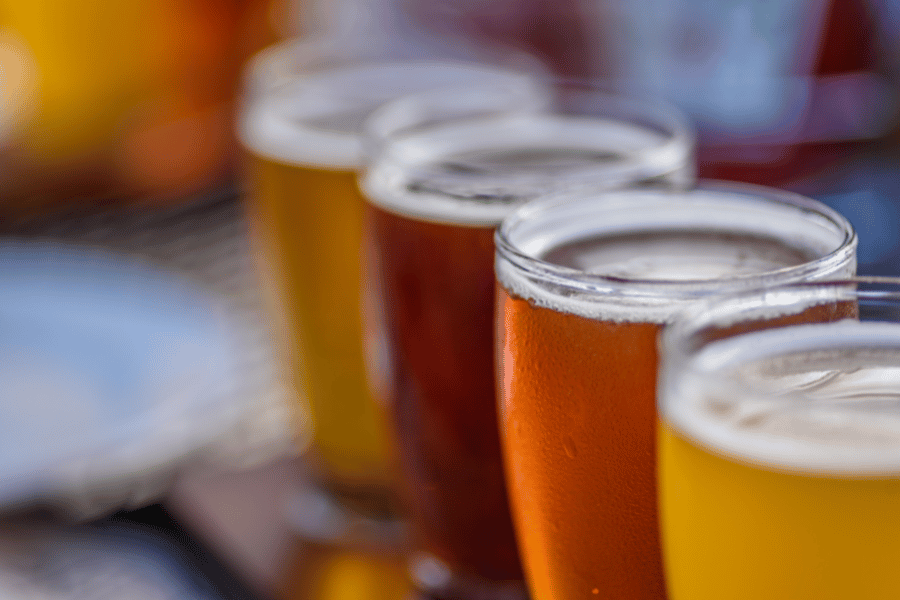 Connors Steak & Seafood
Connors Steak and Seafood is a loved restaurant in the South East of America that started in 1992! Their establishment is located in Knoxville, TN; Huntsville, AL; Fort Myers, FL; and Sarasota, FL! The location in Sarasota is the newest addition and is in Siesta Key! 
Connors is known to be the home of the best beaches. The atmosphere at this restaurant is unmatched! As you walk in the doors, you will enter an inviting dining room with woodwork and unique architectural details. This restaurant uses Mesquite Wood Grills to enhance the flavors of its beef and seafood dishes. 
Connors has been voted the best steakhouse by Sarasota Magazine every year since 2019. This place should be on the top of your list when deciding which restaurant to try while in Sarasota!
Caragiulo's 
Caragiulo's is an Italian-American-based restaurant located in the heart of Sarasota! They have been prepping and serving their customers since 1989. Caragiulo was born when a bakery from Brooklyn, New York, Tony Caraguilo, and his five sons came to Florida to find the perfect location to open an Italian restaurant. They searched Florida for two weeks until they found the ideal building on Palm Avenue in Sarasota.
Caragiulo prides itself on having fresh, authentic Italian dishes. The bread is baked every morning within the restaurant, the mozzarella is made fresh, and Mrs. Caragiulo herself bakes the biscotti! Eating at this establishment with your friends and family will feel like eating a home-cooked meal made just for you! 
Best Restaurants in Sarasota - Final Words
After reading our guide to the top restaurants in Sarasota, I bet your mouth is watering! Sarasota is known to have some of the best places to enjoy a meal with your friends and family. There are many other restaurants in Sarasota, so please expand your horizons. You will be welcomed into the establishment and given a great dish anywhere you visit.
Sarasota is a perfect place to move to or visit not only because of its restaurants, but the overall atmosphere of the town is fantastic! It is a place that everyone should visit in their life to see what it has to offer. 
If you or anyone you know are considering moving to Sarasota, Florida, contact us to be connected with a trusted local Real Estate agent for further guidance!
If you enjoyed this article and would like to read more, check out the best restaurants in other Florida towns, such as the best restaurants in Lakeland, the best restaurants in Palm Beach, and the best restaurants in Coral Springs! 

Find your new home
Search real estate and homes for sale