13 Best Restaurants in Lakeland, FL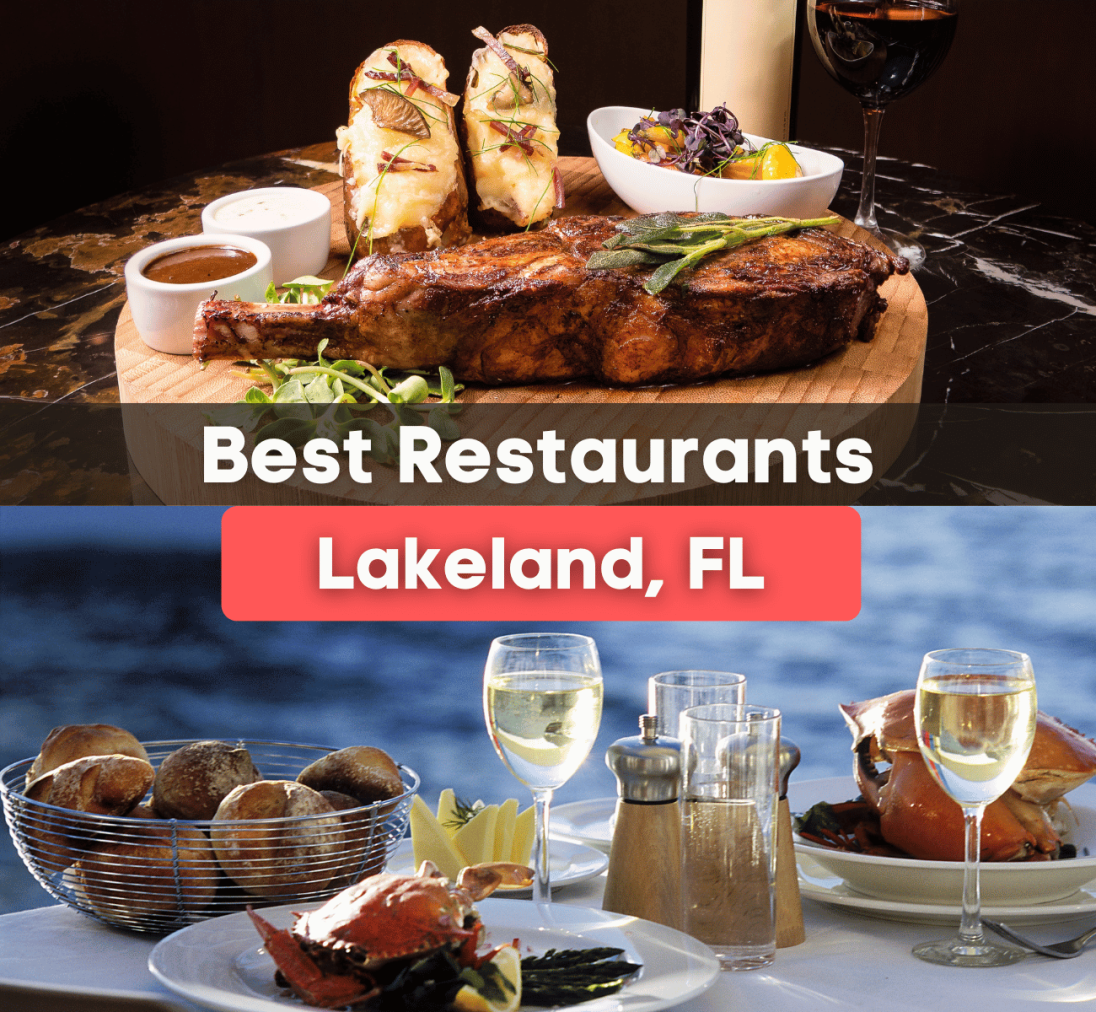 Must Try Restaurants in Lakeland, Florida
Are you moving to Lakeland, FL, and wondering what some of the best restaurants in Lakeland are? Keep reading as we tell you about thirteen of the best places to eat in Lakeland!
Lakeland is a beautiful city located just east of Tampa, Florida. It is known for its amazing lakes that fill the city. Finding a restaurant with a fantastic lake view in this city will not be hard to find, and it is a one-of-a-kind experience! Lakeland has almost 500 restaurants within its city limits ranging from mom-and-pop local restaurants to chain franchises.
With Lakeland, Florida, constantly growing as it is just outside of large cities like Tampa and Orlando, the city brings in so many new faces every day! Whether you are just stopping by for a quick sightseeing or moving your life to the town, you will not be disappointed with the food this place has to offer either way!
If you are a foodie or just looking for a good place for a nice date night, you have come to the right place! Please keep reading to figure out the top restaurants we recommend you try in Lakeland, Florida!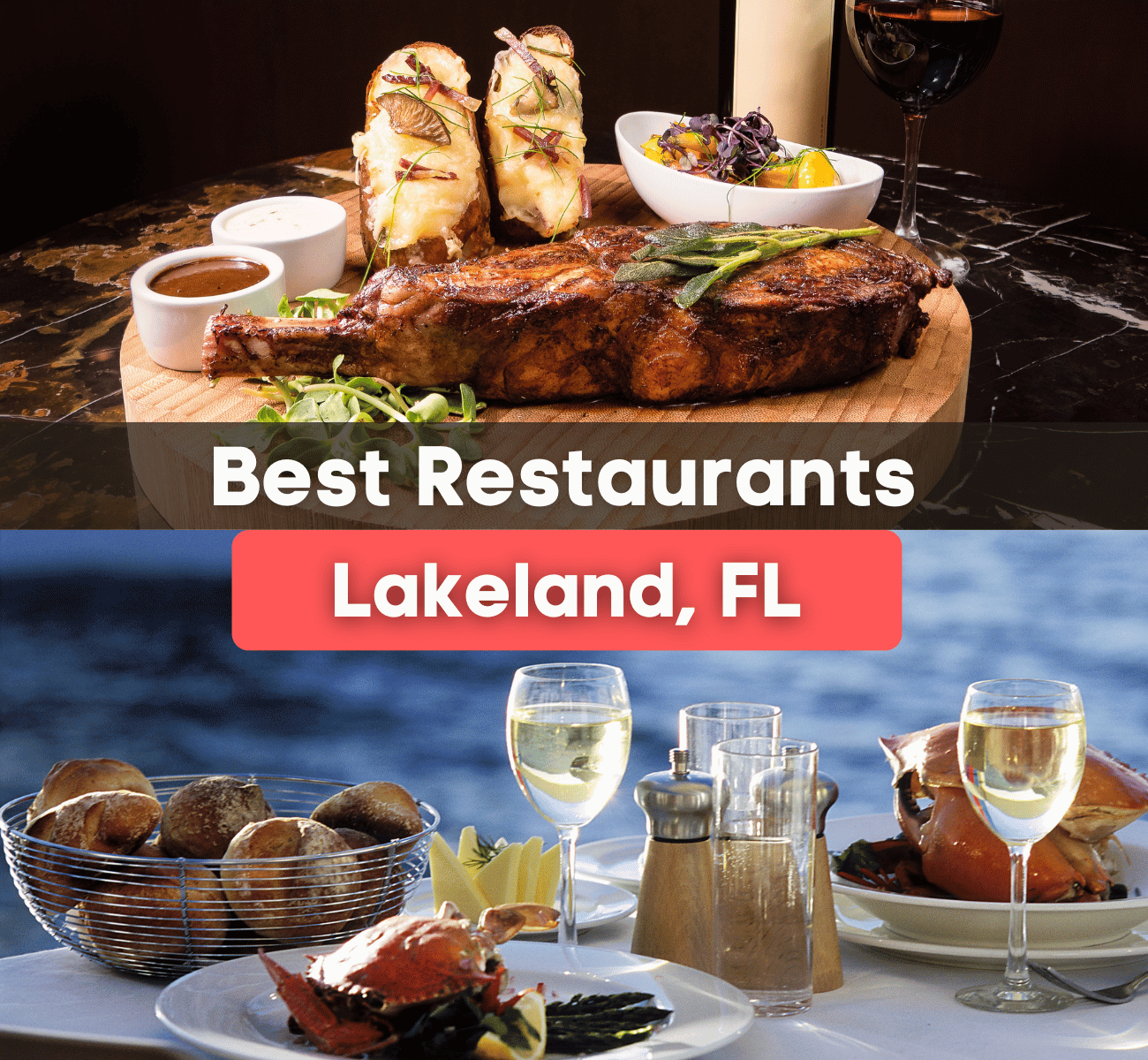 Here are some of the best restaurants in Lakeland, FL!
Harry's Seafood Bar & Grille
Harry's Seafood Bar & Grill is one of our fan favorites and 100% a must-try! The Saigs founded this restaurant in June 1987. Since then, their menu has come a long way and will blow you away! They started with a small menu, and a few seats and now have a very successful (and tasty) restaurant.
The food you will find at Harry's Seafood Bar & Grill will be Louisiana-inspired. With every bite of food from this restaurant, you will taste all the bold, unique flavors; it is just amazing!
Here you will find the best southern, cajun, and creole flavors in classic modern dishes. They also provide a full bar at each location with a handful of beer, wine, and liquor. And it doesn't just stop there! You must try some of Harry's own unique cocktail creations!
Bay Street Bistro
Bay Street Bistro is located in downtown Lakeland, FL. It has such a beautiful atmosphere and allows you to experience an art gallery all in one. This restaurant will enable you to experience 5-star quality dining in a relaxed atmosphere - what more could you ask for on a date night?!
You will find a fabulous French, Italian, and American menu made from scratch! You can enjoy your fantastic meal while looking at the most talented artists.
Not only does this restaurant have an exquisite food selection, but it also has an intense wine menu! Any wine you love, they have! You are also able to bring your wine when you come to dine at Bay Street Bistro. A great experience that you need to witness.
Abuelo's Mexican Restaurant
Abuelo's began in 1989 by three entrepreneurs in Amarillo, Texas. Their goal was to open a restaurant that served homemade authentic Mexican food at reasonable prices. They also wanted to focus on creating an atmosphere that welcomed all guests to come together to experience unique flavors while also experiencing the art and culture of Mexico.
This restaurant has been so successful and is loved by so many; Abuelo's has been able to open several restaurants in nine states throughout the country and is planning on opening more! If that doesn't scream "TRY ME," I don't know what does!
Each restaurant is designed as an open Mexican courtyard with a mix of modern and traditional decor. Each menu item is created with love from Chef Sanchez's family recipes. Abuelo's has been ranked the #1 Mexican Restaurant in America since 2006 by consumers!
Nineteen61
Nineteen61 is known for its fine dining in Florida. Their menu is inspired by the Spanish style accompanied by a Latin American twist while still having that southern feel. This restaurant prides itself on showing customers what exquisite dining should be like.
Nineteen61 loves its community. To them, it's not about the money, the 5-star reviews, or the press; it is about the food, freedom, and sharing their success with the community. Not only do they have fantastic food to eat, but they also have a great wine selection!
You can enjoy a night out to Nineteen61, eat great food, drink great wine, and feel a memorable in-depth experience.
On top of Nineteen61, they have also created other establishments relating to this loved restaurant. Bar61 was designed out of a passion for connecting with people. It is a bar program with an impressive beer and wine selection—a great spot to relax after eating a fantastic meal at Nineteen61.
The owners have also extended their business and have created Banquet61. This establishment is a full-service venue and offers quality custom menus for business meetings, events, or any special occasion that is being celebrated!
In conclusion, Nineteen61 is a place you need to experience.
Fish City Grill
Fish City Grill started as a small 12-table restaurant and now has 20 locations and keeps growing! Their primary focus is to provide a friendly, fun, and caring company that puts people first! They are known for serving great seafood from homemade recipes at affordable prices. Their passion is to do great food, be the best job a team member ever has, and they want everyone to leave their restaurant feeling better about life!
Whether they own 3, 30, or 300 restaurants, they will keep sight of their goals and why they started the restaurant! This fantastic family-friendly restaurant allows you to enjoy made-from-scratch seafood recipes. We guarantee you will leave with a smile, and you will want to go back for more!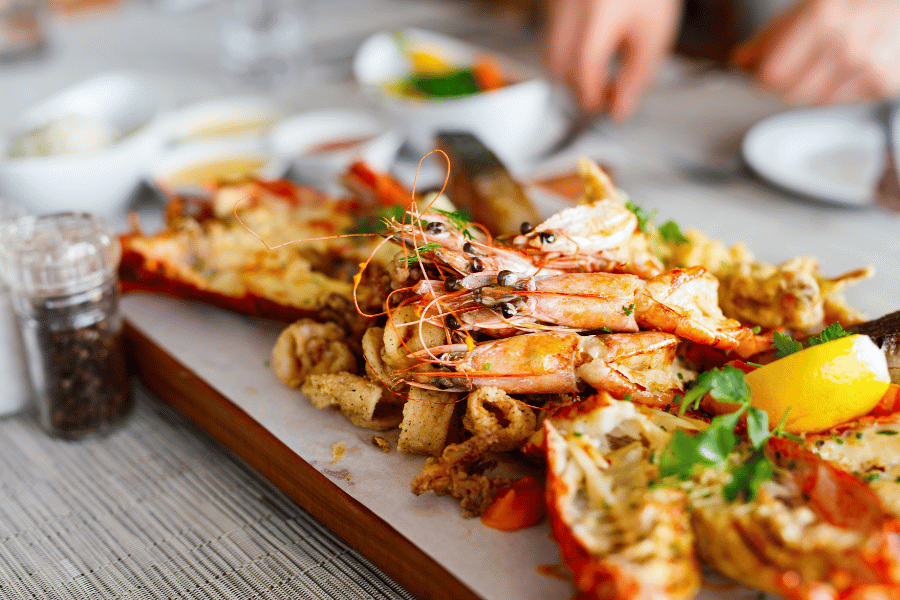 Grillsmith - Lakeland
Grillsmith is known for its polished but casual restaurant. Their menu consists of classic American comfort dishes with a fantastic drink menu! From modern wines and whiskeys to handcrafted cocktails, you will not be disappointed with what this establishment offers!
The chefs of Grillsmith create their modern dishes by using their love of various cultures and flavors as their inspiration. The menu includes a wide range of food. Some popular choices are the Cajun Shrimp & Chicken Pasta, Blue Crab & Shrimp Burger, and their Port Wine Filet Mignon.
Grillsmith proudly serves Certified Black Angus beef aged 40 days for the tender and flavorful steak you want and deserve! Their daily catch is also caught in the Gulf and Atlantic ocean waters to provide you with sustainable seafood. They also serve fresh cold water salmon caught off the waters of Chile! Whether you get the steak or the fish, your meal will be made with the best ingredients and love from the chefs of Grillsmith.
Garden Bistro
Garden Bistro is an American restaurant overlooking Lake Mirror in Lakeland, Florida. Enjoy the fantastic homemade meal items that this local business has to offer. Garden Bistro is known for there different specials that they offer throughout the year. They are constantly changing up little parts of the menu to keep their customers coming back for more, and it works!
Garden Bistro also offers brunch menu items! Enjoy this restaurant's fantastic views and enjoy a nicely cooked meal.
Ford's Garage Lakeland
Who doesn't love a good burger and beer joint?! Ford's Garage has some of the best burgers in town! They are known for their gourmet burger bar serving up the finest variety of Black Angus Beef, Turkey, Chicken, and Vegetarian products with naturally aged cheeses and gourmet toppings. They also specialize in American comfort food entrees such as homemade meatloaf, pork ribs, and macaroni and cheese!
Not only does this establishment offer a great food selection that is a must-have, but they also have such a unique aesthetic! As soon as you walk through the doors at Ford's Garage, you will be introduced to the vibe of a 1920's service station that includes vintage Ford vehicles, gas pumps, and fixtures! The bar serves a prohibition style with old brick, rich wood, and copper bar top. They also have many American craft beers, wine, and cocktails.
The original location of Ford's Garage was opened in 2012 in downtown Fort Myers, less than a mile from Henry Ford's winter home. Since the opening of its first establishment, Ford's Garage has been a big hit ever since and has grown immensely, with tons of locations throughout Florida and even Texas!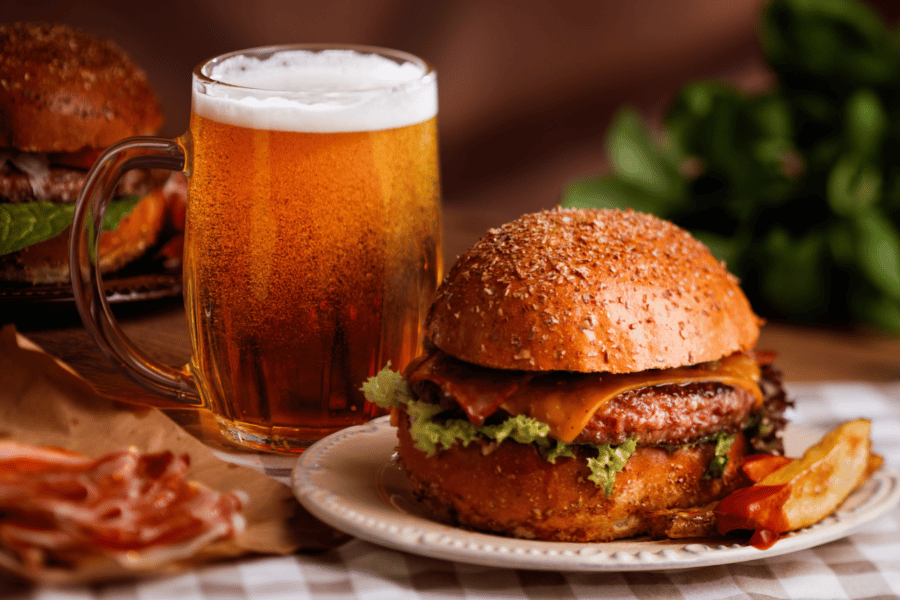 Scarpa's Italian Restaurant
Scarpa's Italian restaurant is a family-owned restaurant. It is operated by Glenn and Ashely Scarpa. The journey of Scarpa's started long ago when the family lived in Italy. They had a dream of starting their Italian restaurant. They officially opened their first restaurant in 2013 in Lakeland, Florida, which has been a huge hit ever since!
They offer made-from-scratch Italian cuisine while also using the freshest ingredients. They also serve local seafood alongside their Italian classics. In 2019, Glenn and Ashley opened another location for their family business. They opened this location in Boca Grande! Check out either site for an authentic Italian family restaurant to enjoy a nice dinner and some great wine.
The Joinery
Are you ever with your family and friends and you can never agree on one place to eat? Don't stress anymore! The Joinery is a modern food hall located on the banks of Lake Mirror in downtown Lakeland. Currently, they have nine available food vendors at this establishment. You can enjoy Barbeque, Burgers, Ramen, Ice Cream, Mexican cuisine, Pizza, and Sushi burritos!
Not only do they have a variety of food options, but they also have a large bar selection! They serve Florida-brewed beers, natural wine, and unique handmade cocktails! While you enjoy your time there, you can also participate in fun activities. On Tuesdays, they have bingo, and on Thursdays, they have Trivia Night! This is a perfect place for a date night or family time!
Red Door
Located in downtown Lakeland, the Red Door is one of Florida's premier destinations for fine American dining. They were established in 2009, and ever since then, they have been committed to bringing a culinary experience to Lakeland that is authentic and progressive.
At the Red Door, they pride themselves on their scratch kitchen, craft beverages, classic cuisine with a modern twist, and unique atmosphere! As soon as you walk through the doors at Red Door, their goal is to make you feel like you are at home!
While enjoying your exquisite meal at the Red Door, you will also experience the fantastic views of the beautiful Lake Morton. After enjoying your dinner and some drinks, the Red Door is nestled amid some of the unique attractions in Lakeland, Florida, that you can visit! This one is hands down a must-try!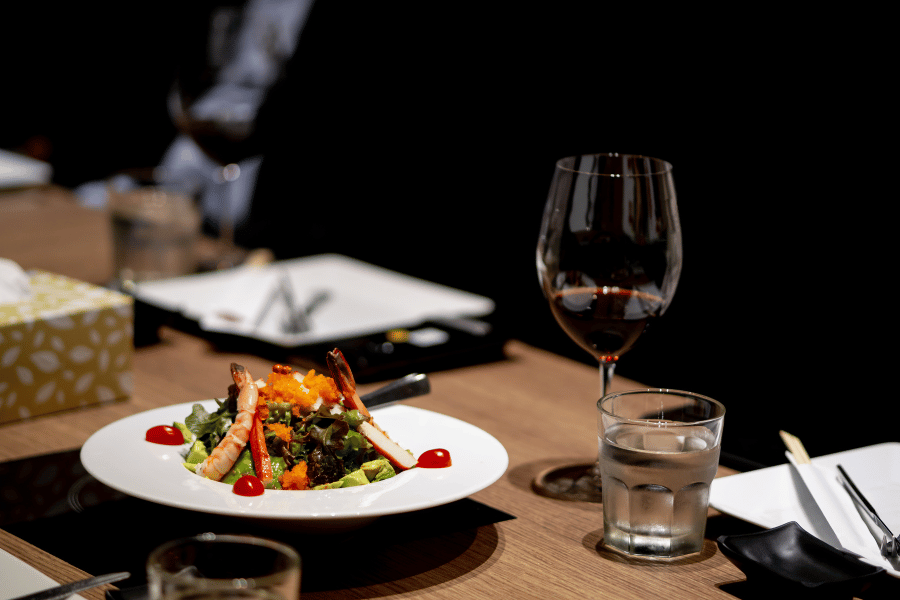 Terrace Grille
This restaurant is unique. Terrace Grille is located at the historic Terrace Hotel Lakeland in the heart of downtown. This establishment is proudly an upscale dining location for all generations to gather and celebrate. It is an elegant urban oasis recognized for its historic floor-to-ceiling arched windows, black and white patterned floors, and dramatic pecky cypress-patterned ceilings. The vibes at this restaurant are immaculate!
The vibes aren't just great, but the food Terrace Grille serves also great! Their kitchen offers made-from-scratch items with the freshest flavors. Taking cues from their restaurant's design inspired by the lush garden and vibrant hues, Terrace Grille selects ingredients from locally grown citrus and wild-caught seafood. Everything is made fresh and in-house in this Terrace Grille kitchen, never frozen.
This establishment is definitely a place you need to try and see. The building tells so many stories about Lakeland's history!
Patio850
If you are looking for a place to enjoy some food, wine, and fun, Patio850 is the place for you! Stop by this American cuisine and enjoy a made-from-scratch meal on the patio that overlooks amazing views of Lakeland, Florida.
The menu at Patio850 is where you can find a mixture of American, European, and Southern-inspired meals! They have a variety of creative salads, spreads, sharing plates, sandwiches, and more! All of their products and ingredients are found locally and used to enhance each menu item's flavors.
The chef at Patio850 is Patrick Shaefer. Patrick has created an exquisite portfolio of mouth-watering award-winning dishes. The menu at this establishment constantly changes with the season, so they can always have the freshest products in-house. This restaurant is a must-try!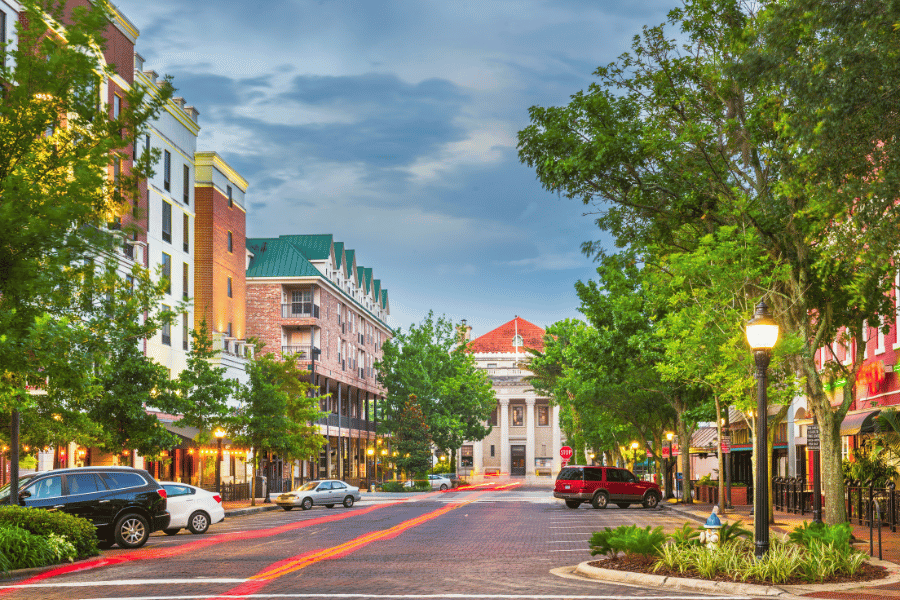 Best Restaurants in Lakeland, FL - Final Thoughts
From casual eateries to fine dining experiences, there is no shortage of great places to eat in Lakeland. If you are moving to Florida and want to call Lakeland home, you will soon discover how excellent its restaurants are. Please contact us today if you are ready to search for homes for sale in Lakeland. Our talented and friendly Realty Specialists are prepared to help and answer any questions about the home-buying process.

Find your new home
Search real estate and homes for sale