11 Things To Know BEFORE Moving To Lakeland, FL
Living in Lakeland
Are you considering moving to Lakeland, Florida? Here are eleven things you should know before living in this city!
Lakeland, Florida - also known as Swan City, is a beautiful city located east of Tampa. This city gets its nickname Swan City because of the swans in the lakes of Lakeland dating back to 1923. The people of Lakeland considered these swans the 'people's pets.' Over the years, the name felt very fitting to this city. You can enjoy the lovely views of this city while seeing these amazing royal swans at any time of the day. Lakeland has so much to offer; keep reading to see why people make Lakeland their new home!
Lakeland is the largest city in Polk County, with a population of 115,685 people reported in 2020. It is also the 22nd largest city in Florida and has a growing rate of 1.33%. People are flocking to this city because of its, get ready for a shocker, amazing lakes! Lakes are a great attraction to most people. Where there is a lake, there are fun things to do with your friends and family on a nice day!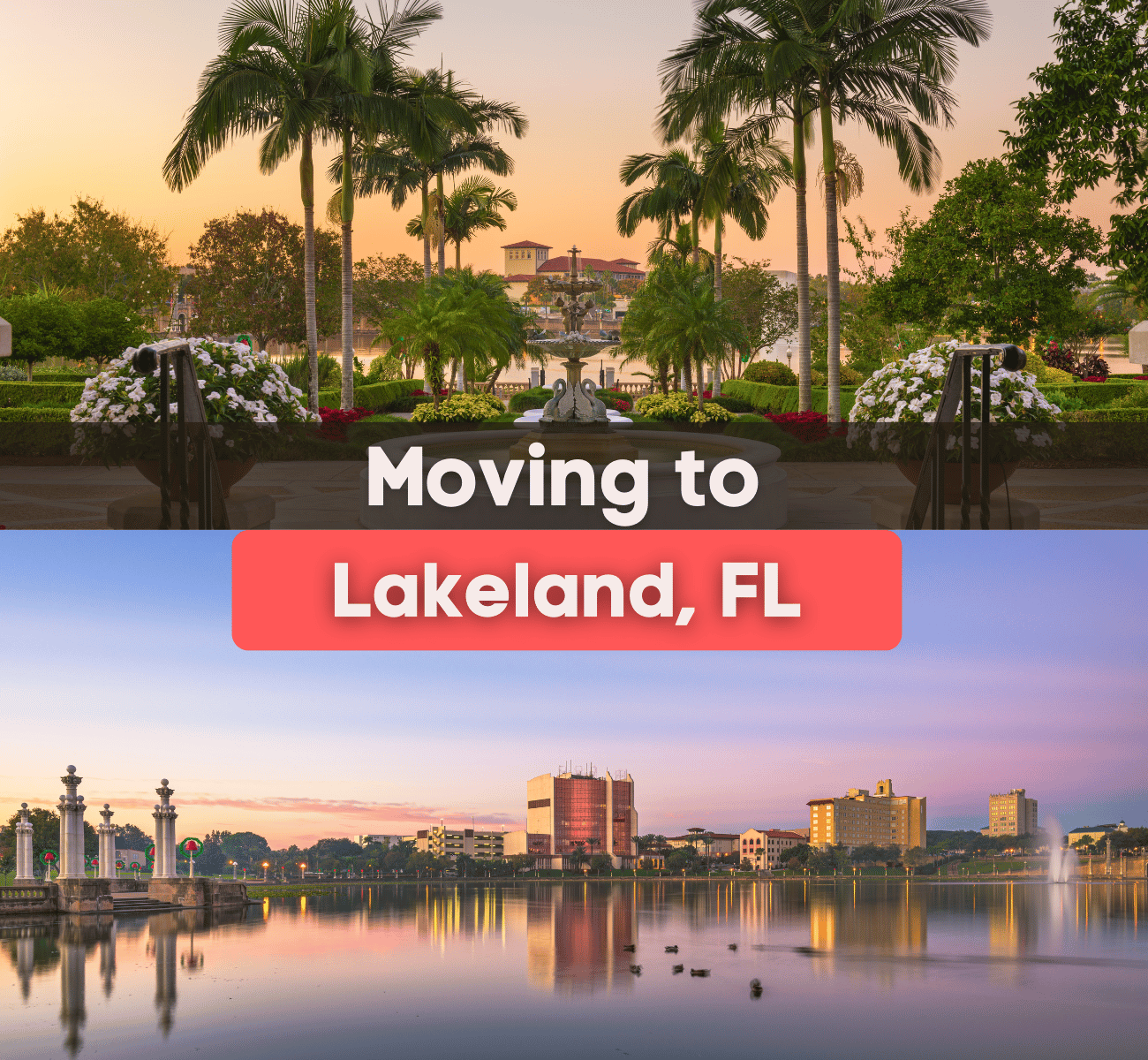 It is hard not to love a large city that has a small-town feel. Keep reading to learn more about why you would LOVE living in Lakeland, Florida!
Cost of Living
As we mentioned above, Lakeland is constantly growing! More and more people are moving into this city and for mainly its affordable cost of living. The overall cost of living is lower than the national and state average. When moving to a new town, estimating how expensive a lifestyle would be is essential.
Now let's look at the numbers more in-depth.
| | | |
| --- | --- | --- |
| | 1 Person | Family of 4 |
| Total with Rent | $1,927 | $4,318 |
| Without Rent | $786 | $2,415 |
| Rent & Utilities | $1,141 | $1,903 |
| Food | $599 | $1,549 |
| Transportation | $51 | $140 |
Source: Living Cost
These numbers are averages of what it costs to live as one person in Lakeland vs. having a family of 4 living in the city.
Many people move to Lakeland because it is near major cities like Tampa and Orlando. Lakeland is about 15% cheaper to live in than Tampa, Florida, with it only a 40-minute drive away!
Job Market
One of the most significant stressors in our lives is getting a job. If you are considering moving to Lakeland, Florida, and want to know what the job market is like, keep reading!
Lakeland has a growing job market! This city has experienced a 2.9% increase in its job market over the last year. The market is expected to grow as more people move to Lakeland or surrounding areas. Lakeland has an unemployment rate of 5.6%, below the national average. Moving to this city, you will be faced with various job opportunities. Whether in the healthcare, logistics, or retail industries, there is a job for you!
Some of the biggest companies are located right here in Lakeland, FL. Those companies are Publix, Lakeland Regional Health, GEICO, Amazon Air Hub & Distribution, Saddle Creek Logistics Services, and many more!
The average base salary in Lakeland is $57,698 a year, which comes out to be about $27 an hour. This salary allows you to live comfortably within Lakeland.
Housing Market
Since the population of Lakeland is constantly growing, the housing market is also increasing. This city's market is currently balanced, meaning the supply and demand for homes are about the same. This is excellent news for anyone wanting to buy or sell in the area!
The average home price is $340,000, a 15% increase since last year. This proves that the city has become more active, and more people want to live in Lakeland.
Even though the housing market can be competitive, it is well worth owning a home in this beautiful city. Some of the best neighborhoods are South Lake Morton Historic District, Cleveland Heights, Lake Somerset, Lake Beulah, and more!
If buying a home at first is not in your cards, let's look into the rental market!
The average rent price in Lakeland is $1,505 for an average apartment size of 970 sqft. This price will fluctuate depending on the precise location, the unit type, amenities, etc. Lakeland comprises 45% of renter-occupied households and 55% of owner-occupied homes.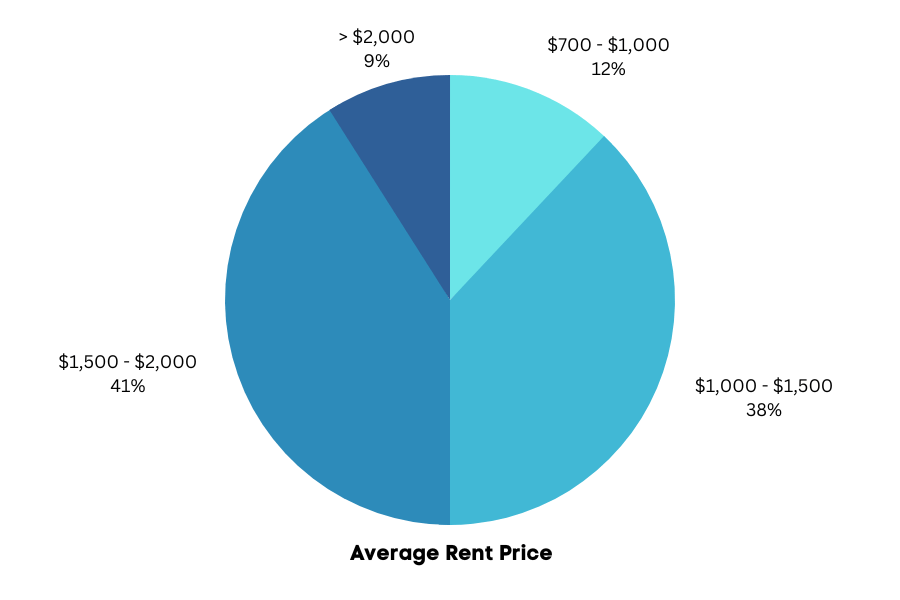 If you are considering moving to Lakeland and would like to understand better which option would be best for you, reach out to one of our Real Estate Agents, and they will guide you in your decision.
Transportation
Although Lakeland is a car-dependent city, there are many public transportation options if getting from point A to point B with a car is not an option.
If you need access to public transportation, you can check out Citrus Connection. Citrus Connection is a public transit in Polk County by the Lakeland Area Mass Transit District. This transit bus station can take you anywhere within the county.
There are also other options like Uber and Lyft in Lakeland, Florida. This transportation is used more frequently than a local taxi and is also said to be cheaper. Overall, there are options for needing some form of transportation to get you around the city!
Education
Lakeland is part of Polk County. In 2022, 61 public schools, K-12, serve nearly 40,000 students in Lakeland, and 25 private schools serve 5,000 students. 88% of kids are educated in public schools in the city.
Lakeland is home to Florida Southern College and Southeastern University.
Florida Southern College (FSC) is a private college within city limits established in 1883 with a little over 3,000 students. FSC is home to the world's most extensive single-site collection of Frank Lloyd Wright architecture. In 2012, FSC was voted the most beautiful campus in the country!
FSC is a Division II school and has won many national titles in several sports! The mascot of FSC is Mocsie, the water moccasin, which gives them their nickname, the Mocs.
Southeastern University is a private Christian university in Lakeland, Florida. It was established initially in Alabama as Southeastern Bible Institute, relocated to Lakeland in 1946, and became a liberal arts college. Southeastern University is the largest Assemblies of God educational institution in the country!
This college is home to over 4,000 students and is part of the NCAA Division I program.
You have various educational options right inside your city limits living in Lakeland!
Must Try Restaurants
Nineteen 61
This restaurant meets all of your fine dining needs! It is a lovely mixture of modern Spanish style and Latin American food with a southern atmosphere. This restaurant is open for brunch, lunch, and dinner. It also has a great selection of drinks!
Love Bird Almost Famous Chicken
This restaurant has precisely what you'd assume - AMAZING fried chicken! Check out this restaurant that is known for its fresh chicken that is coated in homemade batter. It is hard to find fried chicken that has that crunch and is still juicy inside!
Red Door
This restaurant is located in the heart of downtown Lakeland. Here you will be able to experience Florida's fine American Dining. While enjoying these made-from-scratch meals, you can also enjoy the view of Lake Morton! Who doesn't love good food and good scenery?!
Cob & Pen
This restaurant is located just blocks away from downtown Lakeland. It offers excellent craft beer, boutique wine, fine food, and a fun atmosphere! It is a must-try. Remember to check out the happy hour 4 pm-6 pm or 10pm-close!
Krunchy Krab
This is where you will find delicious seafood smothered in garlic cajun seasoning! The Krunchy Krab provides high-quality seafood and chicken wings to its customers. If you are in the mood for some crab legs, shrimp, mussels, etc., this is the place to visit!
This is just a short list of some of the highly-rated restaurants in Lakeland, Florida.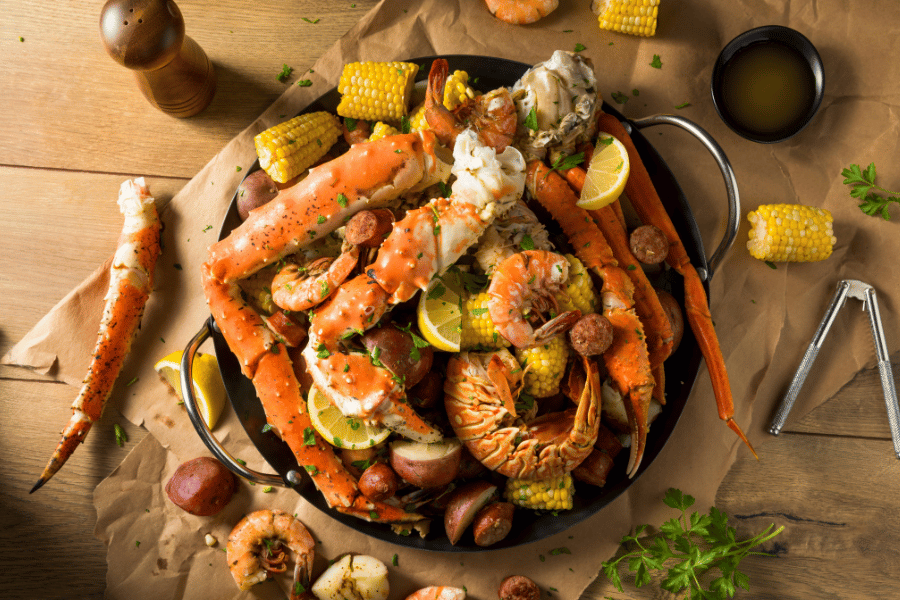 Entertainment/Nightlife
Are you looking to move to a place with abundant entertainment and nightlife? Lakeland is your place! Lakeland is FULL of amazing unique bars, taprooms, and lounges; you name it- they have it!
A few fan favorites are Lakeland Loft, Linksters Tap Room, The Pink Piano, MINT Hookah Lounge, Ybor Cigars & Spirits, Galaxy Bar, and more! Check out these locations if you want a fun night out with friends or a nice date night!
Another local favorite is The Yard On Mass! This is known as Lakeland's favorite backyard party! This venue has so much to offer. You can enjoy specialty cocktails, an extensive beer selection, food trucks, games, and live music! It is also a perfect spot for a private venue for any event you'd like to host.
Lakeland is full of fun - you want to take advantage of it!
Lakes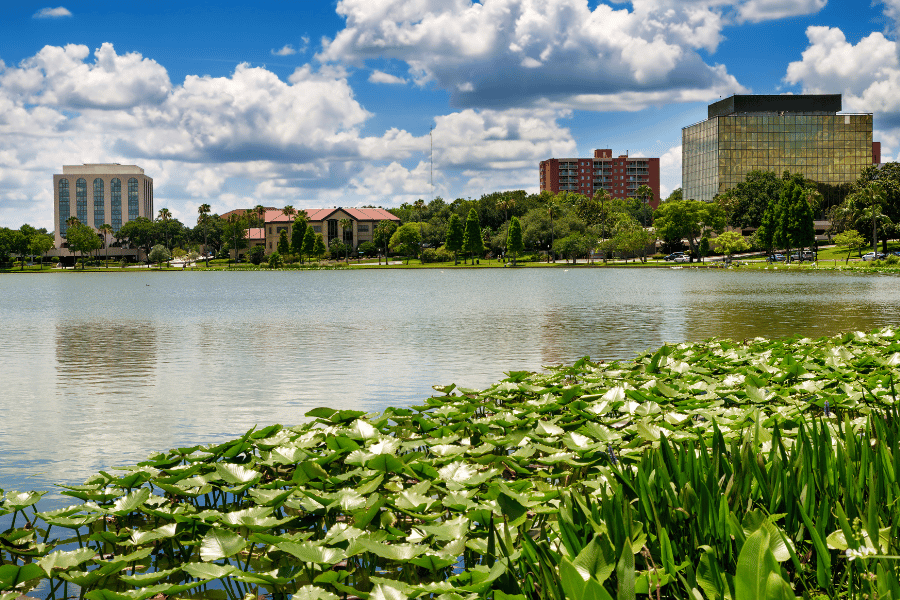 As we mentioned earlier, Lakeland is known for its lakes!
Lakeland has a total of 38 lakes within its city limits. Lake Parker is the largest lake in Lakeland, covering approximately 2,200 acres with a maximum depth of 20 feet! The smallest lake in Lakeland is Lake Blanton covering only 2.5 acres.
These lakes provide tons of activities you can do to experience the outdoors. You can go hiking on trails, bring your boat to some lakes, enjoy fishing, and much more!
Lake Hollingsworth is 354 acres and is near Florida Southern College. This lake is the spot to check out if you love to fish!
Another vital lake to Lakeland is Lake Morton. This lake is home to the swans! It is located in the heart of downtown Lakeland and Swan City culture. This lake helped shape Lakeland's history into what it is today! Queen Elizabeth sent Lakeland a pair of her royal swans, and the swan population has been booming ever since!
Beach Life
Living in Florida, you think of warm water and beautiful white sand. You are in luck living in Lakeland! The city is only a 2-hour drive from one of the most beautiful beaches, Clearwater Beach.
Clearwater Beach is known for its white sand and clear water on the Gulf Coast. When people think of Florida, most will think of this beach. There are many beach activities, excellent restaurants, great views, and more! It is not voted America's Best Beaches for nothing!
Weather
Most of us know and love Florida for its warm weather. Lakeland summers are long and hot, with on-and-off rain. Perfect situation to live near bodies of water to cool off during the heat of summer! The winter season is ordinarily short and relaxed, which is ideal for those who prefer warm weather.
The typical range for temperature in Lakeland, Florida, is between 50º and 90º. The hottest time of the year is between May and October, and the coolest times are between December and February.
History of Lakeland
Every city has a story behind it, so let's dig into Lakelands! Abraham Munn founded Lakeland in 1885. Munn purchased 80 acres of land, which is what downtown Lakeland is today. The city of Lakeland boomed in the 1920s, with many historic buildings being built that still stand today. Some buildings are the Terrace Hotel, New Florida Hotel, Polk Theater, and many more historical places.
Lakeland, Florida, is also known for being home to the Detroit Tigers' spring training. This has led to the creation of the Minor League Baseball team Lakeland Flying Tigers. You can catch a game at the Publix Field at Joker Marchant Stadium!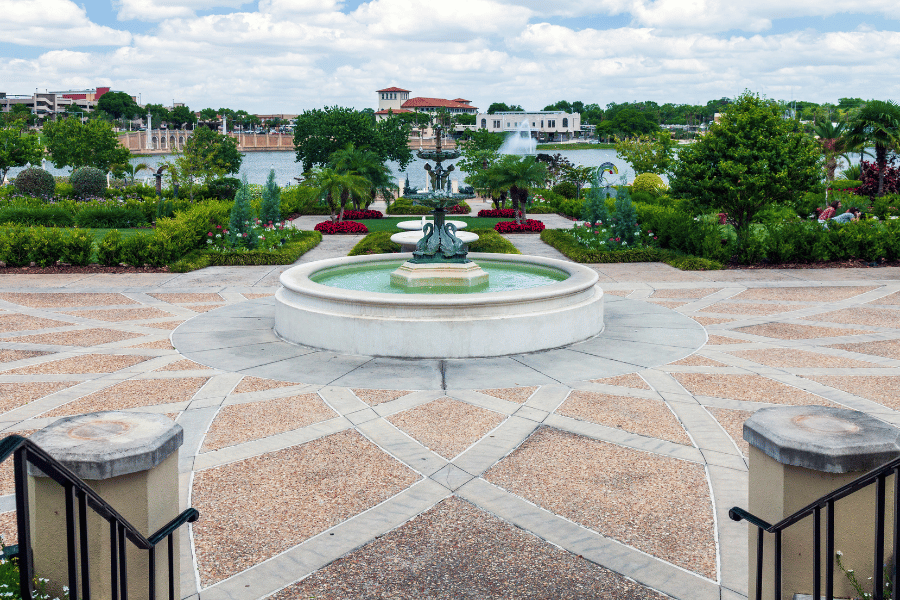 Moving to Lakeland, FL - The Bottom Line
After reading about all of Lakeland, Florida's beautiful, unique aspects, it is safe to say it is one fantastic city! Lakeland has so much to offer to you and your family, and you won't want to miss out. It is a place that is a must-visit.
Lakeland is affordable and has many job opportunities to help you live the lifestyle you would like to live while enjoying the warm atmosphere and lake life. It has a variety of schools to choose from and even a couple of great, unique colleges.
Considered to be one of the best places to live in Florida, you won't regret moving to Lakeland, Florida, just a short drive from Tampa and Orlando!
If you, or anyone you know, are looking to move to Lakeland, Florida, contact us now so we can help connect you with a Realtor!

Find your new home
Search real estate and homes for sale