9 Things to Know BEFORE Moving to Naples: Living in Naples, FL
Living in Naples, FL
Are you thinking of moving to Naples, Florida? Here is everything you need to know about living in Naples!
Considered one of the wealthiest cities in the United States, Naples, Florida is home to the second-highest amount of millionaires. Ranked as having the sixth-highest per capita income in the country, Naples is one of the most desirable places to live. Located in southwest Florida and situated next to the Gulf of Mexico, Naples is best known for its high-end shopping, an abundance of golf courses, and pristine beaches with beautiful sunsets.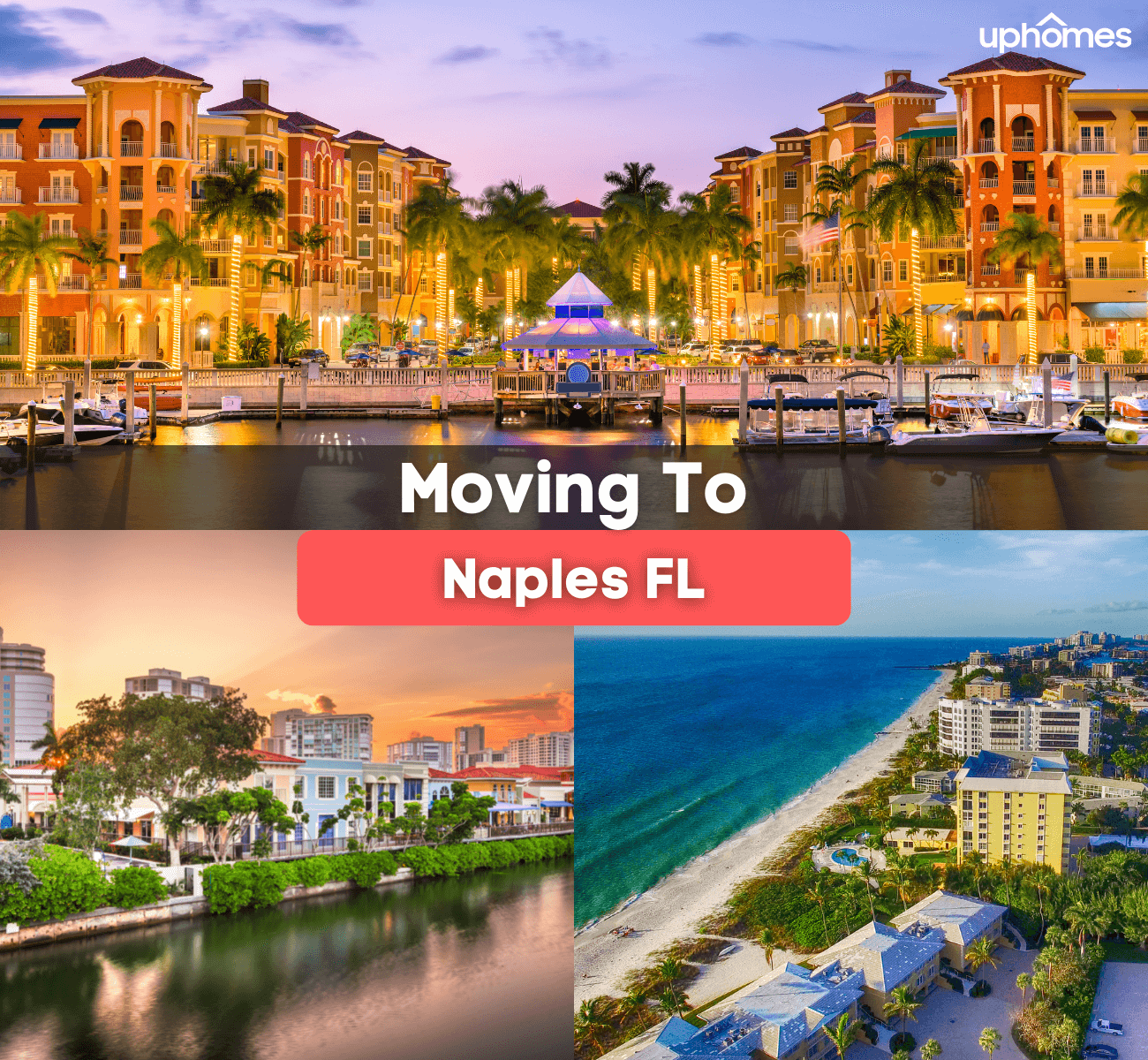 Celebrated for its low crime rate, residents in Naples can rest easy knowing that it is one of the safest cities in the state of Florida. With a crime rate that is 90% lower than the Florida average, feel safe raising your kids or walking your dog. Named as one of the nicest cities in Florida and one of the best cities to live in, it is no wonder why Naples is so popular. If you are considering making the move to Naples, Florida, this moving guide was created to help persuade you. By learning the ins and outs of all that Naples has to offer, your move to this city of world-class culture and sophistication will be a breeze. Read on to learn more about the 9 Things to Know BEFORE Moving to Naples, Florida!
The job market is booming.
A top city for projected job growth, Naples has seen a job market increase of 0.9% over the past year. Predicted to grow 39.3% over the next ten years, the job market growth percentage in Naples is higher than the United States average. With an unemployment rate of 3.5%, the city has a lower percentage of unemployment than the United States average which is at 6%. While many jobs are popping up in the service field, a number of jobs in healthcare and business are emerging as well. The top companies in the area that are hiring the most are NCH Healthcare System, Marriott International, and Collier County Public Schools. Arthrex and ASG Technologies are also headquartered here. With over 6,000 currently available jobs in the area, Naples provides great opportunities for its residents. Plus, if you are looking for jobs that are just outside of Naples, Cape Coral and Fort Myers are within commuting distance. 
Naples is well educated.
The excellent school system and educational opportunities are part of what makes Naples such a great community. If you are raising a family and have school-aged children, your kids will be in good hands at one of the top-rated public or private schools in the area. The Collier County School System is what runs the public schools in Naples. Some of the best public schools in Naples include Sea Gate Elementary School, Pelican March Elementary School, North Naples Middle School, Pine Ridge Middle School, Naples High School, and Gulf Coast High School have all received great ratings. Before buying a home in Naples, research which neighborhood feeds into the schools that best suits your family's needs. Here are 7 of the best neighborhoods in Naples.
While there may be no large colleges or universities within the city limits of Naples, there are institutions close by for students seeking higher education opportunities. Hodges University in Naples is a private university that also has a campus in Fort Myers. Florida Gulf Coast University in Fort Myers is a public institution that offers students over 58 different types of undergraduate degrees. The Ava Maria University School of Law is located within Naples and Florida Southwestern State College is within an hour's drive. There are currently 171 universities in the entire state of Florida to choose from so there are plenty of options to enjoy in-state tuition status.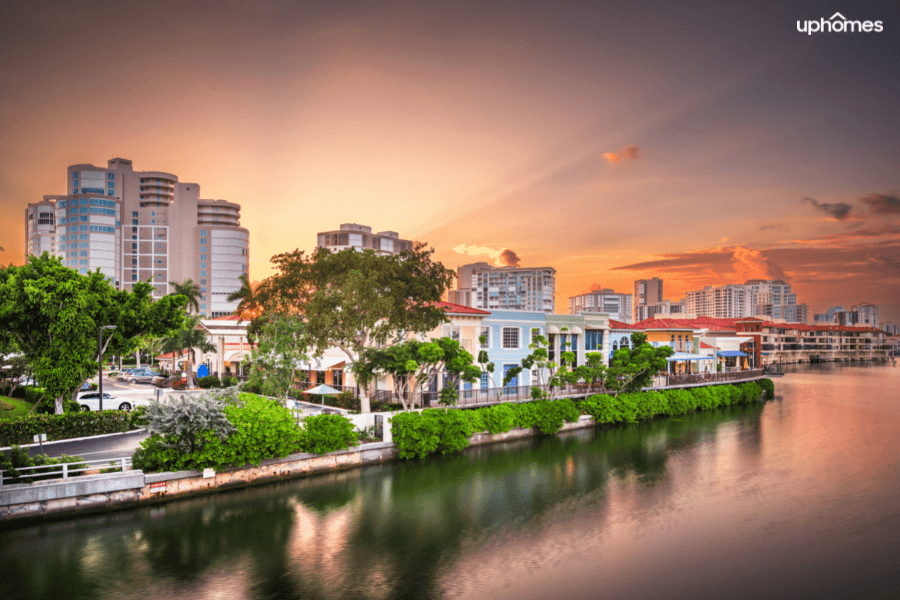 The beaches are beautiful. 
One of the main reasons to love moving to Naples is for the beaches. Simply breathtaking, the beaches here boast soft white sand, crystal blue waters, and beautiful views. Considered one of the best shelling areas, walk the shoreline and hunt for gorgeous colorful shells or shark teeth. Always hot and sunny, the Naples beaches are family-friendly and perfect for swimming. There is no better way to cool off than in the Gulf of Mexico. Thought to have some of the best beaches in the state, living in Naples is the best way to enjoy the surf. Check out some of these best beaches in Naples, Florida:
Naples knows how to wine and dine.
Full of five-star dining establishments, casual cafes, and affordable bistros, the dining scene in Naples is some of the best in the country. Seeing tremendous growth over the last twenty years, the culinary culture in Naples is a way of life. Constantly evolving, the dining scene is making headway that will appeal to any appetite and palate. Enjoy freshly caught seafood on the waterfront, dine on the beach, or experience international flavors inspired from all over the world. Whether you are spending a romantic evening with your significant other or dining out with the family, the cuisine in Naples will not disappoint. Check out some of these top-rated restaurants in the area: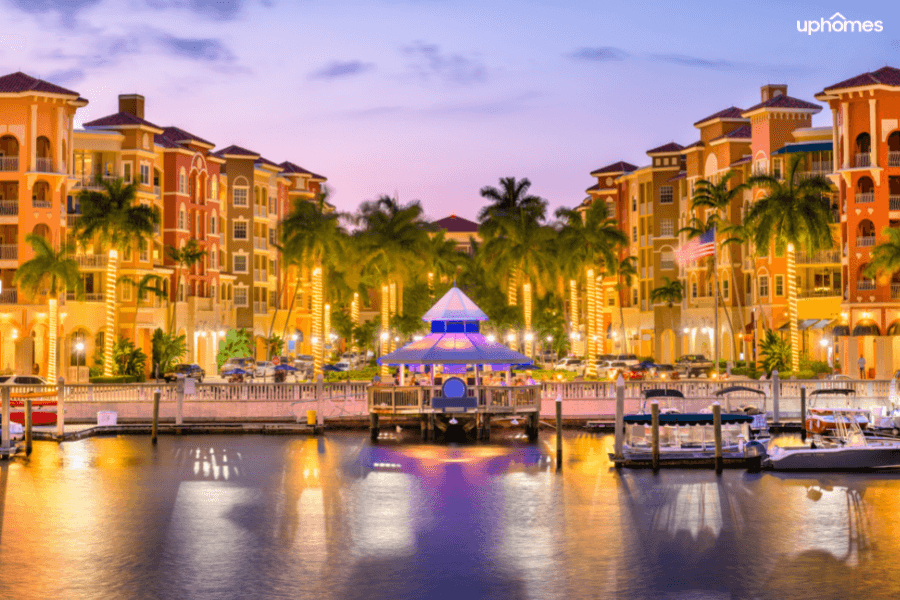 The shopping is fabulous
Channel your inner fashionista and prepare your wallets. Infamous for its world-class shopping experience and high-end retailers, shopping in Naples is part of the cities charm. Upscale shopping districts, designer shops, independent labels, and boutique brands are what you will find when shopping in Naples. The total retail sales per capita were $115,769 according to the United States census which is nine times more than the national average. It is safe to say that the residents of Naples take their shopping very seriously. Make sure to head to Downtown Naples and explore Fifth Avenue South and Third Street South which is one of the most popular shopping districts in the area full of antique shops and unique stores. The Waterside Shops, The Village Shops on Venetian Bay, and Mercato are other outdoor and prestigious shopping areas that should be checked out.
You might be neighbors with a celebrity
Famous people love Naples, Florida. Since so many celebrities have second homes in this coastal community, do not be surprised if you are neighbors with a famous figure or bump into a star at the grocery store. Instead of traveling all of the ways out to California to spot a celebrity, just head to the southwestern coast of Florida. Some celebrities who are known to vacation and spend quite a bit of time in Naples and Marco Island include Judge Judy, Bob Segar, Sean Hannity, Brett Bair, Jane Seymour, Mary Carillo, and Alex Lifeson. You will never know who you may meet while living in Naples, Florida.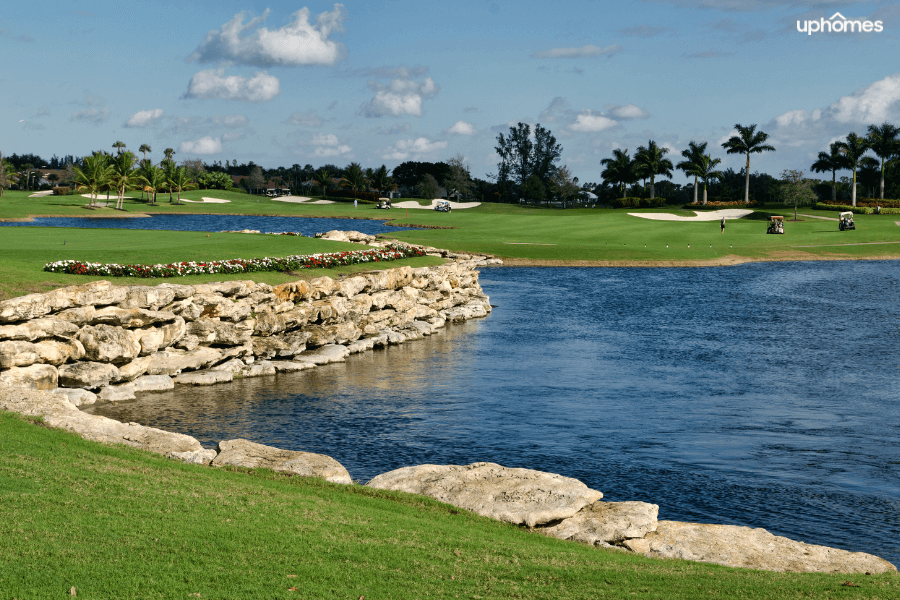 Golf is a way of life.
Naples is currently home to about 90 golf courses with 18 holes, 30 of which are open to the public. Since golf is like a second language to residents, before moving to the area you might want to invest in some good golf clubs and get ready to reserve a tee time. Claiming to be the "Golf Capital of the World," Naples does, in fact, have the second most holes per capita than any other place in the country. Ranking high in quality of life, living in this tropical southwestern Florida community is a golfers paradise. Play at top-ranked golf courses in Naples such as Hammock Bay Golf Course, Glen Eagle Golf and Country Club, Heritage Bay Golf and Country Club, Bonita Bay, Riviera Golf Club, and Cedar Hammock Golf and Country Club.
Naples is a great place to retire
Named the "Best Place to Retire" and ranked at number one on a list of the "Best Cities for Early Retirement" again and again, living in Naples, Florida is a retirees dream. Not only will residents get to soak in all of the benefits of Florida's no state income tax, but why not spend retirement in the warm and upscale environment that Naples offers its residents. While the cost of living may be 10% higher than the national average, the city of Naples is notoriously a wealthy area. With over 9% of the population being millionaires, there are 12,300 millionaires currently living in the city limits. 
While the age demographic is pretty diverse and widespread, the median age of residents is 61 years where 30% of residents are age 45 to 64, and 42% are aged 65 and older. Providing residents with the best resort lifestyle and home to many gated communities and country clubs, spend your retired days relaxing by the pool, yachting, and playing golf with your new neighbors. If you are interested in buying a home designed for active adults and 55+ living, our team can help you find the perfect fit in Naples, Florida.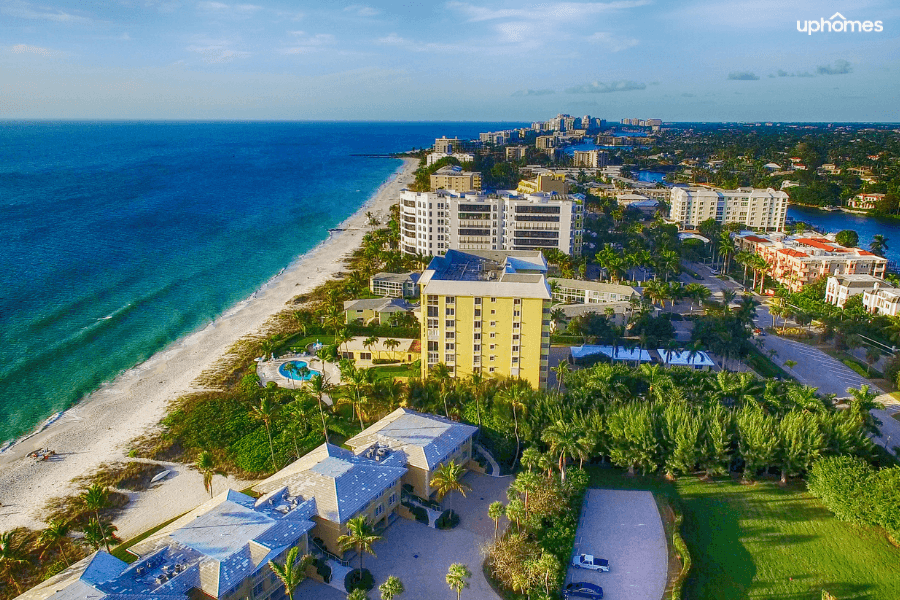 There is always an event to attend.
Locals love coming together during the holidays or at one of the many festivals and events that the city puts on to relax, network, and make new friends. With the Covid 19 pandemic, the neighborhood has had to make some changes to annual events so keep that in mind. But if you love getting out in your community and experiencing all that Naples has to offer, check out some of these most popular events that occur throughout the year: 
Moving to Naples, Florida - The Bottom Line
If you are wanting to move to one of the best cities to live in Florida, then Naples is the place for you. Prized for its great quality of life, amazing warm weather year-round, fun things to do, and spectacular ocean views, Naples has a little something for everyone. Full of luxury homes and known to be one of the best places in the world to watch the sunset, Naples is the true gem of southwest Florida. If you are moving to Florida, consider this relaxed and laid-back community. Whether you are looking for a second home, vacation home, or a place to retire, contact our Naples real estate specialists today!
#blog-moving-florida-cta#

Find your new home
Search real estate and homes for sale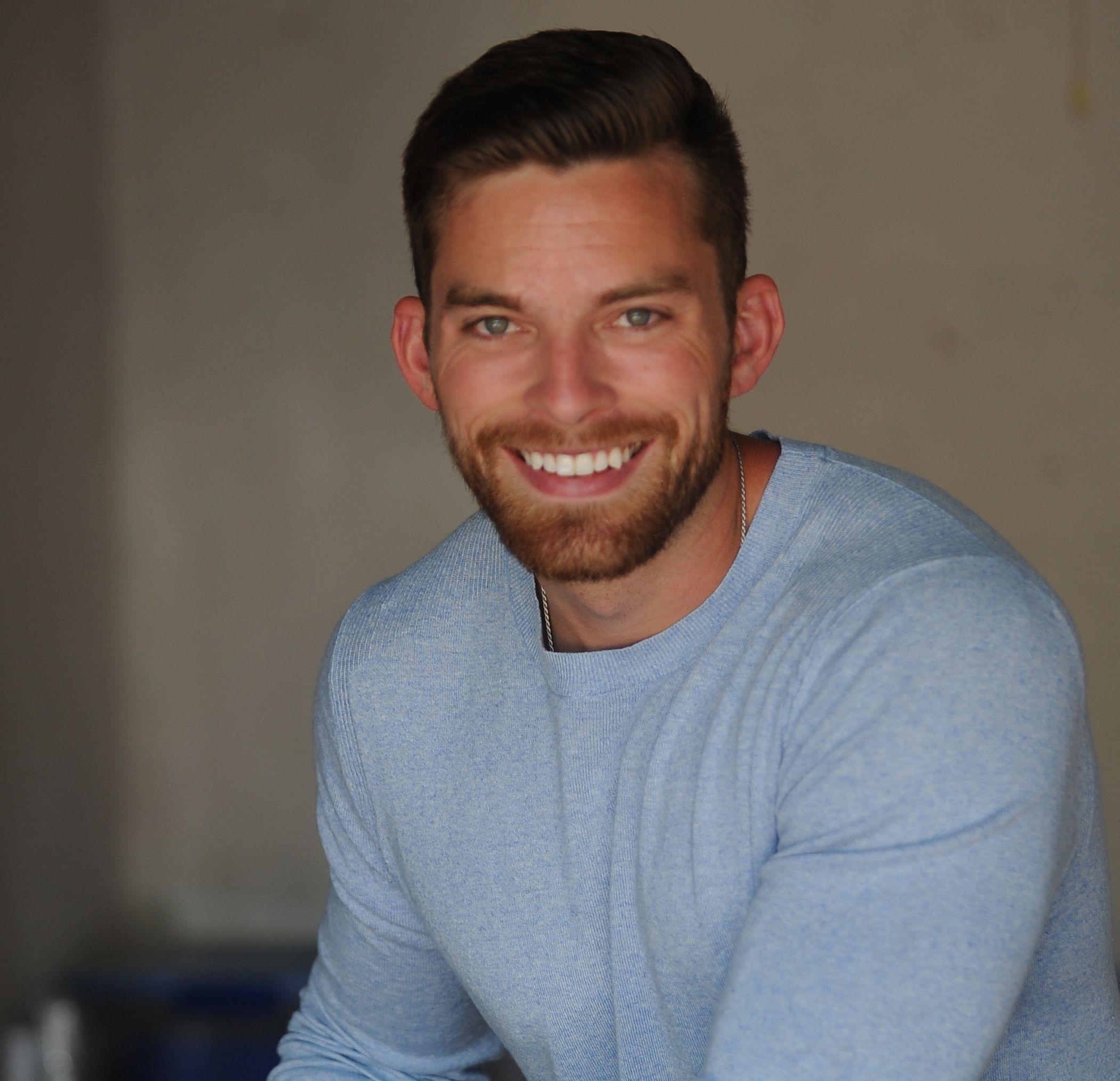 Ryan Fitzgerald
Hi there! My name is Ryan Fitzgerald, and I am a REALTOR®. My goal is to help you learn more about real estate through our Real Estate Blog! Hopefully, you enjoyed the above blog post and it found a way to provide help or value to you. When you're ready to buy or sell a home of your own let us know here. Please feel free to join the conversation by dropping us a comment below.