7 Best Neighborhoods in Naples, Florida
Best Places to Live in Naples, Florida
Moving toNaples, FL? Check out these 7 greatneighborhoods in Naples!
Known for its world-class shopping and affluent lifestyle, Naples is one of the best places to live in Florida. This southwestern Florida city bordering the Gulf of Mexico is the perfect destination for families and retirees. Home to wealthy figures and famous celebrities such as Shahid Kahn and Judge Judy, there are approximately 12,300 millionaires currently living in Naples. While the real estate here may be on the more expensive side, there are many reasons why Naples is so desirable and popular.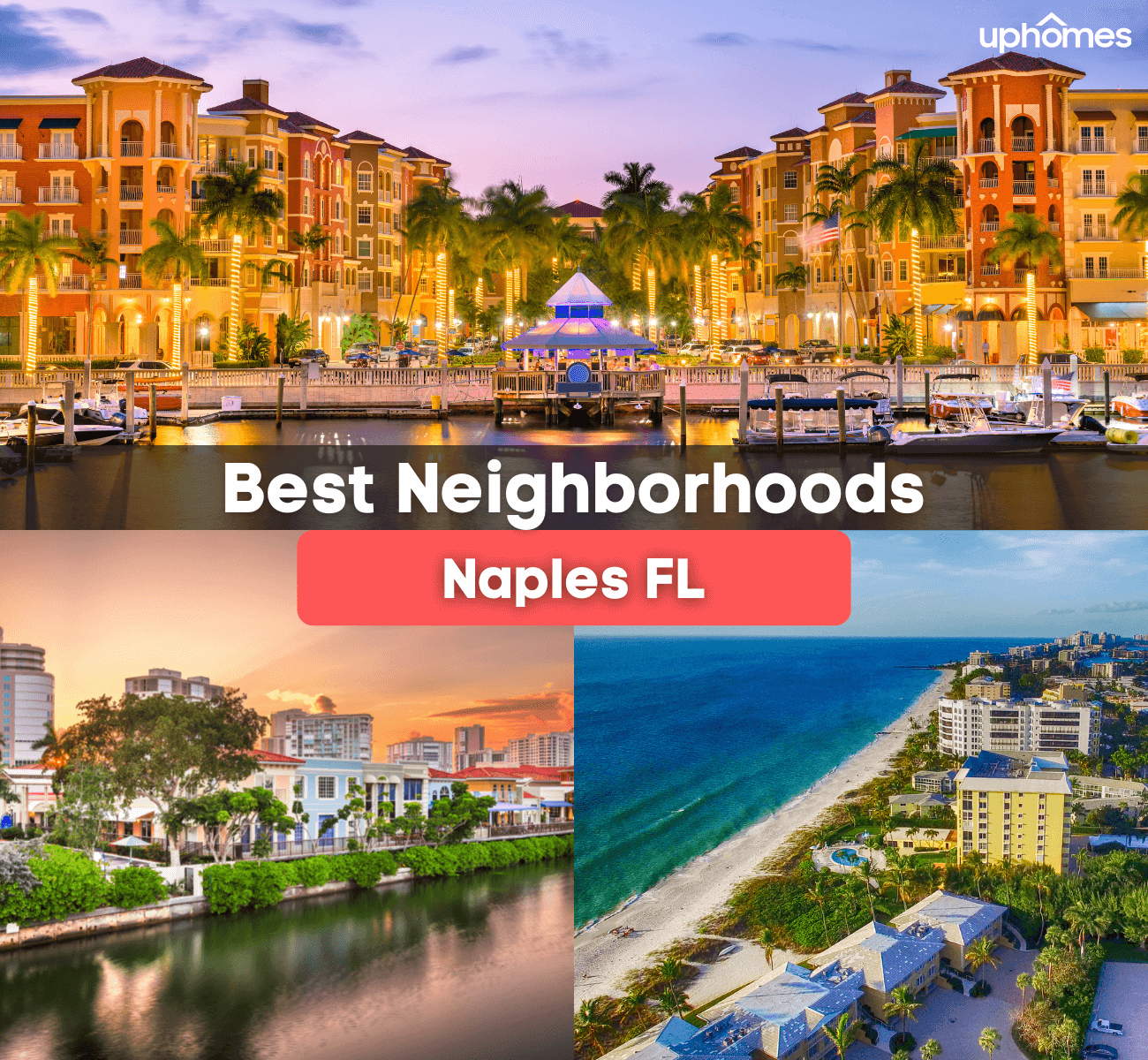 If you are moving to the area and are looking for the best community to call home in Naples, Florida then look no further than this neighborhood guide. Considered to be safer than 73% of other cities in the United States, all of the neighborhoods that made this list keep safety as the top priority. Even though moving can be super exciting it can also be stressful. With the help of this guide, find out which neighborhood will best suit your lifestyle. With that being said, read on to learn more about the 7 Best Neighborhoods in Naples, Florida!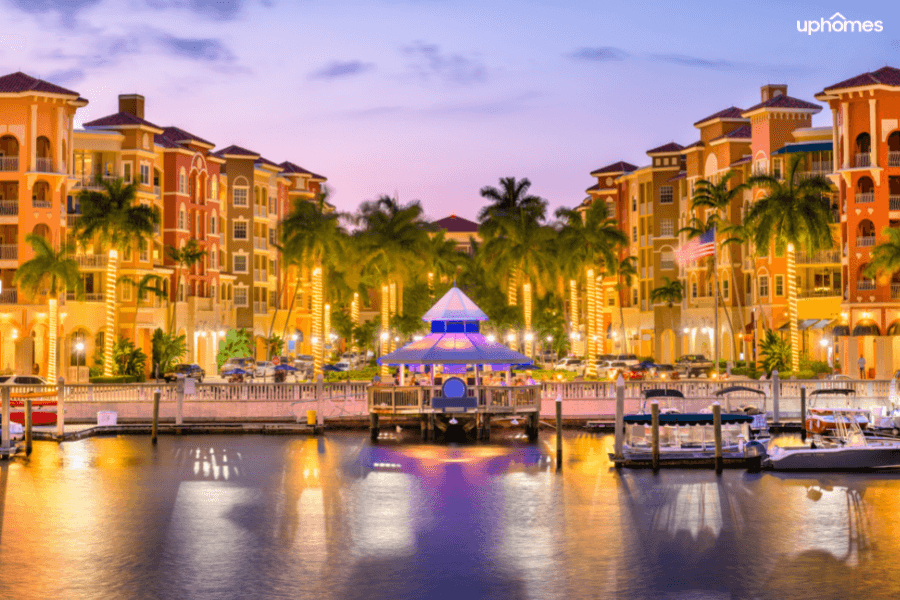 Old Naples
If you want to be surrounded by gorgeous mansions and tall palm trees, head to Old Naples. Home to some of the most expensive and extravagant real estate in the whole country, the neighborhood of Old Naples is both historic and elegant. The average cost of a home in this area is $1.7 million. Located near Port Royal, Old Naples is characterized by its romantic charm and luxurious atmosphere. Architectural styles range from Mediterranean and Spanish to Coastal Contemporary and Colonial.
One of the main attractions and notorious parts of Old Naples is called "Millionaires Row." This strip of beachfront properties is located right next to Naples Pier and is a row of houses that belong to the wealthiest figures and families living in Naples. Have your pick of giant estates and mansions right next to the Gulf of Mexico.
Featuring some of the most high-end shopping in all of Florida, walk the streets of Fifth Avenue South and Third Street South and stop in specialty shops and boutiques. After a long day of shopping, indulge in fine dining and vibrant nightlife. Old Naples is also prized for its many relaxing parks and green spaces perfect for your family and your dog. Spend the day at the beach and watch the sunset over the water.
Local Favorites:Naples Zoo: This 43-acre zoo and botanical garden is the coolest place to bring your kids. Admission is $14.95 for kids and $22.95 for adults.Delnor-Wiggins Pass State Park: This barrier island and state park feature one of the most pristine beaches in the world. Stretching for six miles, enjoy fine white sand beaches and crystal clear water with little crowds.Campiello: Feast on chic Italian dishes at this rustic eatery. This is the perfect date night.Truluck's Ocean's Finest Seafood and Crab: Enjoy some of the best freshly caught seafood and freshly prepared steaks at this upscale dining establishment. Expect to spend some big bucks.Osteria Tulia: Dine on authentic Italian cuisine and wine in a farmhouse setting.
Park Shore
Exclusive and luxurious are two words to describe the neighborhood of Park Shore. Featuring high-rise apartments, breathtaking stately mansions, and waterfront properties with boat access, homes in Park Shore are priced in the millions. Considering its central location to the rest of Naples, the housing market in this neighborhood is in high demand. A planned district and massive community, the high home prices reflect the upscale amenities that Naples has to offer its residents. Live close to the beach, admire the tropical scenery, attend community events, listen to live music with friends, and hang out near all of the popular local spots.
Local Favorites:Park Shore Beach Park: If you live in the Park Shore neighborhood you will have access to this private beach club. Enjoy the warm water all year round and watch the sunset.Naples Botanical Garden: 170 acres of tropical plants and flowers from around the world. Walk around the garden and learn about conservation.The Village Shops on Venetian Bay: A Naples favorite, this upscale waterfront shopping district features over 45 different boutiques and restaurants.Escargot 41: This French eatery is serving up authentic French cuisine including the infamous escargot.Hogfish Harry's Restaurant and Bar: Found at the Park Shore Resort, eat outside and enjoy the nice weather as you dine on seafood and cold beer.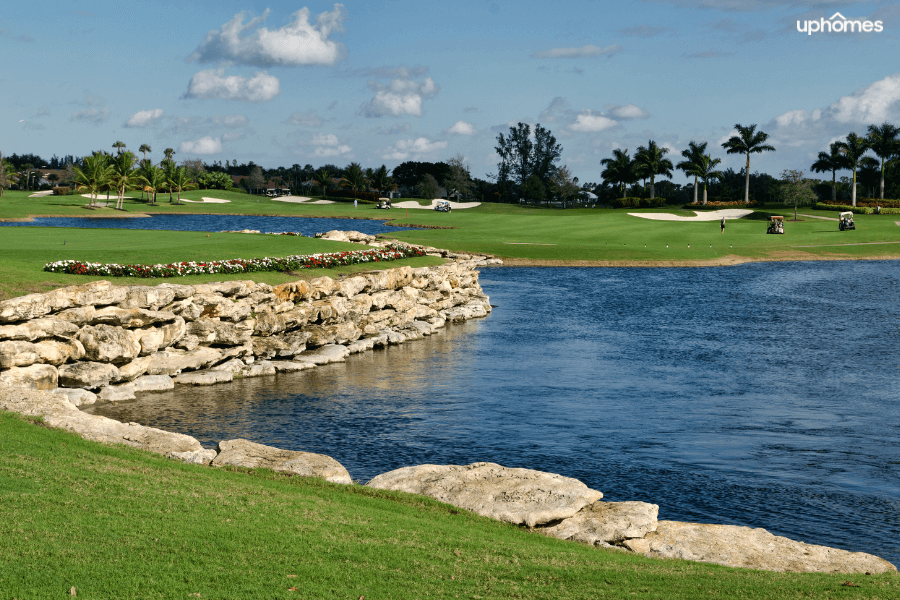 Coquina Sands
Single-family homes, condominiums, and tree-lined, winding streets are what make up the welcoming neighborhood of Coquina Sands. Close to the Naples white sand beaches, homes in Coquina Sands are priced just below $1 million. Located near the best amenities that the city has to offer, living in this neighborhood is a dream come true. Play golf at an award-winning golf course, grab a latte at a local coffee shop, admire the wildlife, or discover a new walking trail. While there may not be any sidewalks on the streets, the streets are well lit and the neighborhood is notoriously safe. Close to Downtown Naples, ditch the car every now and then and bike to the city. For those moving with school-aged children, Coquina Sands feeds into Lake Park Elementary School, Gulfview Middle School, and Naples High School which are all highly rated and recommended.
Local Favorites:
Aqualane Shores
Originally developed back in the 1950s, this private waterfront community consists of about 350 spectacular homes with amazing views. Some of the most affordable properties in this neighborhood cost about $1.7 million to $8 million. Sitting on deepwater canals perfect for docking a yacht or sailboat, living in the neighborhood of Aqualane Shores is the perfect Naples experience. Located between the communities of Old Naples and Port Royal, Aqualane Shores is a quiet and relaxing place to settle down. Not only is the real estate in this area some of the most sought-after properties in the city, but its centralized location to nearby attractions is a huge advantage. Keep in mind that since many of these homes are original some properties may need renovations.
Local Favorites:
Port Royal
Found on the southern end of Naples, Port Royal is the true gem of the city. Named after pirates, this neighborhood cherishes and shines the light on its unique history. If you are looking for the most expensive houses in Naples, Florida then look no further than the neighborhood of Port Royal. The definition of luxury waterfront living, Port Royal is famous for its custom-built homes. If you have always wanted to build the mansion of your dreams in one of the most desirable neighborhoods in Naples then this is your sign. Do you want hardwood floors? Quartz or granite countertops? A backyard pool? Five walk-in showers? The choice is yours when you choose to live in Port Royal.
Another cool thing about living here is that there are people moving here from all over the world. Since it is such a culturally diverse community, you could befriend some really awesome neighbors. While this may not be a gated community, this exclusive and coveted club is only accessible by one quiet road in Naples. Members of the neighborhood club will have access to top-of-the-line tennis courts, a pristine beach, community events, a heated pool, a brand new exercise facility, and gourmet dining at the club restaurant.
Local Favorites: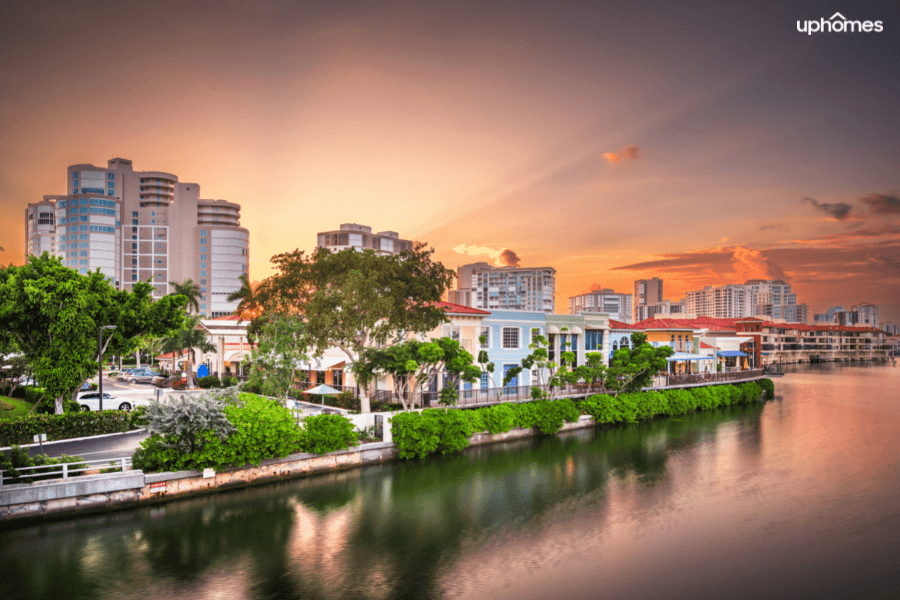 Pelican Bay
Found in northern Naples, this exclusive and high-end community is one of the most trendy and magnificent neighborhoods in the area. Providing its residents with luxurious waterfront living, have direct access to the stunning water of the Gulf of Mexico. This relaxing master-planned community is surrounded by mangrove forests and some of the most beautiful wildlife in Naples. With access to world-class amenities, never run out of things to do. Play tennis, dine at one of the many Gulf-front restaurants, spend the day at the private beach, work out, or take a nature walk on one of the two boardwalks. Plus, with access to The Club Pelican Bay Golf Course, ride around on your golf cart and play a 27-hole round.
Local Favorites:
Moorings
Consisting of 4,000 single-family homes and condominiums, the neighborhood of Moorings allows easy access to the Gulf of Mexico. Picturesque and centered around an 18-hole golf course that meets USGA specifications, this quiet and distinguished golfing community has some of the most beautiful homes in Naples. Spend the weekend sunbathing, kayaking, or boating right in your backyard. With real estate averagely priced at around $980,000, living in this prestigious neighborhood certainly comes with the price tag. Walk or ride your bike to local amenities, and have easy access to all that Naples has to offer. In our opinion - the neighborhood of Moorings is one of the best places to live in Naples, Florida.
Local Amenities: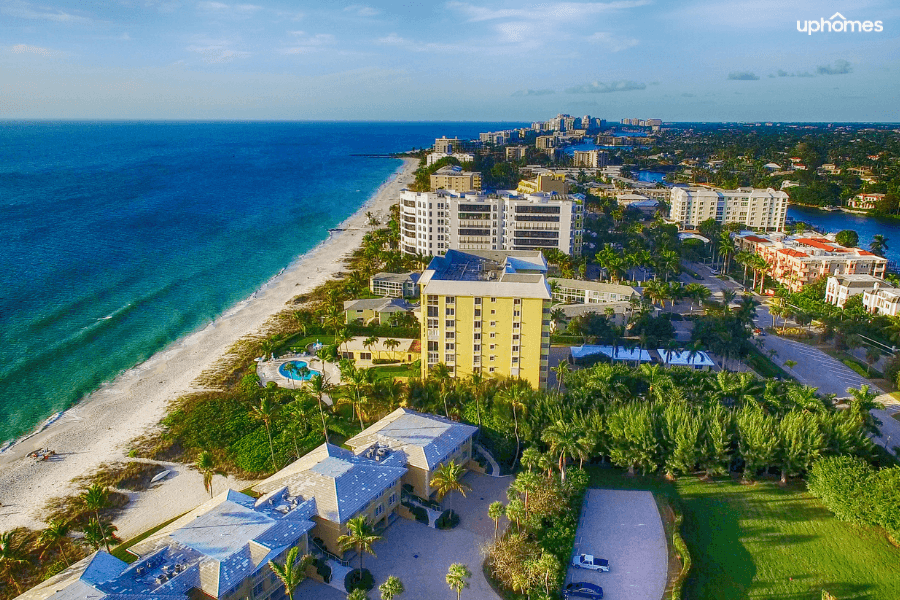 The Best Neighborhoods in Naples, Florida - The Bottom Line
Home to some of the wealthiest people in the nation, Naples, Florida certainly has its fair share of pros and cons. From its beautiful beaches, great weather, and resort-style atmosphere, it is no surprise that retirees and families are flocking to the area. With its low crime rates and no shortage of luxurious waterfront homes, happiness levels in Naples, Florida are extremely high for good reason.
If you are moving to the area and are looking to buy a home, make sure to get in touch with one of our experienced and knowledgeable Realty Specialists to guide and assist you through the home buying process. After you consider what you are looking for in a home and your budget, our team will lead you in the right direction. Contact us today!
#blog-moving-florida-cta#

Find your new home
Search real estate and homes for sale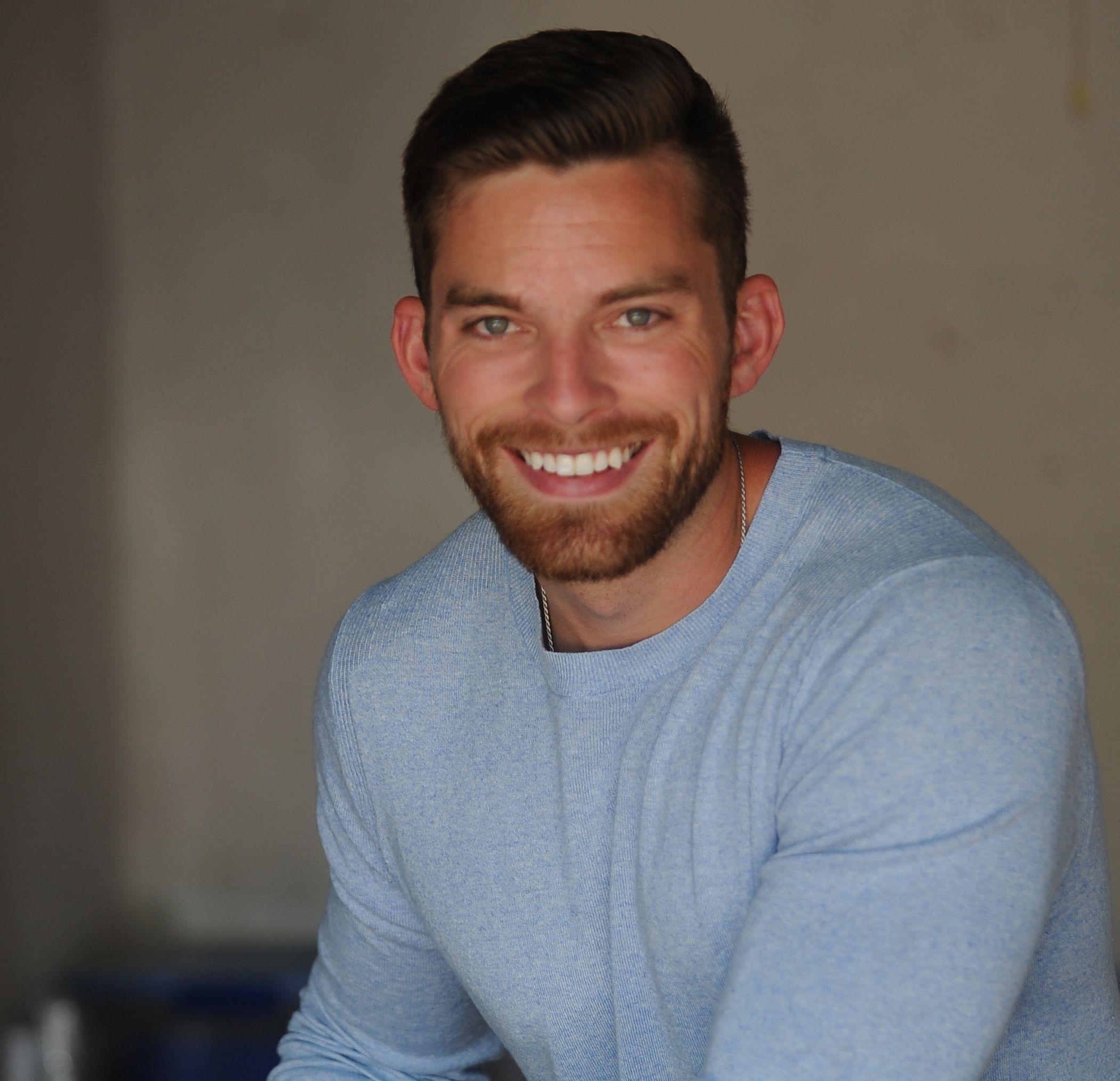 Ryan Fitzgerald
Hi there! My name is Ryan Fitzgerald, and I am a REALTOR®. My goal is to help you learn more about real estate through our Real Estate Blog! Hopefully, you enjoyed the above blog post and it found a way to provide help or value to you. When you're ready to buy or sell a home of your own let us know here. Please feel free to join the conversation by dropping us a comment below.