7 Biggest Cities in North Carolina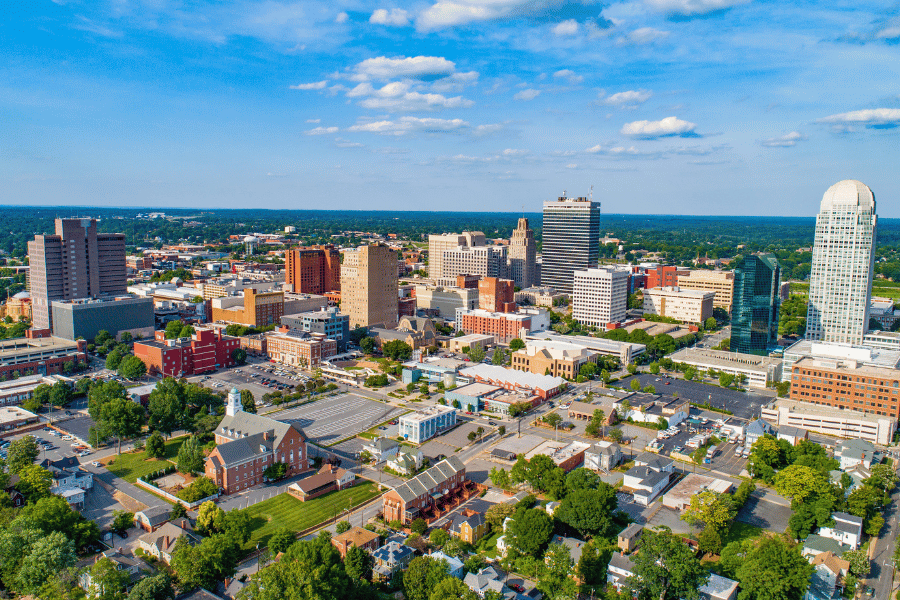 Biggest Cities in North Carolina 
What are the biggest cities in North Carolina? Check out these top seven biggest cities in NC and find out why they are so popular.
North Carolina is home to many big cities. We will discuss some of North Carolina's largest and most known cities, two of which are considered among the top fastest-growing cities in the United States. We cover cities from the east coast to the state's western side. 
Moving to a new area or town can be stressful. A lot goes into deciding if a particular city suits you and your lifestyle, including the job opportunities, the atmosphere, the location, the cost of living, and more. Certain towns are known for different things, like Wilmington as a beach town and Asheville as a mountain town.
According to the US Census Bureau, in the year 2022, there was an increase in North Carolina's population. More than 130,000 residents have moved into the state in just a year, and the number will keep growing. Let's understand why these affordable cities in NC are the biggest in the state.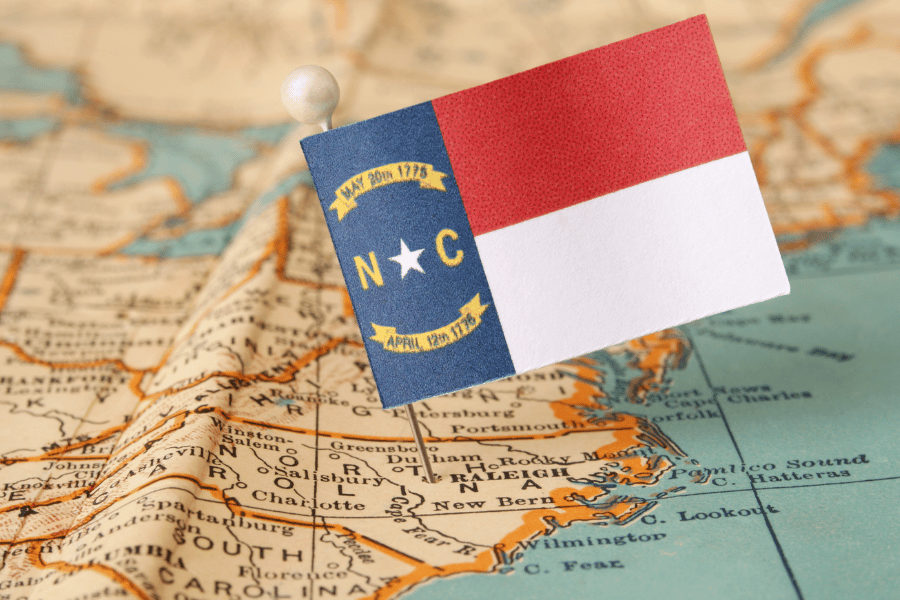 Here are the seven biggest cities in North Carolina
Charlotte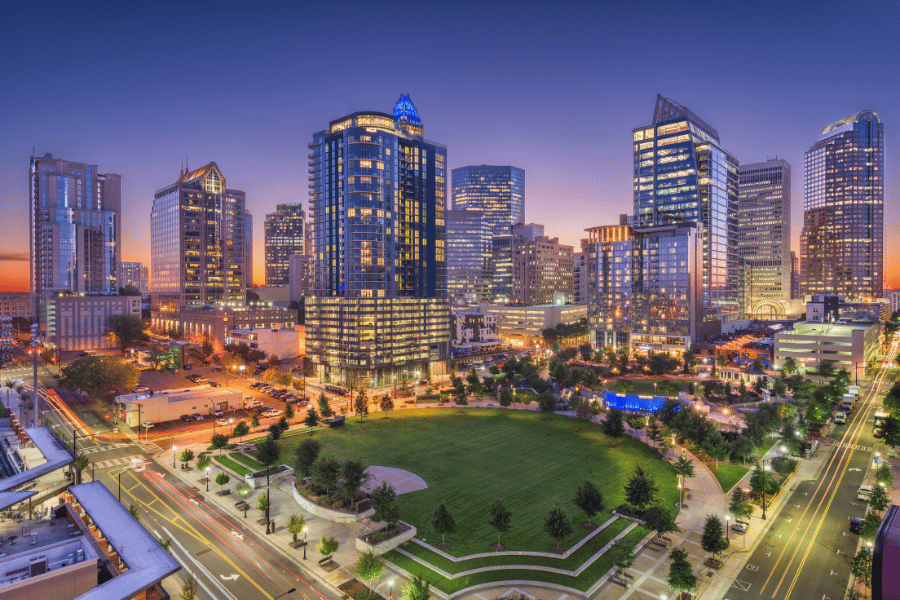 Charlotte, NC, has become a massive city in a short period. It has been growing nonstop over the last few years, bringing in over 100 new residents daily. This surpasses the number of people moving into Raleigh. 
This city is known as Queen City. The environment in Charlotte is a lot different than what you will find in Raleigh. Charlotte has more skyscrapers, modern architecture throughout the city, more extensive nightlife, and more. Charlotte may be a better option if you are looking for that "big city" atmosphere. 
The main reason young professionals are seeking to move to Charlotte is its abundance of job opportunities. This place has become the hotspot for young adults exploring various careers, including banking, financial services, manufacturing, and technology.  
Queen City is known to be an affordable place to live all around. However, if you are living downtown or uptown, you may spend a little more than those living in the suburbs of Charlotte. The temptation of easy access to excellent 5-star restaurants and bars may be worth spending extra money for.  
The Triangle (Raleigh/Durham/Chapel Hill)
The Triangle area is one of the most known areas by other people outside of North Carolina. The Triangle is home to the Research Triangle Park, which has over 300 companies and over 60,000 workers. It is also known for its major airport, Raleigh-Durham International Airport. Another thing that the Triangle is known for is its variety of large universities.
The triangle comprises three large cities: Raleigh, Chapel Hill, and Durham. Let's break them down individually.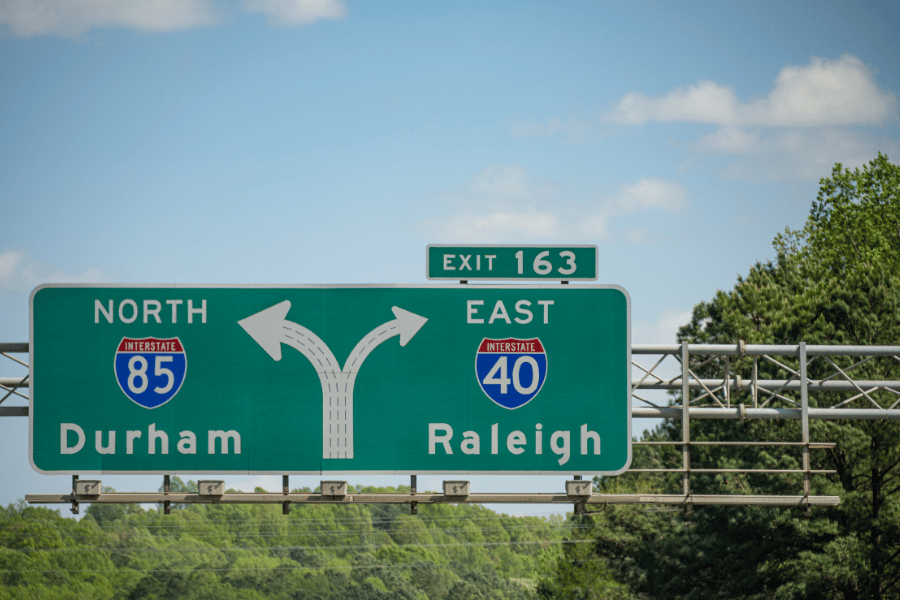 Raleigh
Raleigh is the state capital of North Carolina. That, on its own, brings new residents in daily; roughly around 70 people are relocating to Raleigh. As it constantly grows, this city has become a highly desirable area for young professionals and families.
Raleigh has some of the best neighborhoods for all types of people. The housing market in this city has been booming over the last few years for those looking to buy homes, and tons of new apartment complexes are being built for those who prefer to rent throughout Raleigh.
Overall, Raleigh has an abundance of things to do for all groups. Whether you are a young adult, have a family, or are a retiree, there is something for everyone to enjoy within this city. Raleigh has become a lively city with many restaurants, nightlife, parks, and more. 
This city is home to multiple colleges and universities, bringing more attention to the area. North Carolina State University is one of the most known universities in this city. They also have other colleges like Meredith College, Shaw University, William Peace University, and Wake Technical Community College. 
Durham
Durham is located west of Raleigh and North of Chapel Hill. With a population of 280,000 people, Durham is constantly growing. Best known for its affordable cost of living, Durham has an average cost of living 11% lower than the national average. This is one of the biggest reasons young professionals flock to the area.
Overall, Durham is 6.9% less expensive than Raleigh. The housing costs in Durham are far less than those in Raleigh, which makes it the perfect spot for those just kickstarting their careers and looking to purchase a home in Durham.
If you are looking for a healthcare job, consider moving to Durham. This city has more than 300 medical-related companies and medical practices. It is also part of the Research Triangle Park, so plenty of technology, innovation, and research jobs are located there.
Durham is famously known for its local university, Duke University. This university is one of the highest-rated colleges in all of North Carolina. 
Another great thing about this city is that it is home to the Durham Bulls, giving Durham the nickname "Bull City." This minor league baseball team plays right in the heart of downtown Durham and brings in a large fanbase every season. 
Chapel Hill
If you are looking for a mixture of urban and suburban living, then Chapel Hill is the place for you. Chapel Hill is a beautiful city with so much to offer, including beautiful homes for sale. One of the biggest things around this city is its university.
The University of North Carolina at Chapel Hill has an excellent reputation in North Carolina. Their sports fanbase brings many visitors and locals together to celebrate any game anytime. This allows Chapel Hill to have a college-town feel in almost every part of the city. 
Chapel Hill is known for its main road, Franklin Street. This street has tons of food, bars, and nightlife for anyone to enjoy. Most of the establishments in this city are family-oriented, giving each destination an authentic local vibe.
Living in Chapel Hill gives you easy access to the Research Triangle Park and the Raleigh Durham International Airport. 
Greensboro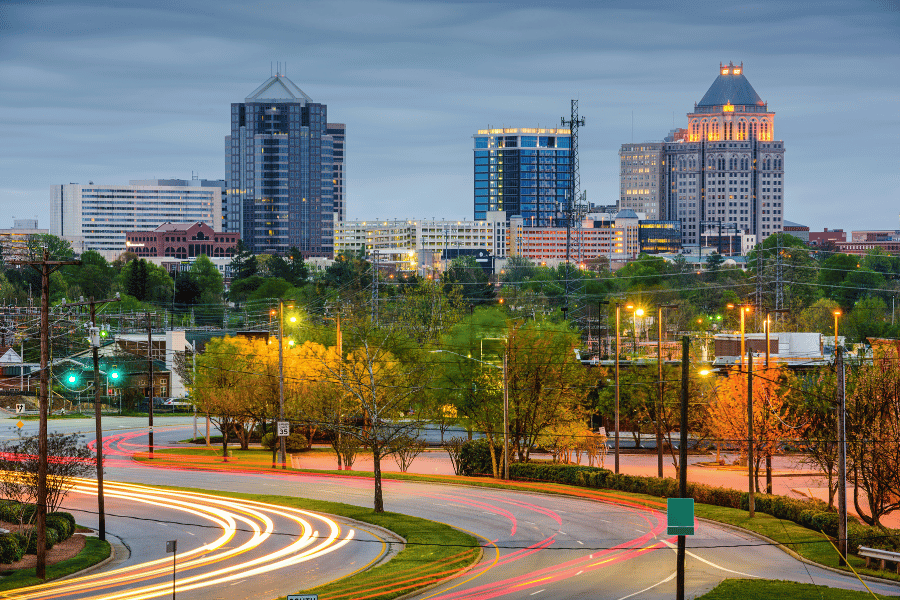 Greensboro is ideally located in the middle of the Triangle and near Charlotte. Many people are moving to Greensboro daily since it is considered a part of the three cities in the Piedmont Triad region of North Carolina. With a population of around 300,000, Greensboro is the third-biggest city in the state.
The job market in Greensboro has been growing nonstop for many years now. Once a huge manufacturing city, healthcare and social assistance are now the top industries to get a job in Greensboro. Known to have a healthy and stable job market, it will be easy to find a career when moving to Greensboro. 
Greensboro is considered a college town like some other cities we've covered. It is home to the University of North Carolina Greensboro, NC A&T State University, and Bennett College. There is also Greensboro College, which is the city's first college. 
Overall, Greensboro is an affordable city to live in. This city has much to offer regarding dining options, local coffee shops, breweries, parks, and family-friendly events. It is the perfect place to call home for families and young professionals. 
Winston-Salem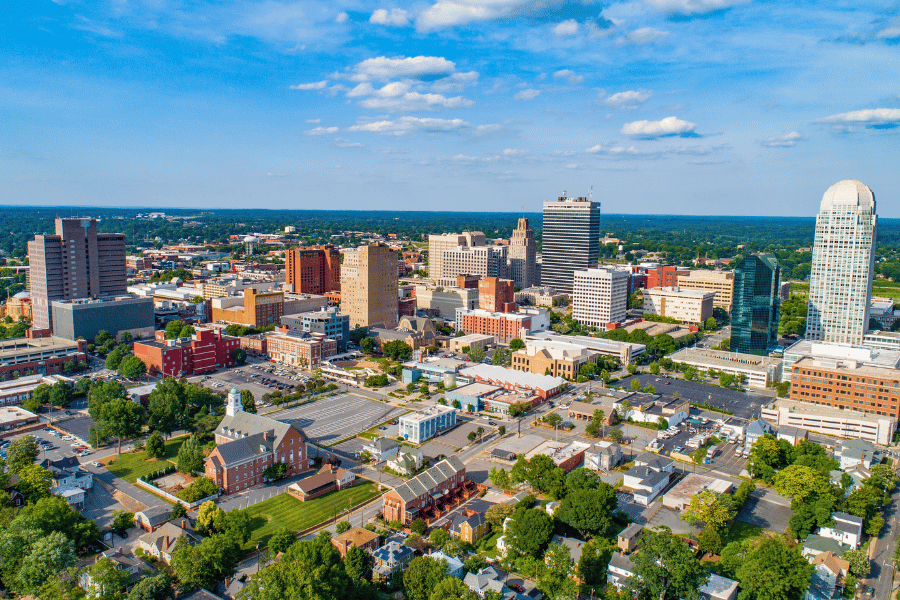 Located outside of Charlotte, you will find another big city called Winston-Salem. Residents love living in Winston-Salem because of its city-like but small-town feel! It is also known as one of the safest places to live in North Carolina! 
Most people don't know, but this city is known for its fantastic dining establishments. There is also a variety of things to do throughout the city. You can spend a day at Quarry Park, visit the Black Mountain Chocolate Factory, or even enjoy the local breweries. 
Winston-Salem is a highly educated city since it is home to many top-rated colleges, including Salem College, Wake Forest University, Carolina University, Winston-Salem State University, and Carolina Christian College. 
This city is a great place to relocate whether you are a young professional or have a family. It is rated high for first-time home buyers since Winston-Salem is constantly growing, and more homes are being built frequently. The overall cost of housing in Winston-Salem is 32% lower than the national average. That is a huge deal in today's housing market.
Here you will find the cost of living in Winston-Salem is 9% less than the average. This means that Winston-Salem offers comfortable living throughout the entire city. Known for having a stable job market, some of the largest companies in Winston-Salem are Hanes Companies, Inc., BB&T, and Beverage-Air. 
Relocating to Winston-Salem might be your best decision yet. And did we mention it is an easy commute to Charlotte? 
Fayetteville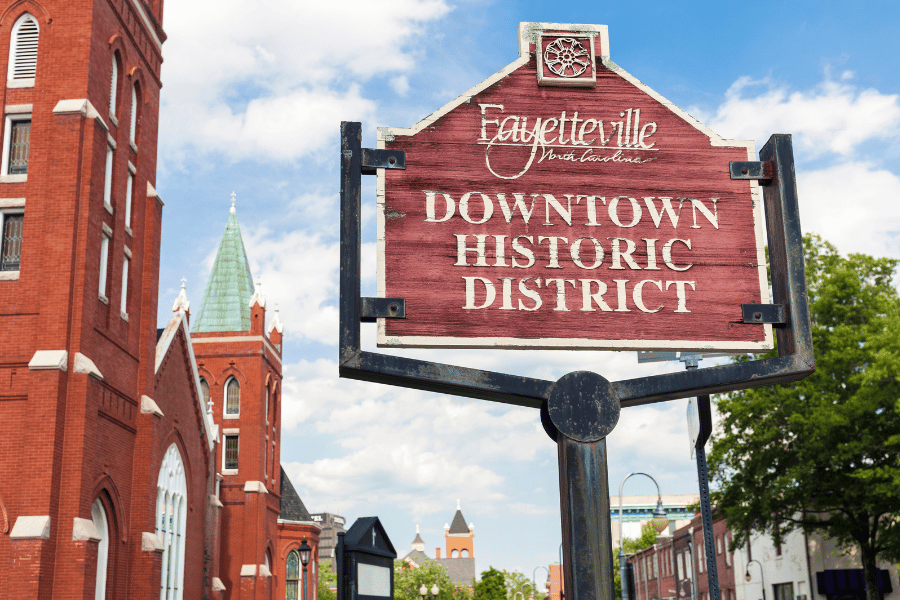 Fayetteville has been a sizeable thriving area for quite some time now. It is located in the state's southeastern part and has easy access to Raleigh, Charlotte, and the North Carolina beaches. 
Fayetteville has continued to grow to bring in more residents and businesses. Most of their buildings and establishments have been around since the early days. The city of Fayetteville has been working hard over the last few years to rebuild the area. The downtown area of this city has been a favorite local destination to enjoy the businesses and delicious restaurants. 
Fayetteville has around 352,000 residents, making it the sixth-largest city in the state. Most people who have heard about Fayetteville or are relocating to the area know it is home to the Fort Bragg Military Base. It is home to the Airborne and Special Operations Force and is the biggest US Army Base by population. 
Here in Fayetteville, there are three local colleges and universities. In the city, you will find Fayetteville State University, Methodist University, and Fayetteville Technical Community College. 
Overall, Fayetteville is inexpensive to purchase a home and has a thriving job market. Big companies such as Cape Fear Valey Health System, Goodyear Tire and Rubber Company, and other jobs in the construction and manufacturing industries are located here.
There are so many things to do and explore in this city. Because it is such an old area, there is a ton of history behind the development of Fayetteville. Home to botanical gardens, a veterans park, and even a minor-league baseball team called the Fayetteville Woodpeckers; it is no wonder that Fayetteville is such a great place to live. 
Wilmington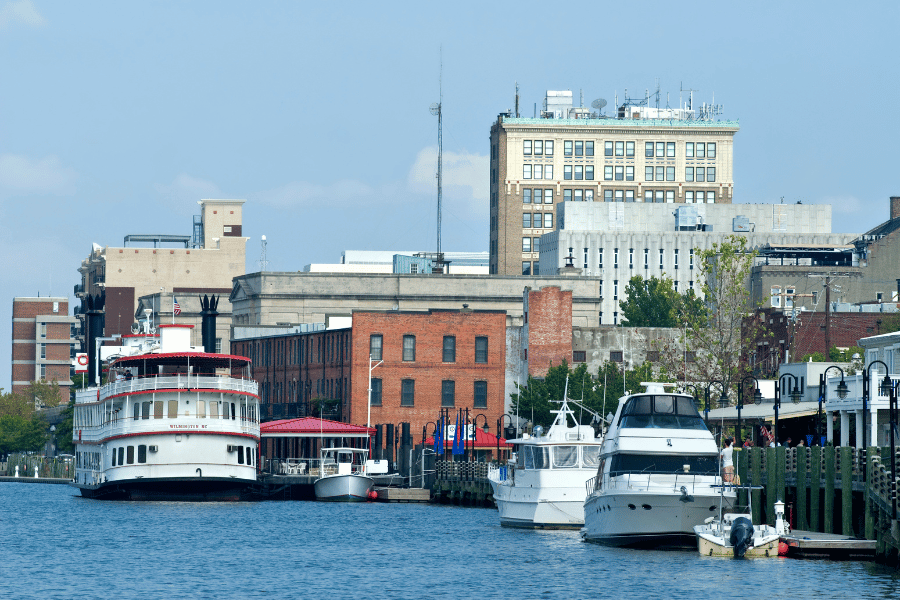 This city has become one of North Carolina's largest beach areas that people are flocking to. Who doesn't want to live near the beach? If you are the type who does, I encourage you to keep reading to learn more about what Wilmington offers. 
One of the most significant parts of living in Wilmington is its community. The residents in this city come together and host plenty of annual events like Riverfest, Carolina Beach Music Festival, and the Wilmington Wine and Food festival. 
And, of course, a plus side of living on the ocean is the delicious, fresh seafood at a waterfront restaurant. If you are a seafood lover, relocating to Wilmington would be your perfect destination. 
One of the best parts of living in Wilmington is its affordable cost of living. Surprisingly, Wilmington's housing expenses are 23% less than the national average. If you are considering purchasing a home, Wilmington would be a great city to do that in. 
Also, home to another large university, the University of North Carolina Wilmington, Wilmington is not only a family beach town but a vibrant college town and a fantastic place to live. 
Asheville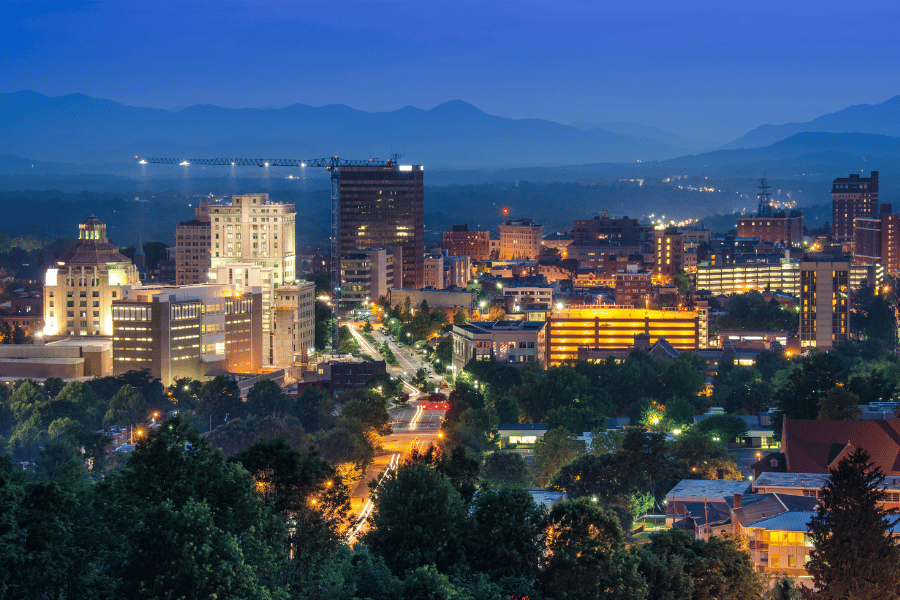 Asheville is known for its unique and different atmosphere. You get a good mix of mountains and hills throughout the entire city. Asheville is located in the Blue Ridge Mountains and has been known as the "Paris of the South." The vibe and environment in Asheville are something you won't feel in any other city.
You will love living in Asheville if you love fine dining and unique beer. It is known to be a brewing center and culinary destination. If you want to move somewhere where good food and drinks are always promised, Asheville has that at every corner.
Overall, this city's living cost is average and affordable. However, their home prices have been higher than the national average. Asheville has been a super desired place to live for most people, whether you are a young professional, have a family, or are a retiree. 
Asheville has so much to offer; it's a great vacation spot for many people. It is also home to the University of North Carolina Asheville, which brings in many new residents even though the school is smaller than UNC or NCSU.
This city is such a beautiful place. No matter where you go, you will have views of the gorgeous mountains in the distance. If you are looking for a bigger city in the mountains to move to in North Carolina, moving to Asheville will not disappoint.
The Biggest Cities in NC - Our Last Words
No matter which North Carolina city you choose to visit or live in, you will be met with affordability and various things to do daily. If you are considering relocating to any city in North Carolina, big or small, contact us to get connected with a local Real Estate Specialist. Start your home search today. 

Find your new home
Search real estate and homes for sale