10 Best Beaches in North Carolina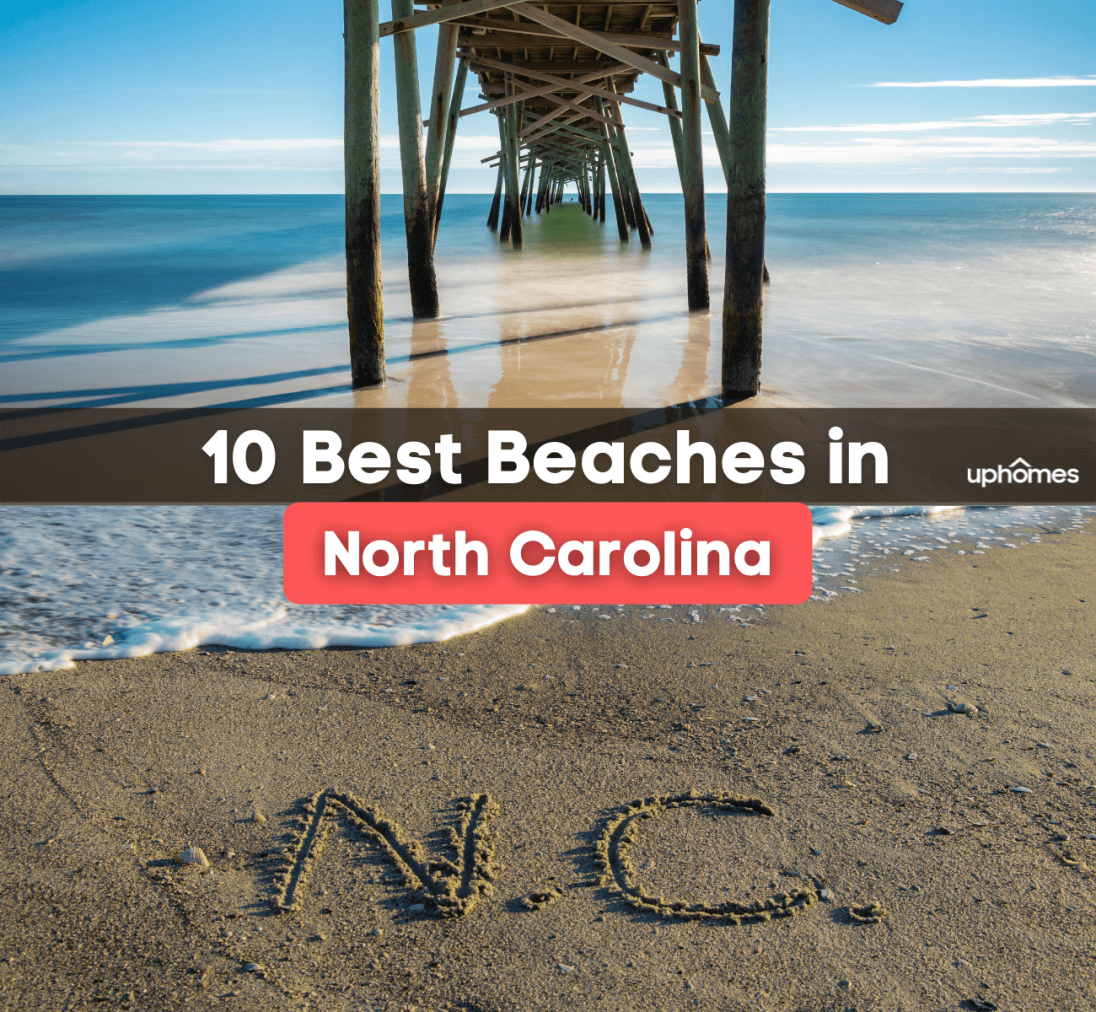 Best Beaches in NC
What are the best beaches in North Carolina? We have you covered with the top beaches in NC!
Make sure you visit these stunning North Carolina beaches!
It is no secret that North Carolina is full of beautiful beaches that attract millions of visitors every year.
With up to 322 miles of ocean coastline, North Carolina is a top destination for stunning sunsets, clear water, and white sand.
From the many quiet coastal towns in the Outer Banks to the lively beach city of Wilmington, the North Carolina beaches are brimming with family-friendly adventures and activities that can be enjoyed on your next summer vacation.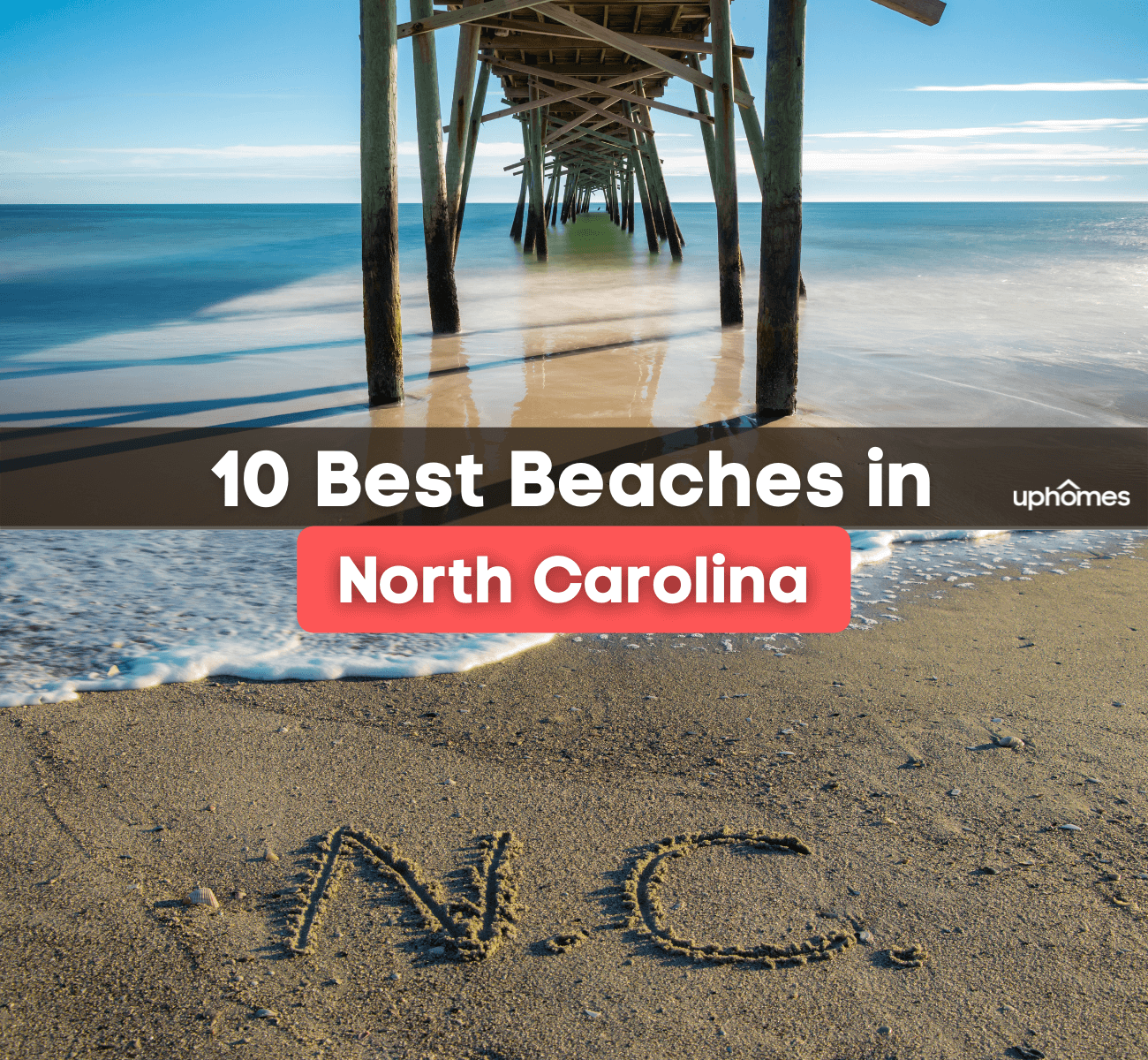 Featuring historical lighthouses, top-of-the-line golf courses, local favorite restaurants, and a variety of water sports and recreational activities, it is easy to see how North Carolina has made a name for itself as a prime beach destination. People are buying beach homes in Wilmington thanks to all of the best beaches in the area.
So whether you are planning your next beach getaway or are interested in moving to the Outer Banks and buying a beachfront home, we have gathered up a list of the 10 Best Beaches in North Carolina to help you decide which NC beach to visit next!
Nags Head
Located in the central part of the Outer Banks, Nags Head is just south of Kitty Hawk and is beloved for its pristine beaches and magnificent sand dunes.
Often described as a quiet and laid-back beach town, Nags Head is a beautiful area on the North Carolina coast that blends rich history with southern charm and modern-day living.
Considered to be one of the most attractive beaches in the Outer Banks, Nags Head is home to colorful beach houses, diverse wildlife, and a wide array of experiences that everyone will enjoy.
Known for having the largest natural sand dune on the east coast, both residents and visitors alike love to explore the infamous Jockey's Ridge State Park in Nags Head for its amazing views and dune hang gliding. Plus, just minutes away from the Wright Brothers National Memorial in Kill Devil Hills, there is never a dull moment in Nags Head.
Local Favorites: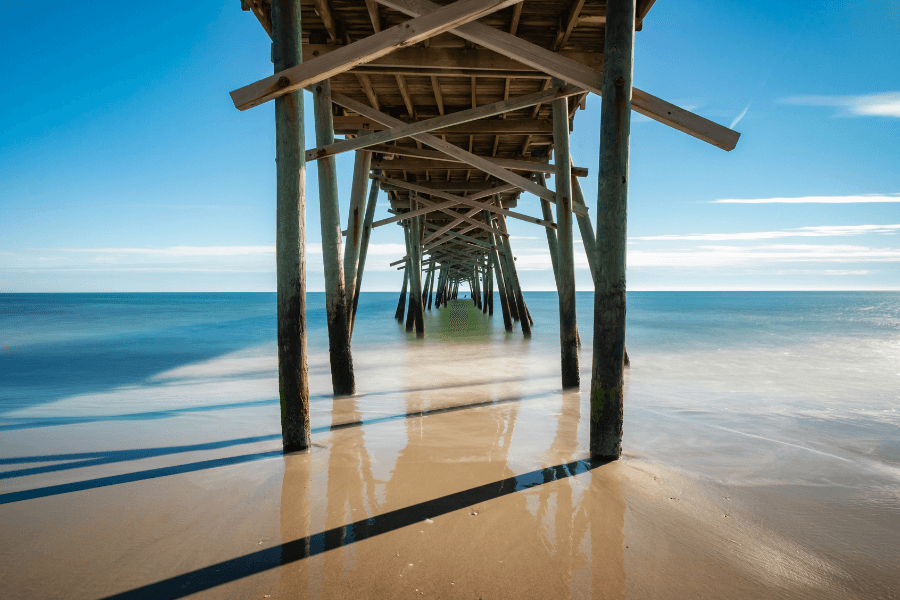 Corolla
Have you always wanted to witness wild horses in their natural habitat? Then now is your chance. Home to a heard of 100 Colonial Spanish Mustangs, Corolla is truly a unique beach just south of the Virginia border.
Found in the northern region of the Outer Banks, Corolla is known for its miles of clean coastline and four-wheel drive beaches.
While the wild horses are one of the most popular tourist attractions in Corolla, this secluded beach offers amazing sightseeing opportunities, wonderful restaurants, and a variety of cute local shops.
Since the Corolla beaches tend to be spacious and uncrowded specifically in the off-season, this is the go-to location for upscale rental homes and watersports including surfing, kayaking, and kiteboarding.
Local Favorites:
Topsail Island
This 26-mile barrier island is located just 40 miles northeast of Wilmington and is one of the most popular beach destinations in North Carolina for its serene setting and unbelievably clear water.
A once-popular stomping ground for the notorious pirate Blackbeard, legend has it that the island was named after the "topsails" of pirate ships that merchants would look out for when sailing by the island. As a famous pirate hiding place, pirates were known to hang out between the island and the mainland while waiting to steal goods from passing ships.
While Topsail Island may be steeped in history and pirate lore, the island is also home to breathtaking maritime forests, and The Karen Beasley Sea Turtle Rescue and Rehabilitation Centerwhich focuses on the preservation and conservation of marine turtles.
Local Favorites:
Emerald Isle
As part of North Carolina's Crystal Coast, Emerald Isle is just one of the many beautiful communities in the Outer Banks.
With over 12 miles of amazing beaches that offer prime views of the Atlantic Ocean, Emerald Isle is a top spot for fishermen and families.
Featuring hundreds of vacation rentals, beachside homes, and highly-rated bed and breakfasts, Emerald Isle is a nice beach that is known for its clear beautiful green waters that sparkle like an emerald.
Though Emerald Isle may be a popular destination for tourists, the beaches never seem to be crowded which is part of its appeal.
Not to mention, just a two and a half hour's drive from the capital of North Carolina, Emerald Isle is a desirable day trip or weekend destination for residents who choose to move to Raleigh.
Local Favorites: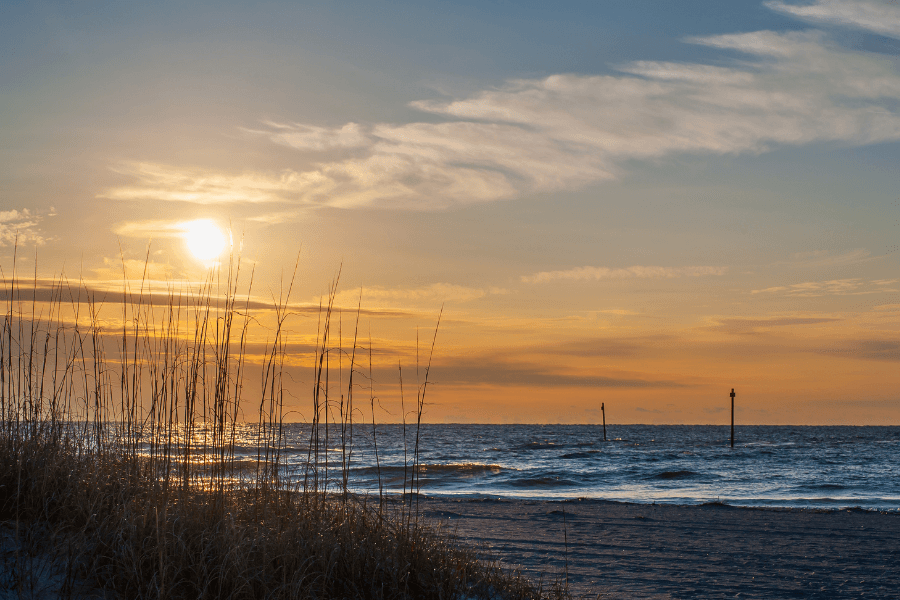 Wrightsville Beach
Found just east of Wilmington and almost a two-hour drive from Raleigh, Wrightsville Beach is often a top choice for beachgoers due to its clear water and exciting nightlife. It's one of the best beaches near Raleigh!
A popular spot for college students since the University of North Carolina Wilmington is located nearby, Wrightsville Beach was named as one of the "South's Best Beaches" that welcomes families and travelers from all over the country.
Not only does Wrightsville have fantastic fishing opportunities and plenty of amazing dining options, but this small beach town is an ideal location for water sports enthusiasts to enjoy activities such as surfing, paddleboarding, kayaking, and jet skiing.
While Wrightsville may be known for its active island lifestyle and five miles of wide spacious beaches, this quiet and laid-back beach town is a great place to relax by the water.
Most residents who live in Wilmington tend to frequent Wrightsville Beach often since it is only a 15-minute drive from the city.
Local Favorites:
Carolina Beach
If you are looking for a fun, family-friendly beach along the North Carolina coast then Carolina Beach should be your next summer vacation destination. Known as one of the safest beaches in North Carolina, Carolina Beach is an ideal spot to bring your children for a day in the sun.
Normally a quiet and peaceful beach to visit, Carolina Beach is rarely crowded which is one of the many reasons why it has made this list of the best beaches in North Carolina.
Attracting many tourists and college students to the area, Carolina Beach is considered to be visitor friendly for its many restaurants, coastal shops, and entertainment options.
When visiting Carolina Beach, choose to hike on one of the white sand trails, swim in the cool clear water, learn to paddleboard, or soak up the sun near the pier.
Keep in mind that it is illegal to drink on Carolina Beach so alcoholic beverages on the beach are not permitted.
Local Favorites: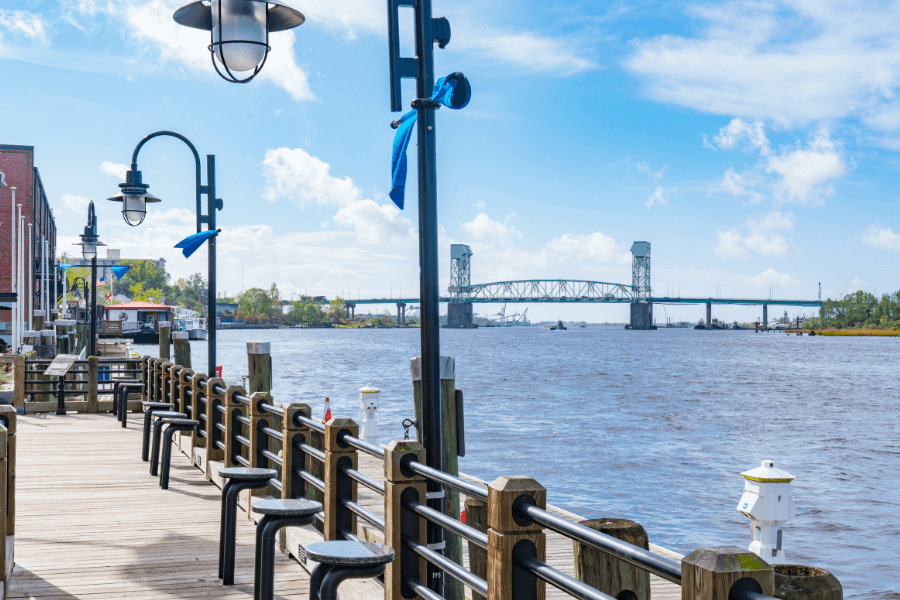 Cape Hatteras
As one of the barrier islands of North Carolina, the Cape Hatteras National Seashore is a special place that is best known for having the tallest brick lighthouse in the county and the state of North Carolina.
Also known as the "Blue Marlin Capital of the World," Cape Hatteras is a go-to spot for fishermen, swimming, surfing, kiteboarding, windsurfing, and other water sports.
From multiple historical attractions to exquisite natural areas, Cape Hatteras is the ultimate beach destination in North Carolina.
Local Favorites:
Bald Head Island
The charming and quaint beach village of Bald Head Island is a historical island located on the east side of the Cape Fear River near the lively city of Wilmington.
Described as a small and remote island, Bald Head Island is only accessible by passenger ferry or boat since no cars are allowed. Even though Bald Head Island may be car-free, there is no shortage of things to do for all ages.
Since most people get around town by golf cart or bike, Bald Head Island is extremely relaxing and is ideal for individuals who are searching for time away from busy city life.
With just 14 miles of shoreline, most of the island is undeveloped and is surrounded by pristine natural areas that are home to various species of birds and animals.
Local Favorites:
Sunset Beach
Located in Brunswick County close to the Myrtle Beach metropolitan area lies the southern seaside town of Sunset Beach.
Named as one of the 21 best beaches in the world, Sunset Beach is recognized for its white sand, warm and refreshing water, and amazing sunsets.
Featuring many family-friendly activities and attractions as well as plenty of restaurants, bars, ice cream shops, and local events, Sunset Beach always has something to do and see.
Plus, with affordable real estate and low property taxes, it is no surprise that Sunset Beach is a good place to retire.
Local Favorites: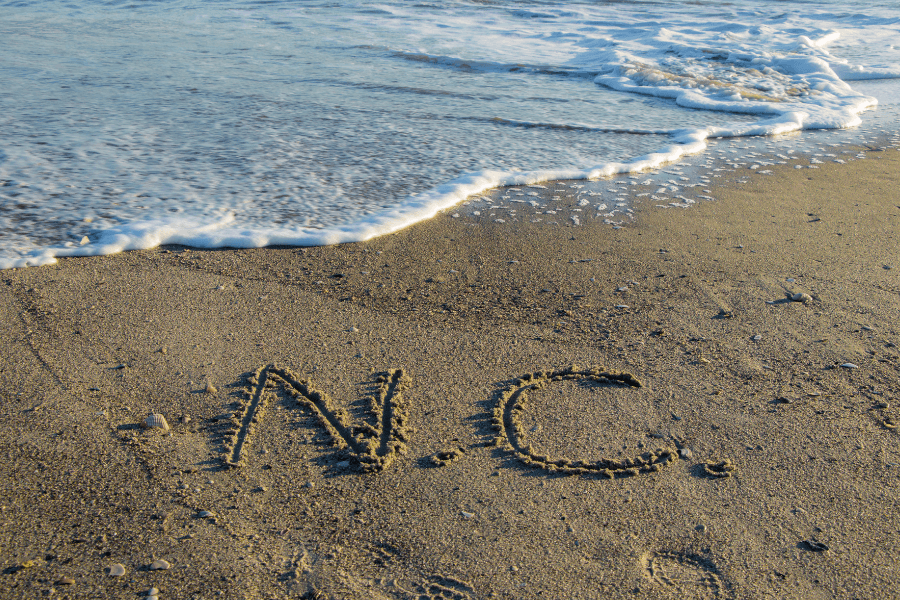 Duck
Known as the northernmost town in the Outer Banks, the small town of Duck is found in Dare County and is named after a large number of ducks and waterfowl that live in the area.
Though Duck may be small, its seven miles of wide and uncrowded beaches make it one of the best beaches in North Carolina.
With clear, clean waters and a high safety rating, Duck is home to a wide mix of local businesses and scenic locations.
Local Favorites:
Best Beaches in North Carolina - The Bottom Line
If you are trying to figure out if North Carolina or South Carolina has better beaches, there is no denying that the white sand and stunning sunsets in North Carolina are unmatched.
Whether you are looking for the nicest beach or the clearest beach, it is easy to see how North Carolina has one of the most exquisite coastlines in the country.
No matter if you are looking for the best beaches near Charlotte or are trying to plan out your next beach vacation whileliving in Greensboro, our talented team of Realty Specialists sure know a thing or two about the best beaches in North Carolina.
Contact us today if you are thinking about buying a home on one of the many NC beaches!

Find your new home
Search real estate and homes for sale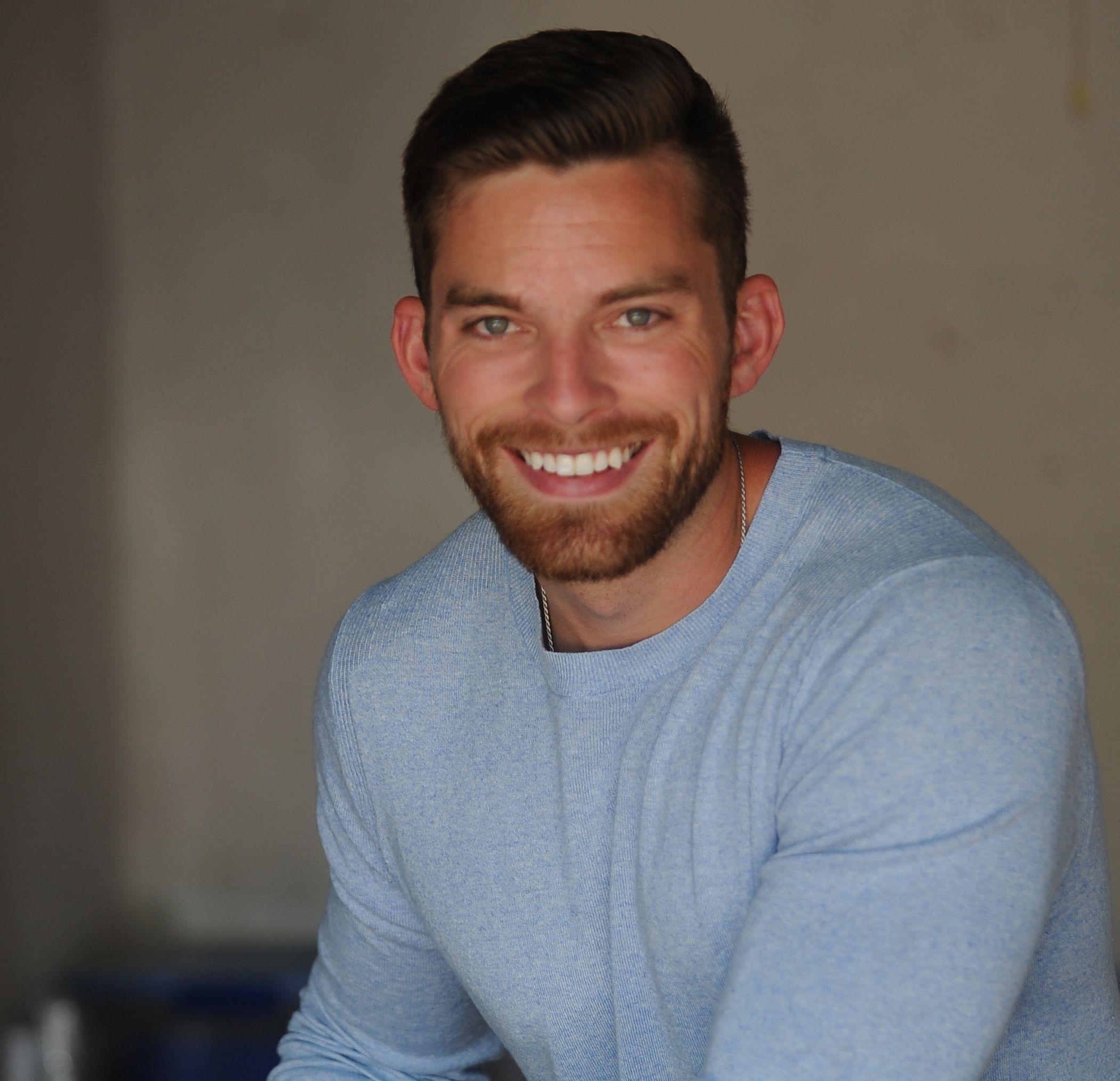 Ryan Fitzgerald
Hi there! My name is Ryan Fitzgerald, and I am a REALTOR®. My goal is to help you learn more about real estate through our Real Estate Blog! Hopefully, you enjoyed the above blog post and it found a way to provide help or value to you. When you're ready to buy or sell a home of your own let us know here. Please feel free to join the conversation by dropping us a comment below.