10 Best Neighborhoods in Raleigh, NC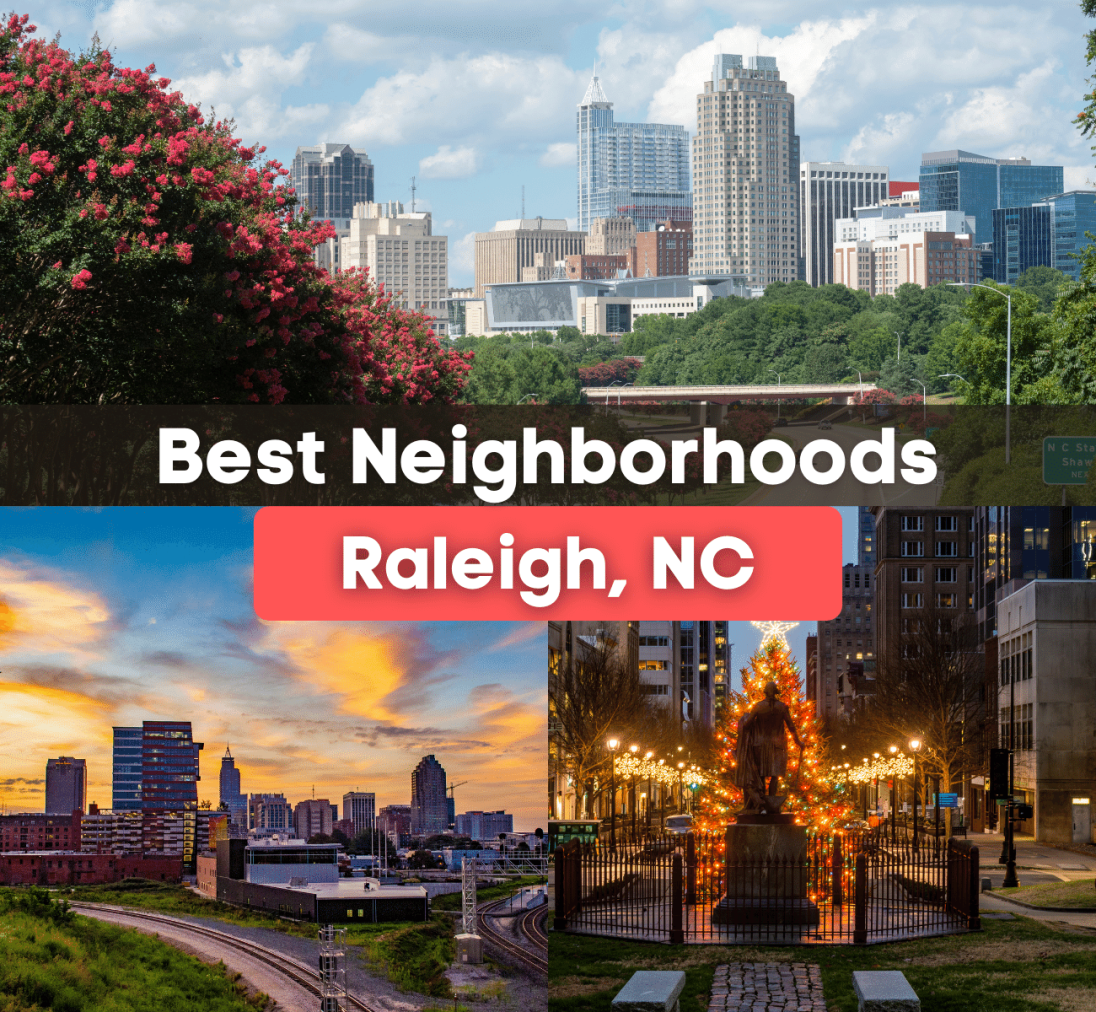 10 Best Neighborhoods in Raleigh, NC
What are the best areas to live in in Raleigh, NC - Here are some of Raleigh's best neighborhoods!
As the second-fastest-growing large metropolitan area in the United States, Raleigh has experienced a population growth rate of 25% from 2010 to 2020 and the number only continues to keep increasing.
With a population of just under 500,000 residents, moving to Raleigh has become quite a popular decision now that an average of 40 people are moving to Raleigh and the surrounding area daily.
So what is causing all of this growth? Not only is Raleigh ranked as the number one best place to live in North Carolina and the number six best place to live in the United States in 2022-2023 by U.S. News and World Report, but the state capital happens to be a thriving center of business that is home to numerous technology companies and some of the most top-rated educational institutions in the nation.
While the average home values in Raleigh and the Triangle area increased by 30% as of 2021 and have increased by almost 70% over the past five years, Raleigh has become a popular place for families, young professionals, and retirees alike to call home.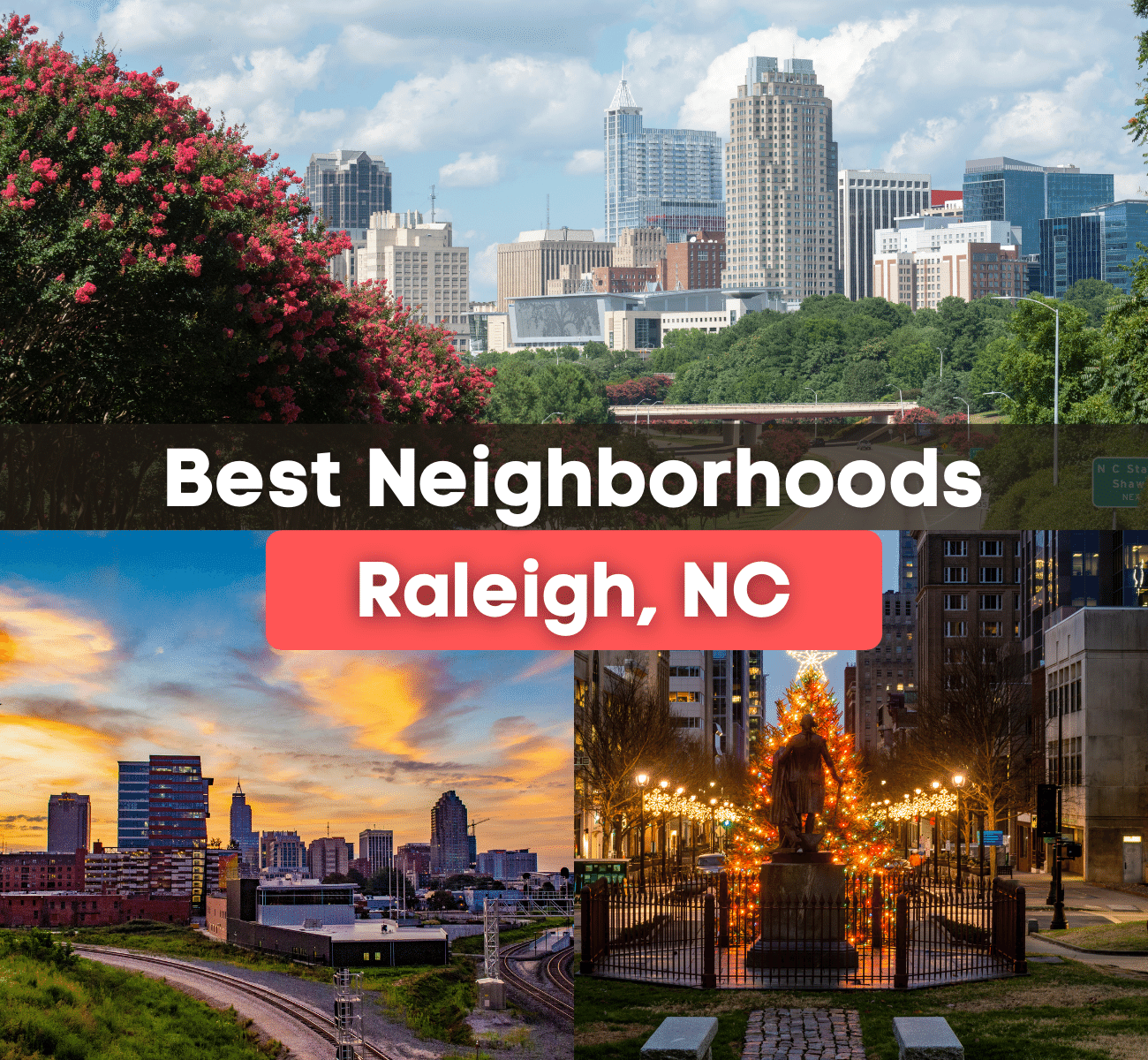 Located only a few hours away from some of the best beaches in North Carolina and requiring only a short scenic drive to get to the Blue Ridge Mountains in Western Carolina along with the beautiful city of Asheville, Raleigh is truly a remarkable place to live and have fun.
So whether you are officially moving to Raleigh or are just exploring the area, you might be asking yourself what neighborhood is best for you?
Even though there is no right or wrong answer, Raleigh does have a wide selection of neighborhoods to choose from that all vary depending on your price range and overall preferences.
No matter if you are on the hunt for new construction homes in Raleigh or would prefer the peacefulness of living in an older, established neighborhood, our team has put together this guide to the best neighborhoods in Raleigh to help narrow down your search.
Keep scrolling to learn more about where to live in Raleigh, NC!
Downtown Raleigh
Considered to be one of the most desired and sought-after neighborhoods to live in the city, Downtown Raleigh is not only the location of the state capital building but it is also the center of business and culture.
Known for its beautiful historic neighborhoods, world-class museums, performing arts venues, large outdoor green spaces, cute local shops, craft breweries, delicious southern restaurants, and exciting nightlife, Downtown Raleigh is truly the place to be if you are looking for city living but still want the hint of a small-town feel.
Since Raleigh is one of the most walkable cities in the United States, it is super easy for residents to walk to and from businesses and attractions when you choose to live in Downtown Raleigh.
An ideal location for young professionals and college students, Downtown Raleigh is a good place to live since it has tons of trendy bars, cute cafes, cool food halls, and annual festivals and events that will keep everyone entertained.
Local Favorites: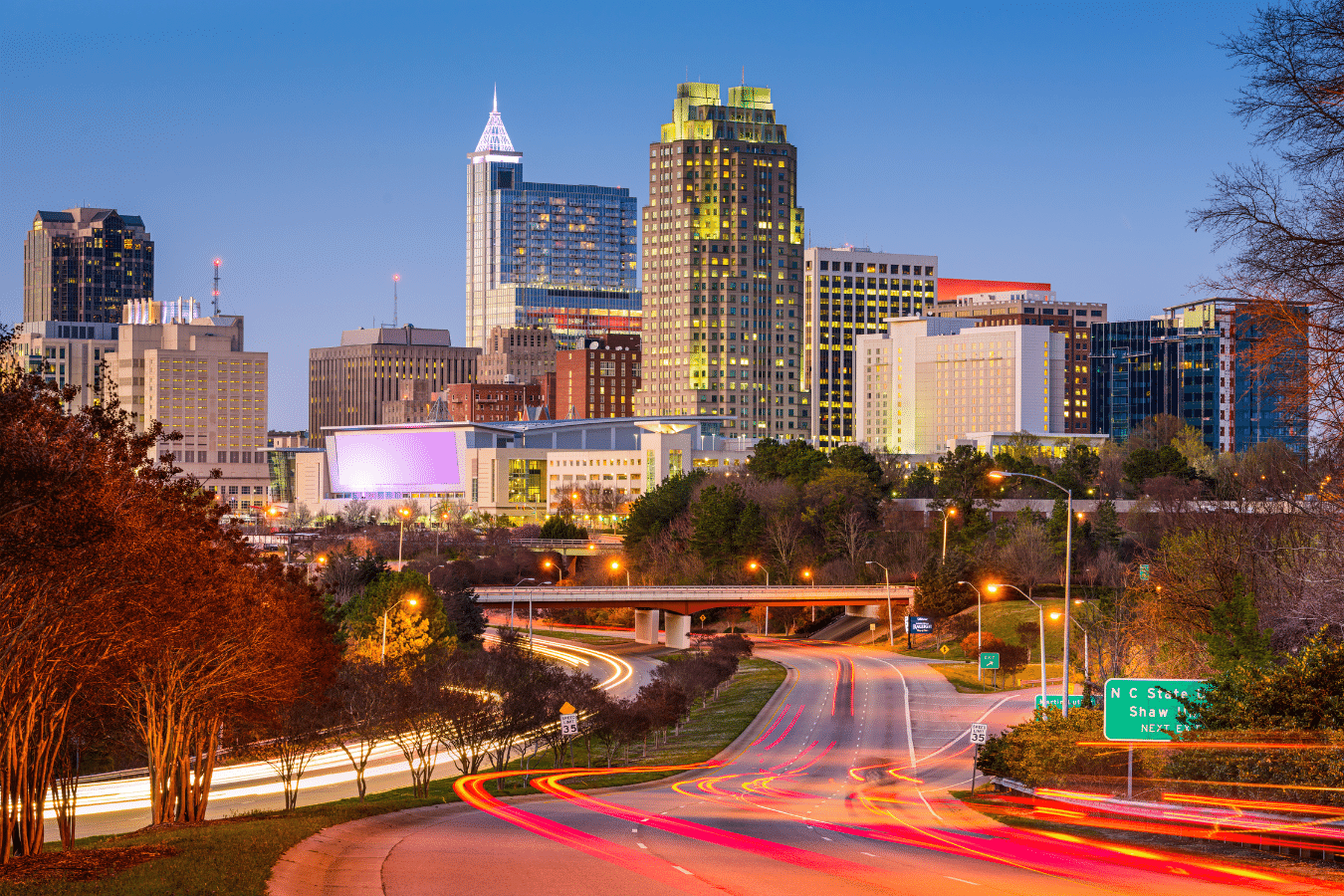 Cameron Village
Cameron Village, also known as the Village District, is a young and chic neighborhood in Raleigh that is home to a popular shopping center spanning six city blocks.
With more than 100 unique local shops, cafes, and restaurants, Cameron Village is unlike any other neighborhood in the Raleigh area since it provides premier access to top amenities and attractions without having to travel far from home.
Located west of Downtown and close to the campus of North Carolina State University, Cameron Village offers a wide range of property types including ranch-style homes and historic plantation properties that are ideal for young professionals, first-time home buyers, and investors.
Plus, with an amazing view of the city skyline, it is no wonder that Cameron Village is one of the best neighborhoods in Raleigh, NC.
Local Favorites:
Research Triangle
The Research Triangle, also known as The Triangle, is made up of North Carolina cities Raleigh, Durham, and Chapel Hill and is home to hundreds of companies centered around science, technology, and innovation.
Also, housing multiple government agencies, choosing to live in the Research Triangle means that you will be surrounded by some of the most highly-regarded companies in the state as well as three major research universities: North Carolina State University, Duke University, and the University of North Carolina Chapel Hill.
Perfect for residents who want to be close to work or near the Raleigh-Durham International Airport, the Research Triangle is quickly becoming the new place to be as the area continues to grow and expand to accommodate the increasing number of educational, technological, medical, and research facilities.
Local Favorites: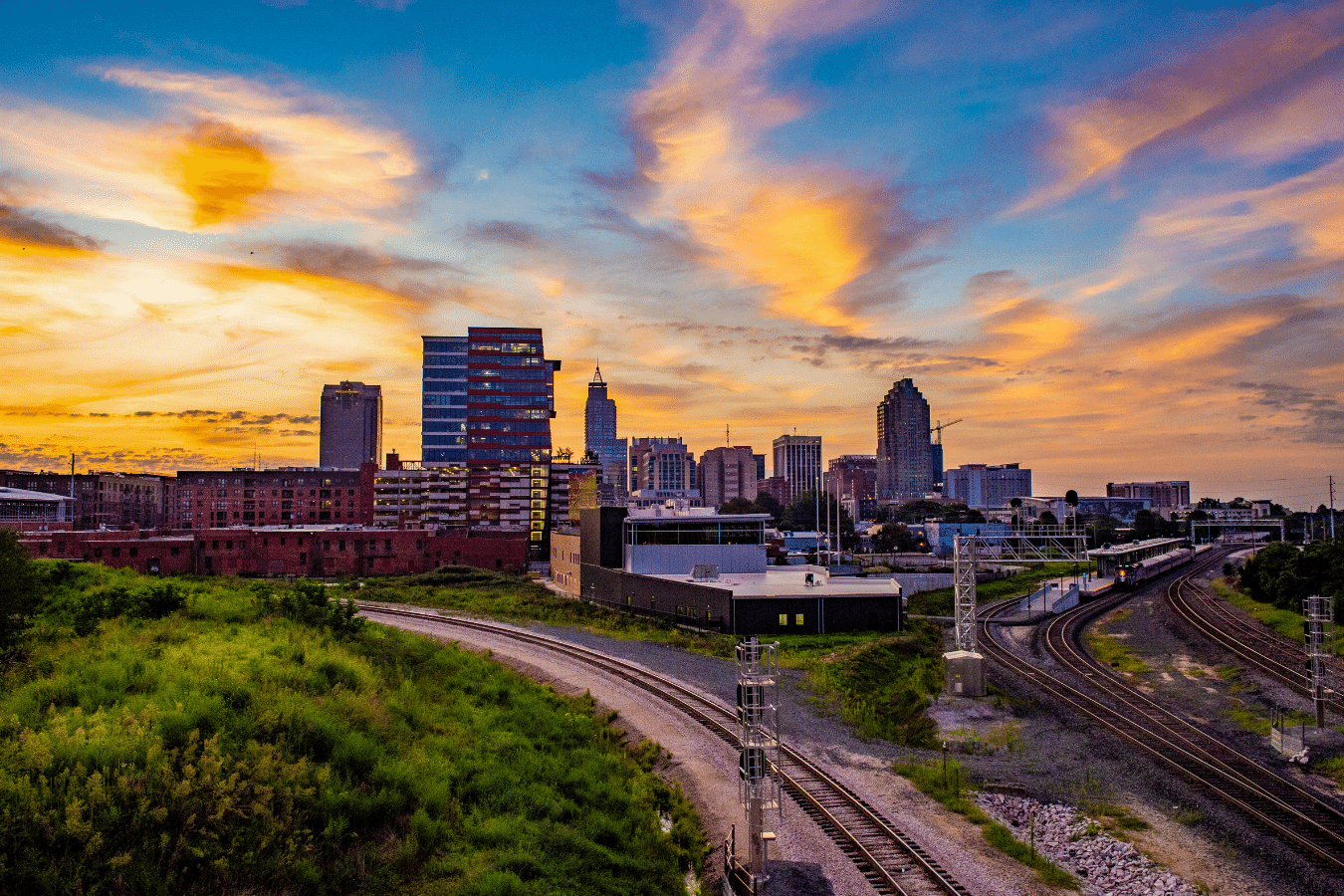 Boylan Heights
Established in 1907, Boylan Heights is known as one of the most historic neighborhoods in Raleigh and was added to the National Register of Historic Places in 1985.
As one of Raleigh's earliest planned suburbs with a layout that shapes the neighborhood's character and overall charm, Boylan Heights is the perfect example of middle-class ideals and daily life in the early 1900s.
Found on the southwest edge of Downtown Raleigh and consisting of primarily historic single-family homes that reflect Colonial Revival, Craftsman, Dutch Colonial, and Queen Anne architectural styles, Boylan Heights has become one of the top suburban neighborhoods in the city.
Local Favorites:
Glenwood South
Characterized by hip art galleries, inviting yoga studios, vintage clothing stores, and buzzing cocktail bars, Glenwood South is one of Raleigh's most popular districts and neighborhoods.
Recognized as one of the city's signature streets that are lined with a mixture of highly-rated restaurants, bars, stores, and residences, Glenwood South is generally a safe and walkable area that is ideal for young professionals, couples, and college students.
Noted as a fun area that always has something exciting to do, if you choose to move to Glenwood South then you will never run out of new places to eat, shop, and hang out either after a long day at work or on the weekends.
Local Favorites:
Historic Oakwood
Historic Oakwood in Raleigh is a beautiful and safe residential neighborhood that features well-preserved Victorian and early-20th century homes that are found in multiple architectural styles including Queen Anne, Craftsman, and New Classical.
Considered to be the only 19th-century neighborhood that is fully intact in Raleigh, Historic Oakwood is the oldest neighborhood in the city with homes built between 1870 and 1912 and is also the first area in Raleigh to be listed on the National Register of Historic Places.
Found on the edge of Downtown Raleigh, Historic Oakwood is bursting with tons of character and is home to multiple corner stores and locally owned businesses that are frequented by residents. Check out the homes for sale in Raleigh's Oakwood neighborhood.
Local Favorites:
Hayes Barton
Located northwest of Downtown Raleigh lies the historic neighborhood of Hayes Barton which is an upper-class district that was designed by well-known landscape architect Earle Sumner Draper.
This dynamic and growing community lies west of Glenwood Avenue and north of Wade Avenue which makes Hayes Barton a prime location for young professionals and families.
Featuring a total of 457 buildings including single-family homes and numerous businesses all found within a total area of 170 acres, Hayes Barton is certainly the place to be if you are looking for a safe and well-maintained neighborhood. Check out the homes for sale in Hayes Barton Raleigh!
Local Favorites:
Cameron Park
Found right off of Hillsborough Street in Raleigh which is located near North Carolina State University, Cameron Park is a historic Raleigh neighborhood and popular century-old community.
Considered to be an appealing place to live in the city for its convenient and easy access to local amenities, Cameron Park is a beloved historic district that features homes with various architectural styles including transitional Queen Anne and Colonial Revivals.
Known as the "best bargain in Downtown Raleigh," Cameron Park has a wide selection of single-family homes, apartments, condos, and student housing available to choose from that are all affordable. Check out the homes for sale in Cameron Park!
Local Favorites:
Mordecai
Among the city's most historic neighborhoods, Mordecai is a quaint and peaceful residential area that is known for its namesake historic park that is thought to be the birthplace of Andrew Johnson who was the 17th president of the United States.
As the site of the largest plantation in Wake County, the elegant Mordecai House dates from 1785 and features a 19th-century style kitchen garden.
Growing in recent years to become one of the best places to live in Raleigh due to its location in the city, Mordecai is certainly an important Raleigh treasure.
Local Favorites: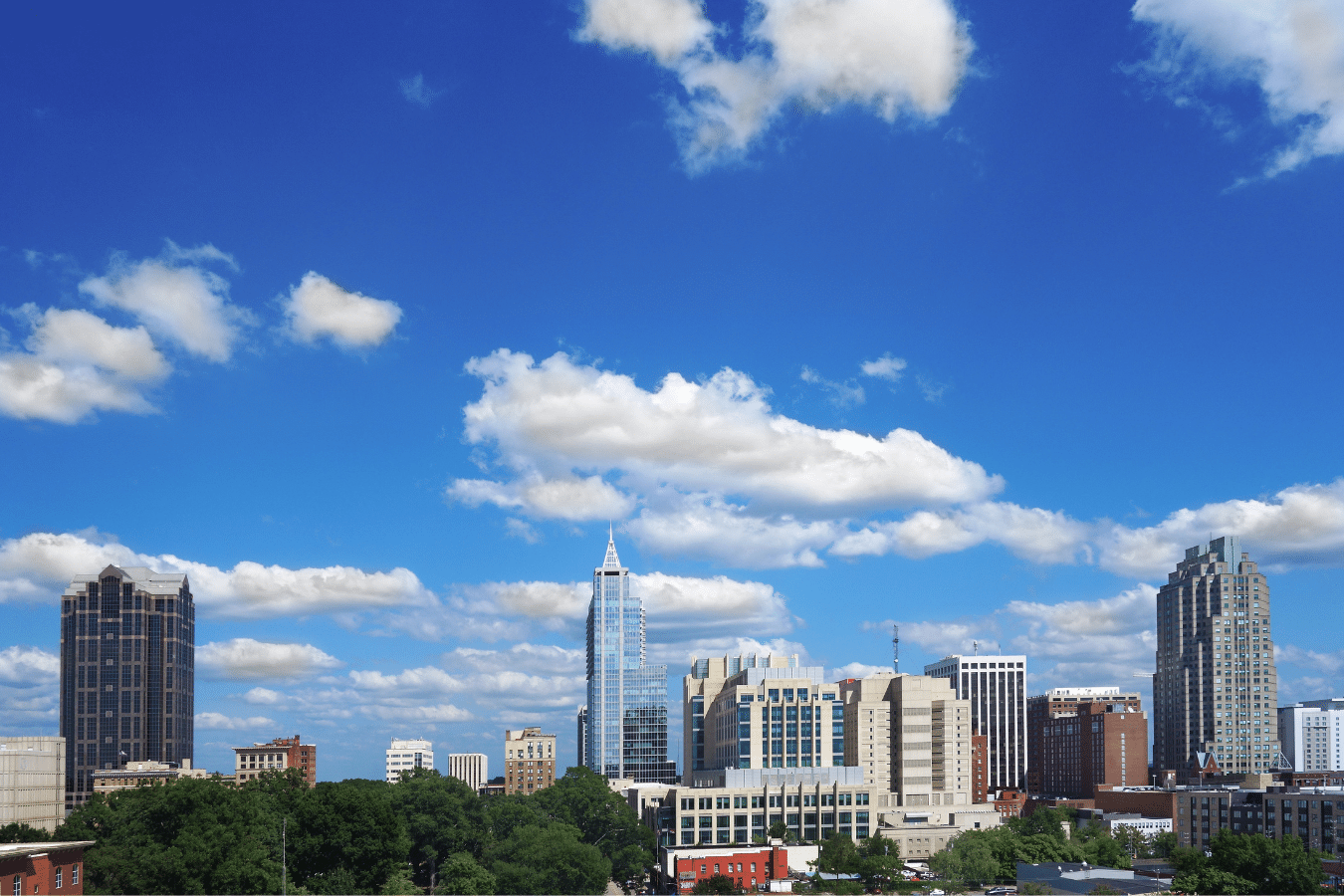 North Hills
As one of Raleigh's booming neighborhoods, North Hills is an affluent and high-end community that is home to several upscale apartment complexes and hotels.
Centering on a shopping center that houses multiple prestigious chain stores, sleek restaurants, sophisticated entertainment, and a park that hosts outdoor concerts and fitness classes in the summer, North Hills is the new place to be if you are moving to Raleigh. Check out the newest Homes for Sale in North Hills.
Local Favorites:
Explore Raleigh, NC Neighborhoods with Uphomes
Where do you see yourself living in Raleigh? While the neighborhoods listed above are considered to be some of the best areas to live in Raleigh, it is important to decide what you value most in a neighborhood before making a final decision.
Whether you are looking for the safest area in Raleigh or the richest area in Raleigh, our local Raleigh Real Estate Specialists are here to assist you no matter your home buying or selling goals. Feel free to contact us today so that we can go ahead and jump right in!
Not only do we love helping you learn about the best neighborhoods in Raleigh, but our website only provides only the most advanced features and reliable information about buying a home in Raleigh as well as other local area guides including the best coffee shops in Raleigh and the best restaurants in Raleigh.
If you are interested in learning more about some of the other best neighborhoods in and around the Raleigh area, make sure to visit the following articles that might be of interest to you:

Find your new home
Search real estate and homes for sale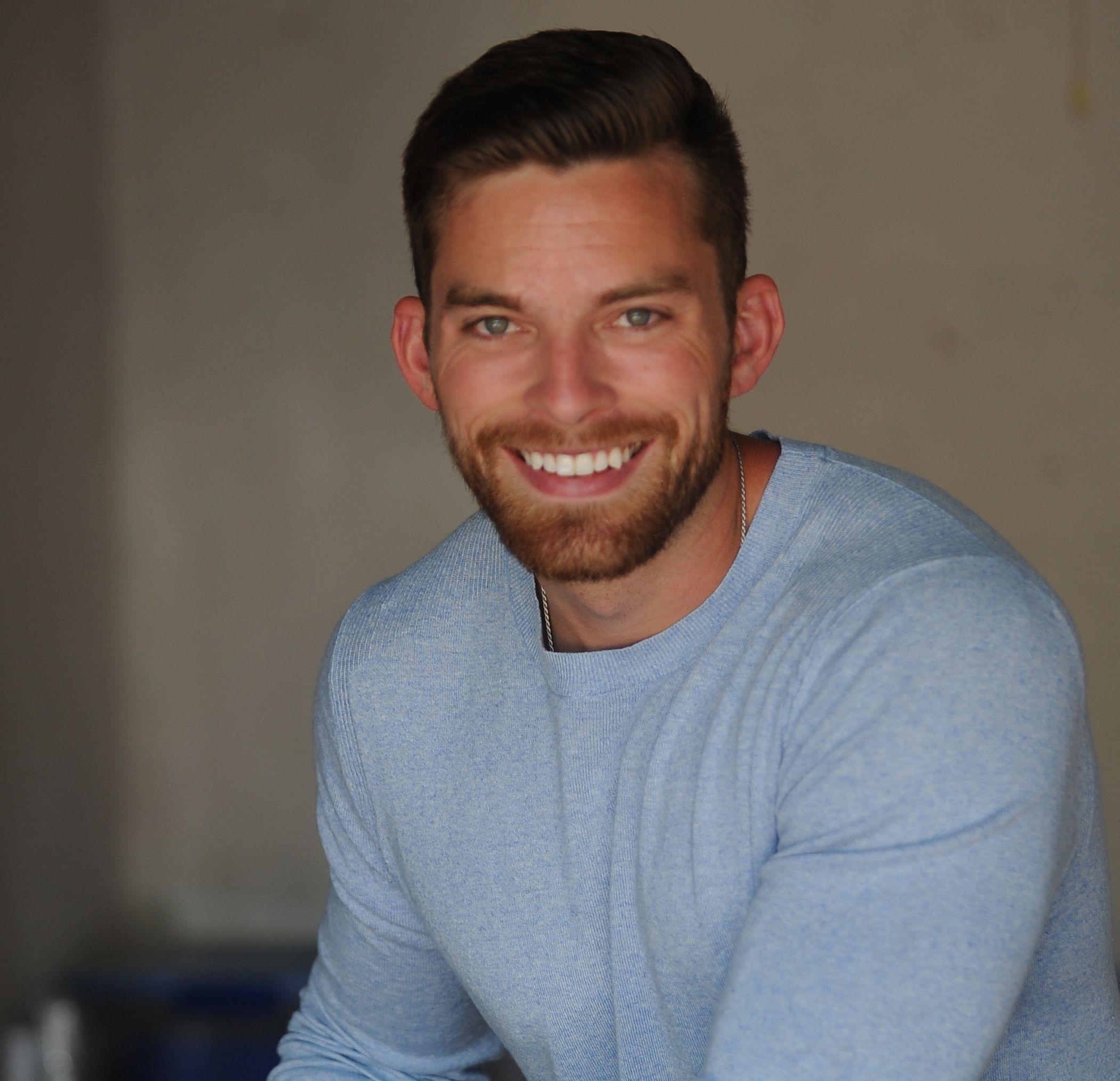 Ryan Fitzgerald
Hi there! My name is Ryan Fitzgerald, and I am a REALTOR®. My goal is to help you learn more about real estate through our Real Estate Blog! Hopefully, you enjoyed the above blog post and it found a way to provide help or value to you. When you're ready to buy or sell a home of your own let us know here. Please feel free to join the conversation by dropping us a comment below.