15 Best Restaurants in Fayetteville, NC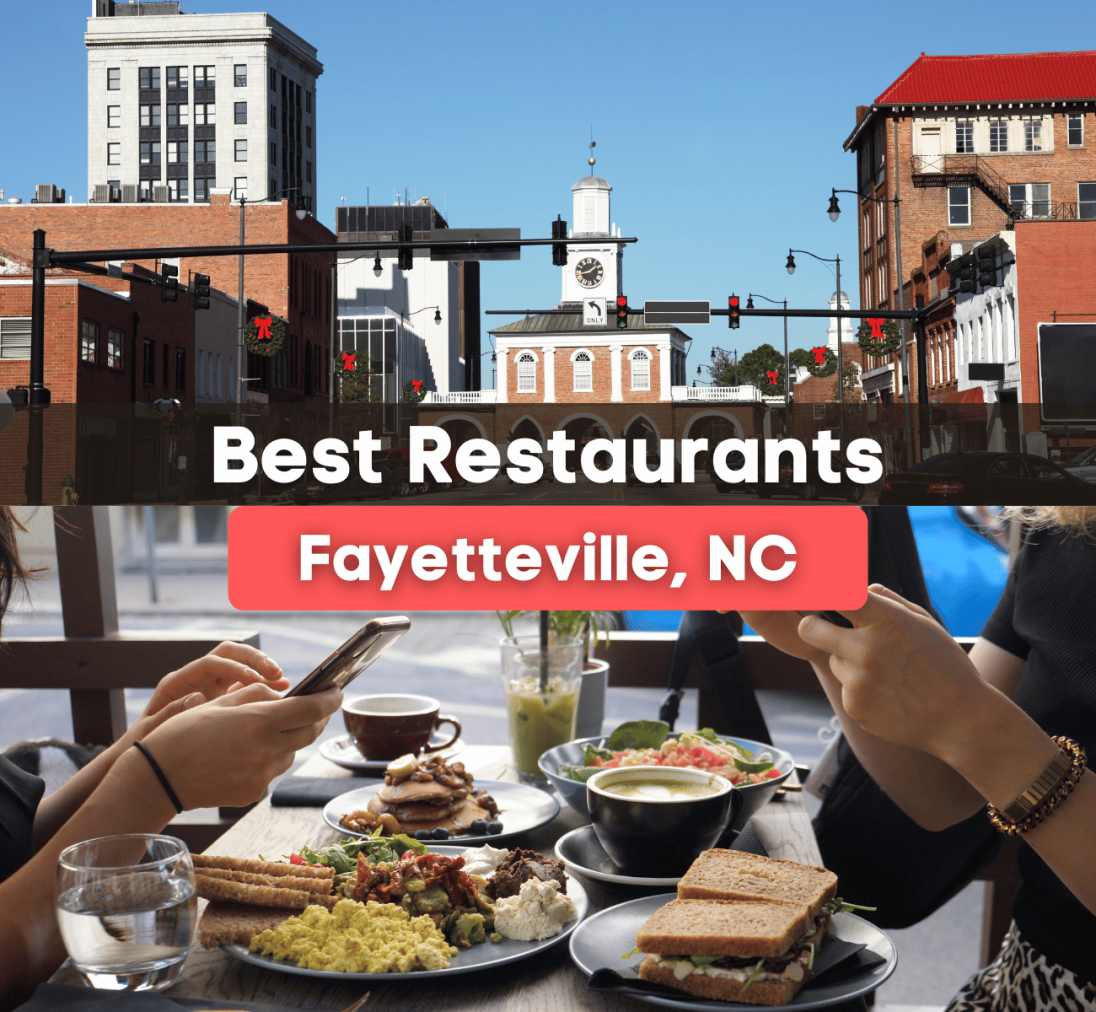 Best Places To Eat in Fayetteville
Do you need to know where to eat in Fayetteville, NC? Make sure you add these 15 delicious Fayetteville restaurants to your bucket list!
Fayetteville, North Carolina, may be known as the home of the U.S. Army Base Fort Bragg, but what people may not realize is that Fayetteville is also a haven for food lovers. Since such a large portion of the city's population is from different backgrounds, it is no surprise that Fayetteville has a diverse collection of restaurants and small eateries influenced by international cuisine.
Mixing southern Carolina flair with global-inspired flavors, there is always a new restaurant to enjoy while you are in town. From mouthwatering barbeque to homemade pasta, finding a place to eat in Fayetteville can be overwhelming since there are many options.
Luckily, our team has put together this list of the best restaurants in Fayetteville to help narrow your choices so you can enjoy a nice meal more instead of spending hours researching where you should eat. So whether you are moving to Fayetteville or are planning out your dining options after a long day exploring the best things to do in Fayetteville, check out these 15 delicious restaurants in Fayetteville, NC!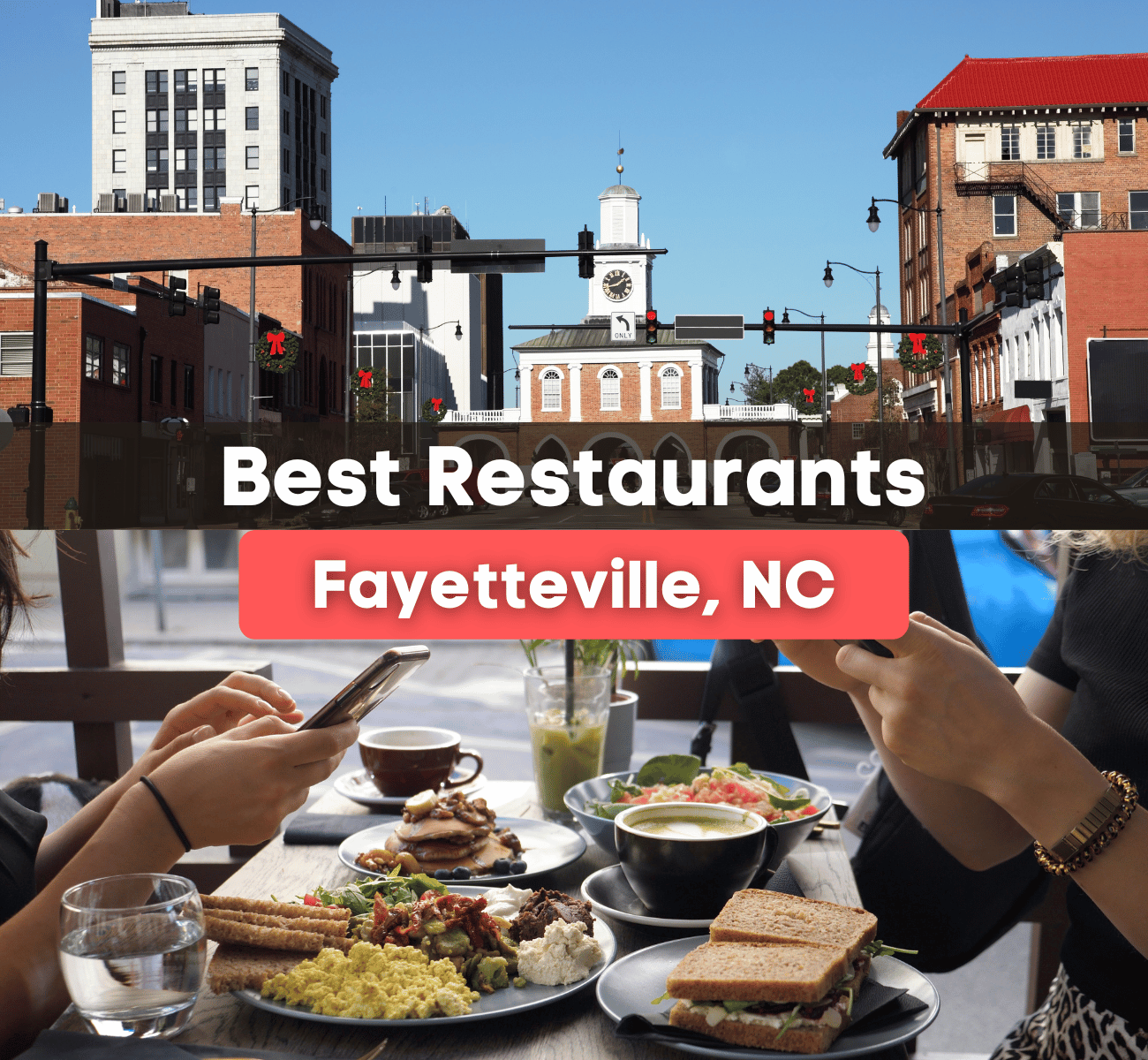 Here are 15 of the best places to eat in Fayetteville, NC!
Circa 1800
For a tasty southern dining experience, check out Circa 1800, located on Person Street in Fayetteville. Open for dinner and also known as a fantastic brunch spot on the weekends, Circa 1800 is serving American favorites in a cozy and welcoming atmosphere.
With a menu consisting of chicken and waffles, sweet tea french toast, shrimp and grits, brisket, salads, and southern chicken parmesan, this restaurant has found a way to turn southern classics into modern masterpieces. Encouraging diners to eat and drink locally, Circa 1800 strives to source ingredients from local farmers in Fayetteville and the surrounding areas, which means that all of the draft beer and most of the liquor at the bar are made in North Carolina.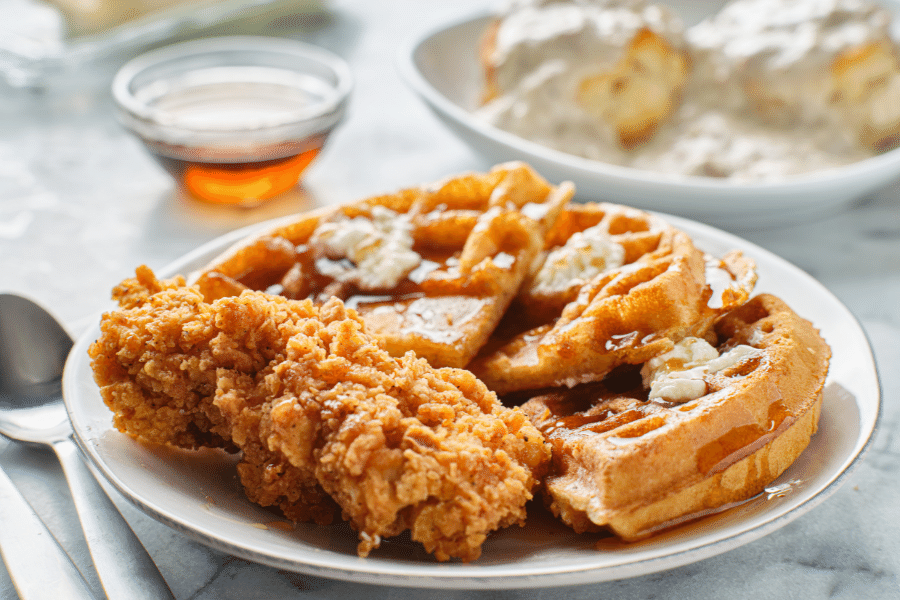 Antonella's Italian Ristorante
If you are craving authentic Italian food, look no further than Antonella's Italian Ristorante on Hay Street. With an upscale setting, knowledgeable staff, and excellent food, this family-owned restaurant is a must-try in Fayetteville.
Serving fresh seafood dishes, homemade pasta, and a variety of vegetarian and vegan options, everyone can find something on the menu that they will love.
Plus, featuring indoor and outdoor seating and offering curbside pickup options, there are multiple ways to enjoy the fantastic food at Antonella's.
Luigi's Italian Chophouse and Bar
Established in 1982, Luigi's Italian Chophouse and Bar is another local favorite Italian restaurant in the city that has made a name for itself as one of the best restaurants in Fayetteville.
Located on McPherson Church Street, Luigi's has been in business for over 20 years and was founded by Greek immigrant Peter Parrous whose original recipes are still being used today in the restaurant.
Specializing in Italian favorites, including bruschetta, Caprese salad, eggplant parmesan, lasagne, and a variety of homemade pasta, including penne ala vodka and fettuccine alfredo, each menu item is carefully made and uses only the best ingredients available.
All the sauces, soups, and dressings are homemade daily and are still created with original recipes. If you dine at Luigi's Italian Chophouse and Bar, you also have to save room for dessert. Tiramisu, cheesecake, cannolis, and spumoni ice cream are available.
Saigon Bistro
Are you in the mood for authentic Vietnamese food? Then head on over to Saigon Bistro located on Bragg Blvd in Fayetteville.
This quaint cafe features an ornate ceiling and a classic menu with dishes such as Pad Thai, coconut curry, noodles, and a large selection of vegetarian options.
Offering both dine-in and take-out, this Pho restaurant provides excellent service and food that will impress your taste buds.
316 Oyster Bar
Nothing is better than hanging out with friends and enjoying oyster shooters and fried fish at 316 Oyster Bar. This brightly lit and colorful bar is a fun place in town to dine on fresh seafood while simultaneously having a good time.
Considered a local favorite for its ambiance and super-friendly service, 316 Oyster Bar is best known for its seafood boil, seafood dip, and delicious craft cocktails.
Family-owned and operated, this local bar and seafood grill guarantees freshness by preparing food by the order and only serving seafood that was caught locally.
Also, a great place to host large parties and events, 316 Oyster Bar is accepting inquiries through its website.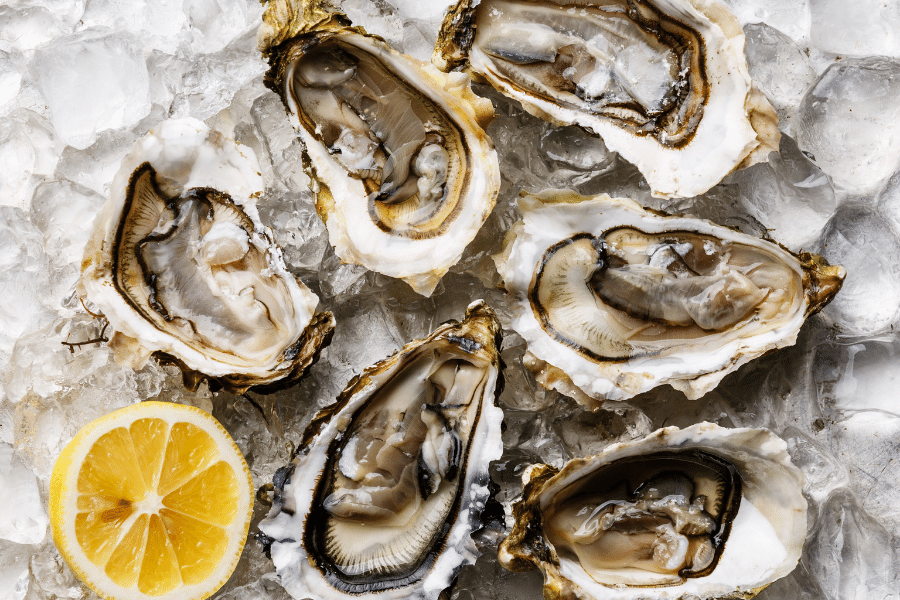 Pharaohs Village
Pharaohs Village is a popular Mediterranean restaurant and market located off Hope Mills Road in Fayetteville. This family-owned business specializes in gyros, falafel, kebabs, and other freshly prepared items in a counter-service setting.
Great for large groups and perfect for the whole family, dining at Pharaohs Village is an excellent option for healthy eating and nutritious foods.
Open every day throughout the week for lunch and dinner and offering dine-in, delivery, and pickup options, this is the number one place in town to enjoy hummus and tabouleh salad.
Blue Moon Cafe
Blue Moon Cafe on Hay Street is the place to be if you want to enjoy great food at an affordable price.
This cute cafe serves American favorites in a welcoming environment where diners can enjoy paninis, white cheddar mac and cheese, salads, delicious soups, and charcuterie.
Blue Moon Cafe always creates something delicious with outdoor seating, coffee, and various desserts, including bananas, foster donut holes, brownie sundaes, and bread pudding.
Fayetteville Pie Company
Found in the Westwood Shopping Center lies the Fayetteville Pie Company which is a popular lunch and dessert shop that has a pie for every occasion and will satisfy every craving.
Whether you are looking for a sweet or savory pie, Fayetteville Pie Company makes some of the best pies in North Carolina and provides pickup and delivery options.
With a frequently changing menu, some of the most popular pies sold include the Nutella mousse pie, nutter butter pie, homestyle chicken pot pie, and the tuna bake pie.
Selling either the whole pie or by the slice, patrons also have the option of ordering a pie bites box which are miniature pies that include 24 assorted pies that are on the menu at the time the order is placed.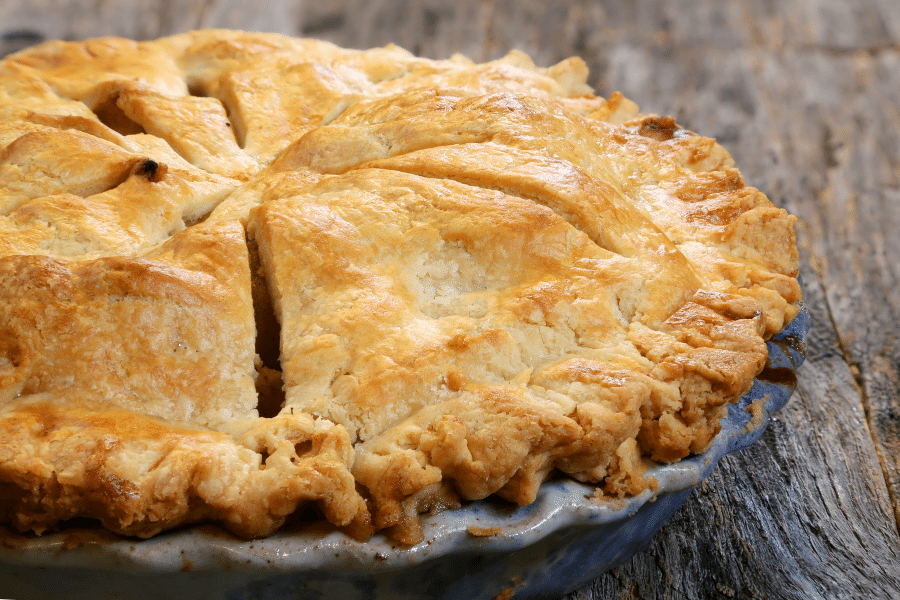 Hudson Bay Seafood
Hudson Bay Seafood is a laid-back seafood restaurant on Ramsey Street in Fayetteville that serves fried seafood and other American favorites in a casual setting.
Closed Mondays and Tuesdays but open every other day of the week for lunch and dinner, dining at Hudson Bay Seafood is a relaxed experience and is known for its large portions, great prices, and attentive service.
Since 1992, this family-owned and operated restaurant has been a great place to bring your loved ones to dine on freshly cooked seafood. Alcohol is not served.
Fowler's Southern Gourmet
Using only fresh local ingredients and homemade sauces, Fowler's Southern Gourmet is a scratch kitchen on Rowan Street, making delicious pork barbecue, brisket, sandwiches, tacos, and classic homemade southern sides.
Whether you order your barbeque as is or on a soft brioche bun, the food here at Fowler's is always excellent and is a perfect example of Carolina-style barbecue.
From collard greens, macaroni, and cheese to baked beans and cornbread, Fowler's Southern Gourmet is a must-try in Fayetteville if you love smoked meat and southern cuisine.
If you are vegetarian, multiple salads, such as Caesar and spinach salads, are on the menu that can be ordered without bacon. Before ordering any side items, it might be a good idea to check with the staff to ensure that the ingredients are free of animal products.
Metro Diner
In a prime location, Metro Diner is near Fort Bragg, Fayetteville State University, and Cross Creek Mall. This local diner chain offers a retro twist on classic American breakfast favorites and lunch and dinner specials.
Serving pancakes, waffles, biscuits and gravy, burgers, shepherd's pie, chicken pot pie, salads, soups, and various other popular menu items, dining at Metro Diner is a quirky experience that is ideal for the whole family.
With multiple locations throughout the state and the country, including one in Raleigh and one in Charlotte, Metro Diner is the place to be in town whether you are craving classic dishes or looking for more innovative meals.
Gaston Brewing Company
Gaston Brewing Company is in the heart of downtown Fayetteville and is an award-winning brewery, taproom, and full-service kitchen. This nano-brewery is considered one of Fayetteville's favorite breweries and serves up exceptional craft beer alongside high-quality pub grub.
With a large selection of unique brews that can only be found at the Gaston Brewing Company taproom and an extensive selection of menu items, patrons will have their choice of sandwiches, shareables, burgers, flatbread pizzas, salads, and desserts.
From seasonal IPAs to Pale Ales, some of the most popular beers on the menu include the Rock 103 Blackberry Lager, the Gold Digger Belgian Tripel, the Honey Rider Porter, and the Til Valhalla Pale Ale.
If you need help deciding which beer to try first, you can take advantage of the beer flight, where you can select four beers from the menu.
Gaston Brewing Company also sells ciders, sours, craft cocktails, wine, sangria, and mimosas.
The Sweet Palette
Whether you have a big sweet tooth or are just looking for freshly made baked goods, The Sweet Palette in historic downtown Fayetteville is a special place that blends creativity with classic recipes.
This local family-owned bakery makes made-from-scratch items daily, such as cupcakes, cookies, cake balls, and macaroons, using natural and locally sourced ingredients.
Closed Sundays and Mondays, The Sweet Palette is found in an artistic space with brick walls that feature local artwork and is frequently known to host events, including poetry readings, live music performances, and other entertainment to bring the community together while enjoying sweet desserts.
Some of the most popular everyday cupcake flavors featured on the menu include peanut butter, Nutella, oreo, red velvet, salty caramel, and vanilla. There are also a variety of signature cupcake flavors that rotate out seasonally or daily.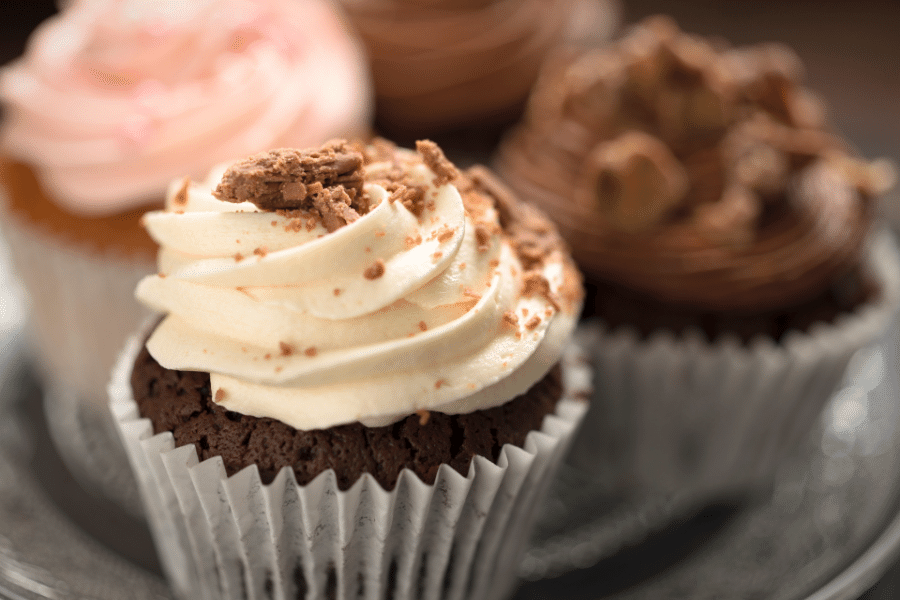 El Cazador Mexican Restaurant
Offering an innovative take on Mexican cuisine, El Cazador Mexican Restaurant on Skibo Road is known for its excellent margaritas and homemade Mexican favorites.
El Cazador Mexican Restaurant is a popular spot in town for a chill date night. Serving fajitas, enchiladas, tacos, queso, and any other classic Mexican dishes, El Cazador is an excellent hangout spot with friends and family.
The Fried Turkey Sandwich Shop
The Fried Turkey Sandwich Shop has three locations in the Fayetteville area and is known as one of the best family-owned places to eat in Fayetteville.
With a clean atmosphere, great prices, and terrific service, after eating at The Fried Turkey Sandwich Shop, you will quickly learn that it does not have to be Thanksgiving to enjoy fried turkey.
Serving sandwiches, salads, wraps, and platters, this unique restaurant is one of a kind.
Where will you eat first in Fayetteville, NC?
Whether you want to indulge in authentic Italian food or are on the hunt for Carolina-style barbecue, there is no shortage of outstanding food options in Fayetteville that will quickly turn you into a regular visitor.
From fast-casual restaurants to quirky diners, all of the restaurants listed in this guide are just the tip of the iceberg when it comes to learning about the best restaurants in Fayetteville.
So whether you are looking for restaurants near the best neighborhoods in Fayetteville or want to go ahead and make dinner reservations when planning your next long weekend getaway, there is always a new restaurant to try.
Contact us today to learn more about the area's local cuisine before buying a home in Fayetteville, NC!

Find your new home
Search real estate and homes for sale