15 Best Things To Do in Fayetteville, NC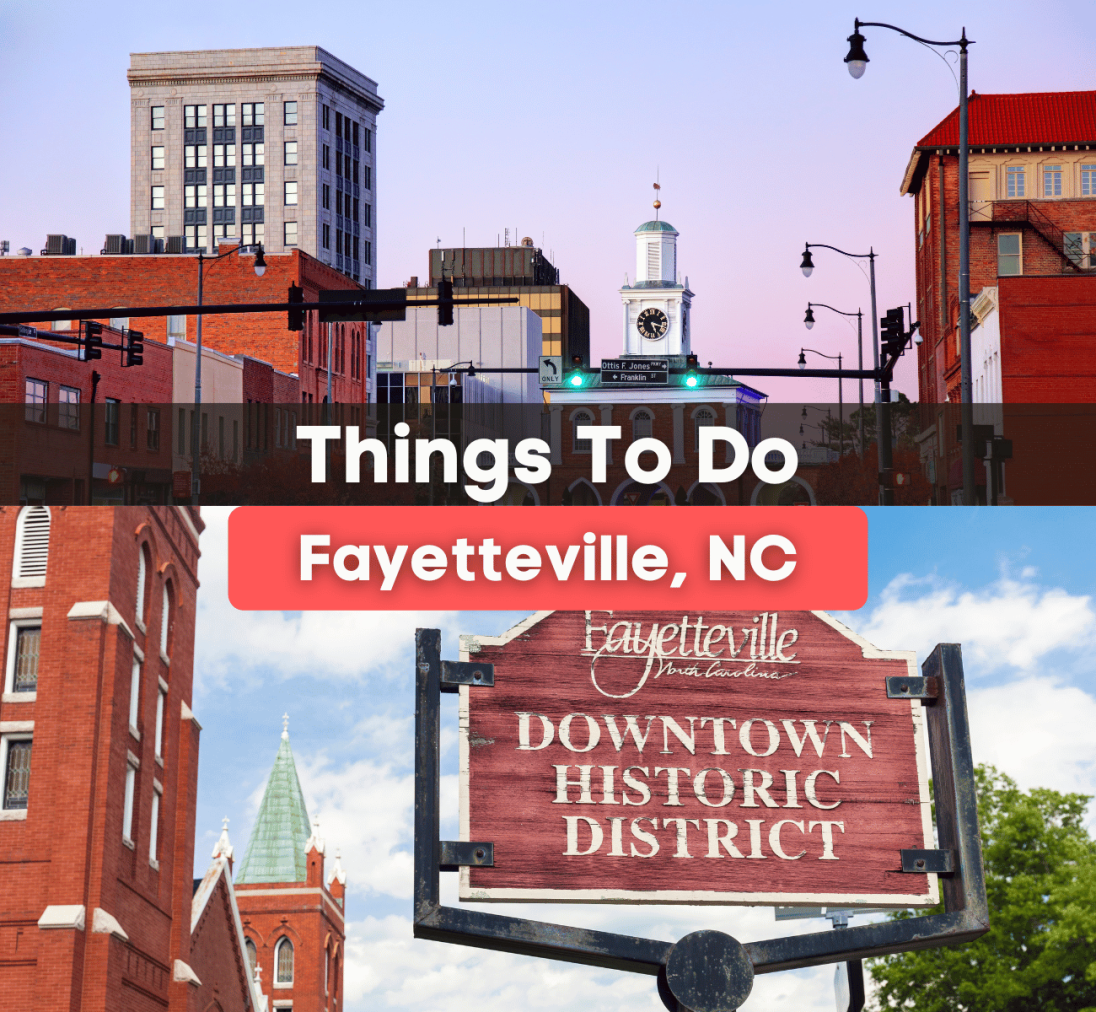 Fun Things To Do in Fayetteville
Would you like to know the best things to do in Fayetteville, NC? Check out these 15 fun local things to do in Fayetteville!
Known for its rich history and numerous fun activities, Fayetteville, North Carolina, always has something to do for all ages, whether you are looking for cultural experiences or recreational activities.
Fayetteville has a lot to offer, from museums to parks and vineyards, since it is home to many famed attractions that can only be found in the city.
Whether you are moving to Fayetteville for the first time or are taking a long weekend vacation with the whole family, finding something to do can be overwhelming since there are so many options.
Fortunately, this activity guide was created to help you search for a fun adventure in Fayetteville.
Read on to learn more about the 15 Best Things To Do in Fayetteville, NC!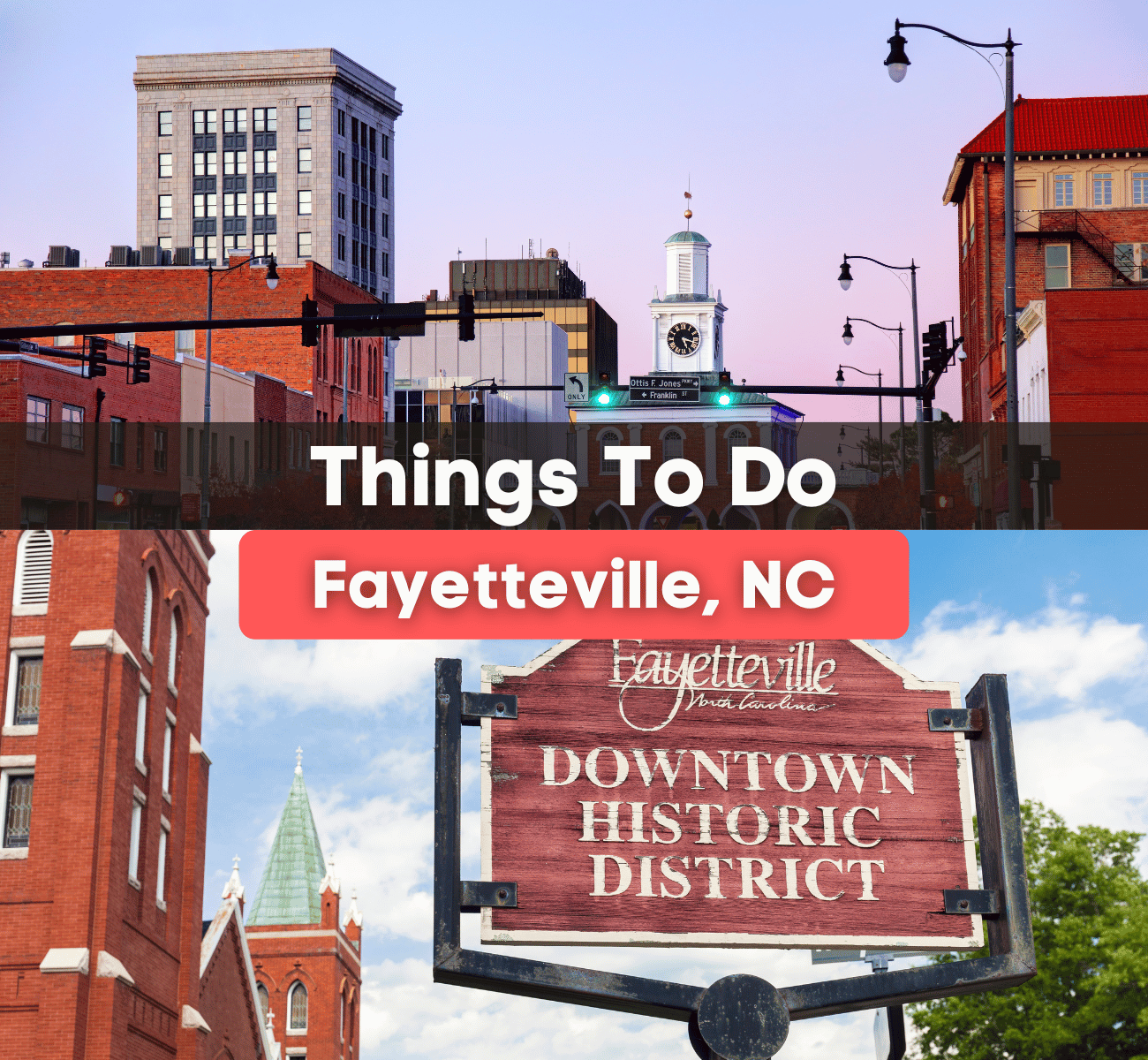 Airborne and Special Operations Museum Foundation
Since Fayetteville is home to Fort Bragg and the 82nd Airborne, it only makes sense that a museum is dedicated to these special Army units.
Established in August 2000, The Airborne and Special Operations Museum Foundation on Bragg Boulevard in Fayetteville is a first-class museum dedicated to the 101st and 82nd Airborne divisions of the United States Army and Special Operations Forces who jump from the sky into battle.
Constructed to engage, educate, and inspire visitors, this museum is an interactive and immersive learning experience highlighting the history of the United States Army and Special Operations Forces over 80 years.
Featuring exhibits dedicated to World War II to the present-day war on terrorism, this museum is a must-visit for anyone wanting to learn about army history.
82nd Airborne Division War Memorial Museum
Dedicated to the history of the 82nd Airborne Division from 1917 to the present day, the 82nd Airborne Division War Memorial Museum in Fayetteville is located on the Fort Bragg Army base.
Initially founded in 1945, this museum honors this elite Army division that can deploy on just an 18 hours notice and can perform critical military operations.
With the intent to honor veterans and support military families, the 82nd Airborne War Memorial Museum features exhibits, a trophy room, and artifacts from World War I and World War II.
Museum of the Cape Fear
The Museum of the Cape Fear in Fayetteville, North Carolina, is a historical complex committed to the Cape Fear River's history, preservation, and cultural heritage and southern North Carolina.
Initially opened in 1988, this museum is a branch of the North Carolina Museum of Natural History. It is home to exhibits that highlight the past of the Cape Fear region and how it has changed throughout the years.
With admission costing $8 for adults, $5 for children aged six through 17, and $7 for seniors, students, and military personnel, the Museum of the Cape Fear is an affordable activity for families and people of all ages.
Featuring two floors of exhibits that explore more than 400 years of history of the Cape Fear River region, this museum is home to historical collections and preserves artifacts from the area.
Fascinate-U Children's Museum
If you want somewhere cool to bring your kids, check out the Fascinate-U Children's Museum on Green Street in Fayetteville.
This museum is unique since it is set up like a mini-city where each child can walk through and explore.
Featuring a tiny post office, fire truck, grocery store, and courthouse, Fascinate-U Children's Museum is perfect for children between the ages of one and 12 and is home to interactive exhibits and events for hands-on learning.
With family memberships costing only $50, which includes admission to the museum for the entire family throughout the year, this museum is perfect for bringing your kids on a rainy day or as a destination for a school field trip.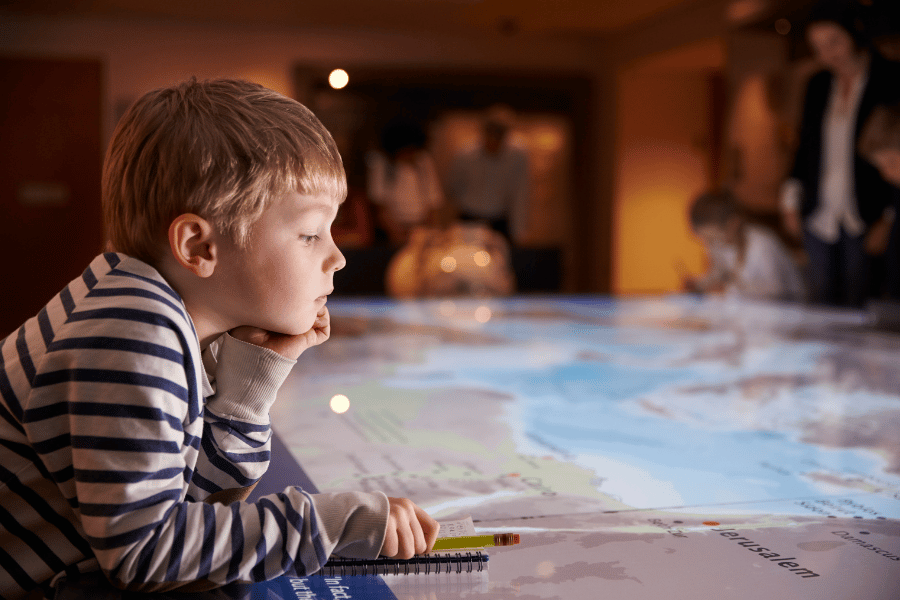 Fayetteville Area Transportation and Local History Museum
Suppose you are interested in learning more about the history of Fayetteville and the impact that the railroad had on the city. It would be best if you headed to the Fayetteville Area Transporation and Local History Museum on Franklin Street.
Found in a restored 1890 historic railway station home to an old gas station, vintage cars, artifacts, and exciting displays, this museum offers two floors of engaging and interactive exhibits that are an excellent educational experience for anyone wanting to know more about the city.
You can take a self-guided tour of these grounds and visit them frequently since exhibits are commonly rotated and changed.
1897 Poe House
Named after the year it was built, the 1897 Poe House in Fayetteville, North Carolina, was the home of Edgar Allen Poe and his family; he was an American writer, poet, and editor that was famous for his tales of mystery and collections of horror and science fiction literature.
Since this is the home where Poe started his literary career, the house has since turned into a famous museum and historic site near the Cape Fear River.
Now offering tours Tuesday through Thursday, Saturday, and Sunday, visitors will learn about the life of the Poe family and what life was like in southern North Carolina during this period.
Also, by providing multiple events throughout the year, admission into the Poe House is free, but please remember that donations are encouraged when planning your visit.
North Carolina Veterans Park
The North Carolina Veterans Park in historic downtown Fayetteville is found on Bragg Boulevard and is a memorial park that happens to be the first park in the state dedicated to military veterans, both living and deceased.
With an interactive story garden that highlights the achievements of all branches of the military, including the Army, Navy, Marines, Air Force, and Coast Gaurd, as well as commemorative sculptures, it is easy to see how North Carolina has been named as the "Most Military Friendly" state in the country.
Incorporating natural elements into its architecture and displays, North Carolina Veterans Park changes as the season's change and is always offering new sights to visitors.
Cape Fear Botanical Garden
Situated between the Cape Fear River and Cross Creek in Fayetteville lies the beautiful Cape Fear Botanical Garden, a free nonprofit botanical garden open to the public daily.
Home to vibrant flowers and perfectly manicured gardens, the Cape Fear Botanical Garden is nestled on 80 acres just two miles from downtown Fayetteville and was founded in 1989.
A great place to visit for children and adults, the garden hosts many events and activities, including Tai Chi, Yoga, Dog Day in the Garden, Halloween in the Boo-tanical Garden, and Holiday Lights in the Garden.
Also, offering multiple educational programs such as camps, projects, research opportunities, guided tours, and workshops, spending time in the garden is relaxing and informative.
Cape Fear River Trail
The Cape Fear River Trail is a seven-mile path ten feet wide and used for walking, jogging, running, biking, and skateboarding.
Open 365 days a year from eight in the morning to dusk, the Cape Fear River Trail features over 1,000 feet of boardwalk through the wetlands and marsh and is a great place to spot diverse wildlife and over 700 species of native plants and trees.
As part of the East Coast Greenway, a collection of trails and greenways from Maine to Key West, Florida, the Cape Fear River Trail is a great way to get around town and spend time outside.
This trail is not a loop, so once you have reached the end, you will need to turn around or arrange transportation to get back to where you started.
ZipQuest - Waterfall and Treetop Adventure
Have you always wanted to soar through the treetops and admire gorgeous waterfalls? Then now is your chance to go on an adventure at ZipQuest - Waterfall and Treetop Adventure in Fayetteville.
Attracting visitors from all over North Carolina, ZipQuest is perfect for families and groups, is frequently used as a fun date destination.
Open from nine in the morning to five in the afternoon, Friday through Monday, this zipline adventure has been rated as the number one activity in Fayetteville. USA Today has ranked it as one of the best zipline parks in the United States.
With fun zip lines, amazing views of a huge waterfall, and a swing shot, choose to visit the park during the day or at night for NightQuest, where you can zipline under the stars.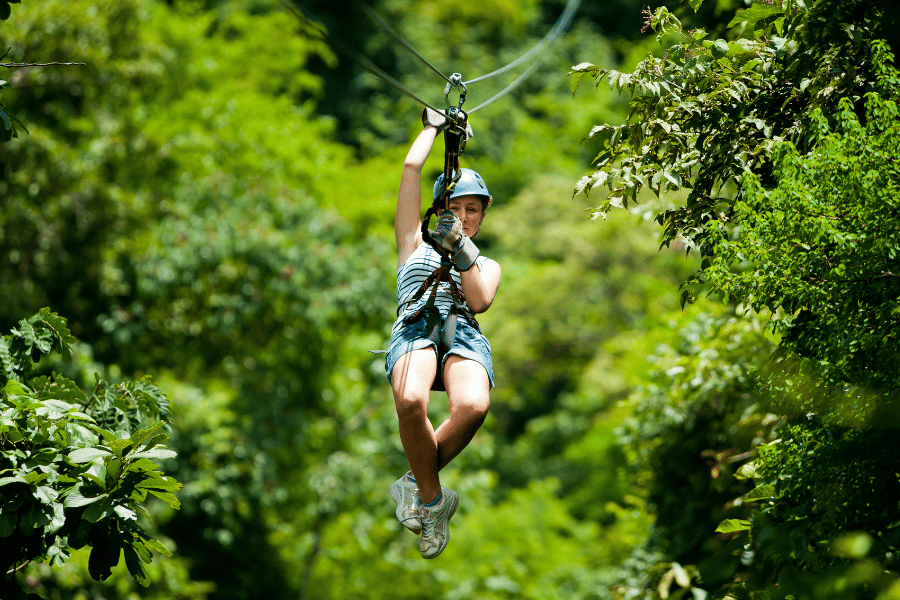 J. Bayard Clark Park Nature Center
With the mission to preserve the environment and educate the public about the importance of North Carolina plants and wildlife, the Clark Park Nature Center is located off Sherman Drive in Fayetteville. It is the go-to spot for nature lovers.
Considered to be a true gem of Fayetteville, the Clark Park Nature Center is the second-largest regional park in the city. It features three loop trails, a campground, and an outdoor classroom for educational programs and camps.
When visiting this nature center, prepare to spot turtles, fish, snakes, and other fascinating wildlife in the Cape Fear River region of North Carolina.
Riverside Dog Park
If you are moving to Fayetteville with a dog, you are probably wondering where the best dog park is in the city.
The Riverside Dog Park, located near the Cape Fear Botanical Garden, is open from dawn to dusk every day throughout the year and is a popular spot to bring your furry friends for some off-leash fun.
With plenty of room to roam, run, and play with friends, the Riverside Dog Park features a small area for dogs weighing less than 25 pounds and a large area for big dogs.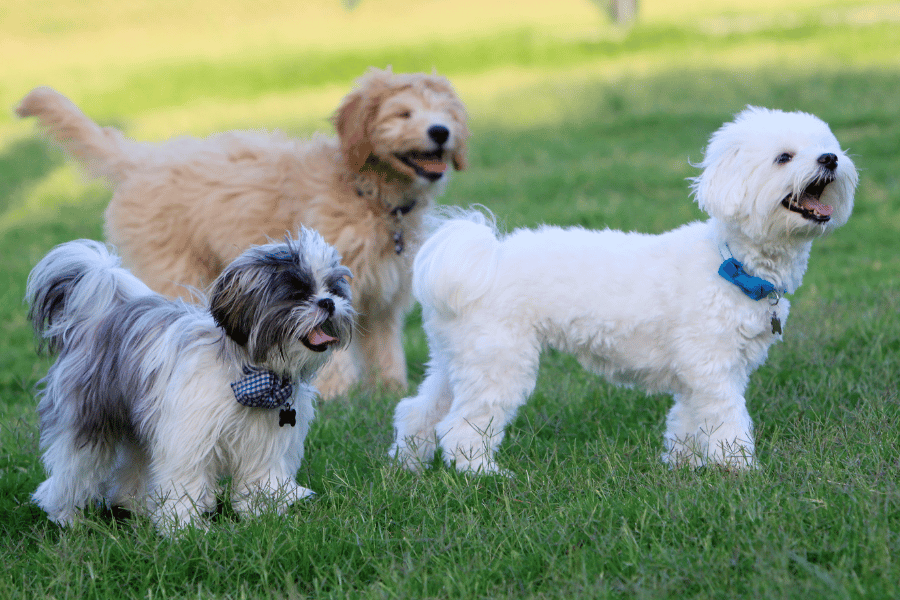 Sweet Valley Ranch
Sweet Valley Ranch in Fayetteville is located just off interstate 95 and mixes nature with adventure.
With a friendly staff and many things to do, this 300-acre working farm is home to over 350 different animals worldwide. It hosts multiple seasonal events that attract thousands of visitors throughout the year, including the Sweet Valley Ranch Festival of Lights, Dinosaur World, Music At the Farm, Tinys Corn Maze, Backwoods Terror Ranch, and Springtime Adventures.
Not only does Sweet Valley Ranch take good care of all of its animals, but this is a fantastic place to bring the family and spend time with your friends.
Crown Complex
The convention center, known as the Crown Complex, is a large auditorium on Coliseum Drive that is a versatile five-venue complex that hosts conventions, meetings, and any other possible event you can think of.
With over 105,000 square feet of space and 10,000 seats, this convention center was built in 1997 and is most famous for basketball games, large concerts, and even rodeos.
Auman Vineyards
Growing muscadine grapes and scuppernongs since its opening in 1968, Auman Vineyards is an urban farm in the rural western part of Cumberland County and offers visitors the opportunity to pick their grapes.
Not only is Auman Vineyards family-owned, but picking your grapes could not be any more affordable or more accessible since one gallon of U-pick grapes is only $10.
Now also offering the ability to ship grapes to you wherever you live in the state or the country, this Fayetteville vineyard has been growing organic grapes for years.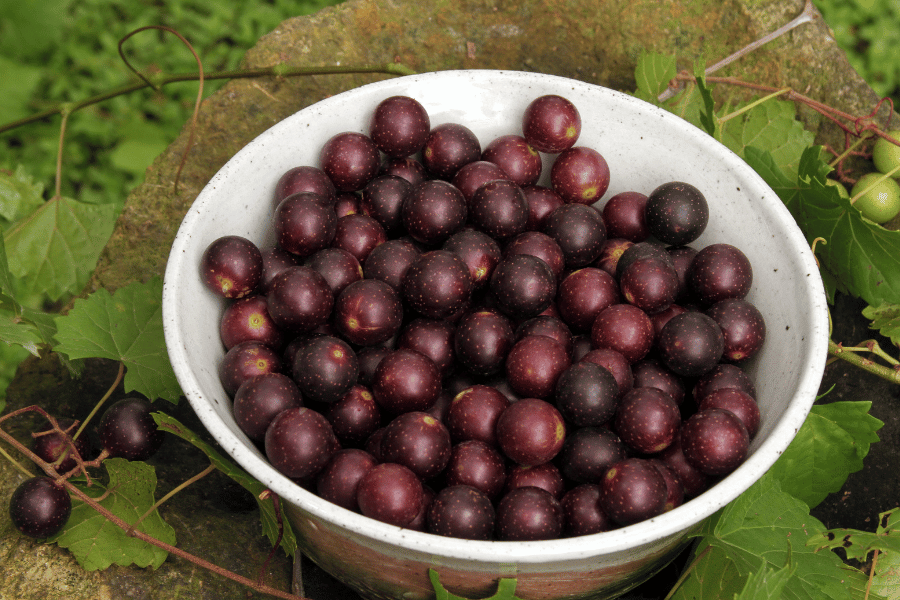 What will you decide to do first in Fayetteville, NC?
Home to Fort Bragg and some of the most popular attractions in the state, there is always something new to do in Fayetteville, which is part of why the city has been named one of the best places to live in North Carolina.
So whether you are planning your next family-friendly excursion or trying to find activities near the best neighborhoods in Fayetteville, all of the attractions mentioned above in this guide are activities you should not miss out on.
Contact us today if you are interested in buying a home in Fayetteville or if you want to know more about how to spend your time in the city!

Find your new home
Search real estate and homes for sale