11 Best Neighborhoods in Fayetteville, NC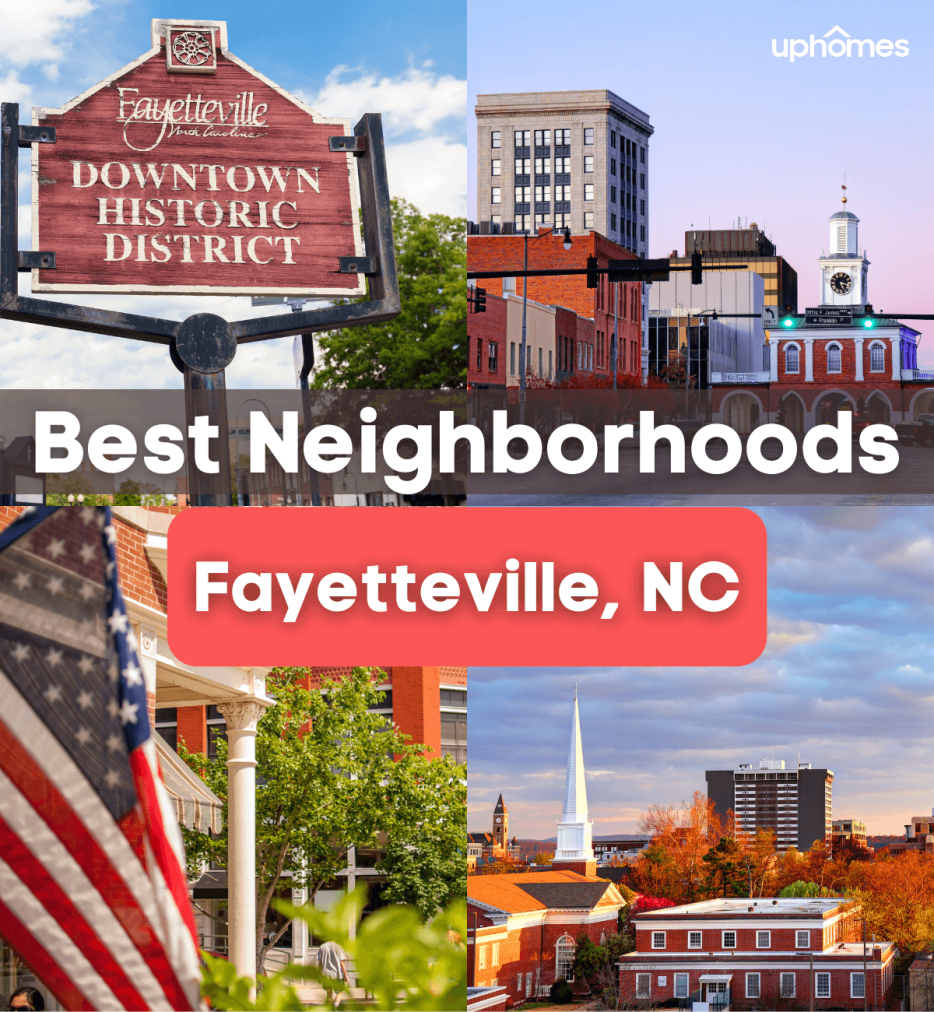 11 Best Neighborhoods In Fayetteville, NC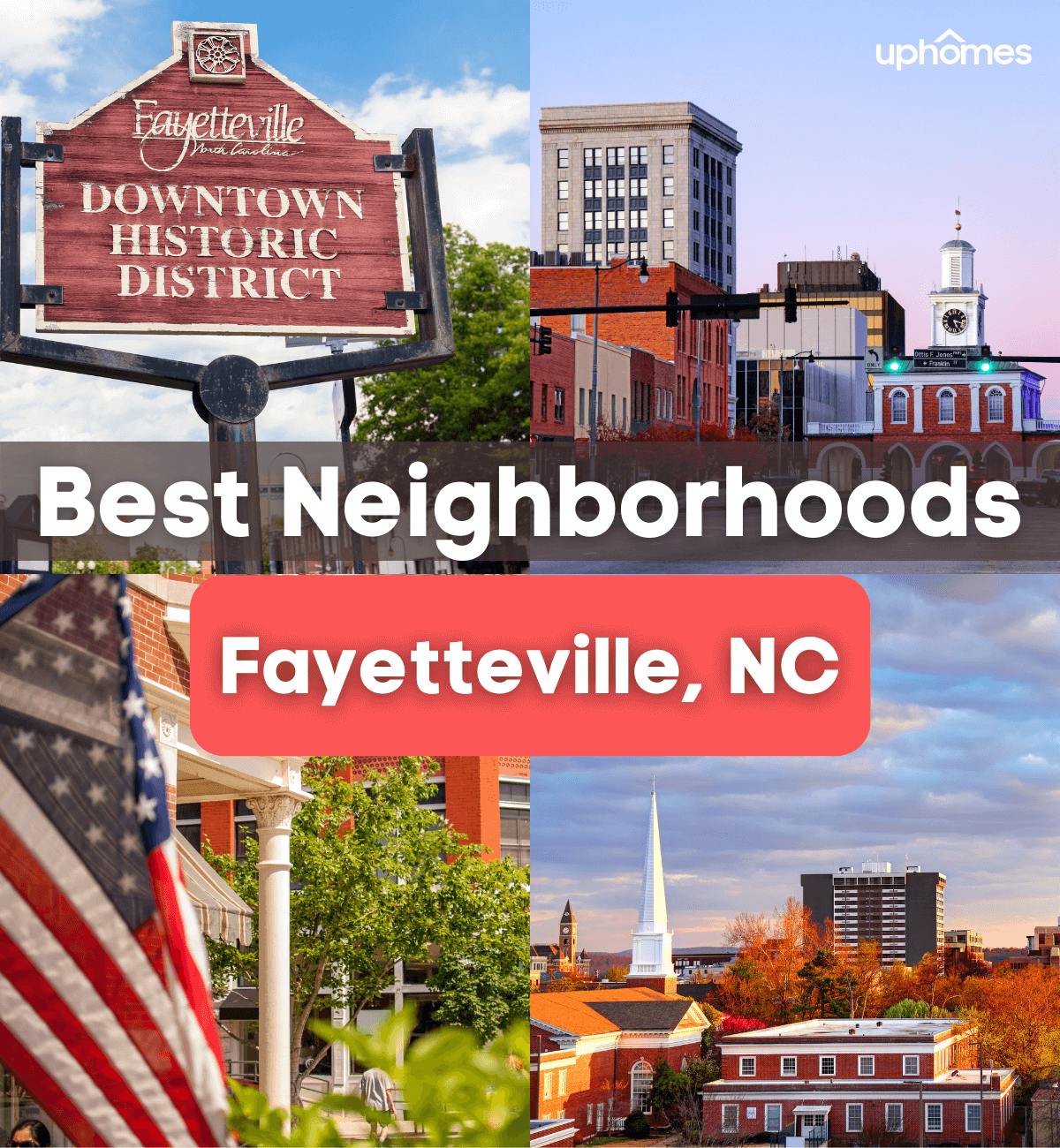 What are the best neighborhoods in Fayetteville, NC?
If you are planning on moving to Fayetteville, North Carolina then you will love this list of best neighborhoods to help find your new home. Fayetteville is an up-and-coming area with a lot to offer. Make sure to check out the best neighborhoods in Fayetteville first if you are looking at relocating to the area! Check out some of the real estate in Fayetteville!
History of Fayetteville, NC
Fayetteville is located about an hour south of Raleigh, North Carolina. Original settlers of the area were from the highlands of Scotland that arrived on the Cape Fear River in the year 1739. This island port and hub played an important role in American history during the Revolutionary war. The North Carolina legislature would meet here to ratify the United States Constitution. Known today for its strong military presence and cultural diversity, Fayetteville is proud of its historical significance.
Here is a list of our favorite neighborhoods in Fayetteville, North Carolina!
Arran Hills
This established neighborhood is located off of Bingham drive and only minutes away from Fort Bragg Army Base. Surrounded by shopping centers, grocery stores, and churches, Arran Hills has all of the essentials. Homes in this area are ranch style and very affordable. There are also apartment complexes to choose from. If you like to go fishing, Arran Lake is close by and has year-round access. In our opinion - It's one of the best neighborhoods in Fayetteville.
Local Favorites:
The Fried Turkey Sandwich Shop: This sandwich shop serves all kinds of turkey sandwiches. The Thanksgiving Day Sandwich is a must-try.
Pharaohs Legacy: Authentic Mediterranean food featuring gyros and plates at a reasonable price.
Pizza Palace Italian Restaurant: This laid back family restaurant serves popular pizza, subs, and pasta dishes.
Arran Lakes West
This neighborhood is on the smaller side and has a population of 1,008 residents with an average age of 46 years old. Known as a relatively safe neighborhood, homes here are decently priced. Located near Arran Hills and just south of Winter Park, Arran Lakes West has a local Food Lion with many shops and churches. There are many reasons Arran Lakes West made our list of best neighborhoods in Fayetteville, not the least of which is the beautiful Anderson Creek Club!
Local Favorites:
Anderson Creek Club: This luxury, gated community spans over 1,700 acres and features brand new gorgeous homes spanning over twenty communities in the Fayetteville area. Bringing resort amenities and a championship golf course to residents, Anderson Creek Club is a sought after place to live.
Ultris Patriot Park: This apartment complex is located just minutes from Fort Bragg Army Airfield and is a top choice to live for those that are serving in the military.
Hope Mills
With a population of 15,769 people, this suburb is home to many young professionals and families and that's part of the reason it made the list of best neighborhoods in Fayetteville. This area is spacious and many residents own their own homes. Hope Mills was ranked #8 in "Most Diverse Suburbs in North Carolina" by Niche Ranks. The schools here are known to be above average for students. Some of the best schools in the area include John R. Griffin Middle School, Cross Creek Early College High School, and Massey Hill Classical High School. There are multiple locations for running, shopping, and going out to eat.
Local Favorites:
Arnette Park: This park is a family favorite with tennis courts, baseball fields, and soccer fields. There are shelters for picnics and during the holidays the park has beautiful light displays.
Millstone Shopping Center: This shopping center features a Snap Fitness, Wine Paint and Create Edible Arrangements, and a Rudino's Pizza.
Spring Lake
This suburb of Fayetteville has a population of 12,119 people. Many young professionals and families live here since there is a dense suburban feel. The median home value in Spring Lake is $94,300 making this a very affordable neighborhood to live in. Situated right next to Fort Bragg Army Base, this community is diverse, easy to commute from, has good public schools, and great restaurants and nightlife. The citizens here are nice and welcoming which makes this small-town feel a little bigger.
Local Favorites:
Spring Lake Outpost: If you are craving some adventure, this is the place for you. Bring your own kayak or canoe and paddle down the Lower Little River. If you do not own a watercraft, you can rent one from the outpost for a decent price.
Fort Bragg Clay Target Practice: Bring your friends out for some competition and shoot some targets at one of the biggest clay target centers in North Carolina. You can rent or purchase the equipment at the center.
Megaplay: If you are looking for a place to bring your kids, take them to this inside multi-level play area with lots of games and activities for kids to have fun.
Westover
This residential area sits west of Fort Bragg Army Base. The housing here is very affordable for both military veterans and those that are currently serving. It is an easy commute to the base and a family-friendly place to live since it is one of the safer neighborhoods in town. If you want a quiet and suburban feel then this is the neighborhood for you. There are many apartment complexes and single-family homes to choose from. For your kids, Westover High School and Westover Middle School are top-rated schools in the area.
Local Favorites:
Westover Park Fayetteville: This recreation center and park feature a large swimming pool, playground, green space, and gymnasium. Plus there are classes offered for all ages.
Nona Sushi: This upscale and classy sushi restaurant is the perfect place for a date night and to get your fix of California rolls.
Mission BBQ: This chain of barbecue restaurants features American sides while honoring American military and first responders.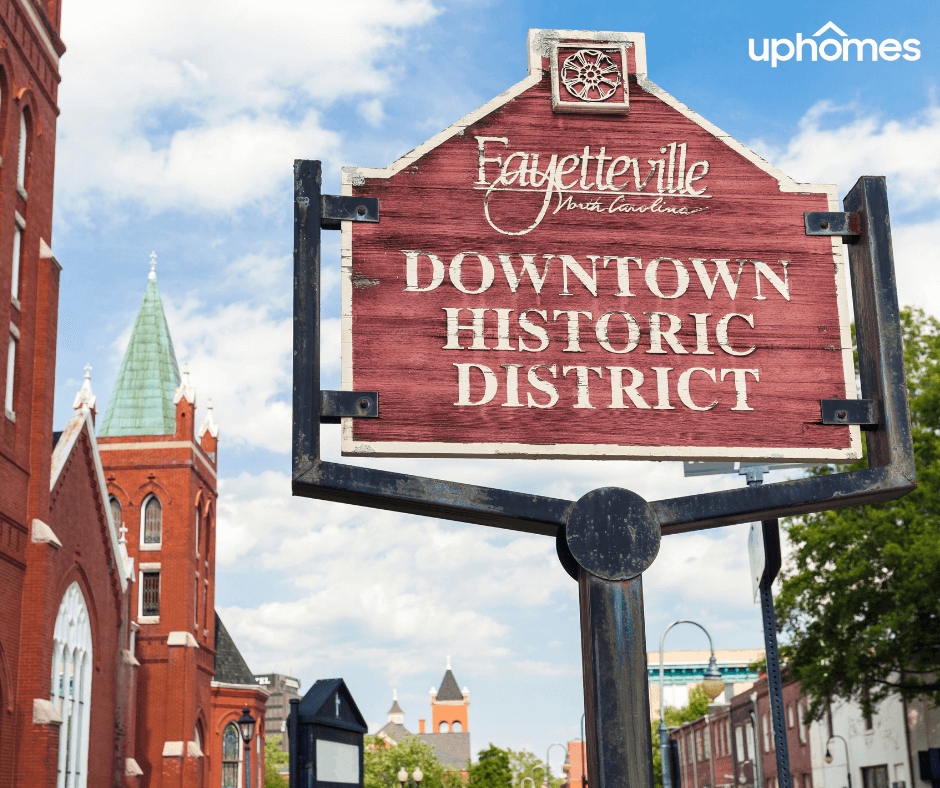 Rockfish Township
Located in Cumberland County, the town of Rockfish has a population of 59,196 people. Considered one of the best places to live in Fayetteville, Rockfish offers a suburban and rural feel. There are many families that live here and many own their own homes. Jack Britt High School and Sandhoke Early College are great schools in the area to send your school-age children. This area is described as serene and calm with a focus on southern hospitality while catering to military families. Due to the large amount of military personnel living in the area, many people feel safe living here.
Local Favorites:
Lake Rim Park: Take a walk with your dog on the one-mile nature trail or bring your kids to the playground. Featuring volleyball courts, picnic tables, and fields to play horseshoes in.
The Fayetteville Area Transportation and Local History Museum: For any that love history and classic cars, this is the museum for you. This historic railway station houses vintage cars and an old gas station among other displays to highlight the history of transportation.
Fayetteville Rose Garden: This garden is a beautiful spot to admire all of the colorful roses. Come relax on one of the stone benches and enjoy the sounds of the garden fountain.
Eastover
This suburb in Fayetteville has a population of 13,998 people. Eastover used to be known as Flea Hill, named after a small creek close to the Eastover community. In 2007, the town name was changed to Eastover, and the community spirit remains alive and well. A community where the neighbors care about one another, this rural neighborhood is relaxing and surrounded by farmland and green pastures. Residents living here say that this neighborhood is safe and welcoming.
Local Favorites:
North Carolina Veteran's Park: This park honors military veterans with an interactive story garden and sculptures.
Corner Grill: One of the best mom and pop corner stores featuring great burgers and grilled food.
Clark Park Nature Center: A nature center with turtles, snakes, fish, and trails along the Cape Fear River.
Gray's Creek
The neighborhood of Gray's Creek has a population of 10,139 people and offers a suburban rural mix feel to the area. Most residents here own their homes and many families reside here. Single-family homes are very affordable with the median home value being $181,700. This is a very diverse neighborhood with access to highly recommended schools such as Gray's Creek High School, 71st Classical Middle School, and Cumberland International Early College. There are many small businesses in the area that are very friendly and inviting to residents. This military neighborhood has access to state fairs, concerts, shopping, and family-friendly activities.
Local Favorites:
Paradise Acres of Gray's Creek: This hidden gem of the area serves southern comfort food and warm hospitality. Try their fried chicken and homemade desserts.
Cape Fear River Adventures: Pack your beer cooler, sunscreen, and snacks! Go tubing, kayaking, and paddle boarding along the Cape Fear River. Let the current carry you and spend a perfect Summer day outside on the river.
Anderson Creek
This suburb has a population of 22,124 people and is the perfect place for families and young professionals that are just starting out. This is a great town to live in and an amazing community to be a part of. The Anderson Creek Club is always hosting events all year long to bring the community together. This area is located about 20 minutes from the military base Fort Bragg, so many active-duty military personnel live here with their families. There is a very diverse crowd of people living here which means that you will meet new friends and have cool neighbors. This neighborhood tends to operate at a slower pace so it is good for veterans to retire here. There are many fast-food restaurants and popular food chains in the neighborhood.
Local Favorites:
Mazarick Park: This park sits on 80 acres offering lake fishing, areas to play sports, and picnic shelters.
Museum of the Cape Fear: Check out this museum to learn about the history and culture of North Carolina. The Museum of the Cape Fear opened up in 1988 and is a branch of the North Carolina Museum of History in the city of Raleigh.
Maple Street Biscuit Company: Offering made from scratch biscuits and coffee, this is southern comfort food with a twist. Try the cinnamon iced biscuits!
Carvers Creek
Carvers Creek has a population of 23,677 people and is described as one of the best places to live in the area. This is a sparse suburban residential area with lots of restaurants and parks. Schools in the area are considered above average. Many homes are two-story with a median home value of $159,000. All of the neighborhoods in Fayetteville are military-focused and the neighborhood of Carvers Creek is no different. The military is present in everyday life since most residents are military families. There are multiple parachute landing fields in the community and there are on-base living and schooling systems. With the growth of business in Fayetteville, new residents are coming to the area.
To keep the community close, there are many annual events put on each year. The Christmas Parade, The Dicken's Festival, The Duck Race, The Food Festival, and free concerts are just some examples of some events happening in the neighborhood.
Local Favorites:
Carvers Creek State Park: Covering 4,530 acres of land, this park borders Fort Bragg and is a beautiful place to take hikes, fish, and enjoy nature.
El Tucan Mexican Restaurant: This traditional Mexican eatery serves up classic fajitas and quesadillas. The best place to get your taco fix.
Cross Creek Mall: This giant mall has over 150 stores and includes popular stores such as Belk, Loft, and Aerie.
Raeford
Raeford is a smalled neighborhood with a population of 4,926 people. This neighborhood was ranked #7 in "Most Diverse Suburbs in North Carolina" according to Niche Ranks. This is a very small town with a family feel and offers a simple way of living as opposed to a big city. There is one high school in the area and a Walmart was recently built. Residents say that there is barely any traffic so if you are looking for a peaceful neighborhood this may be the one for you. It is relatively close to downtown Fayetteville for fine dining and shopping.
Local Favorites:
Festival Park: This park is an open lawn with walking trails and a stage for concerts and events. Many festivals are put on here in the Summer.
Chris's Steak and Seafood House: This high-end restaurant has a full bar and amazing steaks with a great atmosphere.
Final Thoughts on the Best Neighborhoods in Fayetteville, NC
Fayetteville contains a ton of great neighborhoods so when you move to the area you will want toconnect withone of our top Agents to help you find the right place to live. We can help better understand what it is you're looking for and provide recommendations on areas to check out. We look forward to helping you with your Fayetteville home search!
#blog-best-neighborhoods-cta#
#blog-moving-cta#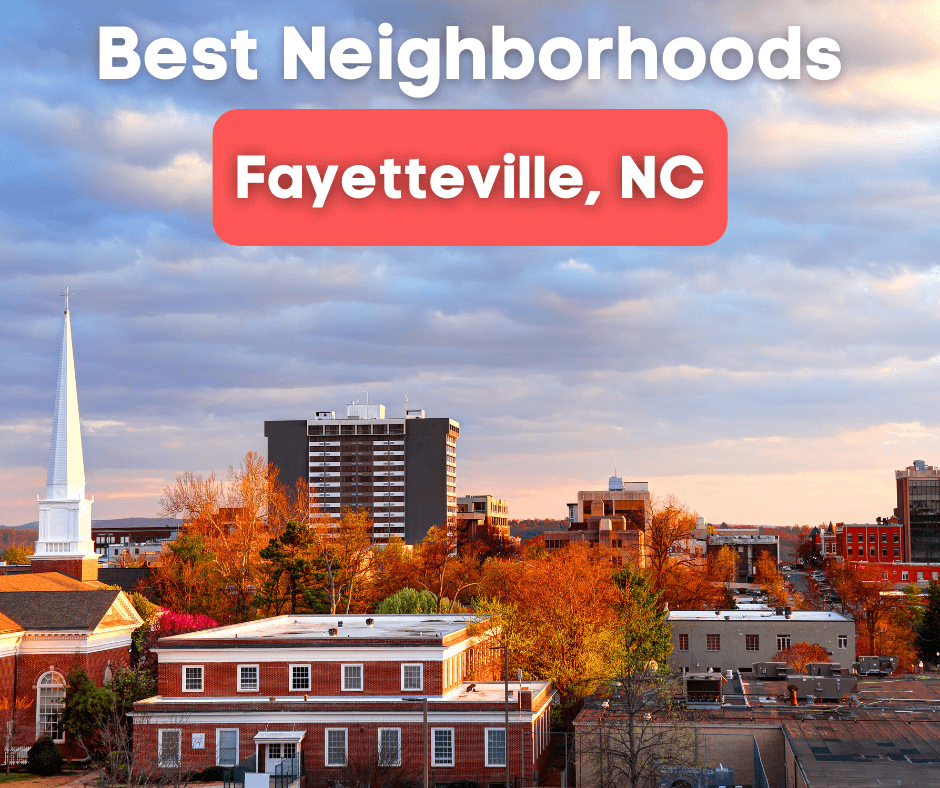 Find your new home
Search real estate and homes for sale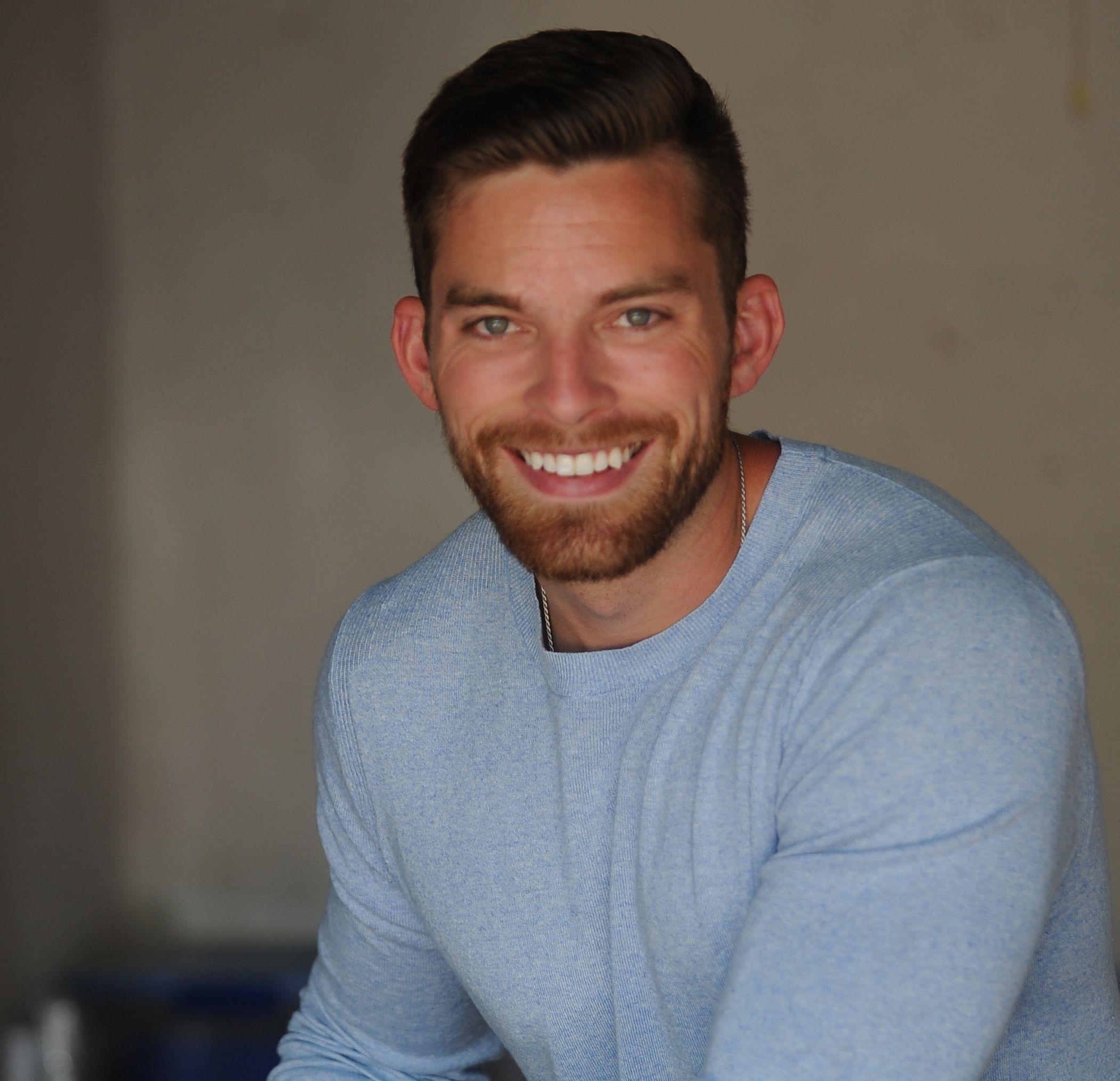 Ryan Fitzgerald
Hi there! My name is Ryan Fitzgerald, and I am a REALTOR®. My goal is to help you learn more about real estate through our Real Estate Blog! Hopefully, you enjoyed the above blog post and it found a way to provide help or value to you. When you're ready to buy or sell a home of your own let us know here. Please feel free to join the conversation by dropping us a comment below.