The Cost of Living in Palm Beach, FL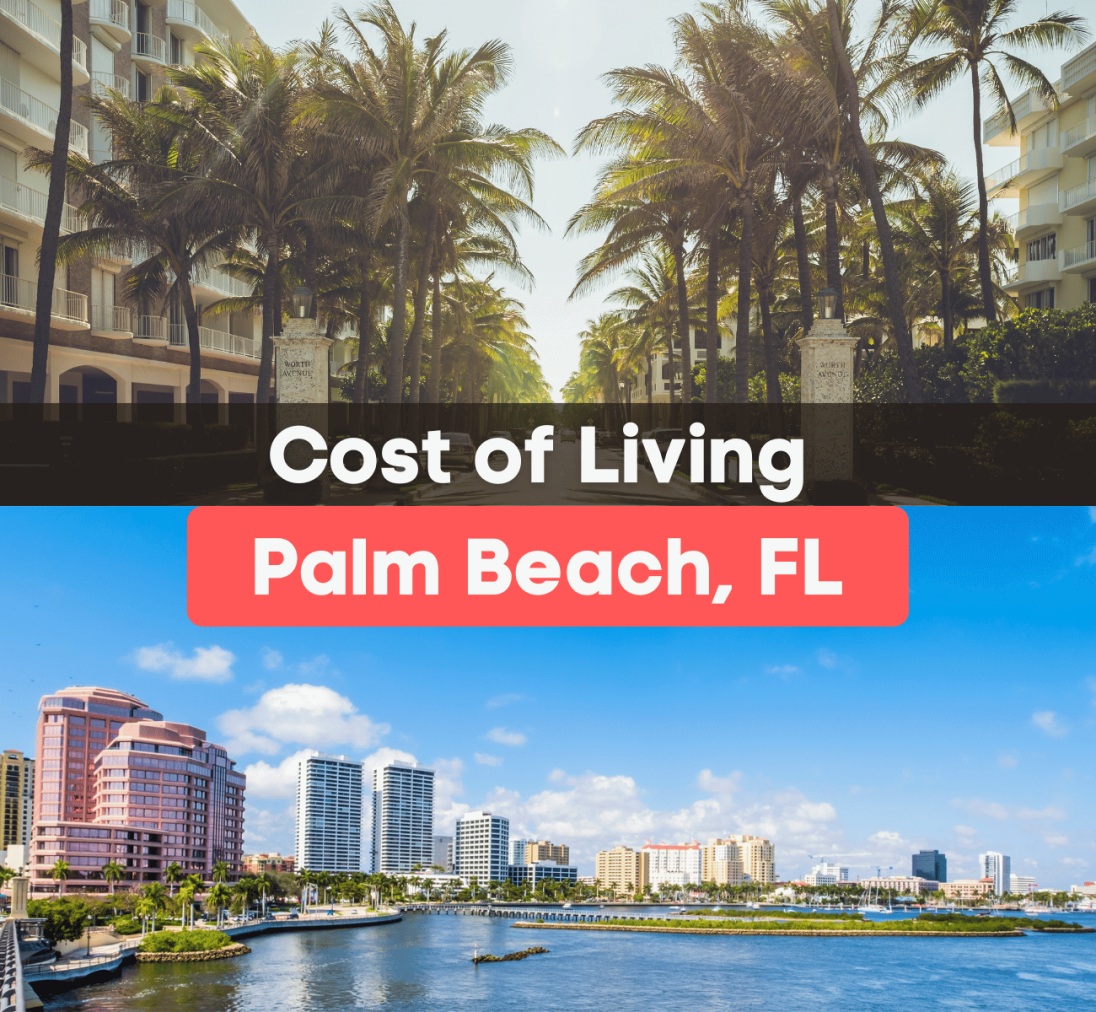 Cost of Living in Palm Beach, FL
Are you moving to Palm Beach, FL? Make sure you know the cost of living in Palm Beach before calling it home! Let's dive into living costs, expenses, tax information, and average income. 
Palm Beach is a South Florida town off the mainland, separated by the Lake Worth Lagoon on the Atlantic side. Known for its beautiful beaches, vibrant shopping streets, art galleries, golf courses, and stately beach homes, this is a great place to live.
With such fantastic housing options, safe neighborhoods, and close to some of the best attractions in Florida, Palm Beach is considered one of the best places to move to in Florida.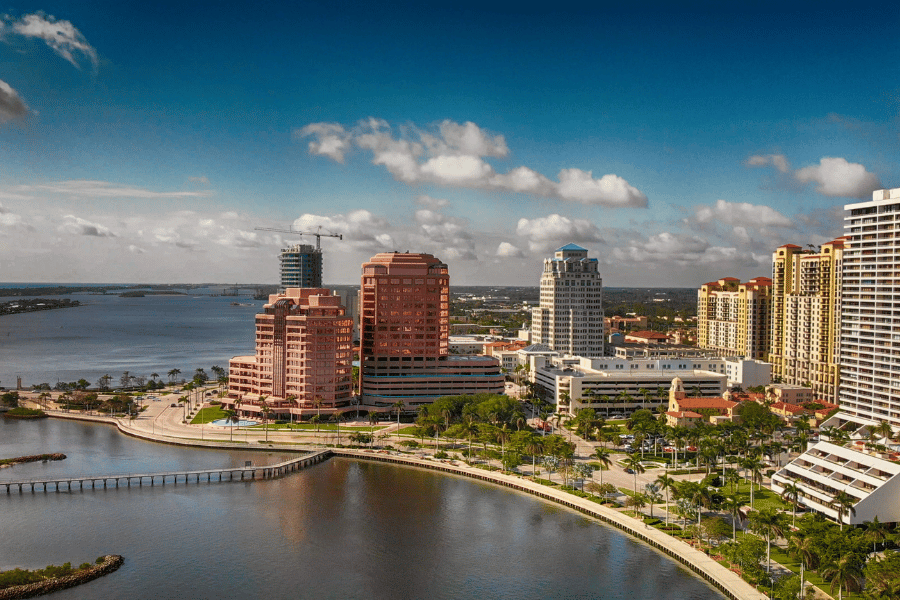 Established in the 1890s with several hotels, businesses, and winter residents, Palm Beach has been a location for people to not only escape and visit but an excellent area to live year-round. Residents can enjoy a resort-style lifestyle year-round, with temperatures never dropping below 50 degrees and the town's charming feel. 
Not only do some residents only live here part-time, but seven million tourists also visit this small Island and its surrounding areas looking for its gems, including waterfront golf courses, resorts with excellent amenities, and clothing stores lined on both sides of beautiful streets. If you want to live a life of luxury, this is your place. 
Before you move to Palm Beach, please make sure you know the realities of the cost of living there. Although this area is known for its excellent quality of life, only some can afford it. You can read below to find out the actual cost of living in Palm Beach, FL. 
Cost of Living 
The cost of living in Palm Beach, FL, is 96% higher than the Florida average, with homes being around seven times the national median price. This is partly due to the space and amount of homes available. The population in Palm Beach is currently 9,251 residents, and the Island itself is small, meaning the demand for homes is much higher than the homes available. 
Many homes here are also much larger and more contemporary than other places in Florida, classified more as beach estates than traditional family homes. But the cost of homes here is one of many things causing the cost of living to be so high. The cost of goods and services is also much higher here, driving the overall cost of living to be much higher than in other areas. 
Let's take a look at how the cost of living in Palm Beach compares to the national data: 
| | | |
| --- | --- | --- |
| Cost of Living Item  | Palm Beach | National Average  |
| Annual Income | $160,000 | $54,132 |
| Rent | $2,163 | $1,169 |
| Home Value | $3.4 million* | $383,000 * |
| Utilities | $413 per month  | $117 per month  |
| Gas | $3.53 | $3.45 |
| Home Insurance  | $2,220 | $1,428 |
*denotes median instead of average
Income 
The income data for Palm Beach shows that the annual income is much higher than the national average. For a household, the annual income is around $160k, which is almost 3x more than the national average household income. Residents here are known to be very posh, upper-class individuals that are either retired or working in high-income jobs. The primary industries in Palm Beach are healthcare, finance, education, and manufacturing. 
The minimum wage in Palm Beach is $11 per hour, much greater than the Federal minimum wage of $7.25, meaning that anyone working in Palm Beach is making more than in other areas of the nation. Although the minimum wage is higher, the poverty rate in Palm Beach is 11.6% which is about the same as the national rate of 11.4%. This could be due to several things, from unemployment to the overall cost of living being high compared to the rest of the country. 
Nationally the unemployment rate is 3.6%, and the unemployment rate in Palm Beach is 2.2%. Although the unemployment rate is lower than the national rate, individuals living off minimum wage here could still be considered below the poverty line. 
So, to live in Palm Beach comfortably, you should look at being in the 75th percentile in income. 
Utilities 
No matter where you are moving to, the cost of your home isn't just the mortgage; you have to look at the expense of utilities too! The cost of electricity alone in most Palm Beach households costs an extra $250 on just electricity. 
The average cost of all combined utilities, including gas, water, electricity, cable, internet, and trash removal in Palm Beach, is $413 per month. Sometimes if you live in a residential community or retirement area, you also have to pay for the amenities included, such as pools, gyms, sports courts, golf courses, etc.
So, depending upon what type of community or building you live in, you will have to add the overall cost of all your utilities on top of your mortgage or rent.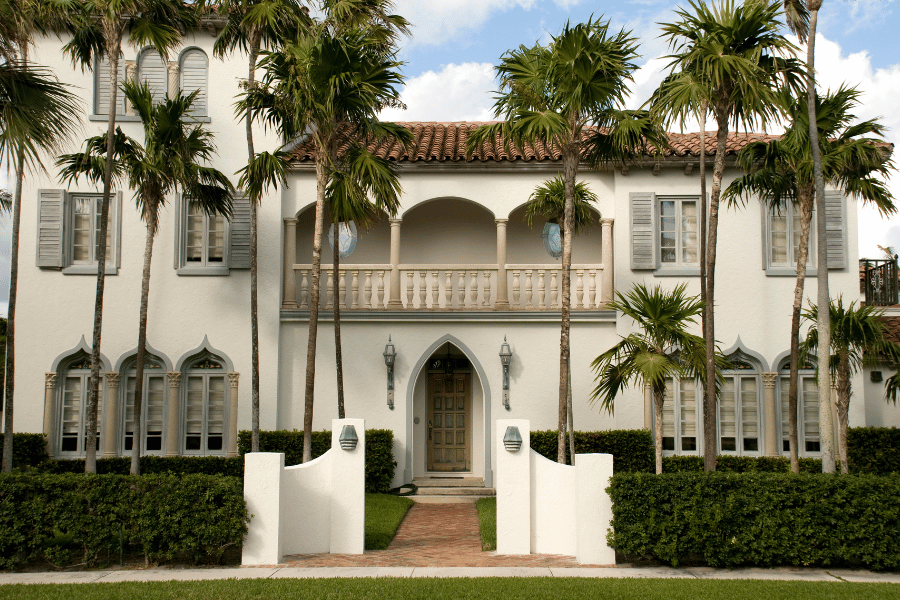 Food 
According to the Bureau of Labor Statistics (BLS), the cost of food at home increased by 13.5%, and the price of food away from home increased by 8% by the end of 2022. For the average U.S. household, the cost of food per month is around $438, or $5,259 a year. 
Overall, food costs are around 10% higher here than in the rest of the U.S., causing the overall expenditure to be higher for Palm Beach residents. In the Miami Metropolitan area, residents spend over 10% of their expenses on food, totaling around $6,241 annually.
At some of the best restaurants in Palm Beach, you can expect cocktails priced at $20 or more and entrees from $25 to $60 per person. So, overall expect your grocery and resultant bill to be much higher than what you might be used to here. 
Transportation
Luckily, the town of Palm Beach provides residents and visitors with various transportation options. Whether you want to stay on the Island or venture to some of the biggest cities in Florida, there is a way to get there quickly but possibly costly. 
If you own your vehicle, gas prices in Palm Beach average about $3.53 a gallon, about 8 cents higher than the national average. Also, if you plan to drive off of the Island, there are many tolls that you might have to pass through and pay, ranging from $0.54-$2.94. If you are driving these roads often, look into monthly passes that will give you discounts or lower prices to get a cheaper option. 
Although most residents own their cars here, some still choose to utilize public transportation options. Let's look at the different ways to travel around and off the Island using Palm Beaches' public transportation systems. 
| | | |
| --- | --- | --- |
| Mode of Transportation | Destination | Cost  |
| Palm Tran |  Palm Beach Locations | $2.00  |
| Tri-Rail |  South Florida  |  $4.00-$8.00 |
| Trolley |  Downtown Palm Beach | Free  |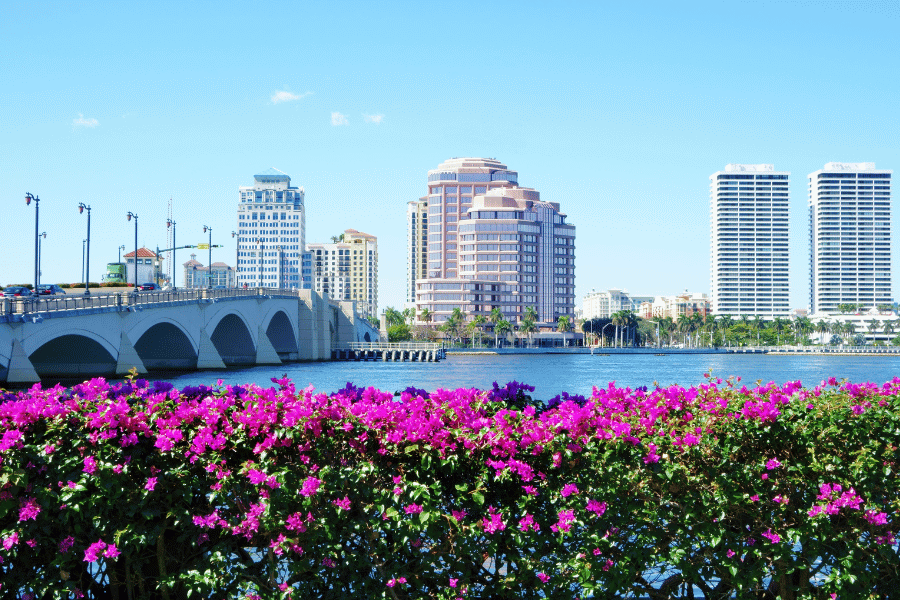 Education
With many residents living here being older or retired, there are few public school options in Palm Beach. The two schools on the Island are Palm Beach Day Academy and Palm Beach Public Elementary. However, there are other public schools that children go to close by in West Palm Beach and other areas in southern Florida if needed. 
When looking at college in Florida, the average estimated tuition for in-state students is around $4,559. In comparison, out-of-state students can expect around $18,456 depending upon what program and university, as well as if they choose a private or public school. But, in well-known universities such as the University of Florida, even in-state students should expect tuition of $6,381 or more. 
Let's take a look at Universities close to Palm Beach, FL, and their cost of tuition: 
Healthcare 
The average monthly cost of health insurance in Florida is approximately $467. Although some jobs offer health care plans for their employees, it is only the case for some positions. Not everyone can afford independent insurance, causing them to pay out of pocket for any medical expenses. 
Going to any medical professional can add up quickly and become very expensive. Let's take a look at how much it costs for just a regular visit to a doctor in Palm Beach, FL: 
Primary Care: $100-$200
Dentist: $100-$300
Vision: $163-$202
OBGYN: $100-$150
Physical Therapy: $124-$200
Mental Therapy: $90-$140
Medical Specialist: $85-$130
Emergency Care: $3,102 (average for a total visit)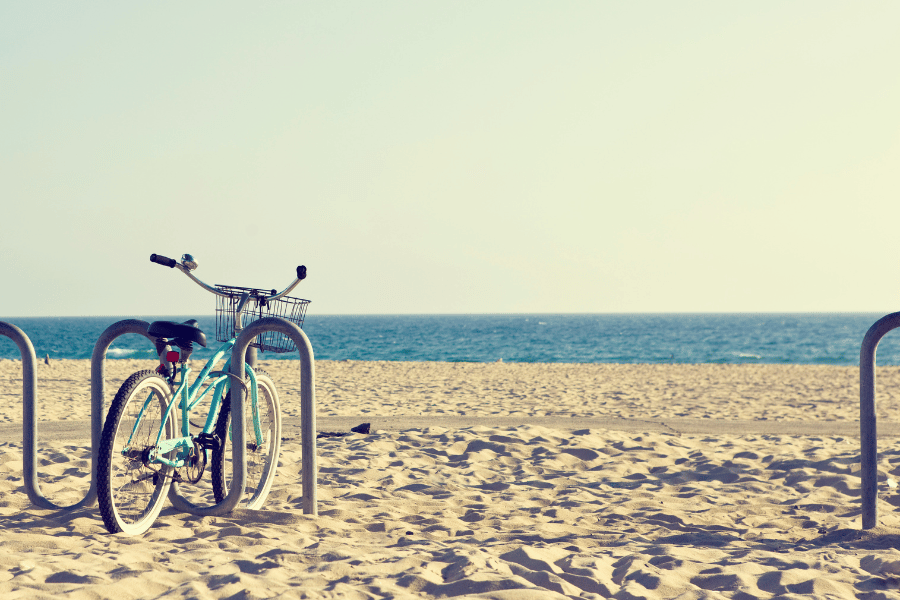 Taxes 
At the end of the year, we all don't enjoy paying taxes but depending upon where you could determine the amount and what you get taxed on. The current national sales tax is between 4% to 7%. Florida's current sales tax is 7%, making it the top of the nation for the sales tax amount.
But, unfortunately, sales tax is one of many things you have to worry about. When looking at how much you will have to pay or owe in taxes each year, you also have to look at federal, property, sales, inheritance, death, and other taxes. 
Before moving to Florida, understand and prepare for your taxes. 
If you are making a move: 
The average property tax rate in Palm Beach is 1.11%
Palm Beach sales tax is 7%
Florida does not charge an inheritance tax 
Florida does not charge a death tax 
Florida does not charge capital gains as income
You must file a Florida estate tax return if the estate is more than $11 million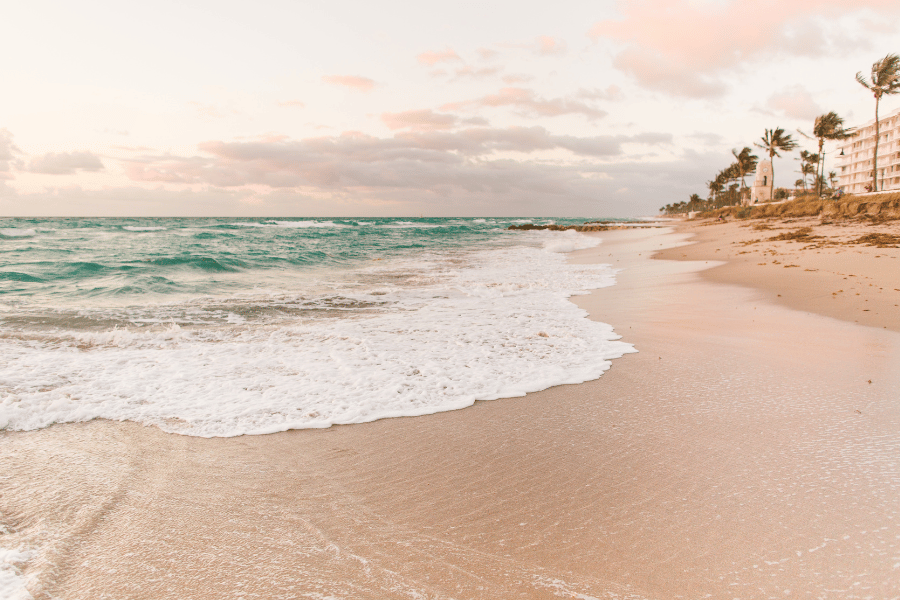 FAQ 
Is Palm Beach, FL, expensive?
Palm Beach, FL, costs more than 96% of the entire state of Florida and is rated one of the most expensive places to live in the nation. With limited housing and many people wanting to move there due to the beautiful beaches, delicious 5-star restaurants, and fun and exciting things to do, the cost of living is very high. 
What salary do I need to live in Palm Beach?
To afford to live in Palm Beach, you need to be at least in the 75th percentile of income for the U.S., meaning you make around $75k or more, depending on your age. It would be best if you had an idea of the lifestyle you would like while living here to budget better the exact salary you will need before moving. 
What draws people to want to live in Palm Beach?
Palm Beach is a stunning Island close to some of the biggest and most popular cities in southern Flordia, such as Miami, Fort Lauderdale, West Palm Beach, and more, while having safe and quiet neighborhoods. Living here gives you access to some of the most beautiful beaches, parks, art galleries, dining spots, amenities, and waterfront homes, making it feel like you are on a permanent vacation. 
Cost of Living in Palm Beach, FL - Final Thoughts 
Palm Beach, FL, is a picture-perfect place to live if you can afford the homes and overall cost of living here. With world-known golf courses, award-winning beaches, top-rated schools, diverse dining options, and upscale shopping, there is something for anyone and everyone. If you want to live in your own full-time resort year-round while having a vibrant and close-knit community around you, Palm Beach is for you. 
Check out our other local area guides, including moving to Florida, moving to Miami, moving to Orlando, moving to Tampa, moving to Fort Myers, and moving to Naples! 
If you or anyone you know is moving to Palm Beach, FL, contact us today to be connected with one of our Realty Specialists. We are here to help you find your dream home! 

Find your new home
Search real estate and homes for sale