How To Decorate Your Home With Plants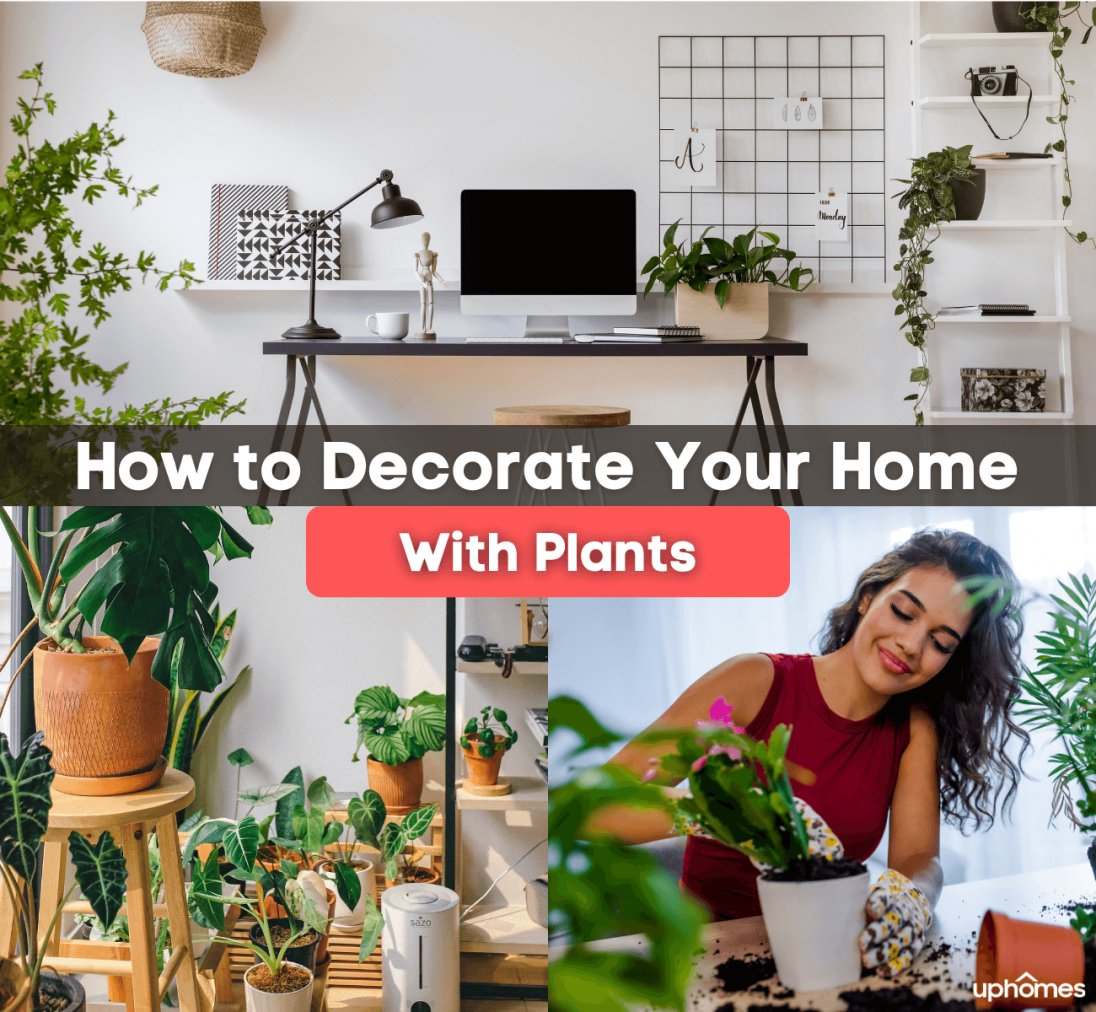 How To Decorate Your House With Plants 
Wondering how to decorate your home with plants? Here's a fair warning, plants can be highly addictive once you get started!
It's 2021 and plant decorating is in (did it ever really go out of style?). Plants are the lively, bright green decor you never knew you really needed until you brought your first one into your home … and you can never have just one. Keeping a variety of live plants in your home brings an array of benefits to your overall and mental health, but if you prefer super low-maintenance decor or happen to be missing the coveted green thumb, you can spruce up your space with a few faux plants — they'll do the trick.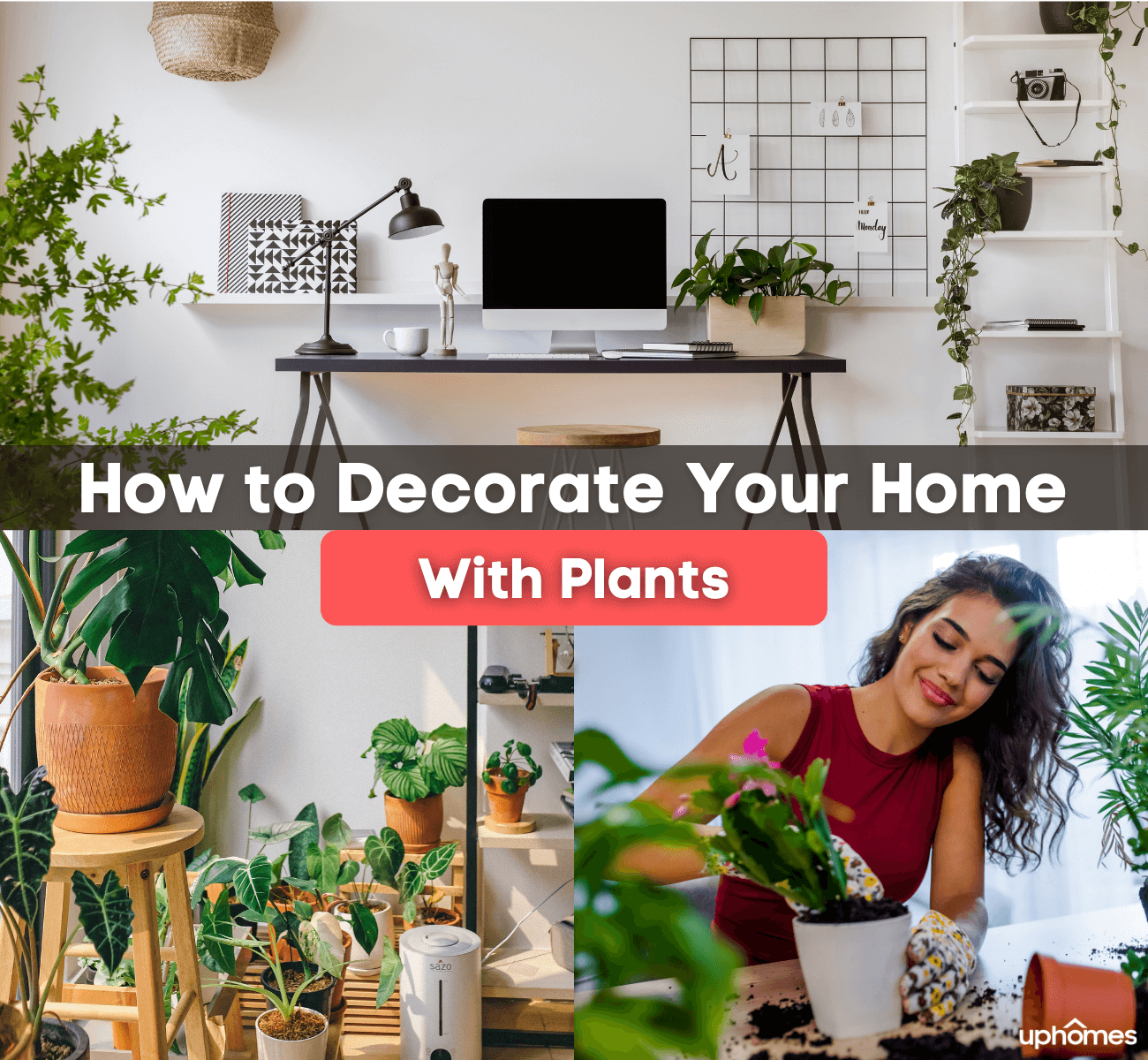 Deciding on which plants to buy depends on a few factors, and depending on where you live, there are plants best fit for your climate, amount of sunlight, and space. For someone living in North Carolina the plants you choose will be different than someone living in Florida, they'll even be different depending on the altitude, so if you're living in the mountains in Tennessee get ready to do some research. Let us cover the basics of plant care — faux plant owners can go ahead and scroll down.
Visualize the space. Pick out the space you want to put plants before you buy. Take note of the amount of light.

Try to recreate the plant's native climate. Some plants need a humid environment, others do not.

Touch the soil. If it is really dry, give your plant some water.

Don't overwater. Most plants fare better under-watered than over-watered.

Prune your plants. Trimming older leaves off helps new ones flourish.
Indoor plants have been proven to improve both productivity and concentration, boost stress levels and your mood- several things we all need after these quarantine times! Plants will absorb toxins in the air and contribute to humidity and oxygen levels indoors as well. If you're looking to add some energy to your home, plants are a great way to do it!
Caring for plants can be tedious, but sometimes, the real challenge is in figuring out where to hang your leafy friend or which corner to place the pot. We're going to break down some creative ways to decorate your house (inside and out) with plants and bring some life into space whether it's a luxury home or any type of real estate. For your next trip to the garden center, we can offer a little help.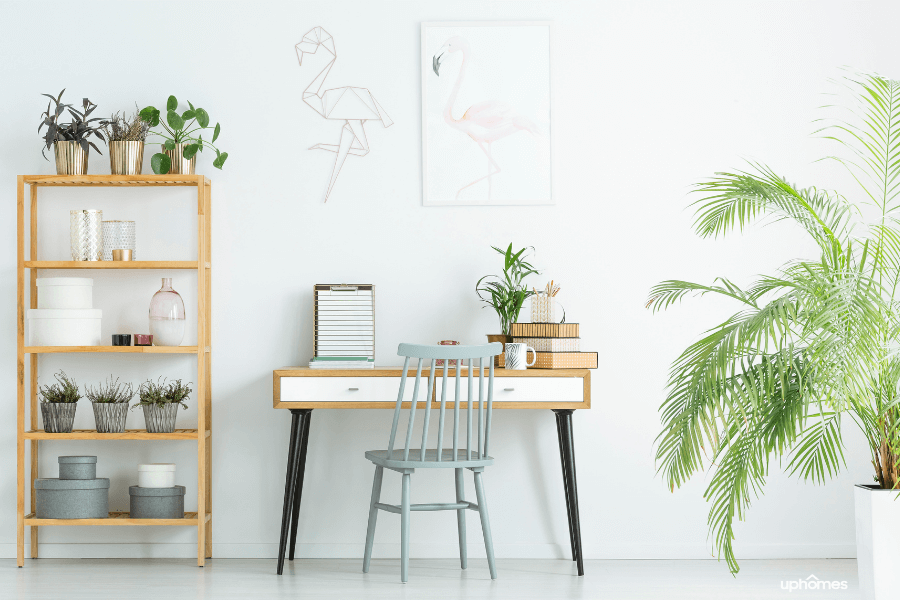 Indoor Plants
When it comes to sprucing up a room in the house with some greenery, the opportunities are endless. From a refreshed entryway to a eucalyptus bathroom oasis, plants are suitable decorations for just about any room in your house. 
For your entrance:
Wow, your house guests right off the bat with a first-impression display of your favorite plants. Nothing says "home" like a warm and welcoming space thoughtfully decorated foyer, crisp with home decor and flora.
For the entryway, a tall, low-maintenance plant, like a snake plant, would fit in the corner near the door and fill the space nicely — whether you live in a single-family home, apartment, or mansion. And depending on how much light comes into the space, it may be best to find plants that require minimal light exposure.
Now, if you have a mudroom entry, you might need to be more creative with your placements or if you're living in a condo. Instead of taking up valuable storage space in the corner, you could install a set of shelves and fill the space with small succulents, charming knickknacks, books, and a place to hang your keys. This is where function meets the aesthetic and we're big fans of practical decor. 
For your bedroom:
Next up, we have everyone's favorite room (we assume): the master bedroom. Your bedroom can feel like a personal oasis, relaxation central, a max comfort zone, or a combination of the three. And like all other spaces, we'll cover in this blog, it only gets better with the addition of plants.
How you choose to decorate your bedroom really is dependent on your personal style. After all, this is your space and your decor should reflect that. If you'd describe your style as a bit more bohemian and free-spirited, you might fall in love with macrame hanging plants or choose to fill empty spaces with several potted plants on a tiered-plant stand rack — or more likely, both.
And if you're less boho-chic and more just chic, your bedroom might look best with smaller plants like succulents on your dresser and shelves. Just a touch of greenery will go a long way in creating a relaxation destination.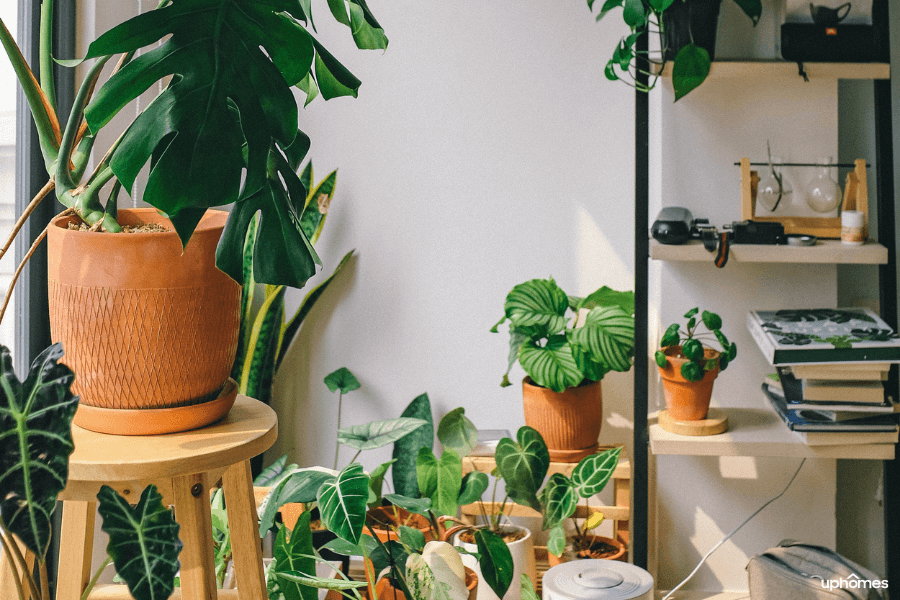 For your bathroom:
Let's face it. Bathrooms can either be drab or fab, mostly depending on how you choose to decorate. But we get it, constantly changing the paint colors or theme can be a hassle, that's why adding a plant or two is a cost-effective way to create a space you don't mind spending some time in. Who knows, it might even become your fav spot in the house.
For a nice spa touch, you can hang eucalyptus leaves from your shower head and soak up the benefits of the steam releasing the essential oils of the plant, which can aid in clearing nasal congestion and sinus inflammation. The best part? It's aesthetically pleasing and practical.
If eucalyptus plants aren't your vibe, you can opt for a philodendron — easy-care, a vining plant that would do well in a bathroom with little or no light and humid conditions. Or, maybe a maranta … with several varieties to choose from, this plant is also bathroom friendly and thrives in humidity and moderate lighting.
For your kitchen:
As a focal point in many homes, we mustn't forget that kitchens deserve some plant love, too. After all, who can resist a windowsill overflowing with fresh herbs in the kitchen?
Plant some basil, cilantro, or chives to pick fresh and cook — there's nothing fresher! You have to admit: Flavoring your dishes from your own garden is both rewarding and tasty. These easy-to-grow herbs, when well-maintained, will provide pizazz to your plates for many months. As for care, a little water goes a long way. And because these greens are highly visible, it is easy to remember to take care of them.
If you want to adorn a kitchen wall, the vining Green Bean Hoya is a great choice. It's little fuss, as the plant loves to dry out. Plus, the trailing leaves look like green beans and will thrive in any kitchen light.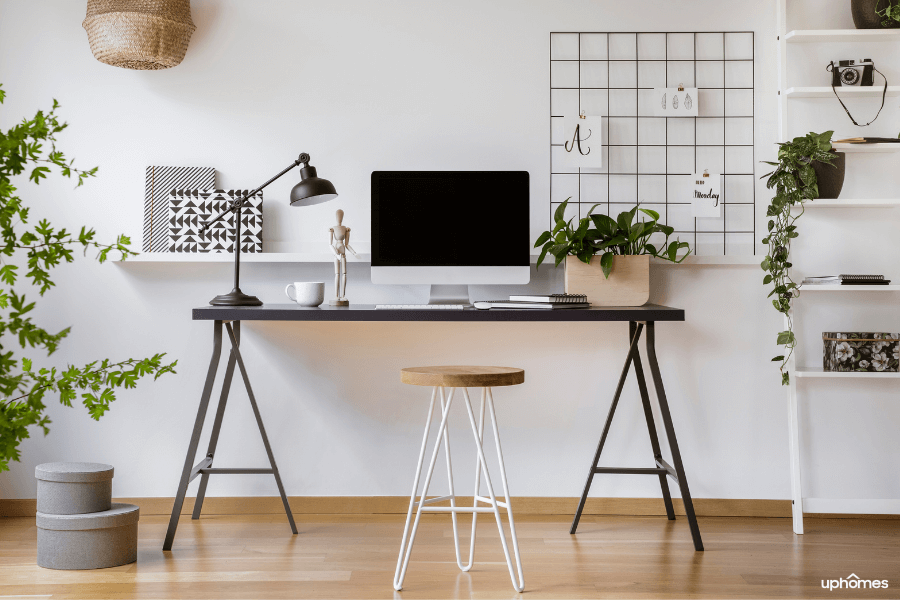 For other living spaces:
Since we've covered your kitchen, bathroom, master bedroom, and entryway already, let's go over other plant varieties you can pick and choose from for other living spaces or a home office conversion.
Your living spaces can be adorned by plants like the Chinese evergreen — with many varieties, like the silver bay, it can be placed on an accent table or plant stand and will thrive in any light environment. Set up this pot on the table beside your couch or in your home office for a subtle and low maintenance touch of green. For a less subtle option, you may prefer the ZZ plant. The ZZ plant is an attention-getter … it's easy to care for, requires monthly watering, and it is the perfect plant for those not-so-great green thumbs. This forgiving plant can be placed in any type of lighting, making it a contender for just about any room in your house, with minimal lighting, or full sun.
For plant lovers, another beauty is the monstera deliciosa, an indirect light lover will grow very fast with a little attention. This plant is the eye-catching house plant you've probably seen before — it's a great space filler and a nice addition to any living space. It has large, heart-shaped split leaves that can grow to reach more than a foot long and wide. But, without maintenance, this plant can get out of control quickly … so it's important to regularly wipe the leaves with a damp sponge to avoid pests, then sit back and watch the plant grow large unique holes in its foliage. 
For your screened porch:
If you're lucky enough to have a screened-in porch, then you are on your way to becoming a tropical hibiscus owner. All summer long, you can enjoy this flower and its vibrant colors. And with some TLC in the winter months, like moving the plant to the great indoors, you'll get to enjoy this plant year after year.
But tropical hibiscuses aren't the only indoor-y outdoor plant to fit the bill … spider plants are another option to add some green to your indoor spot. These plants are forgiving of a little neglect with their large root system, and the little spider-like shoots are easily propagated to share with friends and neighbors.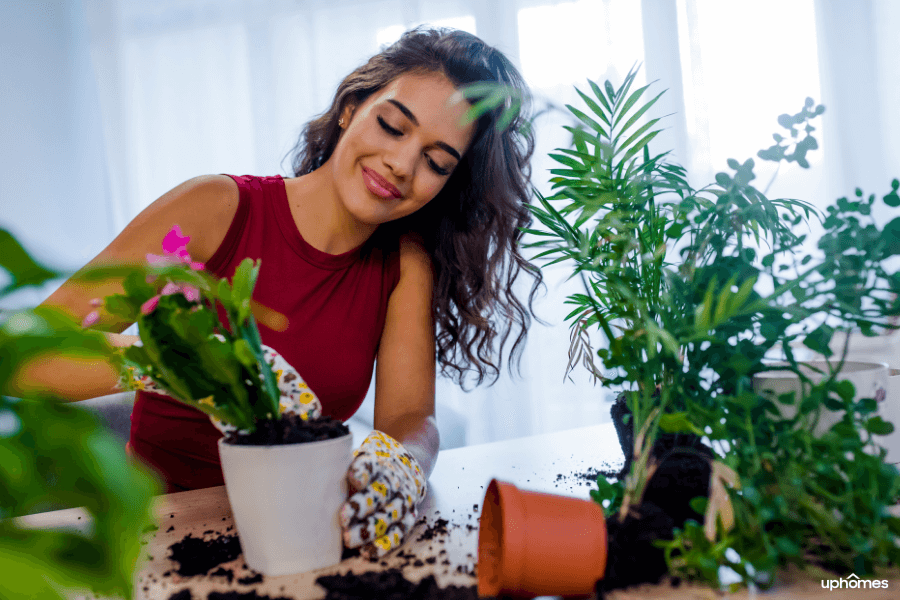 Outdoor Plants
Many plant varieties can thrive indoors and serve as live decorations in your home, but the same has to be said for outdoor plants. Creating the type of backyard retreat that makes the neighbors say 'I wish my backyard looked like that,' begins with the information below. The benefits of plants outdoors are both aesthetic and practical: Outdoor plants are essential in their contribution to our environment — releasing oxygen in the air and absorbing carbon dioxide support life.
Most importantly, they simply enhance the curb appeal of our homes, make an otherwise bland yard interesting, and bring a little joy to us every time we pull into your driveway at the end of the day. How you choose to decorate outside is entirely dependent on your space and style. Let your personality show on the outside of your home, not just the inside. 
For landscaping:
Enhance your outdoor landscapes with the sweet potato vine. This vining annual makes the excellent ground cover and thrives in sunlight — a dream for the outdoor plants. And if you have a flower box, the Creeping Jenny is an excellent container or window box plant that will come back year after year. It's a plant that keeps on giving. And to add some romance to the air, try planting a gardenia bush (or two). These fragrant flowers spill sweet scents in the air and make the outdoors even fresher. Building a sensory garden is a great way to help anyone combatting sensory processing disorders.
Another showstopper is the hydrangea. This plant can grow in containers or directly in the ground with rich soil. Its beautiful snowball-like flowers bloom in pinks, blues, lavenders, and purples, and the flowers are plentiful, easy to cut and fill vases for indoor arrangements. 
For one or two weeks a year, azaleas add a pop color to all of our yards. These bushes are easy to maintain, they just require some post blooming pruning each year. But it's well worth it for the wide variety of short-lived colors and a bright reminder that spring has arrived. 
For consideration:
If you are a pet owner, keep in mind that some plants can be toxic to your best friends. If you're bringing home a new foster animal be sure the plant is ok for them to be around. Common offenders include oleander, English ivy, daffodils, tulips, lilies, and azaleas — cannabis, too!
Be sure you check with your local nurseries before you plant. 
Whatever you decide to plant, have fun! Enjoy the labor and the rewards. 
Gardening is a great hobby and the benefits are far-reaching. Most people pick up gardening with a desire to improve the curb appeal of their homes, but it quickly becomes so much more. Taking care of plants and helping them thrive in their environments brings joy to many "plant moms (and dads)."
Long-term benefits: 
A well-tended garden is a good sign of a well-tended home. For long-lasting and beautiful outside plants, look for plants described as perennials — lower maintenance than annuals and more budget-friendly, too. Plus, the perennials will provide the template for the annual bursts of color you dream about when you think of spring. Trees will pack a nice profit punch when selling your home as well.
The motivation for owning and caring for plants is different for many. Some people decide to own plants as a medium for expressing their creativity and personality inside and out. Others may find that plant care adds relaxation to their routines. Either way, there's something so satisfying in turning the bland into beautiful, and you don't need to repaint your walls or completely redecorate your room to do it. When choosing your plants, think about your style, which plants fit the space and the lighting, watering, and level of maintenance that you want to provide. 
Remember, no one who brings one plant indoors has just one. Caring for houseplants is highly addictive — especially if you are living alone or retired and looking for things to do around the house! It all starts with caring for plants for aesthetic benefits and evolves into taking immense pride and joy in caring for plant babies. There's a high probability you'll become a plant enthusiast after owning a few yourself.

Find your new home
Search real estate and homes for sale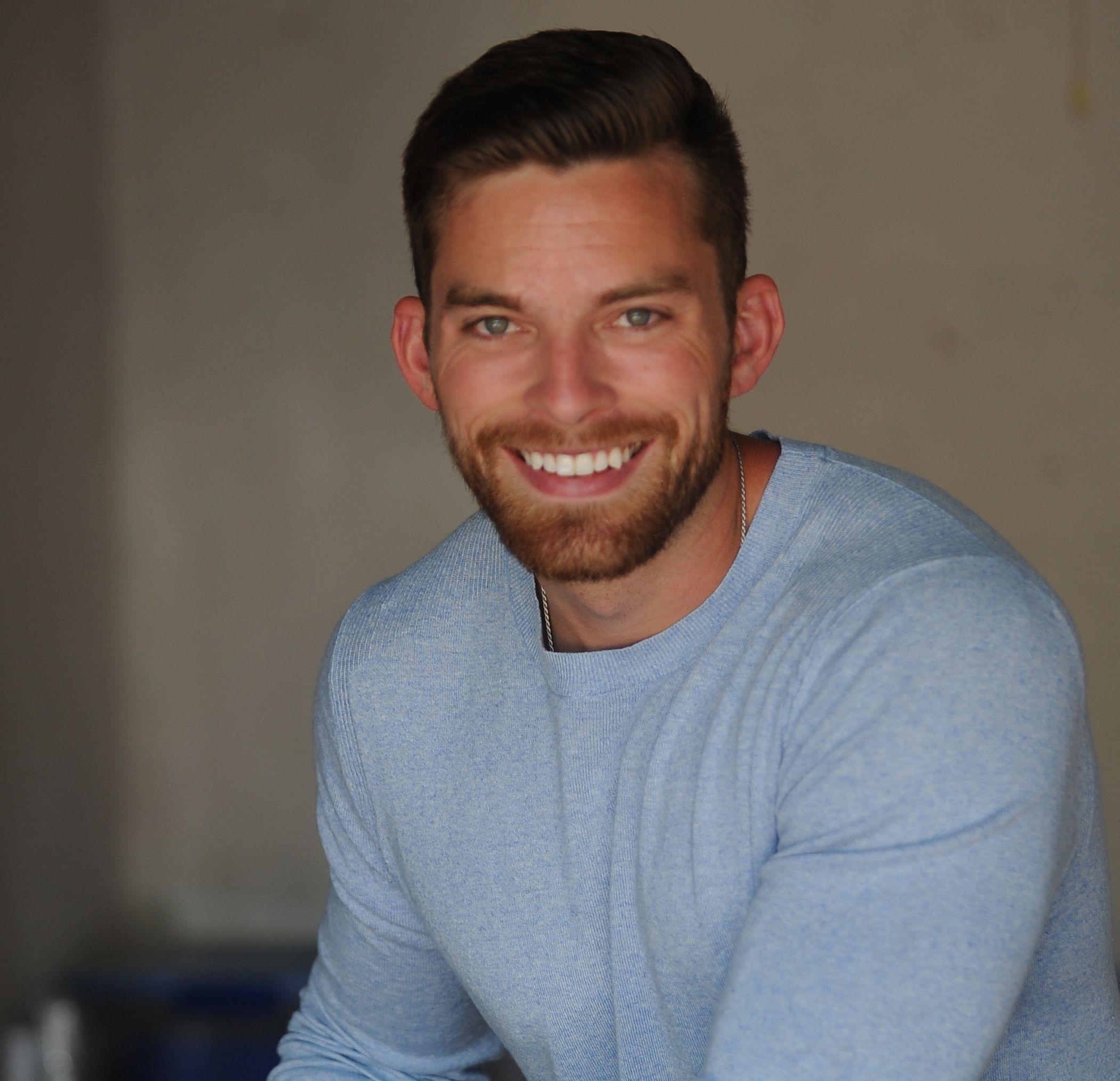 Ryan Fitzgerald
Hi there! My name is Ryan Fitzgerald, and I am a REALTOR®. My goal is to help you learn more about real estate through our Real Estate Blog! Hopefully, you enjoyed the above blog post and it found a way to provide help or value to you. When you're ready to buy or sell a home of your own let us know here. Please feel free to join the conversation by dropping us a comment below.