10 Tips: How to Convert a Spare Room into an Office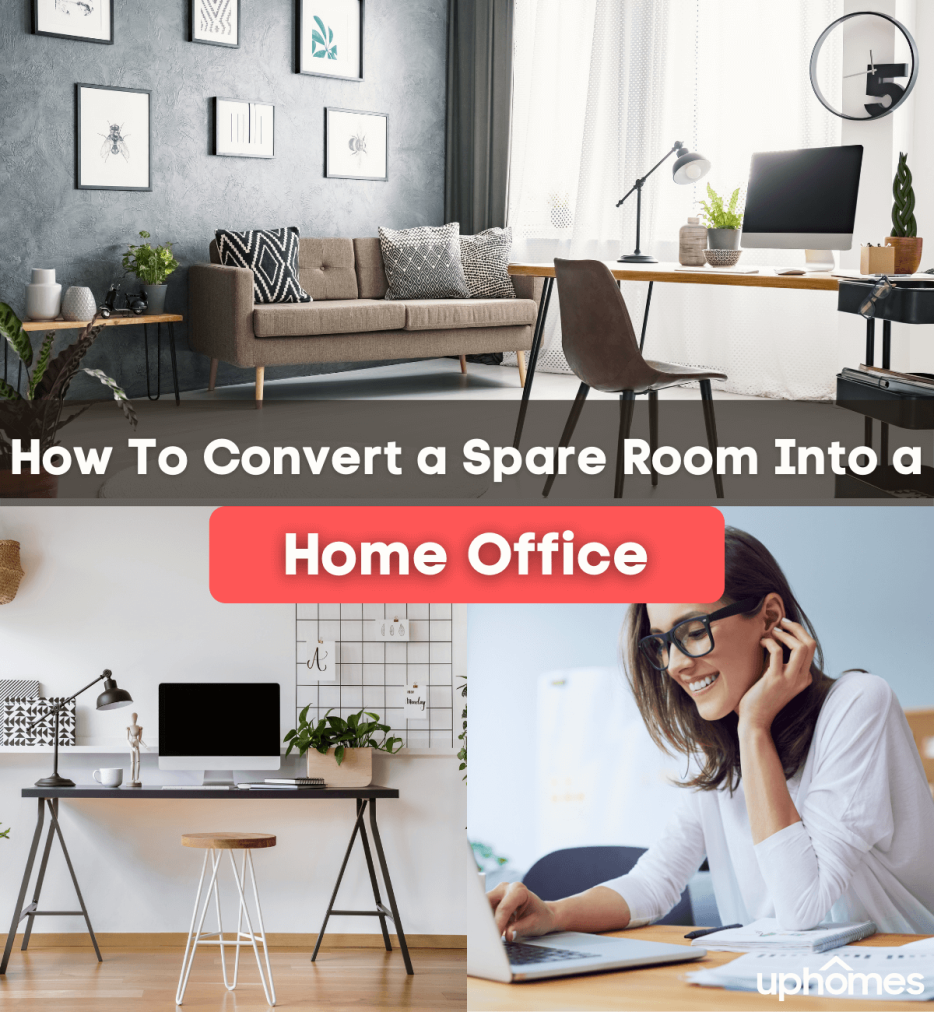 How to Convert a Spare Room into a Home Office
Wondering how to convert a spare room into a home office? Here are 10 tips that will take your spare room into a productive workspace!
Working from home has a lot of benefits – and it has its problems, too. From anxious pets vying for your attention to children running around the home you have to create a safe space to get work done. You can avoid many of those problems by converting a spare room into an office. Letting your family know that when your office door is shut is the same thing as you being at your office reduces some of the interruptions you face when working at home. This will help you maintain your mental health when working from home.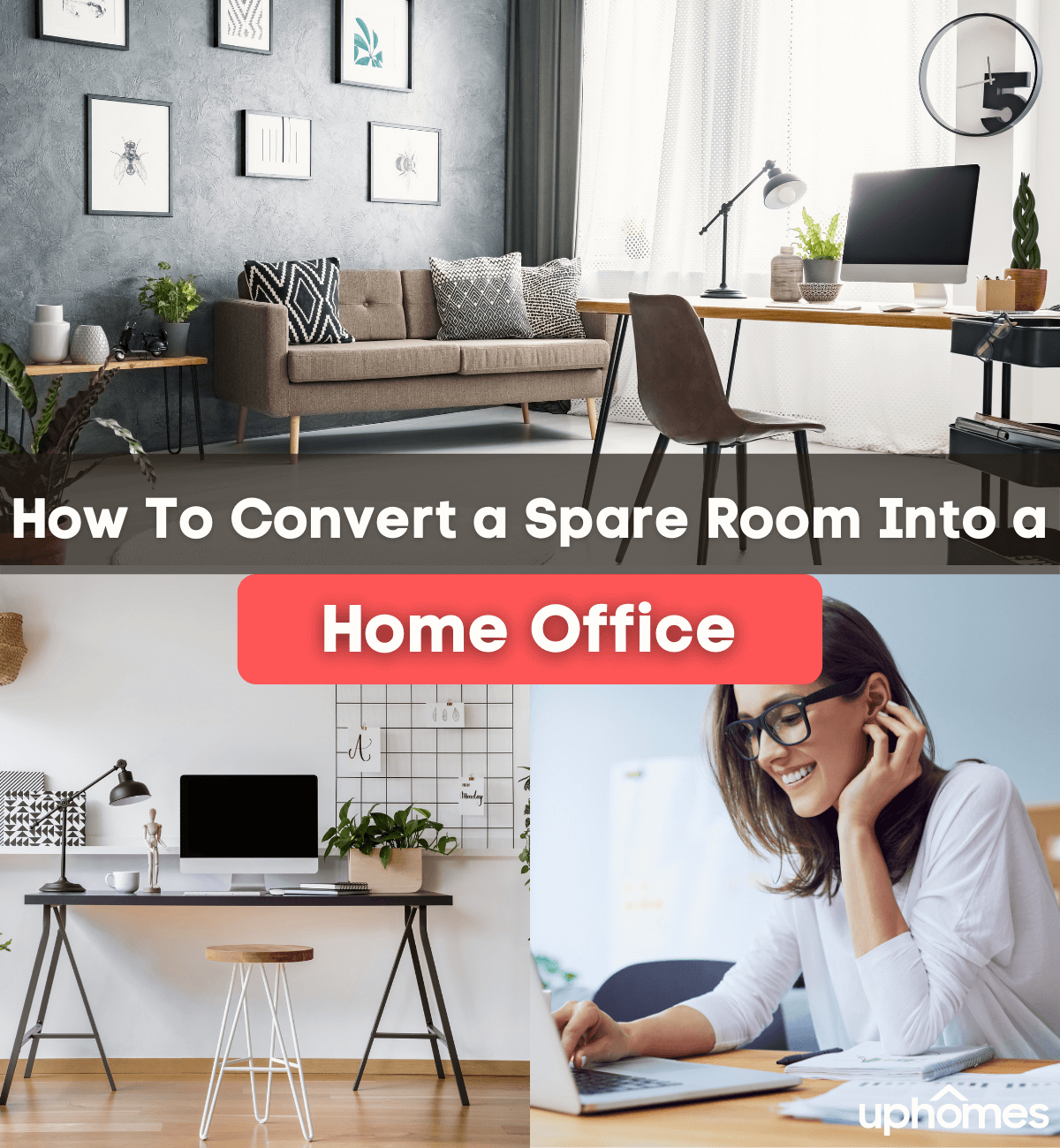 Take Stock of What You Have
Decide which room – if you have more than one – will make the best office space for you. If you enjoy looking outside, choose a room with a window facing a nicer view, if possible. If you live in the city and don't have much choice, choose the room that has a longer depth of field, so you're not looking up at the wall of the house next door. Many people are searching for homes with great home office potential now that a larger percentage of the workforce is working from home.
Clean Out the Room
Remove everything from the room except for any items you will use in your office. Give the office a good cleaning, so you have a clean slate to create your office space. If you want to change the type of flooring in the office, now is the time to do it. You might want to trade carpet for a hard floor such as linoleum or tile. Or, if you have hard flooring and you want to muffle sounds, you might decide to carpet the room.
At the same time, paint the room that is a comfortable color for you. Lighter colors make the room seem larger, while darker colors make the room seem smaller. Choose a color that brightens your day as you will be looking at it for a good number of hours each week.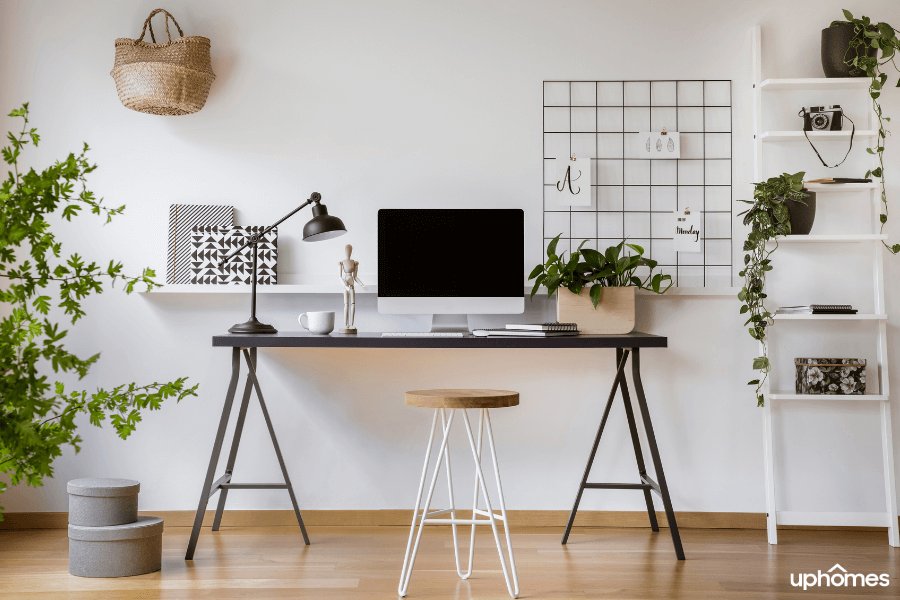 Outlets, Internet, and Television
Most modern homes have an electrical outlet every six feet. Unless your room is in an older house, you should have plenty of outlets since new construction homes are being built with far more convenient outlet requirements. When placing your furniture, don't forget to take outlet placement into consideration. If you have an older home, you might want to have an electrician add more outlets. You should also keep in mind that you might need special outlets for cable and internet. If you have Wi-Fi, the internet isn't a big worry, but if you want to add a television to your office, you'll need to run a co-ax cable from a splitter on your current cable or add a new outlet for cable. Keep that in mind when placing your furniture.
Choose Your Furniture
Measure your room so you can determine where your office furniture will fit. The size of the room will dictate whether you have one or three bookcases, a large or small desk, the type of desk, and any other furniture you want in your office.
Some people need a simple desk, and others might need an executive desk with two chairs in front of it or a small conference table, depending on your job and whether you will be seeing clients in your office.
When picking out your furniture, make sure you measure everything. You can cut newspapers to the size of the footprint of each piece of furniture and lay them out in the room. It's much easier than buying furniture and trying to move it around to get an arrangement that you like.
Once you decide what you want and where it will be in the room, it's time to buy the furniture. Depending on your finances, you might have furniture delivered and set up, or you might order furniture that you put together yourself. Start with the biggest piece first, so you have room to put it together and maneuver it around.
Before you purchase your desk chair, be sure to research them carefully. You will most likely spend a lot of time in the chair, so it should be ergonomic and comfortable. If your feet do not touch the floor, buy a small step stool to put under your feet. It will keep your ankles from swelling.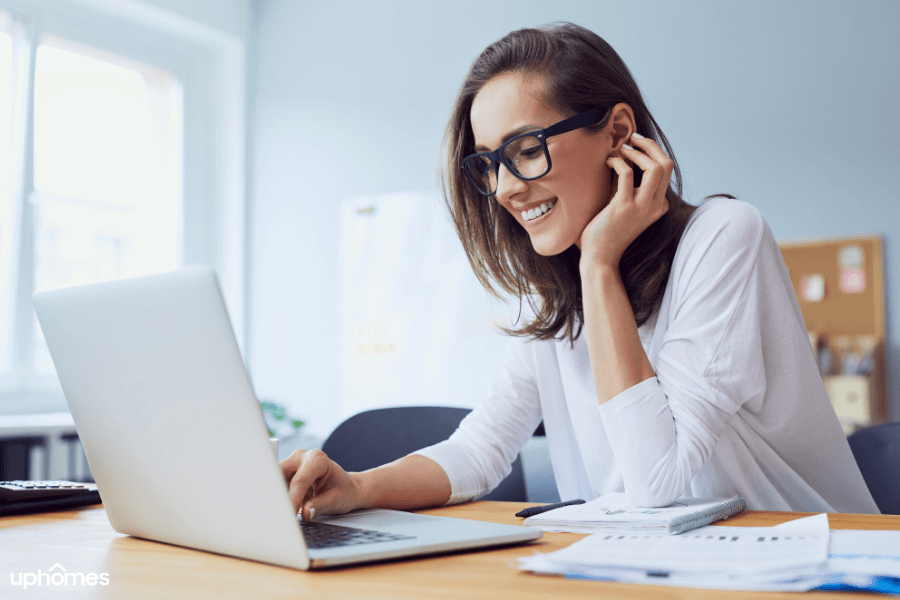 Add the Accessories You Need
If you like to work with noise in the background, add a television or radio. If you're on the phone for a good part of your business, make sure it's in easy reach to turn it down or off. Create a place for a landline if you use one, a backup hard drive, printer, and other accessories.
Make sure the printer is within reach of your seat if you don't put it on your desk. Add a filing cabinet if you need to keep hard copies of documents unless you buy a desk with a built-in filing cabinet.
Desk Accessories
Part of having a home office is making sure that you are organized. Make sure you have enough pens, a ruler, pencils, scissors, copy paper for the printer, and any other items that your job requires.
If you prefer a lot of light when you are working, get a desk lamp that is small enough that it won't be in the way, yet large enough to provide you with plenty of light.
Convert the Closet
If your spare room is small, use the closet space for storage. This way, you can get a desk with less storage. Put a filing cabinet and shelving in the closet to hold your documents and to store your office supplies. You can even put a small fridge in the closet to hold cold drinks, so you don't have to leave the office and get sidetracked by family members or things you need to do later.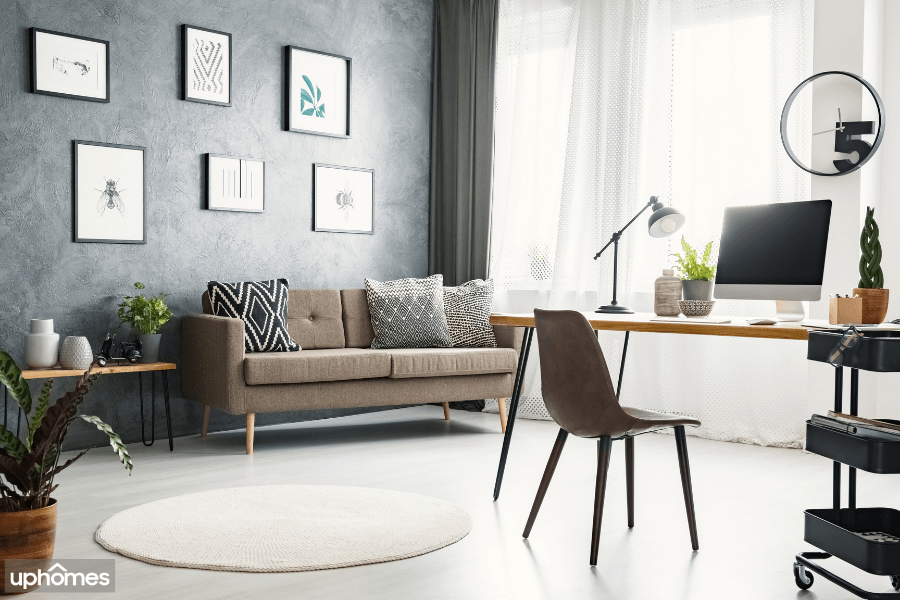 Whiteboards and Other Office Equipment
If your job requires the use of whiteboards, chalkboards, or large pads of paper to help you brainstorm or to give video tutorials, consider hanging those items on the wall. They'll take up less space and won't get knocked around should kids or pets come into your office.
If you give video presentations, make sure they are in a spot that you can capture with your computer's camera or where you can set up a tripod if you are using a separate video camera.
Add Wall Décor
Finally, add some wall décor to make your office homey and comfortable. Prints from your favorite artist, wall hangings, family portraits, or even your certificates and awards should all find a space on your wall. Add motivational messaging throughout your office so that when you feel tired you can find something to inspire your productivity.
Tie it All Together
Finally, take your office for a test run. Sit at your desk for an hour or two to make sure your setup is comfortable enough for you to work in the spare room that you just converted to the office. Make sure all electronics work, including the computer, television, electronic whiteboards, cameras, and other electronics. Make any changes you need before you start working in your office.
Converting Rooms into Home Offices
Many of the homes being built today offer the versatility that today's workforce is seeking. Homes are coming with more space than ever before allowing the comfort and convenience of working from home while maintaining productivity. When working from your home office there are many ways you can make your home office energy efficient and reduce your carbon footprint while keeping a great environment. Adding plants will go a long way in creating a healthy work environment!

Find your new home
Search real estate and homes for sale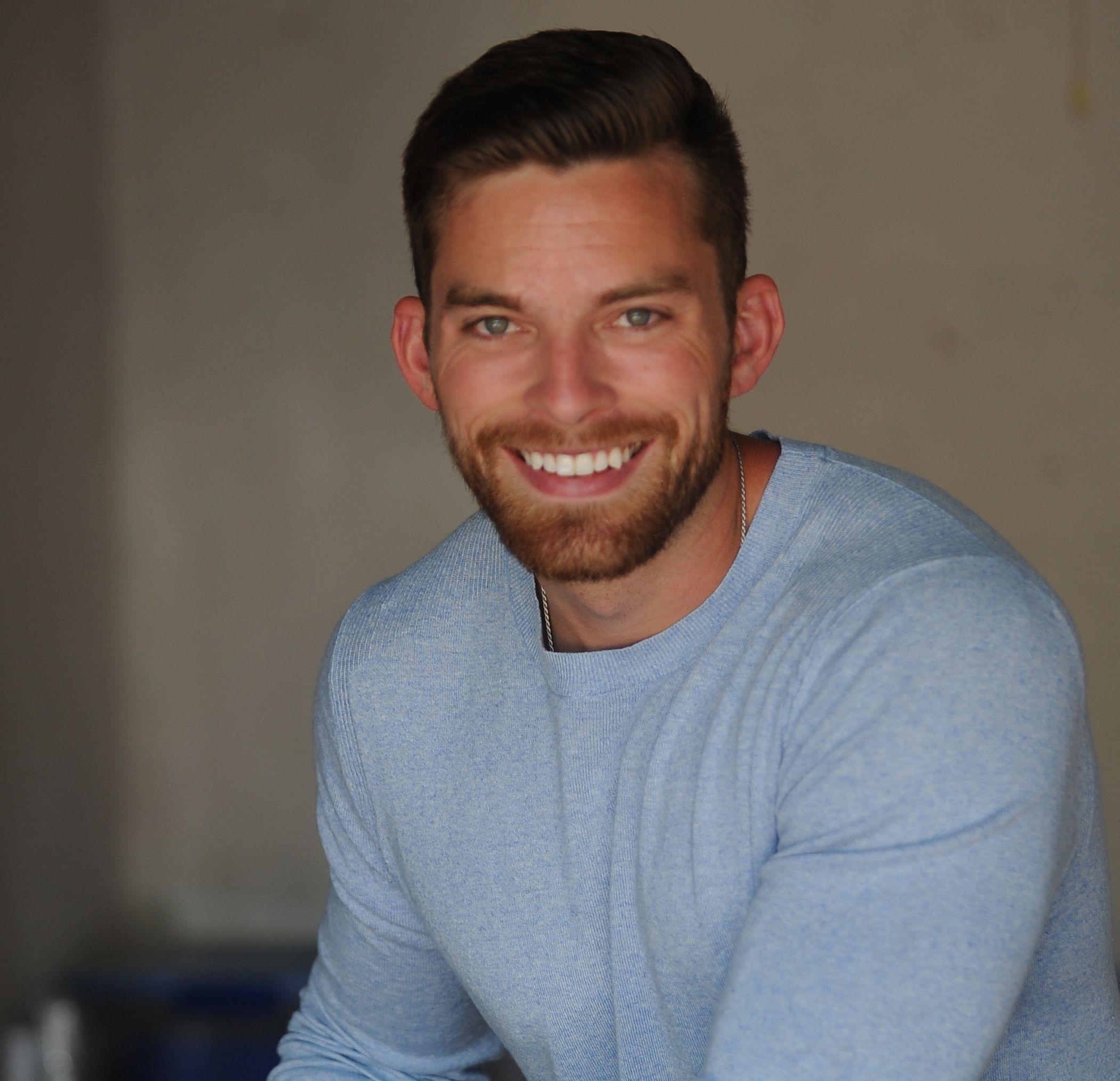 Ryan Fitzgerald
Hi there! My name is Ryan Fitzgerald, and I am a REALTOR®. My goal is to help you learn more about real estate through our Real Estate Blog! Hopefully, you enjoyed the above blog post and it found a way to provide help or value to you. When you're ready to buy or sell a home of your own let us know here. Please feel free to join the conversation by dropping us a comment below.