Cost of Living in Tallahassee, FL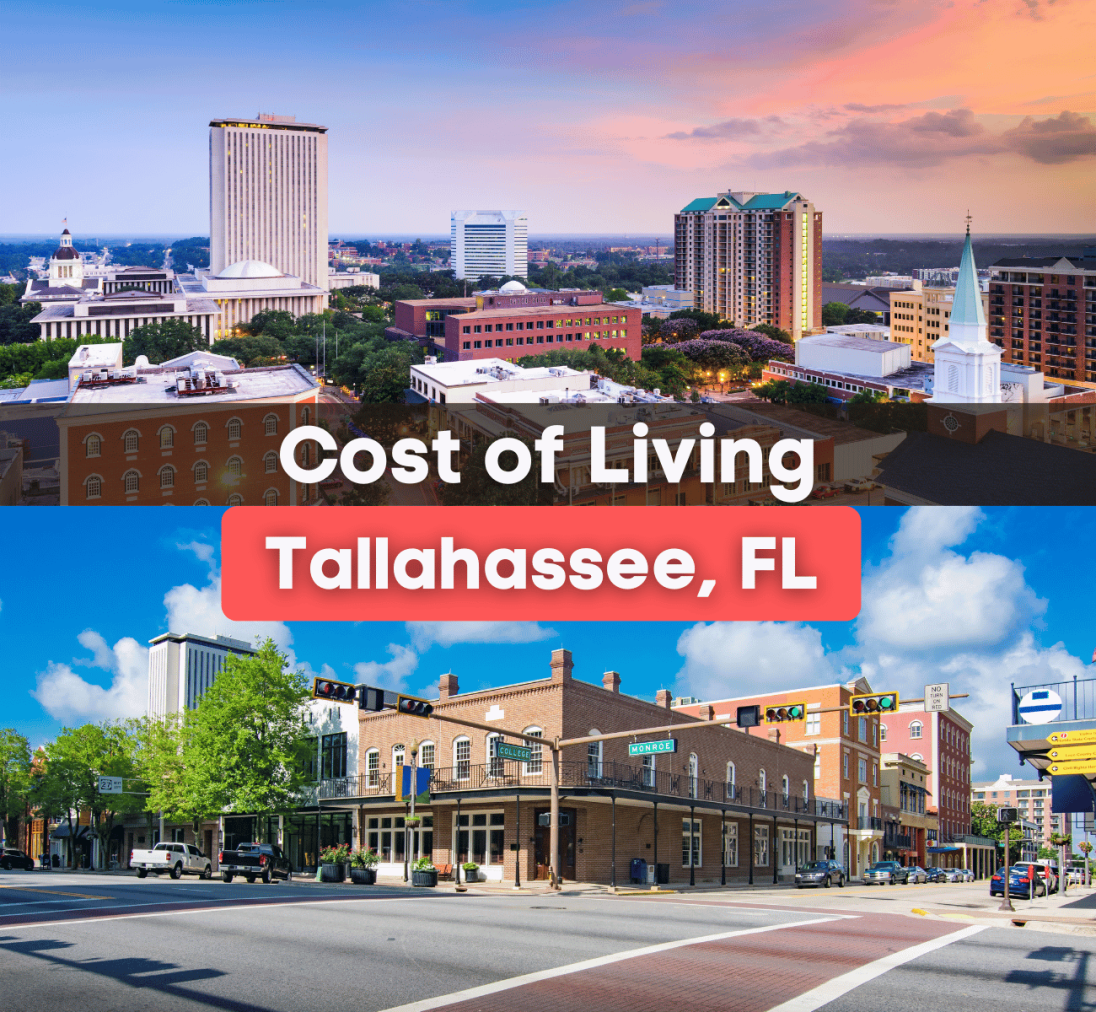 Cost of Living in Tallahassee
Is Tallahassee, FL, an expensive place to live? Let's look deeper into living costs in Tallahassee, the average income, typical expenses, and more!
Tallahassee is the capital of Florida and is located 22 miles inland from the Gulf of Mexico. The city was founded in 1821 and became the state's capital three years later. Not only is it well known for being the capital of Florida, but it is also considered a college town for over 130 years since Tallahassee is home to two large universities.
Considered to be one of the best places to live in Florida, Tallahassee has a population of nearly 200,000 residents. People are flocking to this capital city because of the fantastic things it has to offer. This city is also located near the border of Georgia and is less touristy than other big cities in the southern part of Florida.
The cost of living when determining which area to move to is essential. It is important to understand what everyday things cost and what you need to live a happy life. Thankfully, here in Tallahassee, the cost of living is lower than the national average, but some other things may be higher than nationally.
This guide will cover the cost of living in Tallahassee, Florida, with data from all the significant areas in the city. These categories will help you have a better idea of what you'll need to budget to live in a place you love!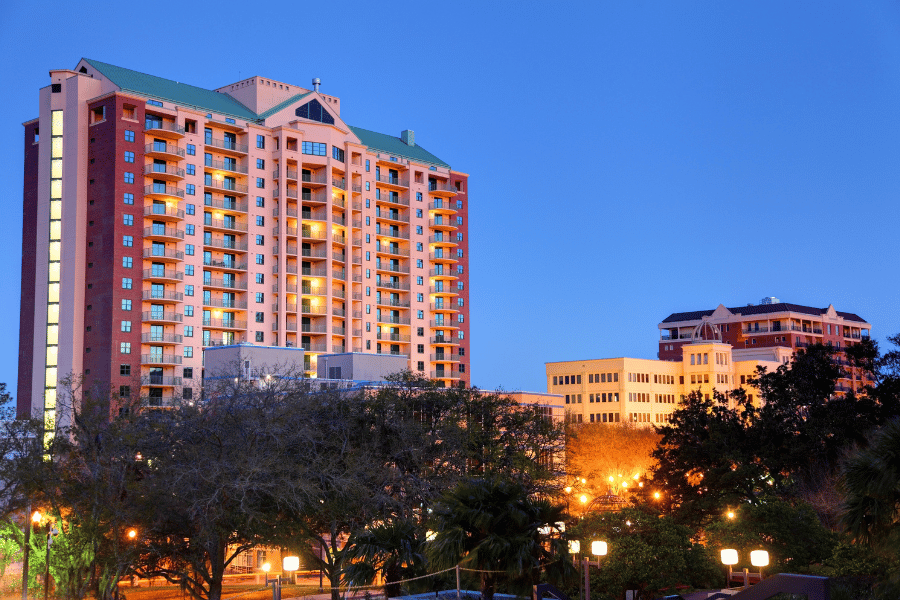 Cost of Living
The cost of living when determining which area to move to is crucial. It is essential to understand what everyday things cost since every size varies. Tallahassee's cost of living is 4 percent lower than the national average, but the price of groceries is 8 percent higher.
It is essential to know about Florida because they do not have state taxes. That helps considering the cost of living and if you can afford life in Florida comfortably. Tallahassee grocery prices may be higher than in other states, but because most people who live in the city do not have to pay state taxes, they will have more income on their paychecks. 
| | | | |
| --- | --- | --- | --- |
| Loaf of Bread | Energy Bill | Gas | Gallon of Milk |
| $3.74 | $149.12/month | $4.10/gallon | $2.40 |
Source: Payscale
Income
The median income in Tallahassee is about $49,077, and about 24 percent of people live in poverty. The average income in Tallahassee is just about 4 percent lower than the national average. This city is a relatively inexpensive place to live in, but due to its location and being Florida's capital, it inevitably makes prices higher.
However, because it is the capital, it does have various jobs to choose from. The job growth in Tallahassee has been positive, and jobs have increased by 2 percent over the last year. The unemployment rate is about 5 percent which is lower than the national average unemployment of 6 percent. 
Some of the most popular occupations here in the city are management, finance, computer, architecture, legal, and more! Finding a place to live means you need to find a job as well, and here in Tallahassee, you have various opportunities to find the perfect job for you just right around the corner. Tallahassee has a healthy job market compared to other similar cities. The city has seen a 2 percent increase in demand over the last year. Tallahassee is a fast-growing area, and more and more businesses are moving to it!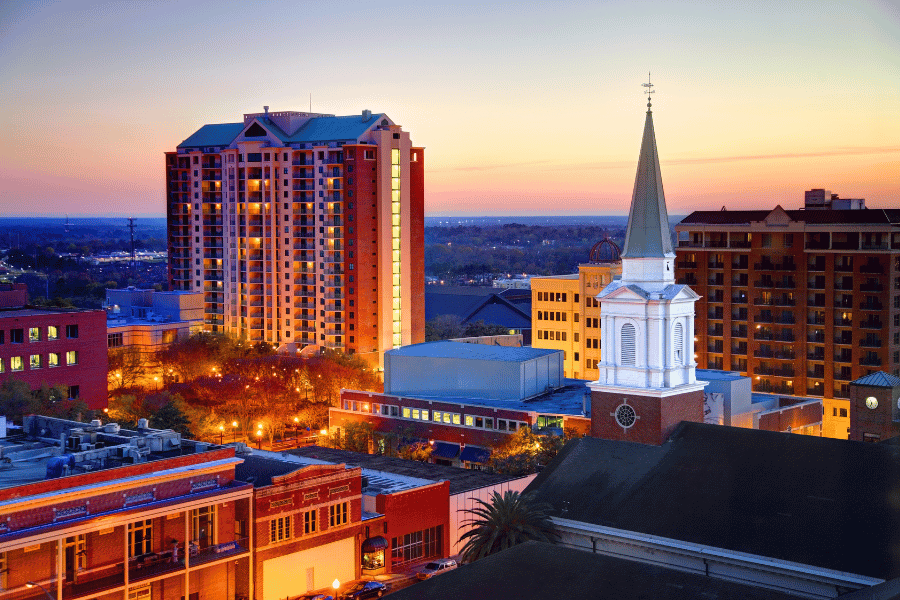 Housing Cost
If you are moving to Tallahassee, knowing about the housing market and housing costs is essential. Tallahassee is an excellent place to search if you are looking for an affordable city to move to that does not have a super competitive housing market. The year 2022 was a chaotic year for the housing market everywhere. Towards the end of the year, the market in some areas started to balance out and favor the seller side less. That means homes are returning to sitting on the market for longer and are selling at lower than the list price. 
The downside of Tallahassee's market is that there were only 186 homes sold in December of 2022, but in December 2021, there were 346 homes sold. That data shows that the residents of Tallahassee are not selling their homes as often as they were in 2021. 
Data from December 2022 shows that the median sale price for a home in Tallahassee was $255,000. This price is up 16 percent from last year. However, the average home sells for 2 percent below the list price and sits on the market for about 50 days. Some of these homes so usually get multiple offers as well!
Utilities
Owning a home and renting comes with utility expenses. These costs include essential services such as energy and communications. In Tallahassee, energy bills cost around $224 per month. That adds up to about $2,688 per year. This city's utility costs are about 11 percent higher than the national average. You see higher utility prices in Tallahassee compared to the rest of the state.
Due to Florida being in the south, most residents spend most of their utilities on air conditioning since the weather is always very warm. The location of where you live does play a vital role in the cost of simple things because of the demand for them. Here in Tallahassee, utilities are one of the highest costs.
Food
Tallahassee has grocery expenses about 8 percent higher than the national average. Many people have said that going out to eat usually costs you more money than going grocery shopping, but in this city, going to a restaurant is cheaper or about the same price you would pay when you go grocery shopping.
Tallahassee offers many restaurants, bars, cafes, and markets like many famous cities. You can enjoy a delicious meal at one of Tallahassee's best restaurants for cheap! On the other hand, Tallahassee offers excellent fresh markets where you can buy an abundance of fresh fruits and veggies at a low price. Also, Tallahassee's leading stores offer other commodities you may need. Food is an everyday expense that significantly impacts the overall cost of living in any city.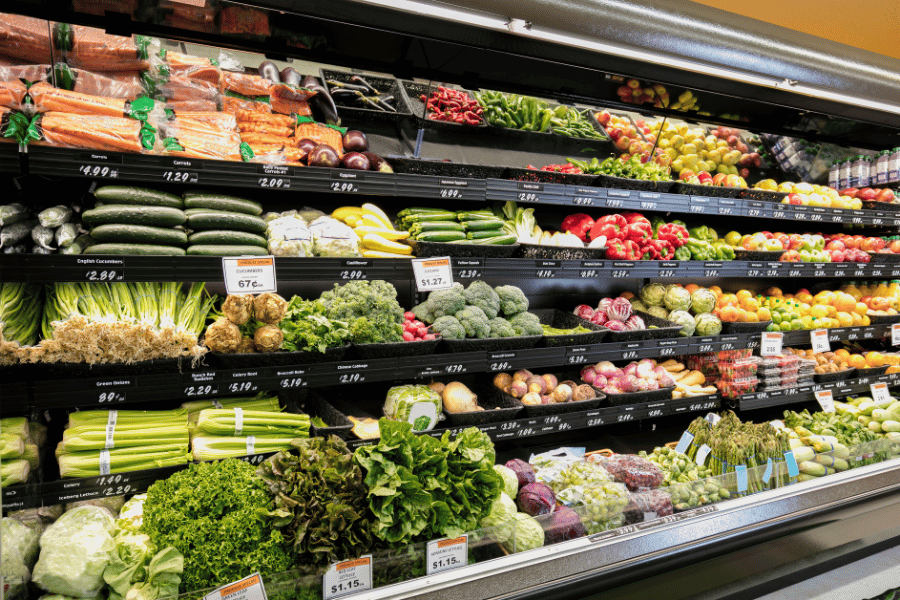 Healthcare
Healthcare in Tallahassee is about 9 percent higher than the national average, while it is also higher than other places in Florida. A single adult living in this area will, on average, spend about $5,177 per year compared to an average of $4,213 across Florida and other places nationwide.
On the other hand, for families with kids, that adds thousands of extra dollars to annual healthcare costs. In Tallahassee, the average yearly cost of care for two kids is about $11,336, which is about $800 less than in other cities across the nation. Finding a place where you can have affordable healthcare is crucial since that is a basic need, but here in Tallahassee, the healthcare is higher than nationwide.
Transportation
Transportation costs like bus fares and gas prices are about 6 percent lower than the national average. However, Tallahassee's public bus system could be better organized, with limited routes and hours. To go somewhere throughout the city other than downtown typically needs at least one transfer, but the fare tickets are relatively cheap.
Since this city is very populated and attracts tourists, public transportation may not be the best choice since it will take longer. Most residents living in Tallahassee own their own car as their primary transportation source.
In Tallahassee, about 87 percent of people commute to work in the city every day, while some people commute outside the city. Considering gas prices or public transportation, an average person here will spend about $9,240 a year on transportation which is a little less than the national average!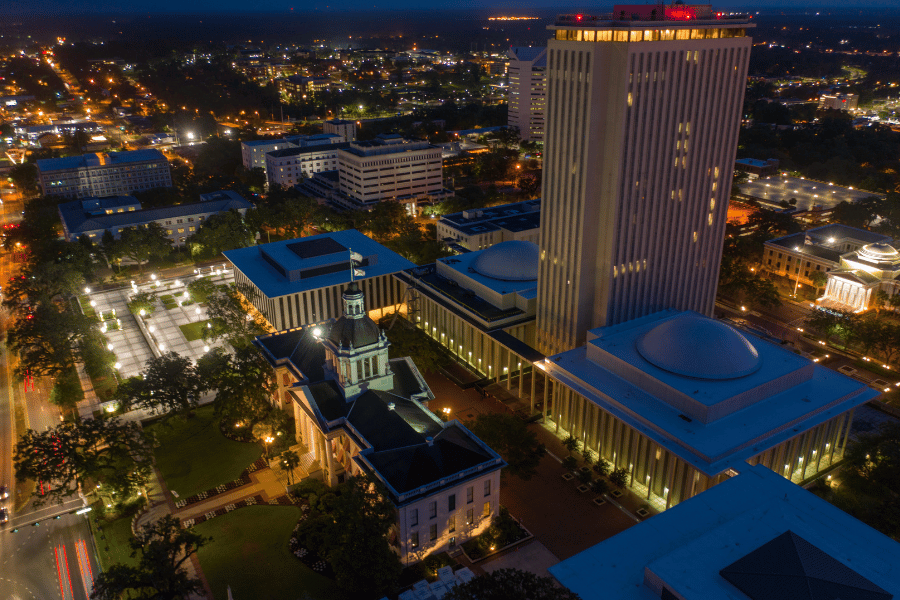 Taxes
Every city and or state has different costs when it comes to taxes. According to the state and federal income taxes, Social Security contributions, and Medicare payroll taxes, the average adult working in Tallahassee pays about $5,461 annually, almost the same as the nationwide average.
Tallahassee residents live in a state with a low average tax burden. Per capita state tax collections in Florida total $2,158 per year, compared to the $3,151 average across all states. Looking at taxes in places you want to live can be significant, and here in Tallahassee, you will have fewer worries. 
FAQ
Is Tallahassee a safe place to live?
Overall, Tallahassee is quite unsafe. It has one of the highest crime rates in America compared to other cities of its size. It has more violent and property crime than Florida, making it safer than only 10 percent of other cities in the state. The chances of you becoming a victim of a violent crime in Tallahassee is 1 in 126, and property crime is 1 in 34.
Is it expensive to live in Tallahassee?
The cost of living in Tallahassee is 4 percent lower than the national average. The overall cost of housing and utilities is between 10 and 13 percent lower than the national average, but the price of groceries is about 8 percent higher.
Is Tallahassee a cheap city?
Compared to other metro areas in Florida, the cost of living in Tallahassee is hard to beat! It has a reasonable median home price and monthly rent cost, which makes the housing in Tallahassee affordable. Living in this city can be effortlessly comfortable no matter what.
What is the weather like in Tallahassee?
Tallahassee is for you if you want a warmer area to move to! It has an average temperature of between 41 degrees and 91 degrees. You will rarely see temperatures below 26 degrees or even above 96 degrees. You need to know that even though it has pleasant temperatures, this city has a lot of humidity, making it a very wet and dewy area.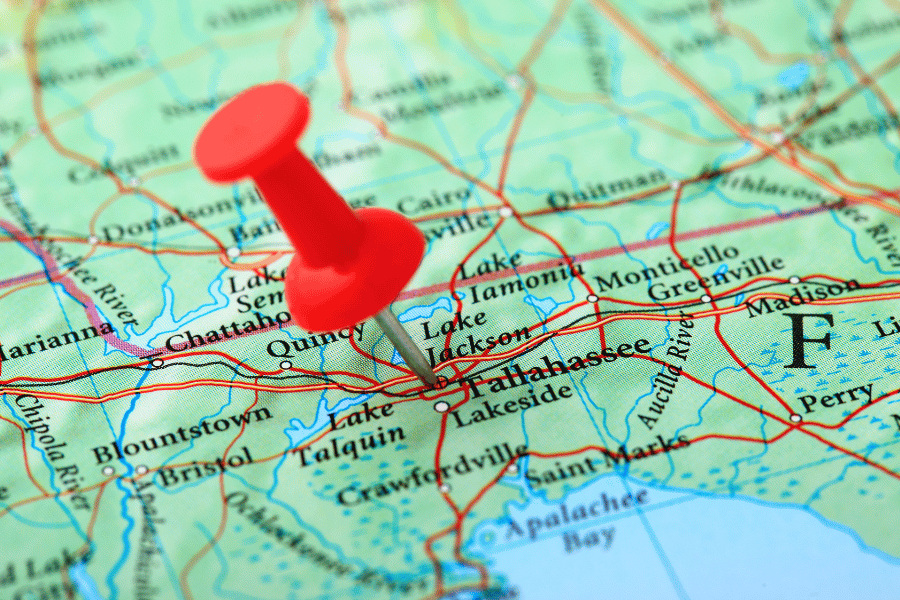 Cost of Living in Tallahassee, Florida - Final Thoughts
After considering the cost of living in Tallahassee, Florida, you can decide where to buy your next dream home. Weighing out all of the factors, such as the cost of goods, utilities, taxes, housing costs, and more, is crucial when deciding where you want to move. 
Tallahassee is a perfect place to settle down in if you are looking for somewhere that can be easily affordable and you can live comfortably. Due to its location, this city is trendy for younger adults because of the nearby colleges and older adults, such as retirees looking for a beautiful place to call their home.
This unique city has so much to offer. Tallahassee has various attractions, restaurants, beaches, and more! If you are looking for a quiet place with not too much going on around you, then the outskirts of Tallahassee can be a perfect place to look into. The surrounding neighborhoods are also safer than the city parts of Tallahassee since it is located near the downtown and college areas. It is an affordable city, but the housing market has gotten slim since the previous year. Tallahassee will be perfect for you if you seek a place full of liveliness! 
Finding an affordable place to live can make a huge difference when looking for a place to move to. Tallahassee has a low cost of living, but it also has so much more to offer its residents! You must take advantage of this fast-growing city's fantastic restaurants, parks, and weather.
Our Real Estate Specialists are here to help you search for your dream home if you consider moving to Tallahassee. Contact us for all of your home-buying and selling needs. Make sure to refer to our other local area guides for more information on the Best Neighborhoods in Tallahassee, Things to Do in Tallahassee, Moving to Florida, Moving to Miami, Moving to Coral Springs, and more! 

Find your new home
Search real estate and homes for sale