10 Things To Know BEFORE Moving To Tallahassee, FL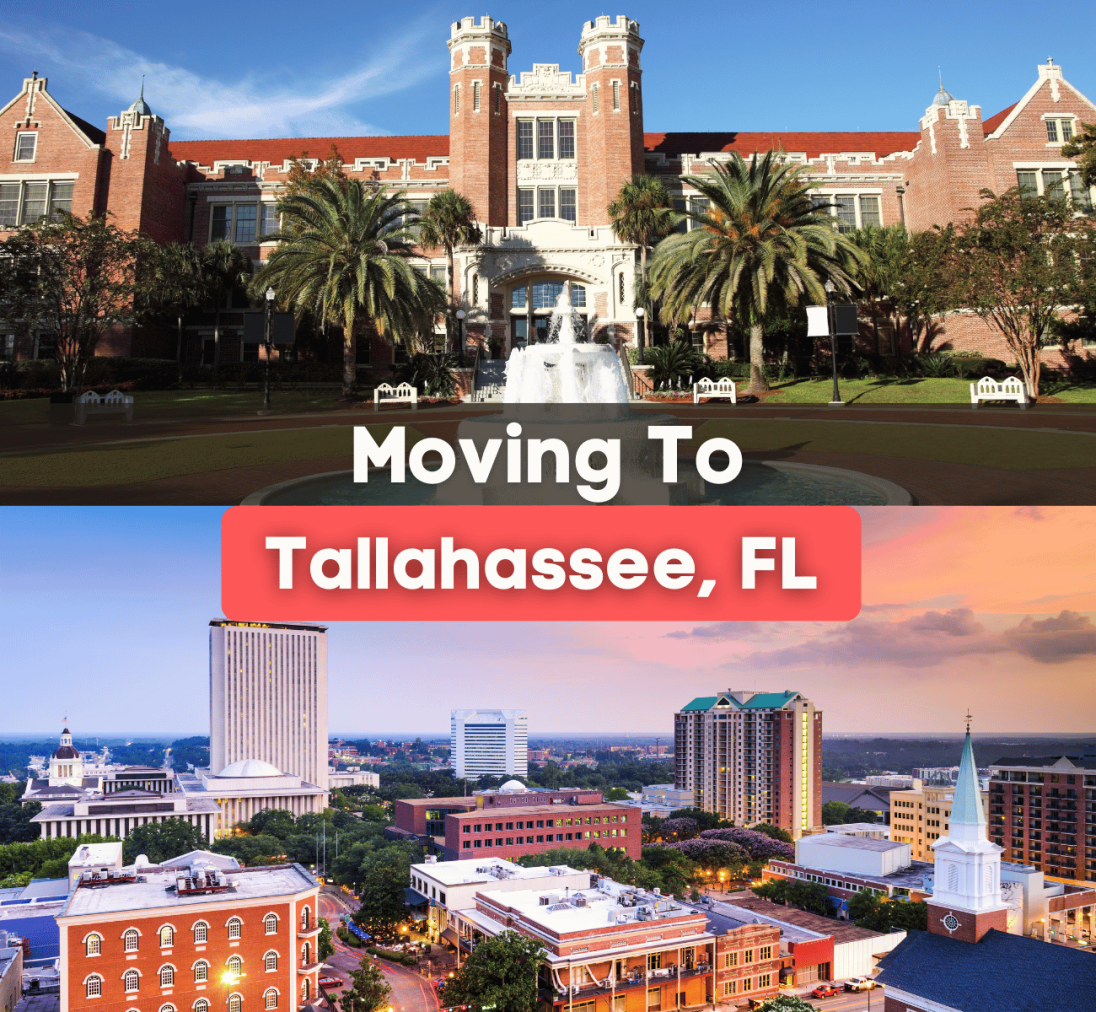 Living in Tallahassee
Are you considering moving to Tallahassee, FL? Please make sure you know these top ten things about what it is like to live in Tallahassee!
Tallahassee is the capital of Florida and is located only 22 miles inland from the Gulf of Mexico. Founded in 1824, Tallahassee is not only known as the state capital but is also considered a college town for over 150 years since it is the location of two large universities. 
Recognized as a great place to live for its family-friendly activities, exciting events and festivals, delicious food, and no shortage of outdoor recreation, it is no wonder that Tallahassee is at the top of everyone's list for those that choose to move to Florida. Home to some of the world's top-rated beaches, Tallahassee residents get to have fun in the sun while also soaking up the conveniences of living in a large city. 
Considered to be one of the best places to live in Florida, Tallahassee has a population of nearly 200,000 residents, and the city continues to grow at a rate of 0.74% annually. Located near the border of Georgia, Tallahassee is less touristy than cities in the southern part of Florida which further attracts more future residents to the area for its quieter streets and laid-back way of life. 
Keep reading to understand more about Tallahassee before deciding to move here!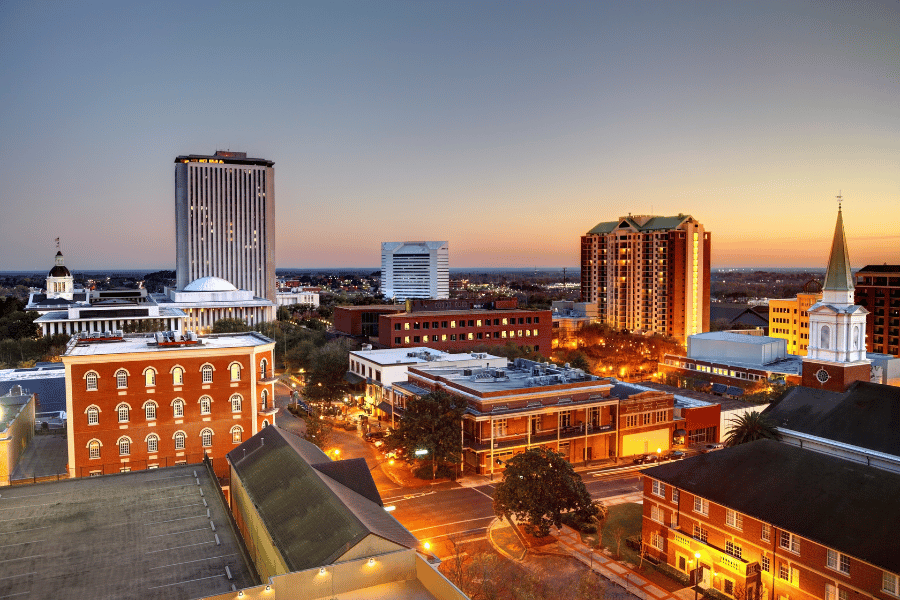 Here are the ten things to know about Tallahassee before making a move!
Cost of Living
The cost of living when determining which area to move to is essential. It is important to understand what everyday things cost since every size varies. Tallahassee's cost of living is 4% lower than the national average. Overall, their housing and utilities are between 10% and 13% lower than the national average, but the price of groceries is 8% higher. 
It is essential to know about Florida because they don't have state taxes. That helps considering the cost of living and if you can afford life in Florida. Tallahassee grocery prices may be higher than in other states, but because people who live in Tallahassee don't have to pay state taxes, they'll have more income on their paychecks. 
| | | | | |
| --- | --- | --- | --- | --- |
| Loaf of Bread | Gallon of Milk | Carton of Eggs | Bunch of Bananas | Gas per Gallon |
| $3.74 | $2.40 | $1.69 | $3.63 | $4.10 |
Source: Payscale
Housing Market
Tallahassee is an excellent place to search if you are looking for an affordable city to move to in Florida that does not have a super competitive housing market. The year 2022 has been a chaotic year for the housing market. Towards the end of the year, the market in some areas started to equal out and did not favor the seller side as much anymore.
Data from December 2022 show that the median sale price for a home in Tallahassee was $255,000. This price is up 16% from last year. However, the average home sells for 2% below the list price and sits on the market for around 50 days. These homes do usually get multiple offers!
The downside of Tallahassee's housing market is that there were only 186 homes sold in December of 2022, but last December (2021), there were 346 homes sold. That data shows that the residents of Tallahassee aren't selling their homes as often as last year. 
Job Market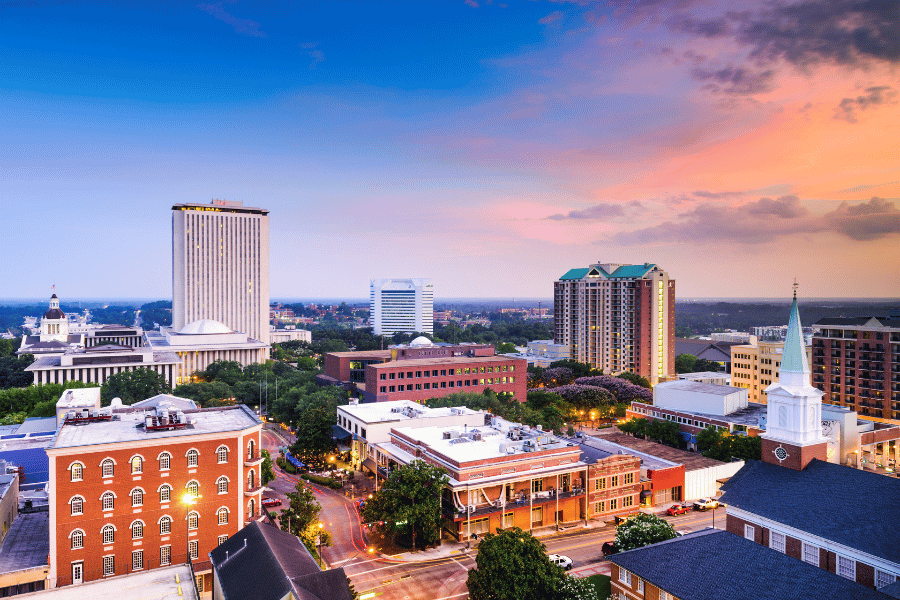 Tallahassee has a healthy job market compared to other similar cities. This city has seen a 2% increase in demand over the last year. The average annual salary in Tallahassee is $48,290, less than the national average yearly salary of $56,310. Even though the pay is lower in Tallahassee compared to the national average, the job market is growing, and more and more businesses are moving to the area.
There are significant industries located right inside Tallahassee. Some big ones are government, education, healthcare, finance, information technology, and manufacturing. Tallahassee is home to big hospitals, Tallahassee Memorial HealthCare and HCA Florida Capital Hospital. These hospitals bring in a ton of jobs into the area!
Tallahassee also has a handful of research jobs thanks to the National High Magnetic Field Laboratory and Innovation Park of Tallahassee. Whether you are seeking a career in one of these industries or not, there are so many other companies located right inside the city! 
Education
Tallahassee is considered the most educated city in Florida. If you are looking to move here with your family or to start a family and finding good educational programs is essential to you, Tallahassee is an excellent place for K-12 and college-level education.
Tallahassee is located in Leon county, which is a highly-ranked school district. There are 89 schools overall in the city. Sixty-four of those schools are public schools, and 25 are private. Here are the top-rated public schools in the town.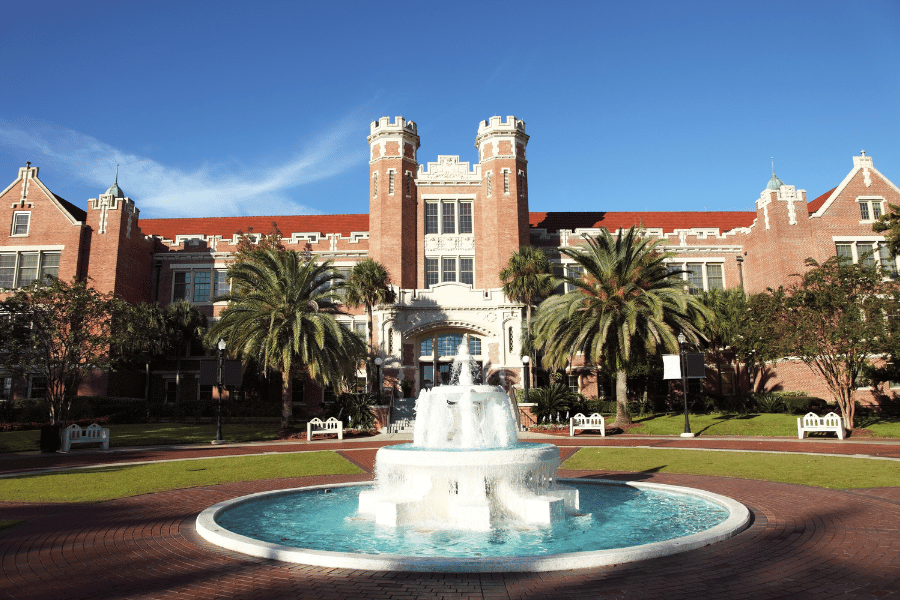 Florida A&M University and Florida State University are located here for those searching for higher education opportunities. Florida State University is a well-known public, 4-year college located in Tallahassee. This college is one of the country's most respected research and learning institutes. The total enrollment of FSU, graduate and undergraduate, is 43,569. With a 36% acceptance rate, Florida State University is quite selective when deciding which student gets accepted into the university. 
Night Life
Because Tallahassee is the capital of Florida and is home to a major college, the city has a lot to do at night. There are a variety of breweries, college town hot spots, and rooftop bars with excellent cocktails. Tallahassee is the place for you if you like to grab a drink with your friends and put on your dancing shoes. While Miami might be the country's number-one city for nightlife, Tallahassee gives it a run for its money. 
Here are some of the local favorite spots for a fun night out!
Hangar 38: Here, you will find 79 arcade games and bowling alleys! This is the perfect spot to visit with friends and family if you love games.
Recess Day & Nightclub: This high-end rooftop day and night club overlooks Doak Campbell Stadium. 
District 850: A 40,000-square-foot facility that is newer to Tallahassee and is a must-visit!
Restaurants
If you are a foodie or looking for a nice place to eat with your friends and family, here is a small list of local favorites!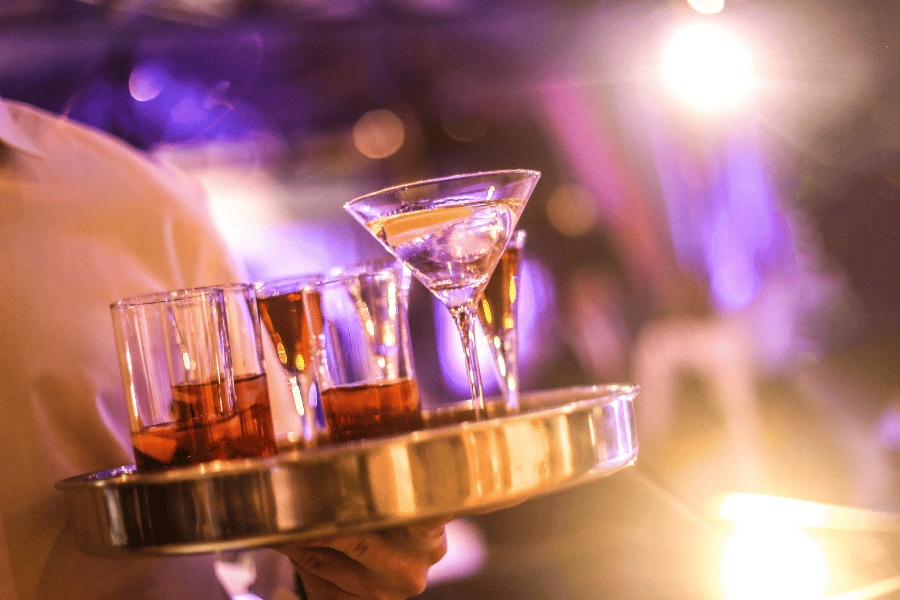 Weather
If you are looking for a warmer area to move to, Tallahassee has an average temperature between 41º and 91º. Rarely will you ever see temperatures below 26º or above 96º. One thing to note about the temperature and climate of this city is that humidity always plays a factor. 
Humidity makes the air in Tallahassee feel wet and dewy. The higher the humidity, the hotter the air will feel. Even though they have a lot of moisture, the warm air is always perfect for a trip to the beach or the pool to cool off! Most of the parks and trails around Tallahassee are shaded, so you can enjoy those activities without the sun beaming down on you.
Most Tallahassee's residents are moving from colder states like New York and Massachusetts. So if you currently live where it is cold and want to move somewhere warmer, this city is a perfect place to consider!
Crime Rate
Understanding the neighborhood's safety is vital to some when deciding where to move. With Tallahassee being Florida's capital and home to a large university, the crime around the downtown area will inevitably be more than in the outside areas. 
Overall, Tallahassee is quite unsafe. It has one of the highest crime rates in America compared to other cities of its size. Tallahassee has more violent and property crime than Florida, making it safer than only 10% of other cities in Florida. The chances of you becoming a victim of violent crime in Tallahassee is 1 in 126, and you becoming a victim of property crime is 1 in 34.
Things To Do
When moving to a new area, you should know what activities and attractions are right around the corner for you to enjoy. Because Tallahassee is Florida's capital, there are a lot of popular shopping centers, restaurants, parks, and more! Tallahassee has it all. The city is also just a short drive to several beaches, such as Wakulla Beach, Shell Point Beach, Mashes Sands Beach, and many more. Here are a few local favorite places to visit in Tallahassee.
St. Marks Lighthouse: Located within the St. Marks Wildlife Refuge, this lighthouse is one of the oldest in Florida. It survived both the Civil War and the Second Seminole War of 1835. Go and tour the lighthouse and enjoy the beach!
Tom Brown Park: This park is one of the largest parks in Tallahassee. It is more than 25 acres of land and is perfect for a day with your friends and family. They have playgrounds, trails, disc golf, sports fields, and more!
Railroad Square Art Park: This park was originally a lumber yard in Tallahassee. It was then redone to be an industrial business park. Here you can find art galleries, restaurants, and many shops! A perfect place to walk around and enjoy with your friends and family. 
History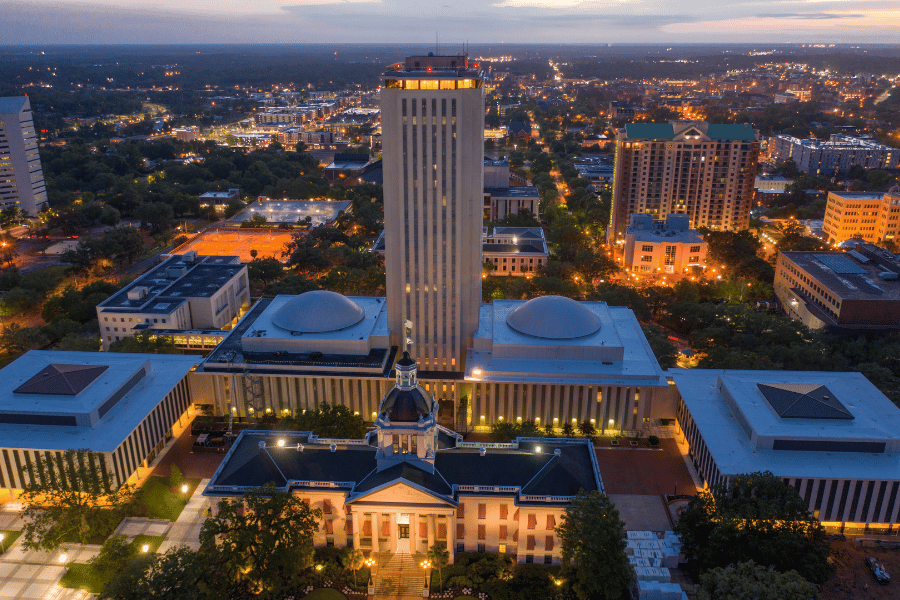 Tallahassee became a city and the state capital in 1824. In the early days, Tallahassee had an abundance of cotton plantations that started increasing the population significantly. 
Tallahassee got its name, "old fields," from the Apalachee Indians who inhabited the area in the 16th century. Tallahassee still holds the history and culture of the Indians and the Spanish, French, and English who lived in the area in the past.
Tallahassee originally started as only one-quarter of a mile in size to 28.18 square miles by 1980. Since then, Tallahassee has just kept growing and was recorded being 103 square miles as of 2016. The town is known for its rolling landscape throughout the city. 
Living in Tallahassee, Florida - Final Thoughts
In conclusion, Tallahassee is a unique city with attractions, food, beaches, and more! It is an affordable city compared to some other metro areas around America. However, the housing market has gotten slim compared to last year. 
It is essential to understand the liveliness of the city. If you are looking for a place to move to that is quiet with not a lot going on, you could find that on the outskirts of Tallahassee. The surrounding neighborhoods are also safer than being located near the downtown and college areas of the city. 
The plus side of living in Tallahassee is living close to the Gulf of Mexico! Only 22 miles away, you will find crystal blue waters with warm sand, perfect for a day at the beach to relax and hang out with your friends and family! On the flip side, there are many family-friendly attractions to enjoy on a rainy day if the beach or pool is not an option. 
If you are considering moving to Tallahassee, please contact us to connect with a real estate professional who can help you through the home-buying and selling process.

Find your new home
Search real estate and homes for sale