12 Best Places to Live in South Carolina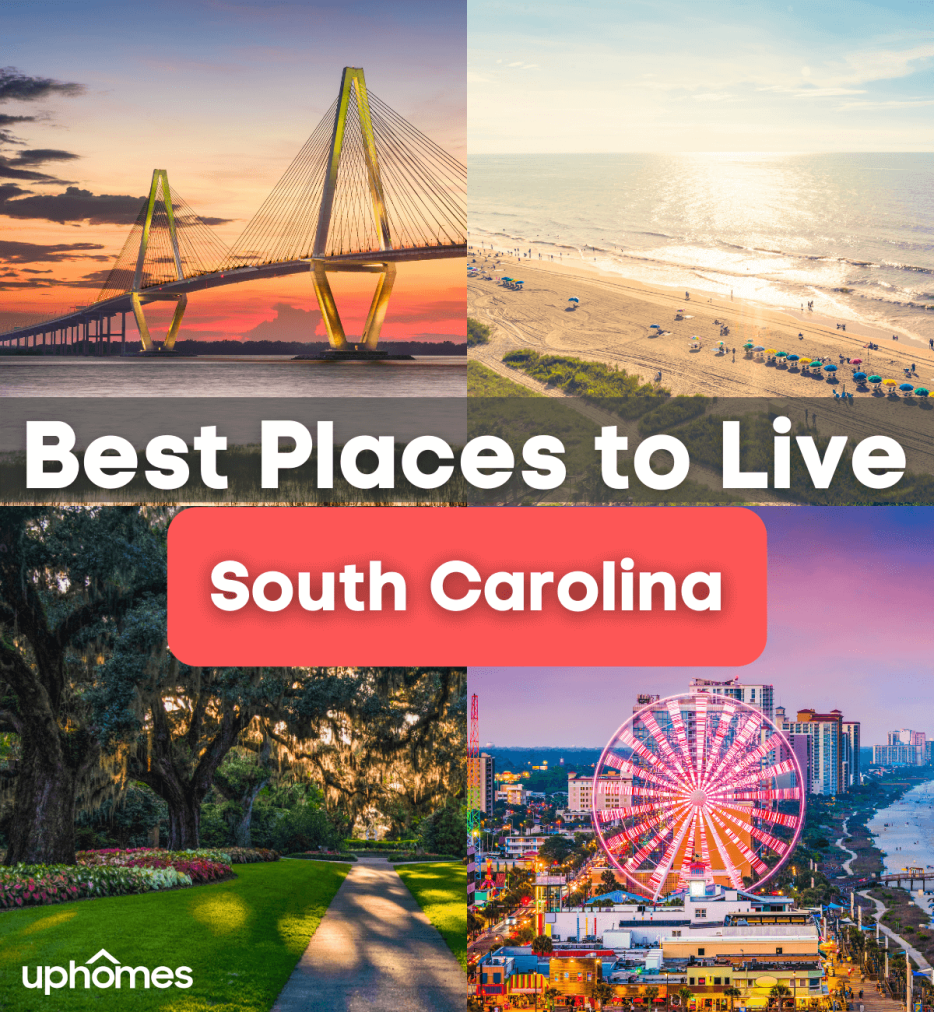 Best Places to Live in South Carolina
What are the best places to live in South Carolina? A question we hear often from the folks who are moving to South Carolina.
If you're getting ready to kick off your relocation journey in the low country (a.k.a South Carolina), you're in the right place. We'll cover the 12 best places you could call home in this charming southern state.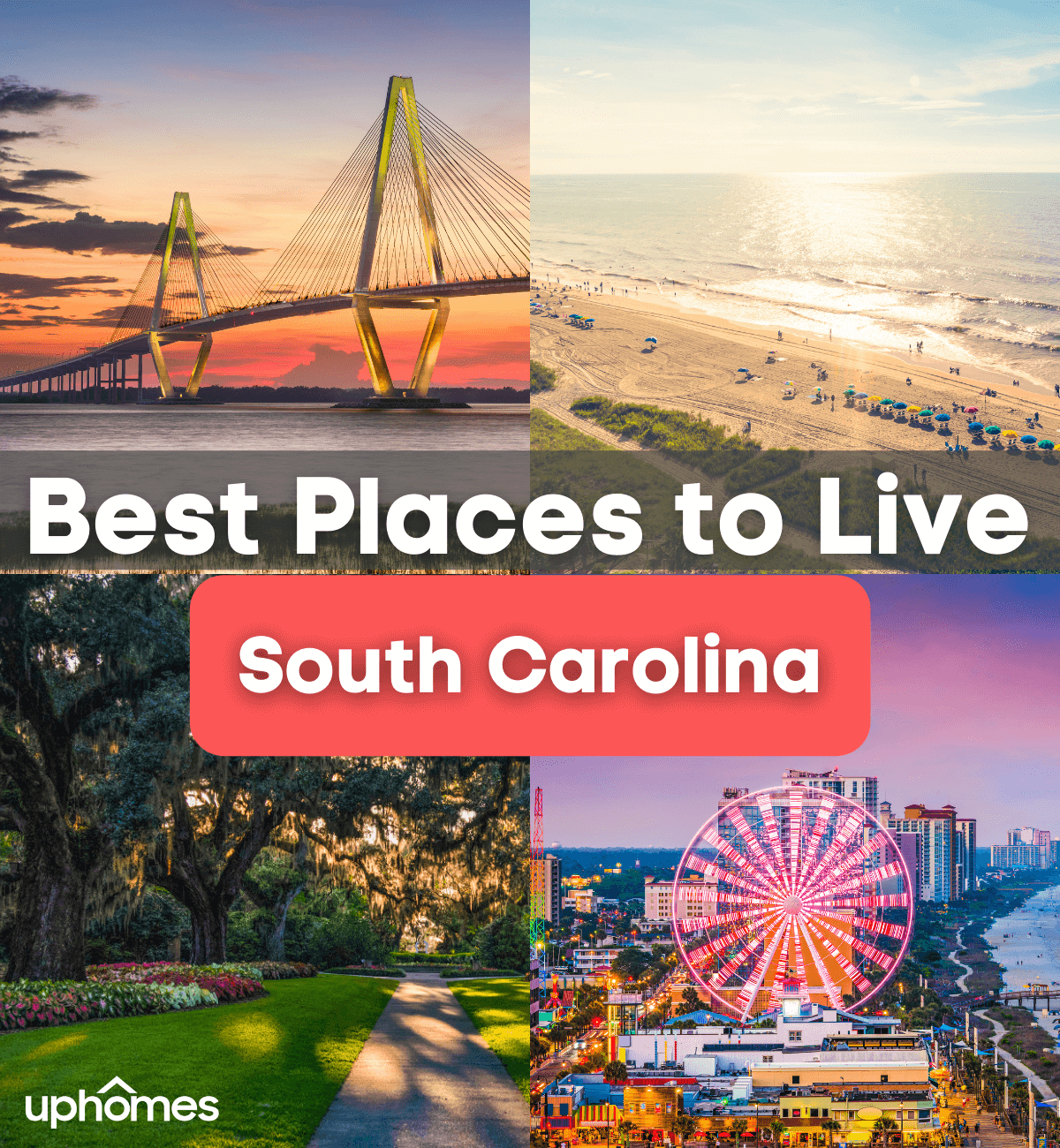 South Carolina has a lot to offer. From miles and miles of golden coastlines and marshlands to charming small towns full of rich history, you'll never run out of things to do and sights to see. This state has the perfect balance of city and country. Now, throw in access to beaches and mountains and it's the perfect place for young families, singles, and retirees to settle down.
The weather is dreamy — if you dream about mild winters, hot summers, and warm springs and autumns. There are only a few months where the weather is described as not warm, and even then, it's still pretty easy to handle.
Plus, the overall cost of living in South Carolina also makes it an attractive option for those looking to maximize home value and get some bang for their buck. South Carolina's cost of living is 7.3% lower than the national average.
On the other hand, if you're looking for a beautiful home on the water or a charming townhouse in the state's crown jewel of Charleston, you'll probably pay a bit more for the views.
And the best part of living in South Carolina? The food. Some of the country's best dishes can be found in Palmetto State. If it's considered a southern delicacy, you best believe you'll find it in this state.
Now that we've convinced you that South Carolina is a solid option for relocation, we'll dive into the specifics.
Best Places to Live in South Carolina
Camden
Founded in 1732, Camden proudly owns the title of South Carolina's oldest inland city. Camden is also home to the Carolina Cup, which is the "oldest surviving race meets in America and the largest in terms of faithful fans." And if this town's historical charm isn't enough reason to move there, it's ideally located just 20-minutes from the state's capital of Columbia and an hour-and-a-half from Charlotte, NC.
Plus, Camden ranks as a top place to live in South Carolina on almost every website. Camden offers a family-friendly downtown atmosphere and a tight-knit community for its residents. You'll find a mix of families and retirees in this inland South Carolina town.
Sullivan's Island
If you're on the hunt for a beachfront house in a tranquil setting, Sullivan's Island is for you! As a suburb of Charleston, this charming beach town's population sits right around 2,200 and is both one of the best places to live in SC and the second-best place to raise a family in the state. Sullivan's Island's public school system is ranked sixth in the state and it's a very safe place to call home.
And if you love the idea of being a tourist in your own town (a.k.a. living like you're on a permanent vacation), you'll enjoy learning about Sullivan's unique history and visiting sites like Fort Moultrie and the Charleston Light. Or, maybe you'll opt for long walks on the beach — Sullivan's has three miles of shoreline to explore. Whichever activities you prefer, you're guaranteed to enjoy the many simple pleasures of living on the island.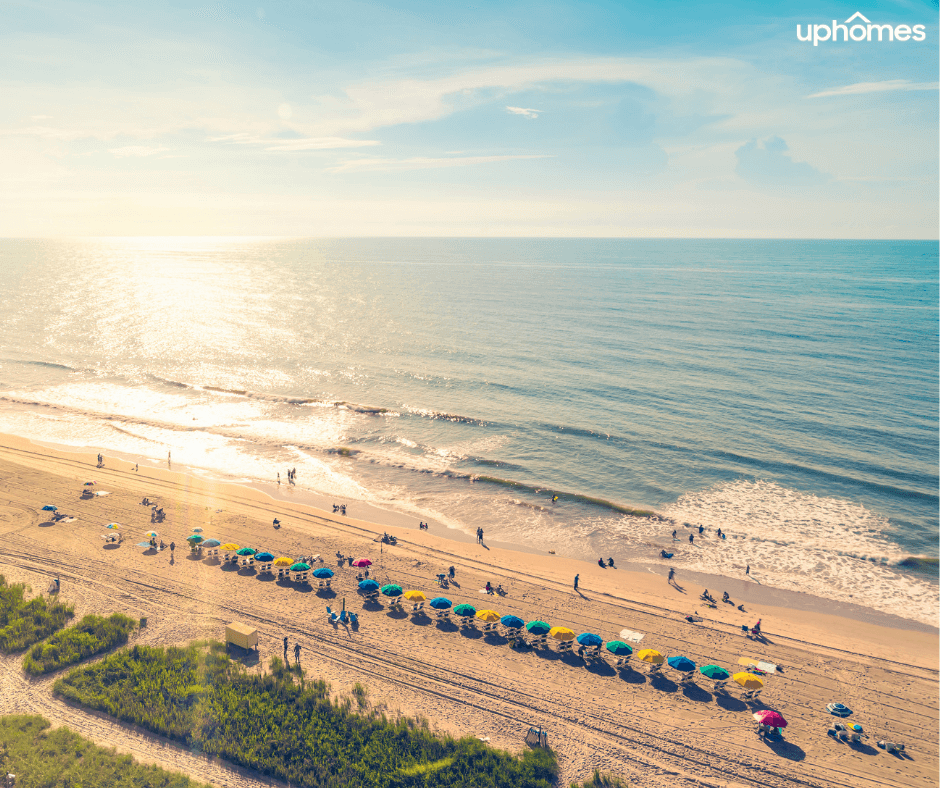 Lexington
Coined "a town on the rise" by Discover South Carolina, the city of Lexington offers that rich history feels with a modern twist. Lexington was established in 1735 and its name pays homage to the site of one of the first battles of the Revolutionary War. Lexington's growing in popularity and becoming a go-to place for young professionals and families to call home.
With a population of around 20,000, this city's dense suburban feel and affordability make it an attractive option for those seeking out a small-town feel with access to a larger metropolitan area. The Lexington public schools also sweeten the deal. The school district is ranked one below Sullivan's Island, landing at number seven on the list of 192 schools.
Clemson
If you end up choosing to call Clemson your home, you'll need to stock your wardrobe with some orange and purple clothes because this town is all about its college and its sports. OK- the town isn't all about football 24/7 (to be honest, it's like 23/6), but the picturesque town offers some history, too. From museums and historical sites to performing arts venues and botanical gardens, Clemson has more to offer than just its nationally renowned football program. (We have to say, a football-crazed town doesn't sound like a bad place to live).
Clemson offers a quintessential college town vibe with a strong sense of community and a family-friendly atmosphere. More than 40% of the local population is made up of families with young kids, but the majority of the town's residents are students, faculty, and staff of the university.
The cost of living in Clemson, SC, is right around the national average, but if you're moving from a state with high-income tax, South Carolina will be a breath of fresh air for you — in more ways than one.
Columbia
This wouldn't be a complete list of the best places to live in South Carolina without talking about the state's capital. Columbia boasts the second largest population in the state with around 130,000 residents calling the city home. And the cost of living there is about 4% lower than the national average, making this an attractive option for those wanting a larger city feel that's reasonably priced. Being a capital city, you'll be among a more diverse population as well as a greater variety of activities and entertainment. With The University of South Carolina situated in the city, there's a wonderful amount of young people, families, and die-hard Gamecock fans thrown into the mix.
Something we haven't covered yet on this list is access to the outdoors and recreational activities. South Carolina as a whole has a ton to offer, but living in Columbia, in particular, has its own advantages. You'll be close to the Congaree National Park, the Sesquicentennial State Park, and Lake Murray — you won't run out of places to explore.
Spartanburg
If you think of South Carolina and only think of beaches, well … we're here to sell you the state's scenic mountain views, and the town of Spartanburg might do the trick. Like many other cities and larger towns throughout the state, Spartanburg has that small-town feel so many of us crave. It's a neighborly, walkable, and community-oriented place to raise a family — need we say more? One of the top places to live in South Carolina for sure!
The downtown area has undergone some revitalization efforts over the past decade and it shows. New businesses and developments have hit the scene, and the city is growing at a quick pace. The city's job market is healthy thanks to the vast portfolio of corporate headquarters and global brands making Spartanburg one of their main locations.
The diverse population of Spartanburg helps make it into the fun and lively city it is, and there's a strong sense of community, too. Plus, the real estate market spans far and wide. From very affordable housing to higher-end neighborhoods, you're bound to find a home that best suits your needs.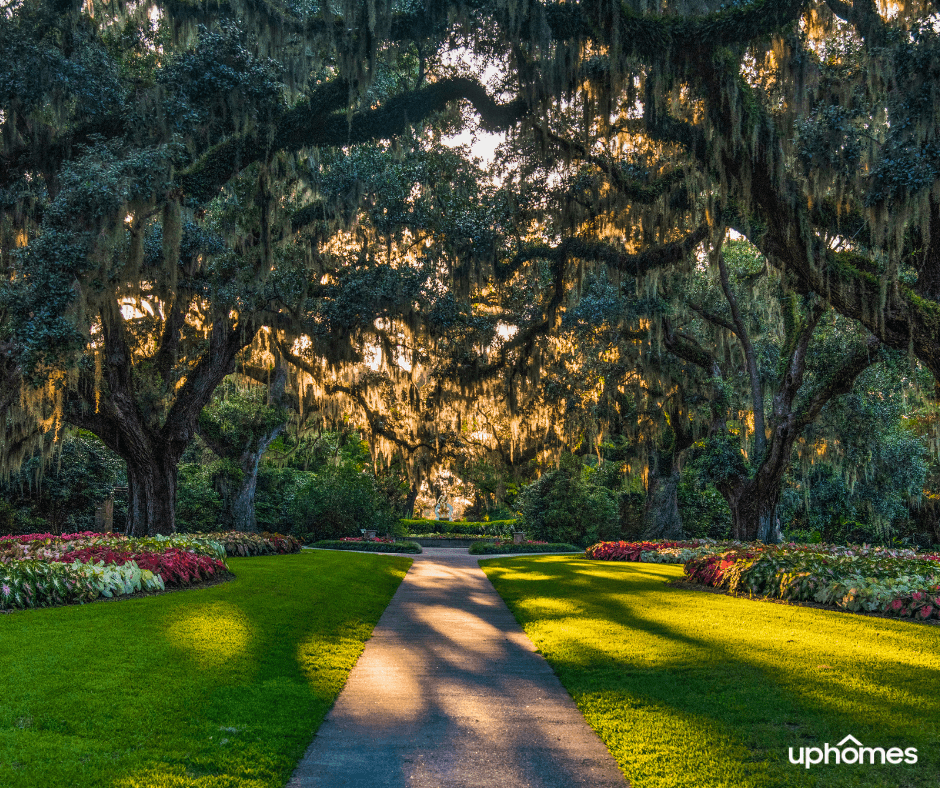 Hilton Head Island
OK, we are heading back to the beach with number six on our list: Hilton Head Island. Best known for its stunning beaches and world-class golf, it's clear why this town landed a top spot. But we should be upfront about the cost of living — it's not only one of the most expensive places to live in the state, but real estate ranks as one of the most expensive in the country. Hilton Head shows up on a lot of lists for the best places to live in South Carolina.
That being said, it's a highly popular tourist destination and probably the vacation spot of your dreams. Situated perfectly between Savannah, Georgia, and Charleston, this sweet beach town combines the tranquility of living at the beach with direct access to lively cities, shopping, and nightlife.
Fort Mill
The next city on our list is often associated with Charlotte, NC. Fort Mill is essentially a suburb of North Carolina's biggest city — but it's so much more than that. There's a reason it's making our list of best places to live in South Carolina. The town's population sits around 13,000 and it's complete with shopping, dining, and entertainment options sure to please. Plus, the town has a historic district that's full of charm and miles of hiking and biking trails along the Anne Springs Close Greenway to explore. And high-quality golf isn't exclusive to Hilton Head Island, and Fort Mill has several courses to play.
If you package up everything this town has to offer, it's clear why Fort Mill is number five on our list. For families looking to relocate, rest assured knowing that your kids would be attending one of the best public school systems in the state (and Fort Mill High is the 9th best overall).
Isle of Palms
The next coastal offering on this list is a favorite among Palmetto state residents and visitors alike. Isle of Palms is lined with over seven miles of sandy shorelines, beachfront bars, and quick access to downtown Charleston. It's a great place for both retirees and families, and young professionals who crave a small beach town vibe. Definitely one of the best places to live in South Carolina.
With direct access to the beach and even more world-class golf, you can expect to pay on the higher end of the scale for a house on the Isle of Palms. But, there's no doubt that you get what you pay for —this beach town is a highly desirable location for vacation homes and year-round living. And the proximity to Charleston means that you'll never feel stranded on an island, but rather at peace living on vacation time.
Plus, if you have kids, they'd be included in the Charleston County School District (a.k.a the second-best district in the state). With access to great schools and amazing beaches, the Isle of Palms should be on your list too.
Greenville
Again, it's not all about the beaches in South Carolina. In fact, residents of the upstate city of Greenville are so enthusiastic about living there that some even find it annoyingly charming. This city is nestled perfectly in the northern region, just an hour from the Blue Ridge Mountains and a reasonable drive to the coast. But that's not even the best part, housing costs in Greenville are 22% lower than the national average — a great selling point in your decision to relocate to the area.
This town is built on its community and there's never a shortage of activities for the family. Falls Park consistently tops the list of residents' and non-residents' favorite sights to see. It's natural that this park, which features towering waterfalls and a suspension bridge, is the hub for events and entertainment all year round. If you're wanting to join a community full of town-obsessed people, then Greenville is the place for you.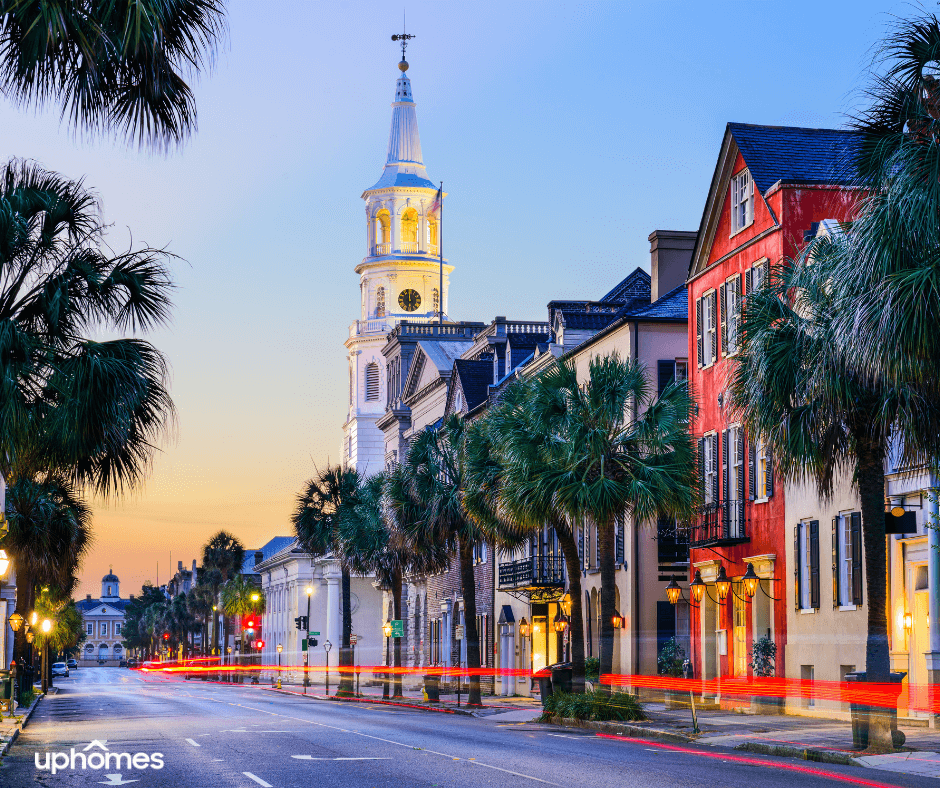 Charleston
We've name-dropped the next city on our list several times already, but Charleston definitely deserves its own spotlight on our list of the best places to live in SC. This city is the largest in the state, surpassing Columbia after a few years of steady growth and growing popularity as a destination for young professionals, families, and retirees. This city is special — it's unbelievably charming and lively and modern and tranquil — it's a perfect balance of the best qualities of a city and a coastal town. You can stroll down cobblestone streets, shop around the open-air market, soak up the historical sites, and indulge in some of the state's best culinary dishes.
It's unlikely that you'll ever grow weary of the city's charm, but Charleston's only 2-hour drive to both other cities like Myrtle Beach and Savannah, and spitting distance from the miles and miles of South Carolina's best beaches.
Charleston County's school district is one of the best in the state, which makes it a really attractive option for young families who aren't quite ready to settle down in the suburbs. And if you're on the job hunt, feel good knowing that this city's economy is growing rapidly and has a job-friendly market.
The list of things to do in Charleston is never-ending, but the best part about living in (and visiting) Charleston is the people. You'll feel right at home if you end up calling Chucktown your home.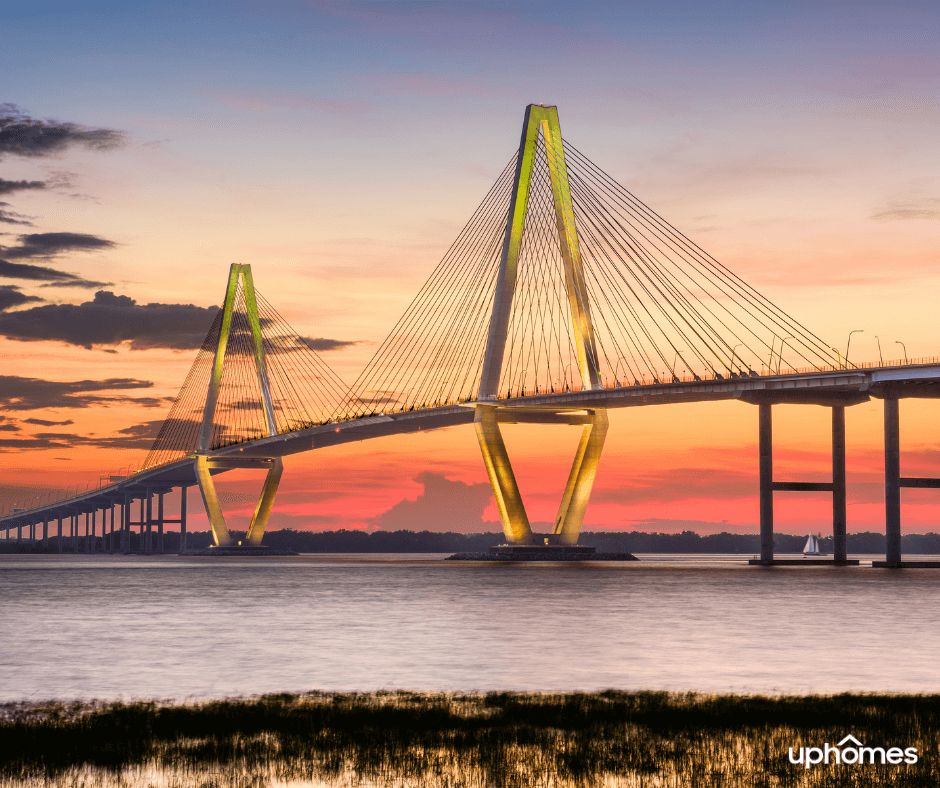 Mount Pleasant
To complete our list of the best places to live in South Carolina, we have to talk about what life is like in Mount Pleasant. Mount Pleasant is in the greater metropolitan of Charleston and is the number one place to live in the area, according to Niche.com. What makes it so great? Well, there's no one right answer to that question — it's a combination of the best qualities we've listed above.
Mount Pleasant is the best fit for young professionals and families. To start with, public schools are among the best in the state and there are several options to choose from. The job market is strong in the area and it's also an easy commute into the city. When you're not on the clock, you can unwind on the beaches of Sullivan's Island (only a short drive away). You'll find everything you need in this town, with plenty of grocery options, restaurants, and shopping centers to visit.
Plus, the town is young, with recent grads and 20-somethings making up most of the population. That translates nicely into the nightlife scene of this coastal town and the community vibes are alive and well.
Final thoughts on the Best Places to Live in South Carolina
No matter where you choose to live in South Carolina, there's no doubt that you'll be surrounded by friendly faces, southern charm, and food that's just to die for. Or maybe you want to head a little further North and check out the best places to live in North Carolina. If you're ready to begin your house-hunting journey connect with us and we can help answer any questions you may have!
#blog-moving-sc-cta#

Find your new home
Search real estate and homes for sale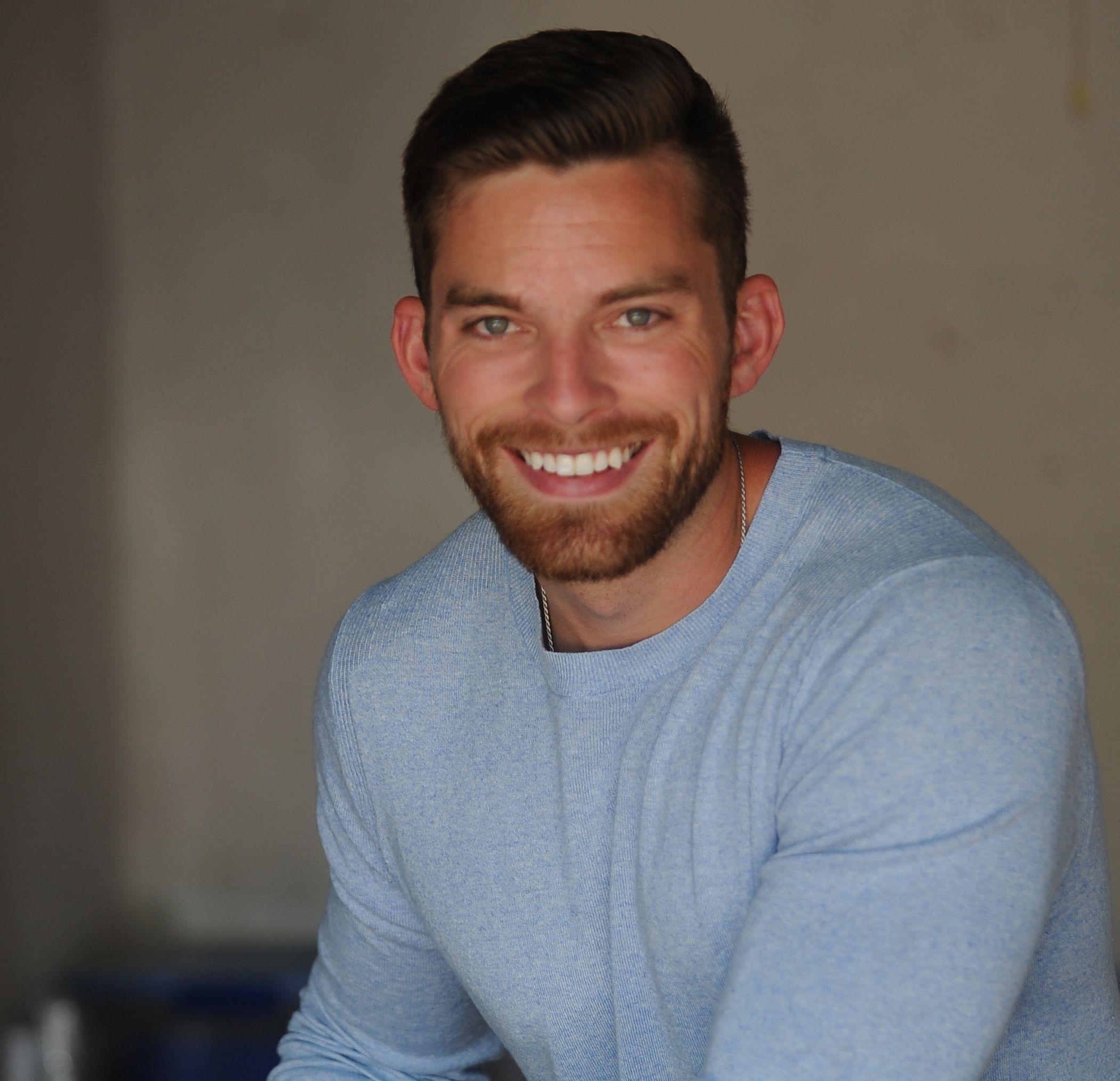 Ryan Fitzgerald
Hi there! My name is Ryan Fitzgerald, and I am a REALTOR®. My goal is to help you learn more about real estate through our Real Estate Blog! Hopefully, you enjoyed the above blog post and it found a way to provide help or value to you. When you're ready to buy or sell a home of your own let us know here. Please feel free to join the conversation by dropping us a comment below.