11 Things to Know BEFORE Moving to Savannah GA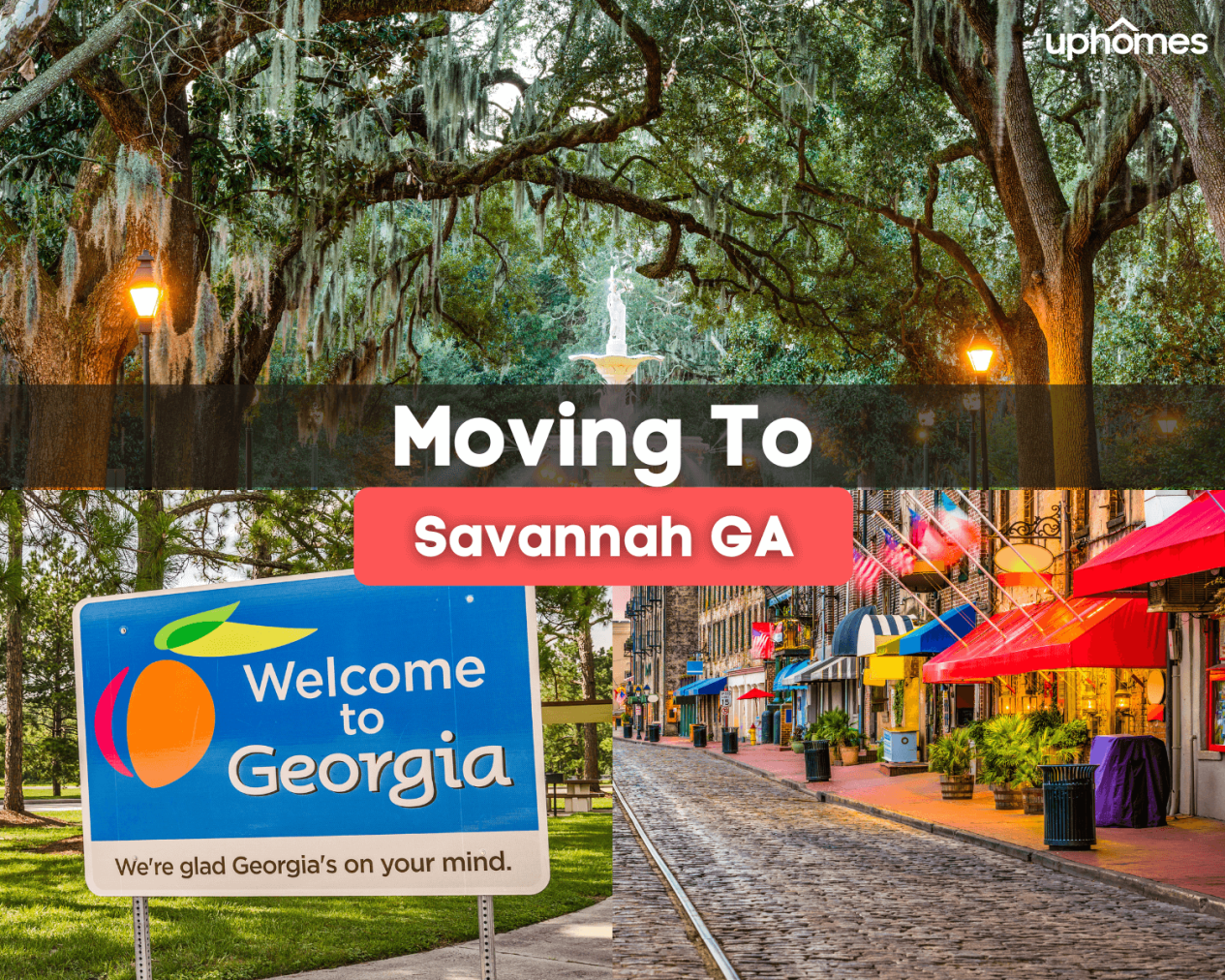 Living in Savannah GA
Are you thinking about moving to Savannah, GA? We have you covered. Here is what life is like living in Savannah!

All About Savannah
Charming. Enchanting. Friendly. When it comes to Southern hospitality, Savannah can't be beaten.
It's no surprise that residents and visitors consistently rank this Georgia city among the world's friendliest. Here, you'll find a unique fusion of old-style charm and new-school style, thanks to a rich history, beautiful architecture, stunning green spaces, and vibrant cultural life.
Savannah's municipal past stretches back to 1733, when a ship full of English colonists arrived on a cold February day and decided to stay. They named their settlement— the 13th American colony — Georgia, after Britain's King George II. Early residents lived alongside the indigenous Yamacraw peoples, and the new community began to grow.
Over the ensuing decades, Savannah played critical roles in the American Revolution, the Civil War, and the Reconstruction era. Along the way, the city survived sieges and battles: sea blockades and economic hardship. Well-preserved buildings and homes from these bygone eras still line Savannah's streets.
Savannah may be best known for its stately old homes. In the mid-20th century, the city's Historic District was named a National Historic Landmark, one of the largest in the U.S.
It's easy to see why more than 50 million people visit Savannah each year, making it a popular tourist destination. If you're considering relocating to Savannah, here's what you should know about living here.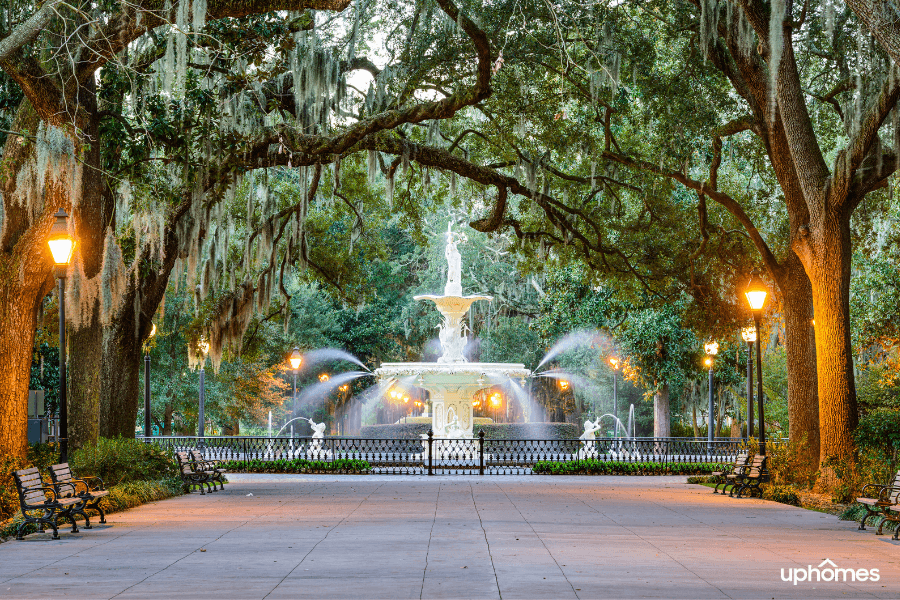 What is it Like Living in Savannah?
Savannah is a great place to visit, but it's an even better place to live. More than 145,000 people call Savannah home. Residents love the city's gorgeous parks, coastal beaches, diverse neighborhoods, growing food scene, and fantastic culture.
Ever dreamed of sitting on your porch on a summer evening, watching the fireflies while sipping a drink? That's Savannah. Maybe you'd prefer a day filled with shopping at independent boutiques, browsing local artwork, and dining on fresh coastal cuisine. That's Savannah, too. Or perhaps your ideal day involves water sports at the beach, jogging on cobblestone streets, or kayaking through a salt marsh. You can do that here, as well.
As Georgia's first planned city, you'll notice plenty of room to spread out here. Though Savannah itself is of modest size, it's highly walkable and known as a bike- and pedestrian-friendly city.
If you're considering moving to Savannah, know that each different neighborhood has its unique style and feel. From families to empty nesters to young professionals, you'll find many housing options in Savannah.
Best of all, despite its appeal, the cost of living in Savannah is still relatively low. The city is often included on "best places to retire" lists. Property tax rates remain low, as do the cost of basic expenses.
While healthy, the real estate market remains affordable. Overall, you'll enjoy all the amenities a big city offers, but with a slower, more relaxed lifestyle.
What are the Best Places to Live in Savannah?
In 1733, founder James Oglethorpe divided Savannah into 24 squares, each with its own central green space surrounded by homes. Today, 22 squares remain. Of course, there are now many more neighborhoods than the original city planner designed, but the city retains its organized character and is easy to get around. Savannah made our list of the best places to live in Georgia!
The good news is that you're sure to find the ideal home in one of Savannah's many communities, no matter what you seek. Here are a few of our favorite places to live in Savannah.
Downtown and midtown Savannah offer dining, shopping, entertainment, and nightlife for those who want to live near the action. You'll also find many historic buildings in this part of town. The Thomas/Starland Square Streetcar District offers landmark houses and new construction. Its proximity to the Savannah College of Art and Design makes it a popular choice for creative types and young professionals.
To the north, the Victorian District contains historic homes. If you're a DIY-er or into a renovation, this is an excellent part of town to find your next project. Expect your neighbors to be a mix of young couples and families, retirees, and those with interest in preservation.
Just south of downtown lies the Ardsley Park neighborhood. Streets lined with bungalows, Craftsman homes, and the occasional grand mansion makes this a popular area for families. Next door, the Chatham Crescent neighborhood offers quiet streets and Beaux-Arts architecture.
The upscale Isle of Hope neighborhood offers historic estates mixed with affordable homes. Located on a narrow island, this highly desirable community offers waterfront living just a few minutes from downtown.
If you seek a natural getaway, look for homes on Dutch Island. Dutch Island sits between three rivers. This peaceful neighborhood offers a way to escape city life while remaining just a quick drive away from amenities.
What to Know About Moving to Savannah
Savannah has much to offer its residents. It's one of the most walkable cities in the U.S., thanks to a design that groups attractions in different areas of the city.
Savannah is an excellent choice if you've ever dreamed of swapping your car for a bike (or would like the option to keep the vehicle in the garage more often). The League of American Bicyclists rates it as a bike-friendly community; there's also a fantastic bicycle loan program.
Savannah is consistently on lists of "most affordable cities" and "great places to retire" due mainly to a healthy economy and relatively low cost of living.
Georgia's first city offers a mild climate, too. It's warm almost year-round, thanks to a coastal environment. Winters don't get too cold, and summers are generally pleasant. Of course, there are a couple of hot, humid months in the summer. However, Savannah's proximity to the beach makes for a great excuse to relax on the sand or take a dip on a hot day.
Perhaps the best thing about Savannah is simply that there's so much to see and do. Whether you're a history buff, an outdoor enthusiast, a foodie, a creative type, raising a family, or some combo, you'll find what you seek in Savannah.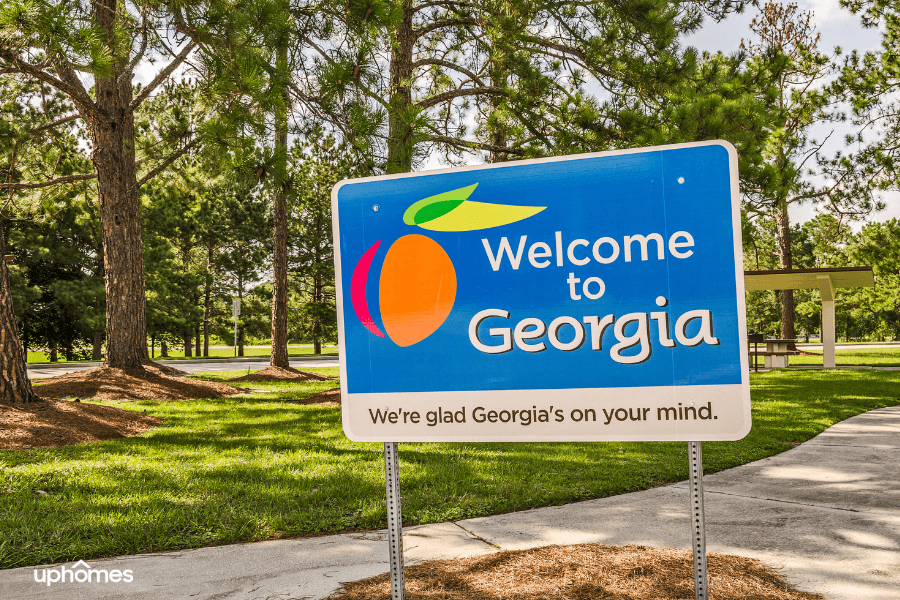 Cost of Living in Savannah
Many people consider relocating to Savannah thanks to the city's relatively low cost of living. Recent statistics indicate that the average cost of living is 6.4 percent less than the national average.
As for the housing market, the median selling price of a Savannah single-family home as of early 2021 is $252,500. That's about the same price one year earlier and lower than the national median sales price.
Currently, Savannah is experiencing a trend toward a seller's market. That means there's more demand for houses than there is available inventory.
Housing costs remain relatively low in Savannah compared to the rest of the country. In 2019, average Savannah housing costs were $203,442, compared to the national average housing costs of $232,933.
The high prices are great news for those who wish to sell their home in Savannah. It may take a bit longer for those who want to relocate to Savannah to find the right home. However, Savannah has plenty of affordable options across price ranges.
Raising a Family in Savannah
Are you considering moving to Savannah but wondering what it's like to raise a family there? Savannah is a great place to live with kids! The city is chock-full of family-friendly attractions and activities.
Kids can play in Savannah's many parks and green spaces. Of course, the 22 squares each have their unique center of green. But there are other parks in the city, too, such as Forsyth Park. This park offers 10 acres of playgrounds, sports fields, a fountain, and a clamshell theater.
Riverfront Morell Park has several statues and an Olympic cauldron from the 1996 games. Mother Matilda Beasley Park offers soccer and baseball fields and an off-leash space for your four-legged family members.
If your family wants to venture further afield, grab your hiking shoes and head to the Savannah National Wildlife Refuge. This reserve has more than 31,000 acres of marshlands, rivers, creeks, and hardwood forests to explore.
Located on a former cotton plantation is The Oatland Island Wildlife Center. Today, it's home to a center for animal care, rehabilitation, and conservation.
On a sunny day, head to the beach! On Tybee Island, you can relax on the white sands or rent a bicycle and explore. Visit South Pier for a day packed with fun, like fishing from the pier and eating refreshing snow cones.
Museums in Savannah are perfect for a bit of indoor fun. At Tricentennial Park, you'll find three museums in one place: the Savannah Children's Museum, Georgia State Railroad Museum, and Savannah History Museum.
Other fun (and educational) attractions bring the region's past to life. These include the Massie Heritage Center, the oldest school in the area, and houses period clothing, artifacts, and architectural exhibitions.
The Ships of the Sea Maritime Museum boasts nine galleries filled with intricate model ships. Another don't miss the Ralph Mark Gilbert Civil Rights Museum, which honors the African-American community's long struggle to gain civil rights.
Savannah-Chatham County School District is the central school district in Savannah. The community has several high-performing schools, such as the Stem Academy at Bartlett and the Savannah Arts Academy. There are also several private and charter schools in town.
As for post-secondary education, the Savannah College of Art and Design is headquartered here in Savannah, as well as Savannah State University and South University, Savannah.
Weather in Savannah
Due to its location on the Atlantic coast, Savannah has warm, humid summers and mild winters. In spring and fall, temperatures can fluctuate quite a day.
In summer, highs reach about 91 degrees F. In the winter, lows hit around 39. It rarely snows in Savannah, and the average rainfall is less than the U.S. average.
Economy and Job Market in Savannah
Savannah residents enjoy a lower unemployment rate than the U.S. as a whole. Significant employers include the Gulfstream Aerospace Corporation, Memorial Health University Medical Center, Savannah-Chatham County Public School System, and St. Joseph's/Candler medical system.
The average annual salary in Savannah is $44,480. That's lower than the U.S. average yearly salary of $51,960. However, Savannah does have a healthier job market than many other metro areas of similar size in the U.S., and the cost of living is lower.
Restaurants in Savannah
Savannah is packed with restaurants of all types and styles, from four-star dining to casual, hole-in-the-wall eateries. It's the perfect place to indulge in classic Southern dishes like fried green tomatoes, shrimp and grits, pralines, and (of course) those famous fresh Georgia peaches.
Don't-missSavannah culinary experiences include Treylor Park, known for cooking Southern classics with a modern twist, and Ordinary Pub for upscale pub food and an endless mimosa brunch.
Indulge your taste buds in front of the fireplace at The Olde Pink House, known for its upscale seafood. For that authentic Southern flavor, visit Mrs. Wilkes' Dining Room for fried chicken, okra, cornbread, and sweet tea.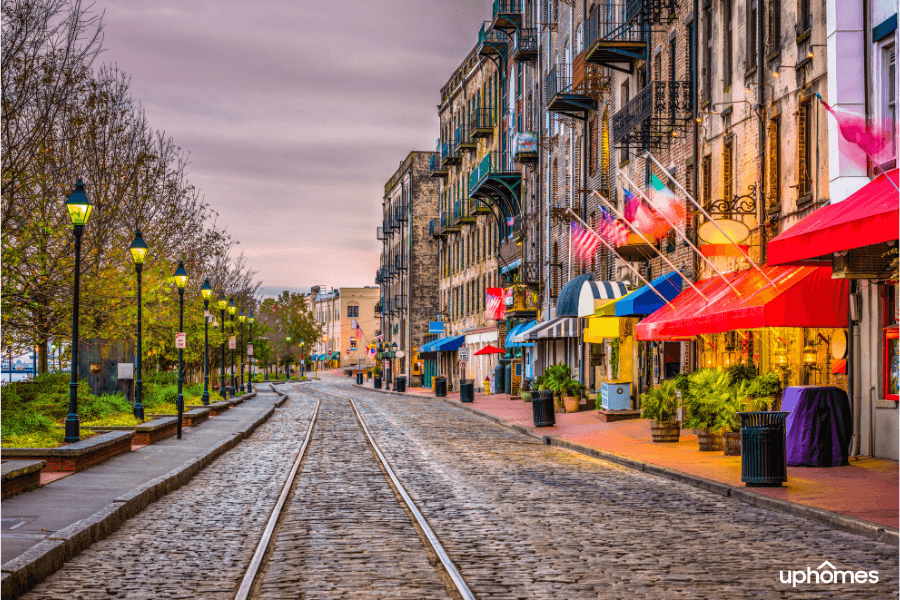 Things to Do in Savannah
There's so much to see and do in Savannah. Start with a tour of the city's historic squares, beautifully restored 18th-century homes, lush gardens, and trees hanging with Spanish moss.
See the town differently with a cruise on the Savannah Riverboat. Choose a moonlight ride or a tasty midday brunch.
Soak in the culture at one of the city's art museums. The Jepson Center houses modern artworks, while the Telfair Academy is home to American and European works from the 19th and 20th centuries. Owens-Thomas House features displays of home decor and art from the 18th and 19th centuries.
For more local art, stroll through the City Market's many galleries. Downtown's Design District offers even more creativity, with artisan shops and studios.
Landmarks in Savannah
Savannah is full of beautiful historic homes and buildings that reflect a range of architectural styles. One landmark that genuinely stands out is Mickve Israel, the only synagogue in North America constructed in the Gothic style—built by Sephardic Jewish immigrants in 1735. The Cathedral Basilica of St. John the Baptist is another beautiful example of Gothic architecture.
For Southern Gothic style, Bonaventure Cemetery is unparalleled. A backdrop for the movie "Midnight in the Garden of Good and Evil," this stunning cemetery dates to the 18th century.
Girl Scouts will appreciate a visit to the Juliette Gordon Low Birthplace. The Scouts founder grew up in this house, now lovingly restored.
The First African Baptist Church is the oldest Black church in the U.S. It was constructed in 1777 and was an essential stop on the Underground Railroad.
Moving to Savannah - Is Living Here for you?
Savannah is a beautiful place to live for anyone! If you're thinking about making a move, connect with one of our local real estate experts who can help you with questions and more local information! A few hours to Atlanta and Athens, there's a lot to like about living on Georgia's coastline in Savannah!

Find your new home
Search real estate and homes for sale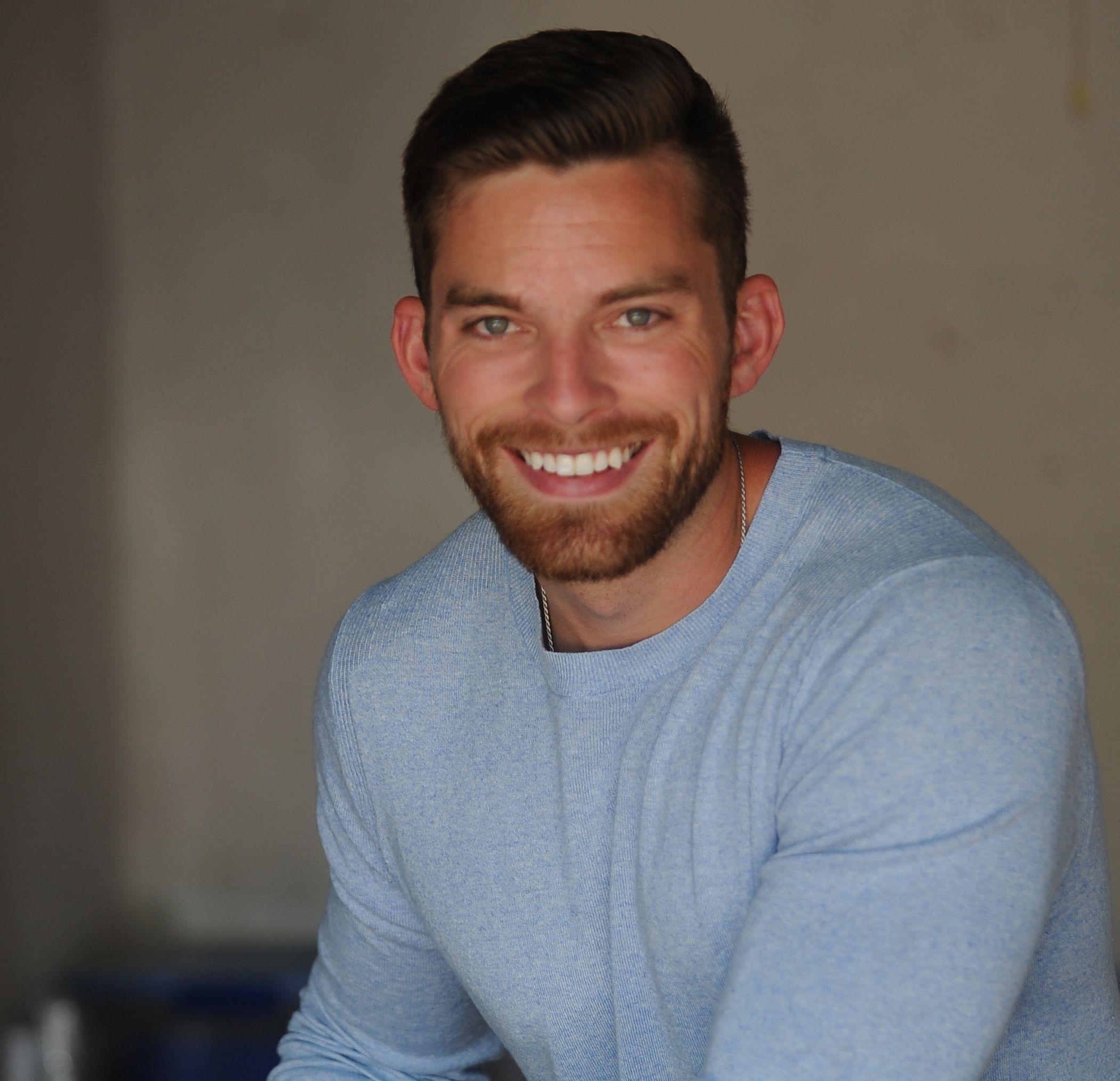 Ryan Fitzgerald
Hi there! My name is Ryan Fitzgerald, and I am a REALTOR®. My goal is to help you learn more about real estate through our Real Estate Blog! Hopefully, you enjoyed the above blog post and it found a way to provide help or value to you. When you're ready to buy or sell a home of your own let us know here. Please feel free to join the conversation by dropping us a comment below.