12 Best Places to Live in Georgia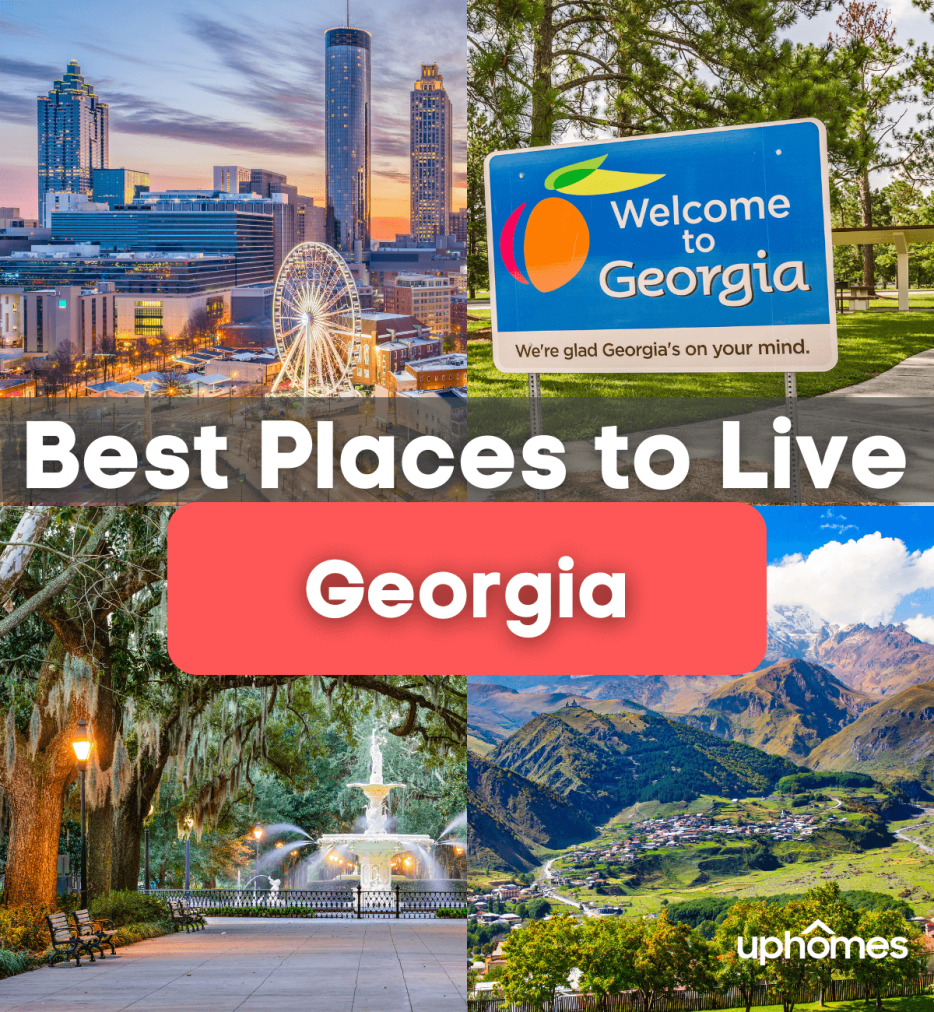 12 Best Places to Live in Georgia
What are the best places to live in Georgia? We have you covered with the 12 Top Places to Live!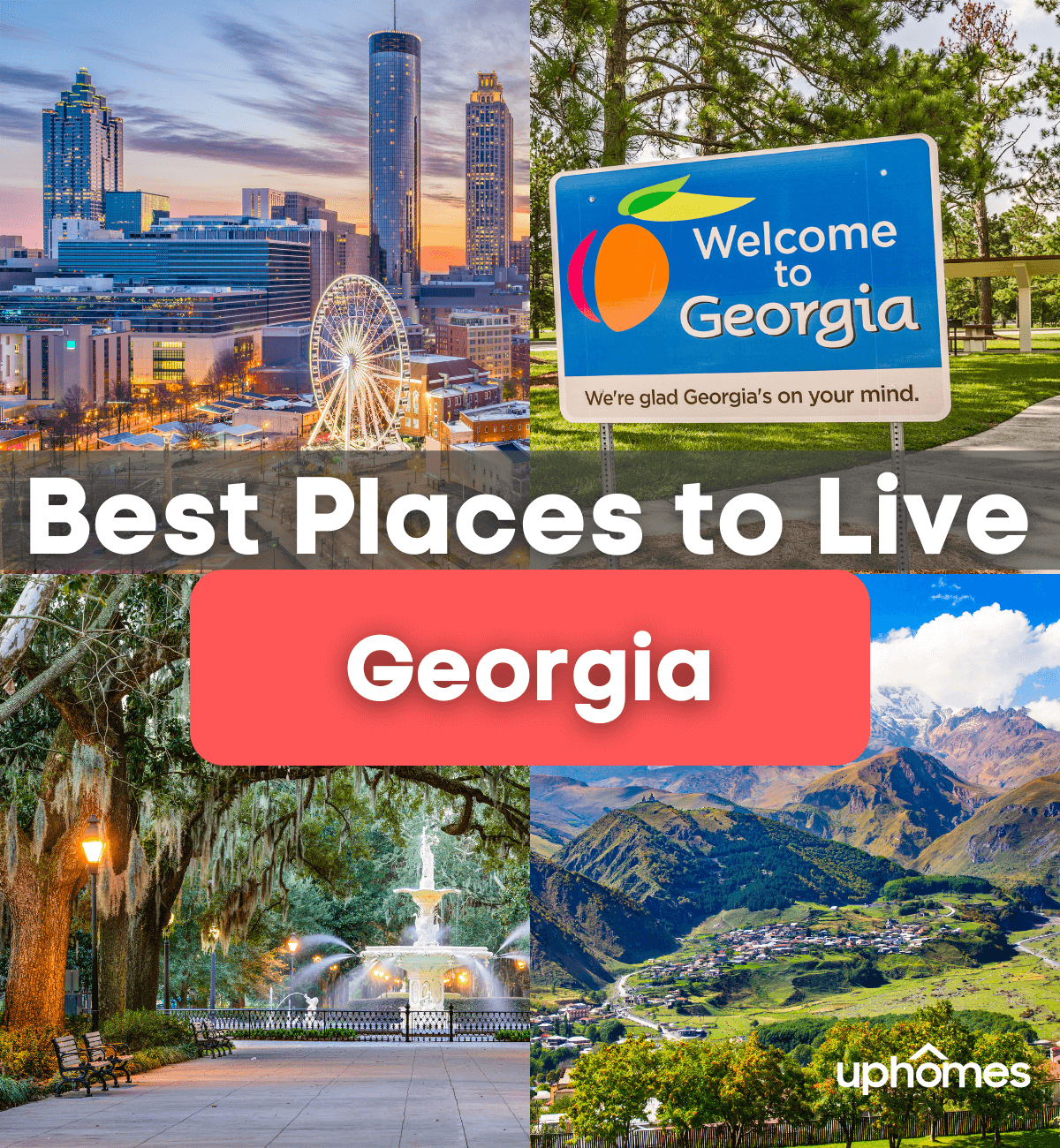 So you're considering a move to Georgia and you don't know exactly where to start your search … Well, you are in the right place! We'll cover all things Georgia in our list of the 12 best places to call home in this Empire State of the South.
Best known as "The Peach State," Georgia's claims to fame range from peanuts, pecans, and Coca-Cola to hip-hop, sports, and recreation — and yes, of course, peaches. The capital city of Atlanta is the biggest in the state and the most diverse in terms of population. If you're into sports, you can catch a Falcons, Braves, Dream, or Hawks game in the city. And if music, arts, and cultural events are more up your alley, you won't be short of entertaining options.
Atlanta isn't the only place you'll find the activity, in fact, you might opt for a less-populated city, small town, or charming suburb. Whichever stage of life you're in, Georgia has something for you.
If you're an outdoor enthusiast, good news: There are plenty of lakes, rivers, and major hiking trails to explore (hint: the Appalachian Trail actually begins in Georgia). And if you love college sports you will fit right into Georgia's pride and joy — but you have to cheer for the Dawgs.
We're here to give an overview of what we think are the best places to live in Georgia based on a variety of factors including the cost of living, activities, school districts, and neighborliness. And while we don't cover Atlanta as a whole in this list, we do have some neighborhoods of the city listed below.
Let's Dive into the Best Places to Live in Georgia: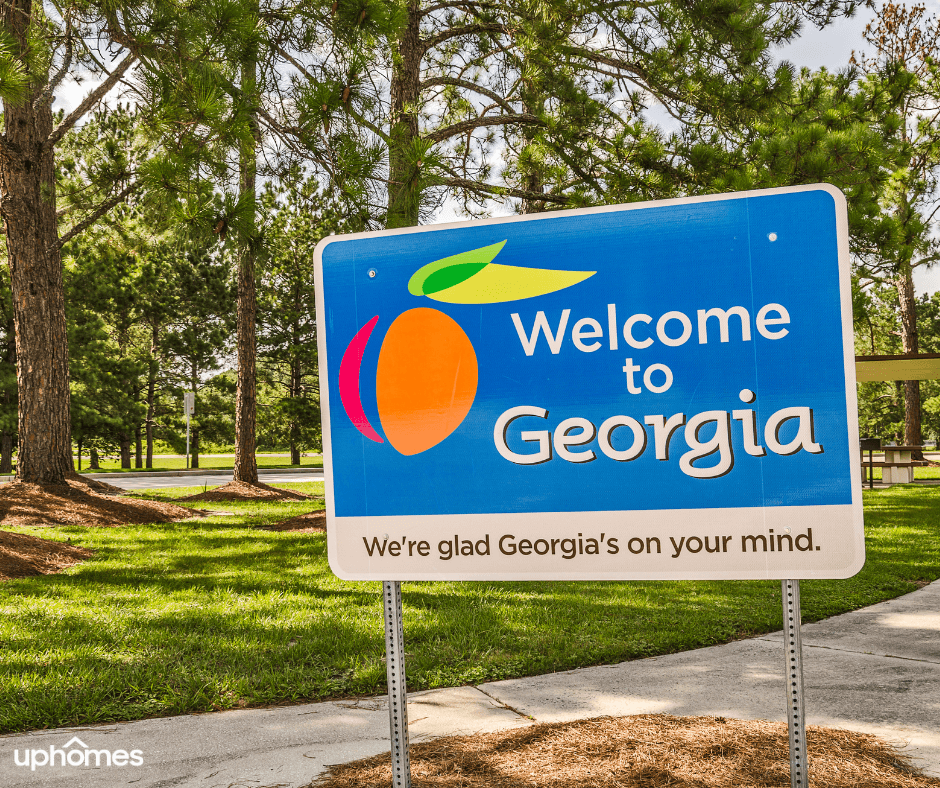 Woodstock
To kick off our list of incredible places to live in Georgia, we'll start with Woodstock. This small city is located 30 miles northwest of Atlanta and boasts a population of around 33,000. Although small in comparison to the big city, Woodstock packs a serious punch. The city has the best of both worlds with its warm and comforting small-town vibe paired with its city amenities, restaurants, and shopping. Woodstock is known for its charming, lively, and artsy downtown. It's a great place to live in the state of Georgia!
And it gets better, the city is positioned as a more affordable suburb outside of Atlanta and it's home to several great neighborhoods, gated communities, and starter homes. The schools in Woodstock are among some of the best in the state, consistently performing better than average. Woodstock is a great place to raise a family, settle down with your family, or retire.
Peachtree City
Peachtree City is one of the top locales of the greater metropolitan area of Atlanta. The city is self-described as a city built to provide the best parts of living in Atlanta without the pressures of actually living there — it can be comfortable, quiet, vibrant, and lively — a perfect place to be a young professional or raise a family. What's the city known for? Its nationally-renowned education system and its multi-use path system. Making it one of the best places to live in Georgia.
So, the path system is pretty awesome — it's a network of more than 100 miles of paths connecting neighborhoods, shopping centers, offices, schools, and lakes throughout the city. And the school system is even better: Peachtree City falls in the Fayette County School System, which is consistently ranked among the top in the state. If you are looking for a suburban feel, a slower pace of life, and access to the capital, Peachtree City is a great place to live for you!
Canton
The city of Canton consistently ranks highly on lists of the best places to live in Georgia and we don't disagree. Canton offers a quintessentially-southern, charming downtown that residents adore and visitors enjoy. The town prides itself on its historical preservation, but it doesn't shy away from building for the future. The town's restoration projects have been a focal point for the town's economic growth plans and it shows.
This lively town offers tons to do for all ages. From farmer's markets to art and wine walks, you're sure to feel like a major part of the community quickly after moving there. And 22,000 people proudly call Canton home — it's a very friendly area with great schools, recreational activities, and plenty of good eats to choose from. Canton's another fabulous option to be your Georgia home.
Alpharetta
Alpharetta is not only one of the best places to live in Georgia but in the entire country. And don't just take our word for it — Money Magazine ranked Alpharetta as a top 25 place to live in the US. This city is only a 30-minute drive from Atlanta, making it a great option for those searching for easy access to the big city without sacrificing too much on their wishlists. Alpharetta's median household income is on the higher end of the spectrum in Georgia, sitting around $113,000.
Coined by some as the "New Buckhead," Alpharetta is earning a reputation for its fine dining, prestigious neighborhoods, more affluent areas, and booming business scene. It's a thriving destination for those ready to join in on a lively community that's always celebrating. Even though it is modern and booming, Alpharetta still holds onto the southern charm that comes with being a Georgian city.
Athens
Best known as the city of the Greeks … we mean … the Dawgs, Athens, Georgia is next up on our list. Athens is home to the main campus of The University of Georgia (a.k.a the state's pride and joy when it comes to college football) and tons of activity year-round. Even if you're not a Dawgs fan Athens is still one of the best places to live in Georgia!
While this town, in particular, bleeds black and red, it's not the only thing this town has to offer. In fact, Athens is known for its hip and trendy vibes, restored downtown, arts and culture offerings, public parks, and food scene — the college town vibes are an added bonus if you're looking for a strong sense of community with your new Georgian home!
You can really explore the city's vast offerings by paying a visit to the State Botanical Garden, the Georgia Museum of Art, craft breweries, or the Bear Hollow Zoo. Or, you join in on the fun and lively Athens Wine Weekend or run in the AthHalf Marathon (we know which we'd choose, and it has little to do with running).
The cost of living in Athens is 6% lower than the national average and equal to the Georgia average. And the average housing costs are 17% lower than the national average, making it an attractive option for those seeking to maximize their home value.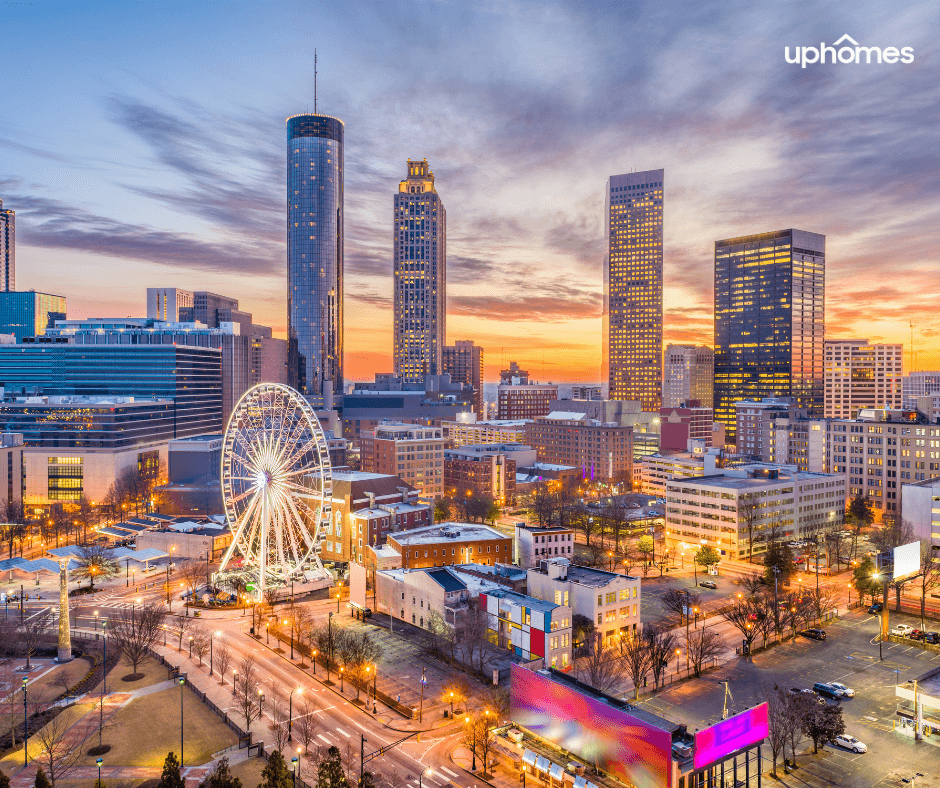 Inman Park
Next up we have Inman Park, which is Atlanta's first planned residential suburb and home to the Inman Park Festival (one of the city's best annual celebrations). Inman Park is a great place to live if you're looking to be very close to the city with direct access to the hustle and bustle via the MARTA line. The suburban locale isn't all residential — Inman Park offers a thriving shopping and dining district spanning all businesses from bakeries and yoga studios to office spaces and restaurants.
Inman Park is popular among young professionals and according to Thrillist, it's a place where you "claim the city and act as if you were actually from Atlanta ... like everybody else that's not really from Atlanta." That's because you'll feel like a local living in Inman Park. It has that urban-community feel that many of us crave. Inman Park is ideal for those searching for a lively ATL experience and one of the best places to live in Georgia!
Brookhaven
Next up we have Brookhaven, another one of ATL's metro-area suburbs. Brookhaven has earned a positive reputation among families due to its large homes, safe neighborhoods, and great schools. Naturally, it is one of the more sought-after addresses in the Atlanta area. Brookhaven is an affluent area with a population of around 58,000 and growing. Brookhaven is situated in close proximity to the city and to the major highways around ATL.
The Town of Brookhaven offers a variety of shopping and dining options fit for people of all ages. And with over a quarter of the residents being young professionals, the town serves the population well with a farmers market, art museum, parks, lakes, and world-class golf. These are some of the reasons Brookhaven is on our list of best places to live in GA!
Brookhaven's residents are proud to call this area home. There's a strong sense of community and residents are generally friendly. Plus, the schools are great too. If you're looking to raise a family in an urban location that's a bit separate from Atlanta, be sure to check out this city.
Decatur
Niche.com ranks the City of Decatur as the best place to live in Georgia and it has carried that title before. From this city's schools to its diverse population, Decatur offers a unique atmosphere fit for young professionals, families, and whomever else gets to call this place home. Even the nightlife in Decatur is worth noting — this city has a high walkability rating and a good variety of entertainment options.
It should almost go without saying, Decatur is a hot ticket area and this city's high rankings are reflected in the average cost of living. The cost of living in Decatur is 34% higher than the Georgian average, 25% higher than the national average, and the housing costs sit 74% higher than the national average. The good news: The Decatur City School District ranks fourth in the state, making it an attractive place to raise a family. Plus, the commute to the big city of Atlanta is easy — this town is only six miles away. Decatur is one of the best places to live in Georgia!
Roswell
If you haven't noticed it yet, the suburbs of Atlanta consistently rank as some of the best places to live in Georgia … and Roswell is no exception. With a population of more than 95,000, this ATL suburb is known for its affluent historic district, family-friendly atmosphere, and open green spaces. The town is charming, tree-lined, full of locally owned businesses and cafes, and a great place to walk a dog. There's not a shortage of hiking and biking trails in the area, thanks to this town's ideal location along the Chattahoochee River.
The schools in Roswell are among the best in the state, with both private and public schools receiving high marks. Roswell's neighborhoods differ from one another, too. If you're looking to purchase a house, you can find anything ranging from modest to luxury. This suburb is a safe place to live and to raise a family, you can't go wrong with Roswell.
Virginia-Highland
Just to cover all the bases, we have one more ATL neighborhood on our list: Virginia-Highland. Sometimes called "VaHi," this area of Atlanta is a popular destination for 20-somethings (and families) due to its high walkability ratings, family-friendly atmosphere, food, and shopping options, and close proximity to Midtown.
Known as an upscale, laid-back neighborhood, Virginia Highland offers a relaxing break from the city pace with access to the outdoors at Orme Park or Virginia Highland Park, and the big city's just a MARTA bus route or rail line away.
VaHi is a very desirable community in the Atlanta area and it's easy to fall in love with living there. The cost of living in Virginia-Highland reflects the number of amenities you'll have access to as it's 49% higher than Georgia's average and 40% more expensive than the US average.
So, if you're seeking out a casual lifestyle in a charming neighborhood, VaHi may be just the place for you.

Savannah
To round out our list of the best places to live in Georgia, we have to talk about the ever-charming, quintessentially southern city of Savannah. Akin to Charleston, South Carolina, Savannah is full of beautiful neighborhoods and stunning architecture. Plus, it's the oldest city in Georgia, officially dating back to 1733.
You can stroll along cobblestone streets and admire the old houses that line the squares or take a relaxing walk on some of the state's best beaches. Tybee Island is only 20 minutes from downtown Savannah, so you really get the best of both worlds by living in a city so close to stunning beaches.
The cost of living in Savannah is 29.2% less than living in the state's capital of Atlanta, with the home cost being the biggest factor. The schools in Savannah are in the Chatham County School District and there are some great options to choose from, but Savannah is best known as a tourist destination and as a great place to retire. There's no doubt that this city is vastly different from Atlanta and surrounding areas, but it's uniquely Georgian and certainly worth considering in your search for a perfect home.
Whether you opt for an ATL-suburban locale, charming college town, or a beautifully historic address, Georgia's real estate has you covered. If you're interested in learning more about the state's best real estate offerings, contact us today.

Find your new home
Search real estate and homes for sale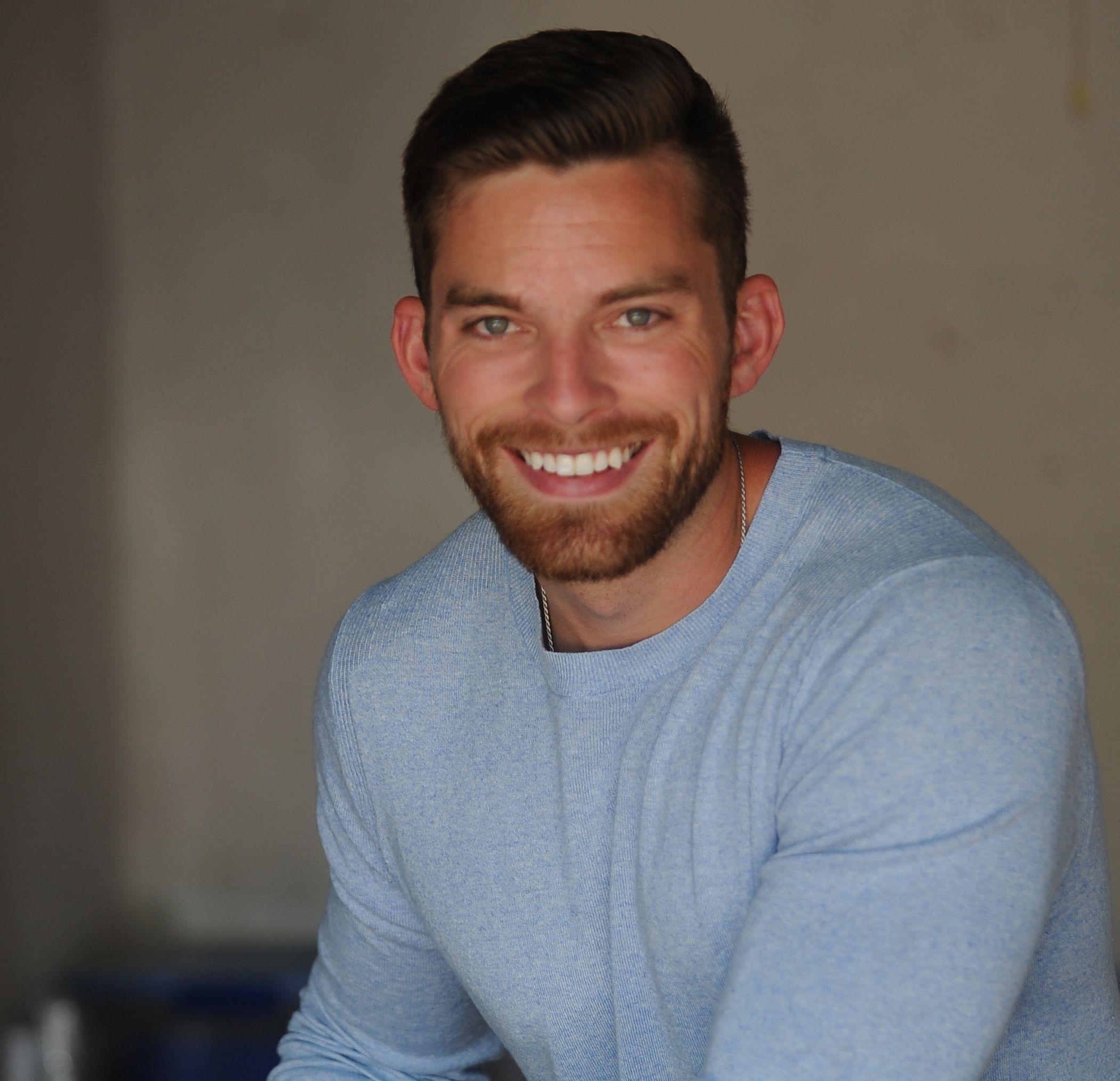 Ryan Fitzgerald
Hi there! My name is Ryan Fitzgerald, and I am a REALTOR®. My goal is to help you learn more about real estate through our Real Estate Blog! Hopefully, you enjoyed the above blog post and it found a way to provide help or value to you. When you're ready to buy or sell a home of your own let us know here. Please feel free to join the conversation by dropping us a comment below.