7 Best Neighborhoods in Lexington, MA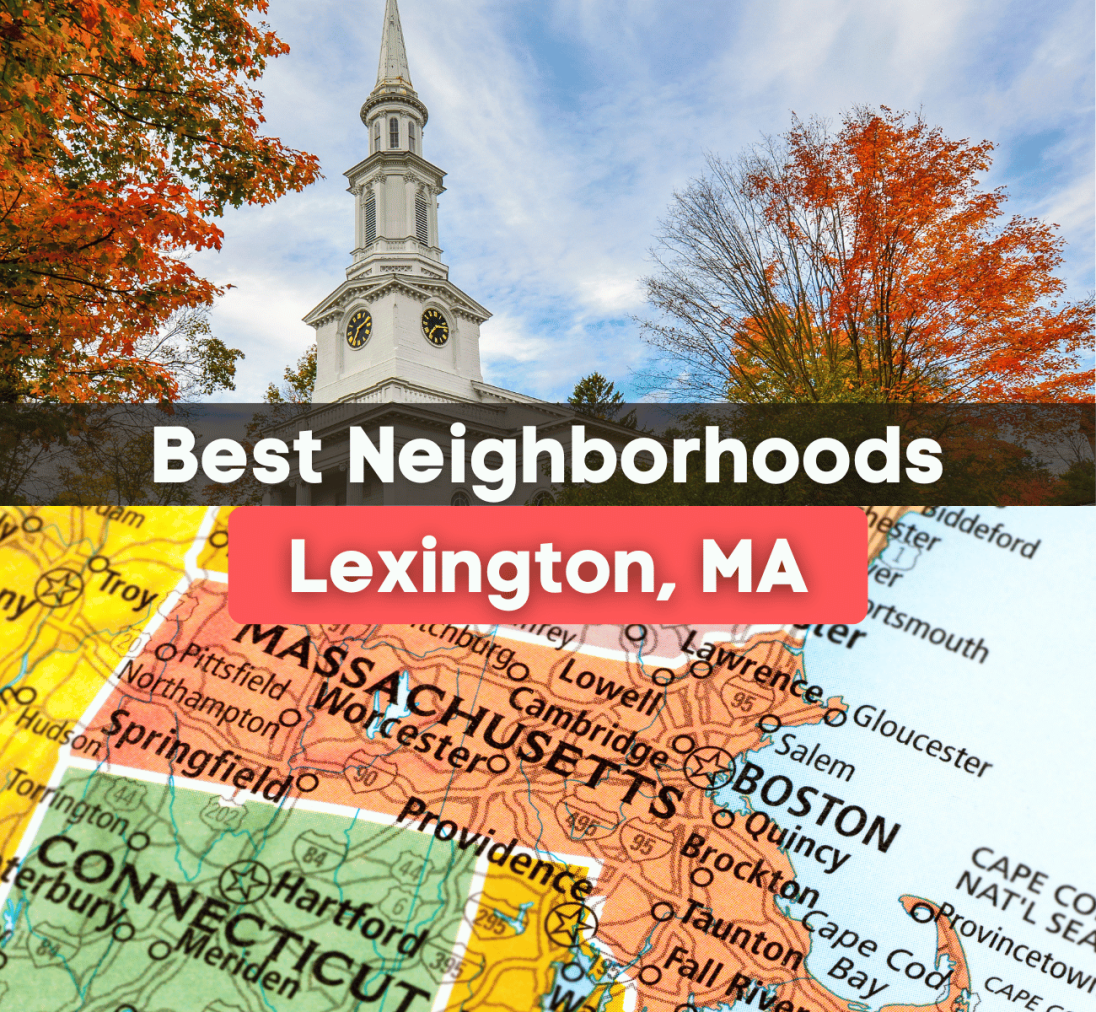 Best Places to Live in Lexington
If you are moving to Lexington, MA, you must consider living in one of these seven great Lexington neighborhoods! 
Found northwest of Boston lies the small suburban town of Lexington. Located only 10 miles from Downtown Boston, residents living in Lexington can travel to and from Boston within a 30-minute drive.
With a growing population of over 33,792 people, Lexington is an excellent place to live. It is making its way up to becoming one of the best places to live in Massachusetts for its welcoming community and variety of sought-after amenities.
Best known as the location where the first shot of the American Revolutionary War was heard in the Battles of Lexington and Concord, Lexington is full of historical significance that can be seen throughout its various historical sites and architecture. Offering its residents a dense suburban feel, many families, young professionals, and retirees are drawn to the area. Lexington is a unique city, home to many excellent restaurants, beautiful parks, and eclectic coffee shops.
If you are moving to Massachusetts and want to call Lexington home, you may wonder where you should live. Full of many friendly neighborhoods and safe areas, Lexington has a mixture of historic single-family homes, modern townhomes, and apartments to choose from when you search.
Though Lexington may be notorious for its competitive housing market and expensive real estate costs, our team is here to point you in the right direction with this Lexington, MA, neighborhood guide. By learning more about some of the best places to live in Lexington, you can easily find a neighborhood that best fits your lifestyle and needs.
That said, check out these seven Best Neighborhoods in Lexington, MA!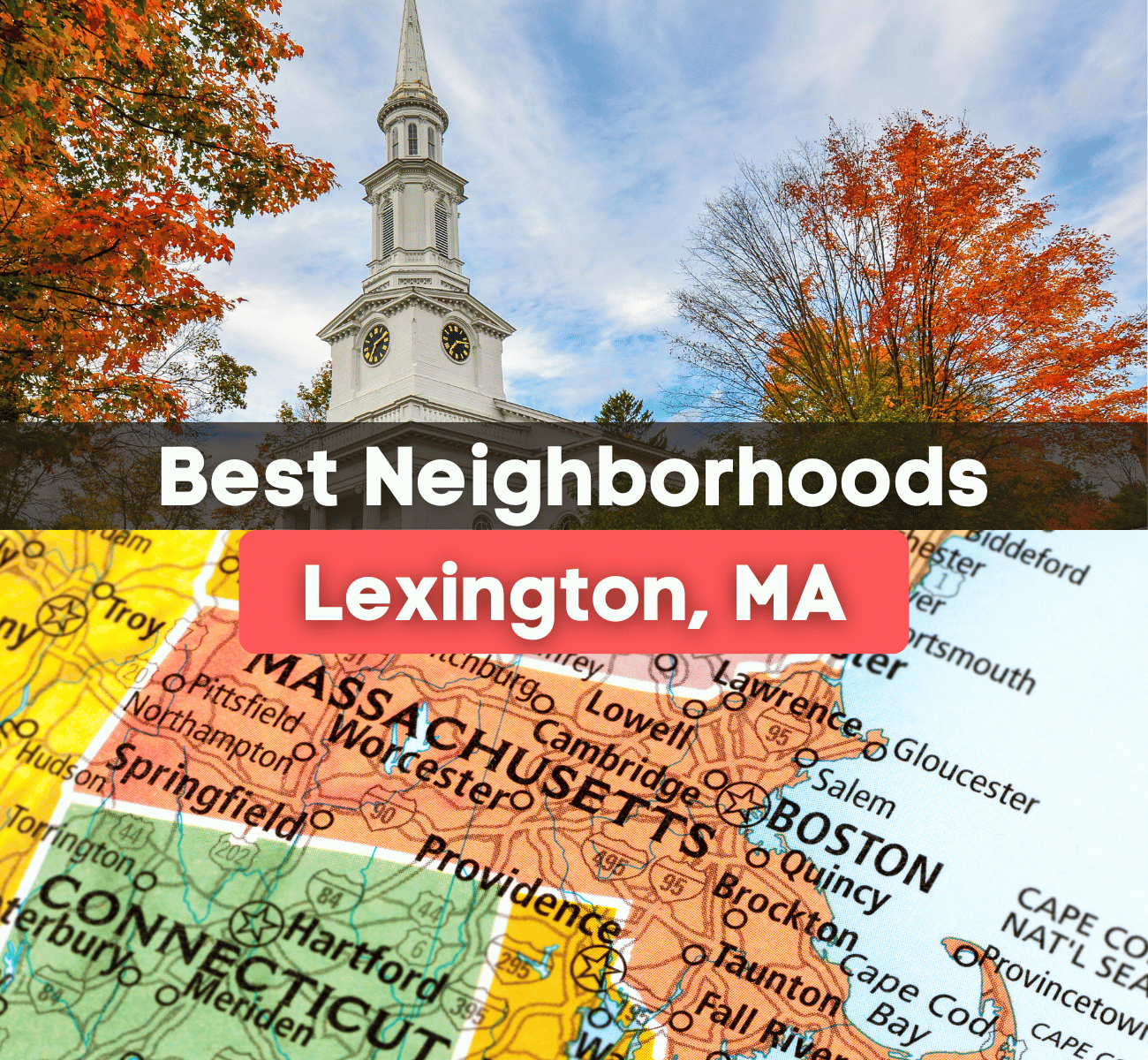 Meriam Hill
If you are moving to Lexington, you should check out the neighborhood of Meriam Hill. Found next to Oakland Street and Meriam Street, this neighborhood is considered one of the most distinctive residential neighborhoods in the area.
Initially developed in the late 19th century, Meriam Hill is a go-to neighborhood for young professionals who commute to and from Boston for work. Home to many affluent families and well-to-do citizens, Meriam Hill, is one of the most desirable places to settle in Lexington.
With many of the homes and buildings in Meriam Hill constructed in the late 1880s and early 1890s, most property types feature Queen Anne, Colonial Revival, Shingle Style, and English Revival architectural styles. Multiple buildings in the area have also been listed on the National Register of Historic Places.
Considered to be one of the most excellent and expensive places to live in Lexington, the current median listing home price ranges between $3 million and $4 million.
Local Favorites:
Royal India Bistro: Dine on traditional Indian cuisine in an intimate setting.
Avenue Deli: Enjoy sandwiches, soups, salads, and other delicious favorites in this tasty deli. Make sure to order the Reuben sandwich.
Via Lago: Featuring indoor and outdoor seating, this lovely restaurant serves fresh food and large portions.
Bertucci's Italian Restaurant: This authentic Italian restaurant is excellent for bringing the whole family together for homemade pasta, pizza, and other classic dishes.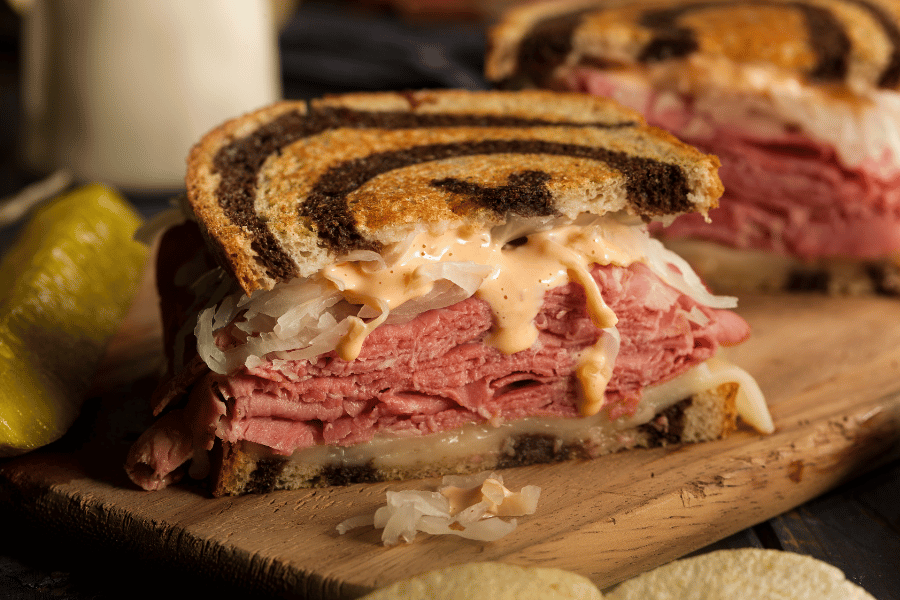 Munroe Hill
With a population of just over 1,000 residents, the neighborhood of Munroe Hill is the perfect place for retirees since the average age of residents is 64 years old.
Initially developed in 1870s, Munroe Hill was recognized as the first large-scale subdivision in Lexington. Once a popular summer retreat for visitors, Munroe Hill is now one of the most sought-after residential neighborhoods in the city.
Made up of primarily single-family homes that are excellent examples of Queen Anne Revival style architecture, Munroe Hil is also now introducing new construction to the area inspired by modern designs and open floor plans.
Considered to be a safe place to live, Munroe Hill is surrounded by top amenities, including highly-rated schools, picturesque parks, and cute local eateries.
Local Favorites:
Love at First Bite Thai Kitchen and Bar: This delicious Thai food is constantly raved about by residents. Make sure to order the basil fried rice and a tofu dish.
Il Casale Lexington: Dine on authentic Italian cuisine in an excellent atmosphere. Make sure to order a craft cocktail or wine with your meal.
Clay Oven: This upscale Indian restaurant has many menu items and vegetarian options.
Mario's Italian Restaurant: The family-run small restaurant serves Italian pasta, pizza, subs, and other classic favorites. All of the food served is of fantastic quality.
Robinson Hill
Home to a population of over 2,111 residents with an average age of 47 years old, the neighborhood of Robinson Hill is one of the best places to live in East Lexington, south of Massachusetts Avenue.
At an elevation of 344 feet, Robinson Hill is a peak in Lexington that features several luxurious homes that vary in size, style, and price. Considered to be one of the more moderately priced neighborhoods in Lexington, the average cost for a home in Robinson Hill ranges from $700,000 to $900,000.
With single-family homes ranging in square footage, some larger homes go up to 4,300 square feet, further impacting prices.
Local Favorites:
Town Meeting Bistro: Specializing in New England cuisine and fine dining, featuring indoor and outdoor seating on a beautiful front porch.
The Hanger: This contemporary restaurant serves excellent quality food for reasonable prices. Make sure to visit for breakfast.
Craft Food Hall Project - Revolution Hall: This restaurant features multiple counter-service food vendors and outdoor tables.
The Inn at Hastings Park: This beautiful four-star inn dates back to the mid-19th century and is just a short walk from the Lexington Battle Green battlefield.
Rice Cube Thai Restaurant: Serving great Thai food with efficient service; make sure to order the mango curry and crazy noodles.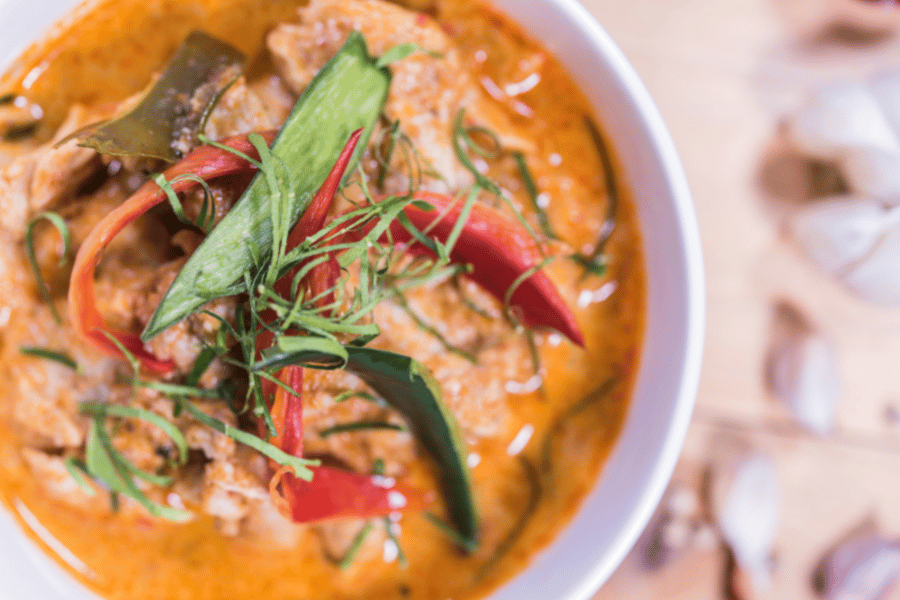 Follen Hill
Located towards East Lexington, the neighborhood of Follen Hill is the third oldest established hill in Lexington.
Follen Hill is one of the best neighborhoods in Lexington, home to over 1,597 residents and covering an area of 0.646 square miles.
Made up of mostly period colonials and Cape-style single-family homes, this neighborhood is a National Historic District noted for its architectural and historical integrity.
Described as a friendly neighborhood that welcomes residents from all backgrounds and lifestyles, Follen Hill is within walking distance of many top amenities and is often praised for its highly-rated school system.
For those moving with school-aged children, some of the top schools in the area include Bowman Elementary, The Waldorf School, and Lexington High School.
Local Favorites:
Lexington Common National Historic Site: Also referred to as Lexington Common, this is where the opening shots of the Battles of Lexington and Concord were fired during the American Revolutionary War.
Scottish Rite Masonic Museum and Library: Learn about American history and freemasonry in this famous Lexington museum.
Lexington Historical Society: A former train station, this quiet museum is an excellent place to learn about American history. Many events are also held here in the Lexington Depot.
The Old Belfry: This historic site is a hidden gem with a hiking trail and a belfry.
Whipple Hill: This 120-acre nature preserve provides four miles of hiking trails, a pond, and plenty of open green spaces. This is an excellent place to bring the family and walk the dog.
Liberty Heights
Spanning 5.5 acres, the neighborhood of Liberty Heights may be small, but it is still one of the most densely populated residential areas in the city of Lexington.
Surrounded by parks and green spaces, Liberty Heights is full of forested areas made of red and white oak, hickory, and cherry trees.
Considered to be one of the least affordable neighborhoods in Lexington, most homes in the area consist of tiny Colonial-style single-family homes and Cape-style homes built between the 1920s and 1960s.
Known for its high walkability, access to public transportation, fantastic public school system, and variety of shops, parks, and restaurants, it is no surprise that Liberty Heights is one of the most desirable neighborhoods in Lexington.
Local Favorites:
Taipei Gourmet: Dine on Chinese and Taiwanese dishes in this small restaurant outside the Boston area.
Nick's Place: Enjoy takeout pizza and sub sandwiches at this family-friendly restaurant.
Ixtapa Mexican Grill and Cantina: This is the place in town to enjoy burritos, enchiladas, tacos, and other Mexican favorites at a reasonable price. Make sure to order a margarita in this fun atmosphere.
Jackson's Kitchen: Located on Massachusetts Avenue, this small shop serves sandwiches and other hot meals. This restaurant is take-out only.
Arka Insidan Cuisine: This newly opened restaurant serves authentic Indian cuisine with plenty of vegetarian options.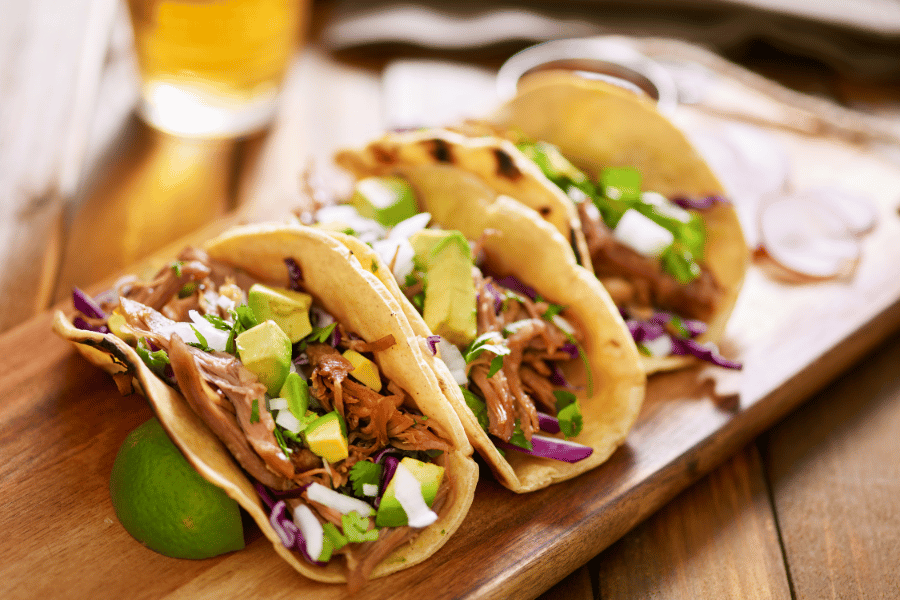 Pheasant Brook Estates
As one of the most expensive neighborhoods in Lexington, residents living in Pheasant Brook Estates are strangers to high prices.
Made up of primarily single-family homes initially developed in the 1980s and 1990s, this neighborhood has a median sale price ranging from $1 million to $4 million.
Often described as luxurious and affluent, the residents of Pheasant Brook Estates tend to live lavish lifestyles and are either retired or high up in their companies.
For those moving with school-aged children, some of the best public schools in the area include Harrington Elementary School, Jonas Clarke Middle School, and Lexington High School.
Local Favorites:
Daikanyama: Enjoy authentic Japanese food in this beloved restaurant, including soup and sushi.
Alexander's Pizza: This neighborhood pizza spot has fantastic deals and deliciously fresh food.
Grassfields: Dine on steaks, seafood, and other creative dishes in a friendly setting. This is an excellent spot for lunch and dinner.
Hastings Park: Often used as a gathering place for events and festivals, this park is a popular spot next to a local high school.
Lincoln Park: Home to athletic fields, open green spaces, and a trail perfect for walking and running.
Saddle Club Estates
The beautiful neighborhood of Saddleclub Estates features acres of private lots and magnificent single-family homes.
Located near Lexington Center off of Grant Street, this neighborhood mixes newly built modern single-family homes and larger Colonial-style homes built in the 1980s and 1990s.
Though the home prices in Saddleclub Estates are known to be expensive, residents are paying for convenience and direct access to some of the best amenities in Lexington.
Plus, home to excellent public schools, many families are moving to the area to ensure their children receive a quality education. Some of the top schools in the area include Fiske Elementary School and Lexington High School.
Local Favorites:
Minutemen Commuter Bikeway: This 10-mile trail is excellent for walking, running, and biking.
Buckman Tavern: This historic tavern offers daily guided tours.
Munroe Tavern: Visit this historic home that played a significant role in the American Revolution.
Hancock-Clarke House: This National Historic Landmark was built in 1738 and housed multiple leaders of the colonials in the American Revolution.
Walden Pond State Reservation: A great place to walk and swim, this state reservation was once the retreat of Henry David Thoreau.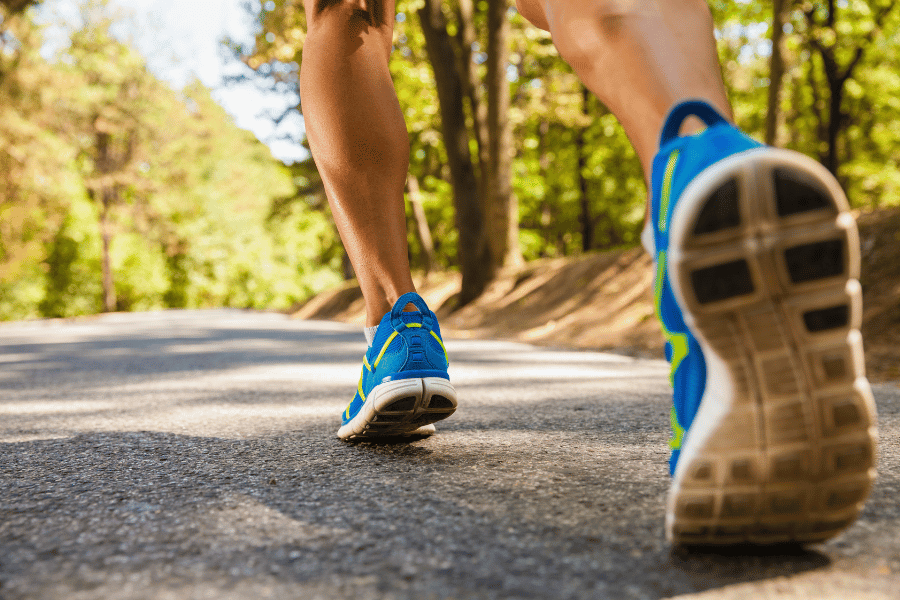 The Best Neighborhoods in Lexington, MA - The Bottom Line
Whether you are looking for a historic single-family home in a quiet neighborhood or a modern apartment in an affluent area close to Boston, living in Lexington is a top choice among Massachusetts residents.
If you are searching for homes for sale in Lexington, this neighborhood guide has given you some clarity about the best neighborhoods in Lexington, Massachusetts.
No matter what property type you desire or what budget you have when buying a home, our team is here to help you find the right neighborhood in Lexington. Contact us today! Make sure to refer to our other local area guides, including moving to Boston, the best neighborhoods in Boston, moving to Northampton, moving to Worcester, and moving to Newton! 

Find your new home
Search real estate and homes for sale