5 Best Places to Live in Massachusetts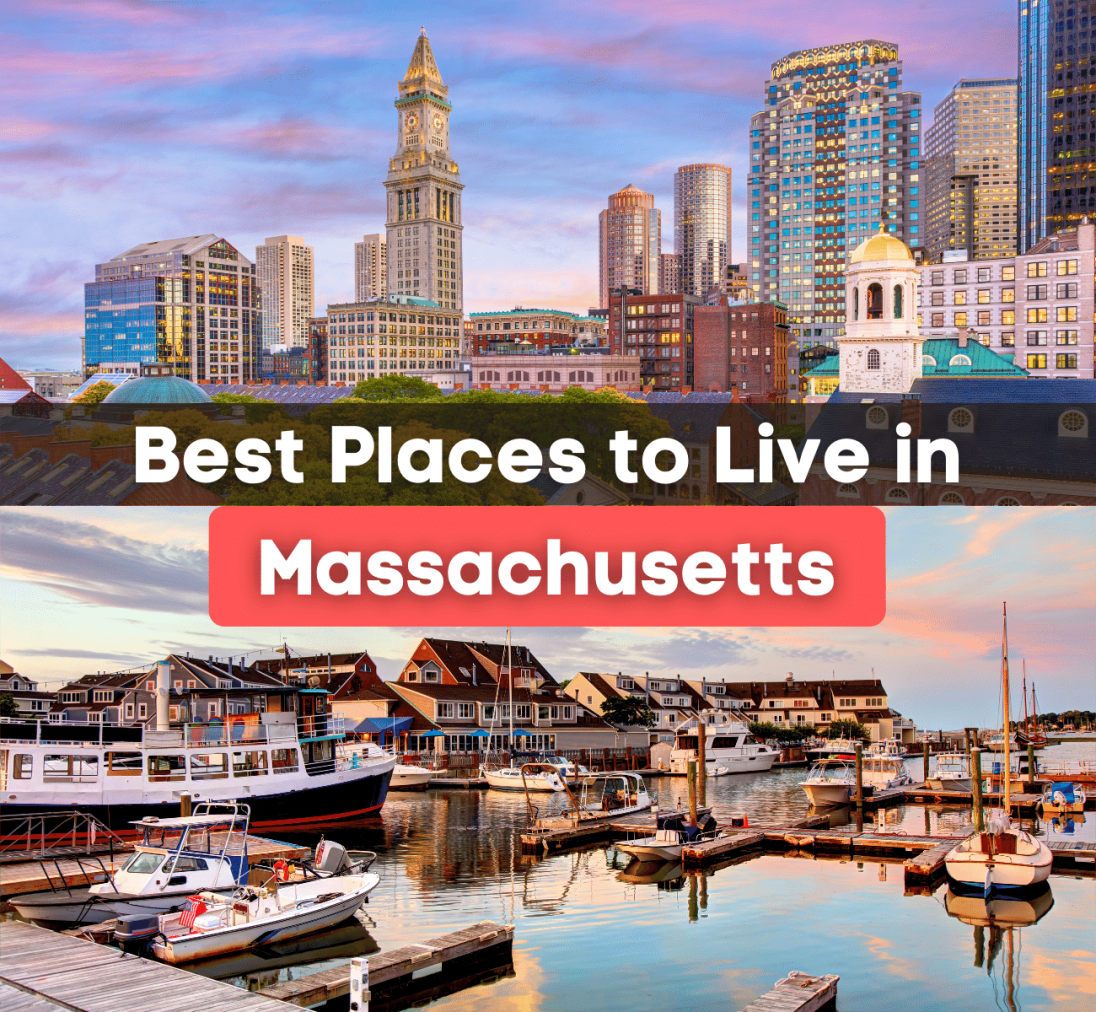 Best Cities to Live in Massachusetts
Do you want to know where you should live in Massachusetts? Check out these 5 best cities in Massachusetts!
As one of the original 13 colonies, the New England state of Massachusetts made a large impact on American history and continues to play an important role in society today. Even though Massachusetts is considered to be the seventh smallest state in the country when it comes to land area, its growing population of over 6.8 million people makes it one of the most populous states in the New England region.
Located next to the states of New York, Connecticut, Rhode Island, New Hampshire, and Vermont, Massachusetts is found in a prime area of the northeast. Plus, due to its location next to the Atlantic Ocean, residents have direct access to beautiful beaches and breathtaking oceanfront properties. Best known for its exceptional higher education opportunities, amazing healthcare facilities, and high-tech jobs, Massachusetts has made a name for itself as a leader in innovation and center of excellence.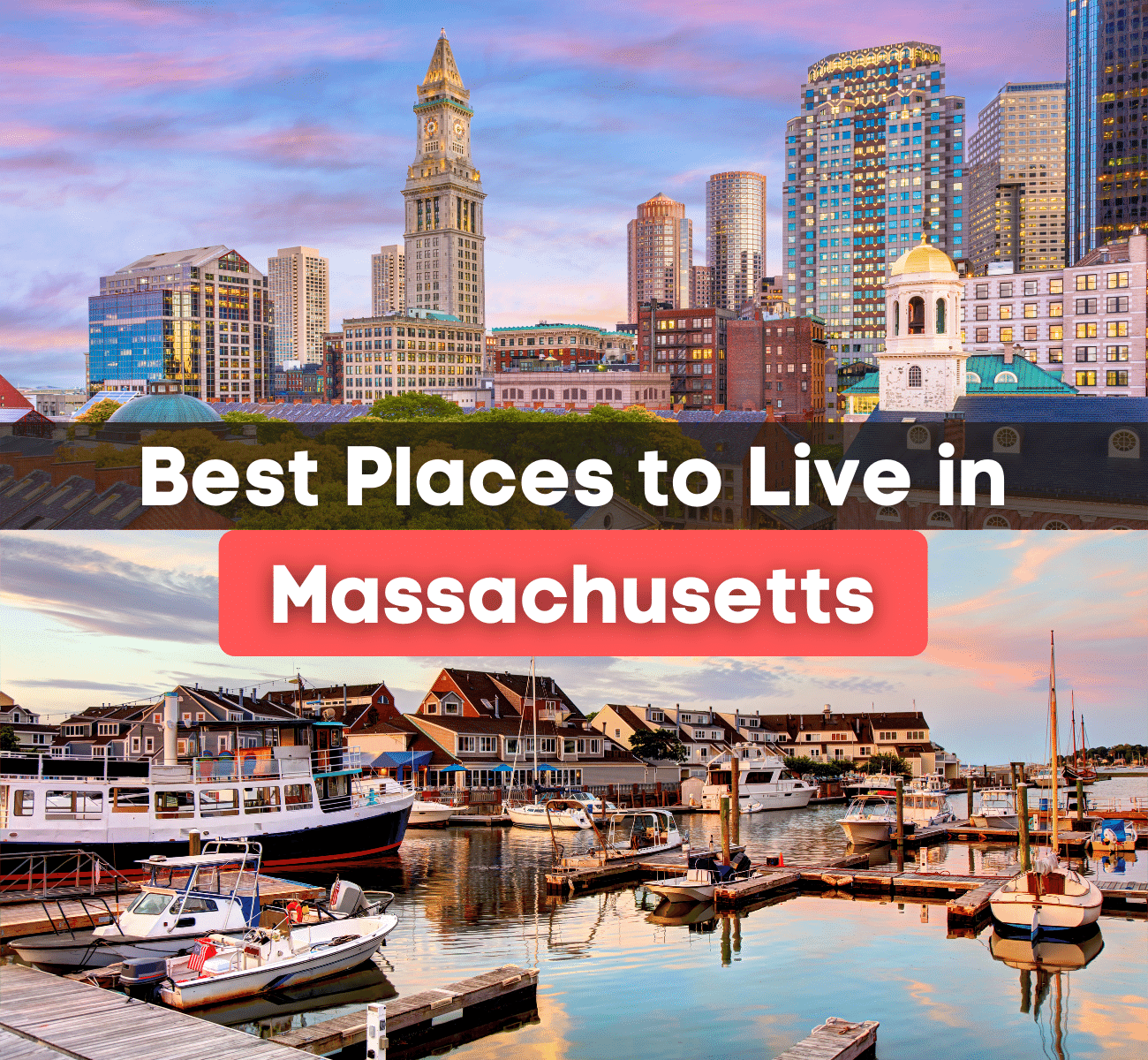 If you are moving to Massachusetts then you are probably wondering where you should and should not live in the state. Home to many great cities and small towns that are well-known across the nation for their own reasons, Massachusetts is a good place to raise a family and become involved in the community. While Massachusetts may be the sixth most expensive place to live in the country, there are still many cities and places to live that are affordable. Luckily, with the help of this moving guide, our team has put together a list of the nicest and prettiest towns in Massachusetts to help you with your moving journey.
With that being said, read on to learn more about the 5 Best Places to Live in Massachusetts and hopefully decide where you should call home next along the way.
Boston
Officially the capital city of the Commonwealth of Massachusetts, Boston is considered to be the 24th most populous city in the country with a population of over 684,000 people. Covering 48.4 square miles, Boston is a lively city that has much to offer its residents. Known to be one of the most historically rich cities in the entire United States, Boston played a major role in the founding of America. From the first settlement of the Puritan colonists from England to the Boston Tea Party and important battles in the American Revolution, the city of Boston recognizes and celebrates its history every day through museums and historical sites situated throughout the city.
Now a major city, Boston is considered to be a moderately safe place to live and is most famous for its delicious baked beans, The Boston Marathon, Fenway Park, and the Bull and Finch Pub from the TV show Cheers. Plus, as a global hub of information technology, entrepreneurship, and innovation, many top companies and businesses are flocking to the greater Boston area for its highly educated population due to the city's top higher education institutions.
Local Favorites:
The Paul Revere House: Visit the home of American patriot Paul Revere and learn more about this significant figure of the American Revolution. Admission is free.
Boston Tea Party Ships and Museum: This floating museum features live reenactments that depict the Boston Tea Party.
John F. Kennedy Presidential Museum and Library: Located next to the University of Massachusetts at Boston, make sure to visit this museum and library that honors the 35th president of the United States.
Freedom Trail: This 2.5-mile trail travels throughout the heart of Boston and passes 16 significant locations that are important to American history. This is a great tourist destination for history lovers.
Faneuil Hall Marketplace: Now a marketplace and meeting hall, this building was originally opened in 1743 and was the location of famous speeches made by James Otis, Samuel Adams, and other prominent colonials who encouraged the American Revolution.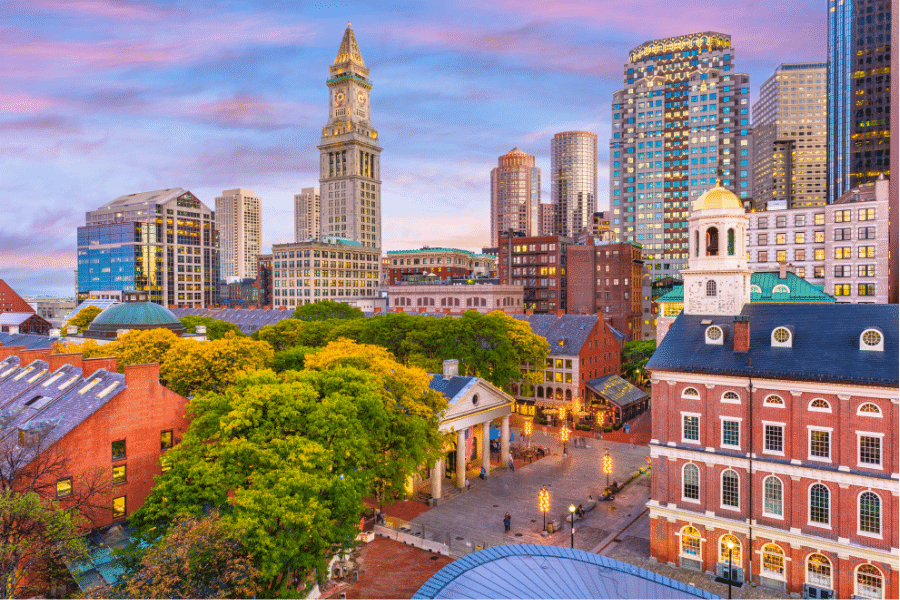 Cambridge
This magnificent city of Cambridge is located in Middlesex County and is considered to be one of the best places to live in Massachusetts. Only about a 12-minute drive to Boston, Cambridge is most famous as the home of Ivy League school Harvard University which is one of the major draws to the area. Offering its residents an urban feel, many college students, young professionals, and distinguished professors call Cambridge home.
Recently named the fourth wealthiest city in the New England region, Cambridge is an affluent area but is still considered to be 27% less expensive than living in New York. While the city may not be one of the safest cities in the country due to its relatively high crime rate, Cambridge still has a lot to offer its residents through academics, job opportunities, and sought-after amenities. As one of New England's main industrial cities, Cambridge has grown significantly throughout the years and has maintained its prominent position in the country as an area of high-class and superior education.
Local Favorites:
Harvard Art Museums: Consisting of three museums, there are a total of over 250,000 objects on display that feature multiple forms of media from all over the world to admire.
The Harvard Museum of Natural History: Home to various collections and exhibits, this natural history museum is a really cool place to visit. Make sure to check out the glass flower exhibition.
Harvard Square: This popular plaza and business center is also the historical center of Cambridge. Acting as a commercial area, there are plenty of restaurants, shops, and things to do for college students and residents alike.
Peabody Museum of Archaeology and Ethnology: Affiliated with Harvard University, this museum was established in 1866 and holds over 1.2 million objects related to anthropology. Featuring artifacts from native cultures, this museum is a must-visit.
MIT List Visual Arts Center: Known as the contemporary art museum of the Massachusetts Institute of Technology, this museum was founded in 1950 and features both permanent and temporary exhibitions of contemporary art.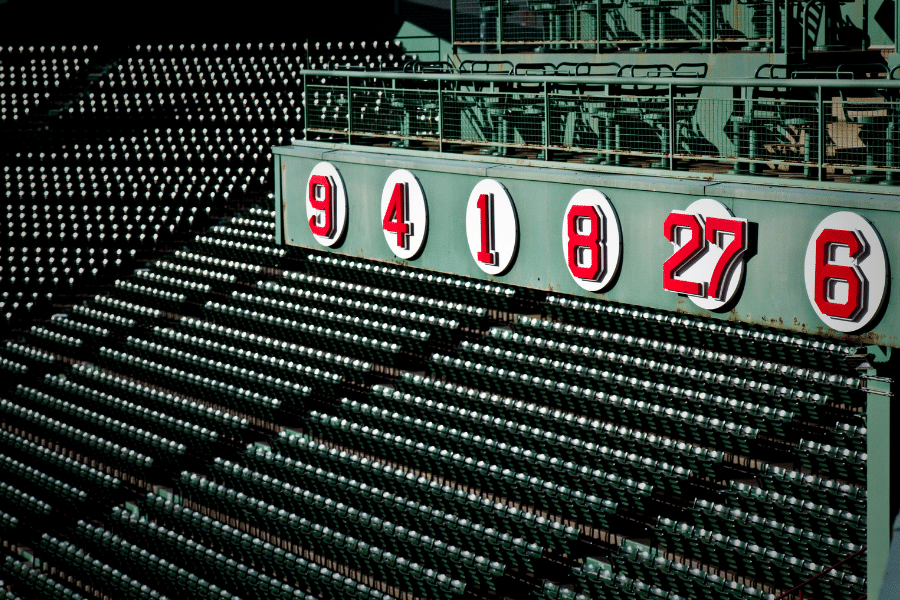 Worcester
Only about a 49-minute drive to Boston, the city of Worcester is located in central Massachusetts and is New England's second-largest city. Since Worcester is considered to be the heart of the Commonwealth of Massachusetts, a heart was chosen as the official symbol of the city. With a population of over 185,000 people, Worcester is a good place to live and is often celebrated as a cultural and educational center. Home to art museums, science and nature museums, top educational institutions, and an amazing food scene, Worcester is home to many young professionals and families. Featuring historical architecture, beautiful landscaping, and offering its residents a high quality of life, it is easy to see why many people are choosing to move to Worcester.
With a cost of living that is 18% higher than the national average, housing costs here may be on the more expensive side but Worcester is still 22.7% less expensive than living in Boston. Technically thought to be one of the cheaper places to live in Massachusetts, living in Worcester will take your paycheck further than other cities in the state. On the downside, named one of the most dangerous cities in the state of Massachusetts, Worcester was ranked 12th in the country for property crimes and 11th in the country for violent crimes.
Local Favorites:
Worcester Art Museum: With over 38,000 works of art on display from cultures all over the world, this museum is certainly one of a kind.
EcoTarium: This science and nature museum is perfect for families and young children. Not only are there permanent and traveling exhibits, but the planetarium and on-site train are popular attractions.
Tower Hill Botanic Garden: This 171-acre botanic garden and arboretum is a must-visit when the weather is nice. Featuring miles of walking trails, woodlands, and up to 17 gardens, this is a great place to connect with nature.
Palladium: This famous concert hall and performance venue is a popular spot for rock and metal bands to perform. This is the go-to music venue for hardcore music.
Elm Park: Sitting on land that was originally purchased in 1854, this 60-acre park features walking trails, footbridges, a playground, and a scenic pond.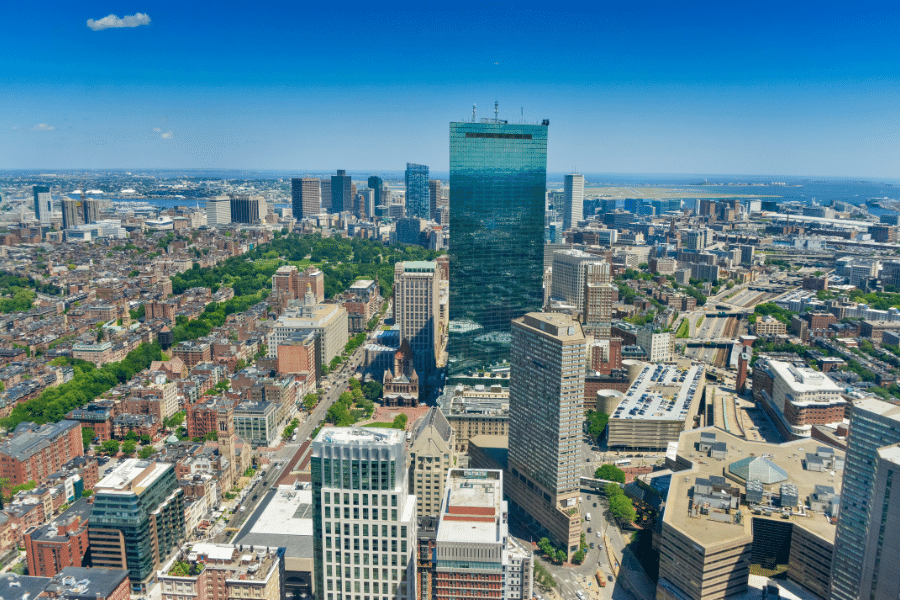 Newton
Only seven miles west of Downtown Boston lies the Massachusetts city of Newton. As part of Middlesex County, this city is comprised of thirteen villages and is devoid of a city center. Offering its residents a distinctly suburban feel, Newton is a nice place to live that is home to a population of over 88,000 people. Considered a safe place to live, families, young professionals, and college students like to call Newton home.
Most famous for its sought-after educational institutions and abundance of bars, restaurants, coffee shops, parks, and local retailers, Newton is a top choice for people moving to Massachusetts. Originally founded in the year 1688, Newton is full of history much like other cities in Massachusetts and this history can be seen on every street corner through the historical architecture and preservation of historical sites. Topping the list of the wealthiest cities in Massachusetts, Newton has a median income of $127,402 and has a low unemployment rate and low poverty rate.
Local Favorites:
Jackson Homestead and Museum: Built in 1809, this home that is found at 527 Washington Street once served as a spot along the Underground Railroad before the Civil War. This is a super cool educational experience and is a must-visit with the family.
The Rose Art Museum: Founded in 1961, this art museum is home to over 8,000 pieces of modern and contemporary art. There are both permanent and traveling exhibits on display. Check the website for more information.
Hemlock Gorge: Located on the Charles River, this 23-acre reservation is a state-owned public recreation area.
Hammon Pond Reservation: This protected woodland park features hiking trails, fishing spots, and rock climbing areas. This reservation is officially a part of the Metropolitan Park System of Greater Boston. Dogs are welcome.
Crystal Lake: This 33-acre lake is the go-spot for swimming, kayaking, and fishing.
Salem
The hauntingly beautiful city of Salem is located on the north coast of Massachusetts and is only about a 36-minute drive to Boston. With a population of over 43,000 people, this coastal city has much to offer its residents. Most famous for the Salem Witch Trials which occurred in the year 1692, many locals were executed for being accused of practicing witchcraft. Not only was the classic Disney movie "Hocus Pocus" filmed here in 1992, but many museums and historical landmarks are visited everywhere by tourists and locals alike to learn about the witch trials.
Not only is Salem worth visiting but it is now considered to be a fantastic place to live. Ideal for young couples and young families, Salem provides the comfort of a small town with the charm of a big city. While Salem may not be one of the safest cities in America, there are still plenty of safe neighborhoods and nice areas to call home when choosing to live in Salem. Check out the homes for sale in Salem.
Local Favorites:
Salem Witch Museum: Learn about the Salem Witch Trials through historical documents, exhibits, and tours.
The House of the Seven Gables: Take a tour of this historic mansion that was built in 1668.
The Witch House at Salem: Built between 1620 and 1642, this historic home turned museum was where one of the Salem Witch Trial judges lived.
The Peabody Essex Museum: This modern art museum features cool artifacts and over 840,000 pieces of historical and cultural art.
Salem Witch Trials Memorial: This memorial park and burial site is a peaceful place to reflect and remember this historical event in American history.
Best Places to Live in Massachusetts - The Bottom Line
This guide features only the best and nicest places to live in Massachusetts. Whether you are looking for a historical single-family home in Salem or an apartment in Boston, Massachusetts has an abundance of cool cities to choose from that are historically significant and full of educational and business opportunities. While certain cities may be more expensive and not as safe as others, finding a place that is affordable and nice is possible by enlisting the help of one of our knowledgeable Realty Specialists. Contact us today!

Find your new home
Search real estate and homes for sale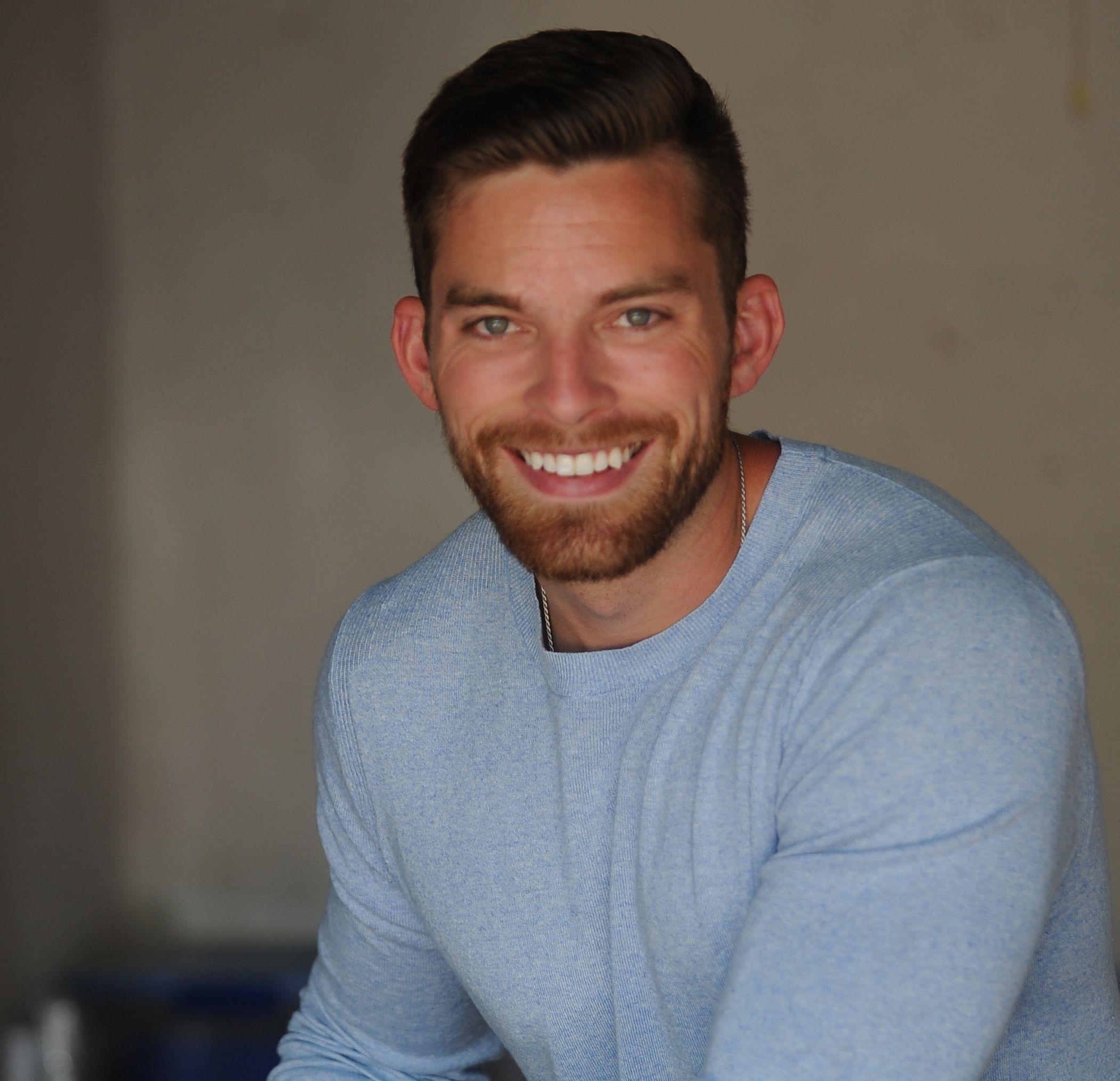 Ryan Fitzgerald
Hi there! My name is Ryan Fitzgerald, and I am a REALTOR®. My goal is to help you learn more about real estate through our Real Estate Blog! Hopefully, you enjoyed the above blog post and it found a way to provide help or value to you. When you're ready to buy or sell a home of your own let us know here. Please feel free to join the conversation by dropping us a comment below.