7 Best Neighborhoods in Boston, MA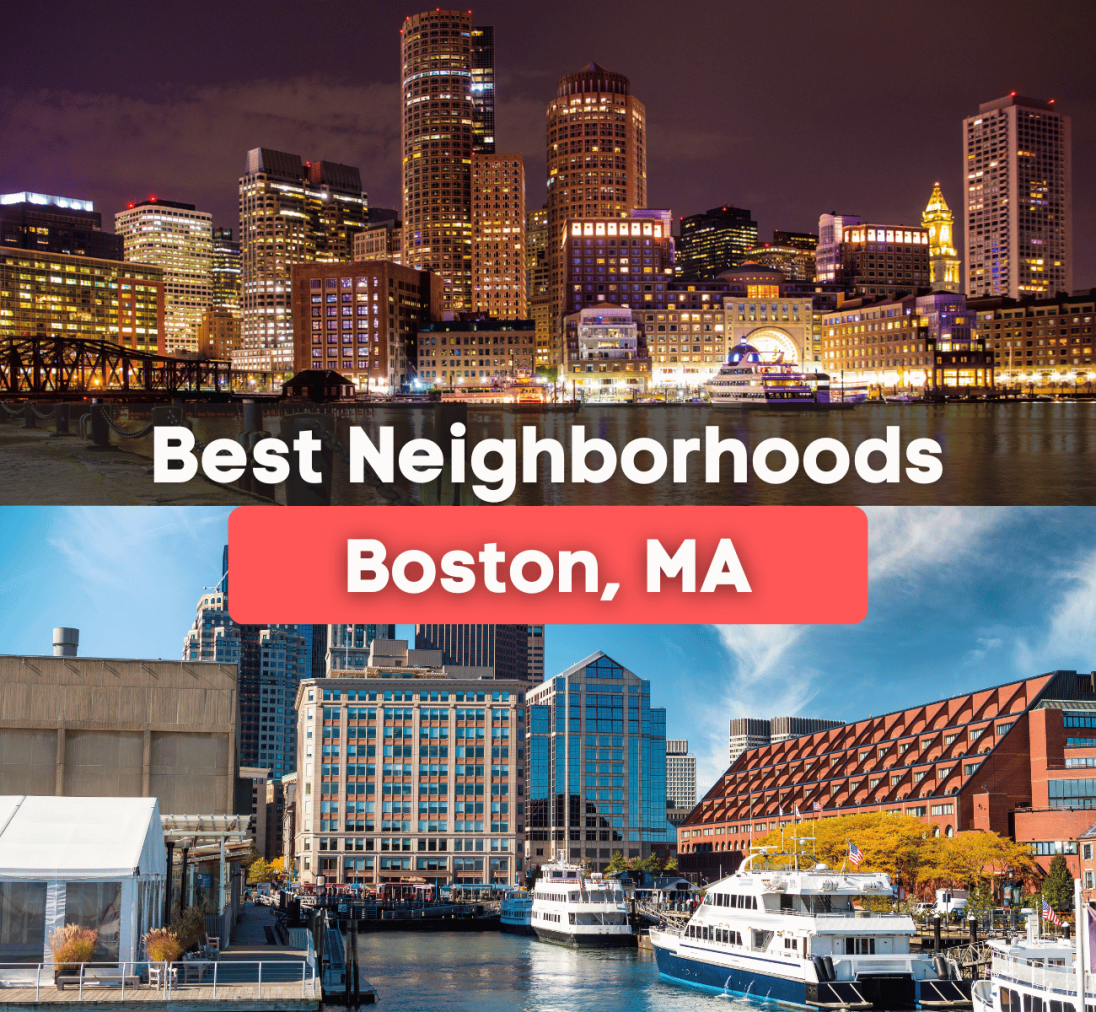 Best Places to Live in Boston
Are you moving to Boston and searching for the best neighborhoods? Here are seven of our top picks for Boston suburbs!
As the capital city of the Commonwealth of Massachusetts, Boston is recognized as an educational, cultural, and economic center in New England. Located in Suffolk County in the northeastern part of the United States, the central city of Boston is a beautiful place to live that sits on the coast of the Atlantic Ocean. Only about a 15-minute drive to Cambridge and a 44-minute drive to Salem, Boston is a prime destination for young professionals, families, and college students to call home.
Providing its residents with a small-town feel with the perks of big-city living, Boston is ranked as one of the best places to live in Massachusetts for its high quality of life and abundance of things to do. Best known for its significant historical role in the American Revolution, excellent universities, delicious food, great sports teams, and plenty of economic opportunities, it is no wonder that Boston is a sought-after place to live in the United States.
If you are moving to Massachusetts and want to call Boston home, you have certainly come to the right place. Since Boston is full of many safe and friendly neighborhoods, it can take time to narrow down the best areas in Boston to live in when conducting your home search.
Though housing can be expensive, it is essential to figure out what you desire in a neighborhood and home before reviewing all available options that best fit your lifestyle and budget. Luckily, with the help of this neighborhood guide, learn where you should live in Boston while staying away from the bad parts of Boston.
Read more about the seven Best Neighborhoods in Boston, MA!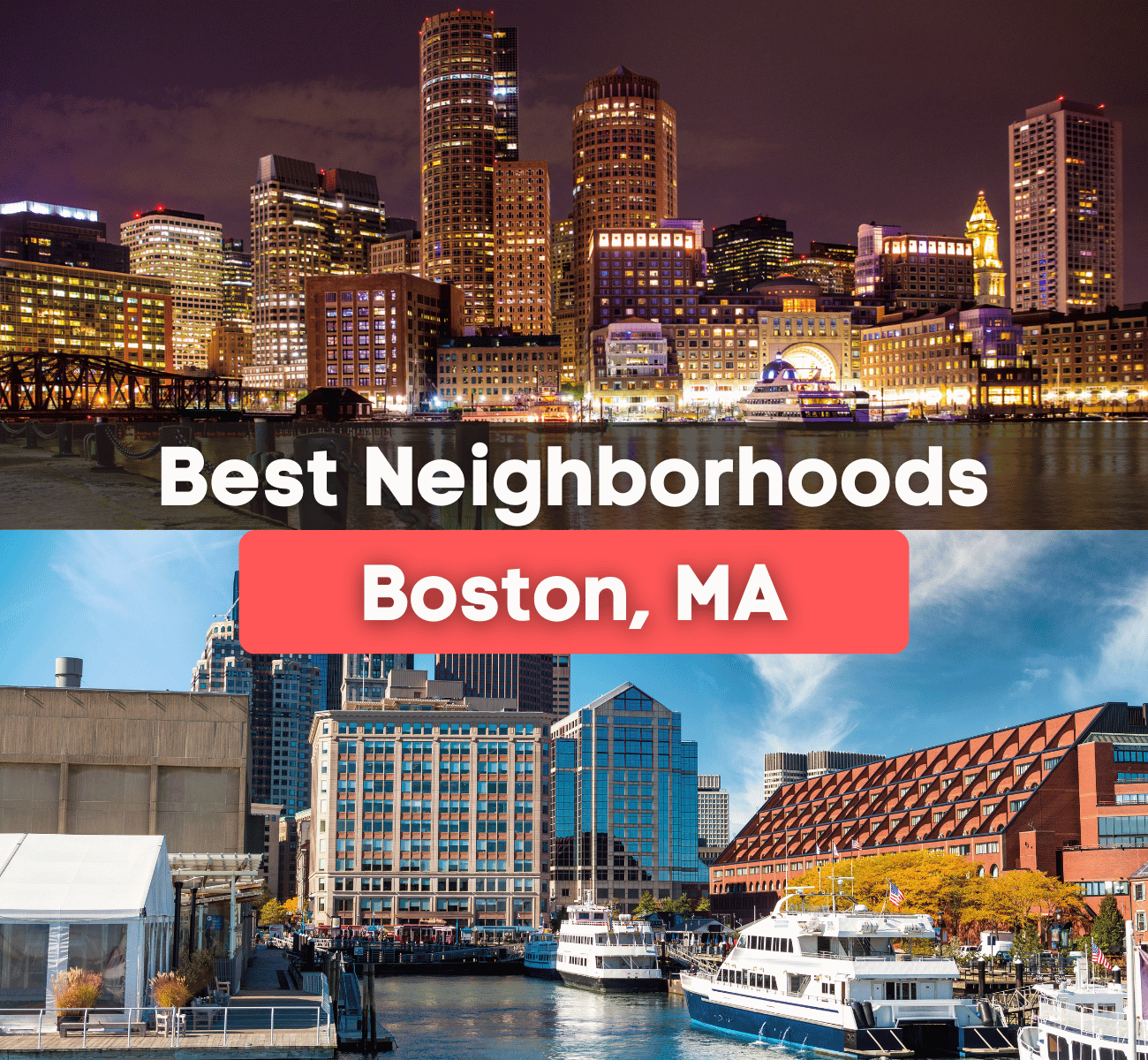 Beacon Hill
If you are moving to Boston, you need to check out the historic neighborhood of Beacon Hill. Initially built in 1795, Beacon Hill has been home to many celebrities, including the Alcott Family and novelist Willaim Dean Howells. Known to be one of Boston's most picturesque and peaceful neighborhoods, Beacon Hill is a charming place to live that only covers an area of a half square mile.
Famous for its Federalist and Victorian-style architecture, narrow cobblestone streets, and antique gaslit streetlamps, living in Beacon Hill is almost like being transported back to the 18th century. With its fantastic reputation for safety, it is no surprise that Beacon Hill is considered to be one of the safest areas to live in Boston. This high safety rating, variety of historical property types, and location to top company offices, including Facebook and GE, make Beacon Hill one of the most expensive neighborhoods in the Boston area.
Local Favorites:
Massachusetts State House: This state capitol building is the seat of the government of the Commonwealth of Massachusetts.
Boston Athenaeum: Known to be one of the oldest independent libraries in the United States, residents must pay a yearly subscription fee to access this library.
Acorn Street: Known to be one of the most photographed spots in the city, this street resembles colonial Boston with its cobblestone streets and historic brick homes.
Cheers: Located off of Beacon Street, this neighborhood restaurant was the source of inspiration for the infamous TV show "Cheers" and offers a nice variety of beer, pub fare, and live music.
75 Chestnut: This cozy restaurant offers a good selection of American dishes, craft cocktails, and indoor and outdoor seating.

Back Bay
Located on reclaimed land in the Charles River Basin, the neighborhood of Back Bay in Boston is a popular shopping and dining district. Originally a residential-only area, the community has grown to accommodate many commercial buildings and office complexes. Known to be one of the most affluent and wealthy neighborhoods in Boston, Back Bay features beautiful Victorian architecture, lush open green spaces, and high-end retail stores.
Ironically even though Back Bay is expensive and highly sought after, the neighborhood has a relatively high crime rate, 62% higher than the national average. On the plus side, since this is a top tourist destination home to some of the city's most iconic attractions and amenities, a significant police presence helps residents feel better about safety and security. Though most of the infamous commercial strip is featured on Newbury Street and Boylston Street, taking the time to explore the rest of this beautiful neighborhood will have you appreciating its historic buildings and pristine landscaping.
Local Favorites:
Newbury Street: This shopping and dining district is home to highly-rated restaurants and upscale retail stores. This area has earned the reputation of being one of the most expensive streets in the world for its wide assortment of boutiques and fine dining establishments.
Trinity Church: Founded in 1733, this historical church is a fantastic place to worship. Services are held every Sunday and three times a week from September through June.
Prudential Tower: The second tallest building in Boston, this skyscraper stands 749 feet tall and has 52 floors.
John Hancock Tower: Named the tallest building in Boston, this 62-story skyscraper was completed in 1976 and is known for its signature blue windows.
Boston Public Library: This beautiful historic library features Renaissance-style architecture and is a must-visit in the city.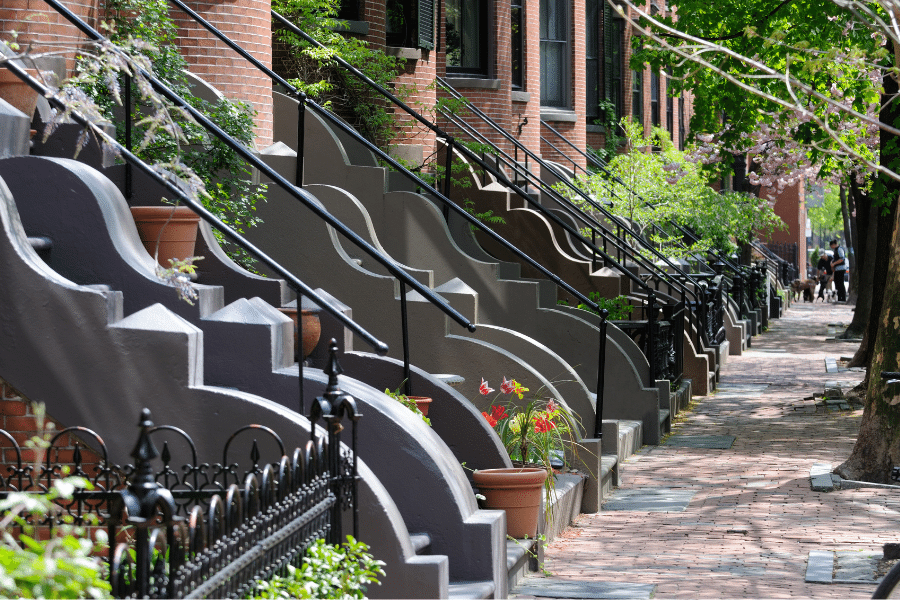 South End
Next to the neighborhoods of Back Bay, Chinatown, and Roxbury, the residential area of South End is one of the most culturally diverse neighborhoods in Boston due to its large Irish-American population. Though South End may be mixed, it is still one of the most expensive places to live in Boston. Offering a safe, family-friendly environment with relatively low rates of crime, the South End neighborhood is a top choice for residents.
Best known for its trendy arts scene, over 30 parks, lush green spaces, an array of dining options, and renovated Victorian-style row homes, South End is beloved for its charm and traditional feel. Featuring old warehouses that have been converted into hip art spaces, chic studio galleries, and a Sunday farmer's market that encourages residents to shop locally, there is always something going on in South End that brings the community together.
Local Favorites:
Kingston Gallery: This art museum and gallery was founded in 1982 and displayed works from emerging and professional artists.
Boston Sculptors Gallery: Owned and operated by locals, there are over 35 sculptors that display their work.
Carleton Court Dog Park: A nice spot to bring your furry friends; benches and tennis balls are available.
Cathedral of the Holy Cross: Known as the largest Roman Catholic Church in all of New England, the architecture of this church is breathtaking.
Titus Sparrow Park: This big urban park is the perfect place to bring the family together. There are tennis courts, basketball courts, green spaces, and live music every week in the summer.
Jamaica Plain
Covering a total of 4.4 square miles, the neighborhood of Jamaica Plain is diverse and lively in Boston. Established initially as a streetcar suburb in the early 19th century, this master-planned community is now a popular place to live for its distinct artistic and creative vibe. Made up of a wide assortment of family-owned restaurants, local markets, art galleries, parks, and open green spaces, Jamaica Plain is a fun place to live. Plus, as one of the city's most prominent neighborhoods, there is always something to do and see without traveling far.
Rated as one of the best suburbs and places to live in Boston, Jamaica Plain is great for young families, couples, professionals, and artists. More than 20% of residents have children. With larger home sizes, an affordable housing market, and a high safety rating, it is easy to see how Jamaica Plain is one of the best places to live in Boston.
Local Favorites:
Ten Tables: An excellent place for date night, this restaurant has fantastic service and amazing specials.
Tres Gatos: Dine on tasty Spanish tapas while sipping wine in this vibrant neighborhood restaurant.
Casa Verde Taqueria: Serving tacos, guacamole, margaritas, and other Mexican favorites.
Vee Vee: Dine on fantastic American dishes using only the best local ingredients. This is a great place to celebrate any special occasion.
Brassica Kitchen and Cafe: This hip cafe serves coffee and pastries daily and cocktails at night.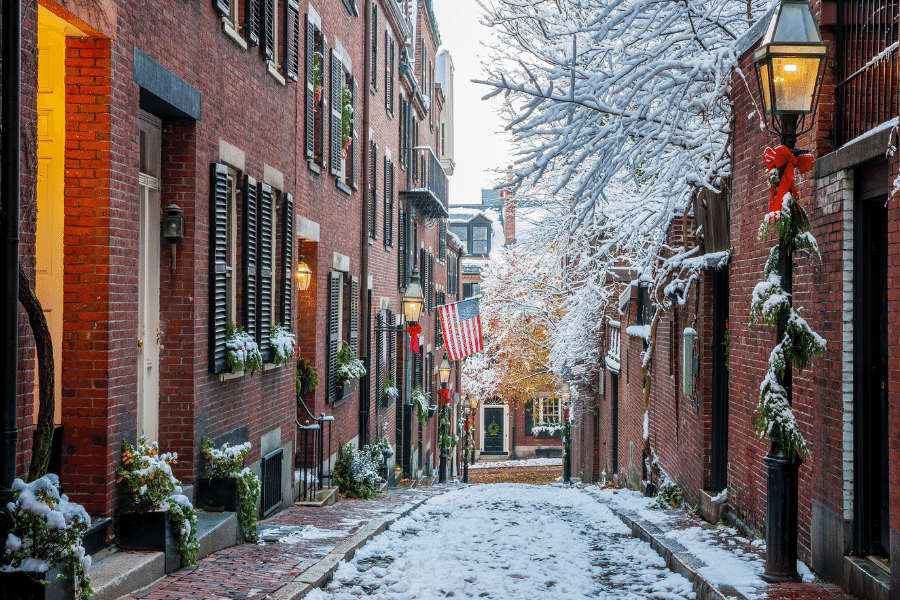 North End
Located on the city's North end, this neighborhood is one of the safest places in Boston due to its meager crime rate. Providing its residents with the epitome of urban living, North End is home to some of the city's oldest historic buildings, excellent Italian restaurants, and high-end shops. Considered to be "Boston's Little Italy," the North End is home to a large population of Italian-Americans and is one of the oldest residential areas in all of Boston.
With its narrow cobblestone streets and distinct European character, the North End is the location of various historical sites that played a vital role in the American Revolution, including the Paul Revere House, The Freedom Trail, and the Old North Church. Keep in mind that while this Italian neighborhood has gone through many changes throughout the last few decades, the North End remains one of the most highly coveted neighborhoods in all of Boston. Unfortunately, housing prices reflect this high demand since most homes sell for roughly $1,000 per square foot.
Local Favorites:
Giacomo's Boston North End: One of the most well-known restaurants in Boston.
L'Osteria: Serving Italian classics at a great price.
Lucca Restaurant: Focusing on seasonal produce, the food here is always fresh and delicious. Make sure to order an appetizer.
Bricco: Known for its incredible selection of wines and brick-oven pizza.
Carmelina's: This family Italian restaurant has large portions and fantastic food.
Charlestown
Charlestown's waterfront neighborhood is a good and great community for young professionals and families. Known for its rich American history, this area is the location of Bunker Hill, which once served as a battleground and meeting place for patriots during the American Revolution. Not only is Charlestown a popular stop along Boston's Freedom Trail, but the neighborhood features beautiful antique single-family homes and luxurious waterfront properties. Plus, this is one of the safest Boston communities with a low crime rate.
Local Favorites:
Dovetail Restaurant: Located in the USS Constitution Museum, this restaurant serves seafood, pasta, steaks, and other favorites.
Monument Restaurant and Tavern: This gastropub serves wood-fired pizza, steak, and seafood.
Tatte Bakery and Cafe: This cute cafe specializes in coffee, pastries, and brunch.
Brewers Fork: Serving pizza, craft beer, and cocktails in a rustic setting.
Warren Tavern: Originally built in 1780, this tavern is a popular spot for tourists to frequent.
South Boston
Also referred to as "Southie," this neighborhood has undergone multiple changes throughout its history. Best known for its Irish-American tangible heritage, South Boston is the location of the city's St. Patrick's Day Parade which brings residents together every year. Though this neighborhood may be in the rough part of town, South Boston is now one of the safer places to live in Boston. Full of old-school taverns, historic Revolutionary War sites and some of the best views of the Boston Harbor, South Boston is a great place to live for families and young professionals. In our opinion - South Boston is one of the best places to live in Boston.
Local Favorites:
Lincoln Tavern and Restaurant: This classic tavern has friendly staff and an excellent drink selection.
The Broadway: A great young adult hangout spot. Make sure to stay for brunch and order the espresso martini.
Castle Island Brewing - South Boston: Enjoy craft beer, pub grub, and live music.
Sal's Pizza: This quick-serve pizza place also serves pasta, salads, paninis, and sub sandwiches.
Rondo's Submarine Sandwiches: Serving cheesesteaks, burgers, hot dogs, fries, and hot sub sandwiches. Dine-in and takeout are available.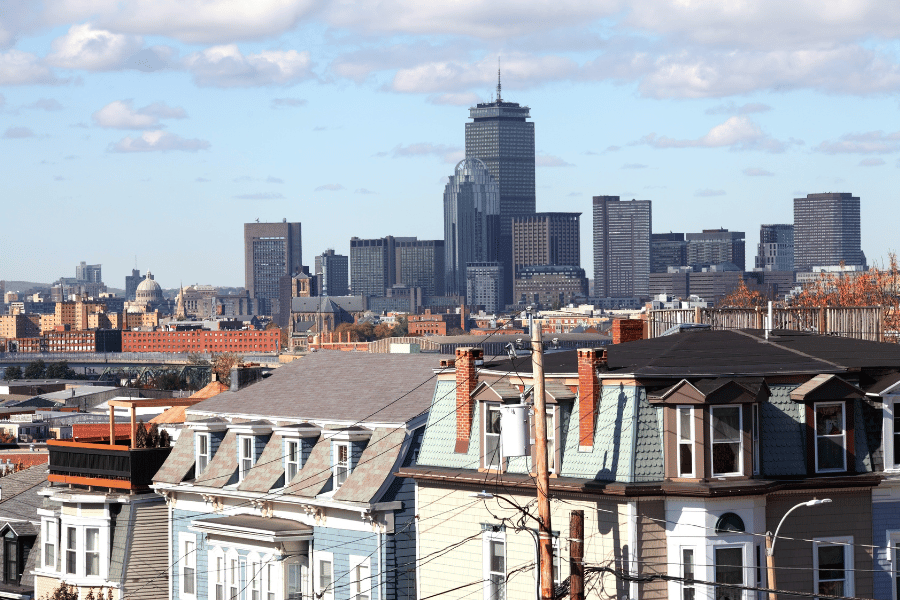 Best Neighborhoods in Boston, MA - The Bottom Line
Living in Boston is worth it no matter where you decide to call home in this charming city. Whether you are looking for a historical single-family home in a quiet suburban neighborhood or a renovated townhome near Boston Harbour, there is a place for you in Boston. If you want to know where you should move to in Boston, please contact our Realty Specialists team to help you find the neighborhood that best suits your needs. Contact us today!
Check out our other local area guides, including moving to Northampton, moving to Newton, and the best neighborhoods in Newton! 

Find your new home
Search real estate and homes for sale