10 Things to Know BEFORE Moving to Massachusetts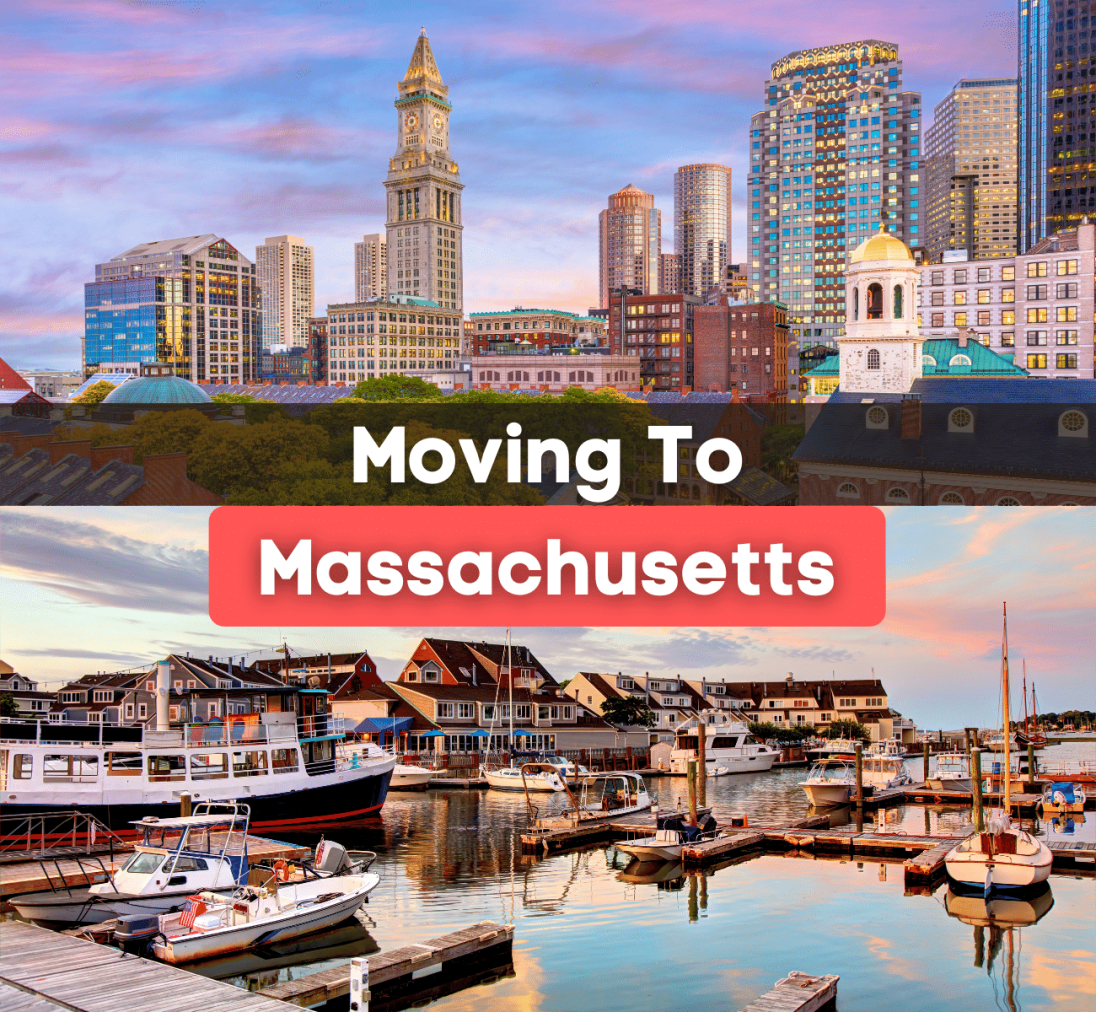 Living in Massachusetts
Are you considering a move to Massachusetts? Make sure you know these 10 things about living in MA!
The Commonwealth of Massachusetts borders the Atlantic Ocean and is one of the most popular tourist destinations in the northeast of the United States.
Massachusetts sits between New York, Vermont, New Hampshire, Connecticut, and Rhode Island, in a prime location in the country. With a population of over 6.8 million people, Massachusetts is known to be the most populous state in the New England region of the United States.
Since Boston is the capital, which also happens to be the most populous city in New England, Massachusetts has grown to become a center of business, industry, education, and American history. Most well-known for its strong education system, high-tech manufacturing, and diversity in both culture and business, Massachusetts has made a name for itself as an economic powerhouse and a leader in innovation.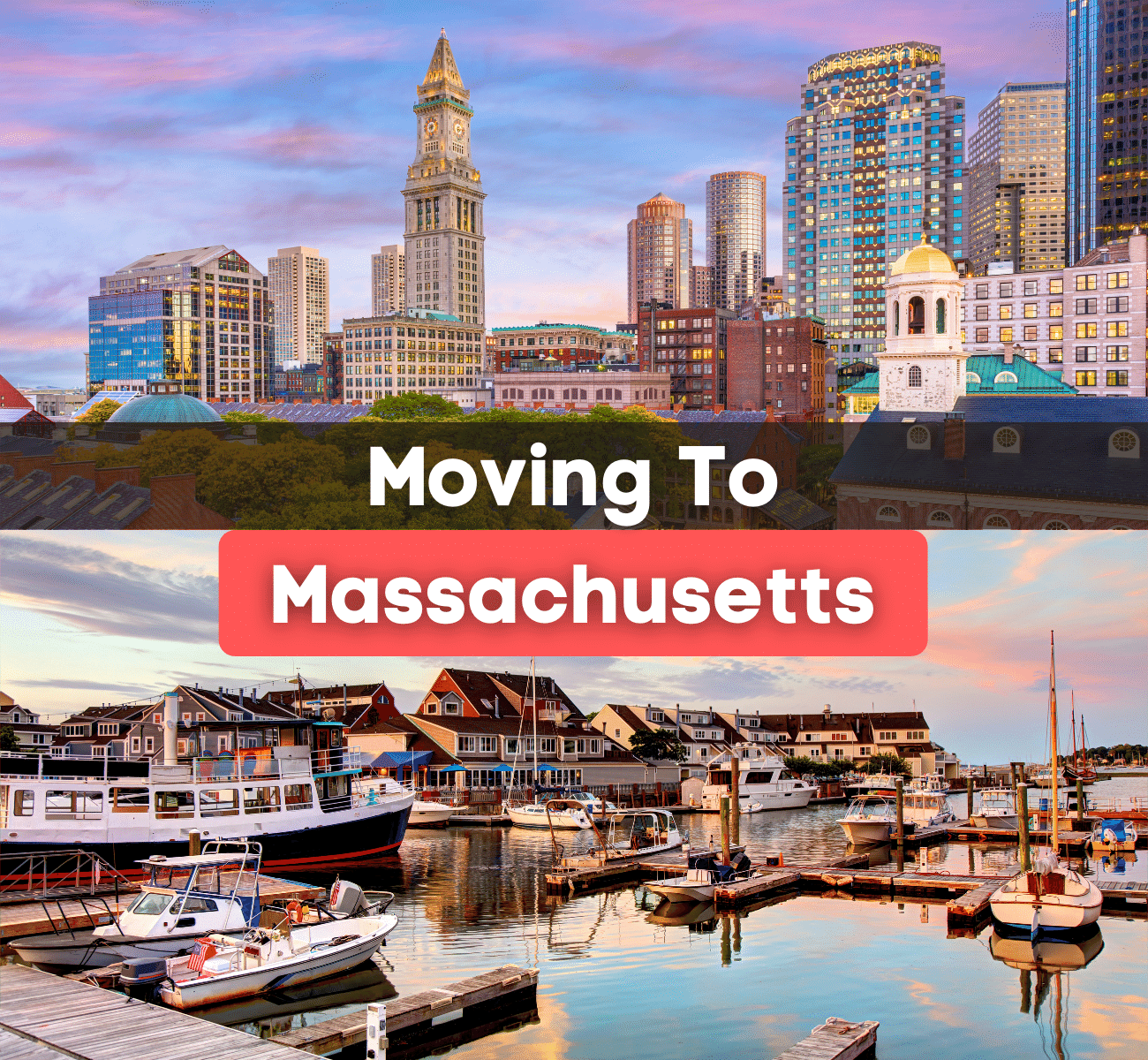 If you are wondering if moving to Massachusetts is a good idea then you have come to the right place. While there may be many benefits of living in Massachusetts it is important to first learn all that you can about this state before deciding to call it home. Luckily, with the help of this moving guide, our team has put together a list of all of the things that you should know before moving to Massachusetts. By providing you with pros and cons as well as the ins and outs of the state, this guide will make sure that you are well prepared before moving.
With that being said, here are 10 Things to Know BEFORE Moving to Massachusetts!
History is everywhere.
As one of the original 13 colonies, the state of Massachusetts is often nicknamed The Old Colony. Originally colonized in the 17th century, Massachusetts is best known as the official landing spot of the Mayflower and the Pilgrims who traveled over from England in the year 1620.
Once inhabited by the Native American tribes of the Algonquin including the Wampanoag and the Massachusett people, colonist and explorer John Smith actually ended up naming the state after the Massachusett tribe. As the second successful English colony in North America, the Jamestown Colony in Massachusetts was also the location of the first Thanksgiving which lasted for three days.
Not only did the Salem Witch Trails happen between February 1692 and May 1693, but later on in the late 1700s, the capital city of Boston was the location of the Boston Massacre and the Boston Tea Party during the American Revolution. These events ended up escalating tensions and led to the Battles of Lexington and Concord which were fought in Massachusetts towns. Also playing a major role in the Industrial Revolution and the Civil War, Massachusetts has been through a lot over the last few centuries.
Check out these local favorite museums and historical sites to learn more about the history of Massachusetts:
Salem Witch Museum: One of the most visited museums in Salem, learn about the Salem Witch Trials of 1692.
Concord Museum: Located in Concord, this museum features displays and exhibits depicting Indigenous history and the history of the American Revolution.
Boston Tea Party Ships: Relive the Boston Tea Party by boarding a full-scale replica of an 18th-century ship.
Pilgrim Hall Museum: Known as the oldest operating museum in the country since its opening in 1824, learn about the Pilgrims through exhibits and artifacts in Plymouth.
Plimoth Patuxet Museum: This living history museum was founded in 1947 and replicates the original settlement of the Plymouth Colony which was established in the 17th century by the Pilgrims. Ticket prices vary.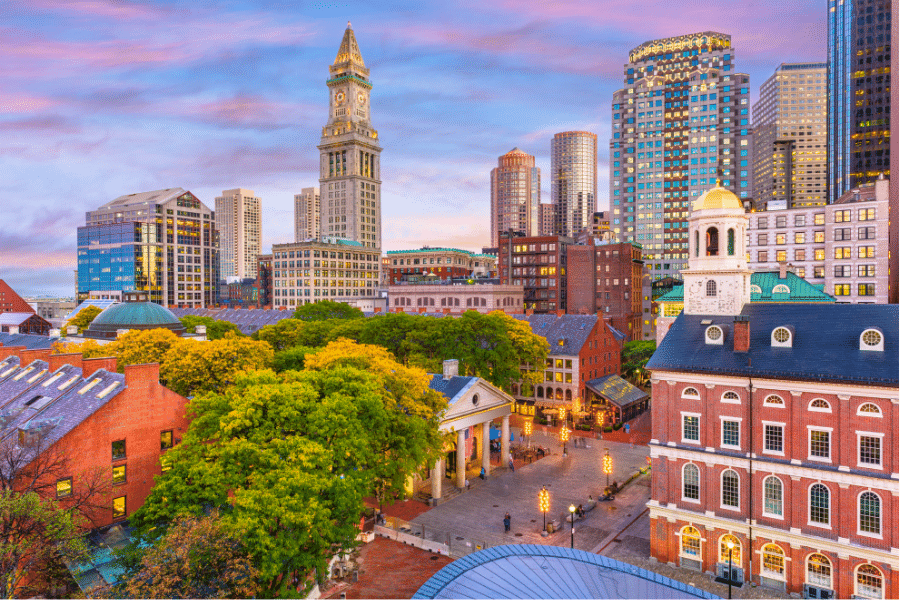 High cost of living.
Massachusetts is considered to be the sixth most expensive state in the country and has a cost of living that is 45% higher than the national average. The city of Boston is also considered to be the most expensive city in the state and has a cost of living that is 11% higher than the Massachusetts average. With a cost of living that is more expensive than living in Florida and living in North Carolina, Massachusetts certainly comes with a high price tag. On the plus size, living in Massachusetts is 18% cheaper than living in New York.
Since housing prices in Massachusetts are almost three times higher than the national average, it is recommended that a household should be making at least $5,861 each month or a median salary of $70,333 a year. This high cost of living and high housing costs can be attributed to the supply and demand of housing and the high earning potential of the state's jobs.
Exceptional education.
As the home of some of the top public school systems and higher education institutions in the country, Massachusetts offers an abundance of learning opportunities both inside and outside of the classroom. If you are moving to Massachusetts with school-aged children then you will be happy to learn that Massachusetts consistently ranks number one in reading and math testing scores compared to all other 49 states. The public school systems are also some of the safest in the country and are known to lead to success through the newly enacted Student Opportunity Act which encourages high-quality education and learning experiences.
For those searching for higher education opportunities, there is no shortage of those either. In fact, as the home of 50 higher learning institutions that teach a student population of over 150,000 people, there are tons of colleges and universities to choose from without leaving the state. Some of the top higher institutions in Massachusetts include Ivy League School Harvard University, University of Massachusetts Boston, Amherst College, Boston College, Salem State University, and the University of Massachusetts Amherst.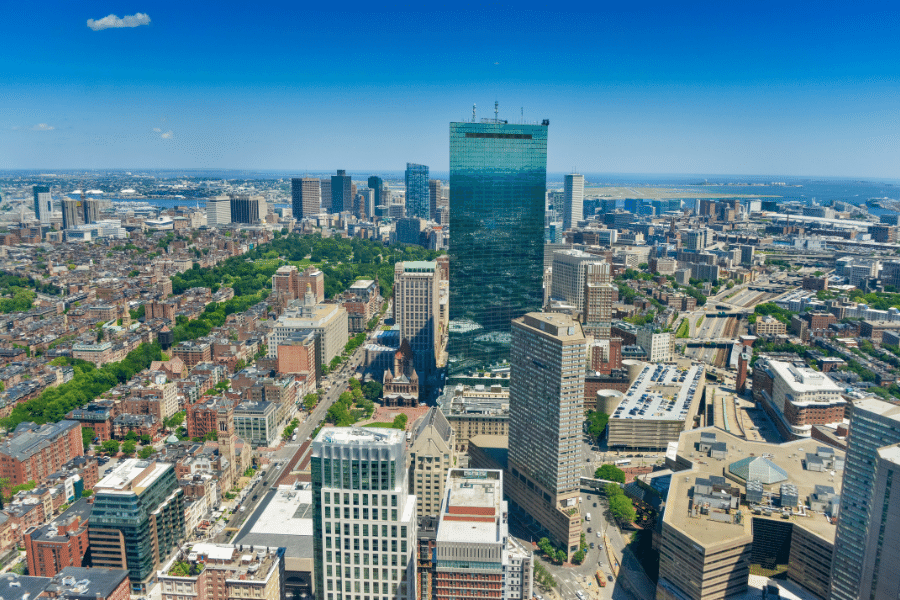 Massachusetts is the future of technology.
Known to have one of the strongest economies in the country, Massachusetts was ranked number one in economic health. With industries that are driven by technology and innovation, Massachusetts has worked its way up to becoming one of the most important technological centers in the United States. Since the state is recognized as having one of the highest educated populations in the country thanks to its quality education systems and leading universities and colleges, it is no surprise that top companies such as Google, Facebook, and Amazon have headquarters here.
Top healthcare systems.
Ranked number one in the country for health care, Massachusetts is known to have more mental health providers, primary care providers, and dentists per person than any other state. Since many top doctors and medical specialists work out of Boston and the surrounding areas due to the multiple amazing medical schools including Harvard Medical School and Boston University School of Medicine, it is easy to find great medical care when living in Massachusetts. Plus, with great health insurance options, up to 97% of residents are covered in case of an emergency.
Not only is the healthcare system reliable in Massachusetts, but more than eight of the state's hospitals were given a national ranking. In fact, out of more than 4,500 hospitals in the nation, the Massachusetts General Hospital was ranked number four. Since the healthcare and the hospitals are so good here, thousands of people from all over the world travel to the state in search of only the best medical care.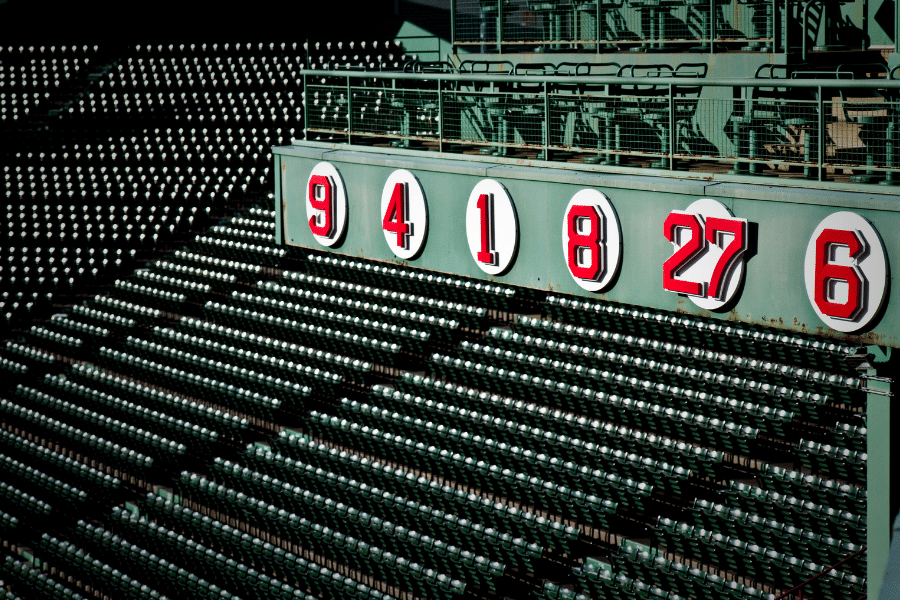 Great sports.
Home to a total of five professional sports teams, Massachusetts is a great place to live for sports lovers. Basketball was actually invented in Springfield, Massachusetts in the year 1891 and has been a popular sport ever since. Whether you like baseball, volleyball, football, or hockey, there is a sports team for you to cheer on. The current professional sports teams in Massachusetts are the Boston Bruins, Boston Celtics, Boston Red Sox, the New England Patriots, and the New England Revolution. So get a group of friends together and go support your new home team.
Prepare for the weather.
Known to have a humid continental climate, the residents of Massachusetts can expect hot and humid summers alongside cold and snowy winters. During the summer the temperatures normally average around 80 degrees Fahrenheit with nights averaging between 60 and 65 degrees Fahrenheit. Meanwhile, winter temperatures are normally freezing and often dip below 32 degrees Fahrenheit.
Though the summers and humid and bring measurable amounts of rainfall, the winter months tend to be accompanied by Nor'easters which can drop more than a foot of snow at a time. The average amount of snowfall each year in Massachusetts is 51 inches while the national average is only 28 inches of snow per year. This means that if you are going to move to Massachusetts then you need to be prepared for snowy and icy conditions once the winter season hits. Make sure to pack your heavy jackets and snow boots.
Dining and entertainment.
One of the best things about Massachusetts is the food. Whether you call yourself a foodie or are simply just appreciative of a good meal, Massachusetts has a variety of food options that will appeal to even the pickiest eaters. From world-class restaurants to locally-owned cafes, Massachusetts is most famous for its lobster rolls, New England clam chowder, oysters, fish n chips, baked beans, corn muffins, and Boston creme pie. Make sure to try something new when moving to Massachusetts.
Plus, with a vibrant nightlife scene that always has something fun and exciting going on, residents will never run out of things to do in the evenings and on the weekends. With tons of bars, sports pubs, nightclubs, jazz lounges, and live music venues to check out, residents can be found partying until two in the morning.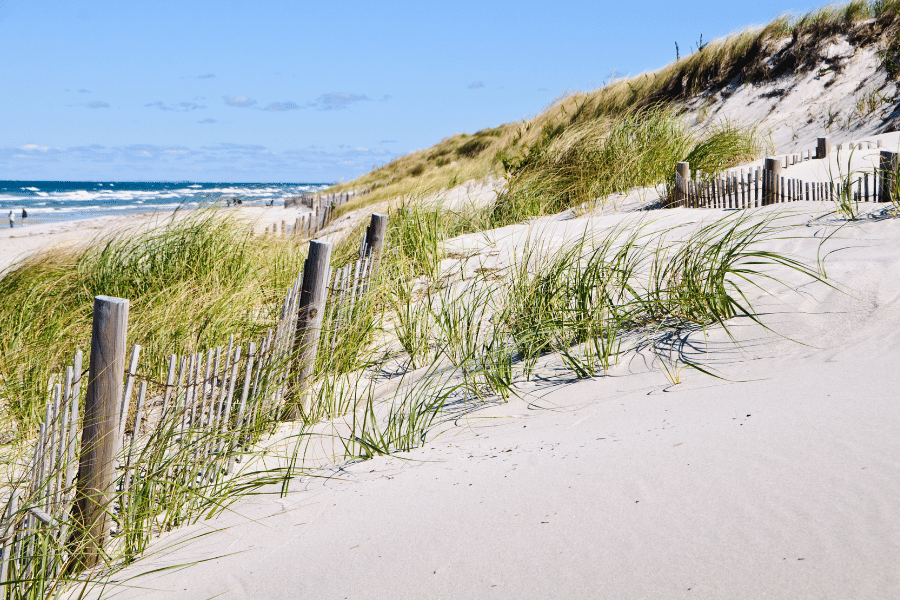 Beaches.
From beautiful freshwater lakes to the sandy shores of Cape Cod Bay and the Atlantic Ocean, Massachusetts is the perfect place to ride the waves. With over 200 miles of coastline, a total of 15 saltwater ocean beaches, and 50 inland freshwater beaches, there are a wide variety of beaches to choose from either for a day of family fun or for a romantic getaway. Not only do most of the beaches in Massachusetts offer lifeguard services, but many are close to some of the most popular cities in the state.
Check out these local favorite beaches in Massachusetts:
Chatham Lighthouse Beach: Considered to be one of the most beautiful and scenic beaches in all of Cape Cod.
Crane Beach, Ipswich: Surrounded by picturesque dunes and beach grass, this Cape Cod Bay beach is an awesome spot to watch the sunset.
Race Point Beach, Provincetown: This Cape Cod beach is about an hour and a half ride from Boston by ferry.
Singing Beach, Manchester by the Sea: Close to Boston, this beach is surrounded by historic architecture and is best known for its "singing sand" that creates sound when the sand grains rub together.
Coast Gaurd Beach, Eastham: A popular spot for nature lovers, this beach is great for swimming, playing beach volleyball, and watching the sunset.
Moderate crime rate.
Considered to have an average crime rate compared to other states in the country, Massachusetts is a relatively safe place to live. With a lower violent crime rate than the national average, residents tend to report that they feel safe and most have not had experiences with violent crime. With a property crime rate of only 11.8 per 1,000 residents, there has been a 50% decrease in property crimes in Massachusetts since 2010. While certain cities are certainly safer than others, most residents will be able to find a safe area to call home when moving to Massachusetts.
Moving to Massachusetts Pros and Cons
Pros:
Rich history
Top health care and nationally ranked hospitals
High-tech industries
Exceptional education system
Amazing food
Various entertainment options
Easy access to beaches
Great sports teams
Cons:
High cost of living
High housing prices
Cold winters
Moderate crime rate
The Bottom Line
According to a recent study, Massachusetts was named the number two best state to live in the United States right behind New Jersey. While Massachusetts may be considered the number three most expensive place to live in America, the state still has plenty to offer due to its high quality of life and intriguing benefits. If you are moving to Massachusetts and are interested in buying a home then make sure to reach out to one of our Realty Specialists to help you through the home buying process in one of the many fantastic Massachusetts cities. Contact us today!

Find your new home
Search real estate and homes for sale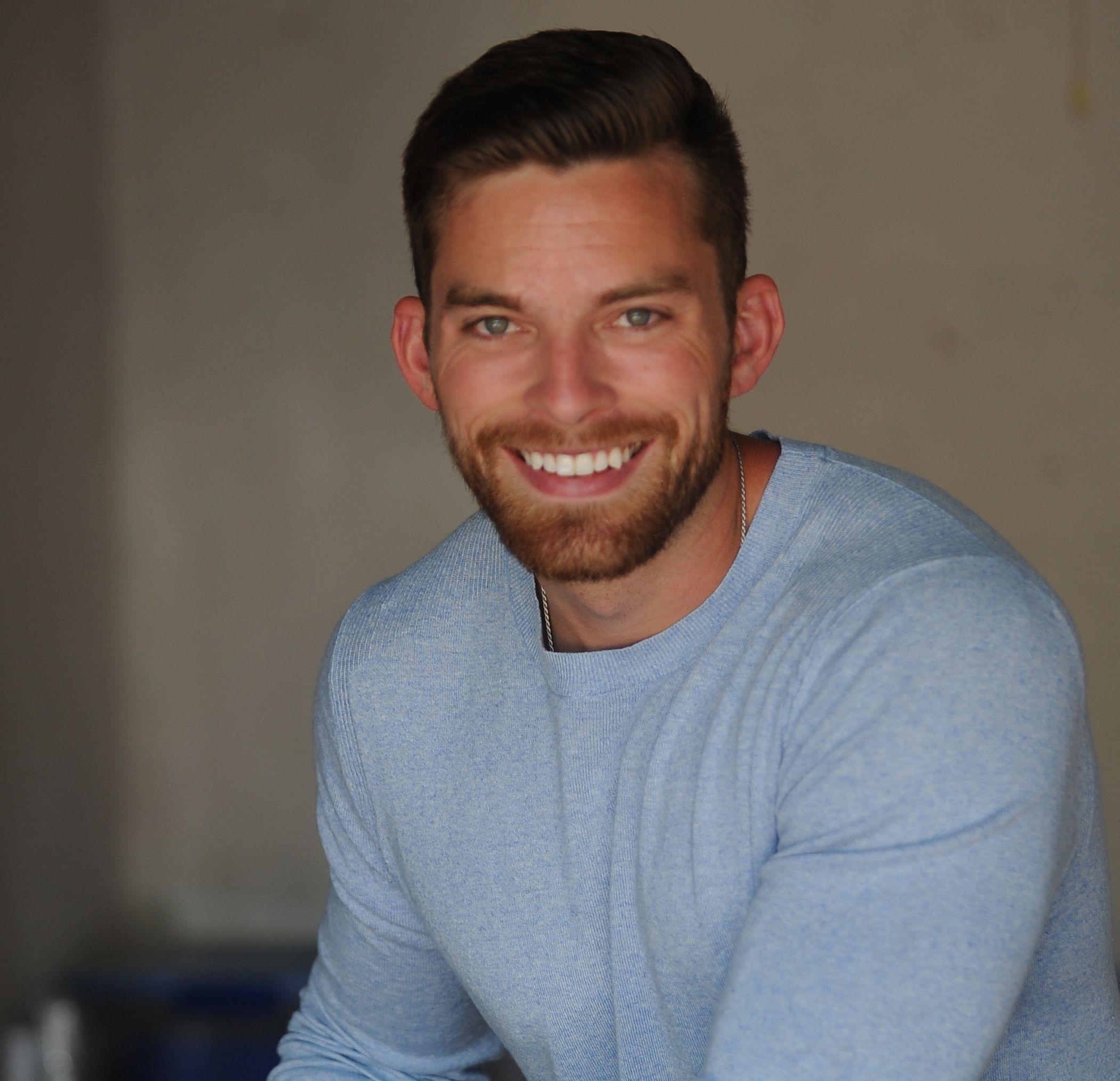 Ryan Fitzgerald
Hi there! My name is Ryan Fitzgerald, and I am a REALTOR®. My goal is to help you learn more about real estate through our Real Estate Blog! Hopefully, you enjoyed the above blog post and it found a way to provide help or value to you. When you're ready to buy or sell a home of your own let us know here. Please feel free to join the conversation by dropping us a comment below.