11 Best Neighborhoods in Huntersville, NC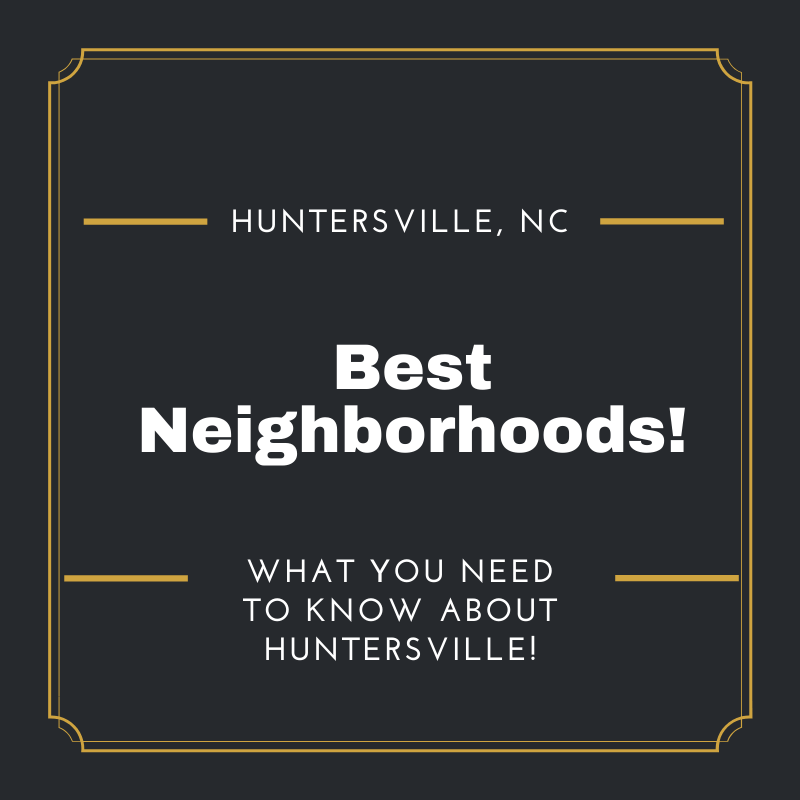 Best Neighborhoods in Huntersville, NC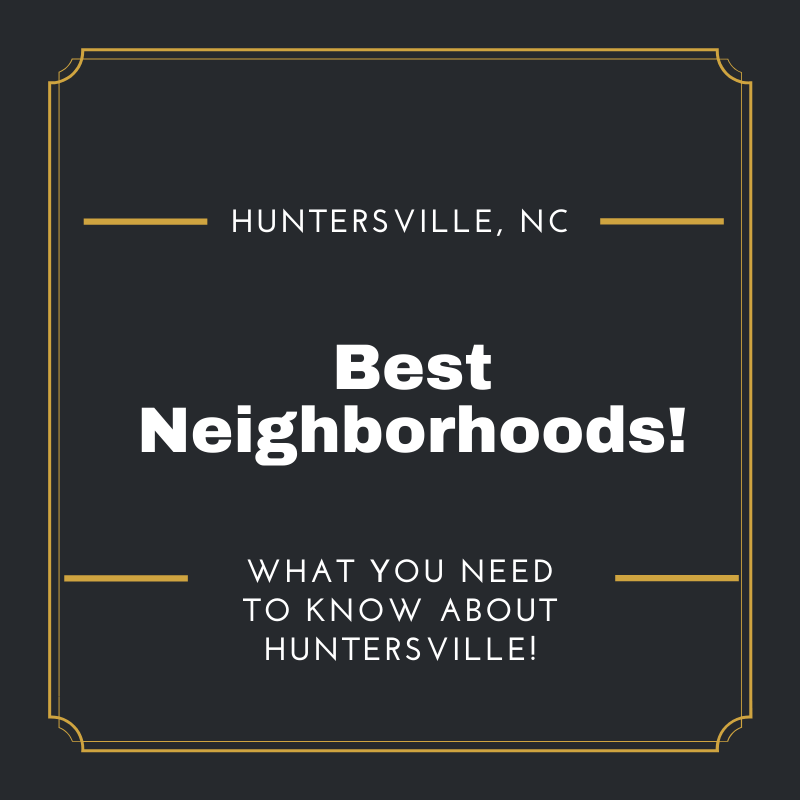 Some of the best neighborhoods in Huntersville can be found below. Huntersville is a town just north of Charlotte on Lake Norman
One of the reasons people are moving to Huntersville is because of how great the neighborhoods are! Our local Real Estate Professionals are ready to help you find great homes for sale in Huntersville, feel free to contact us for a private showing or to learn more!
Huntersville is a growing community just 15 miles north of Charlotte, located in Mecklenburg County with a population of 59,260. Voted Forbes Magazine's "Best Place to Move" in 2009, Huntersville sits on the shores of beautiful Lake Norman. Huntersville is a popular destination for commuters of the Charlotte area, as well as families who enjoy a strong sense of community and the outdoors! Huntersville has many amenities including parks, gyms, historic nature preserves, trails for biking, hiking, or even horseback riding. Huntersville is one of the safest suburbs of Charlotte and is a wonderful place to raise a family given the proficient school systems offered. If you're looking at homes for sale in Charlotte you will want to consider checking out the town of Huntersville. Neighborhoods in the Huntersville area offer a range of housing options, so it will not be difficult to find the right one for you!
Beckett
Beckett is a tranquil community ideal for young professionals, couples, and families. This neighborhood is also ideal for nature lovers, or for those who would like to spend a little more time outdoors. The family-friendly HOA offers amenities such as a clubhouse, pool, and playground. Beckett is placed in convenient proximity to shops, restaurants, and schools. Beckett is a smaller subdivision compared to those in the surrounding area, with only 180 homes in the neighborhood, allowing for an inviting and comfortable feel. If your family is looking for an adventure, the U.S National Whitewater Center is just a 20-minute drive away offering kayaking, rafting, zip-lining, and hiking!
Birkdale
Birkdale neighborhood located in Huntersville is an upscale community center including multiple lavish restaurants, boutiques, cafes, townhomes, and houses. This is a great family neighborhood, as there are numerous exciting indoor and outdoor actives. Birkdale offers an impressive 18-hole Arnold Palmer designed golf course, as well as multiple clubhouses, tennis facilities, sand volleyball, and a community pool. Birkdale sits just minutes away from Lake Norman and has quick highway access to uptown Charlotte which is only 25 minutes away. Enjoy community social events like "Mingling on the Greens" which is Birkdale's annual summer concert series.
Cedarfield
Cedarfield is located in the heart of Huntersville and includes amenities such as a clubhouse, swimming pool, playground, and greenway walking trails. This subdivision is also known for its lush landscape, large yards, and mature trees. The greenways of Cedarfield lead to other areas of Huntersville allowing for an enjoyable bike ride or a long walk to local shops and grocery stores. Enjoy a sense of community with events such as movies on the green, summer pool parties, and the annual holiday events like the neighborhood Easter egg hunt! This is a well-established community that continues to attract interest from potential buyers searching in the Huntersville area for numerous reasons!
View Cedarfield Homes for Sale
Gilead Ridge 
The Huntersville neighborhood of Gilead Ridge is considered one of the best neighborhoods in the Huntersville area. This subdivision offers a clubhouse, playground, pool, and numerous walking trails. This neighborhood is only minutes from Huntersville and the local amenities it offers. Gilead Ridge is one of the most popular neighborhoods in Huntersville and by clicking the link below you can view all the real estate listings!
View Gilead Ridge Homes for Sale
The Hamptons
This Huntersville neighborhood consists of large traditional brick homes surrounded by dense green landscaping. Amenities offered by The Hamptons include two clubhouses, playgrounds, two sets of tennis courts, two swimming pools, along with a community swim team for your children. There are many walking and biking trails to enjoy with your family. This location is perfect for short trips to Birkdale Village shops, Lake Norman or Charlotte. By living in The Hamptons, Charlotte Motor Speedway is only 20 minutes from your front door!
View all Homes for Sale in The Hamptons
Latta Springs 
Latta Springs is part of the Nature Preserve of Latta Plantation Nature Preserve, offering home sites with a rural feel. The streets are lined with traditional homes surrounded by dense, lush landscape. This Huntersville neighborhood offers walking trails, a lake, a swimming pool, and a picnic area, making for a peaceful and quiet place to live. This community is ideal for buyers who want to live away from the higher traffic areas of Huntersville, but still, wish to be close enough to local conveniences. The homes for sale in the Latta Springs neighborhood offer many options for any size family!
View all Homes for Sale in Latta Springs
Mirabella
This Huntersville neighborhood features expansive homes at a reasonable price. Mirabella offers resort-style amenities including a pool, cabana, playground, and clubhouse. Mirabella has access to beautiful green walking trails perfect for family walks or dog owners. The sense of community is strong in this Huntersville neighborhood, as residents often have social evenings at the gazebo during the summer months. If you are looking to buy a home in the Huntersville area, Mirabella is a neighborhood to explore.
View all Mirabella Real Estate for Sale
Northstone
Northstone community is a favorite subdivision of the Lake Norman area. The Northstone Country Club and golf course is an advantage of this Huntersville neighborhood. Joining the Northstone Country Club will bring a sense of membership and community, along with access to a fitness center, community swimming pool, and tennis facility, and basketball court. 
This Huntersville neighborhood is well established, dating back to 1997. The homes for sale in Northstone are equipped with many luxuries, and the neighborhood itself is manicured beautifully with sidewalks for walking, large trees and greenery, and multiple cul-de-sacs. This Huntersville Neighborhood should be considered if you are looking to buy a home for sale in the Huntersville area.
View all Homes for Sale in Northstone
Skybrook
Greeted by a serene neighborhood entrance with views of horse pastures and fields, Skybrook is a Huntersville neighborhood offering a spacious and peaceful atmosphere. Situated on 1,100 acres, this Huntersville neighborhood provides multiple amenities including a fitness center, recreation fields, fishing pond, nature trails, picnic areas, swimming pools, a waterslide, basketball, and tennis facilities, as well as a beautiful golf course. Buying a home in this subdivision is a great option for a family with an active lifestyle, as there is plenty to do! 
View all Homes for Sale in Skybrook
Village at Rosedale
Rosedale provides a wide variety of homes, fit for any size family. This community offers a swimming pool, playground, and puts you within walking distance to Rosedale Shopping Center which includes boutiques, restaurants, and bars. Torrence Creek Elementary School is directly in front of this Huntersville neighborhood, which is great for families with young children. This subdivision sits conveniently 10 minutes from Birkdale Village and Northlake Mall, and only a 15-minute drive from uptown Charlotte.
View Real Estate in the Village at Rosedale
Vermillion 
Located on the skirts of Mecklenburg County in Huntersville, Vermillion is a unique, close-knit community offering spacious, modern living. This family-oriented neighborhood offers its own retail stores, commercial offices, post offices, and even its own community restaurant- Harvey's Bar and Grill! This Huntersville neighborhood is located roughly 3 miles from I-77, making for a quick and easy drive to Charlotte or Lake Norman. The "New Vermillion" development offers great lots for sale so that buyers can build a new home, while also offering resales. The Vermillion subdivision as a whole is rated as one of the best neighborhoods in the Huntersville area. 
View Homes for Sale in Vermillion
Best Neighborhoods in these Lake Norman Towns:
Mooresville best neighborhoods
Moving to Guide for these Lake Norman Towns:
#blog-best-neighborhoods-cta#
#blog-moving-cta#

Find your new home
Search real estate and homes for sale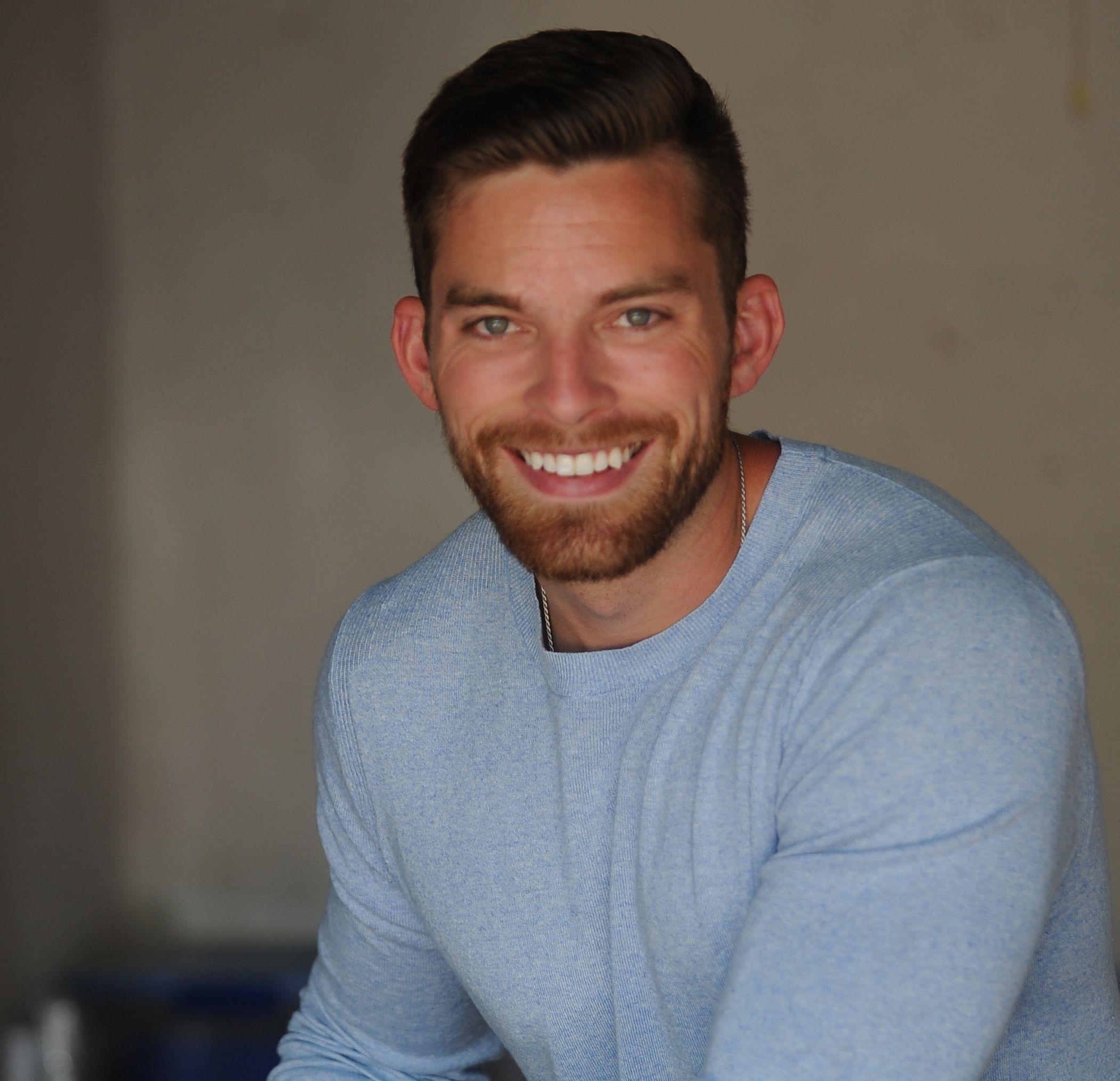 Ryan Fitzgerald
Hi there! My name is Ryan Fitzgerald, and I am a REALTOR®. My goal is to help you learn more about real estate through our Real Estate Blog! Hopefully, you enjoyed the above blog post and it found a way to provide help or value to you. When you're ready to buy or sell a home of your own let us know here. Please feel free to join the conversation by dropping us a comment below.