7 Things to Know Before Moving to Cornelius, NC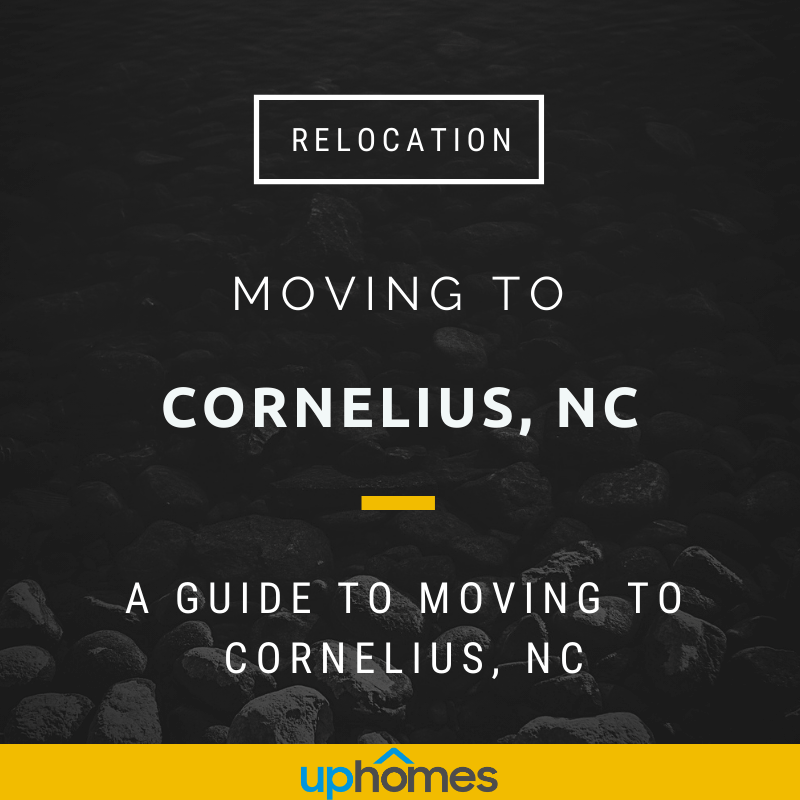 Living in Cornelius, NC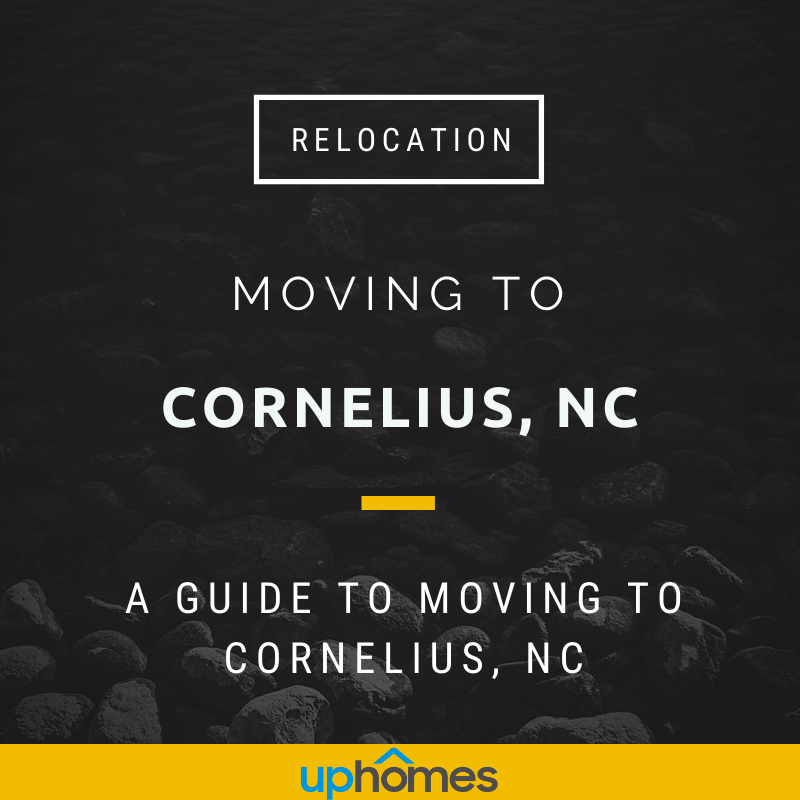 Moving to Cornelius, NC seems to be a popular thing to do over the last couple of decades as what was once a small town with 9,000 people (in 1999) living in Cornelius is now over 30,000 people (in 2020). You can check out all the amazing homes for sale in Cornelius including some spectacular lakefront properties on Lake Norman!
Many people want to know if Cornelius is a good place to live and the answer is undoubted, yes. A small suburb in Mecklenburg County and just outside of Charlotte, Cornelius, NC is one of the best places to live in North Carolina.
Let's jump in and discuss all the things you need to know before you move to Cornelius!
Lake Norman
As with many of our "moving to" guides, they begin with moving to Lake Norman which is simply one of the best parts about living in a northern Charlotte suburb! Cornelius has a prime location on the southeastern corner of Lake Norman making the lake easily accessible for anyone who lives in Cornelius. Many folks will travel from Charlotte to Cornelius and other nearby towns to utilize all the lake has to offer.
One of Charlotte's largest attractions, Lake Norman, provides beautiful beaches with opportunities for boating, fishing, camping, hiking, trails, and much more for its visitors. One of the largest man-made lakes in North Carolina and boasting 520-miles of shoreline, Lake Norman is simply one of the best parts about Cornelius.
If you love hiking or trails with a view you will love Lake Norman State Park!
Things to Do In Cornelius, NC
You will never run out of things to do in Cornelius, NC thanks to all the town has to offer. From Lake Norman to local restaurants, movie theaters, bowling alleys, there is something for the entire family even on a rainy day! If you love parks, you will love Cornelius.
Charlotte - Charlotte is a great place to go if you are looking for a fun night out or maybe you want to catch a Carolina Panthers or Charlotte Hornets game! Charlotte is one of the best cities to live near which makes Cornelius a great spot for those considering a move! Many folks who are looking to move to the Charlotte area also scope out Raleigh, North Carolina which is equally as great. Both of North Carolina's largest cities offer great suburbs, places to live with tons of things to do!
Lake Norman - Quite possibly the main attraction for Cornelius, NC is Lake Norman. If you love the beach or being on the water, you will love Lake Norman. A lot of folks who are moving to Charlotte for a job will relocate straight to Cornelius thanks to what the suburb has to offer. If you're looking for fun things to do in Cornelius look no farther than Lake Norman with its numerous activities including walking trails, beaches, boating, fishing, camping, hiking, and more!
Lakes and Parks in Cornelius
Jetton Park - Jetton Park is one of the popular Lake Norman parks that sits on 104-acres with a smaller beach, tennis courts, trails, and picnic areas.
Ramsey Creek Park - 43.7 acres waterfront park with a beach that packs up quickly so get there right at 10 am when they open! The lakefront park allows for fishing, boating, picnics, walking trails, and more! Volleyball on a sand court, horseshoes, and a playground for the young ones! 
Bailey Road Park - a 66-acre park with plenty of room for activities including a track, fields, disc golf, a playground, trails, picnic areas, and more! 
Robbins Park - A 'nature' based theme park or playground that gives kids a fun area to play! You have to check out this park just for the cool playground at the very least. Many of the people who live in Cornelius love this park for disc golf, tennis courts, dog walking, and more.
Restaurants and Breweries in Cornelius
131 Main Restaurant - With 4 locations now, and the original 131 MAIN beginning in Cornelius, NC makes this restaurant a must-try for folks who may be visiting the area. From Barrel Cut Filet Mignon to Cedar Plank Salmon this is the perfect restaurant to celebrate a birthday, a holiday, or a loved one in Cornelius!
Fresh Chef Kitchen - Open for lunch or dinner, Fresh Chef Kitchen is committed to using the freshest ingredients for its menu options. From salads and sandwiches to a pasta alfredo with blackened chicken, the Fresh Chef Kitchen has something for everyone!
The Harp and Crown - The Harp & Crown created a blend of traditional recipes with modern flavors for a menu that is as bold as the experience they attempt to create at their beautiful dining establishment. Dishes that include Guinness Pot Pie, Irish Meatloaf, and their famous Harp Battered Fish and Chips!
Port City Club - A uniquely designed 13,500 square foot waterfront restaurant located on beautiful Lake Norman. The Port City Club also offers rooms that each have a unique lake view and reflect a bright, cheerful yet classy atmosphere. One of the best restaurants in Cornelius, the Port City Club is committed to fresh ingredients and local specialty beers and wines!
Choplin's Restaurant - A steak and seafood place that gets the taste buds going! Chef Wes Choplin had a passion to create a unique and savory blend of foods for his menu. Diners are amazed by the individually prepared entrees made with the freshest local ingredients!
How Far is Cornelius to Charlotte?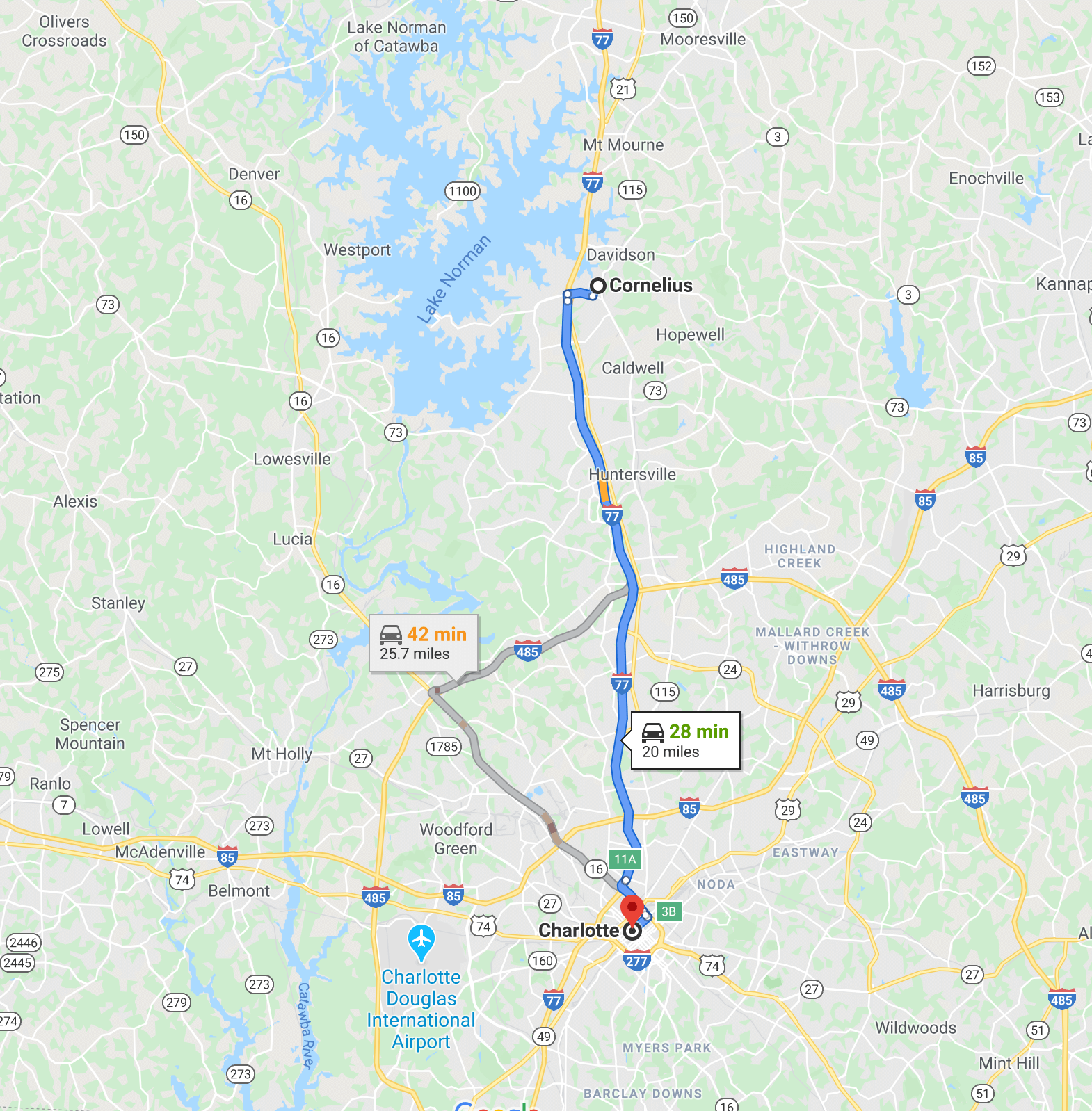 For those who are wondering how far Cornelius is to Charlotte, it's about a 30-minute drive over 20 miles. It's a straight shot down Highway 77 making it an easier, more convenient, 20-mile drive.
Many folks will make the trip from Charlotte to Cornelius for a day on Lake Norman or to visit one of their top-ranked restaurants! 
Many folks from Cornelius may work in Charlotte and will make the commute daily. Oftentimes folks living in Cornelius will travel to Charlotte for a night out, a Carolina Panthers or Charlotte Hornets game, or maybe even a concert downtown!
The proximity of Cornelius to Charlotte is part of what makes it a spot people are moving to!
If you're planning a move to Cornelius and working in Charlotte you won't be alone. Many folks who live in Cornelius travel into the city for work!
Moving to Cornelius: Final Takeaways
The affordability of Cornelius real estate is one of the biggest reasons anyone would move to Cornelius especially when you consider its proximity to Charlotte which also has affordable real estate. When considering where you want to live in the Charlotte area, Cornelius is a spot you must check out especially with all of the things to do and great restaurants available. However, the number one reason someone should consider Cornelius is the beauty of Lake Norman!
Check out some of the homes for sale in Cornelius or our other Moving to Guides:
#blog-moving-cta#
#blog-best-neighborhoods-cta#

Find your new home
Search real estate and homes for sale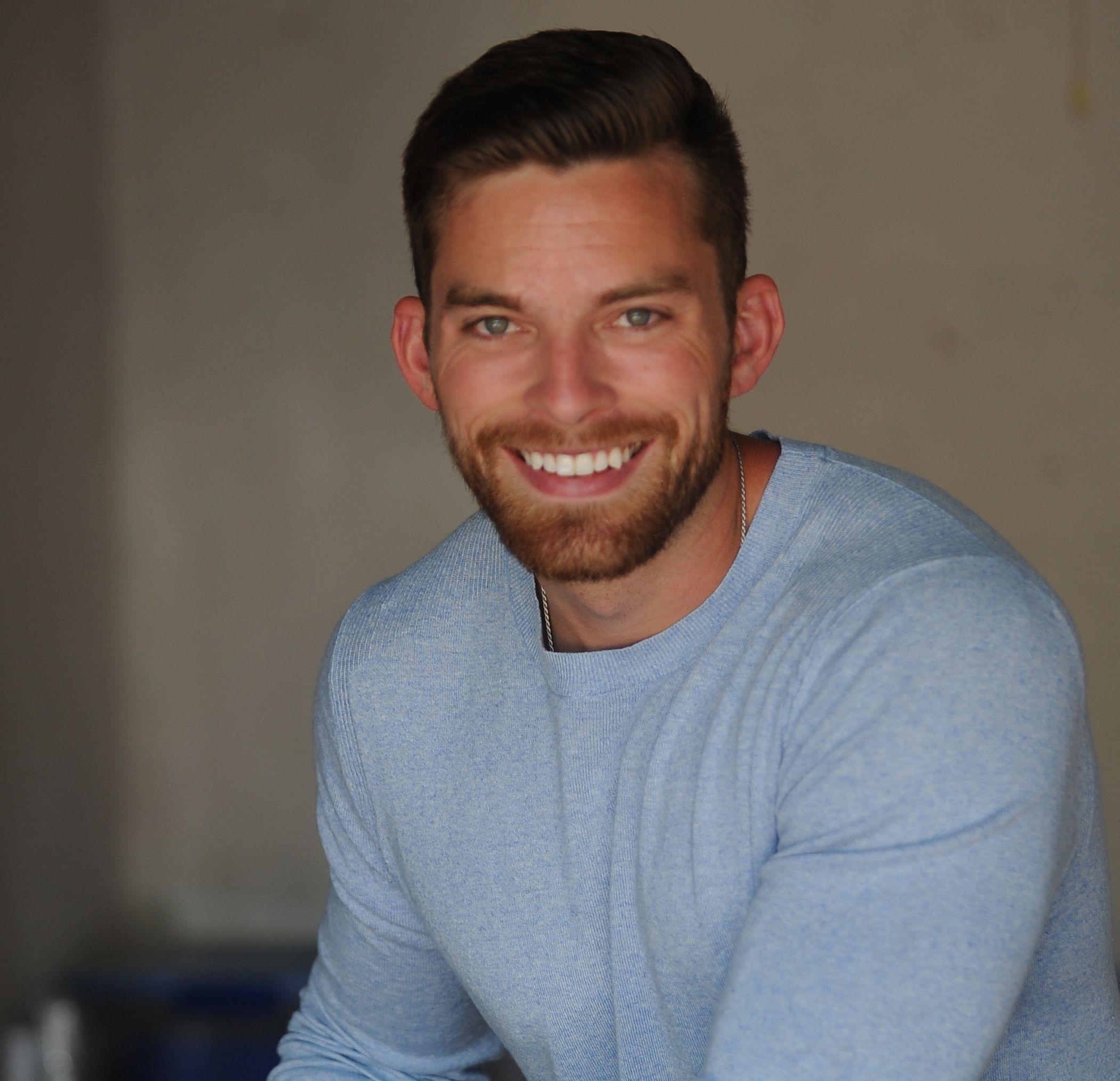 Ryan Fitzgerald
Hi there! My name is Ryan Fitzgerald, and I am a REALTOR®. My goal is to help you learn more about real estate through our Real Estate Blog! Hopefully, you enjoyed the above blog post and it found a way to provide help or value to you. When you're ready to buy or sell a home of your own let us know here. Please feel free to join the conversation by dropping us a comment below.