7 Things to Know BEFORE Moving to Princeton, NJ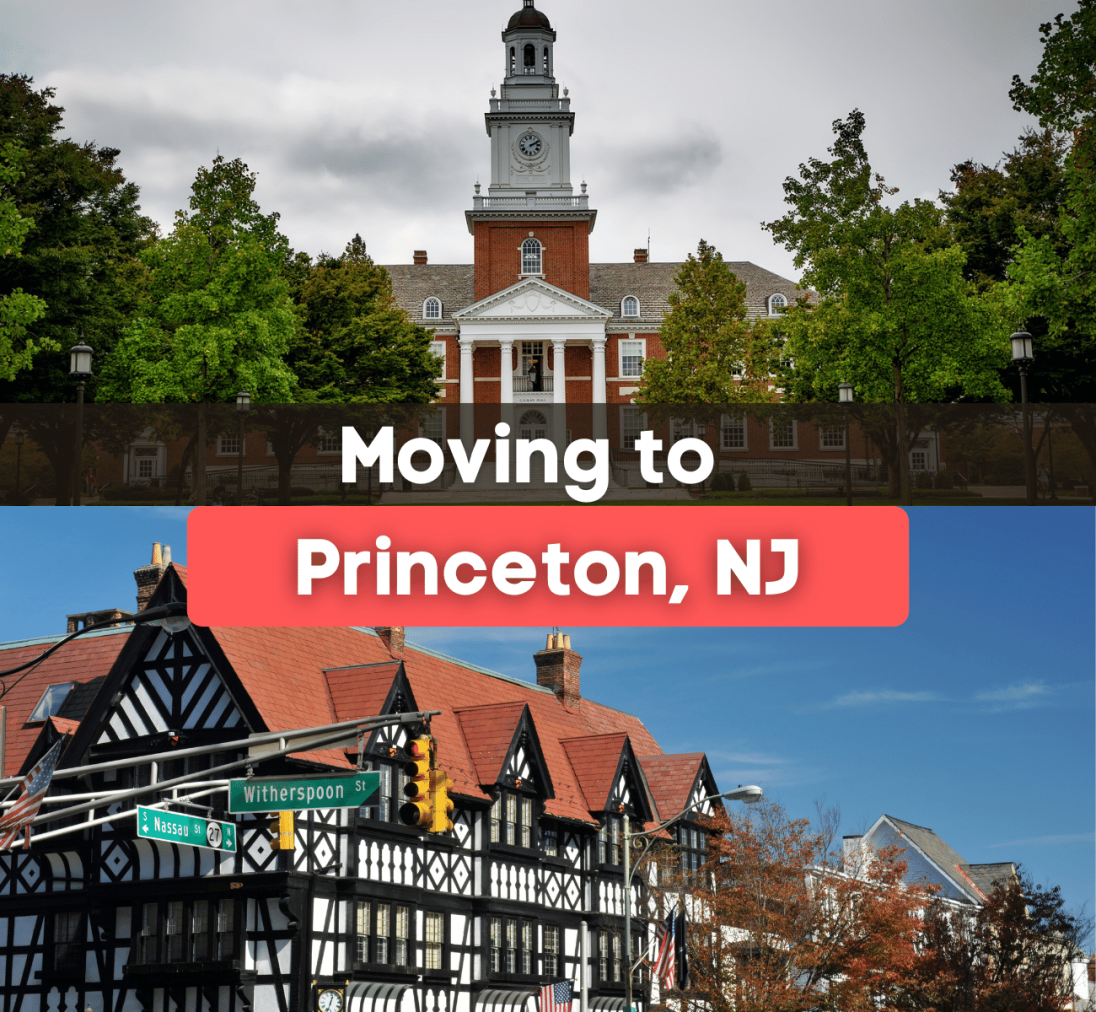 Living in Princeton
Are you moving to Princeton, NJ? Make sure you know these seven things before moving to Princeton!
Princeton, New Jersey, is a great place to live with a bustling downtown area full of bars and restaurants, historic buildings and museums, one of the top universities in the United States with a stunning campus, many lush parks, and easy access to large cities such as New York City and Philadelphia. Living in Princeton provides residents with a friendly suburban feel with quiet neighborhoods and low crime rates making it a fantastic choice for homebuyers.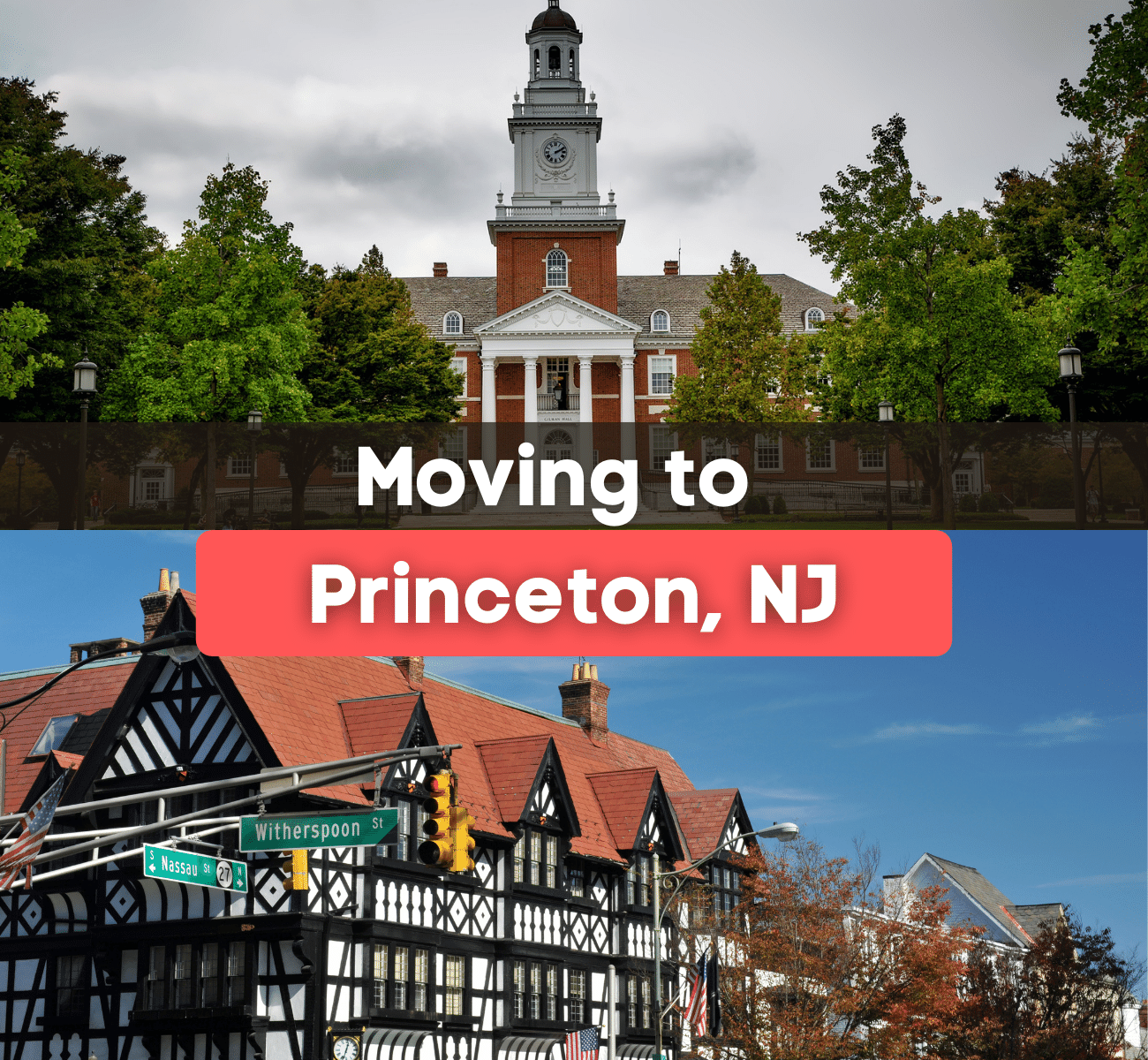 Located in central New Jersey, this town has a population of 30,872 residents. Considered one of the best places to live in New Jersey, Princeton is known for its Ivy League Princeton University with Gothic-style buildings and University Art Museum with extensive collections. This area of New Jersey is also full of important American history, with a Revolutionary War site, a museum showcasing historical weapons, and a Battlefield State Park. With so much to do in a welcoming town full of families, young professionals, and students, Princeton could quickly become your new home! Read below to learn more about Princeton and what living there would look like if you move to New Jersey.
Here are the seven things you should know about Princeton, NJ!
Princeton Has a Rich History
Princeton has a rich history that is still preserved in many ways today. Settled in the late 17th century, the timeline of how this town came to be and what happened on its land is quite impressive. From great battles that changed American history to monumental architectural designs, Princeton is an essential town in the growth of the United States.
Check out the timeline of Princeton below to learn more about its history!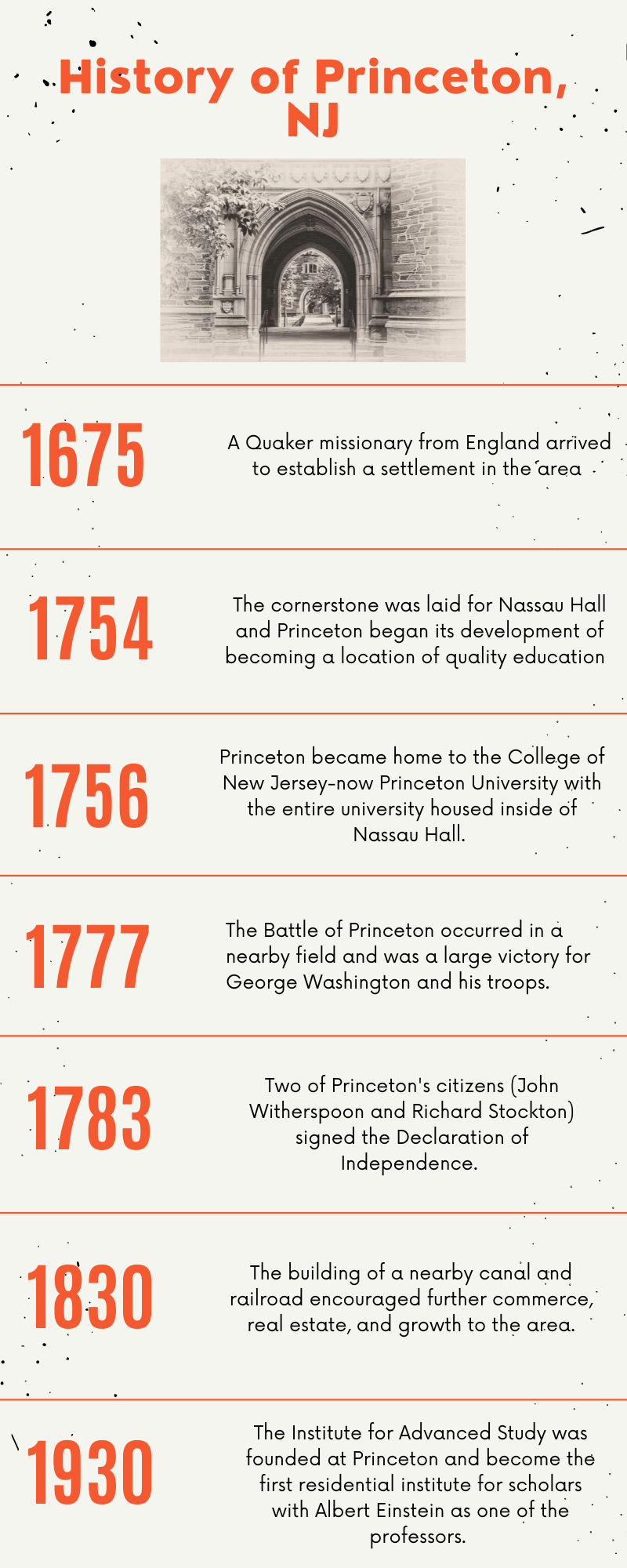 Living in Princeton is Expensive
It shouldn't be a shock that living near one of the most beautiful and architectural campuses with easy access to clean and colorful parks and a diverse downtown area will be costly. The median home value in Princeton, NJ, is around $825k, making it an expensive place to live compared to other towns in New Jersey and surrounding areas. But, for many individuals living here, the cost doesn't seem as high due to the higher household incomes in the town. The median household income in Princeton is around $146,127, making it much higher than the national average.
But unfortunately, not only are home costs higher here, but food and transportation prices are amongst the highest in the nation as well. In the state of New Jersey, food costs are about 5.8% more expensive than in the rest of the U.S., whether it's groceries or eating out, and gas prices are typically around 10 cents higher per gallon compared to other states. But, the town has excellent options for public transportation for a lower cost and a very high walkability score.
With excellent job options and beautiful homes within a short distance of downtown, the prices are not out of reach especially compared to the other large cities around the area. Before moving here, ensure that you can set aside some savings or make a high enough salary to make the higher prices more affordable.
Enjoy Colorful Seasons
Princeton is known for its beautiful colors surrounding both campus and the town through strategic landscaping of trees arching over pathways to flower gardens and lush green grass throughout the parks and fields. But, unfortunately, the crisp fall and spring weather doesn't last year round here; instead, you get to experience each season to its fullest.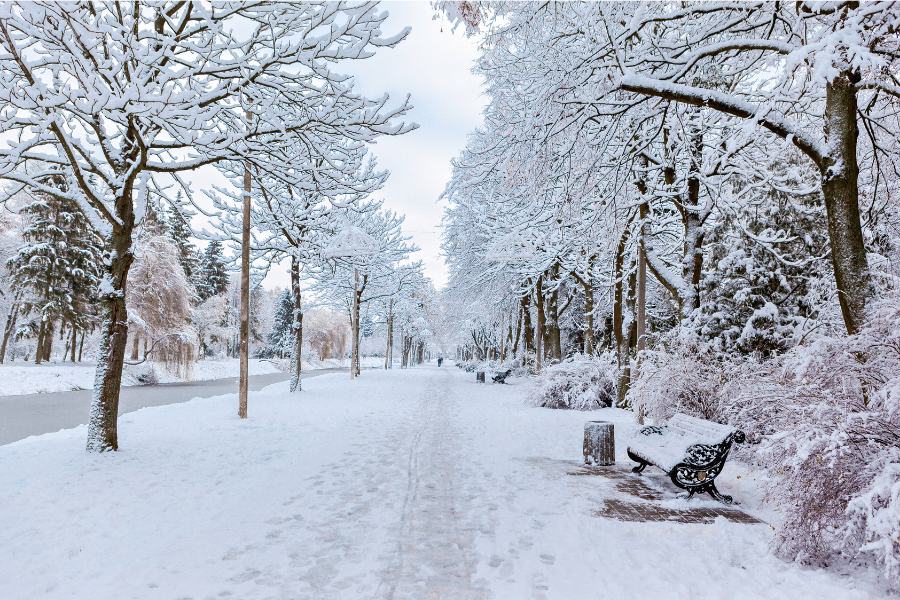 Winters in Princeton get very cold, windy, and snowy, with an average of 24 inches falling each year. The winter months are December to March, and average temperatures are around 45 degrees. Instead of bright colors painting the town, the winters showcase snowy trees with icicles lining the buildings and snow piles used as sledding areas. Although the snowy winters can be a lot of fun, look out for blizzards that can sometimes occur!
The summers in Princeton are from June to September, with temperatures averaging around 75 degrees but sometimes reaching the 90s. Summers here are warm, humid, and wet, with the most rainfall occurring in July, with an average rainfall of 3.7 inches.
Fall and Spring are genuinely the best times of the year here, with the temperatures averaging in the 60s and partly cloudy skies. These seasons bring out the beautiful colors of the trees, flowers, and herbs planted all over the town and campus. There are also orchards and festivals during the fall, such as the Cranberry fest, to enjoy and get fresh produce.
Overall, Princeton has a well-rounded calendar of seasons where you enjoy each aspect of what each season brings. If you are someone who can enjoy the snow but also be able to soak in some sun, this will be a fantastic place for you to live.
There is Always Something To Do
With an outstanding campus with overarching buildings designed in Gothic-style architecture and spots of important United States history, this town has some fantastic attractions and exciting things to do! From museums full of art and artifacts to parks and monuments to enjoy the outdoors with, there is something for the entire family to enjoy here.
Check out the list below for local favorites to visit in Princeton!
Local Favorites:
Fantastic Food
Downtown Princeton and surrounding areas are a magical hub of unique and diverse food options. This area has everything from great tourist options of fine dining to local family and student favorites for cheap eats. With most eateries being centrally located in the downtown and university area, making them easily accessible and walkable, you can find ethnic food options from all over within a mile-square radius.
Check out some of the local favorites below!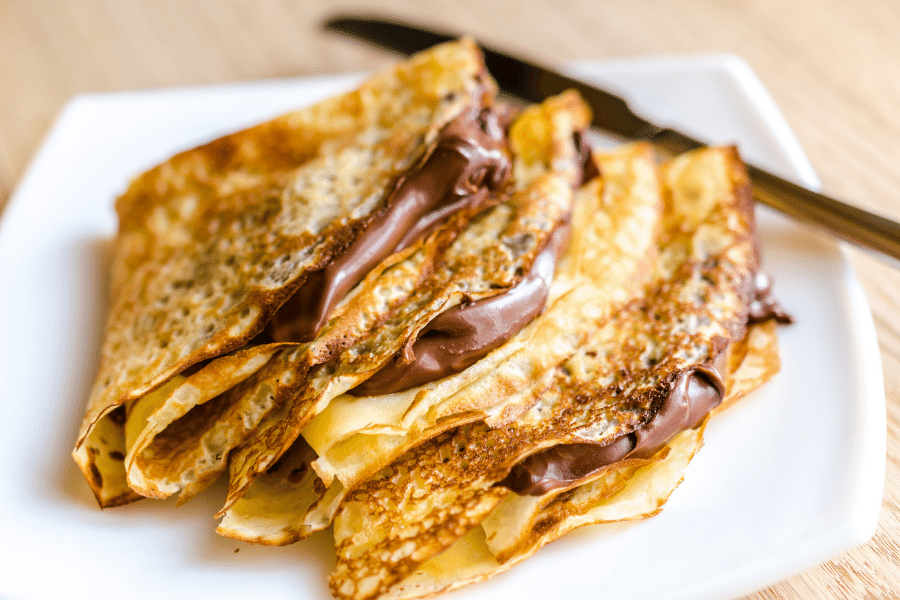 Local Favorites
Traveling is Easy
Princeton has multiple ways to get around town, whether by public transportation or your vehicle. The town itself is also conveniently located near two major cities, New York City and Philadelphia, where you can travel to and from many places cheaply and with ease.
With lots of options for public transportation, it is easy to get confused about which option will be the fastest and easiest for you. Check out the chart below to see what public transportation option is best for you, depending on your travel needs.
| | | |
| --- | --- | --- |
| Transportation | Location | Cost |
| TigerTransit | Campus Area | Free |
| Princeton Muni Transit | Princeton Area | Free |
| The Loop | Princeton & Local Towns | $1.60 |
| NJ Transit | Quakerbridge Mall, Mercer Mall, Nassau Park, Market Fair, Montgomery ShopRite, and Princeton Station | $1.60 |
| Coach USA/Suburban Transit Line 100 | NYC & Central NJ | $18 |
| Amtrak | Anywhere in the US with Amtrak Station | Ranges |
If you are a student or individual living near campus, you have easy accessibility to anything you need within walking distance or free public transportation means. Princeton, as a town, has a fantastic walkability score, causing many to choose to now own a car of their own. But, if you have a family or want to own your vehicle, driving in Princeton is another excellent way to get around. Although it is a busy town, going to Princeton is not as bad as you think. Traffic doesn't get nearly as backed up as in surrounding areas, but commuting to and from if you take significant highways can become tedious.
No matter if you need to get around town or travel outside to other areas for a bit, there is an easy way for you to get there.
Living in a College Town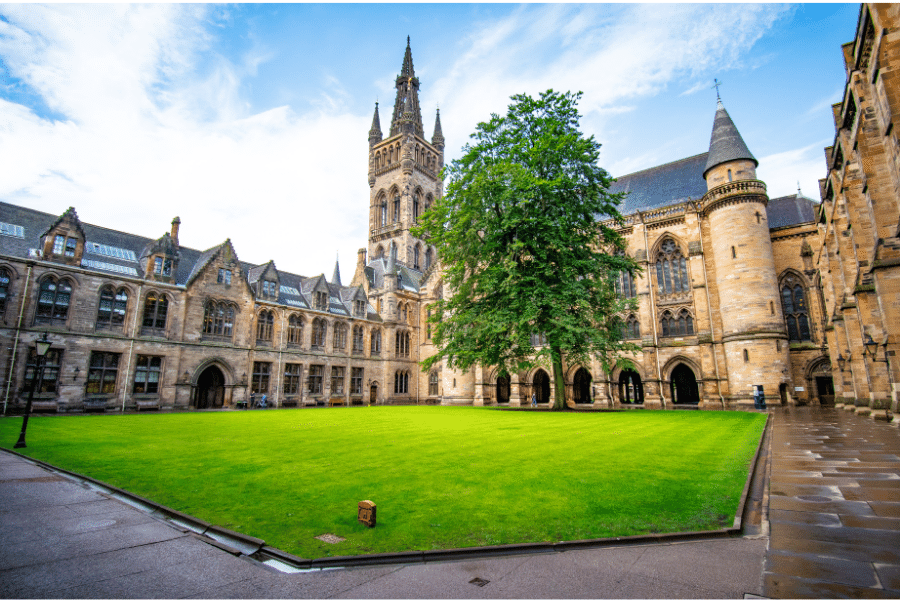 When you think of living in a college town, many individuals believe immediately of crowded bars with loud music, trash in the streets, and young individuals being rowdy into the late hours of the night. But living near Princeton University is a different story.
Princeton is one of the oldest colleges in the U.S. and is known to be a quiet and charming area where students and families alike can enjoy the historic campus. The population of the college itself is over 8,000 students, making the town a college town with many restaurants, cafes, and bars often having students within their walls. But, students are incorporated into the Princeton community, and many individuals here live enjoy the vibrancy that the students bring to the area.
With a prestigious reputation, many students attending Princeton are focused on their studies and hold the importance that the university requires of being respected within and outside of the university walls. So, even when enjoying a pint at the bars or having a coffee with friends, the students are typically well-behaved and provide a unique college town experience for themselves and those around them.
Being located near Princeton University also has lots of benefits for the community as well. The campus is one of the most stunning and well-kept campuses in the nation, and its parks, libraries, museums, and more are open to the public year-round, making it a great place to visit or utilize its resources. Founded in 1746, the college is also the fourth-oldest institution in the U.S. It was established before the Revolutionary War, making it a reminder of American history and a great area to learn more about its history.
Pros and Cons of Living in Princeton, NJ
Pros:
Low crime
Lots to do
Historical buildings and monuments
Top-rated universities
Age diversity
Family-friendly
Cons:
Expensive
Cold Winters
Downtown areas can be loud at times
Heavy traffic
Moving to Princeton, NJ-Final Thoughts
Princeton, NJ, is a great place to live with an Ivy League University within the town, many things to do for the whole family, fantastic food options, stunning historic buildings, and beautiful clean parks. This is an excellent option if you want to live in a charming town with easy access to other large cities!
If you or anyone you know is moving to Princeton, NJ, make sure to contact us here so that we can connect you with one of our Realty Specialists. No matter your budget, location, or preferences, we will work with you to help you find the perfect home. Whether you are searching for single-family homes for sale in Princeton, townhomes for sale in Princeton, luxury homes for sale in Princeton, or new construction homes for sale in Princeton, we are here to help!
Make sure to refer to our other local area guides with information about moving and the best neighborhoods, including moving to Jersey City, moving to Newark, the best neighborhoods in Newark, moving to Hoboken, the cost of living in Pennsylvania, and moving to Pennsylvania.

Find your new home
Search real estate and homes for sale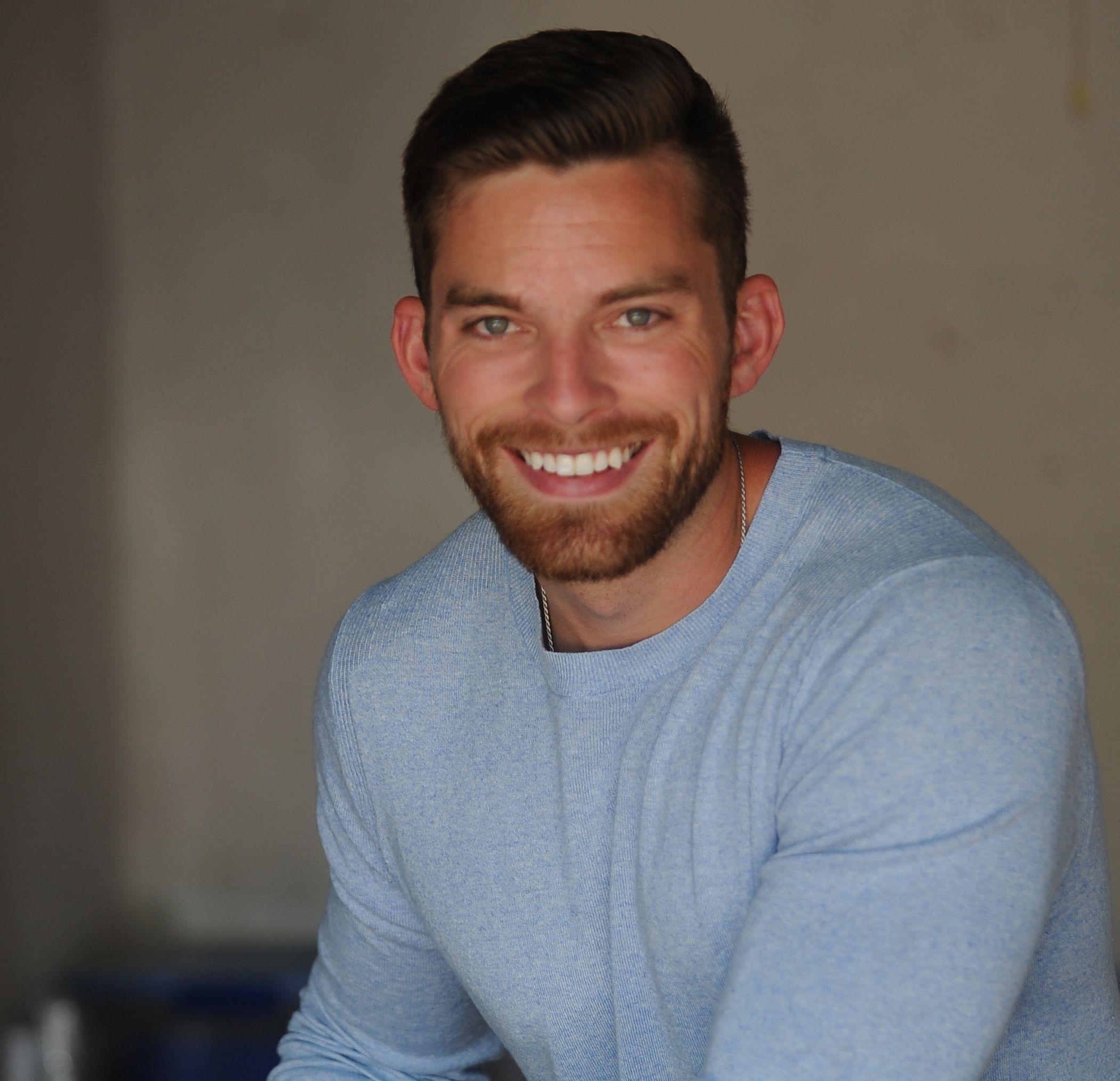 Ryan Fitzgerald
Hi there! My name is Ryan Fitzgerald, and I am a REALTOR®. My goal is to help you learn more about real estate through our Real Estate Blog! Hopefully, you enjoyed the above blog post and it found a way to provide help or value to you. When you're ready to buy or sell a home of your own let us know here. Please feel free to join the conversation by dropping us a comment below.