7 Things to Know BEFORE Moving to Hoboken, NJ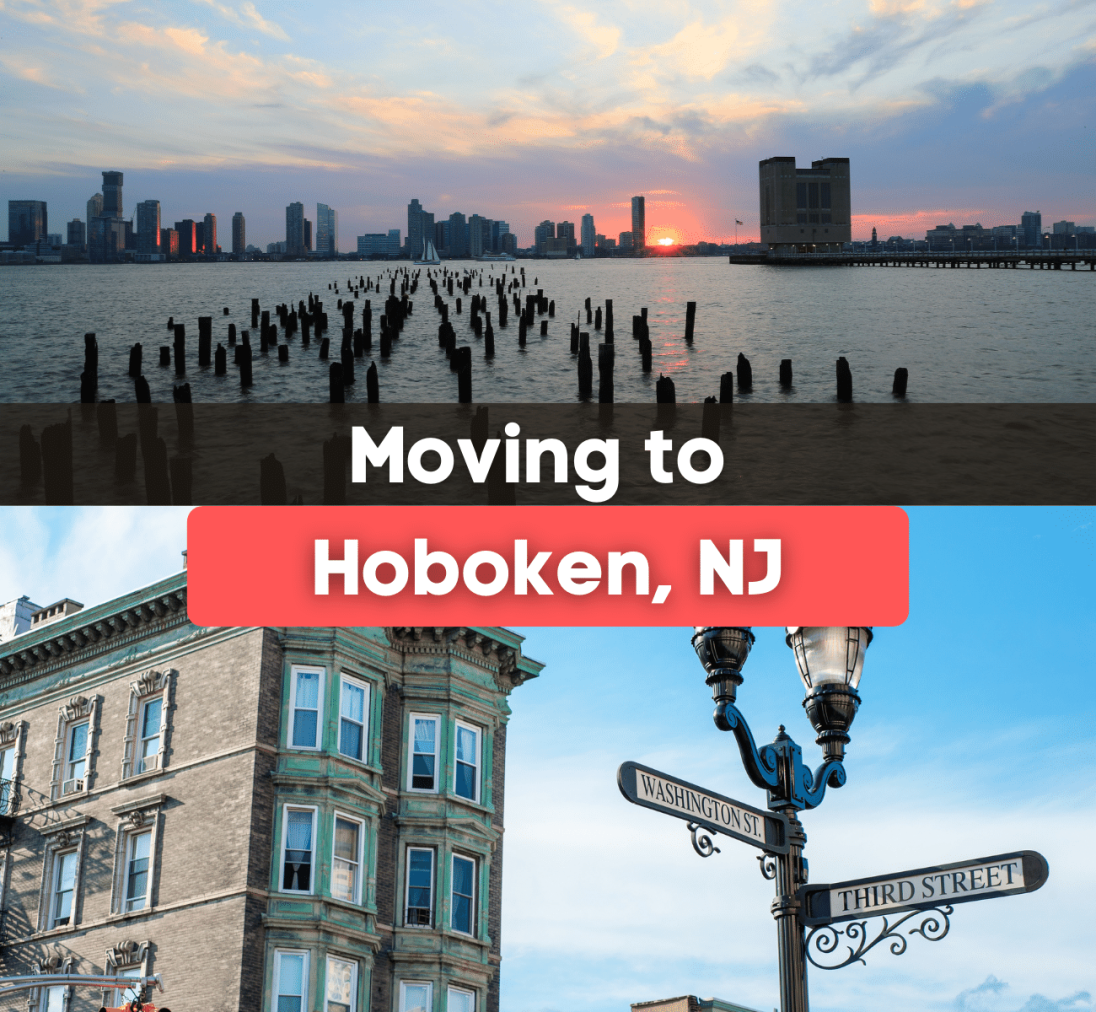 Living in Hoboken, NJ
Are you moving to Hoboken, NJ? Make sure you know these seven things about living in Hoboken before making a move!
Hoboken is known as the birthplace of both Frank Sinatra and baseball but has a ton of other factors as well that make it such a great place to live. Located directly across the water from Manhattan, you get breathtaking views of the New York City skyline while living in an exciting and lively city. With a population of 58,690 people, residents enjoy a dense urban lifestyle with many fantastic parks, restaurants, cafes, bars, and attractions in a quieter and smaller city than the larger ones surrounding it.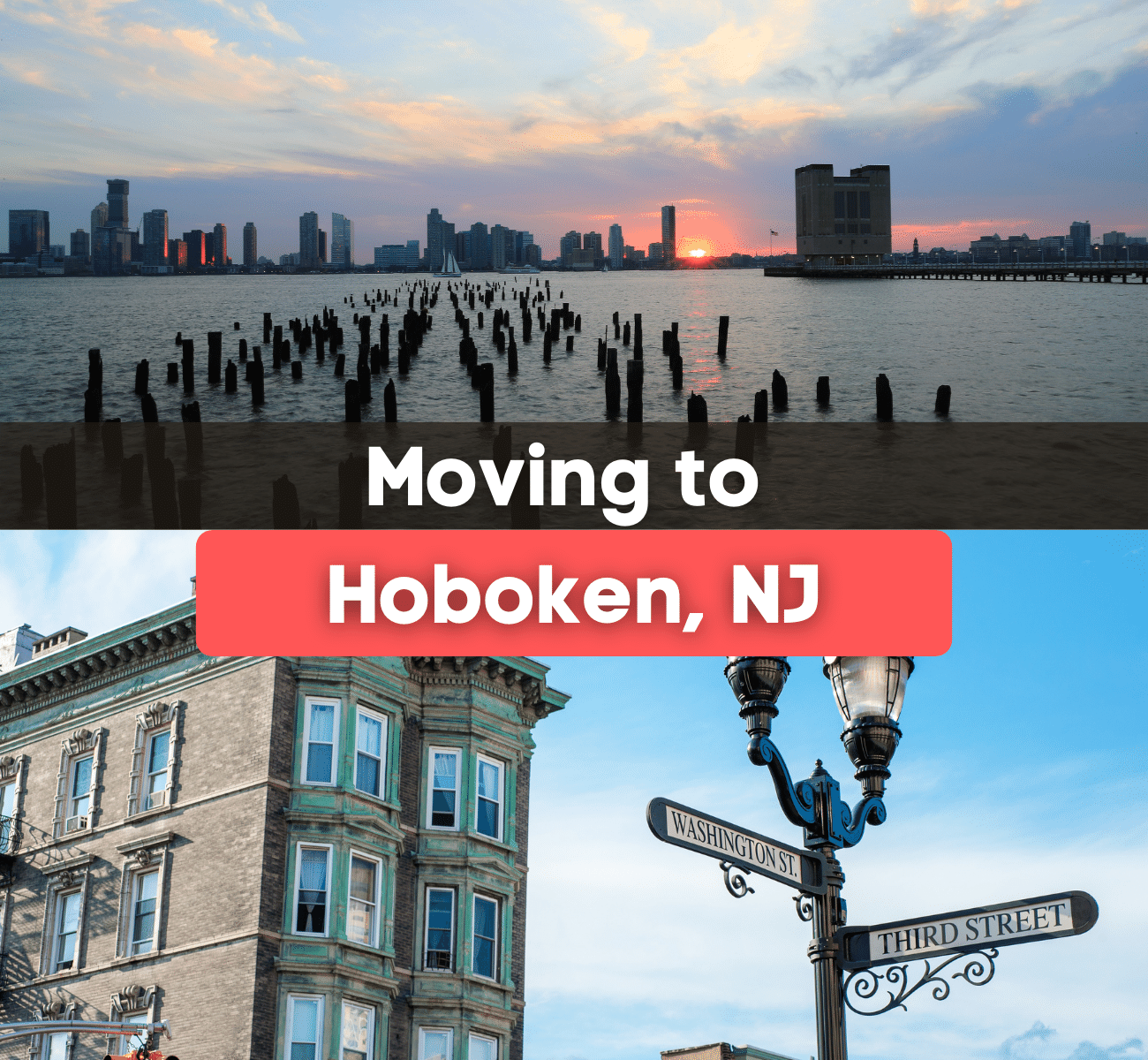 The entire city of Hoboken is only 1.25 square miles large, and the median age of people living there is 30, making it a relatively young town. Lots of young professionals, artists, college students, and families choose to live here with the beautiful architecture and exciting nightlife.
Moving to Hoboken is exciting! But, before you move, ensure you know what living there is like. Read below about seven things you should know before moving to Hoboken to prepare you for your new home better.
Here are the things you should know about Hoboken!
High Cost of Living
Living in Hoboken is expensive. Housing costs are 210% higher than the national average, and utilities typically are around 5% higher. The current median home value in the city is about $750k, but most people choose to rent here instead of buying, with the median rent for one bedroom being around $3,500 a month.
Just because it is a smaller city doesn't mean it's not going to be as expensive as the larger ones around it. In a recent study, Hoboken ranked the 15th most expensive city in the country. But people manage to continue moving here, and the city continues to grow and change.
The average salary in the city is around $74,336, but it is recommended that you make at least 3x the rent even to consider moving here. Most landlords won't even rent out properties if you don't, or you will need a guarantee.
If you want a neighborhood with amazing views and access to beautiful parks, waterfront walkways, and contemporary eateries and bars, the Waterfront neighborhood is for you. Being the most expensive part of Hoboken, the median home value here is around $1.2 million, with many luxury apartment options.
Surprisingly the slightly cheaper area of Hoboken is Downtown. With effortless access to public transportation, attractions, and many shops and restaurants, this is a fantastic option to save a little bit and be in the heart of it all. The median home value here is around $686k, making it cheaper than the waterfront but still expensive.
No matter where you want to live in Hoboken, research the rent or home values to know how much to save up!
Public Transportation is Key
Public Transportation is the primary source of transportation in Hoboken. It has one of the country's highest percentages of residents using its systems. Most residents utilize the primary forms of transportation: the NJ transit buses and trains, PATH train, Hop shuttle, the NY waterway, and uber/Lyft services. These services are known to be pretty reliable and can get you places quickly and on time.
If you choose to own your vehicle in Hoboken, I wish you good luck. Parking is a nightmare in the city and might be costly if you end up in a deck or lot. Traffic is also known to be particularly terrible in New Jersey, with commuters spending about 86hr a year in traffic congestion. But, it is easier to ensure you get to where you want to be, and it is nice to travel to other areas easily.
Read below for more about each to help you decide how you want to get around your new home!
NJ Transit

Price: $3 train, $1.50 bus
Links to New Jersey, New York, and Philadelphia
166 stations
Reliable
Good for both short and long distances

Hop Shuttle

Price: Free
Only brings you around Hoboken
You have to flag a shuttle using a mobile app

NY Waterway

Price: $9
Takes 12min to get to Manhattan
Runs every 20min

PATH

Price: $2.75
It Covers Newark, Harrison, Jersey City, Hoboken, and Manhattan.
Similar to the subway
Hoboken Has Every Season
Before you make a move to Hoboken, make sure you prepare your closet for every season! This city will see rain, heat, wind, cold, and even snow. Although it remains partly cloudy all year round, winters are frigid and snowy, while summers are warm and humid.
The winter here lasts around three months, starting in December and ending in March. Temperatures average about 45 degrees, with lows getting below freezing at times, with the winds making the chilly air feel even colder. This city receives blanketed yearly by at least 26 inches of snow, turning the parks into a winter wonderland with areas for families to enjoy ice skating or snowball fights and the water to icy sculptures. Winters here are not for everyone, so bring a warm jacket to appreciate this part of the year better.
On the other hand, summers are from June to September, with an average high temperature of around 76 degrees. Although summer days can get hot here, the wind does help to cool down the streets a little bit, as well as the humidity. Summers are a great time to enjoy the city with lots going on! Hoboken summers feature lots of outdoor recreational and cultural events, areas to enjoy a picnic, walk along the water, or enjoy outdoor music, making summers sometimes residents' favorite part of the year.
The spring and fall are relatively similar in temperature, with daily averages in the 60s and 70s, the best time to enjoy the beautiful landscaping around the city. The wildflowers bloom everywhere in the parks and natural places around the city in the spring, while in the fall, the trees are sprinkled with color, and the leaves will cover the streets in stunning yellows and oranges.
No matter what weather is your favorite, you will experience it all here, so prepare for what's to come and try to find activities you enjoy every season to get everything you can out of this beautiful city.
Party City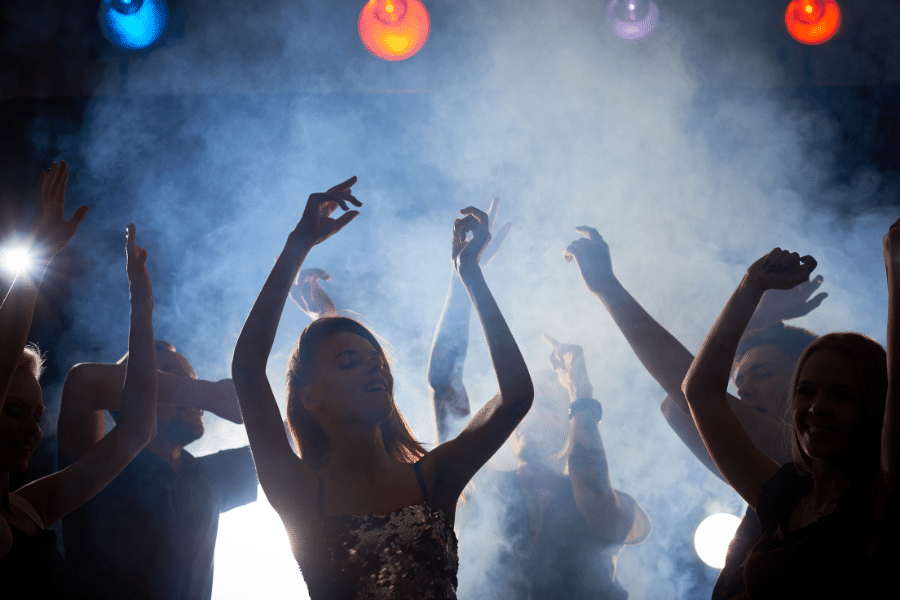 With a slightly younger demographic living here, this city likes to keep the party going. The nightlife scene in Hoboken is vibrant and unique, with many options for how you want to spend your night. Known as the party city, you will find many traditional Irish pubs, modern bars and restaurants, dive bars with karaoke, and nightclubs featuring up-and-coming DJs.
Many people looking for cheaper drinks and a more chill crowd will make their way to this small city from surrounding cities as well, almost feeling like the population grows on the weekends. Most bars and clubs can be found between Washington street and Sinatra Drive, making bar hopping easy and convenient.
No matter what you prefer to do on your nights off, Hoboken has something to keep you up and to party. Check out some of the local favorites below!
Local Favorites:
Art is Everywhere
As the birthplace of one of the most famous American singers, Frank Sinatra, this city has been known for its music and art scene for decades. Still today, Hoboken is full of artists living here and practicing their craft among many art galleries, museums, and artistic spaces. Art lovers come to the city to look at new works showcased in one of the many galleries or join in some of the live events that happen year-round.
Not only are there lots of paintings and sculptures being made and presented here, but also lots of live music and dance! You can always find a bar, coffee shop, or restaurant with live music in various genres or live dance performances at some of the local theatres. There is always a place to feel inspired or enjoy someone else's talent in Hoboken.
Check out some of the best places to discover new art pieces or make your own!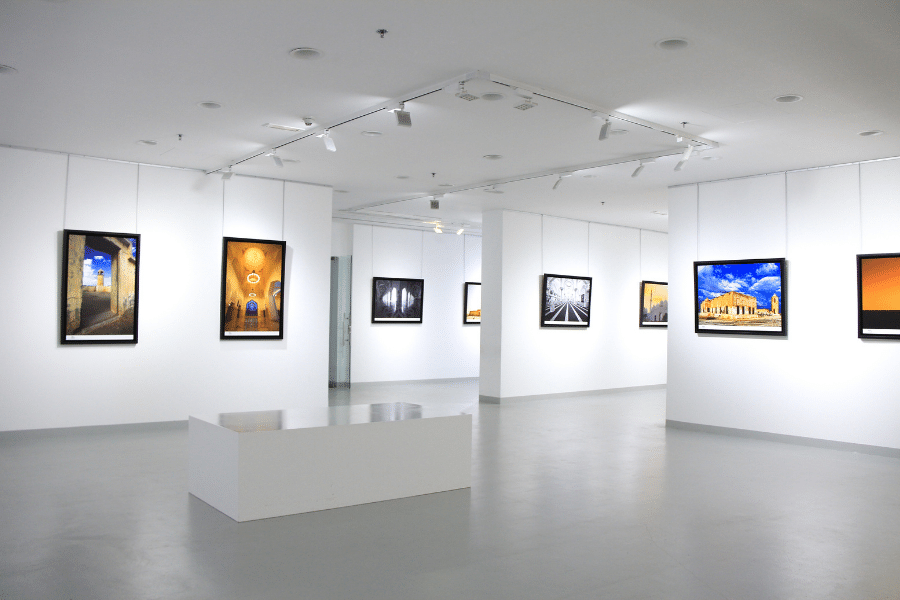 Local Favorites:
Great Green Spaces
Although it is a crowded city, Hoboken still has lots of beautiful parks and green spaces to escape to. Being right on the waterfront, many parks and greenways give you stunning views of the Hudson River and the Manhattan skyline while providing green spaces to do outdoor activities or relax.
Check out the list of some of the favorite local parks to go to!
Local Favorites: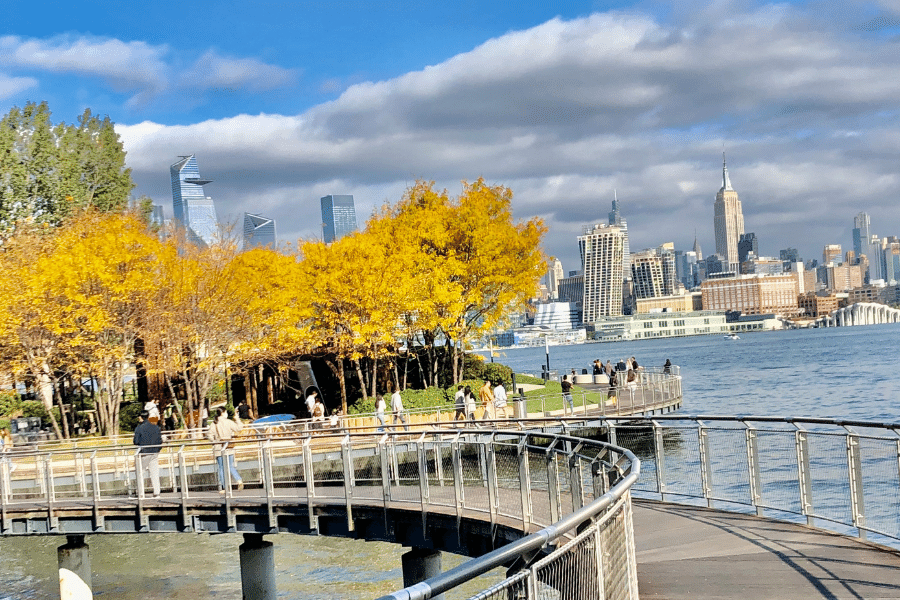 Variety of Jobs
Hoboken is known as a business hub as well as a large commuter city. Being so close to other major cities such as New York City, Jersey City, and Philadelphia, this city attracts many individuals looking for a cheaper and more calm place to live with an easy commute. But, there is also a good job market in the city with lots of different opportunities depending on your strengths and desire.
The largest job markets in Hoboken currently are nursing, research assistants, software engineers, and teaching. Although these are some of the area's top most common and in-demand jobs, there are also many other growing industries, such as technology, financial services, and life sciences.
The minimum wage in New Jersey is currently $13 an hour, much higher than the national average for America. Typically in more expensive cities, the salaries and hourly rates are higher, making it more accessible to live here. But, unfortunately, the taxes are also much higher here, causing you to have a lot of the money you make go back to the city you are living in.
With accessibility to many different locations and jobs, this is a great city to start a new career or look to further the one you already have!
Pros and Cons of Living in Hoboken, NJ
Pros:
Easy transportation
Lots of things to do
Stunning views of Manhattan
Quiet
Big job market
Cons:
Expensive
Cold winters
Highly populated for a small city
Young demographic
Moving to Hoboken, NJ-Final Thoughts
Hoboken is an exciting place to live, with vibrant nightlife, beautiful parks, diverse job opportunities, and stunning New York City skyline views. Although expensive, it provides exciting city life and convenient and easy transportation to other large cities such as New York, Philadelphia, and Jersey City.
If you or anyone you know is moving to New Jersey and is interested in making Hoboken, NJ, home, make sure to contact us here so that we can connect you with one of our Realty Specialists and help you find your dream home in New Jersey!

Find your new home
Search real estate and homes for sale