5 Best Places to Live in Pennsylvania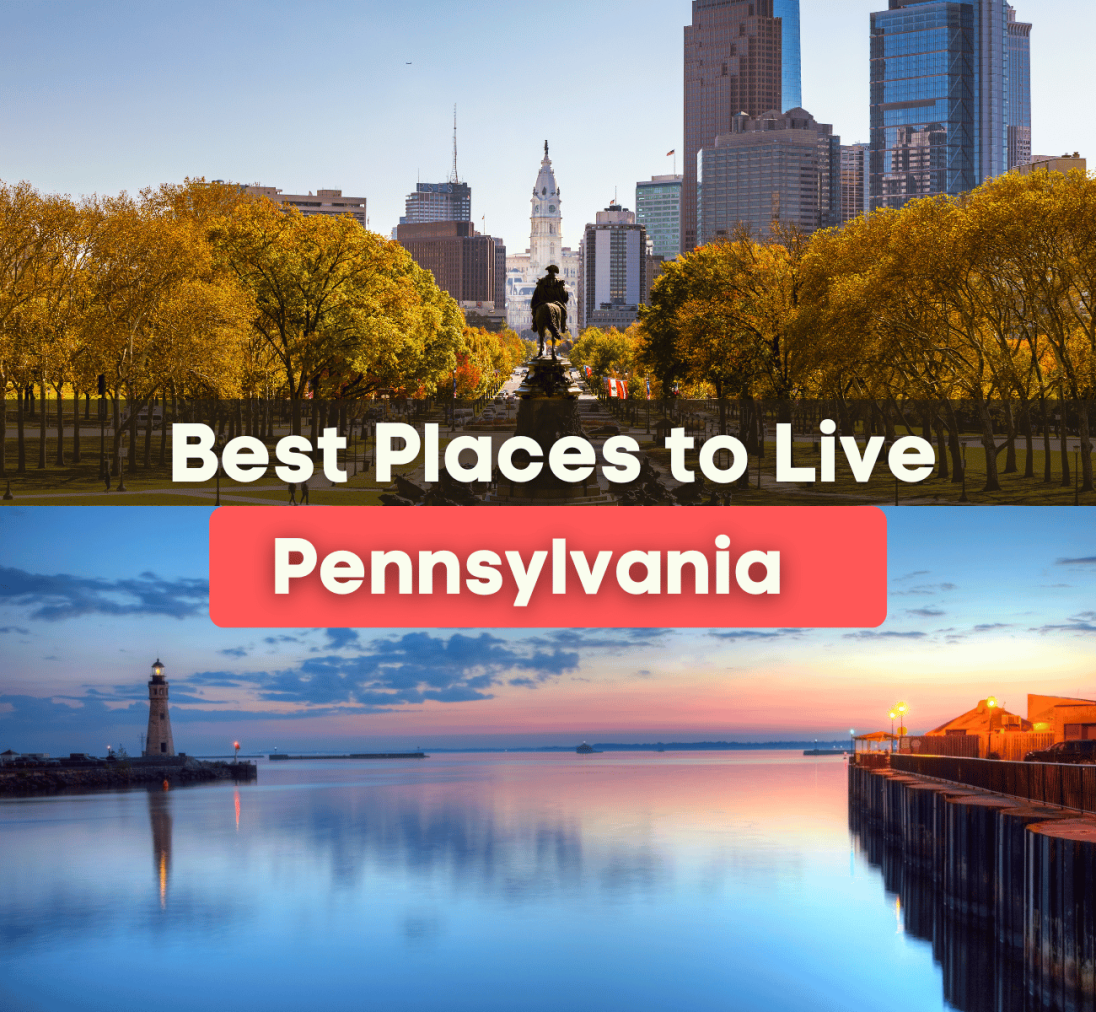 Best Places to Live in Pennsylvania 
What are the best places to live in the state of Pennsylvania? If you are moving to Pennsylvania, check out these top five Pennsylvania cities. 
Pennsylvania is the fifth most populous state in the nation, with over 13 million residents spread throughout its many cities, towns, and neighborhoods. Known for its proximity to other metropolitan areas, such as New York and New Jersey but with a lower cost of living and safer, cleaner neighborhoods, this is a great place to live. 
Located in the northeastern part of the country and one of the first 13 states of the nation, Pennsylvania is rich in U.S. history and hosts stunning landscapes of mountains and one of the five large great lakes. 
With a variety of lifestyles to choose from, you have a wonderful mix of more suburban outdoor towns to major cities such as Philadelphia and Pittsburgh playing key roles in American history and industries such as coal and steel railroads. 
No matter what type of living you are looking for, you are sure to find it here and most likely at a lower cost than its surrounding states. Let's take a look at some of the best places to live when moving to Pennsylvania based on various attributes such as overall living, schools, things to do, safe and welcoming neighborhoods, convenience, and housing options. 
Check out these top places to live in Pennsylvania
Philadephia 
Philadephia is Pennsylvania's largest city in the southeastern part of the state bordering New Jersey. With a population of over 1.5 million, residents live a very urban city lifestyle with the area full of history, attractions, restaurants, arts & culture, and great public transportation options. 
The cost of living in Philadelphia is higher than in other cities in Pennsylvania. The median home value in Philadephia is around $250k, with homes ranging from apartments and condos to family-sized homes.
Located in the heart of the city, you will find some of the best neighborhoods with high-rise apartments, condos, and historic rowhouses. These are attractive to young professionals or individuals that want the excitement and convenience of a big-city lifestyle. But, in neighborhoods right outside of the downtown area, there are also many beautiful family homes taking on designs of the environment around them, including rock and brick exteriors or some newer design builds taking on contemporary designs as well.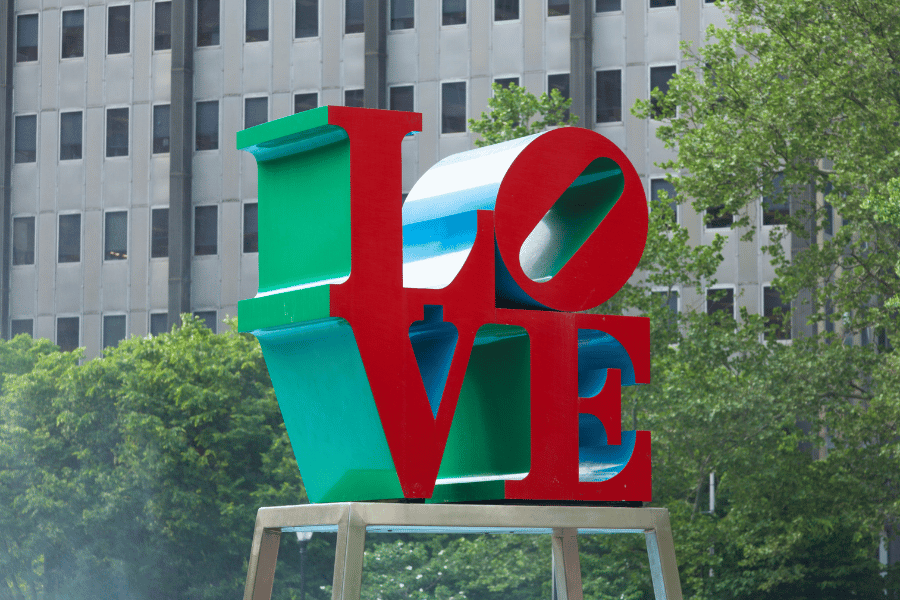 Many individuals that move to Pennsylvania choose to move to Philadelphia because of the rich history that is still standing within the city itself, as well as the convenience of not only the many restaurants, shops, parks, schools, and businesses within the city but surrounding ones as well. 
Philadelphia is also rated one of the best cities to raise a family due to its fairly safe neighborhoods, great school districts, and so many family-friendly activities, such as cheering on one of the city's major league sports teams, visiting one of the many museums, enjoying the outdoors at the lush green parks, or visiting the local zoo. 
Check out some of the local favorites in Philadelphia below. 
Local Favorites 
Pittsburgh
The second largest city in Pennsylvania, Pittsburgh, is located in the western part of the state at the junction of three rivers; the Ohio river, the Allegheny river, and the Monongahela river. Known as the "Steel City" or "City of Bridges" for both its powerful role in the history of the U.S. steel industry and its 446 bridges, this is a unique and amazing city to live in.
With tons of things to do, a variety of restaurants and shops, four major sports teams, and a charming and colorful downtown area, this is a convenient and affordable area to live and work while never getting bored.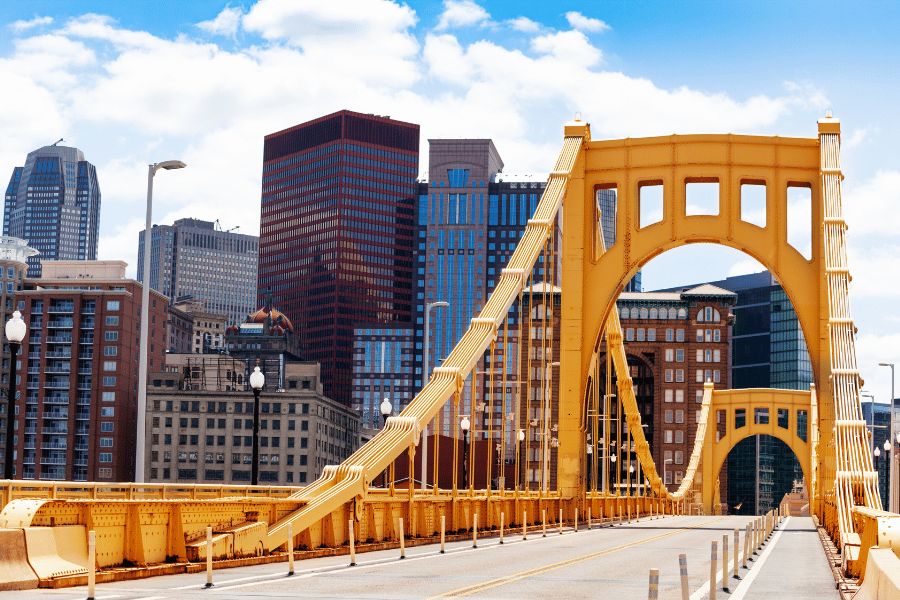 The median home value in Pittsburgh, PA, is around $220k, with homes varying in size and structure from ranch-style homes that are single-storied structures to homes spanning multiple stories. The architecture in Pittsburgh is also a bit more historic, with styles such as cottage, row houses, Tudor revival, and second empire homes making up many of the neighborhoods and giving them a certain look of charm. 
Pittsburgh draws new residents each year due to its low cost of living but high-quality city amenities, good education systems, diversity, and rising job opportunities. Check out some of the local favorites in Pittsburgh below to see what excites you most about moving here. 
Local Favorites
Harrisburg 
Sitting on the banks of the Susquehanna River, Harrisburg is the capital of Pennsylvania and a great place to live. Known for its beauty and rich history, this city was an important location during the Westward expansion, Civil War, and Industrial Revolution. 
With a population of just over 50,000 residents living in Harrisburg provides you with an old town feeling but new opportunities with low unemployment rates, affordable housing, and lots of exciting things to do.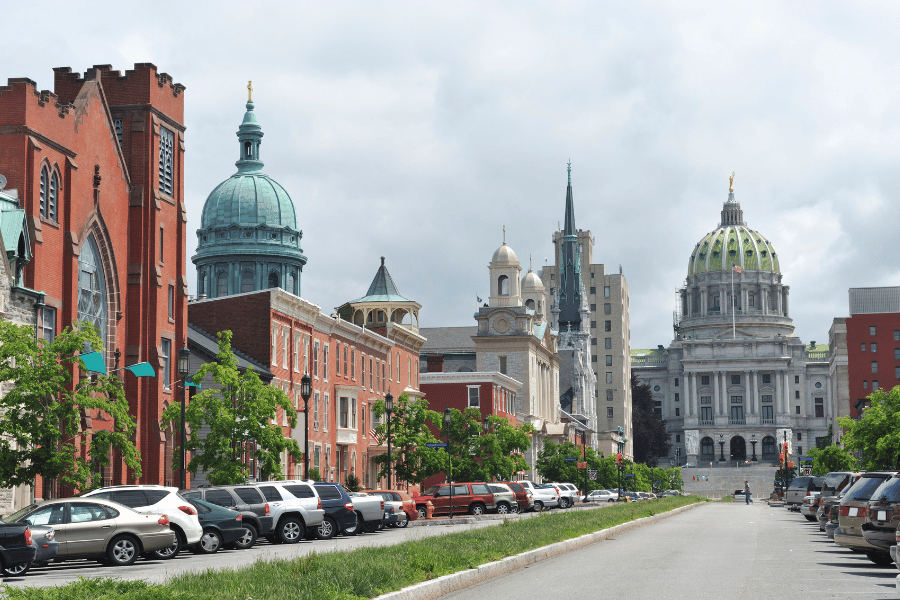 The median home value in Harrisburg, PA, is around $215k, with homes featuring traditional stonework and multiple stories, making it perfect for families or young professionals. 
Directly to the north of Harrisburg is the Blue Mountain Ridge of the Appalachian Mountains, providing you with easy access to stunning hiking trails and outdoor activities as well as historical monuments, museums, delicious restaurants, parks, and more to explore while downtown. 
Check out some of the local favorites in Harrisburg below.
Local Favorites 
Allentown
Allentown is a city located in eastern Pennsylvania known for its award-winning park system, the endearing downtown area, museums, art & culture, and rich Pennsylvania Dutch history. 
Known as a mid-sized city with over 125k residents and Pennsylvania's third-largest metro area, people come to Allentown for its landscapes of mountains, safe and welcoming neighborhoods, convenient location, vibrant community, and lower cost of living. 
The median home value in Allentown is around $240k, with homes having a historical touch featuring brick and stone exteriors and accents as well as large chimneys on the sides. 
Downtown Allentown is a unique area with great shopping and dining options, a rich art culture, fan-filled sporting games, and a variety of breweries and bars to enjoy with friends. Also, a great place to raise a family; with exciting attractions, lush parks, and good schools, there is something for everyone to enjoy here. Take a look at some of the local favorites of things to do and see in Allentown below. 
Local Favorites
Scranton 
Known as the location for the popular television show "The Office," Scranton is a city located in northeast Pennsylvania, offering top-quality universities, job opportunities, diverse restaurants and residents, and fun events and things to do in every season. What used to be the epicenter of the iron and coal industry is now a bustling city that still holds essential parts of history but with new contemporary additions. 
Living in Scranton provides residents with a dense suburban feel with a unique downtown area with tons of eateries, coffee shops, shops, towering buildings, and calm and quaint neighborhoods. Home to universities such as The University of Scranton, Johnson College, Maywood University, and more, the city's 75,874 residents are a mix of families, students, retirees, and working professionals. 
The median home value in Scranton is around $156k, providing residents with a very low cost of living compared to surrounding areas but high-quality attractions, historical monuments, educational museums, and gorgeous parks and outdoor areas. 
Check out some of the local favorites of things to do and see in Scranton below. 
Local Favorites 
Best Place to Live in Pennsylvania-Final Thoughts 
Pennsylvania is a great place to live for individuals looking for a lower cost of living with a diverse selection of home styles, types, and locations, from large urban cities to more suburban areas with vastly stunning landscapes. 
With great school districts and safe neighborhoods as well as countless things to do and see, this is a fantastic place for a family, college student, or young professional. If you or anyone you know is moving to Pennsylvania, make sure to contact us here so that we can connect you with one of our Realty Specialists. No matter your budget, location, housing preferences, and style, we will work tirelessly to help find you the perfect home. 

Find your new home
Search real estate and homes for sale