10 Things to Know BEFORE Moving to New York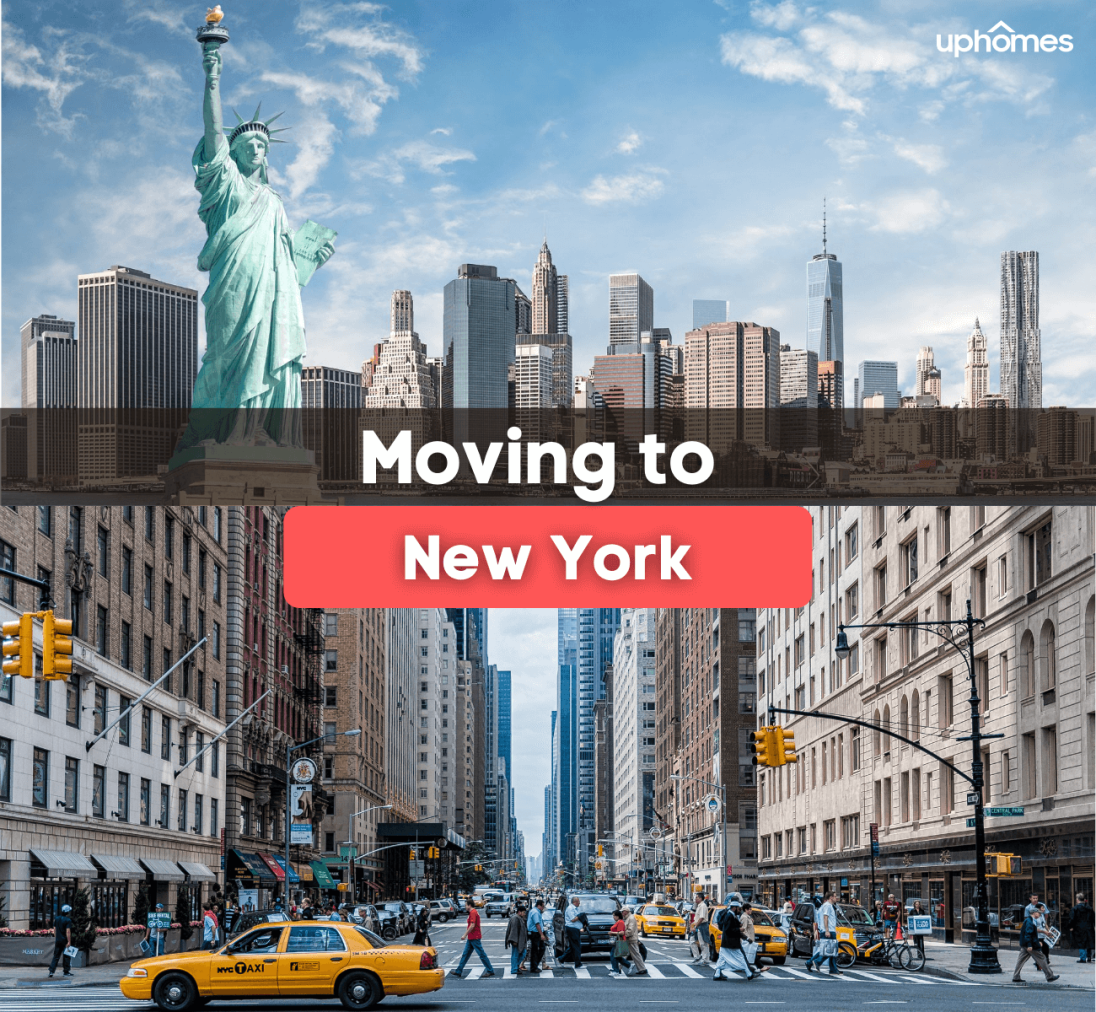 10 Things to Know BEFORE Moving to New York
Do you want to learn more about living in New York and what a move to The Empire State may be like? Here are 10 things to know BEFORE moving to New York!
New York is a large state that is located in the northeastern United States. While most people are familiar with New York City and the "Big Apple," New York is full of many diverse cities and charming towns. With a rich history, New York was one of the original thirteen colonies and is now the fourth most populous state in the United States with over 20 million people calling it home. Best known for its impressive landscape, family-friendly neighborhoods, towering skyscrapers, and surprisingly low crime rate overall, New York is truly a spectacular place to live. As one of the best states to call home, it is no surprise that New York is attracting many young professionals, couples, singles, and families to the area. We put together a list of some of the best places to live in New York to help people who are relocating.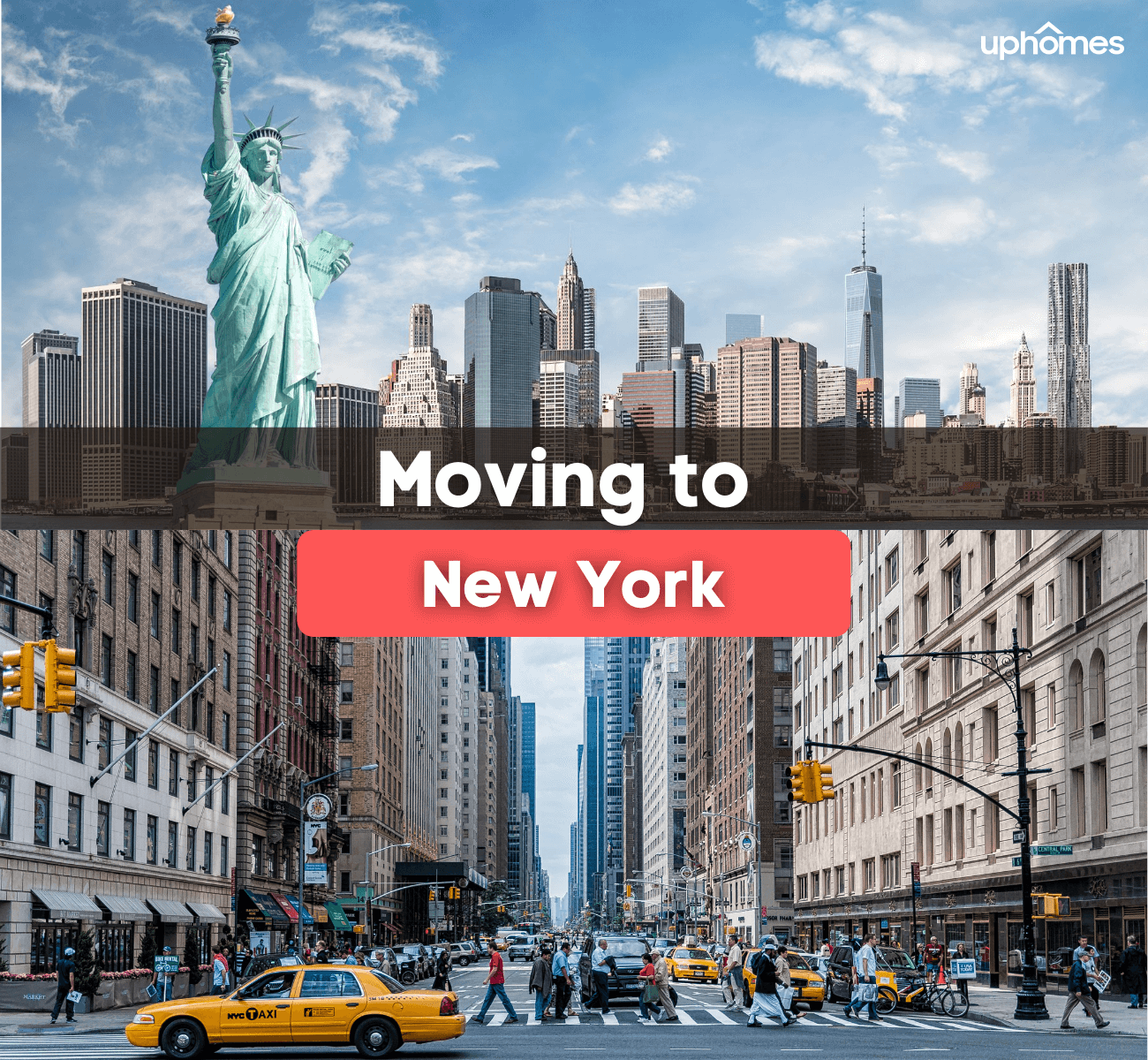 If you are thinking about making the big move to New York then there are some things that need to be considered beforehand. Luckily, with the help of this moving guide, learn about the pros and cons as well as the ins and outs of New York without all of the added extra stress. With that being said, read on to learn more about the 10 Things to Know BEFORE Moving to New York State.
High cost of living.
As of 2021, New York City has officially surpassed San Francisco as the most expensive city in the United States. While not all of the cities in New York State are insanely expensive, the prices are also not far behind. In fact, the average cost of living in New York State is 20.5% higher than the national average. This means that in order to live comfortably and afford rent, it is recommended that a resident should be making a salary of at least $11,000 a month. Just in the past year, transportation, food, and housing costs have skyrocketed.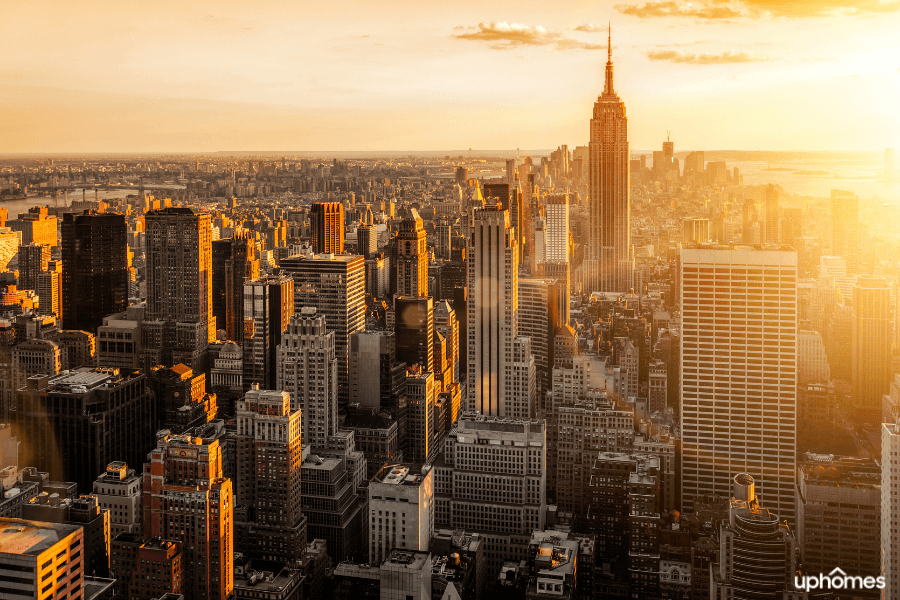 Beautiful real estate.
Whether you are looking to buy a stately mansion or high-rise apartment, New York State has a home for you. While most large homes are found outside of New York City, New York State as a whole has some of the most beautiful and prime real estate in the country. Featuring a wide range of architectural styles from multiple historical and cultural periods, some of the most common architectural types to choose from including Colonial, Federal, Queen Anne, Gothic Revival, Dutch Farm House, and Italianate styles.
While there may be many property types available, keep in mind that if you are wanting to move to a good neighborhood with great amenities and a highly-rated school system then be prepared for a high price tag. Property taxes, in particular, are known to be high in New York State, especially in upstate New York. The reason that the real estate market and property taxes may be higher in certain areas compared to others is due to the housing demand surpassing the supply of available housing. Here are some of the best neighborhoods in New York City.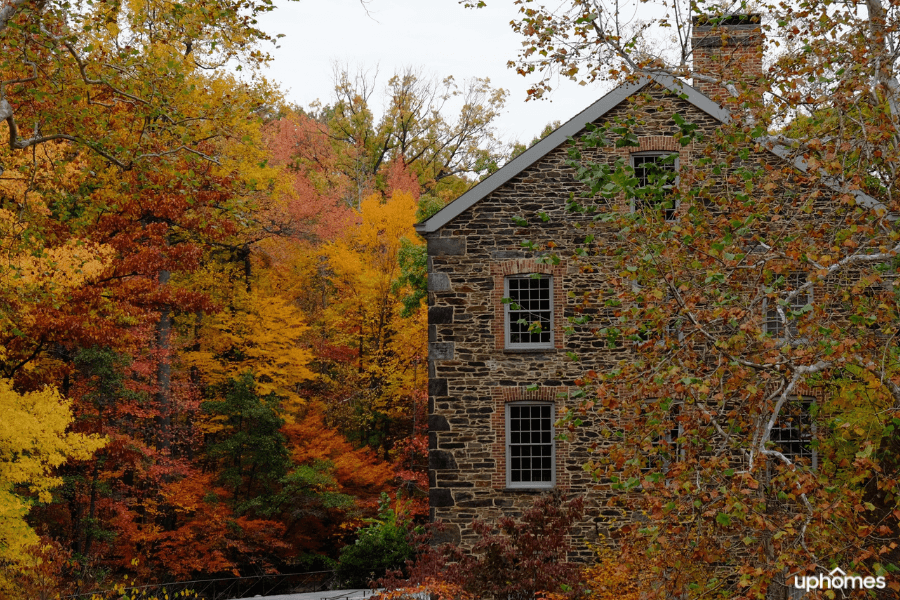 Fall is the best season. 
New York State has a humid continental climate where seasons can vary drastically by region. Though every season may have its own spot in the limelight, the Fall season is a fan favorite for its magnificent foliage and exciting community gatherings. Lasting from late September to December, the best time to admire the vibrant red and orange leaves are in the month of October. For peak fall color, residents recommend traveling to upstate New York to higher elevations. The Adirondack Mountains for example remain a top destination during the Fall. Go apple picking with friends at a local orchard, take a hay-ride, or join in on a festive Halloween celebration.
There is no shortage of higher education. 
If you are moving to New York State with school-aged children or are wanting to seek higher education yourself, then you are probably wondering what education options are available. While New York State has the largest public school system in the United States with plenty of top-rated schools to choose from, the higher education system will exceed any if not all of your expectations. In fact, the New York higher education system is made up of 309 total colleges and universities. Out of these colleges and universities, 81 of which are public, 184 are non-profit private institutions, and 44 are for-profit private institutions. Known to have one of the top education systems in the entire country, if you are relocating to New York State simply for higher education then you are making a good choice. Thankfully, residents only have to live in New York for a total of 12 months before they can receive in-state tuition status. 
Some of the top colleges and universities in the state include: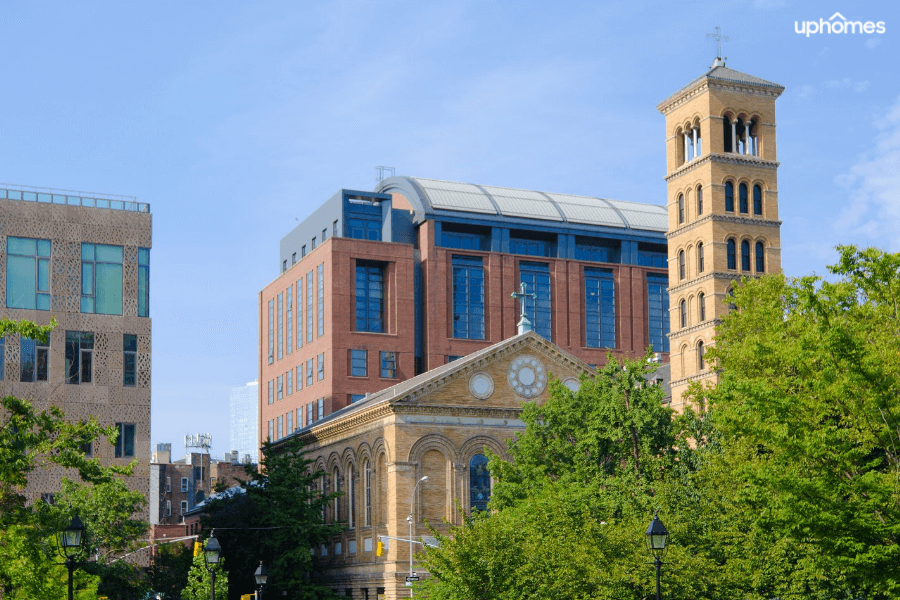 Become a wine connoisseur.
Did you know that wine-making in Hudson Valley dates back to the 1600s? If you have yet to try a wine made in New York, then now is your chance. Home to over 2,000 wineries and vineyards, the state is starting to make a name for itself for its bold flavors and delicious grape varieties. Most wine made in New York is made from Riesling grapes, as well as French and American hybrids. Even though California is still receiving much of the wine attention, New York State is certainly not far behind.
Make sure to check out these local favorite wineries in New York State!
There are tons of breweries and distilleries
Not a fan of wine? No problem! Much like how wine country is on the rise, more and more breweries and distilleries are opening up all over the state. There are a current total of 452 breweries and 186 distilleries in New York State and the number keeps increasing. In fact, New York has the second most amount of breweries out of all other states in the country. Whether you love pale ale, sours, gin, vodka, bourbon, whiskey, or ryes, New York is sure to have it. So grab your friends and go to a tasting. 
Check out these local favorite breweries and distilleries in New York State!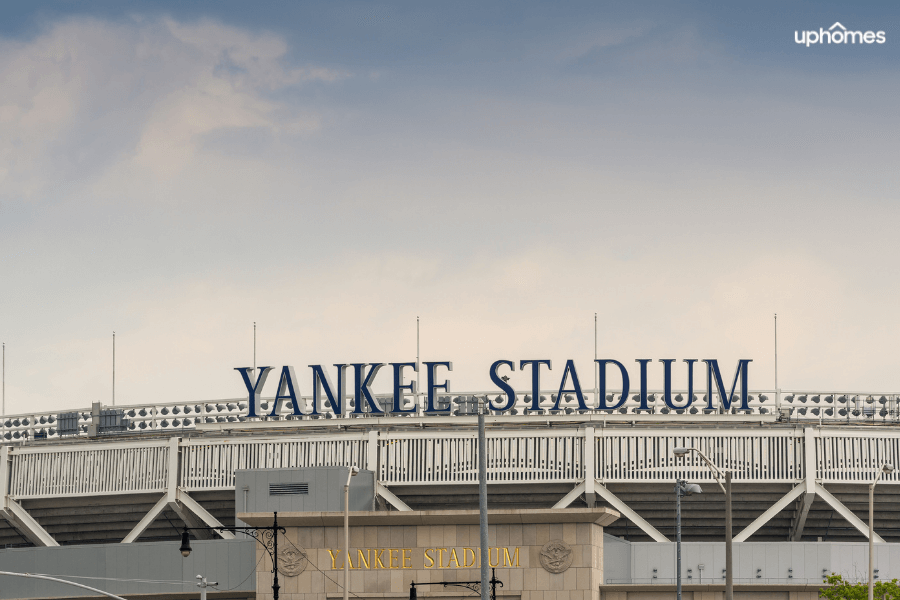 Sports are a way of life.
Get ready to cheer on the home team. There are a total of 11 professional sports teams in New York State alone. No matter what sport you love to watch, there is a team for that. In 2021, it was signed into legislation that Baseball is the official sport of New York. The New York Yankees and The New York Mets are the major league baseball teams in the state. Even though baseball may reign supreme, football, hockey, basketball, and soccer are other sports that residents love to support. The New York Giants and The New York Jets are the National Football League teams, The New York Knicks and The Brooklyn Nets are the National Basketball teams, The New York Islanders and The New York Rangers are the National Hockey League teams, and The New York Red Bulls and The New York City FC are the Major League Soccer teams. 
Explore the outdoors.
New York State is beloved for its breathtaking natural beauty and it is easy to see why. From the beaches to the mountains, the state is blessed with gorgeous terrain that is an inspiration to many. Lakes, canyons, creeks, and waterfalls are just some of the stunning wonders of the area that residents love to adventure to.
Make sure to experience these top sights in New York State!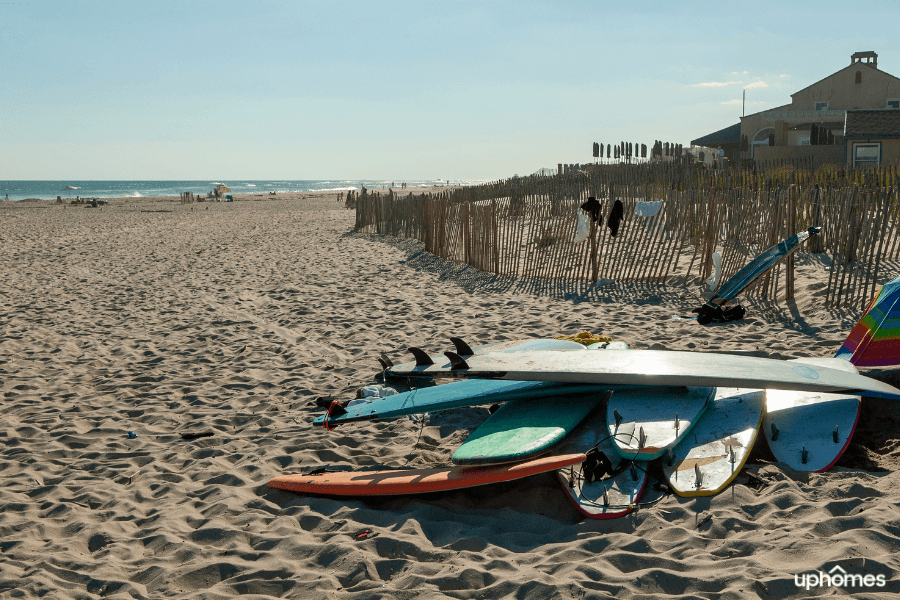 Hit the beach.
New York State has some of the best beaches on the east coast. With just the right amount of shoreline, finding the perfect beach to cool off during the humid summer months is an easy task. Whether you like to swim, fish, boat, kayak, or surf, the beaches in New York State are a much-needed oasis. 
Check out some of these beautiful beaches that can only be found in New York State!
Never run out of things to do.
There is a reason why New York State is one of the most desirable destinations in the country. From an eccentric nightlife to activities for the whole family, there will always be something new for residents to discover.
Check out some of these fun activities when relocating to New York State! 
Moving to New York State - The Bottom Line
A good state to move to, New York State is definitely worth living in. Whether you are considering moving to New York State for a job or simply to mix things up, it might be a good idea to ensure that you have enough money before you go. The good news is that once you decide to make the big move, it only takes about 90 days to become a permanent resident. If you are interested in becoming a homeowner in New York State, then make sure to reach out to one of our knowledgeable and experienced Realty Specialists. Once you have decided on a budget and property type, our team will be happy to help you through the home buying process. Contact us today to find the home of your dreams in New York State!
#blog-moving-new-york-cta#

Find your new home
Search real estate and homes for sale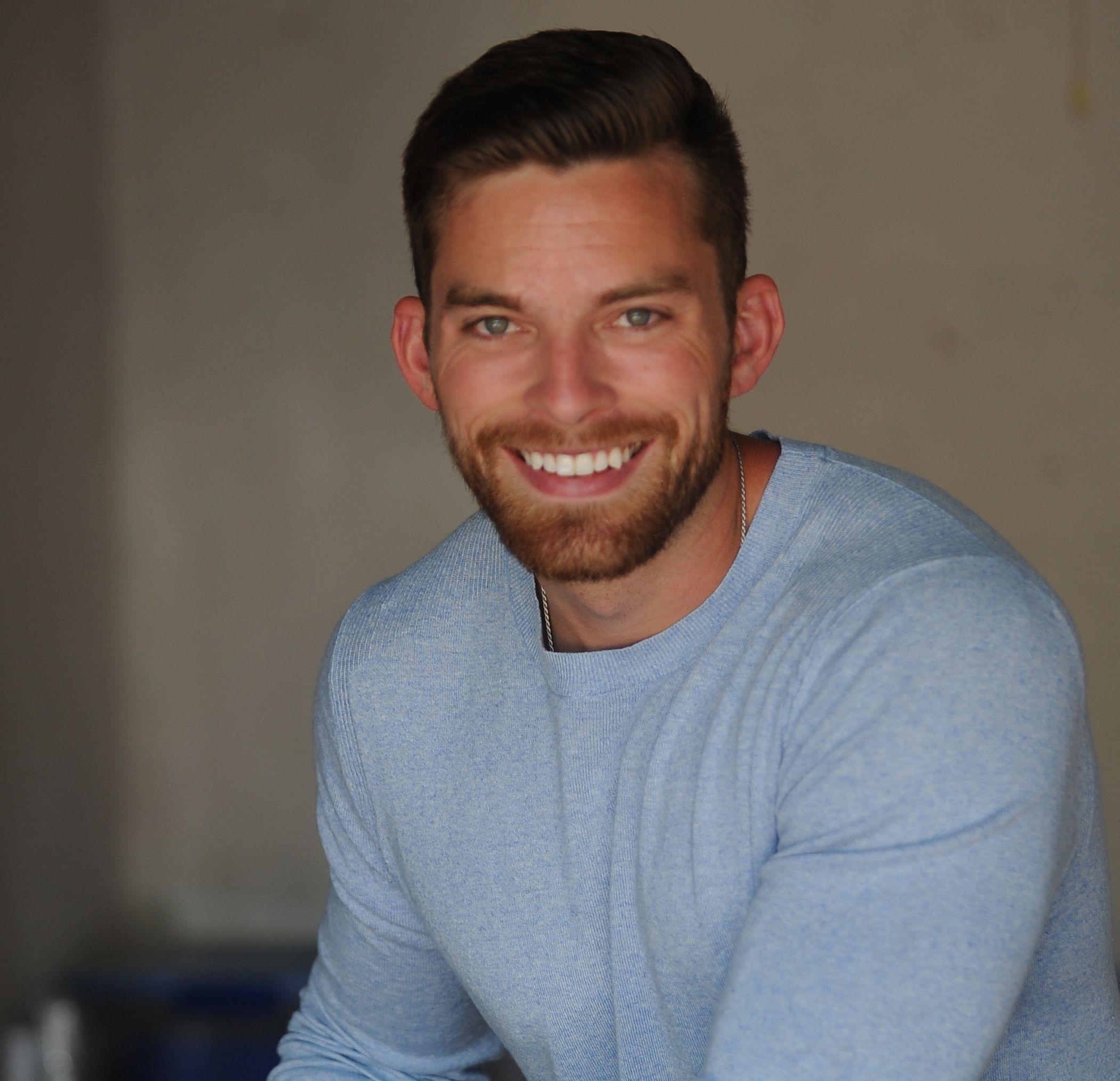 Ryan Fitzgerald
Hi there! My name is Ryan Fitzgerald, and I am a REALTOR®. My goal is to help you learn more about real estate through our Real Estate Blog! Hopefully, you enjoyed the above blog post and it found a way to provide help or value to you. When you're ready to buy or sell a home of your own let us know here. Please feel free to join the conversation by dropping us a comment below.