Life in Oakland: 7 Things to Know BEFORE Moving to Oakland, CA!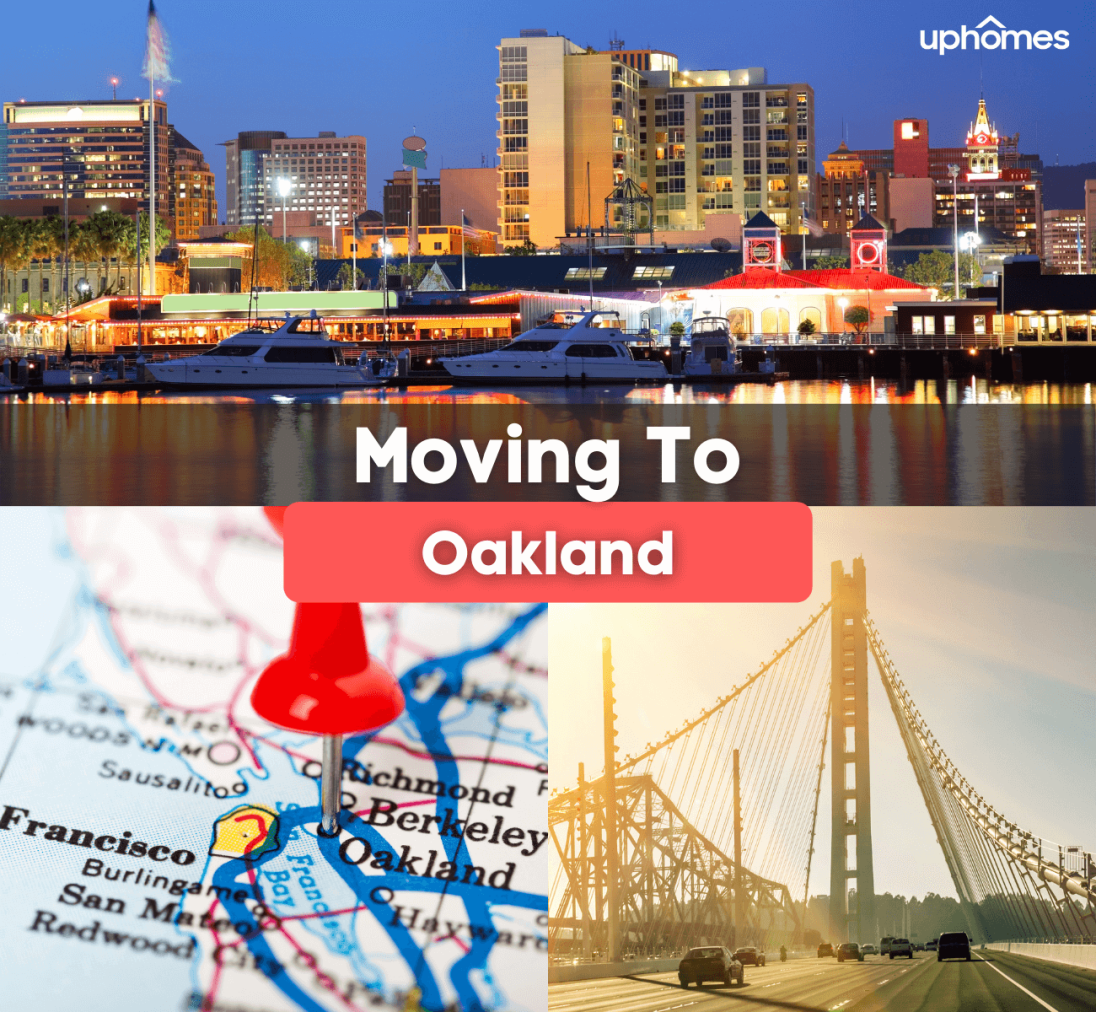 Living in Oakland
Are you moving to Oakland? Here is what it's like living in Oakland, California!
Located just east of San Francisco lies the bustling city of Oakland, California. Known as the largest city in the East Bay region of the San Francisco Bay Area, Oakland is considered a major west coast port city and the third-largest city in the entire San Francisco Bay Area. With a population of just over 425,000 people, Oakland is the eighth-most populous city in the state of California. Recognized as a famous trade center in the San Francisco Bay Area, Oakland is renowned for its prominence in business. As the area continues to see high levels of growth, many residents are moving to Oakland from surrounding areas to take part in its improved infrastructure and available housing.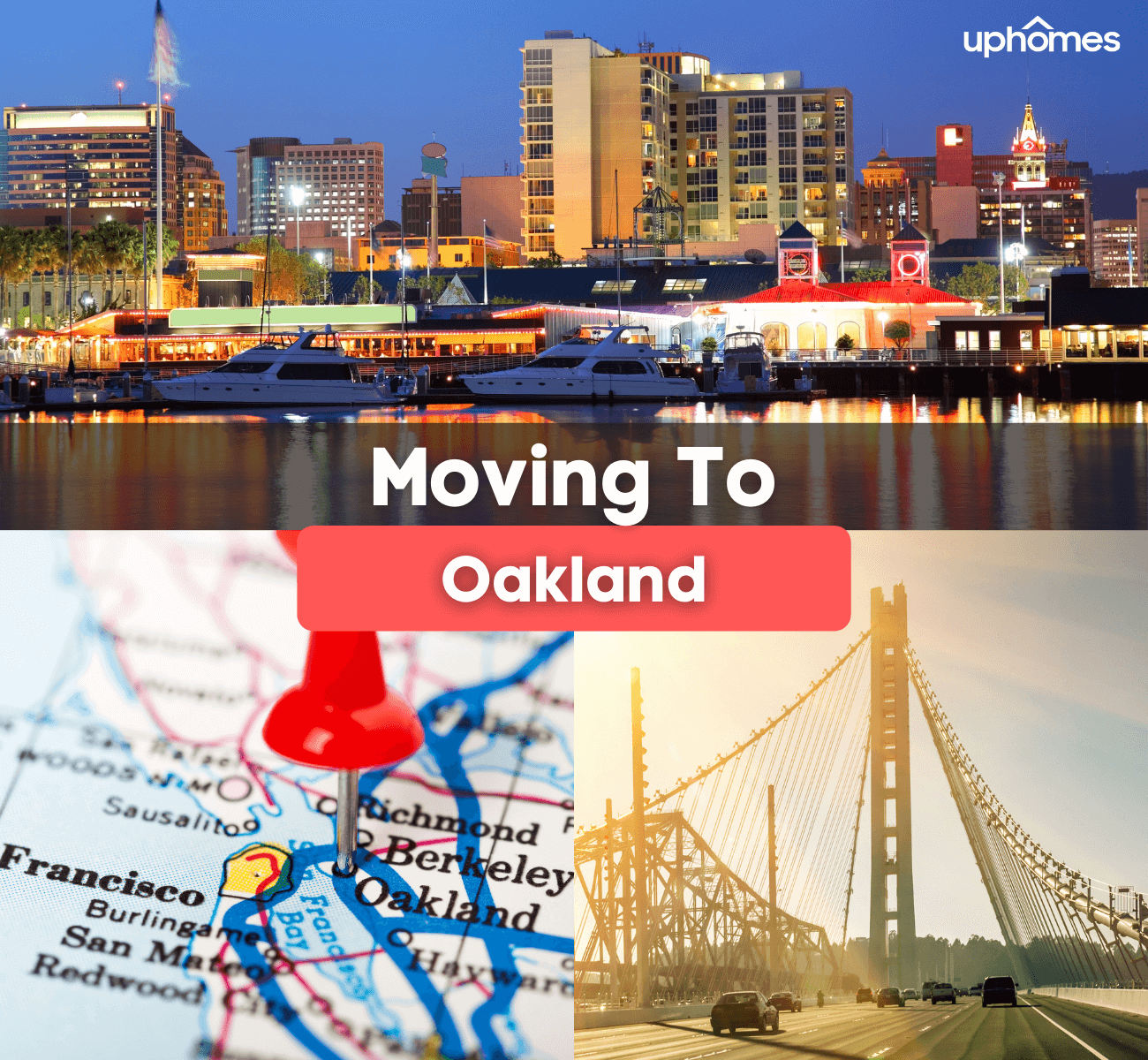 Surrounded by shipyards and its flourishing automotive industry, the city of Oakland has a lot to offer its residents. Stretching for over 78 square miles, this marina and port city has various delicious restaurants, trendy shops, and thriving nightlife to enjoy. Often prized for its environmental friendliness and frequent push toward political activism and sustainability, Oakland continues to make a name for itself as a city that seeks change and high quality of living. Whether you are moving to Oakland for work or simply for a change of scenery, this moving guide was created to help you navigate the ins and outs of your new city. Read on to learn more about the 7 Things to Know BEFORE Moving to Oakland, California!
High cost of living in Oakland.
Much like the rest of the state of California, Oakland has a very high cost of living. Oakland ranks as the sixth most expensive city in the United States and is the fourth most expensive metropolitan area in the United States. Living in Oakland comes with a high price tag with a cost of living that is 49% higher than the national average. Utility prices are 14% higher than the national average, transportation costs, including the price of gas, are 30% higher than the national average, and housing prices are 118% higher than the national average. The cost of water has a minimum charge of $17.80 per 3,000 gallons and increases per 1,000 gallons.
Since everything is highly priced in Oakland, an average annual salary of about $90,000 for a single adult is considered a good salary. To live comfortably, it is recommended to at least be making anywhere from $100,000 to $125,000 a year if you are living alone. A minimum of $150,000 is needed to afford housing and any unexpected expenses if you have a family. The minimum wage in Oakland, California, is $14 an hour. While the cost of living in Oakland might be 11.2% more expensive than living in Los Angeles, Oakland is still considered more affordable than San Francisco, which has the second-highest cost of living in the United States, right below New York City. Before moving to Oakland, it might be a good idea to already have a job or at least have some money to afford necessities as you get settled. You'll be able to spot the difference in average prices of homes for sale by checking out these pages Oakland, Los Angeles, San Francisco, San Jose, San Diego.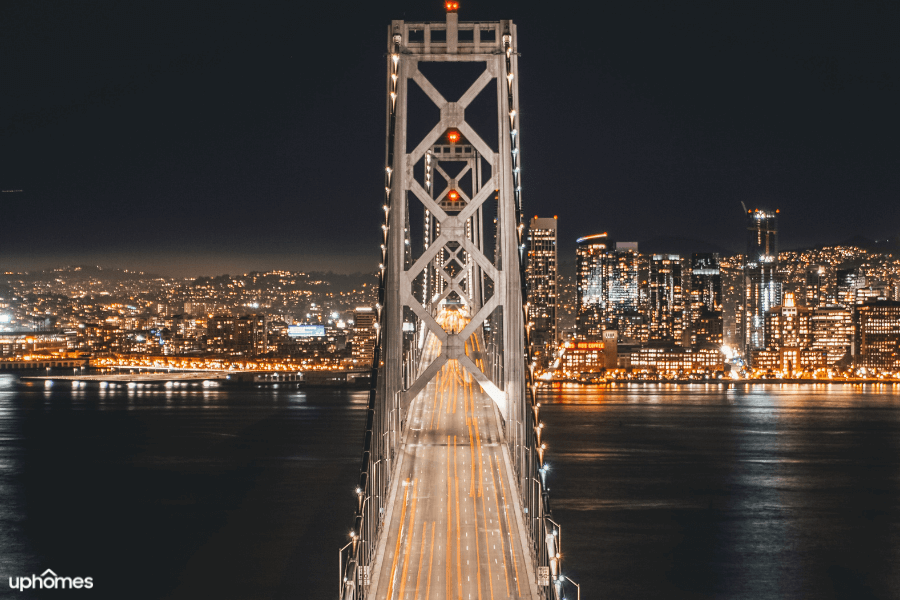 Did you know that 260,000 vehicles travel daily across the Oakland Bay Bridge? Also known as the Bay Bridge by locals!
Beware of crime.
The city has seen a continuous rise in crime rates over the years. While there are undoubtedly many friendly neighborhoods in Oakland that are safe, it is essential to distinguish between the good areas and the sinister areas before moving. Here are the facts: Unfortunately, the chances of becoming a victim of violent crime in the city are 1 in 77, while the chances of becoming a victim of property crime are 1 in 15 as of 2021. With a crime rate of 79 out of every 100 residents, Oakland is thought to have one of the highest crime rates in California and the United States. With a crime rate that rivals San Francisco and New York City, Oakland has constantly been perceived as dangerous and scary. While the city certainly has a high crime rate considering it only has a population of 425,000, Oakland is no more hazardous than any other major city.
If you are moving to the area, it would be best to stay away from some of the notoriously bad parts of the town, including the neighborhoods of Eastmont, Acorn-Acorn, Webster, Fitchburg, and Hoover-Foster. If you decide to explore downtown Oakland at night, stay near the well-lit streets and most populated areas. Suppose you are moving with your family or just want to live without worrying about crime. In that case, the safest neighborhoods in Oakland include Rockridge, Bushrod, Cleveland Heights, Grand Lake, Redwood Heights, and Temescal. Research and learn ways to prevent crime in your new neighborhood to create a safe community.
Beautiful weather.
Experiencing a sunny and warm Mediterranean climate with low humidity like the rest of the San Francisco Bay Area, the city of Oakland has pretty mild weather all year long. Residents can expect warm and dry summers alongside wet and cool winters. The months from May through October are peak travel times to Oakland since the weather is considered the most generous and the best during this specific time. The warm season which lasts from June through October has an average high daily temperature at or above 71 degrees Fahrenheit while the middle low dips to around 58 degrees Fahrenheit. The warmest month is September when the average high is 75 degrees Fahrenheit.
On the other hand, the excellent season lasts from June to October, with an average high daily temperature below 59 degrees Fahrenheit and the middle low dips to around 44 degrees Fahrenheit. The coldest month of the year is January, when the average high daily temperature is about 55 degrees Fahrenheit. Since the average daily temperatures rarely dip below freezing, Oakland averages around 0 inches of snow annually. If you are moving to the area from a cold climate, then feel free to leave your snow shovel behind since the last time any measurable snowfall fell was between 2011 and 1976. Rainfall is also relatively scarce in Oakland. Experiencing 178 sunny days throughout the year, the city only receives around 24 inches of rain on average. While February may be the wettest month that gets the most rain, Oakland and the rest of the state of California remains in a severe drought. Since 97.5% of California is currently in some form of lack, residents are encouraged to help conserve water in any way possible. It is recommended to take shorter showers, turn off the tap when brushing your teeth, and only run the dishwasher and the washing machine when there is a full load.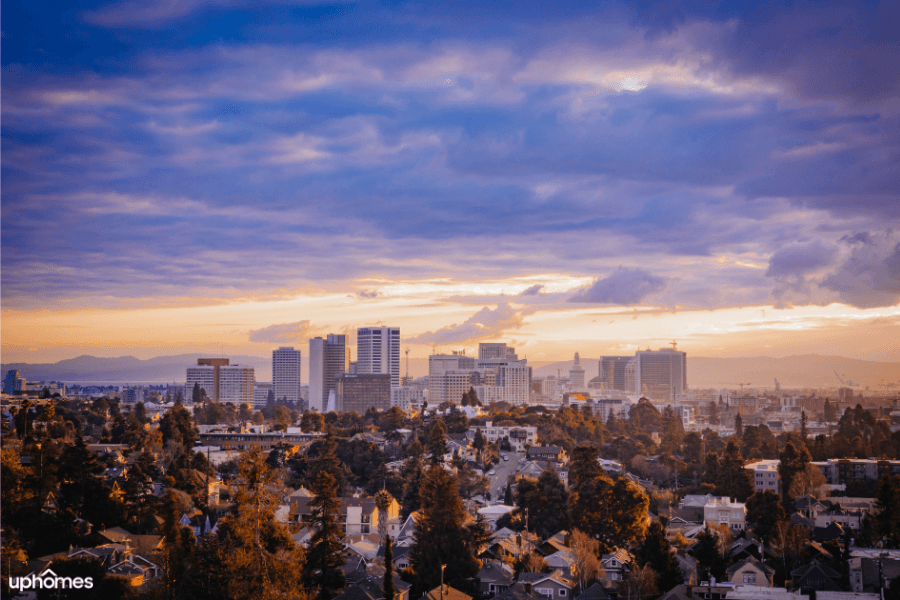 Great public transportation.
One of the many cool things about Oakland is that many areas around the city are super walkable and easy to get around. While driving can be one of the best ways to travel to and from work, the traffic in Oakland is notorious for being backed up and stressful. On the plus side, Oakland has an abundance of public transportation systems that are easy to navigate and use while also being reliable. Not only are there LimeBike scooters to rent around the city, as well as public bicycle sharing systems, but there are also ferries, AC Transit buses, and the Bay Area Rapid Transit trains, which are also known as the BART system. The Bay Area Rapid Transit is a high-speed regional rail system that has routes all over the Bay Area with direct lines to San Francisco and San Jose. There is no better way to travel to downtown Oakland and nearby cities than by taking the BART. With such unique and reliable transportation readily available for all residents, getting around town could not be easier. So instead of fighting traffic on the interstate and dealing with long commuting times, choose to travel by BART, bus, or ferry. Plus, by choosing public transportation, you will be helping the environment and reducing your carbon footprint.
Support the home team.
Do you love all things sports? Then you are in the right place! Oakland is home to multiple professional sports teams and amateur leagues that will have you attending a game in no time. If you like baseball, then make sure to check out the Oakland Athletics, also called the A's, which is an American professional baseball team that plays in the Western Division at RingCentral Coliseum. For soccer fans, the Oakland Roots SC is a men's professional soccer team that plays in the USL Championship. Plus, only 30 minutes from San Francisco, head to the Chase Center to cheer on theGolden State Warriors of the National Basketball Association. No matter what sport you like, there is a team to support while living in Oakland, California.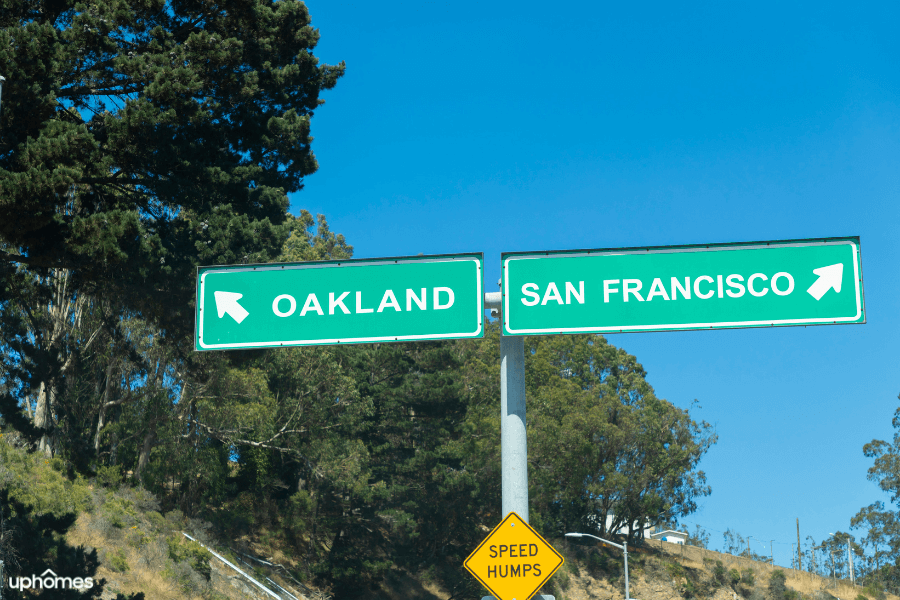 The food is fantastic.
Oakland is quickly becoming a foodie favorite. As a port city and a center for trade, Oakland has become a destination for all sorts of cuisine and international flavors. Influenced by the slow food movement and a push towards farm-to-table eating, residents enjoy fresh produce and regularly attend the town's weekly farmer's markets. Surprisingly, few people know that Oakland has one of the best soul food scenes in the whole country. Originating in the southern United States, soul food consists of solid flavors and incorporates classics such as fried chicken or fish, black-eyed peas, cornbread, and collard greens. From tiny cafes to five-star restaurants and trendy eateries, Oakland represents only the best of northern California's food scene.
Check out these top local favorite restaurants in Oakland, California!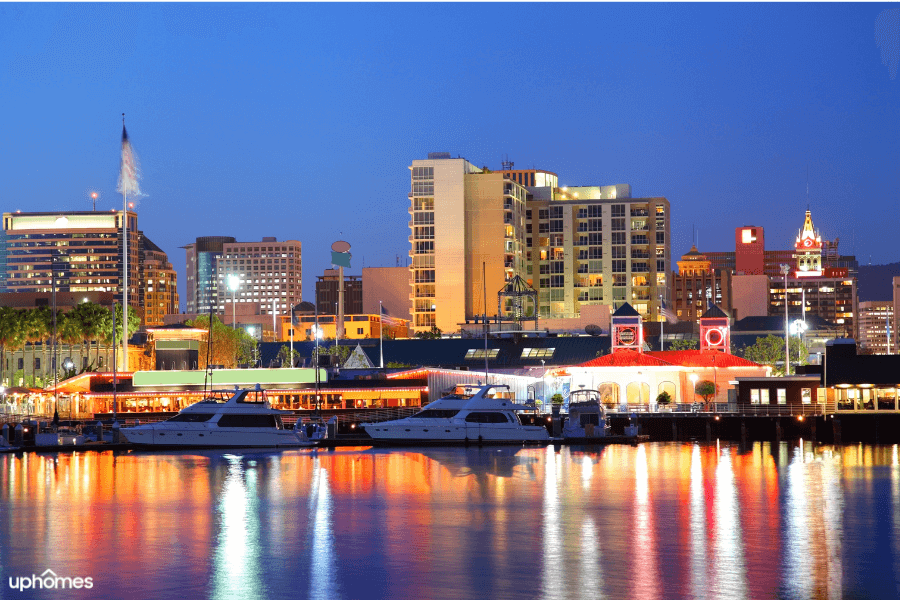 There are many things to do.
While less populated than San Francisco, Oakland is making a name for itself as an up-and-coming city in the Bay Area. Named after the many Oak trees that adorn the city, Oakland has multiple parks and attractions that make it a wonderful place to live. Prized for its cultural diversity, the city has many events and festivals that are always happening around the city. From concerts, dance performances, museums, walking trails, green spaces, and shopping districts, there are many things to do that will leave no resident feeling bored.
Check out these local favorite things to do in Oakland, California!
Moving to Oakland, CA - The Bottom Line
If you have always wanted to live in California, consider moving to Oakland. While Oakland may be expensive due to supply and demand and its location in the Bay Area, the city has a lot to offer its residents. A great place to live and surrounded by natural beauty, Oakland is culturally diverse and home to multiple celebrities, including Tom Hanks and Zendaya. While Oakland didn't make our best places to live in California list, it is right up there with the best of them! Before moving to Oakland, reach out to one of our knowledgeable Realty Specialists to help guide you through the home buying process. Once you have decided on a budget and what you want in a home, our team will help you find a safe neighborhood that meets your needs. Contact us today!
#blog-moving-california-cta#

Find your new home
Search real estate and homes for sale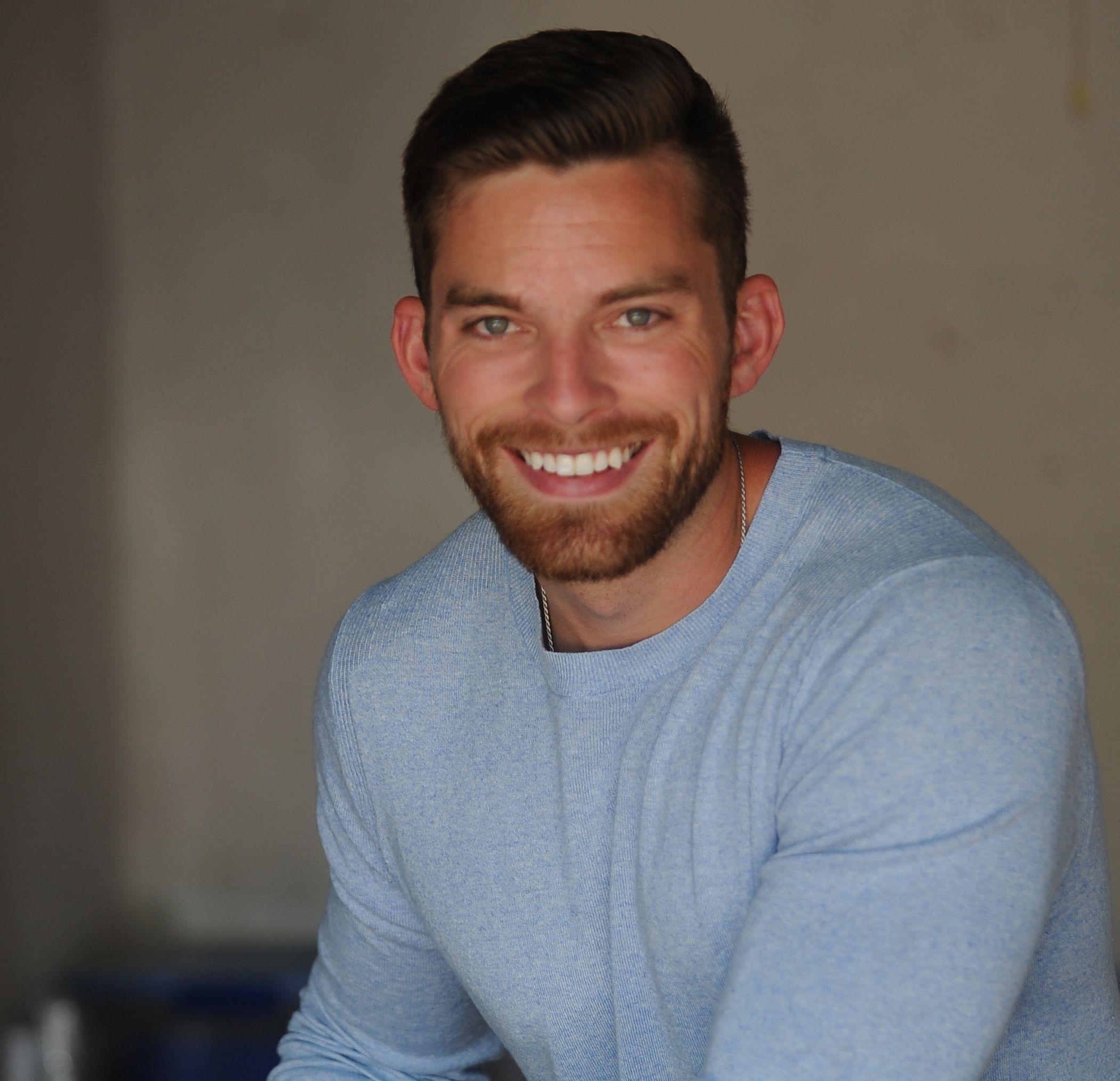 Ryan Fitzgerald
Hi there! My name is Ryan Fitzgerald, and I am a REALTOR®. My goal is to help you learn more about real estate through our Real Estate Blog! Hopefully, you enjoyed the above blog post and it found a way to provide help or value to you. When you're ready to buy or sell a home of your own let us know here. Please feel free to join the conversation by dropping us a comment below.