11 Things to Know BEFORE Moving to California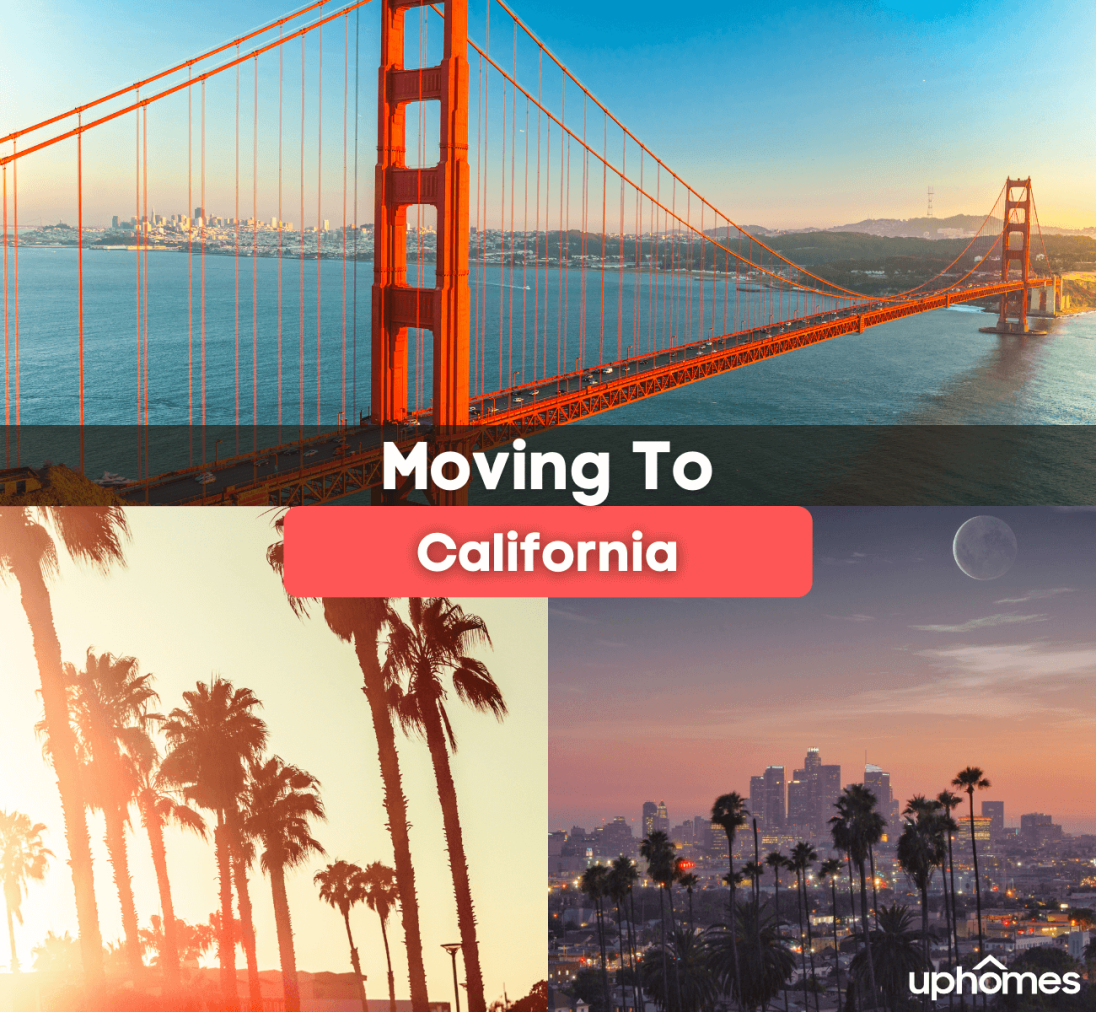 Living in California
Are you thinking of moving to California? Find out what it's like living in CA!
Known for its abundant surf culture, breathtaking national parks, and sprawling wine country, California has become one of the most popular and beloved destinations in the United States. Located on the west coast and along the Pacific Ocean, California remains one of the largest states in terms of land and population. With over 39.51 million people living in California, young professionals are flocking to this state of fame and fortune for its diverse culture, flourishing business opportunities, and incredible cities to live in. If you're moving to California check out the homes for sale in the golden state!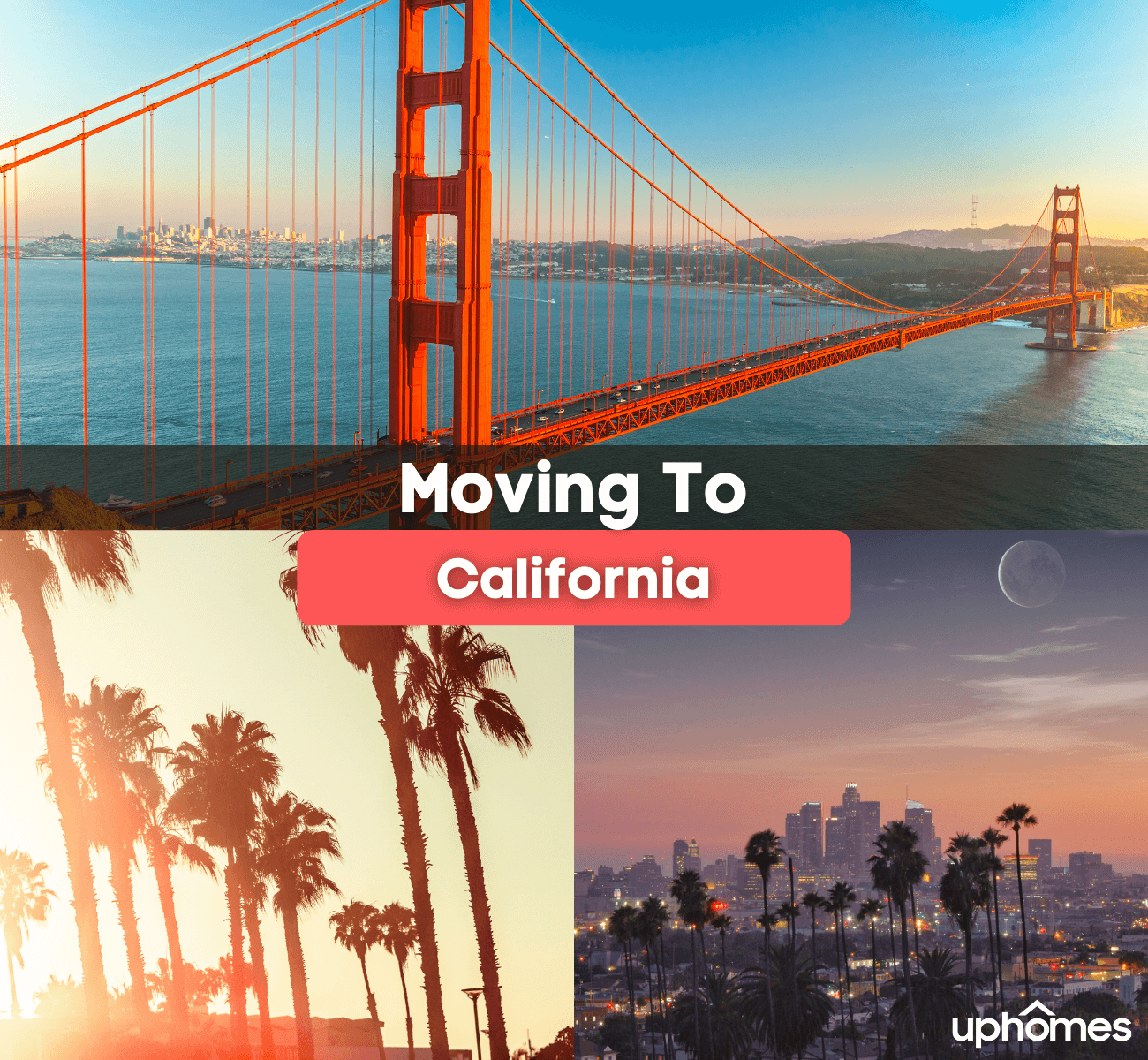 If you are considering moving to California, you will want to do plenty of research beforehand. While a big move may be exciting, it can also be stressful. By compiling this list of the 11 Things to Know BEFORE Moving to California, our team will help you stay ahead of the game to make your move as easy as possible. Read on to learn more!
California is huge and spread out.
Containing a dense redwood forest, cliff-lined beaches, gorgeous mountain ranges, hot deserts, and miles of farmland, California is a state of natural beauty and wonder. Ranked as the third-largest state when comparing land area, California is massive. Though not as big as Alaska or Texas, California makes up 4.31% of the United States. California is the same size as the entire country of Germany and is 1.7 times bigger than the United Kingdom.
Spanning 163,696 square miles, California stretches from the Mexican border to the state of Oregon. With so much land to explore, most residents have to rely on cars to get around. While there may be some walkable areas, traveling from city to city is only possible by car since everything is so spread out. As of 2019, there were almost 15 million registered vehicles in California alone. With limited public transportation options, prepare for lots of traffic and long commute times.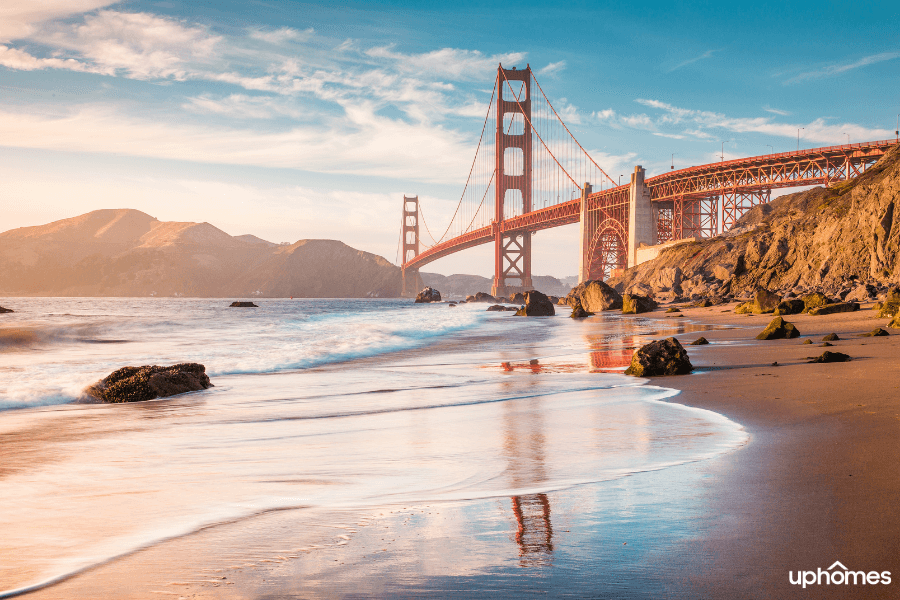 The cost of living is high in California
Not coming as a surprise that California has one of the highest costs of living in the United States. Ranked as the third most expensive state to live in the country, moving to California will certainly come with a price tag. California is 49.9% more expensive than the national average. So what is the cause of this extremely high cost of living? Not only is the state expensive due to its size and population, but thanks to numerous progressive movements and regulations aimed to reduce carbon emissions and environmental concerns, the cost of living has been driven up. Housing prices, gas, utilities, groceries, and demand are all noticeably priced higher than in other states. Where you live in the state will determine the cost of living. When deciding on a city to move to, be aware that certain areas are known to be more expensive than others. Before moving to California, it is recommended to save at least $10,000 to move and travel.
The most expensive cities in California include San Francisco, Silicon Valley, Beverly Hills, and Malibu. San Francisco and the Silicon Valley area, in particular, have some of the highest real estate prices in the country. To make ends meet in San Francisco, an average income of $92,000 is recommended for a family of four. Meanwhile, in Los Angeles, an average income of $77,000 is recommended to live comfortably. The cities of Eureka, Sacramento, Oxnard, and Fontana are some of the least expensive cities to live in California. Due to the high cost of living, 53% of residents have been seen moving out of the state. The COVID-19 Pandemic has driven many locals out since the cost of living and housing is too expensive to afford. As more locals are moving out, more and more young professionals with high-paying jobs are moving in, which continues to increase the prices.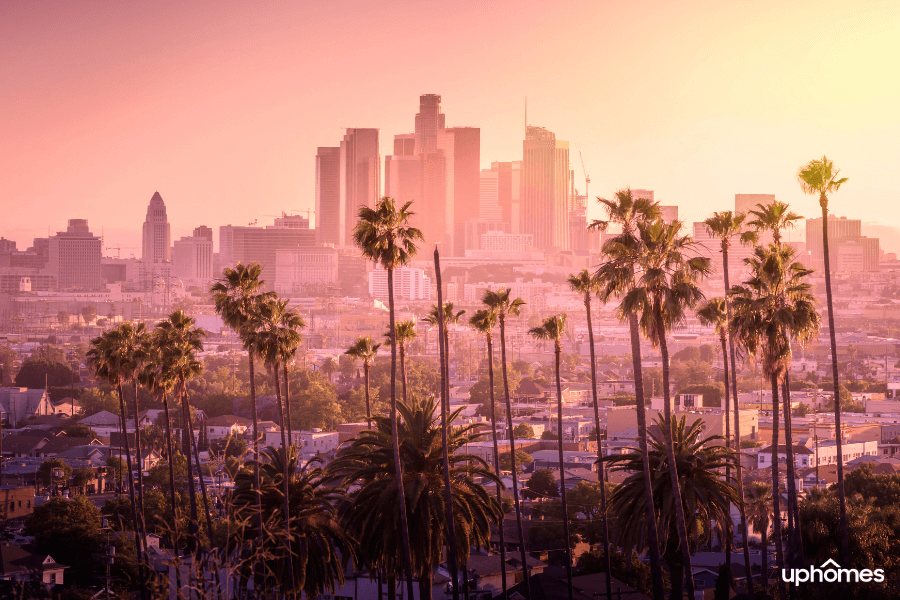 Housing can be a concern.
California has been experiencing a housing shortage since 1970. Land use regulations created by the government have driven up production costs and reduced housing availability. Ranked number 49 out of 50 states in available housing units per resident, the demand for housing exceeds the supply. This housing shortage is reflected in the insanely high housing prices. Homes in California are priced 2.5 times higher than the national average. As of April, the median housing price in California was $813,890. The area you choose to live in determines how high or low the housing prices may be. For example, the median home price in Los Angeles is $550,000, but the median home price in Santa Clara in Silicon Valley is $1.2 million.
For middle-class Americans and families, affording a home in California is hard to come by, which is why many people choose to rent. As more and more young professionals and college graduates are moving in for higher-paying jobs, the more the prices rise, as also seen reflected in the high cost of living. It goes without saying that California has priced out the locals, many of which left the state during the COVID-19 Pandemic. If you can afford a home and live comfortably in California, then you are doing quite well for yourself.
It is the state of opportunity.
Home of the largest economy in the nation, which brings in 3.2 trillion dollars of GDP annually, California reigns supreme in the economic sector. The California economy happens to be so big that it outranks countries such as India, Russia, and Germany to take the seat of the fifth largest economy in the world. With an economy this big and accounting for 14.8% of the country's GDP, Californian jobs are critical. In 2019, the California economy even grew by 34.4%, meaning there are plenty of job opportunities for those searching for work.
Spearheading the film and TV industry in Hollywood and Los Angeles, agriculture and tourism industries follow close behind in popularity. Meanwhile, healthcare, agriculture, hospitality, and technology jobs are picking up speed. Big tech corporations such as Apple, Google, Oracle, and Cisco are headquartered in Silicon Valley, the region just south of San Francisco that dominates the technology world. Out of the hundreds of thousands of technology jobs available, 38% of residents are employed at one of the top 15 technology companies headquartered in the region. Other major companies that call California home are Netflix, Facebook, Adobe Systems, and Wells Fargo. With so much economic diversity, find your dream job in California.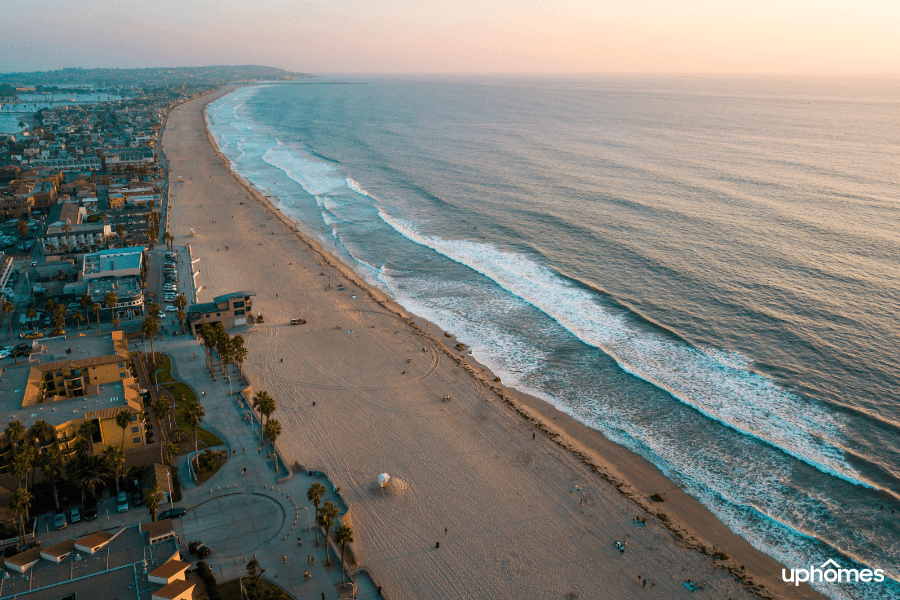 California has some of the best weather in the country.
Are you moving to California for the sunshine and warm weather? Known for its Mediterranean climate, expect warm and dry summers alongside wet and mild winters. Due to its diverse landscape, temperatures can vary depending on which region you choose to live in. Santa Barbara is often considered to have the best climate and weather out of the state. With an average daily temperature of 70 degrees Fahrenheit, the desirable weather is one of the many reasons people love living in California. The hottest summer months in California are July and August, when the temperatures can spike into the 80s. Meanwhile, Death Valley, which is often referred to as one of the hottest places on earth, reaches daily temperatures of 130 degrees Fahrenheit.
If you are moving to southern California from a cold state, be happy to know that it rarely ever gets out. The lowest daily temperature in southern California during the winter is 49 degrees Fahrenheit. Do you like the snow? The state does experience high levels of snowfall in the mountains. Lassen National Park has the heaviest annual snowfall in which 55 feet of snow covers the area in the winter. Before moving, be aware that there are some weather risks to be mindful of. Since the state is currently in a drought, most of California is experiencing heat waves, extended dry periods, and an increased risk of forest fires. Water rationing has become part of day-to-day life throughout the state.
Northern California and southern California are very different.
When deciding where to live in California, there are many options. The first step toward finding a place to call home is to understand the differences between northern and southern California, which are often called NorCal and SoCal. Though in the same state, both regions are very different, and it can take anywhere from four to eight hours to travel between them. So which one is right for you? Northern California is notorious for its cooler and rainy weather, while southern California is warm and sunny every day since it is in the desert.
San Francisco is the cultural hub in northern California, while Silicon Valley is the destination for all things business and technology. On the other hand, Southern California is home to Los Angeles, San Diego, Hollywood, sunny beaches, and celebrities. More spread out and easier to get around, northern California has better parking, and an excellent public transportation system called the Bay Area Rapid Transit or the BART. In southern California, public transportation is not as reliable, so good luck even trying to find a parking spot. While both regions may offer similar amenities and opportunities, the rivalries between the two will continue to separate them. Whether you choose the NorCal or the SoCal life, explore both to get the most out of your California adventure.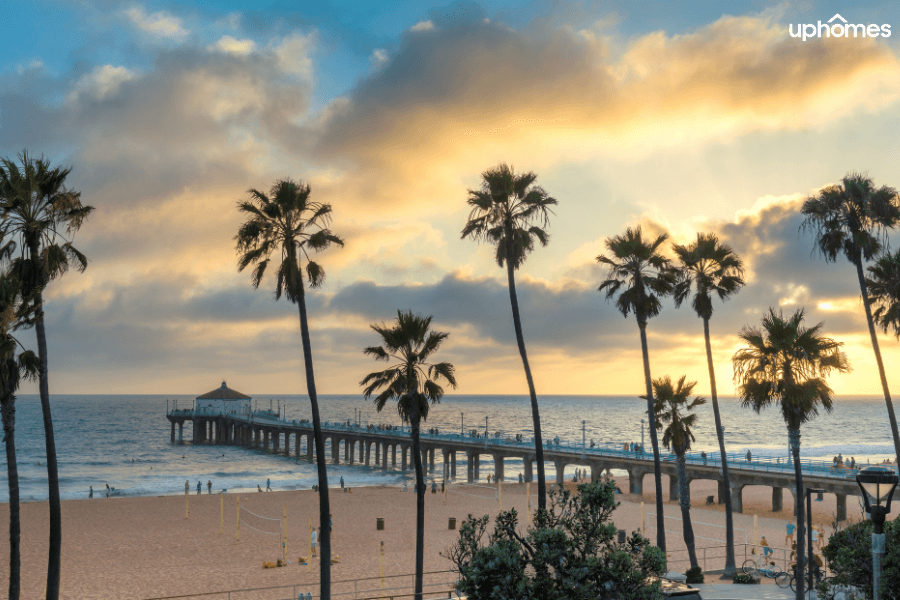 The beaches are beautiful.
Stretching for 840 miles along the Pacific Coastline, California is surrounded by clear blue water and stunning beaches. Attracting thousands of surfers and beachgoers year-round, spending the day at the beach is a must-do for residents. Laying out in the sand with a cold drink is a California pastime for a family outing or weekend adventure. Sunbathe, snorkel, swim, jet ski, and watch the sunrise or sunset.
If you are moving from the east coast, keep in mind that the Pacific Ocean is much colder than the Atlantic and Gulf of Mexico. Before swimming or surfing, it might be a good idea to invest in a wetsuit to stay warm. The water is also more dangerous and choppier than the Atlantic Ocean, with more giant waves. Before venturing into the rough water, watch for rip currents and hazardous conditions.
Check out the most popular beaches in California!
National parks are everywhere.
Featuring the most national parks out of all the other states, California is home to nine that each has its allure to visitors. Moving to California is an excellent idea for those who love the great outdoors and exploring the world's natural beauty. If these national parks are not on your bucket list, add them.
Check out these California national parks!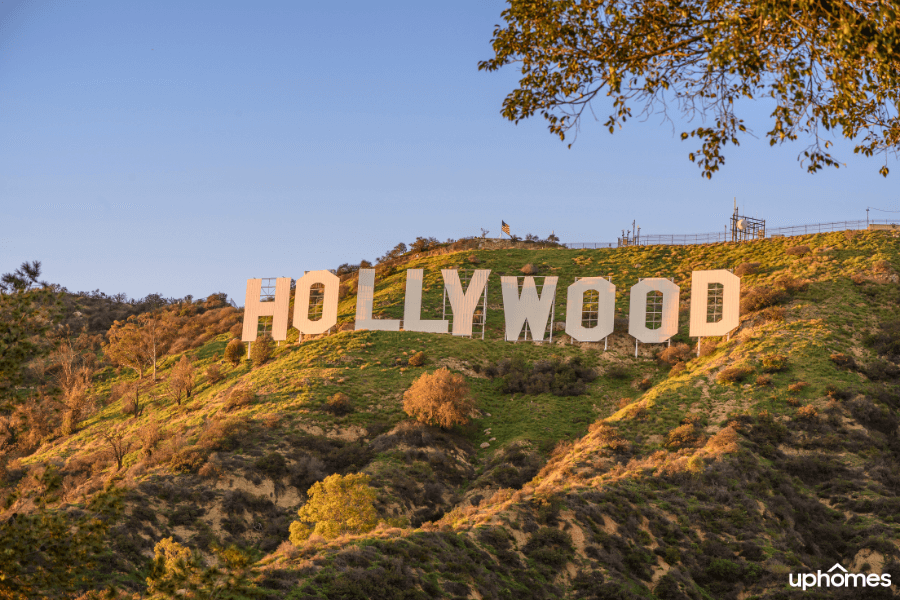 There are amusement parks galore.
Once you visit the many national parks, head to the multiple amusement parks in California. There are a total of 38 different amusement parks throughout the state that residents can enjoy. Disneyland and Disney California Adventure are perhaps some of the most well-known attractions in Anaheim. Though smaller than Disney World in Florida, Disneyland has unique rides that set it apart, including Alice in Wonderland, Finding Nemo Submarine Voyage, Indiana Jones Adventure, Guardians of the Galaxy, and Snow Whites' Scary Adventure. Other amusement parks such as Universal Studios Hollywood, Californias Great America, Legoland California, and SeaWorld San Diego are other popular attractions. Before visiting, double-check with the park for COVID-19 guidelines and restrictions.
Quality higher education.
Are you or your kids looking for higher education opportunities? Full of top-notch and highly rated institutions, one of the best parts of living in California is the in-state tuition prices. Since the California State University System is the country's most extensive public university system, there are 281 colleges and universities to choose from.
The University of California in Berkeley is perhaps one of the state's most well-known and prominent public universities. This four-year public university offers over 300-degree programs in all kinds of different areas of study. Stanford University in Stanford is among the top universities in the country and was ranked by Forbes as the number two top college out of all 50 states. No matter where you decide to further your education, California offers only the best private and public colleges and universities.
Become a wine connoisseur.
Home to more than 1,200 wineries, California produces the most significant amount of wine in the United States. The wine culture in California is so huge that the state has 30% more wine than the entire country of Australia, and it ranks number four as one of the largest wine-producing areas in the world. Originally introduced to the area in 1690 by Spanish missionaries for religious purposes, wine production has since turned into a significant industry. Thanks to the warm Mediterranean climate, wine can be made all year round.
Napa Valley in northern California is the state's most famous region that makes wine. With 600 wineries, Napa Valley has become an excellent destination for couples, bachelorette parties, and seasoned wine drinkers. Whether traveling to the North coast, central coast, or southern coast of California, there will most likely be a winery to visit. What better way to become acquainted with your new state than by drinking its wine.
FAQs on Moving to California:
Is it Smart to Move to California?
Moving to California is a wise decision for many people who clearly understand why they want to move to the state of CA. If you're moving to California on a whim, you'll want to be sure you have a job lined up since it's an expensive state to live in. Californians pay 68 cents more per gallon of gas because of the state excise tax. The state income tax in California ranges from 1% to 12.3%, and sales tax is anywhere from 7.25% to 10.75%.
Pros and Cons of Moving to California
How much money do you need to move to California?
It's easy to see why someone would want to live in California; just know you should have at least six months of expenses saved up when making the move. You'll need to have money saved when moving to California or at least a decent-paying job lined up since it's one of the most expensive states to live in. People relocating to California are attracted to the state's beauty, from the beaches to the mountains to the weather.
Why you should not move to California?
There are many reasons why someone should not move to California, including the fact that the state is expensive, has high taxes, wildfires, earthquakes, water droughts, and high housing costs, and the traffic can be unbearable in some parts of the state.
Moving to California - The Bottom Line
Full of advantages and disadvantages, California is a great place to live. Whether you are moving for a job or to reap the benefits of its sunny weather and beautiful coastline, the benefits of moving to California seem to outweigh the negatives. Before buying a home, getin touch with our knowledgeable and reliable Realty Specialists to help you through the home buying process. Once you decide on a property type and budget, you will be one step closer to finding your dream home in California. After moving, apply for a new driver's license and register your vehicle within ten days of becoming a California resident. Our top real estate team is standing by to help you relocate to any city in California -Contact us today to help your move go as smoothly as possible, or click one of the links below to learn more about each city!
#blog-moving-california-cta#

Find your new home
Search real estate and homes for sale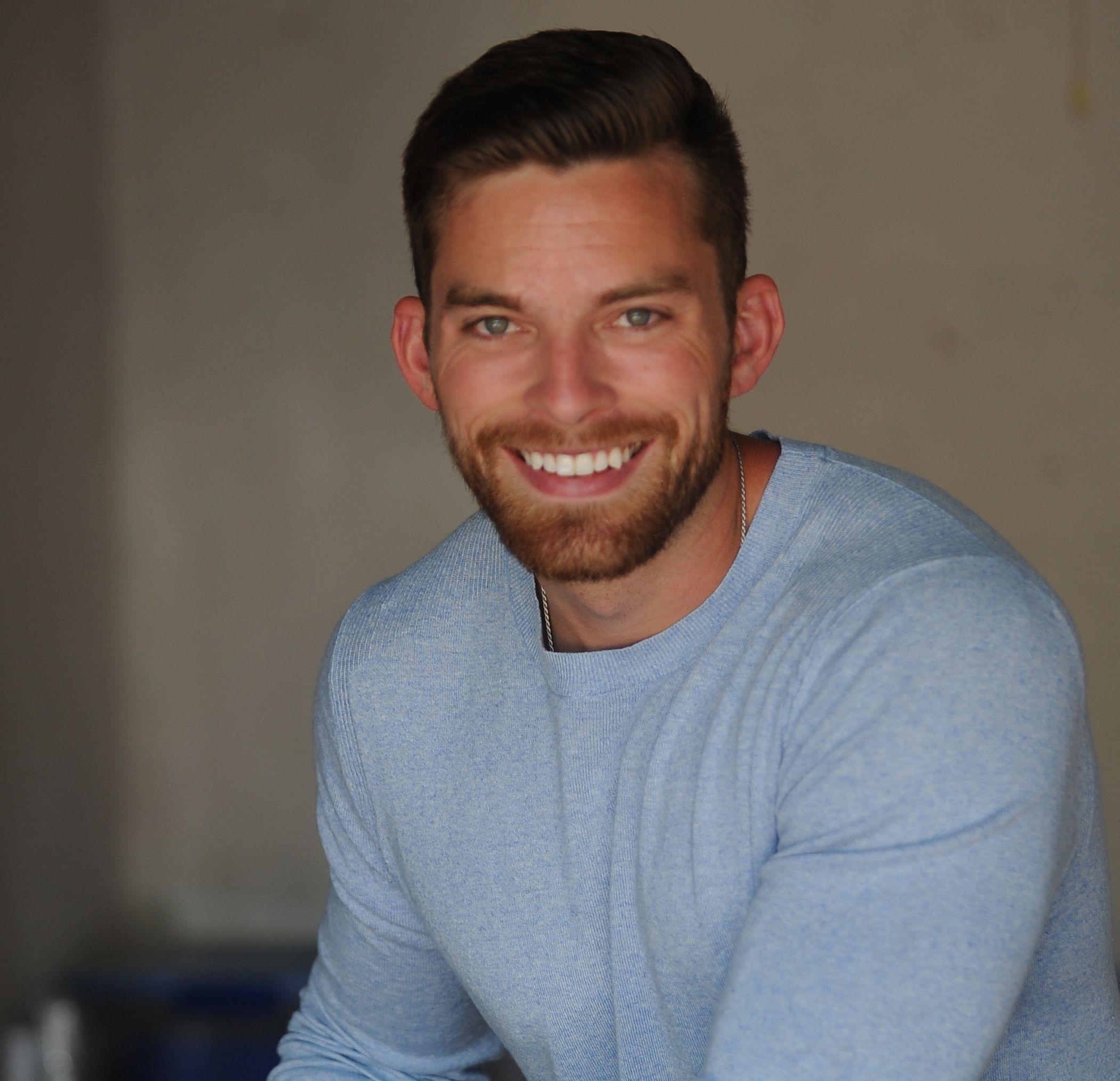 Ryan Fitzgerald
Hi there! My name is Ryan Fitzgerald, and I am a REALTOR®. My goal is to help you learn more about real estate through our Real Estate Blog! Hopefully, you enjoyed the above blog post and it found a way to provide help or value to you. When you're ready to buy or sell a home of your own let us know here. Please feel free to join the conversation by dropping us a comment below.