Best Places to Live in California
What are the Best Cities to live in California?
Are you California dreamin'? With 840 miles of gorgeous coastline, nine national parks, and a beautiful sprawling wine country, it is no wonder why 39.51 million people call California home. While the COVID-19 Pandemic may have led to difficulties alongside a notoriously high cost of living, the fact of the matter is that young professionals and families are still moving to California. Full of amazing business opportunities and top-of-the-line higher education, life in California is happy and easy-going. In fact, California residents are thought to be some of the happiest citizens in the country according to a new study.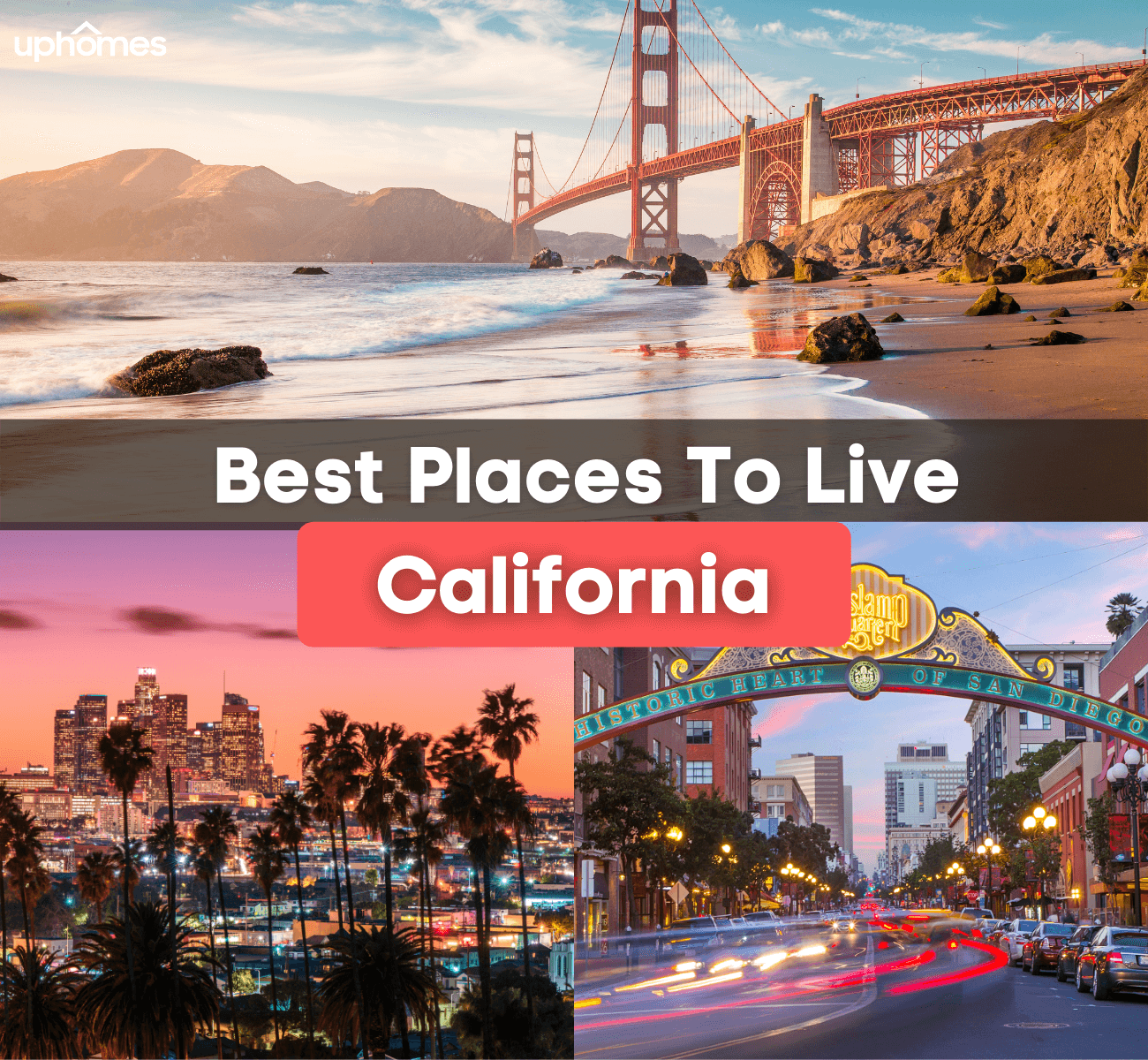 With a lifestyle that prioritizes healthy living and outdoor recreation, it is easy to imagine why California is a great place to move to. If you are among the masses that decide to flock to the Golden State then you have come to the right place. By factoring in affordability, safety, and cleanliness, this city guide was created to help you find the place where you belong. With so many cities to choose from in this large state, finding the best place to live in California that meets your specifications can be harder than it looks.
Read on to learn more about the 7 Best Places to Live in California!
San Francisco
Often described as enchanting and eccentric, San Francisco is arguably the number one city in California with the most charm. Located in northern California and considered a part of the pacific northwest, San Francisco is best known for the iconic Golden Gate Bridge which is considered one of the seven wonders of the modern world. Construction of the bridge began in 1933 and was not completed until 1937. Standing at 746 feet tall and bringing in more than 10 million visitors a year to the city, the Golden Gate Bridge stands as a symbol of power and progress.
Celebrated for its progressive and bohemian lifestyle, San Francisco is filled with trendy boutiques, hip eateries, and many historical landmarks. Perfect for entrepreneurs and independent thinkers, San Francisco was named the 34th best city in the United States for those looking for a job. Whether you are hopping aboard a cable car or having a picnic at one of the many outdoor greenspaces, living in San Francisco is unlike any other city. While living in the area is amazing, San Francisco also happens to be the most expensive city to live in California. Home prices here are very high, so much so that it was calculated that in order to make ends meet in San Francisco residents need to be making an annual salary of at least $92,139. Due to these high prices, it is no surprise that San Francisco happens to be the city in California with the most millionaires and billionaires.
Local Favorites: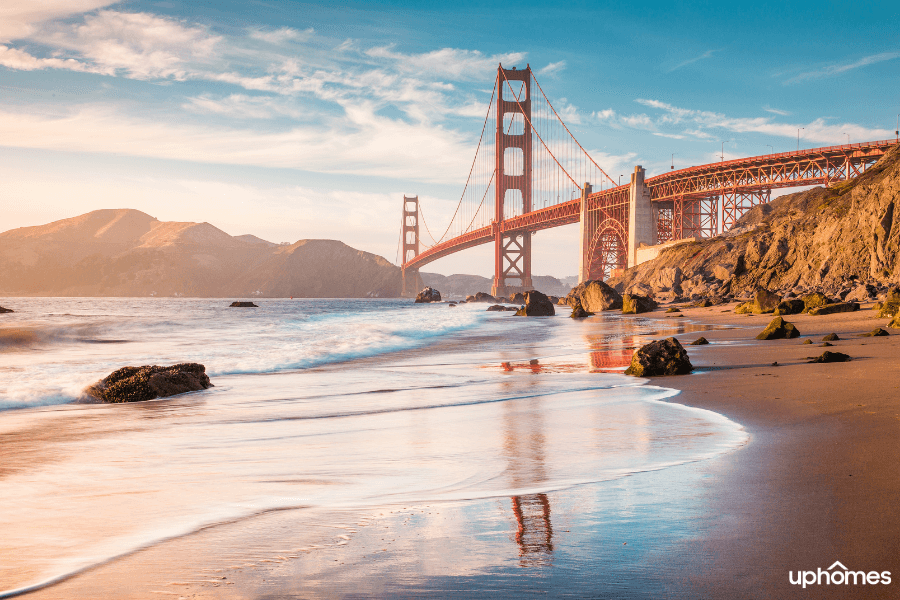 San Jose
Nestled right in the heart of Silicon Valley, the city of San Jose in Northern California is only an hour south of San Francisco. Mixing Spanish revival architecture with modern styles, San Jose is truly a unique city with its own charm. Gaining popularity over the years as more and more leading big technology companies make their way to the area, San Jose has made itself a pioneer in science and technology. Prized for its diverse culture and abundance of business opportunities, living in San Jose is a dream come true for innovative thinkers and futuristic minds.
Popular companies such as Apple, Google, Netflix, Oracle, Cisco, and Amazon are all headquartered in the city and have brought in thousands of jobs. Many young professionals and college graduates are flocking to the area for the chance to work for such large corporations. Luckily, working in Silicon Valley normally coincides with a hefty paycheck because living in San Jose certainly comes with a high price tag. Named as the 31st most expensive city to live in the entire world, the cost of living and housing prices in San Jose are not cheap. As of 2021, the median home price is listed at $1.2 million dollars. For those that can afford it, deciding to move to San Jose is definitely a top choice. Plus, Santa Clara County which is the county that houses San Jose was named as the number one best county to live in California as of 2021.
Local Favorites: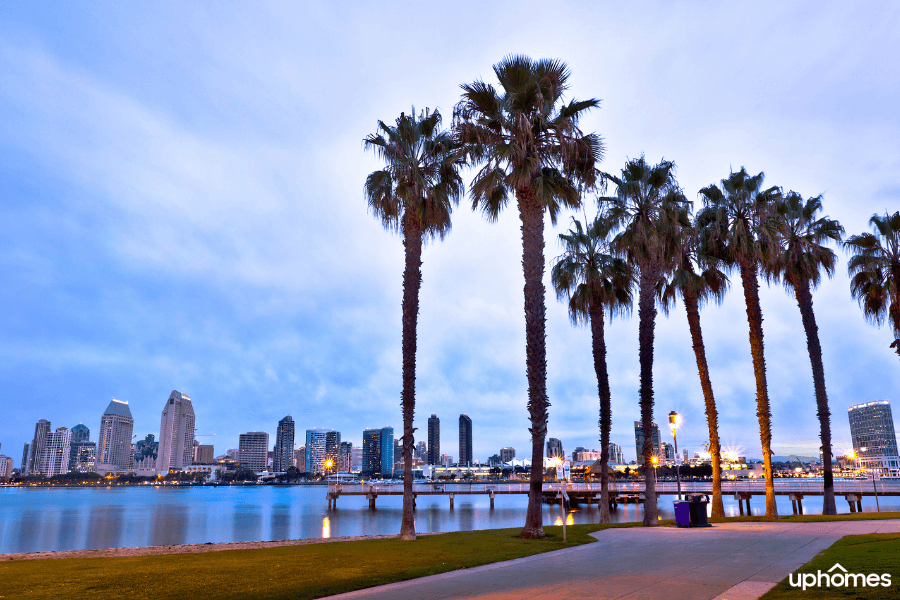 San Diego 
Located in southern California lies the picturesque city of San Diego. Only 20 miles from the Mexican border, San Diego is pretty much as far south as you can get in California. This coastal city is famous for its warm and sunny weather, fabulous beaches, and scenic views. Blending a mixture of urban, suburban, and coastal living, life in San Diego is perfect for any lifestyle. Raining less than 12 inches of rain a year, San Diego is the go-to destination for those wanting to experience a Mediterranean climate all year round. 
Offering its residents an abundance of outdoor recreational activities, fabulous dining, professional sports, prime nightlife, and tons of entertainment, never run out of things to do. Whether you want to live in San Diego or just want to visit, the business and professional opportunities that the city provides can not be beaten. Ranked as the number three best place to live in California, the population continues to rise year by year. While San Diego may not relatively be considered affordable, the cost of living is certainly not as high as San Francisco or San Jose. Home prices continue to be higher than the national average.  
Local Favorites: 
Sacramento
The capital of California, Sacramento is only an hour away from San Francisco in northern California and is about two hours to Lake Tahoe. Ranked as one of the best places to live in California, Sacramento is pretty but also more affordable than other California cities. While crime may be a bit higher than other comparable areas, finding a safe neighborhood perfect for settling down and raising a family is no hard task. Over the recent years, more and more young professionals and families are starting to discover Sacramento as seen reflected in the noticeable population increase.
Best known for its world-class healthcare industry and the University of California Davis School of Medicine, finding a job especially in healthcare is easy to come by. Experiencing many technological advancements and a push towards sustainability, check out the many farm-to-table restaurants, wineries, green spaces, and over 200 public parks. Attend the weekend farmers market, visit the many art galleries and historical museums, or go to a concert or music festival including the annual hard rock festival Aftershock in Discovery Park. In our opinion - Sacramento is one of the best cities to live in California. 
Local Favorites: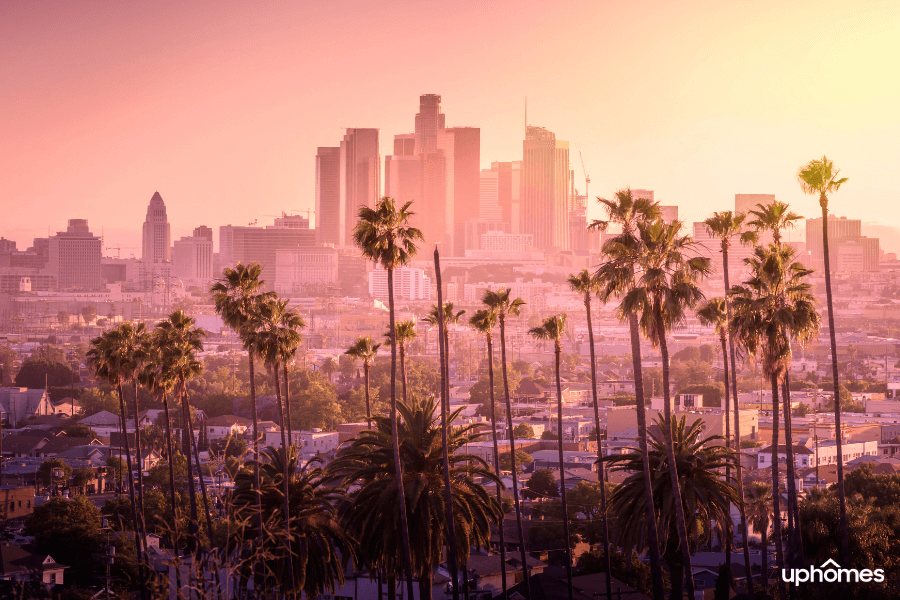 Los Angeles
Also known as the City of Angels, Los Angeles is found in southern California and is home to A-list celebrities and all things film and TV. Considered one of the most popular and well-known cities in the world, thousands of people move to Los Angeles in search of fame and fortune. Surrounded by mountains and the desert, Los Angeles attracts tourists from near and far every day of the year. Known as the second-largest metropolitan area in the nation, Los Angeles is often glamorized and thought of as the place where dreams come true. 
Representing hope and ambition, the residents who are lucky enough to call Los Angeles home share the same resilient and strong spirit. Considered the third most expensive place to live in California, the luxurious and desirable areas of Beverly Hills, Hollywood Hills, and Malibu are within Los Angeles, County. While you can technically move to Los Angeles without any money since there are many free things to do, a base salary of at least $74,371 annually is recommended in order to live comfortably. Much like any large city, Los Angeles certainly has its fair share of both safe and dangerous areas so keep that in mind when deciding where you should and should not live when moving.
Local Favorites: 
Santa Rosa
Situated right in the center of the northern California wine country lies the picturesque city of Santa Rosa. Thought to be one of the most beautiful cities in California, Santa Rosa is perfect for all walks of life including young professionals, families, and retirees, Santa Rosa is in the midst of a population increase much like Sacramento and has a current population of about 501,000 people. Located in Sonoma County, Santa Rosa is most known for its wineries, sustainable agriculture, and gourmet restaurants. Only an hour north of San Francisco, this small town and rustic rural area are attracting residents who want a laid-back and relaxing way of life. 
Living a happy and healthy lifestyle is part of Santa Rosa culture. Find your neighbors going to the gym every day and eating a well-balanced farm-to-table diet. Also rated as a safe city and beloved for its warm weather, spend the day at the beach, play a round of golf with friends, or journey out to one of the many wineries for a wine tasting. With a cost of living that is 38.6% more expensive than the national average, it goes without saying that Santa Rosa is another California city that is on the pricer side.
Local Favorites: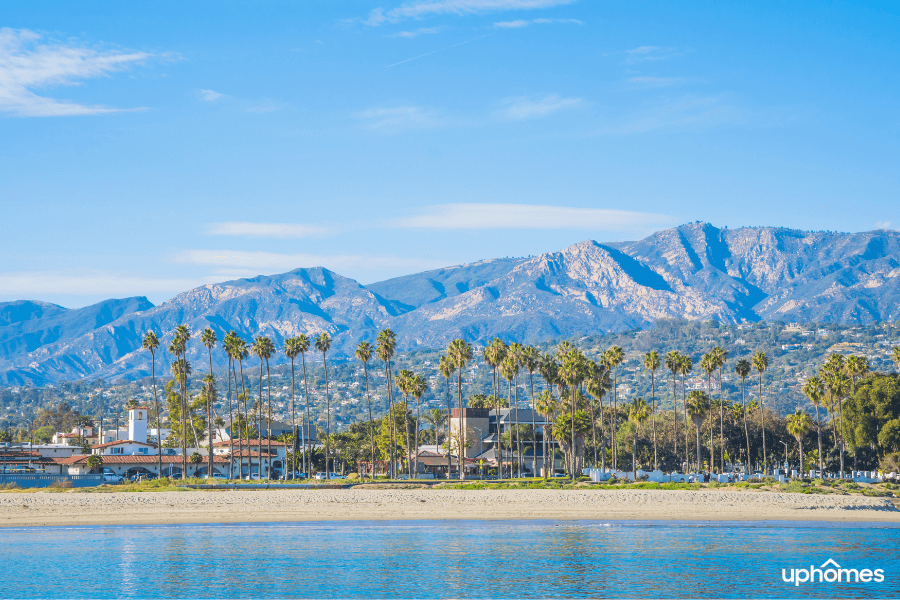 Santa Barbara
Often referred to as the city that has the best weather in all of California, Santa Barbara is right on the central coast and is only an hour and a half drive to Los Angeles. Surrounded by white sand beaches and pristine landscaping, there is a reason why Santa Barabara is one of the most sought-after destinations in the state. Celebrities even love Santa Barbara. Oprah Winfrey, Angelina Jolie, Rob Lowe, Ellen Degeneres, and many other famous names call Santa Barbara home. Boasting Mediterranean architecture and Spanish styles, the buildings and houses in Santa Barbara are designed to reflect the cities Spanish heritage that dates back to the 18th century.
A great destination for beach lovers and outdoor enthusiasts, learn to surf on the coast, swim, jet ski, kayak, hike, fish, or join a recreational sports team. Full of never-ending entertainment, music venues, museums, events, and celebrations, there is always something to do in Santa Barbara. Ranked at the top as one of the most expensive cities in central California, Santa Barbara has a cost of living that is 100% more expensive than the national average which is hard to fathom. Los Angeles is even 22% less expensive than living in Santa Barbara. Due to this lack of affordable housing and the high cost of living that is a common trend in California, the state has seen 53% of residents leave in search of more affordable options. But, if you can afford to live in Santa Barbara then it will definitely be the best decision ever.
Local Favorites: 
Best Places to Live in California - The Bottom Line
While California is considered one of the most beautiful states to call home, most cities are expensive to live in. Unless you have the money or are moving for a job, not everyone can afford to live in California. Even though the cities on this list are a bit more expensive than other areas, they ranked as the best places to live in California due to many other factors. If you do decide to move to California, then you may want to find a home to live in. Before making a buying decision, make sure to get in touch with our knowledgeable Realty Specialists to help you through the home buying process. Contact us today!
#blog-moving-california-cta#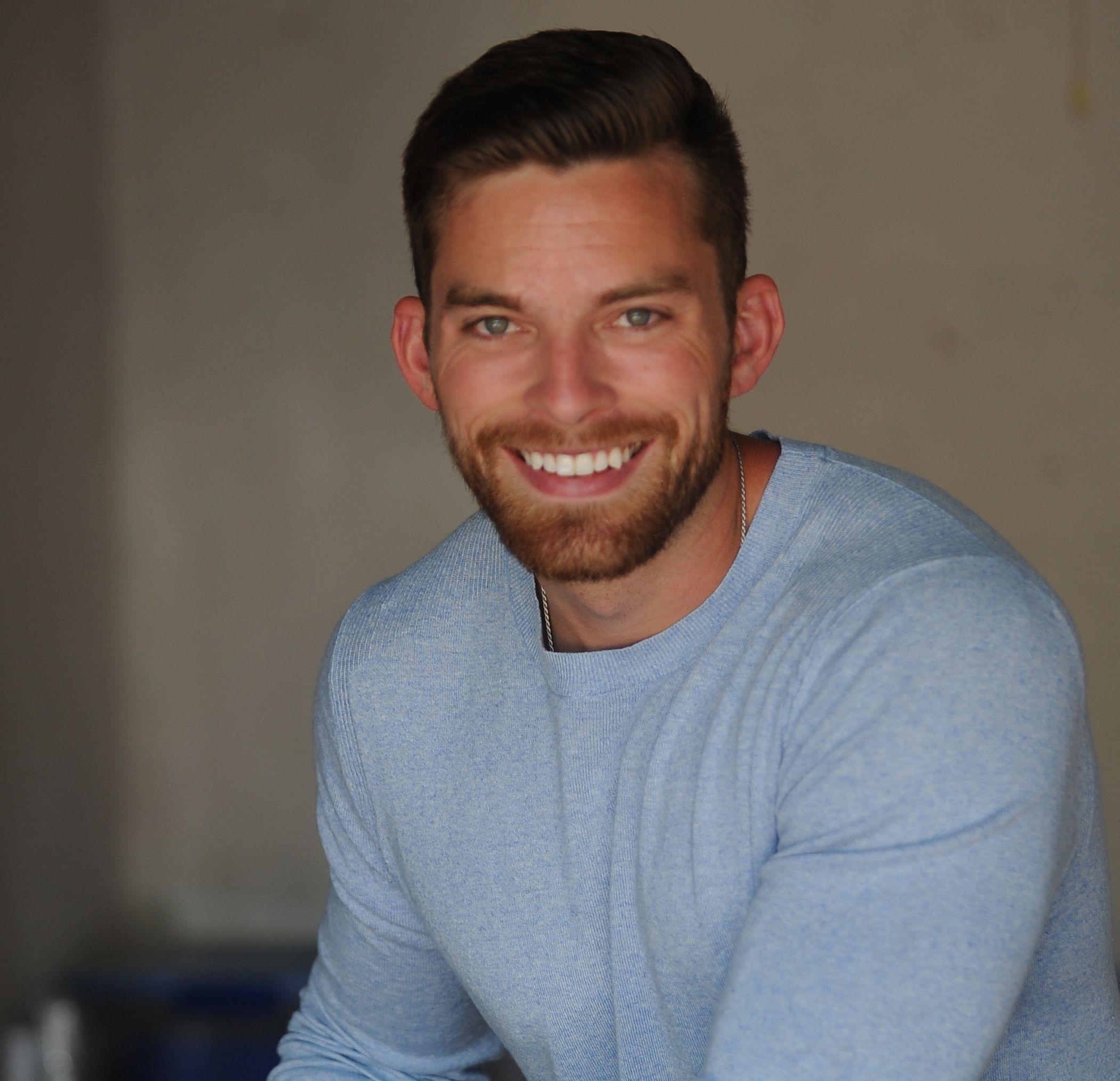 Ryan Fitzgerald
Hi there! My name is Ryan Fitzgerald, and I am a REALTOR®. My goal is to help you learn more about real estate through our Real Estate Blog! Hopefully, you enjoyed the above blog post and it found a way to provide help or value to you. When you're ready to buy or sell a home of your own let us know here. Please feel free to join the conversation by dropping us a comment below.