5 Things to Know BEFORE Moving to Key Biscayne, FL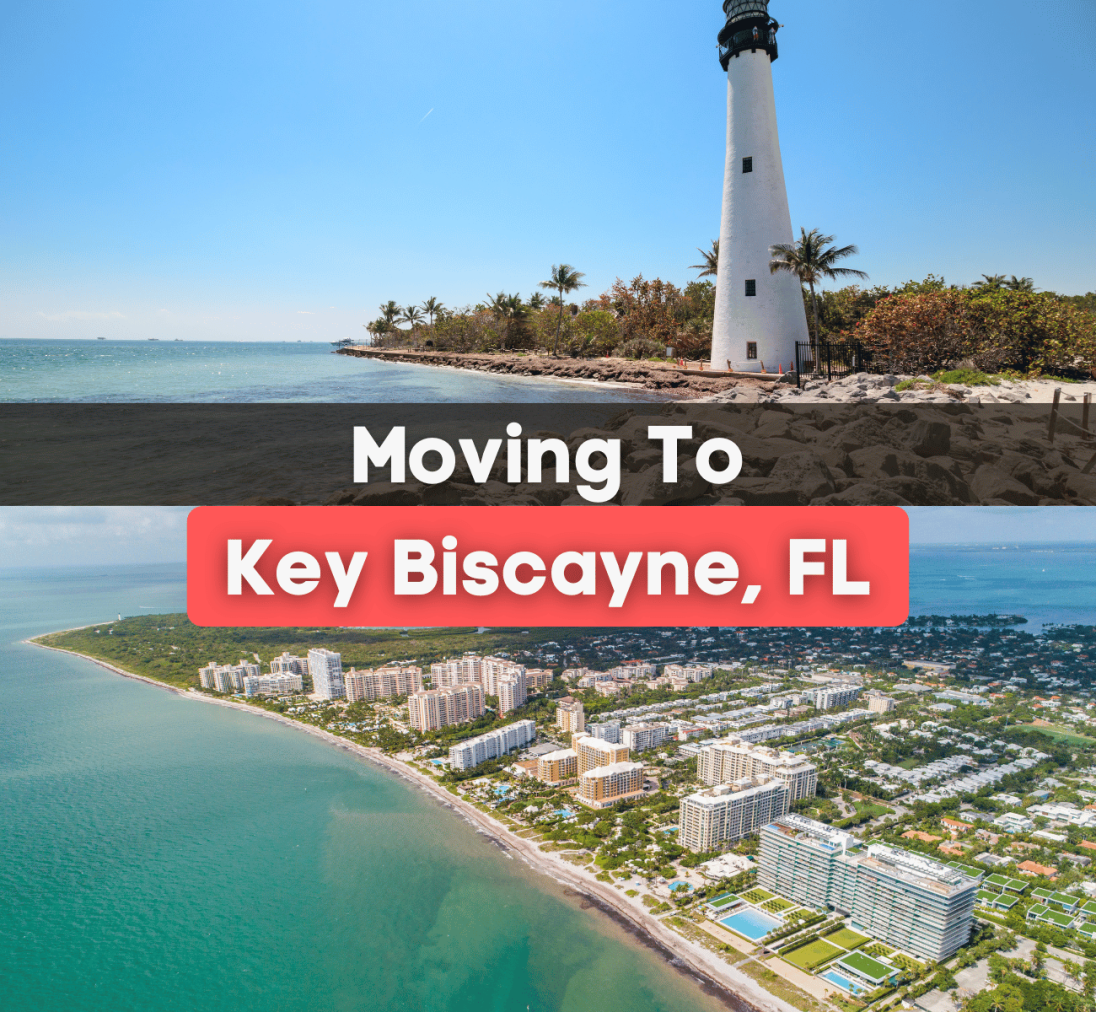 Living in Key Biscayne 
Are you moving to Key Biscayne, FL, and want to learn more about the area? Make sure you know these five things about life in Key Biscayne! 
Key Biscayne is a great place to live. Located on a barrier Island across the Rickenbacker Causeway from Miami, this town offers residents an urban feel with many restaurants, parks, coffee shops, stores, and things to do. Known as a beautiful oasis with sandy beaches, natural reserves, and restaurants with some of the best food and views, this town could be your new home and getaway in one.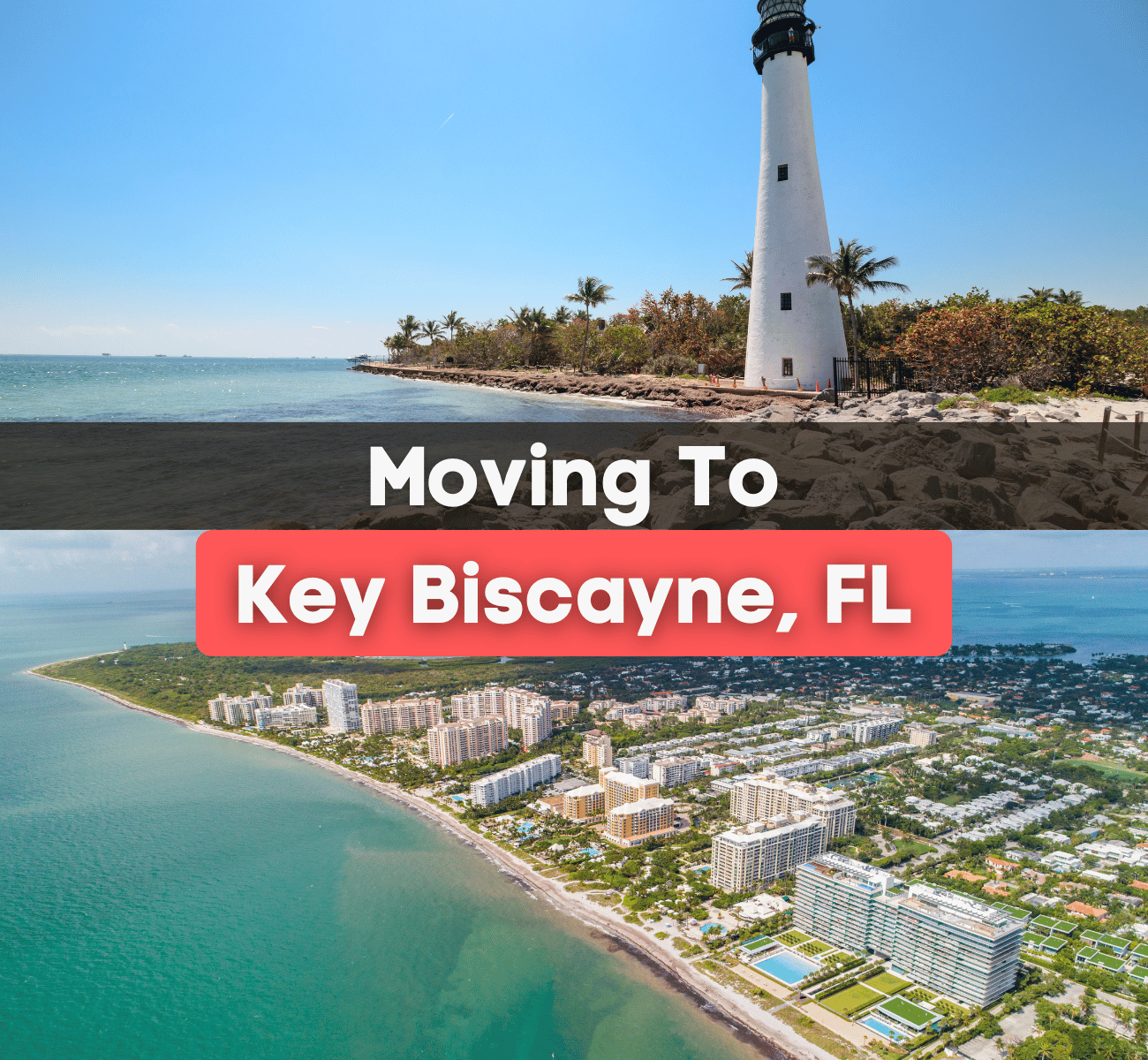 Key Biscayne used to be a coconut plantation owned by the Matheson family. Still, this very developed town has a population of 14,487 residents and is a quiet getaway from the party capital, Miami. This stunning area of Florida offers a beautiful landscape with lush green plants and trees covering the ground and crystal clear waters right off the sandy beaches. Considered to be one of the best places to live in Florida, Residents and locals alike spend their days soaking in the sun at the many public beaches, riding or running on the waterfront trails, exploring the historic lighthouses overlooking the water, swimming with the fish or enjoying a picnic at the Nixon Sandbar, or being surrounded by the serene nature at the many parks. 
Living near the ocean in a beautiful town with warm weather doesn't sound bad to anyone! But, before moving to this small town in Florida, make sure you know every aspect of what it is really like living there. You can read below to learn more about what Key Biscayne offers and the realities of being a resident. 
Here are the things that you should know about Key Biscayne! 
Cost of Living
Unsurprisingly, not everyone can afford to live in a tropical paradise. The cost of living in Key Biscayne is 336% higher than the national average, with utility costs around 4% higher, groceries about 21% higher, and transportation 9% higher. Partly due to the town being off of the mainland and on an Island, which makes importing goods harder, and with an increase in demand, living here is very expensive and something to consider highly. 
The median home value in Key Biscayne is around $1.6 million, with variance depending upon size, location, and year built. But unfortunately, owning a waterfront home with breathtaking views comes with more than a mortgage. The average cost of home insurance in Florida is around $4,218 a year, but homes with higher hurricane risk on the coast and islands are even higher. Key Biscayne is in Zone A for hurricanes, meaning that it is one of the first areas to be evacuated when there is a threat of one hitting land. With the ocean on both sides of the town, you should consider investing in good home insurance and some hurricane-proof windows and doors to avoid damage which, unfortunately, isn't always cheap. According to HomeAdvisor, the cost of hurricane-proofing your home ranges from $2,449-$13,395 depending upon the size of the house, the threat level of hurricane damage, and amount of doors and windows. So, when looking at house costs, make sure to factor in these costs on top of that.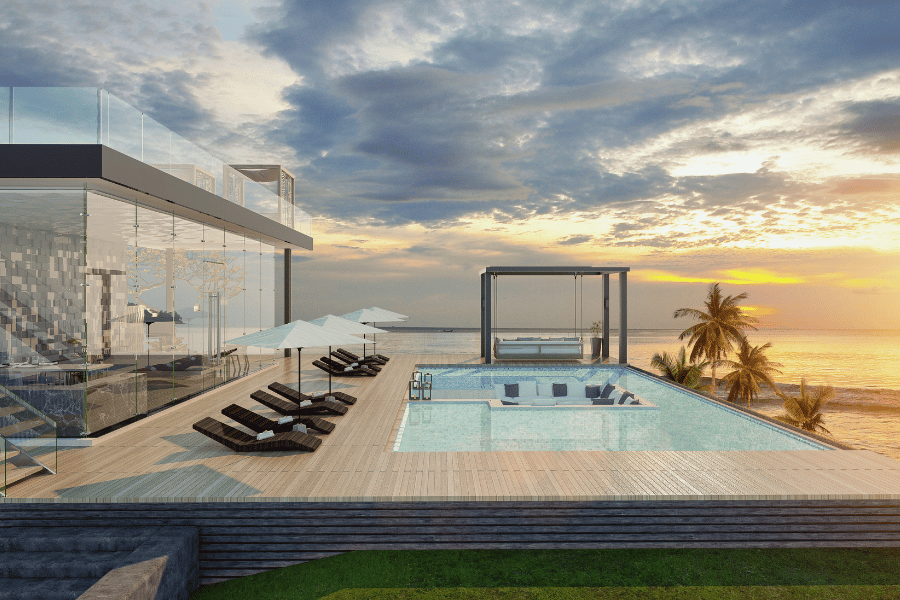 Unfortunately, the cost of your house is one of many costs you must consider while moving here. As stated above, food and transportation costs are also much higher. Restaurants and retail are on the higher end due to the residents living here being known as affluent individuals with exquisite and particular tastes. But, if you can afford the gas prices or public transportation costs, you can travel to surrounding areas where costs are slightly lower. No matter where you live in this town, expect the cost of living to be much higher than the area you are coming from, at least in the beginning, and prepare yourself and your budget for that. 
Demographics 
Although a small area, Key Biscayne has a significant variance in demographics. The largest ethnic groups are Hispanic (74.3%), White (23.4%), and two or more ethnicities( 1.6%). Known as a very safe and welcoming town full of uniquely charming neighborhoods, this is one of the best places to raise a family or retire. The average age of residents here is 41 years old, with many individuals being a child, parents, or retirees. Although some young professionals in their 20s choose to live here due to its quiet nature and still being conveniently close to large cities such as Miami, most residents are older. Many young adults also need help to afford the housing market here, causing their generation to be less popular here. 
Things to Do
Although small, this town has a ton of things to do. Whether you want to stay within town limits and enjoy the pleasant beaches and parks it offers or make the short commute to Miami to party the weekend away, this is the place to be for whatever vibe you are looking for. With water on both sides and protected wildlife and land all around, this area is one of the most captivating places to stroll on the beach, picnic at a park, go back in history with one of the oldest lighthouses still standing, or walk amongst the natural beauty. You can check out some of the local favorites in Key Biscayne below to find out where you want to go first.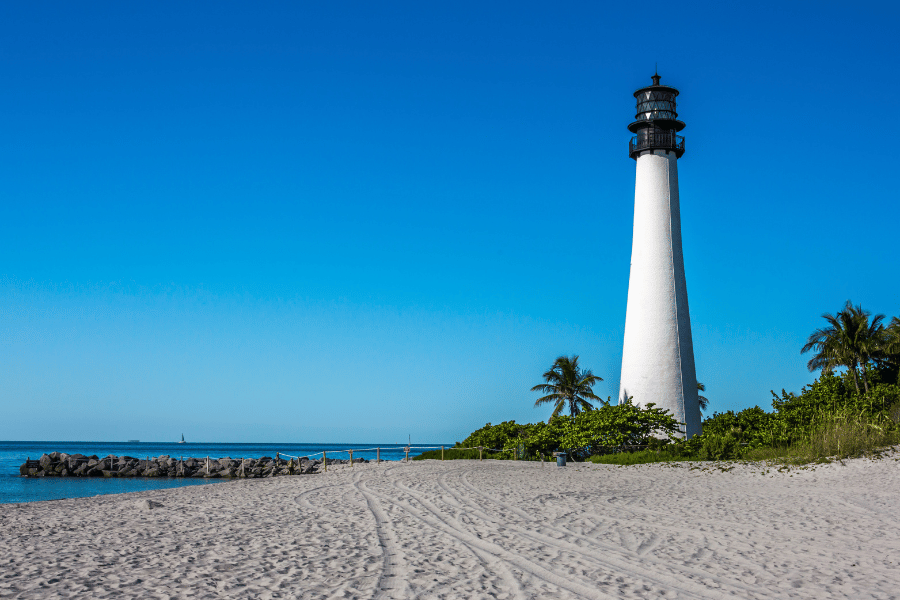 Local Favorites
Weather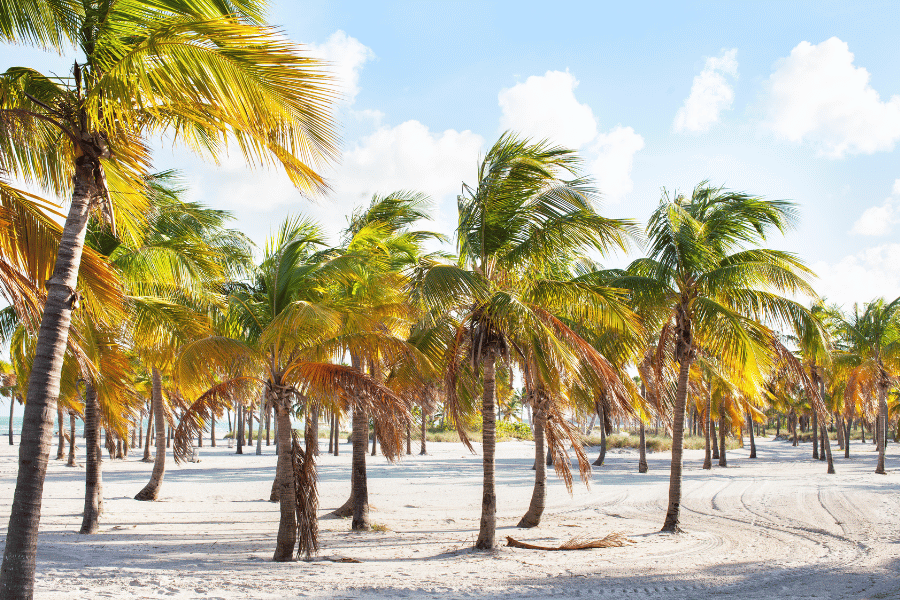 Located in southern Florida, this town is known for its fantastic weather. Key Biscayne summers are known to be hot and wet, while winters are comfortable, never going below 50 degrees. With weather like this, it's hard to stay away from the beach; you can swim or lay out in the summers and still enjoy some fun in the sand in the winter months. So, if you like to spend your days outside, you have come to the perfect spot. 
Summers in Key Biscayne last almost four months, much longer than in most areas in the United States. From June to October, there is an average high of 86 degrees, with some days reaching 100 degrees in August, the hottest month of the year here. A typical summer day has warm, wet air with partly-cloudy skies, making it a perfect paradise for beachgoers or individuals wanting to soak up some sun. 
Although it is technically winter here from December to March, it never really feels like it. During the cool months, the average high is around 78 degrees, with the temperatures never getting cold enough to invest in a coat. These months are perfect for those that enjoy playing outdoor sports or want to utilize the bike and running paths due to a slight chill but still being very pleasant outside. Unfortunately, with temperatures above 50 degrees, you will never have a white Christmas, but who needs snow when you have sand? 
With practically perfect weather year-round, this town is a beautiful place to live, but you do still have to be on the watch for tropical storms and hurricanes. Key Biscayne is a Zone A for hurricanes, with 73 hurricanes hitting this town since 1930. Living on such a small piece of land surrounded by water is beautiful but dangerous. Before moving here, know your escape routes in a hurricane and how to prepare in case one is going to hit. 
Nightlife 
Unlike Miami, Key Biscayne is not known as a party place. Sometimes known as Miami's "secret Island," this small town is tranquil once the sun goes down. Instead of partying the night away, the locals enjoy nightlife a little differently here, with upscale dining options, the best resort spas, walks on the beach at sunset, delicious drinks with friends, or spending time together as a community around a local BBQ. 
But if you are looking for a fun night out once in a while and to escape from the quiet to the dance floor, Miami is only a 30min drive away! Living here indeed provides you with the best of both worlds, having one of the top party capitals so close by but being able to come home to a quiet oasis afterward. Check out some of the local favorites way to spend a night on Key Biscayne below. 
Local Favorites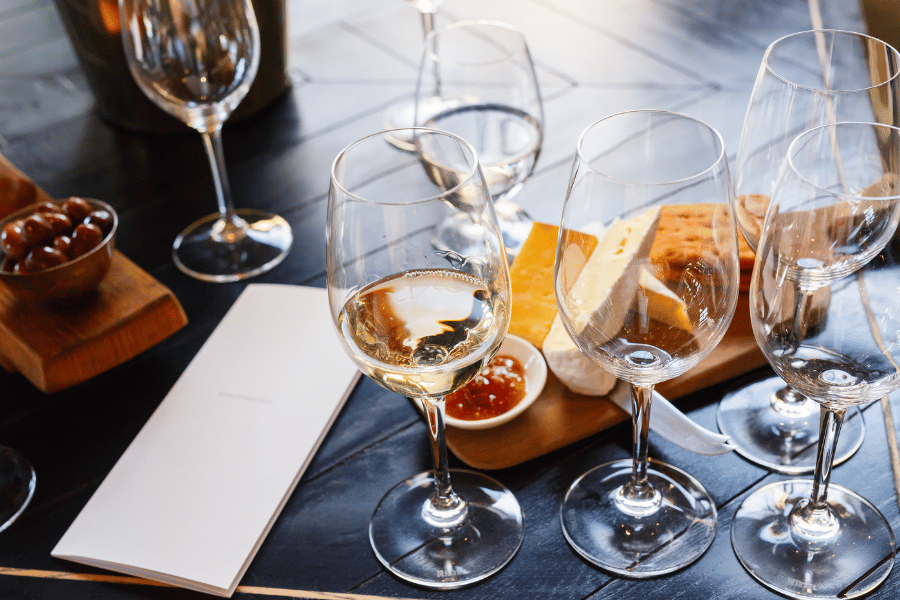 Pros and Cons of Living in Key Biscayne, FL 
Pros: 
Gorgeous Beaches 
Clean and beautiful parks
Close to Miami 
Warm weather year-round
Diverse 
Cons: 
Expensive housing 
Costly insurance
Located in a Zone A Hurricane Zone 
Moving to Key Biscayne, FL - Final Thoughts 
Key Biscayne is a great place to live. Known as a tropical paradise with gorgeous beaches, clean and eventful parks, divine dining options, and attractive housing options, this is the place to be in Florida. If you can afford to live in this town and want a more quiet and charming place to raise a family or live out your retirement but be close to large cities such as Miami, this is a perfect choice. 
If you or anyone you know is moving to Key Biscayne, FL, make sure to contact us here so that we can connect you with one of our Realty Specialists and help you find the perfect paradise to call home. 
Check out our other local area guides: 
Best Neighborhoods in Fort Lauderdale 

Find your new home
Search real estate and homes for sale