7 Things to Know BEFORE Moving to Ithaca, NY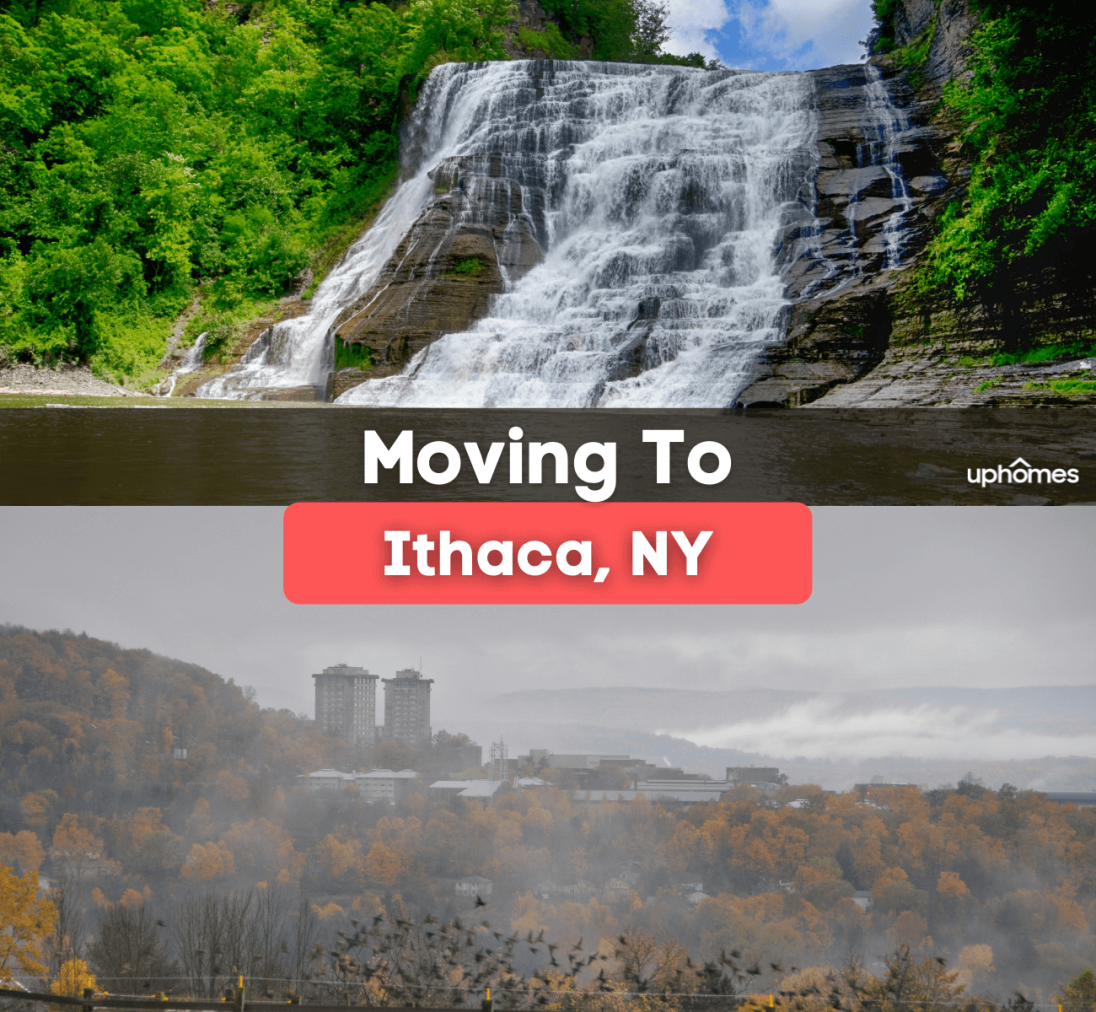 Moving to Ithaca, NY
Are you moving to Ithaca, NY? Here's what it's like living in Ithaca! 
Ithaca, New York is a laid-back city located in upstate New York that is part of the Finger Lakes region. Situated on Cayuga Lake, Ithaca is surrounded by natural wonders and picturesque waterfalls. Considered a good place to live, college students, young professionals, and families are moving to the area for the top-notch education system, low cost of living, and tight-knit community that Ithaca offers its residents. Most famous as the home of Ivy League school Cornell University, the city of Ithaca is a quirky area that has a growing population that is just over 31,000 people. Made up of locally owned bars, restaurants, and boutiques, this small college town has a lot to offer its residents.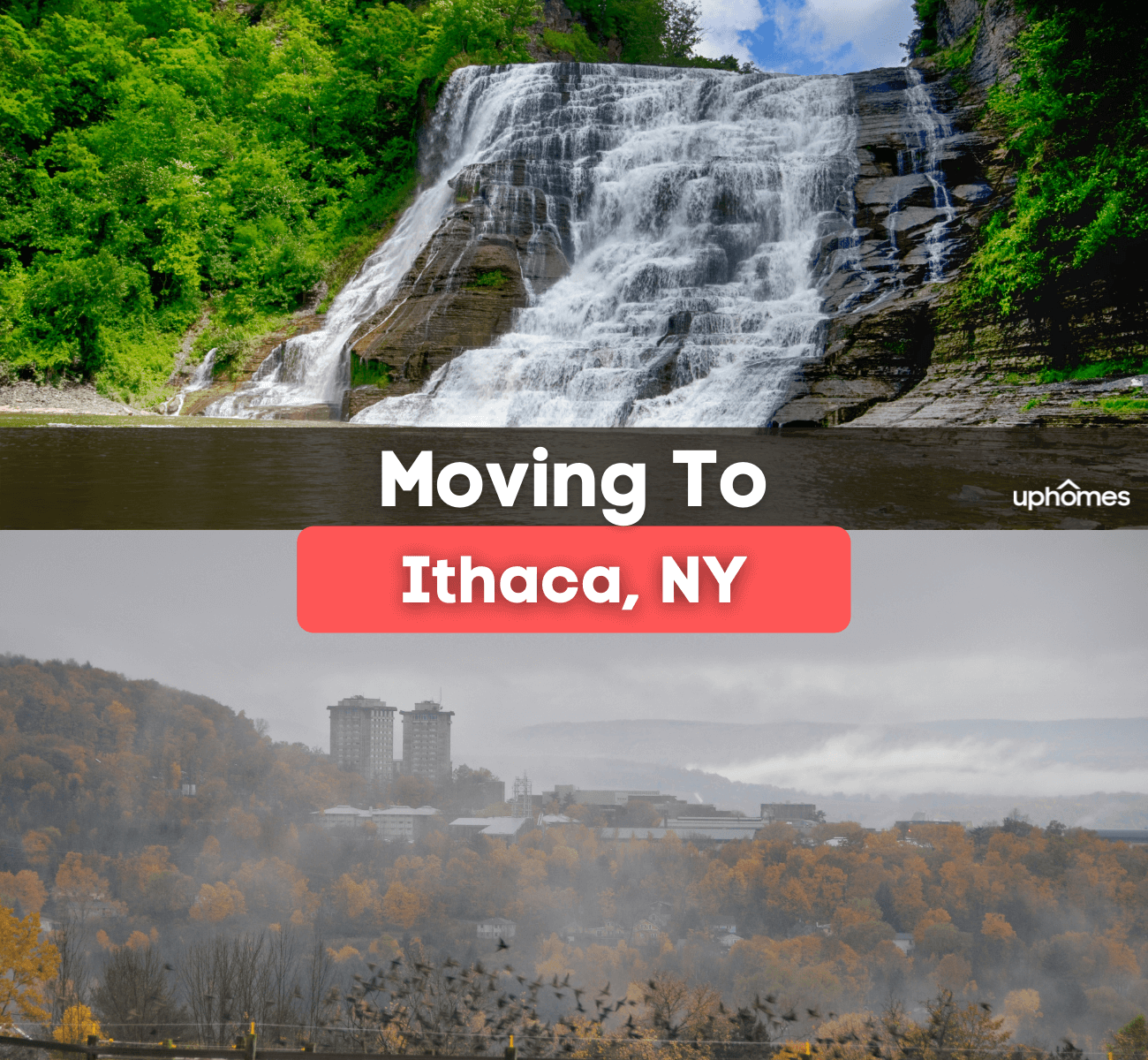 Even though Ithaca may be situated four hours away from New York City and other large metropolitan areas in New York State, the peace and quiet that Ithaca offers is part of its charm. If you and your family are making the big move to New York State and are wanting to make Ithaca your new home, then you have come to the right place. Since moving to a new city can be a stressful situation, this guide was created to provide you with all of the ins and outs of the city before packing up all of your belongings.
Without further ado, read on to learn more about the 7 Things to Know BEFORE Moving to Ithaca, NY!
Low cost of living.
Ithaca is quickly on its way to becoming one of the best places to live in New York State and is listed as the 25th best place to live in the United States after the onslaught of the COVID-19 Pandemic. While the city has much to offer, the low cost of living is one of the most desirable traits that is attracting many new residents. With a cost of living that is 3% higher than the national average, living in Ithaca is less expensive than living in New York City and other large cities in New York State. In fact, for those living in New York City that make an average salary of $8,000 per month, the same standard of living can be kept in Ithaca at $5,000 per month. Compared to other major cities in the United States, Ithaca is 70.5% less expensive than living in Seattle, Washington, and is 148% less expensive than living in San Francisco.
Even though Ithaca has a low cost of living, the city still has a poverty rate of 43.4%. This means that one out of every 2.3 residents is living at or below the poverty line. The average annual salary in Ithaca is currently $34,424 which happens to be way less than the average annual income of the national average of $65,712. Keep in mind that even though the cost of living in Ithaca is low, high housing costs for property owners and high taxes are prevalent.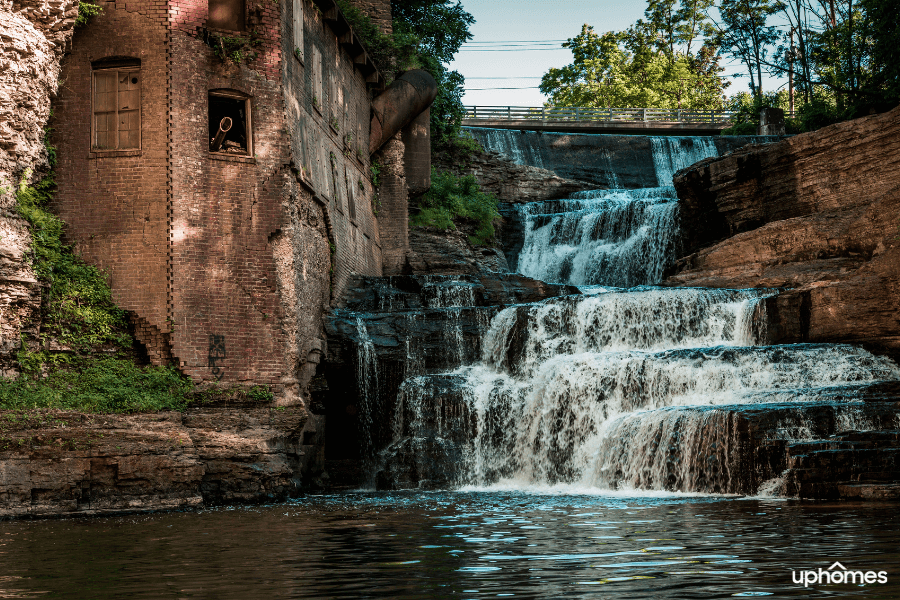 Ithaca is a college town.
Whether you are searching for higher education opportunities for yourself or are moving with school-aged children, Ithaca is the perfect place to be to further your education. Home to one Ivy league college and one private institution, not to mention over 23 colleges and universities within a 50-mile radius of the city, it is no secret that Ithaca values the importance of higher learning. Plus, with a fantastic highly-rated public school system available, your children will be learning from the best for generations to come.
The top colleges and universities in Ithaca, NY are: 
Prepare for the weather.
Ithaca is known to have a humid continental climate that experiences warm and humid summers alongside cold and snowy winters. Receiving an average of 159 days per year of some type of precipitation, the humidity can be thick and heavy which may lead to some unfavorable hair days. The most humid month during the year is during September when the humidity can reach average levels of over 71.4%. During the summer months, the average high temperature is around 80.9 degrees Fahrenheit. It is during this time between June and August that the weather is the most favorable. 
On the other hand, the winters in Ithaca are long and unforgiving. Receiving an average of 63 inches of snow per year, Ithaca residents are no stranger to icy and snowy conditions. Even though the snowfall amounts in Ithaca are no contest to the amount of snow that those living in Rochester and living in Syracuse receive, Ithaca is still far surpassing the United States average of 28 inches of snow per year. Plus, with average low temperatures dipping below freezing to 14 degrees Fahrenheit in the winter, Ithaca is considered to be one of the coldest places to live in New York State. With this in mind, make sure that you will be comfortable living in frequent snowy and freezing weather conditions before moving to Ithaca.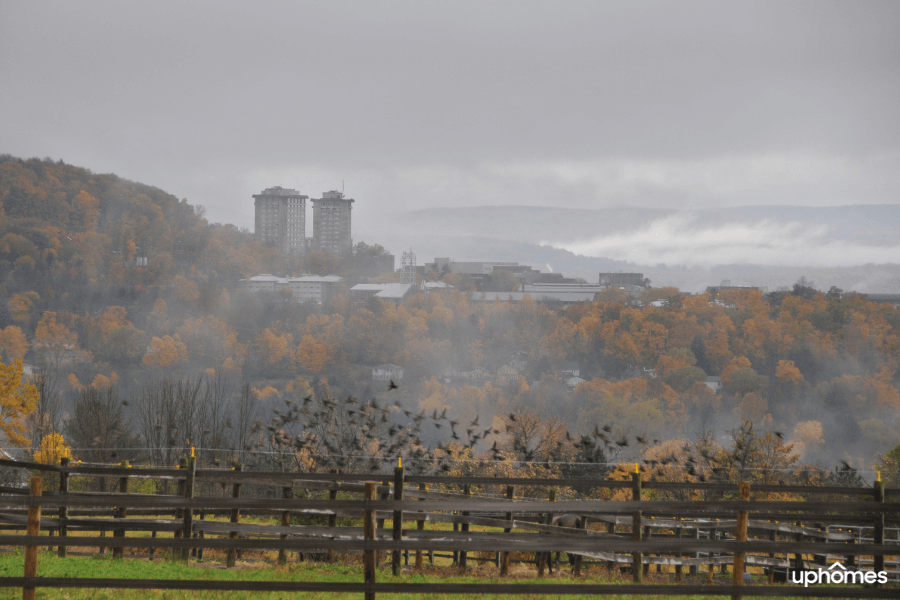 Breweries are everywhere.
Even though Ithaca may be famous as a wine region, it is now becoming a top stop along the Finger Lakes Beer Trail as more and more craft breweries are opening up in town. Known to attract a large crowd of college students and professionals, Ithaca is home to numerous craft breweries that are creating porters, hoppy IPAS, and seasonal lagers. Whether you are a huge beer drinker or simply want to have some drinks with friends and family, the breweries in Ithaca should be on your bucket list.
Check out these local favorite breweries in Ithaca, NY: 
Spend time outdoors.
Even though the winters are long and the population is smaller than other cities in New York, Ithaca is far from boring. Since Ithaca is located in The Finger Lakes region of New York State, the area is known to be surrounded by magnificent wineries, breathtaking state parks, expansive forests, and rocky gorges. Ithaca is also home to a total of 150 waterfalls, which means that there is no shortage of outdoor activities and adventures. Whether you enjoy water activities, hiking, or sightseeing, exploring the great outdoors when living in Ithaca is part of everyday life.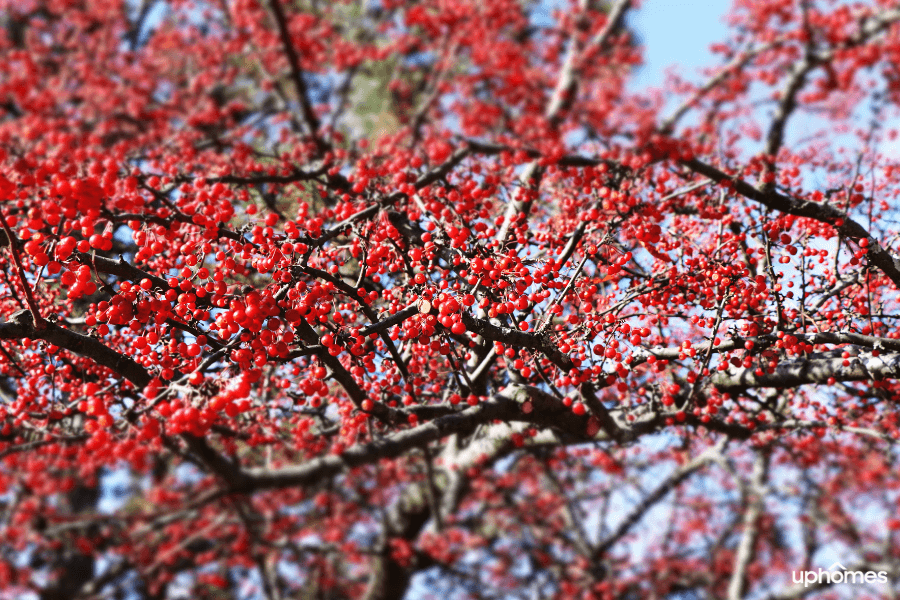 Lots of great food.
Did you know that the ice cream sundae was reportedly invented in Ithaca? It is said that in 1892, a pharmacy owner and a minister came up with the creation after covering ice cream in cherry syrup and candied cherries. The idea behind pizza delivery was also reportedly invented in Downtown Ithaca which paved the way for modern-day food delivery. With all of these amazing food creations, it is no surprise to learn that Ithaca is making a name for itself as a foodie destination. Most notable for its mixture of classic French cuisine and Southern comfort food, Ithaca is serving many delicious dishes that will appeal to any palate. Whether you choose to dine at a five-star restaurant, cozy cafe, or family-owned pub, there is always something new to eat. 
Check out these local favorite restaurants in Ithaca, NY: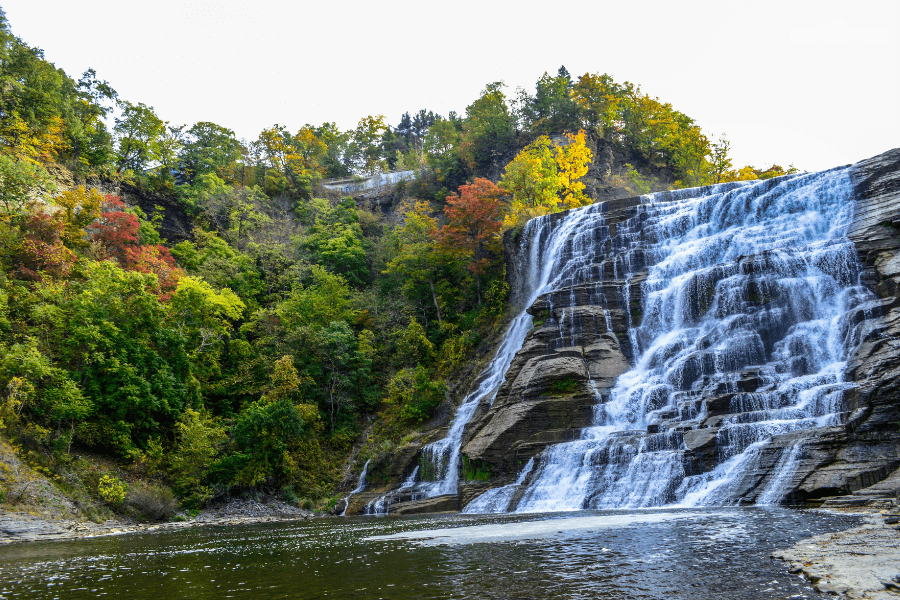 There is always something to do.
Whether you are looking for a new date night idea or are searching for a new weekend adventure for the family, you will never run out of things to do when living in Ithaca. Not only is Ithaca an artsy area full of art galleries, live music, and museums, but the nightlife is exciting and a hit among the college crowd. Even if the cold and snowy weather may stop you from spending time outside, the many indoor activities will keep you occupied. 
Check out these fun things to do in Ithaca, NY: 
Moving to Ithaca - The Bottom Line
Whether you are moving to Ithaca for work or simply want to step out of your comfort zone, this area in New York State is a great place to call home. While Ithica may not be known as one of the safest communities in the country, there are still plenty of nice neighborhoods and safe areas in Ithaca that will appeal to any lifestyle. When you are ready to move and have decided on a property type and budget, make sure to reach out to one of our knowledgeable Realty Specialties to assist you through the home buying process. With the help of our team, you will be able to find the home of your dreams in no time. Contact us today!
#blog-moving-new-york-cta#

Find your new home
Search real estate and homes for sale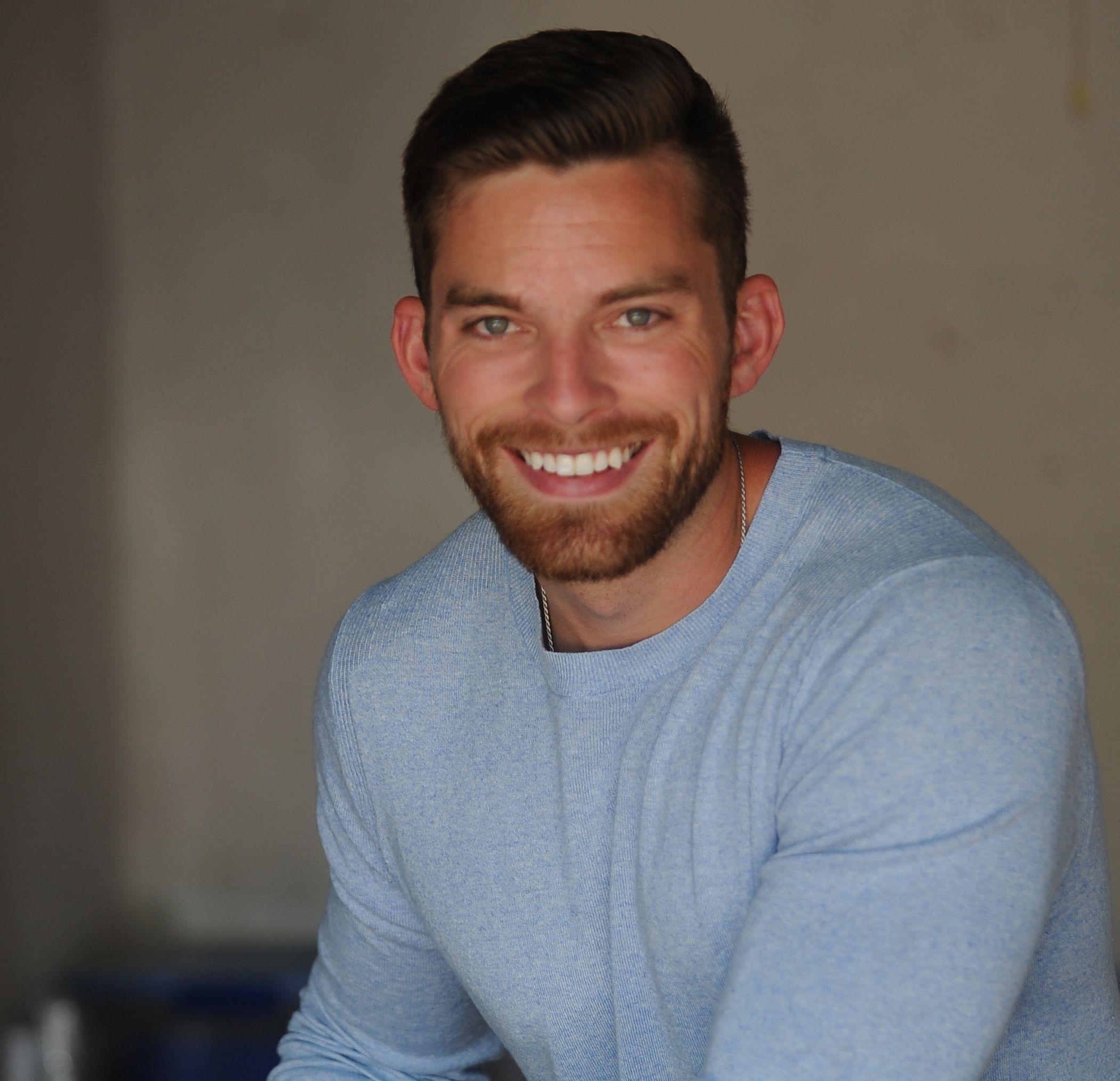 Ryan Fitzgerald
Hi there! My name is Ryan Fitzgerald, and I am a REALTOR®. My goal is to help you learn more about real estate through our Real Estate Blog! Hopefully, you enjoyed the above blog post and it found a way to provide help or value to you. When you're ready to buy or sell a home of your own let us know here. Please feel free to join the conversation by dropping us a comment below.