Living in Rochester, NY: 11 Things to Know BEFORE Moving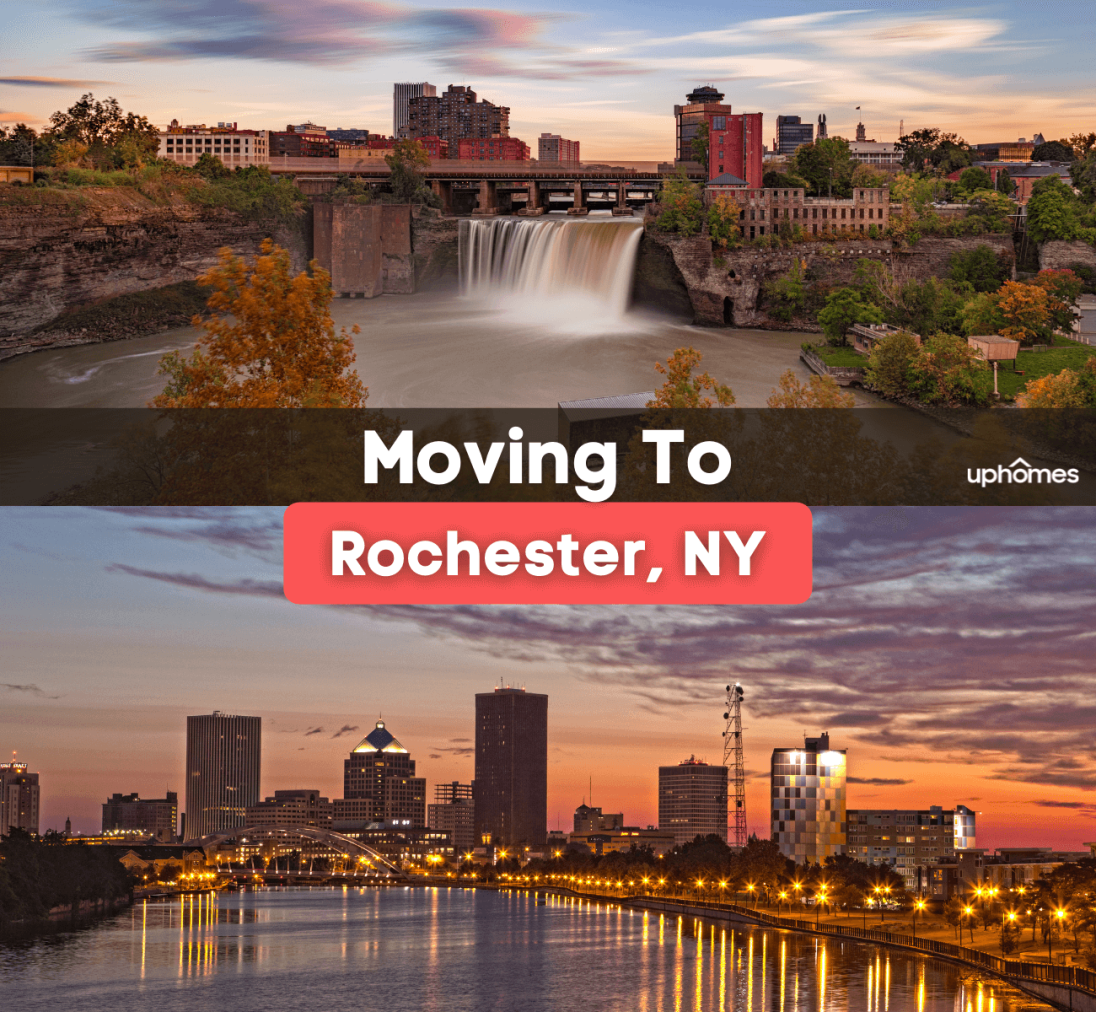 Moving to Rochester, NY
Are you relocating to Rochester, NY? Make sure you know these 11 things before moving to Rochester!
The city of Rochester is found on Lake Ontario in New York State and is the fourth most populous metropolitan area in the state. Located in The Finger Lakes region, Rochester is a popular tourist destination that is surrounded by beautiful attractions and peaceful outdoor hotspots. Nicknamed "The Flour City," Rochester is best known for its unique and impressive history, educational resources, and industry leaders in manufacturing.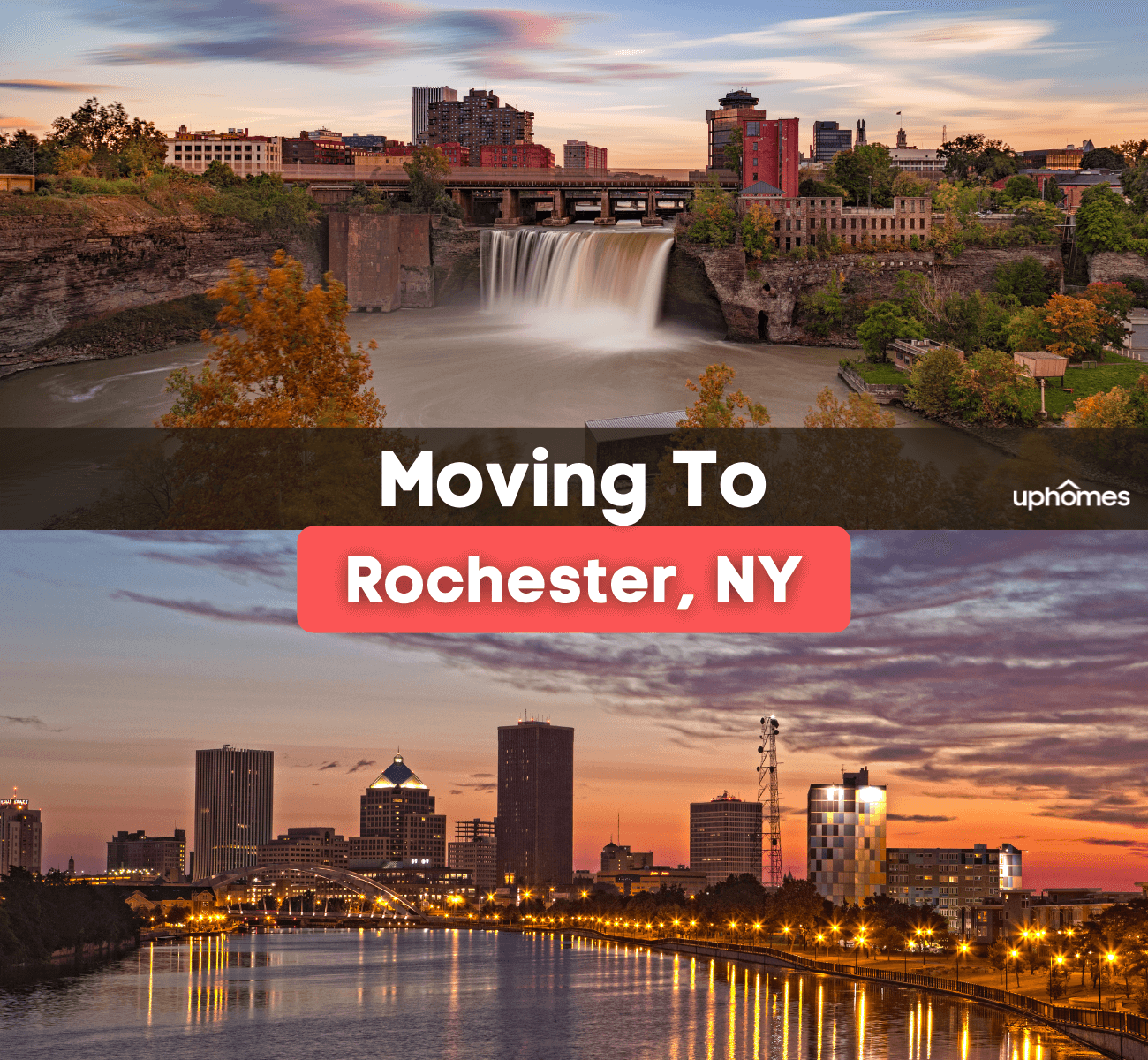 Recognized as a great place to raise a family, Rochester is notorious for its low cost of living and top-rated schools. In fact, about one-quarter of the cities population is under 20 years old. Considered one of the best places to live in New York State, Rochester is found in a desirable location and is the perfect option for those that want a more relaxing environment away from the hustle and bustle of life in New York City.
Read on to learn more about the 11 Things to Know BEFORE Moving to Rochester, NY!
Affordable cost of living.
As of the beginning of 2021, Rochester was named as one of the most affordable cities to live in and buy a home by Forbes. With a cost of living that is only 1% higher than the national average, Rochester is one of the top places to live in New York State if you are wanting to save money. Groceries, health care, and transportation costs are all below the national average. In order to live comfortably in Rochester, the average annual salary for residents is $40,245 a year while top earners can make upwards of $58,761.
Even though Rochester is an affordable city, it has also claimed the third spot on a list of the 10 poorest cities in the United States. With a poverty rate of 31.3%, there are over 32,000 people in Rochester that are living off of less than $230 a week. The levels of childhood poverty and extreme poverty only seem to be increasing over the years.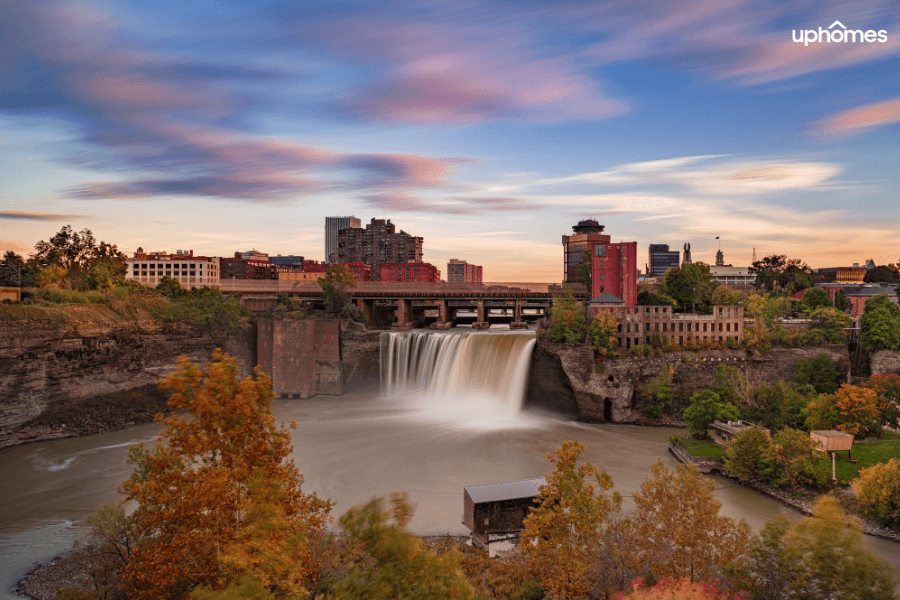 Great housing market.
Considered one of the best cities for renters, the real estate market in Rochester is among the most affordable in the country. Known for its great home prices and historical architecture, the housing that is available does not come without a fair share of competition. In Rochester, it is no surprise to see many homes receive multiple offers, and most homes sell for about 1% above the listing price in about 12 days. The reason why the real estate market is so affordable in Rochester is due to the fact that higher-paying jobs are scarce the farther north you go in New York State. Even though housing prices may be on the affordable side, property taxes, sales tax, and state income taxes are still higher than many other states in the country. 
Prepare for winter weather. 
Rochester is known for its warm summers and freezing, snowy, and windy winters. While most of the year in the city is mild, the winters in Rochester are generally brutal and unforgiving. Receiving an average of 77 inches of snow per year while the national average is 28 inches of snow per year, Rochester is no stranger to winter weather conditions. 
During the year, the month of January is considered the coldest month with average low temperatures of 17 degrees Fahrenheit. There are a total of 131 days throughout the year where the average low temperature falls below freezing. Since snow and ice storms are a common occurrence, make sure to pack your snow shovel and all of your favorite winter jackets before moving to Rochester.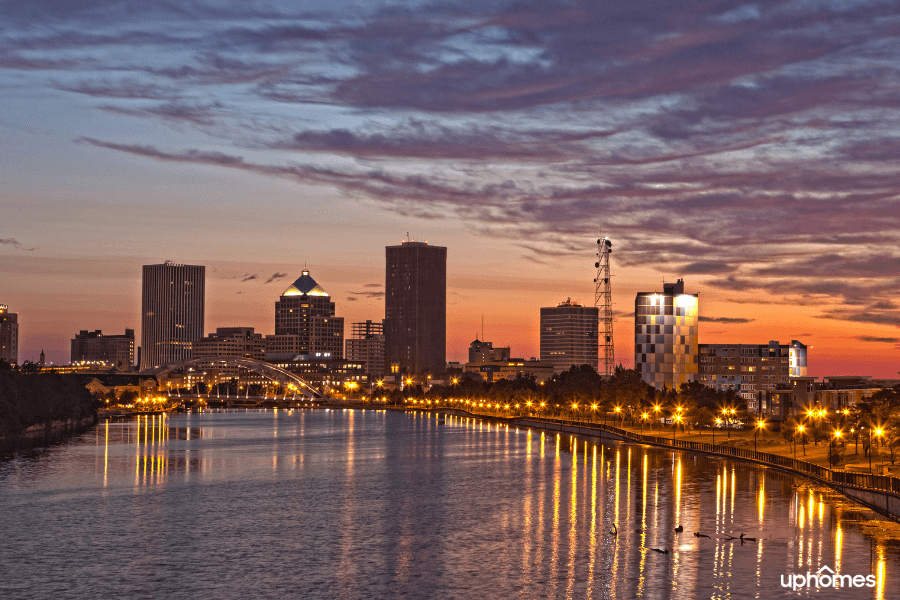 High unemployment rate. 
The unemployment rate in Rochester is currently 5.2% which is higher than the national unemployment rate of 4.6%. Sadly ranked at the bottom of a list that featured the hottest job markets in the country, Rochester does not have a large amount of high-paying jobs. It is interesting to note that Rochester has a gender wage gap that is larger than the national average with men making 1.3 times more than what females earn.
While the unemployment rate still may be high, Rochester is luckily outpacing New York State's private-sector job growth averages. As the cities economy rebounds from the onslaught of the COVID-19 Pandemic, it has been reported that the leisure and hospitality sectors have seen a growth rate of 18.8% over the past year.
The largest economic industries in Rochester are health care, educational services, and retail, while the highest paying jobs in the city are in utilities, insurance, finance, and administration. The top employers in Rochester are The University of Rochester, The Rochester Institute of Technology, Rochester Regional Health, Wegman's Food Market, and Xerox Corp.
Low commute time.  
While the city may have its own reliable transportation system, only about 10% of the residents in Rochester are known to use it. Even though most residents own their own vehicles and get around the city by car, Rochester has barely any traffic. The average commute time is only about 19.5 minutes which is way lower than the national average commute time of 25.1 minutes. In the rare instance of a backup or traffic jam, it will most likely occur during rush hour and may only last up to 10 minutes.
Keep in mind that while owning your own vehicle in Rochester may come in handy, driving around during the winter months has its own setbacks. Since the city is used to the mass amounts of snow that occur every year, winterizing your car is the best way to get through the icy and snowy road conditions. 
Steps to winterize your car: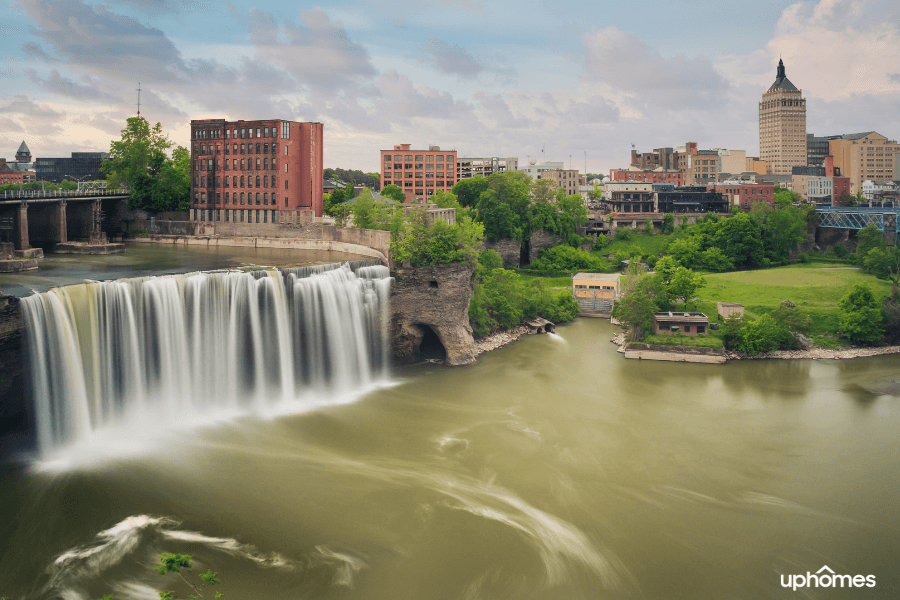 Amazing food.
With a variety of restaurants and never-ending food options, there is always something new to try when living in Rochester. From international cuisine to surprisingly good barbecue, the city provides five-star dining experiences alongside exceptional dishes and service. Famous for its "Garbage Plate," which is popular among the locals, this dish features your choice of meat that is served on top of french fries, baked beans, macaroni salad, and topped with hot sauce.
Check out these local favorite restaurants in Rochester, NY:
Fantastic educational opportunities.
Ranked as the 33rd most educated city in the United States, Rochester is home to a large selection of colleges and universities that offer a variety of degrees and programs. The most popular educational institutions in the city include The University of Rochester and The Rochester Institute of Technology which are close to Downtown Rochester. Employing many residents and attracting a large population of college students to the city, Rochester values education and wants to see its students succeed. As a college student, one of the best parts about living in Rochester is the in-state tuition status. Plus, if you do not mind the commute and want to venture outside of the city, there are more than 240 colleges and universities in New York State to choose from to further your education. 
For those that are moving with school-aged children, then you are also in luck. The Rochester City School District has multiple highly-rated elementary, middle, and high schools. Some of the best public schools in the area include Brighton High School, Barker Road Middle School, and Cobbles Elementary School. Before moving, it might be a good idea to research the different schools in the area and find one of the best neighborhoods that feeds into the schools that you would want your children to attend.
Great sports teams.
There is no shortage of local sports teams to support when living in Rochester. Perfect for sports lovers of all ages, Rochester is home to multiple professional sports teams as well as minor league and collegiate teams. Home to the Rochester Americans American Hockey League Team and The Rochester New York FC American Professional Soccer Team, there is a sport for everyone to cheer for. Since Buffalo, New York is only an hour away from Rochester, many residents choose to support the Buffalo Sabres National Hockey League team and the Buffalo Bills National Football League team as well. Most locals can be seen attending a hockey game or spending their evenings cheering at a college game.
An abundance of festivals.
Sometimes referred to as "Festival City," Rochester frequently hosts festivals and events throughout the year to bring the community together. As a new resident, this is a great way to get involved, meet new people, and see all that Rochester has to offer. 
Check out some of these popular festivals and events in Rochester, NY: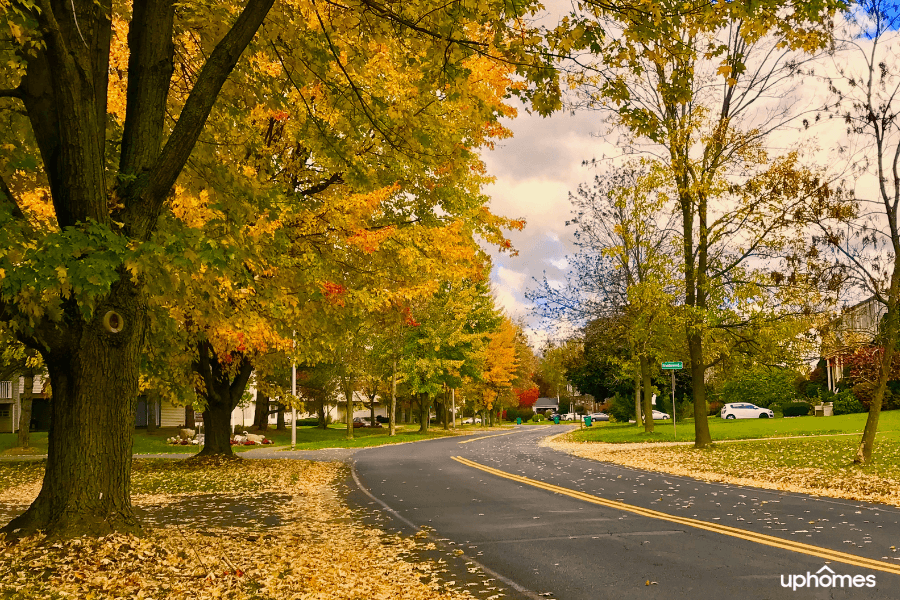 Outdoor activities.
The cities location near Lake Ontario and the Erie Canal make it a great place for outdoor enthusiasts. Surrounded by hiking trails, parks, waterways, and even waterfalls, the natural beauty in Rochester is unmatched. Whether you love watersports or like to go biking or camping, there is always something new to try.
Check out these outdoor activities in Rochester, NY: 
Beware of the crime rate. 
Rochester is not a bad city but its crime rate is one of the highest in the country. With a crime rate of 42 per every 1,000 residents, an individual's chance of becoming a victim of both violent and property crime is one in 24. This means that the total crime rate in Rochester is 70% higher than the national average and is 143% higher than the total New York State crime rate. Much like any other large city, Rochester has its fair share of safe neighborhoods and areas, but there are definitely places that you should avoid especially at night. When traveling around the city, make sure to never walk alone and always stay in well-lit areas. 
Moving to Rochester - The Bottom Line
Even though Rochester has been suffering a long-term population decline, it is still a really cool and unique city to call home. Not only is Rochester affordable, but it is one of the most friendly and welcoming cities in the nation. If you have decided to move to Rochester, then make sure to reach out to one of our knowledgable and experienced Realty Specialists to guide you through the home buying process. Our team is here to help you through every step of the way on your relocation journey. Contact us today to find your dream home in Rochester, NY!
#blog-moving-new-york-cta#

Find your new home
Search real estate and homes for sale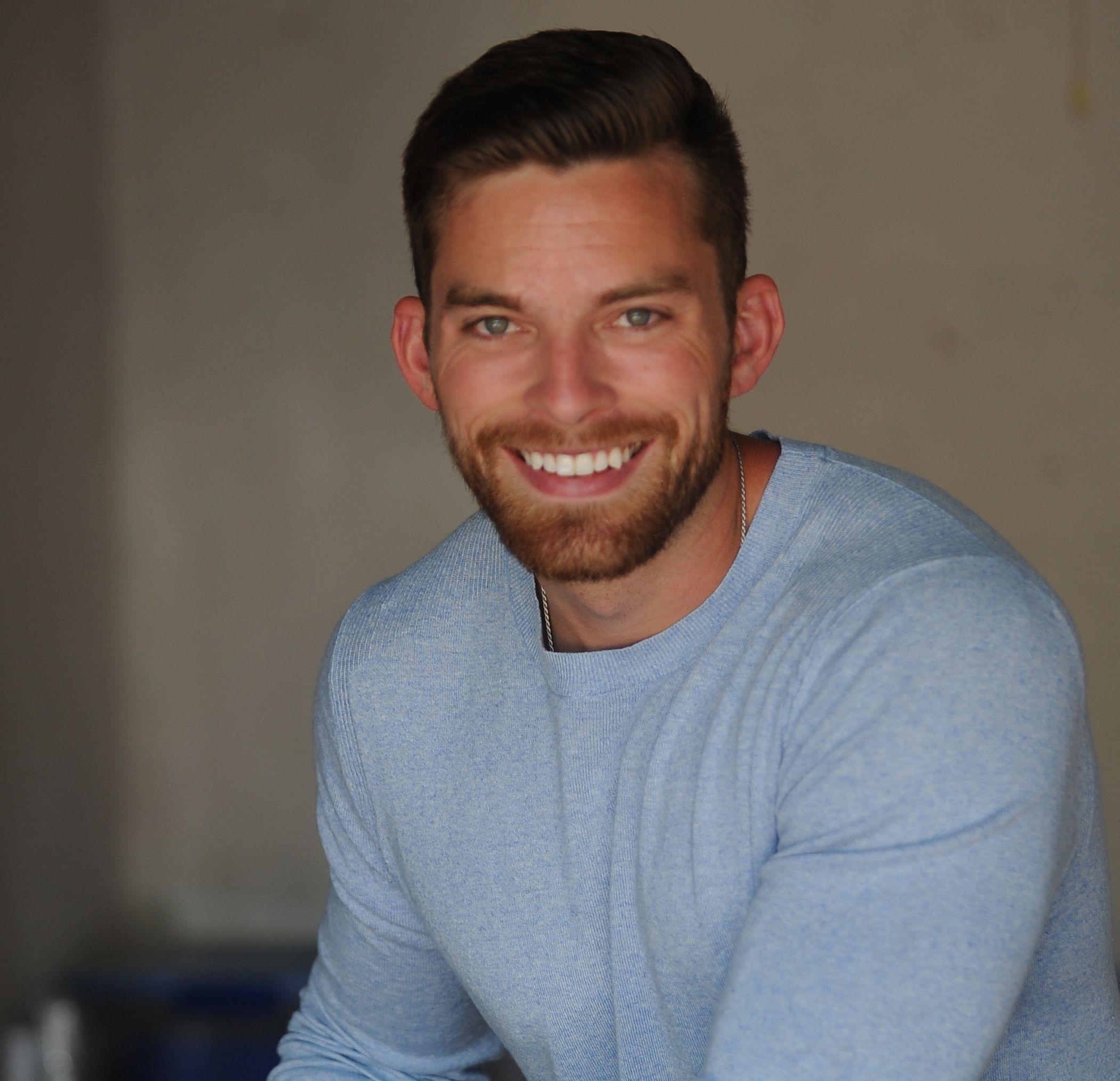 Ryan Fitzgerald
Hi there! My name is Ryan Fitzgerald, and I am a REALTOR®. My goal is to help you learn more about real estate through our Real Estate Blog! Hopefully, you enjoyed the above blog post and it found a way to provide help or value to you. When you're ready to buy or sell a home of your own let us know here. Please feel free to join the conversation by dropping us a comment below.