Life in El Paso: 10 Things to Know BEFORE Moving to El Paso, Texas
Living in El Paso 
Are you moving to El Paso, TX? Find out what it is like to live in El Paso! 
Ranked as one of the best places to live in the country, the city of El Paso, Texas is located on the western edge of Texas in El Paso County. With a current population of 678,815 people, El Paso is the sixth-largest city in Texas and the 23rd largest city in the United States by population. Nicknamed "the Sun City," El Paso is surrounded by desert and gorgeous natural scenery. Attracting many college students, young professionals, and couples to the area, the city has plenty to offer its residents. While El Paso may be often overlooked as a notable city in Texas, it is certainly on its way up to becoming one of the best places to live in Texas due to its many great qualities.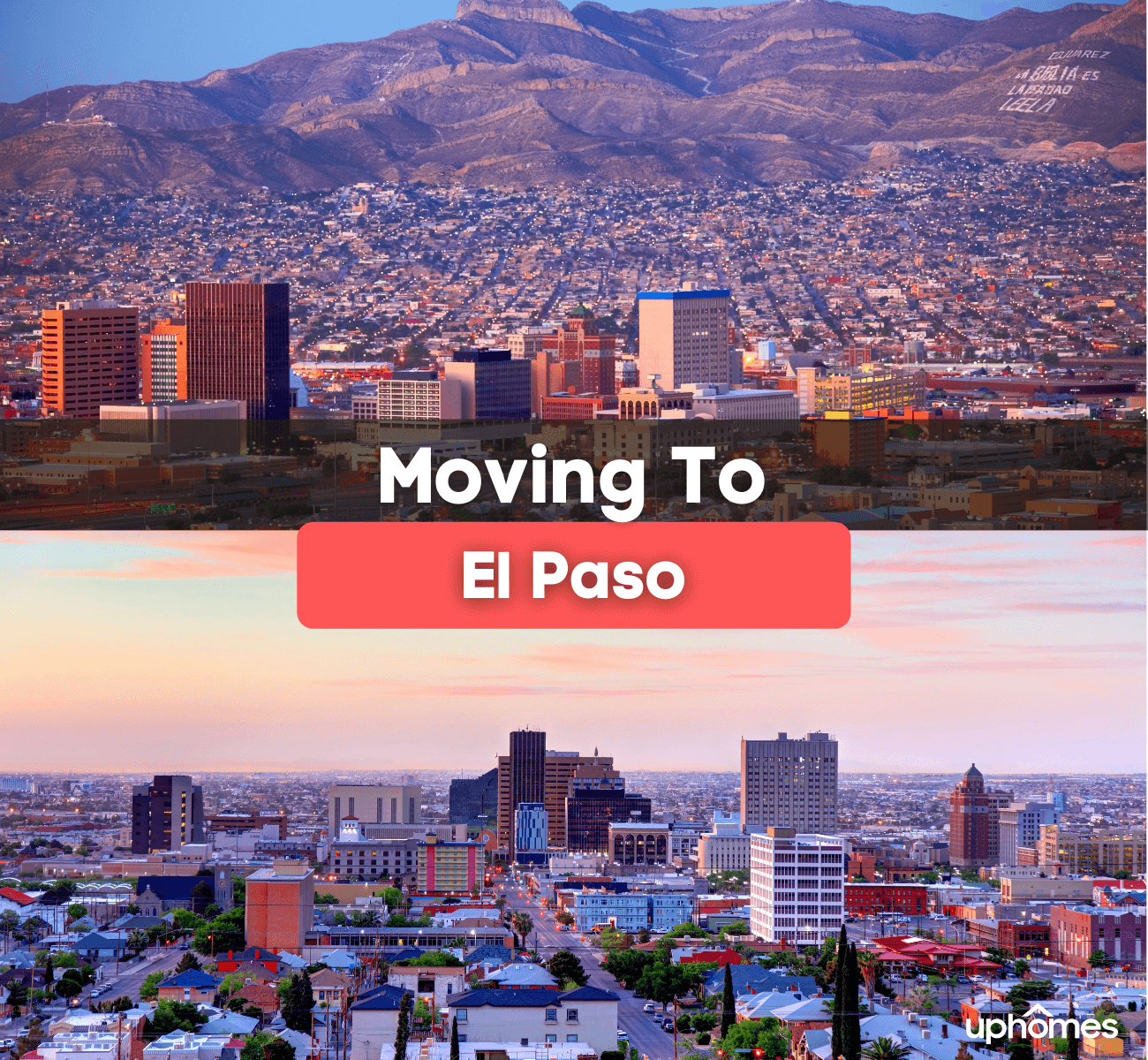 Known for its amazing Tex-Mex cuisine, fantastic sunny weather, affordable housing, and great quality of life, it is no wonder why El Paso is such a good place to live. If you have decided to move to El Paso, then you have come to the right place. While moving, in general, is often stressful and overwhelming, this guide was created to help your big move to Texas go as smoothly as possible. Without further ado, Read on to learn more about the 10 Things to Know BEFORE Moving to El Paso, Texas!
El Paso is a border city.
El Paso is found right on the Mexican border and alongside the Rio Grande. Only minutes away from the Mexico city of Ciudad Juarez, taking a day trip outside of the country could not be any easier. Home to many fabulous beaches and historical sites, experience Mexican culture just minutes away from home. While living in a border city may have cons and bad stereotypes, El Paso is actually ranked as one of the safest cities in the United States. In fact, the city is consistently praised for its low crime rate and low levels of violence. Many Americans can be seen traveling from El Paso to Cuidad Juarez regularly.
Low cost of living.
One of the best reasons to move to El Paso is for its low cost of living. If you are looking for a place to get more bang for your buck then there is no need to look any further. In fact, the cost of living in El Paso is 10% lower than that of the national average. All expenses such as rent, food, transportation, and utilities are all below average. Plus, with no state income tax, residents are able to save even more money.
Compared to other major cities in Texas, living in Dallas is 23% more expensive than living in El Paso, and living in Austin is 46.6% more expensive. The average income of an El Paso resident is $20,050 per year but in order to live comfortably in El Paso residents need to be making a median annual salary of at least $50,150. The average wage in El Paso for top earners is around $36 per hour, while the minimum wage is $7.25.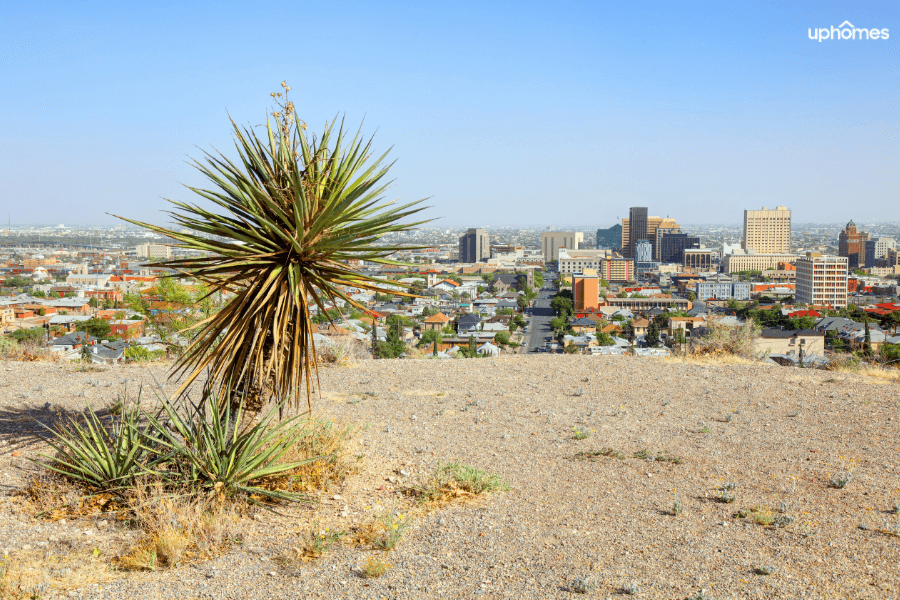 Affordable housing.
Not only is the cost of living low, but housing prices are affordable. The housing prices in El Paso are 22% lower than the national average. Known for its low-interest rates and great prices, the real estate market in El Paso also happens to be super competitive and is in high demand. Considered a seller's market over the past few years, there seems to not be enough houses available in order to keep up with market trends. 
As more and more people move into town from out of state, it is more than likely that future residents will find themselves in a bidding war in order to get the house of their dreams. As of 2021, the current average home price in El Paso is $170,000 which is far more affordable than buying a home when moving to San Francisco or moving to Los Angeles. New homes in El Paso are selling in under 62 days on average as of this year.
The economy is thriving.
Are you moving to El Paso and are in search of a new job? Then you are in luck! El Paso is known to have a diverse economy and a steady job market. Even though the city may have taken a big hit during the COVID 19 Pandemic, much like the rest of the country and the world, El Paso is now experiencing a surge of growth and resurgence. The local economy is home to a variety of different sectors and has multiple leading industries including manufacturing, financial services, military, transportation, logistics, and retail. Home to more than 70 Fortune 500 companies, the most popular companies in the area are AT&T, Walmart, Verizon, and Wells Fargo. T&T Staff Management and The University of Texas at El Paso are the largest employers. For those interested in working for the military, Fort Bliss is located here and is only nine miles from the Mexican border.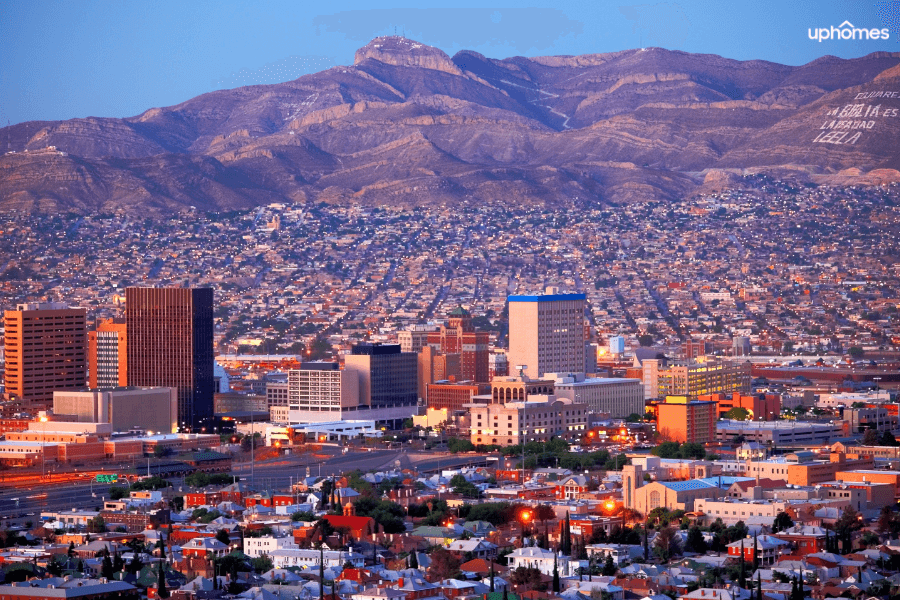 The weather is hot and sunny.
Considered to have a desert climate, residents of El Paso can expect hot and dry summers alongside short and cold winters. The month of June is the hottest month during the year with an average high temperature of 95 degrees Fahrenheit which makes it one of the hottest places to live in the state of Texas. Meanwhile, the coldest month during the year is January with a low average temperature of 30 degrees Fahrenheit. The months of April, May, and October are considered the most comfortable months during the year due to their mild temperatures and sunny weather. El Paso experiences 297 sunny days a year on average which is way more than the national average and the city only receives around 10 inches of rain per year on average while the national average is 38 inches of rain per year. While the area may not receive a lot of snowfall, El Paso receives three inches of snow on average during the winter months. Make sure to pack your snow gear! 
Keep in mind that the weather in El Paso can be super unpredictable. Since El Paso is located in a desert climate, dust storms can happen during the spring and summer months. On the contrary, flooding can also happen during the wet season most notably during the month of June. Due to this, it is important to invest in flood insurance. Even though the weather may call for no rain, it may still rain randomly and in large amounts. Make sure to always bring a rain jacket or umbrella with you just in case. During the winter months, hail storms are also known to occur which can cause major damage to property. Always be aware of weather conditions to ensure your safety and the safety of your loved ones.
Tex-Mex is everywhere.
Due to its location right next to the border, it is a given that El Paso is a celebrated Tex-Mex destination. Even though San Antonio may be nicknamed the "Tex-Mex Capital," El Paso is a close rival of this title and the locals can attest to that. Mixing cultural flavors with beloved Texan dishes, El Paso has mastered the art of true Tex-Mex cuisine. Plus, with access to authentic Mexican cuisine, El Paso truly has an amazing flavor profile without traveling far from the border. From locally-owned casual eateries to cute taco shops, have access to only the best Tex-Mex when living in El Paso.
Check out some of these local favorite Tex-Mex restaurants in El Paso, Texas!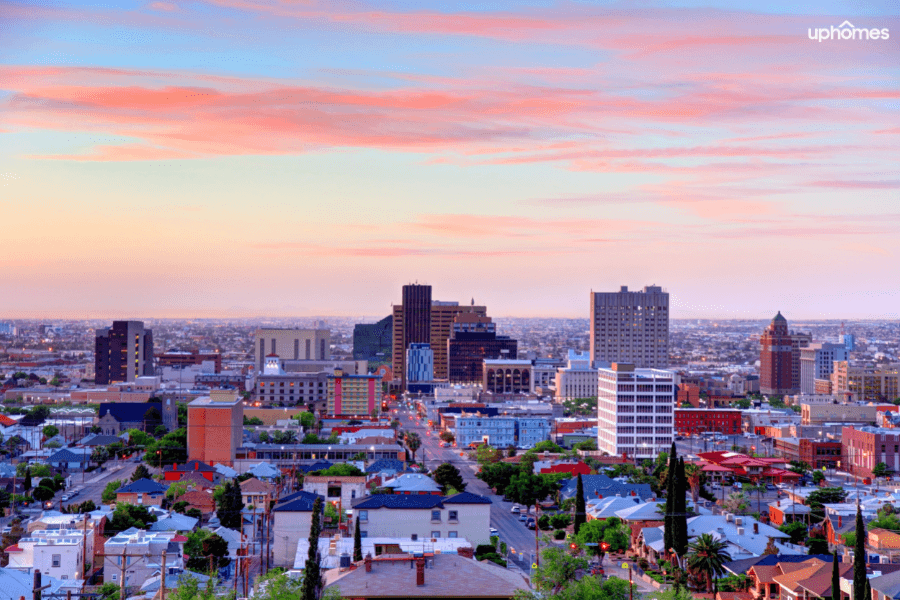 Spend time outdoors.
If you love spending time outside and exploring the great outdoors then look no further than El Paso, Texas. What most people may not realize about the city is that there are plenty of outdoor parks and wilderness areas spread throughout this desert destination. El Paso is also home to the largest urban wilderness area in the United States which is called Franklin Mountains State Park. This state park is a 23-mile mountain range that happens to be a fantastic place to rock climb. Whether you love to scale mountains, hike, or go bike riding, El Paso has plenty of cool recreational areas to visit. Plus, if you love admiring nature and wildlife, there is no better place to be. Many wild animals such as mountain lions, coyotes, and bears live in El Paso and can be spotted in parks and natural areas. 
Check out these local favorite parks and rock climbing destinations in El Paso, Texas! 
You might want to learn Spanish.
Did you know that 83% of El Paso residents are Hispanic? While it may not be required to be fluent in Spanish when living in El Paso, it may be a good idea. Before moving, take the time to learn some common phrases. Since it is a border city, many residents are from Mexico or travel to and from Mexico frequently. Due to this, many locals tend to communicate by mixing both English and Spanish in day-to-day conversations.
El Paso loves margaritas.
Legend has it that the margarita was invented in the year 1942 in a bar called Tommy's Place which is located in the El Paso area. No one exactly knows how the margarita came to be but there is no denying that it is one of the greatest drinks in the world. When in El Paso, make sure to order a margarita to pay homage to its creation.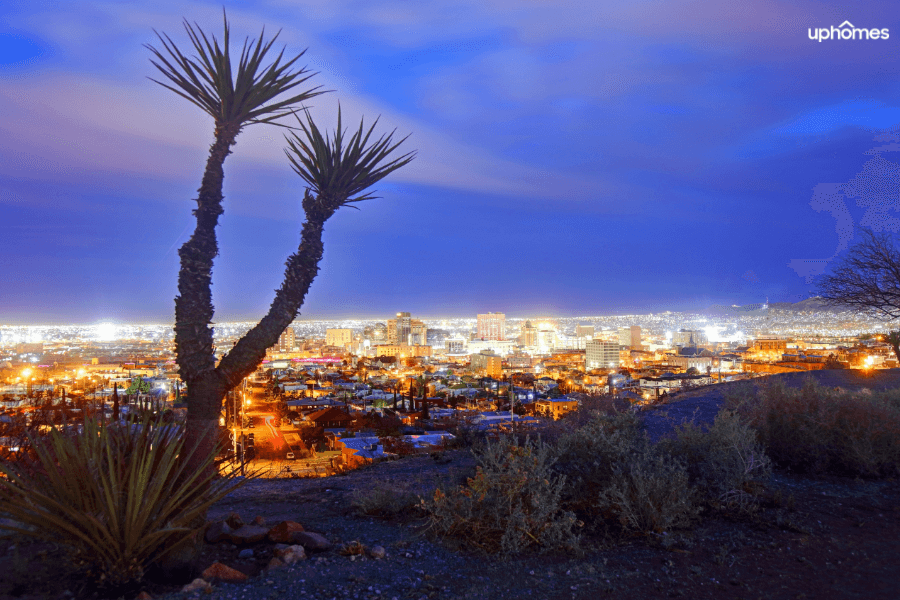 The city embraces art and culture.
Since El Paso is such a culturally diverse city that is home to a large Spanish population, the area is lined with multiple museums, art galleries, and historical sites. There are also many events and festivals that occur throughout the year that reflects this rich heritage. 
Check out these museums and cultural sites in El Paso, Texas! 
Moving to El Paso, TX - The Bottom Line
Whether you are moving to El Paso, Texas for a job or simply for a change of scenery, the city has much to offer its residents. Not only is El Paso safe, but it is full of many things to do for all ages. Known as the largest metropolitan area along the border, El Paso is a friendly city with many great areas to explore and neighborhoods to call home. Before moving, make sure to reach out to one of our knowledgeable and experienced Realty Specialists to answer any questions and guide you through the home buying process. Our team is here to help you through every step of the way. Contact us today to find your dream home in El Paso, Texas!
#blog-moving-texas-cta#

Find your new home
Search real estate and homes for sale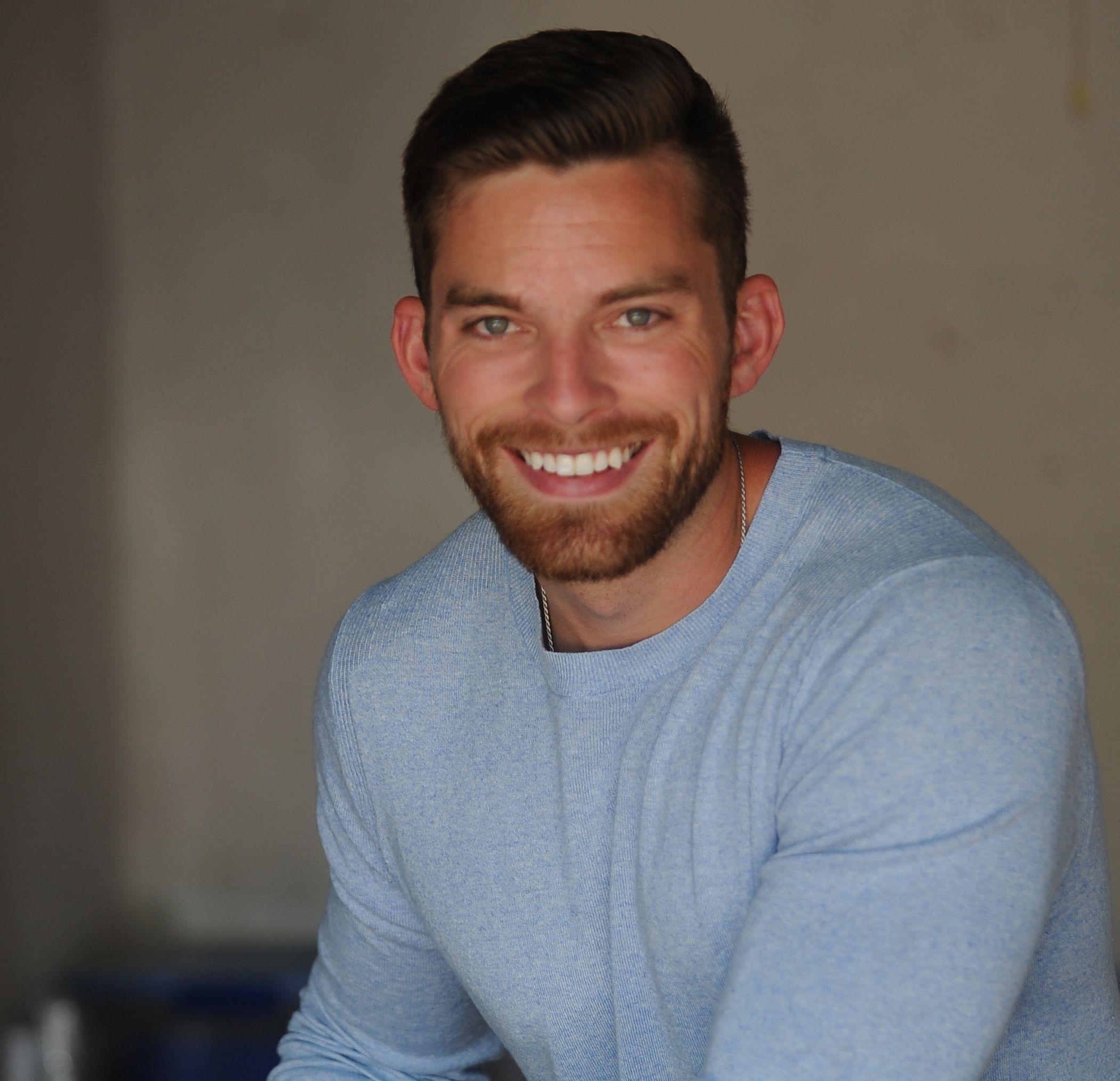 Ryan Fitzgerald
Hi there! My name is Ryan Fitzgerald, and I am a REALTOR®. My goal is to help you learn more about real estate through our Real Estate Blog! Hopefully, you enjoyed the above blog post and it found a way to provide help or value to you. When you're ready to buy or sell a home of your own let us know here. Please feel free to join the conversation by dropping us a comment below.