7 Things to Know Before Moving to Texas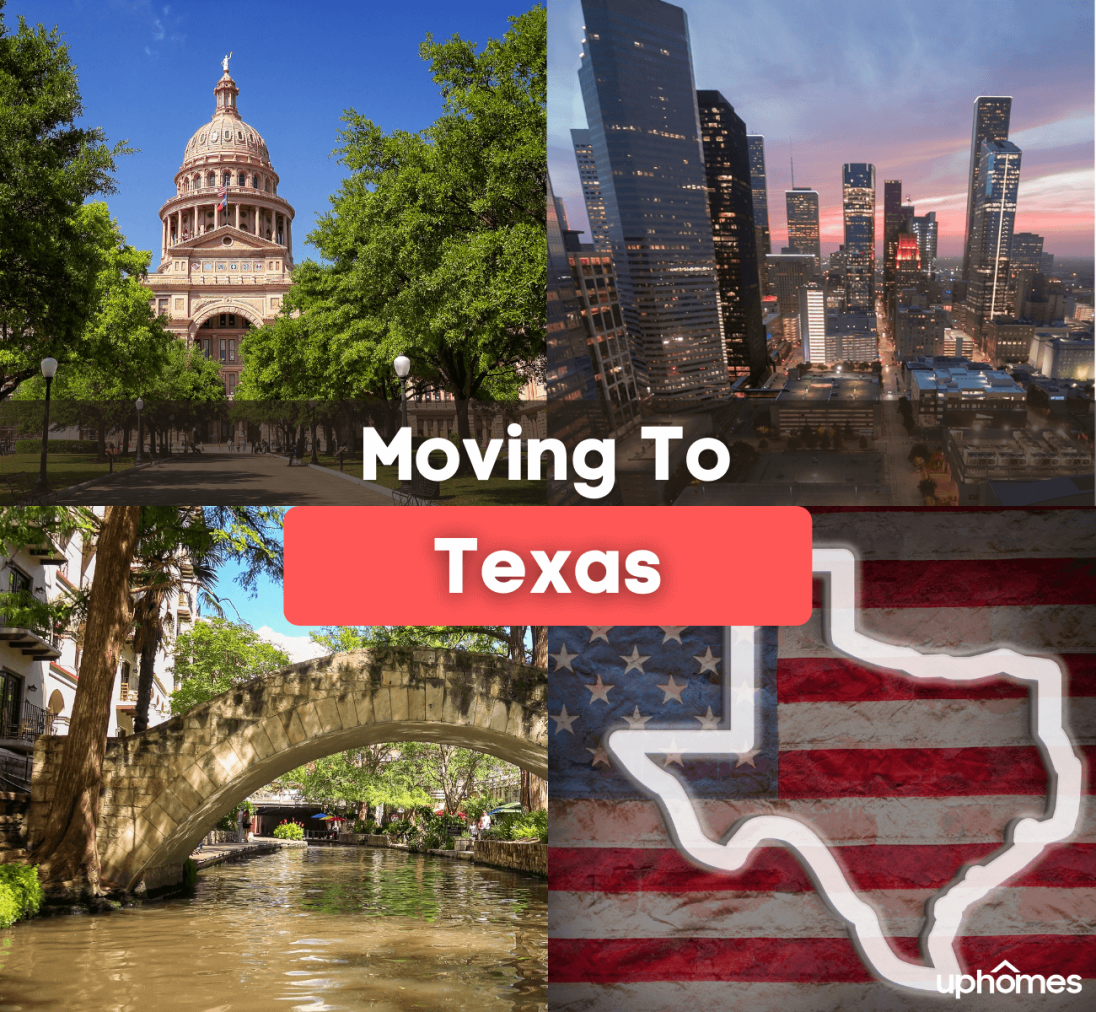 Living in Texas
Are you moving to Texas? Here is what it is like living in the lone star state!
Moving to Texas can be an exciting and fulfilling experience, with a wide range of diverse communities and vibrant cities to explore. Whether you're drawn to the big city life of Houston or Dallas, the quirky culture of Austin, or the laid-back coastal towns along the Gulf of Mexico, there's something for everyone in the Lone Star State. Not only is Texas one of the fastest-growing states in the United States, but it is also the second-largest state by population and land area. Home to a growing population of over 29 million people, the saying "Everything is Bigger in Texas" is an accurate representation. Texas borders Mexico and the Gulf of Mexico in the country's south-central region.
Researching and preparing for some of Texas's unique aspects is essential. The weather can be hot and humid in the summer and unpredictable during hurricane season, and traffic can be a challenge in some of the larger cities. Additionally, Texas has a distinct culture and political climate that may take some getting used to.
Texas is a welcoming and friendly place to live, with a strong economy and plenty of opportunities for work and play. With a bit of preparation and an open mind, you can successfully transition to life in the Lone Star State.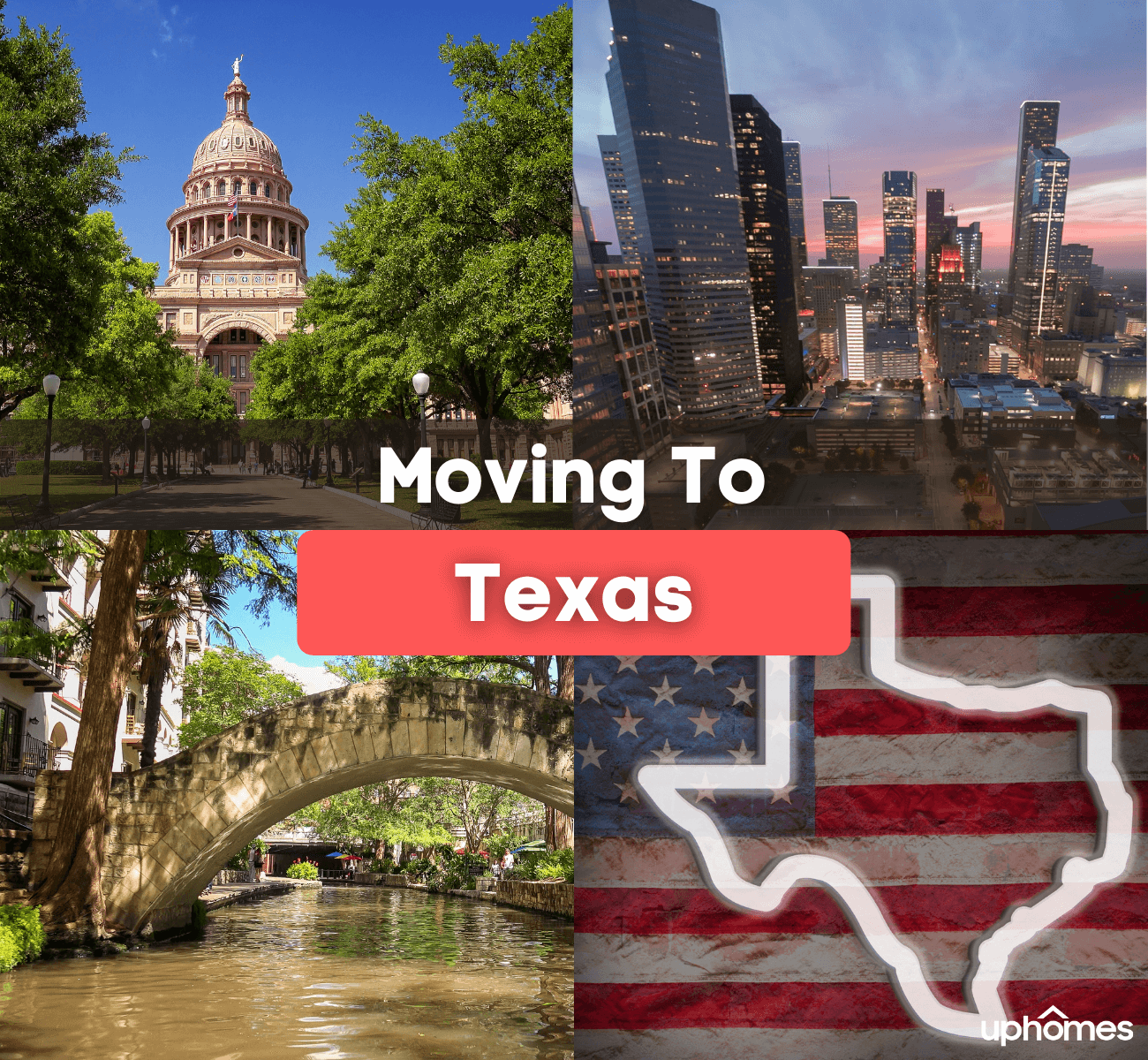 Nicknamed the "Lone Star State," Texas is most famously known for its hot weather, flourishing job market, excellent food, and affordable cost of living. If you are thinking about moving to Texas then you have come to the right place. This moving guide was created to help show you why moving to Texas is a good idea. Outlining its pros and cons, read on to learn more about the 7 Things to Know BEFORE Moving to Texas!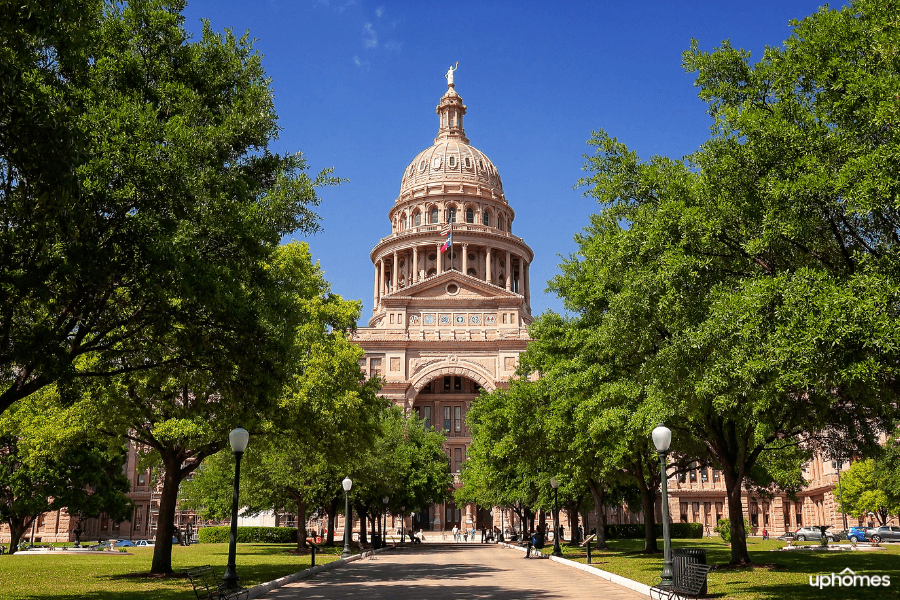 Taxes are low.
Did you know that Texas is one of the only states in America with no state income tax? You heard that right! This means that Texas has the fifth-lowest tax burden per capita compared to other states in the country. That said, federal taxes are all that residents need to worry about. Plus, sales tax is notoriously not very high in Texas either. With a modest 6.25% total sales tax, residents have more reason to shop and support local businesses. Since tax incentives are also a regular occurrence for business owners, Texas is known to provide low taxes and reduced regulations for small businesses. 
While these low tax rates may be a big draw to the area, there is, unfortunately a downside. Texas is known for having some of the highest property taxes in the United States. The state is ranked as having the seventh-highest property tax rate out of all other states. Due to these high property tax rates, Texas was sadly listed as the tenth least tax-friendly state for retirees. So if you are a homeowner and are searching for a nice new place to call home, be prepared for a high property tax rate every year.
Homes are affordable.
The Texas real estate market is diverse and offers various housing options for buyers at different price points. Texas is known for having a relatively affordable cost of living, which translates to more affordable home prices than other major metropolitan areas in the country.
In recent years, Texas has experienced a strong housing market, with a steady increase in home sales and prices. The median home price in Texas was $312,200 in 2022, up 17.9% from the previous year. However, it's worth noting that different regions of the state may have varying real estate markets, with some areas experiencing more competition than others.
Texas offers a mix of urban and suburban communities, with cities like Houston, Dallas, and Austin offering a wide range of housing options. Houston and Dallas have seen strong job growth and are known for having a lower cost of living than other major cities in the US. On the other hand, Austin has seen explosive growth in recent years, with high demand driving up home prices in many neighborhoods.
In addition to the large cities, Texas also offers a range of smaller towns and rural areas, which may be more affordable and offer a slower-paced lifestyle. With a mix of modern homes, historic properties, and sprawling ranches, Texas has something for everyone in the real estate market.
There is a reason why so many people are flocking to Texas. While the property tax rate may be high, real estate is still relatively affordable in Texas. Since the state is landlocked and has a mass amount of land still available to build on,  homeowners are deciding to move to Texas for its lower prices. The current median home price in Texas is $252,422. While the home values may have increased by 6.7% over the past few years, particularly in the large city centers, the median home price in Texas is still cheaper than the national average of $374.500. Depending on the property type and the city that you decide to live in, finding a home to meet your budget is possible in the lone star state. 
The weather is warm.
Experiencing a humid subtropical climate, the weather in Texas is hot and warm in the summers and arid in the winters. Texas receives about 25 inches of rain annually over 78 days, while the national average is 38 inches annually. While the state has four distinct seasons, summer lasts longer in most cities. Temperatures do vary, but they rarely rise above 96 degrees Fahrenheit and dip below 32 degrees Fahrenheit throughout the year. The best time to visit Texas for nice weather and mild temperatures are the months from March to May and September to November. July is the hottest month, where daily temperatures can rise close to 100 degrees Fahrenheit.
On the other hand, January is the coldest month during the year, where the average temperature can plummet below freezing at night. While the temperatures may not get extremely cold in the winters, snow may be rare but can still make an appearance. That said, pack winter clothing and snow gear just in case. 
Even though the weather may be nice most of the year, beware of tornados. Located in the infamous Tornado Alley, Texas ranks first in tornado occurrence out of the United States, receiving an average of 139 tornadoes per year. If you are moving from a state without tornadoes, knowing how to stay safe during tornado season and prepare for potential storms is crucial. While most tornadoes occur along the Red River Valley in northern Texas, staying informed is the best way to keep you and your family safe in a weather emergency.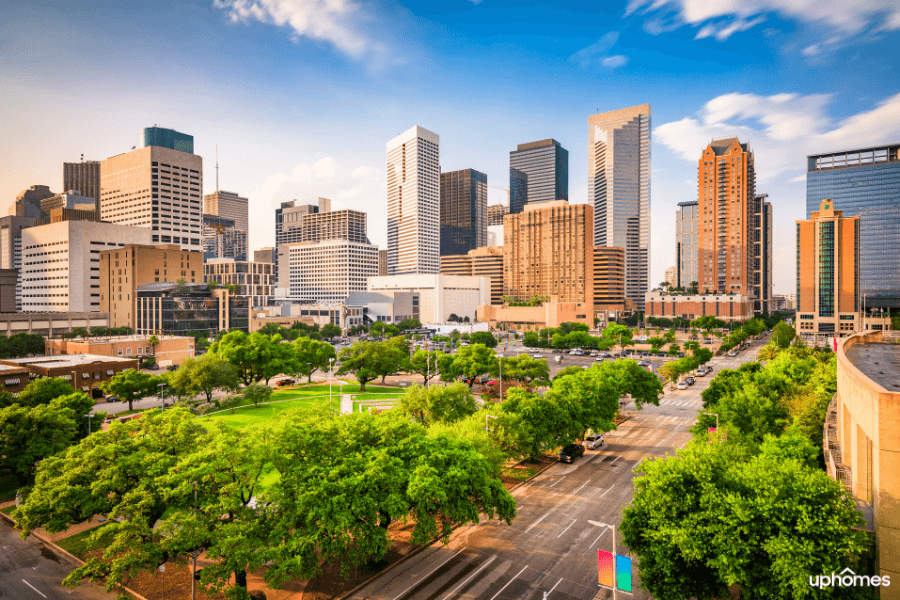 The job market is booming. 
A great state for job growth, Texas is home to over 50 different Fortune 500 companies. According to Forbes, multiple cities in Texas were ranked on a list of Best Cities for Jobs. These top cities were Austin, Houston, San Antonio, and Dallas. As the population continues to increase, jobs have been able to take root and grow in these desirable areas. Now also host to a booming technological sector, Austin is referred to as the "Silicon Hills" with a lifestyle that rivals that of the San Francisco Bay Area but with a lower cost of living. Austin is becoming such a massive place for job opportunities that multiple companies are picking up and moving to the area. Some of the top companies in Austin include Tesla, Facebook, Oracle, Whole Foods, Dell, and IBM. Many celebrities and business moguls such as Elon Musk, Joe Rogan, and Joe Lonsdale, the co-founder of Palantir, are now calling Texas home.
While technology may be spearheading job growth in the state, many other industries are flourishing. If you are moving to the area in search of a job, you will not be looking for long. Some of the most popular industries in the area include jobs in energy, steel, banking, and tourism. There is also a major draw in the space exploration center due to Space X and Space Center Houston.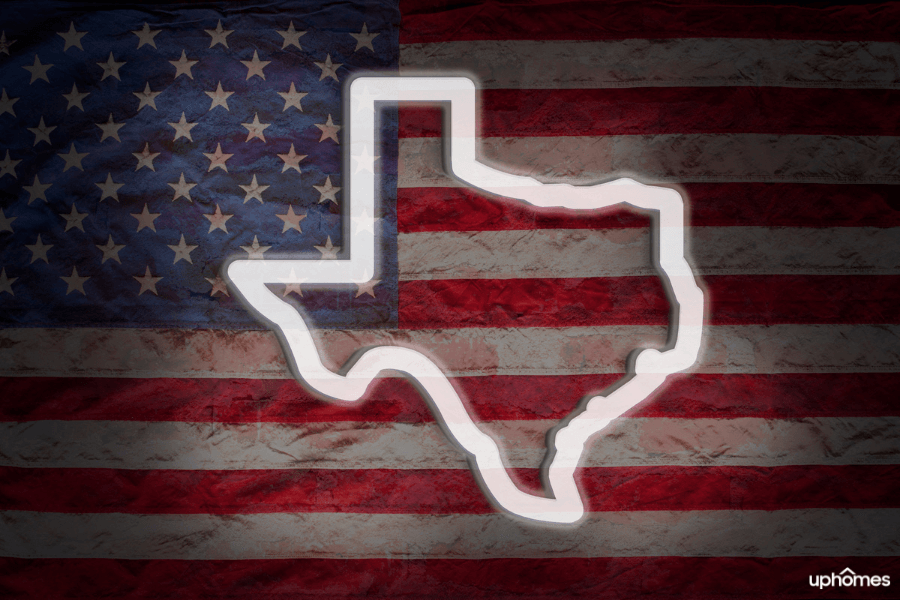 Texas has a rich history.
Did you know that the name Texas is derived from a Cado Indian word that means "friendship"? Steeped in history, the state has been home to numerous Native American tribes and a claimed territory to the Spanish Conquistadors, France, and Mexico. Finally, after declaring itself an independent nation, Texas became a part of the United States in 1845. Playing a significant part in the Mexican-American War and the American Civil War, Texas has been host to many historical events that have made the state what it is today.
Check out these many museums and historical sites in Texas that are a constant reminder of the past!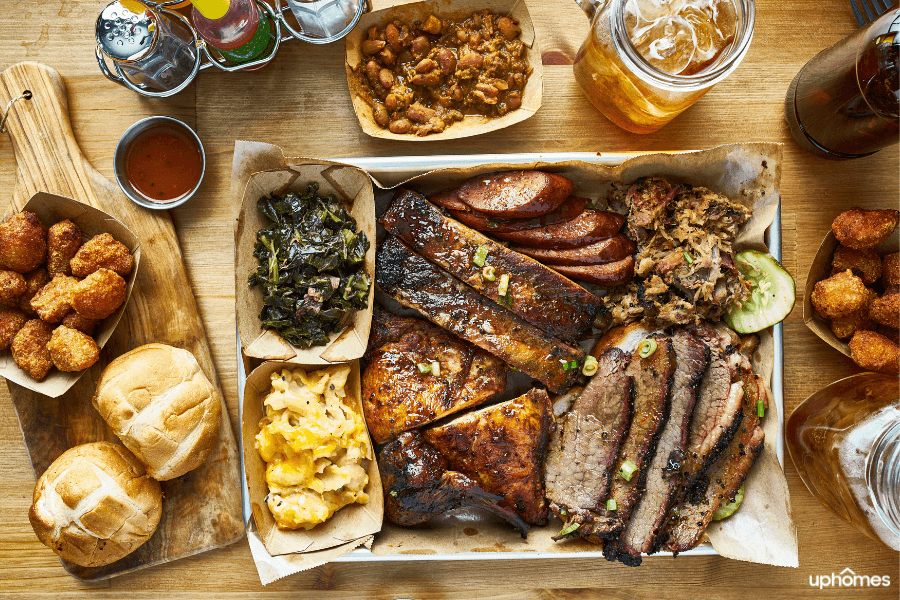 Barbeque and Tex-Mex reign supreme.
Texas is prized for its many iconic dishes and flavorful cuisine. No matter what food you usually crave, Texas has a variety of restaurants that will appeal to any palate. There are a few dishes though, that all Texans can agree on: Texas Barbeque and Tex-Mex. What makes Texas barbeque so different from other types of barbeque is its specific flavor. Seasoned with classic salt and pepper and then cooked low and slow, usually over pecan, mesquite, or oak wood, this barbeque style is vastly different from the eastern and western barbeque styles. Many Texans claim that the best way to enjoy Texas barbeque is without any sauce to enjoy the flavor fully brought out during the cooking process. But for those who decide to use sauce, most are made with bold ingredients and spices such as paprika, hot sauce, chili powder, and garlic. While barbeque may be a big deal in Texas, vegetarian and vegan options are also available. 
If you are not a fan of barbeque, then do not fret. Make room for all of the Tex-Mex that your heart desires. Gaining popularity in the 1970s, Tex-Mex is a blend of American, Spanish, and Mexican cuisine. So what exactly makes Tex-Mex different from Mexican cuisine? While the styles may be very similar, the one simple thing that differentiates the two is the ingredients used. For instance, Tex-Mex loves to utilize yellow cheese in most dishes while Mexican uses uncommon ingredients such as cilantro, oregano, or chili peppers.
Make sure to try one of these popular restaurants in Texas!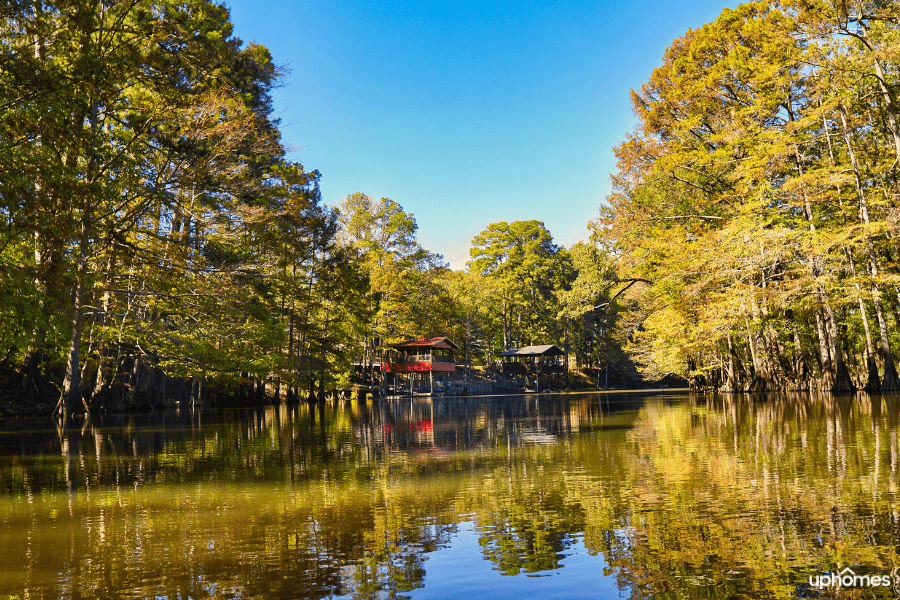 Spend time in nature.
If you love the great outdoors, then look no further than Texas. Due to its warmer temperatures and long summers, outdoor enthusiasts are moving to the state for all it offers. Full of national parks, nature preserves, hiking trails, camping sites, beaches, and lakes, you will never run out of things to do.
Check out these outdoor activities in Texas! 
Moving to Texas - The Bottom Line 
Warm and tax-friendly, living in Texas is a great idea. With many diverse cities and endless job opportunities, Texas is a popular destination for young professionals, families, and retirees. Compared to living in Florida, Texas is slightly cheaper and just as warm as the sunshine state. Before moving to Texas, reach out to one of our knowledgeable and friendly Realty Specialists to guide you through the home buying process. Once you have decided on a budget, our team will help you find the perfect place to call home while keeping safety in mind. Contact us today to find your dream home in Texas!
#blog-moving-texas-cta#

Find your new home
Search real estate and homes for sale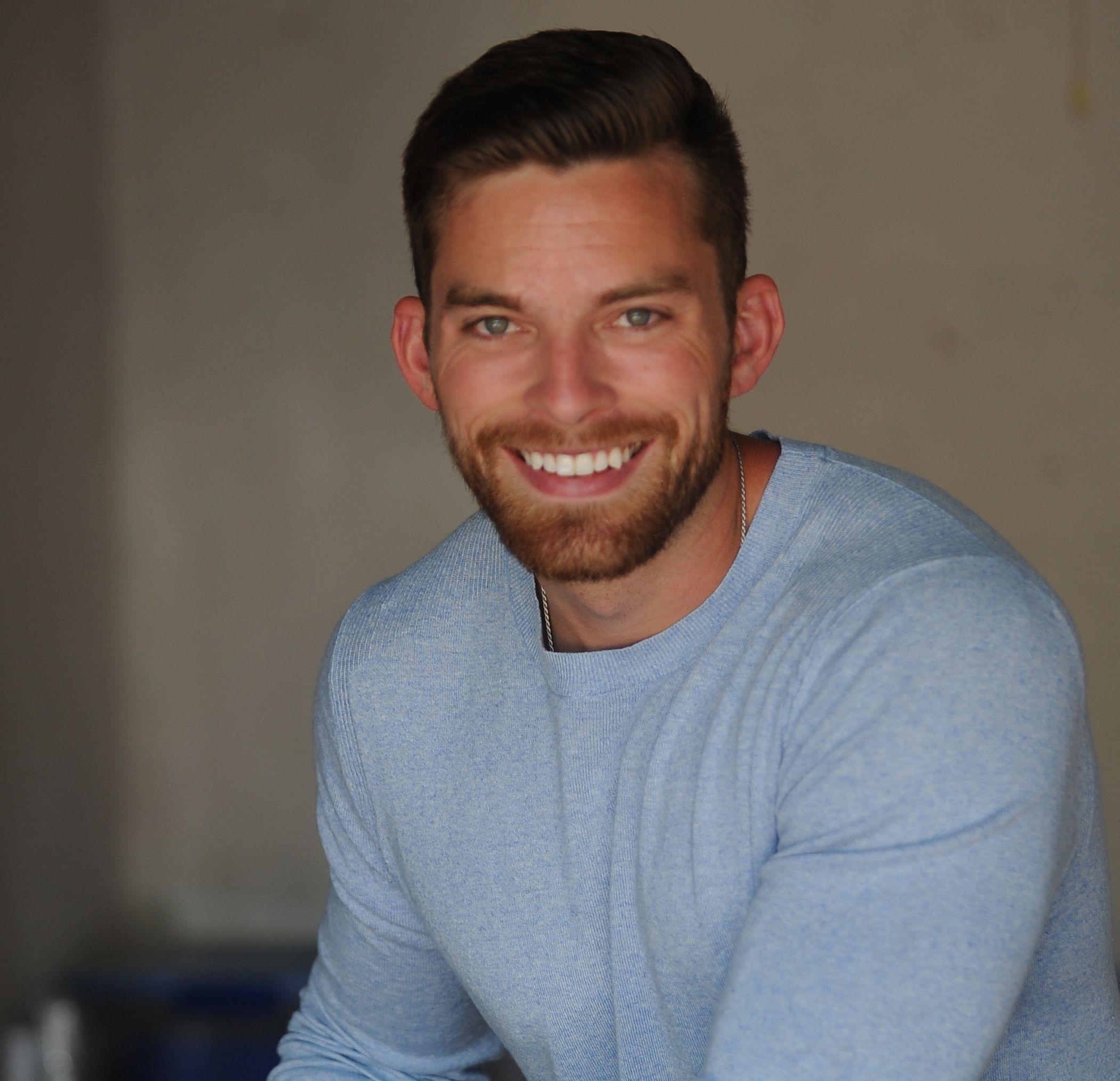 Ryan Fitzgerald
Hi there! My name is Ryan Fitzgerald, and I am a REALTOR®. My goal is to help you learn more about real estate through our Real Estate Blog! Hopefully, you enjoyed the above blog post and it found a way to provide help or value to you. When you're ready to buy or sell a home of your own let us know here. Please feel free to join the conversation by dropping us a comment below.