7 Things to Know BEFORE Moving to Austin, TX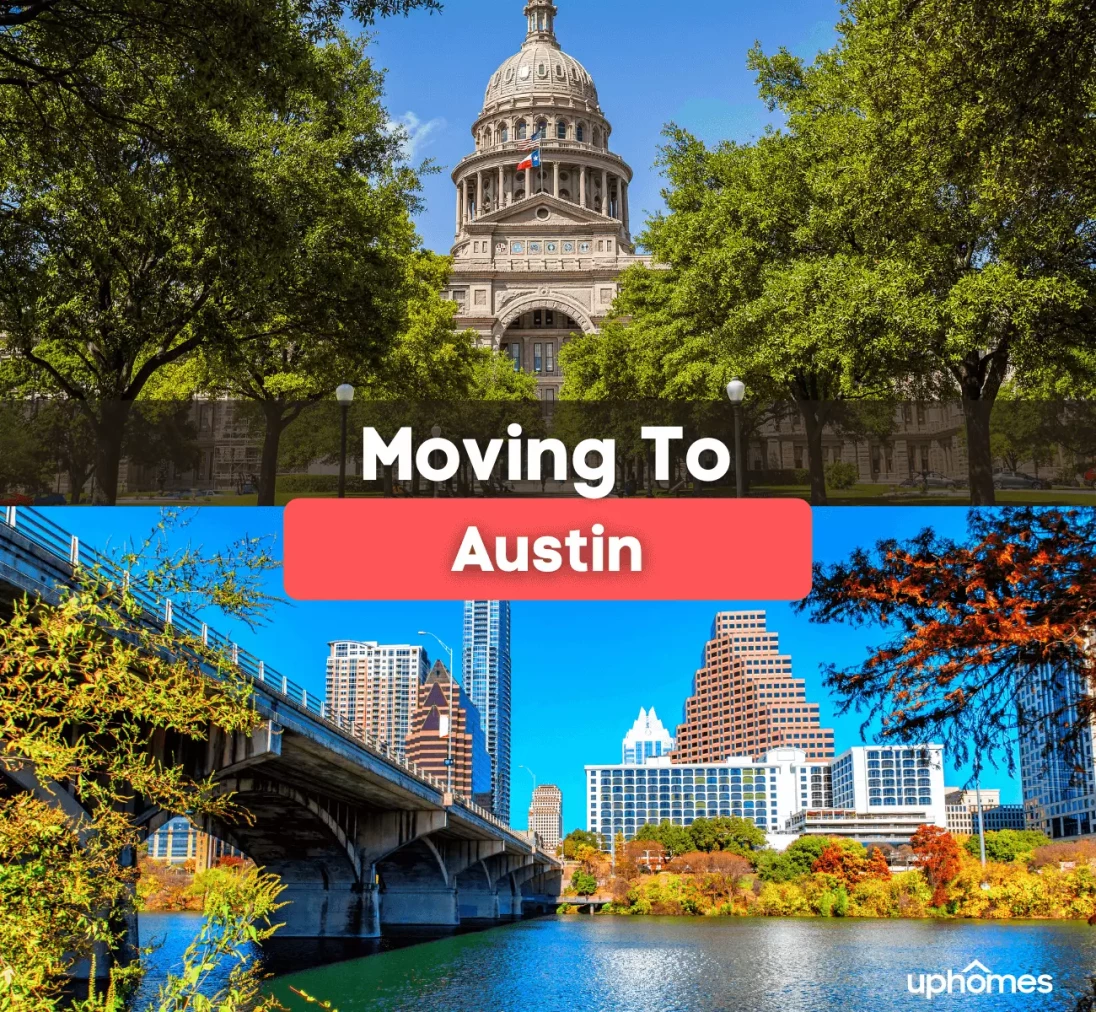 Living in Austin, TX
Are you moving to Austin, TX? Find out what it's like living in Austin!
Nestled in Central Texas lies the trendy and eccentric city of Austin. As the capital city of Texas, Austin is a growing area with plenty of things to do and see. Renowned for its famous slogan "Keep Austin Weird," residents are moving to this up-and-coming area for its laid-back nature and relaxed atmosphere. People typically ask," is Austin a good place to live?" - the answer is yes. Often regarded as the best place to live in Texas, Austin offers its residents an affordable cost of living, fantastic job opportunities, unique attractions, and some of the best live music in the country.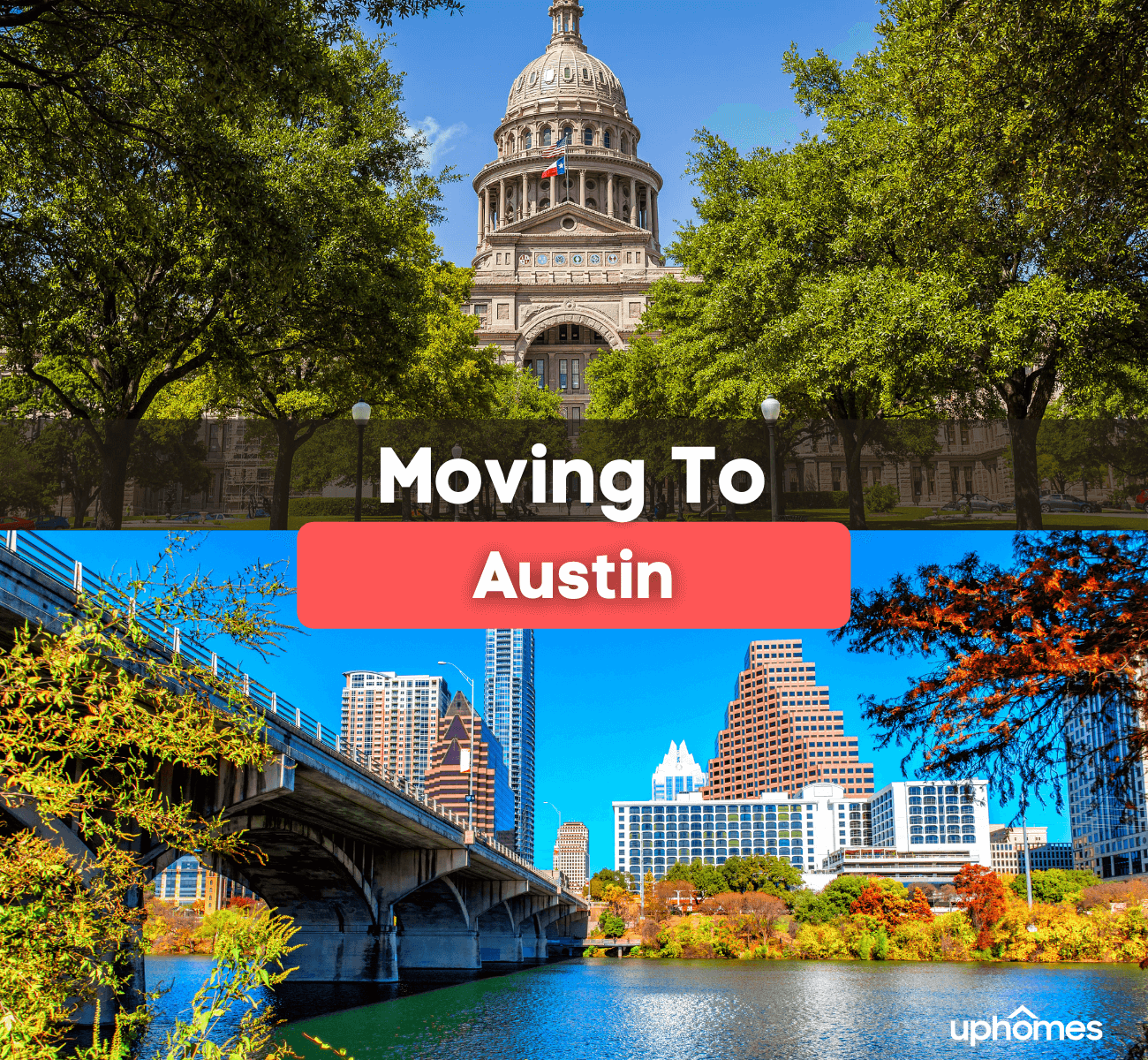 Considered a great place to live for young professionals, families, and retirees alike, it is no wonder why Austin was named the happiest big city in the state of Texas. Ranked the 11th safest city in the United States, Austin is an excellent place to live and an even better place to call home. If you are considering moving to Texas, you have come to the right place. While moving can be stressful and often overwhelming, this moving guide was created to help make your move to Austin as easy as possible. Read on to learn more about the 7 Things to Know BEFORE Moving to Austin, Texas!
Cost of living.
Did you know that the cost of living in Austin is 3% lower than the national average? Its affordable cost of living is one of the top reasons Austin is considered one of the best places to live in the United States. Even though it may be on the affordable side, Austin is thought to be a bit pricey when comparing it to other cities in Texas. Due to this, Texas residents consider it a moderately expensive place to live. Offering high wages to make up for any added high living expenses, an average annual salary of around $70,000 to $98,000 is considered a good salary to live comfortably. Plus, with Texas offering no state income taxes, residents are getting more bang for their buck.
Check out the homes for sale in Austin and explore the popular neighborhoods.
Alternatively, the housing prices in Austin are considered 2% higher than the national average. Homeowners need to note that buying a house is cheaper than renting in Austin. While housing prices may be higher, living in Austin is still a great deal compared to living in San Francisco or New York City. According to a recent report, Austin was ranked as the number two housing market in the country for growth and stability. Moving to Austin is an excellent choice if you are a first-time homebuyer.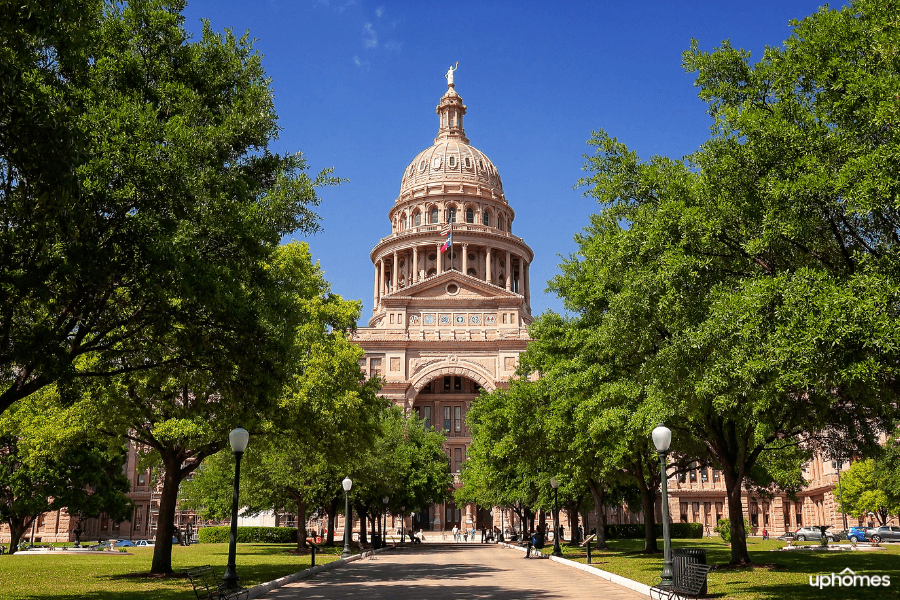 Technology is taking over.
The job market in Austin is thriving and has been a top destination for recent college graduates looking for work. Known for its booming tech industry, technology lovers and entrepreneurs are moving to the area for its low taxes and endless job opportunities. Nicknamed "Silicon Hills," Austin is becoming the more affordable version of Silicon Valley and the San Francisco Bay Area. Home to multiple Fortune 500 companies and many technology startups, businesses decide to pick up and move to Austin from California to save money. Austin's most popular companies are Google, PayPal, AMD, Adobe, Amazon, Apple, Intel, Indeed, and Facebook. Hewlett Packard is opening up a new state-of-the-art campus in Austin that will be opening at the beginning of 2022, bringing in more jobs to the area.
While technology may be the biggest industry in the city, other top industries in Austin include education, healthcare, and government services. If you are moving to the area in search of a job, then there is no doubt that this is the best place to look for one. Welcoming all creative types and entrepreneurial minds, moving to Austin may be the biggest power move of your career yet.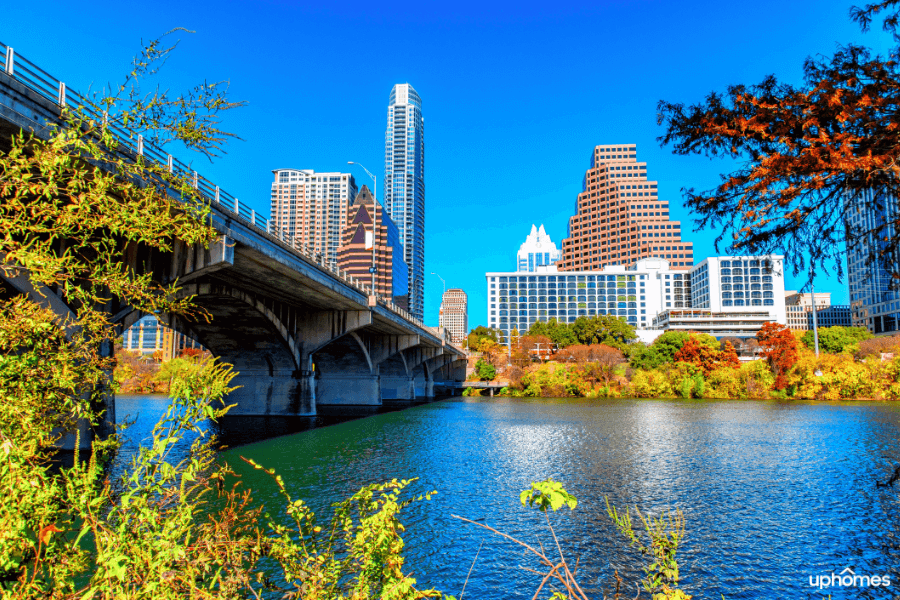 Spend time outdoors.
Since Austin is recognized as having a humid subtropical climate, the summers are long, and the winters are mild. It's one of the reasons people choose Austin over Dallas. With many warm and sunny days at the city's disposal, Austin is the perfect place to call home for outdoor enthusiasts and frequent adventurers. Residents enjoy all sorts of excellent activities thanks to its beautiful landscape, including hiking, biking, running, canoeing, kayaking, swimming, camping, ziplining, and stargazing. Surrounded by the rural Texas countryside, spending time outside is a free activity and the best way to relax after a long week at work. No matter how you like to spend your free time exploring, the natural wonders of Austin are always a great idea.
Check out these local favorite outdoor activities in Austin, Texas!
Austin is a food truck haven.
Recognized for its Texas barbeque, out-of-this-world Tex-Mex, and outrageous breakfast tacos, Austin is more than just the state capital: it is a food capital. After a day spent outside hiking and swimming in a natural pool, dining at a local eatery is the obvious thing to do. While the dining scene has evolved in Austin over the past few years, many classic flavors mix with international influence to create dishes that can only be enjoyed under the sweet Austin sun.
While the city may have hundreds of delicious and mouthwatering restaurants to dine at, Austin residents love a good food truck now and then too. Thanks to the area's fantastic weather conditions all year round, food trucks are a popular feature and well-known secret in Austin. More than 1,000 food trucks are roaming the city daily to try, and residents are up for the challenge. From tacos to classic southern cuisine, discover your favorite food truck downtown, at a festival, or along the city streets.
Check out some of these most popular food trucks in Austin, Texas!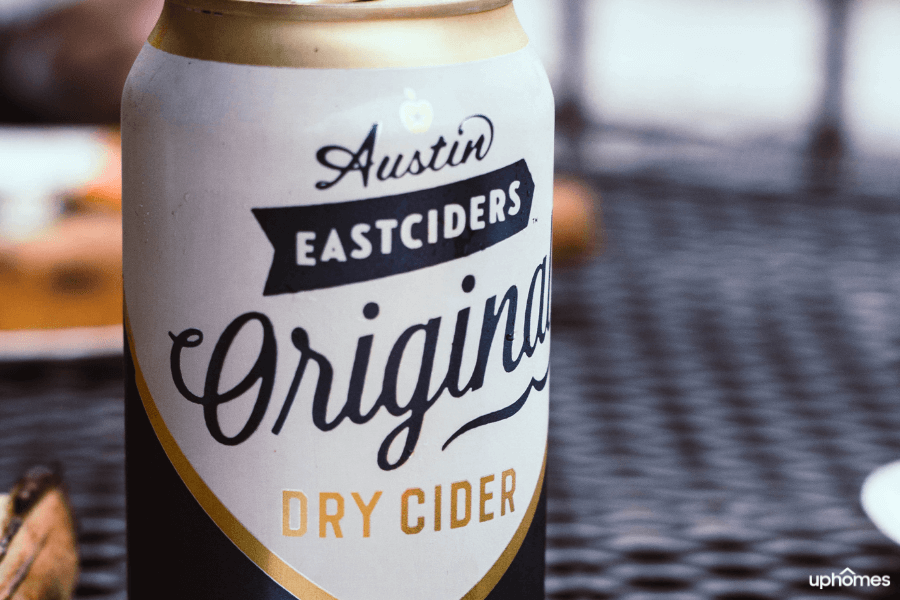 Live music is everywhere.
Referred to as the "Live Music Capital of the World," Austin is known for its country, blues, and rock music that can be heard playing throughout the streets. This live music scene is an integral part of Austin culture and has made the city a fun and hip place. Whether at a local event, festival, among the nightlife, or simply outside of a restaurant, local musicians share their musical talents all day, every day in Austin. With more than 250 music venues to explore, never run out of new music to discover. Locals claim that the city's best place to hear music is near 6th Street in downtown Austin. Featuring the most significant cluster of music venues in the whole town, if you want to listen to power cords and beautiful melodies, then 6th Street is the place to be. Austin sure knows how to have a good time.
Check out one of these local music venues in Austin, Texas!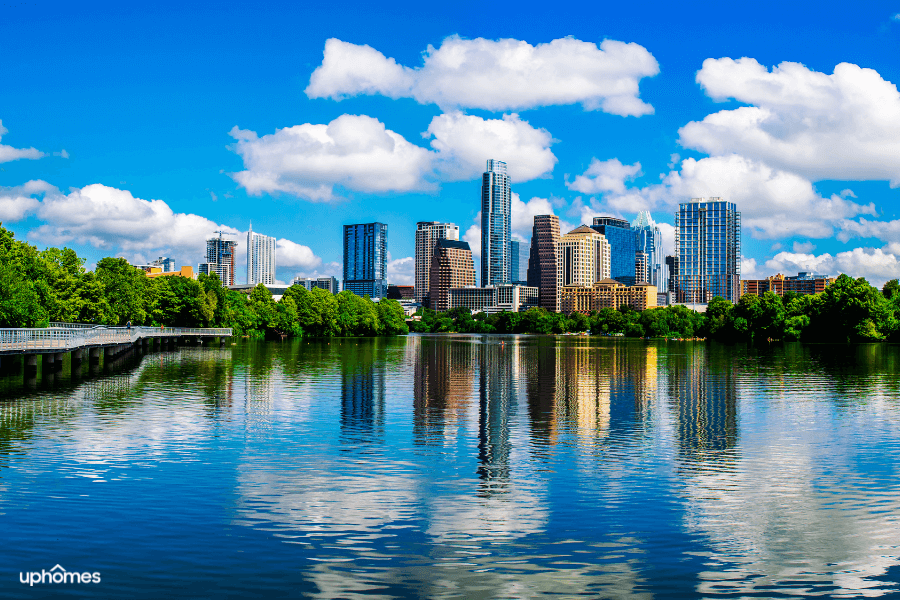 Sustainability is a cool thing to do.
Austin prides itself on being the greenest and most sustainable city in the state of Texas. Ranked the 11th greenest city in the United States, Austin inspires change and does what it can to promote a cleaner environment. While most of the city's public buildings are already running on renewable energy, Austin aims to obtain at least 35% of its power in the city from renewable sources. Austin is building energy-efficient LEED residential homes and commercial spaces to lower and minimize its carbon footprint. With 15% of its current total land area consisting of parks, lakes, and green spaces, Austin is striving to be a leader of the green movement. To learn more about sustainability and Austin's vision of the future, visit the official website of the office of sustainability in Austin.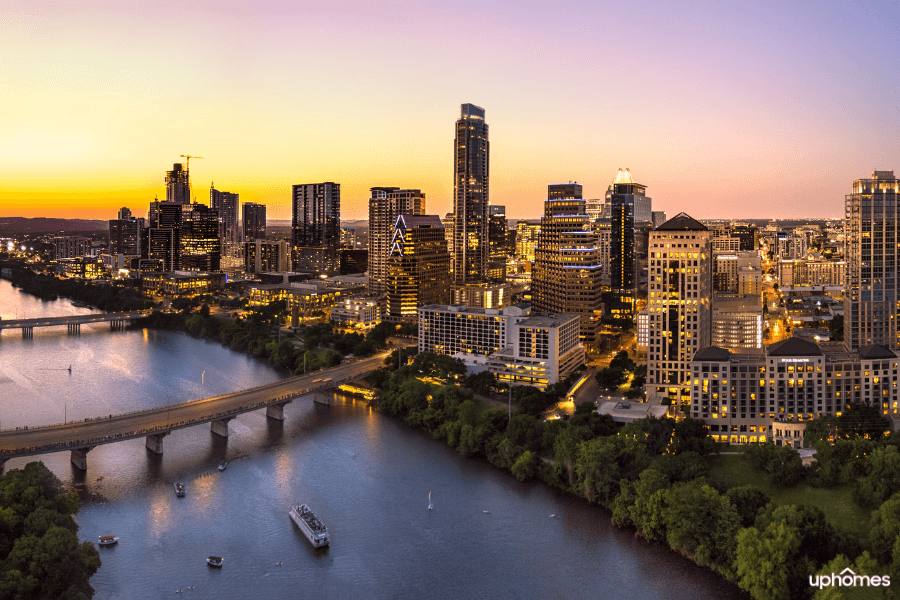 Austin is well-educated.
If you are moving to Austin with school-aged children, you will be happy to find out that the Austin Public School System was named among the best in the country. Operating more than 130 schools in the area, Austin teaches over 84,000 students and has high graduation rates. Some of the best public schools in Austin include Canyon Creek Elementary School, Canyon Vista Middle School, and Westwood High School. Moving to a neighborhood that feeds into the schools you want your children to attend might be a good idea when looking for a home.
For those searching for higher education opportunities, there are multiple colleges and universities in the city to choose from. The University of Texas at Austin, St. Edward's University, Huston-Tillotson University, Concordia University Texas, Lipscomb University at Austin, and Texas Health and Science University at Austin are all located here.
Austin Real Estate Market
If you're considering a move to Austin, TX, it's essential to understand the current state of the real estate market. Austin's housing market has been hot for several years, with strong demand driving up prices and leading to a inventory shortage. Here's what you need to know as you prepare to buy a home in Austin.
First and foremost, working with an experienced real estate agent who can guide you through the process and help you navigate the market is essential. A local agent will deeply understand the Austin market and can offer insights into which neighborhoods are up-and-coming or which areas are more established. You can contact us anytime for help!
Currently, the Austin real estate market is incredibly competitive. Homes for sale are often receiving multiple offers and selling above asking price. According to the Austin Board of Realtors, the median home price in the area was $550,000 as of 2022, up 19.6% from the previous year. While this may seem daunting, it's worth noting that Austin's cost of living is still relatively affordable compared to other major metropolitan areas.
As for neighborhoods, it's critical to consider your priorities and lifestyle when deciding. If you're looking for a walkable, urban community, areas like downtown Austin, South Congress, and East Austin may be a good fit. These neighborhoods offer a mix of modern condos, historic homes, and trendy restaurants and bars. However, remember that these areas can be more expensive and have higher home prices.
If you're more interested in a family-friendly community with good schools, areas like Round Rock, Cedar Park, and Leander may be more appealing. These suburbs offer a quieter, more laid-back lifestyle and often have larger homes and more space. However, commuting into Austin can be more challenging, and traffic can be a significant factor to consider.
The Austin real estate market is competitive, but there are still opportunities to find a great home that fits your needs and budget. Working with a knowledgeable agent and being prepared to move quickly when you find the right property can help you succeed in this dynamic market.
Pros and Cons of Living in Austin
Pros:
Growing economy
Lots of outdoor recreation
Relatively affordable cost of living
Strong housing market
No income tax
Live Music
Great food
Cons:
Rapid population growth
Extreme heat
Traffic can be unbearable
Lack of professional sports teams
Moving to Austin, Texas - The Bottom Line
If you're wondering if Austin is a great place to live, the answer is yes!
It is worth moving to Austin, Texas. Not only is it easy to find a job when living here, but there are plenty of significant areas to call home. With an affordable cost of living and high safety rating, it is no surprise that this beautiful city has become so popular. Before moving, reach out to one of our knowledgeable and friendly Realty Specialists to aid and guide you through the home-buying process. With the help of our team, find your dream home in this dream city. Contact us today to assist you in your move to Austin, Texas!
#blog-moving-texas-cta#

Find your new home
Search real estate and homes for sale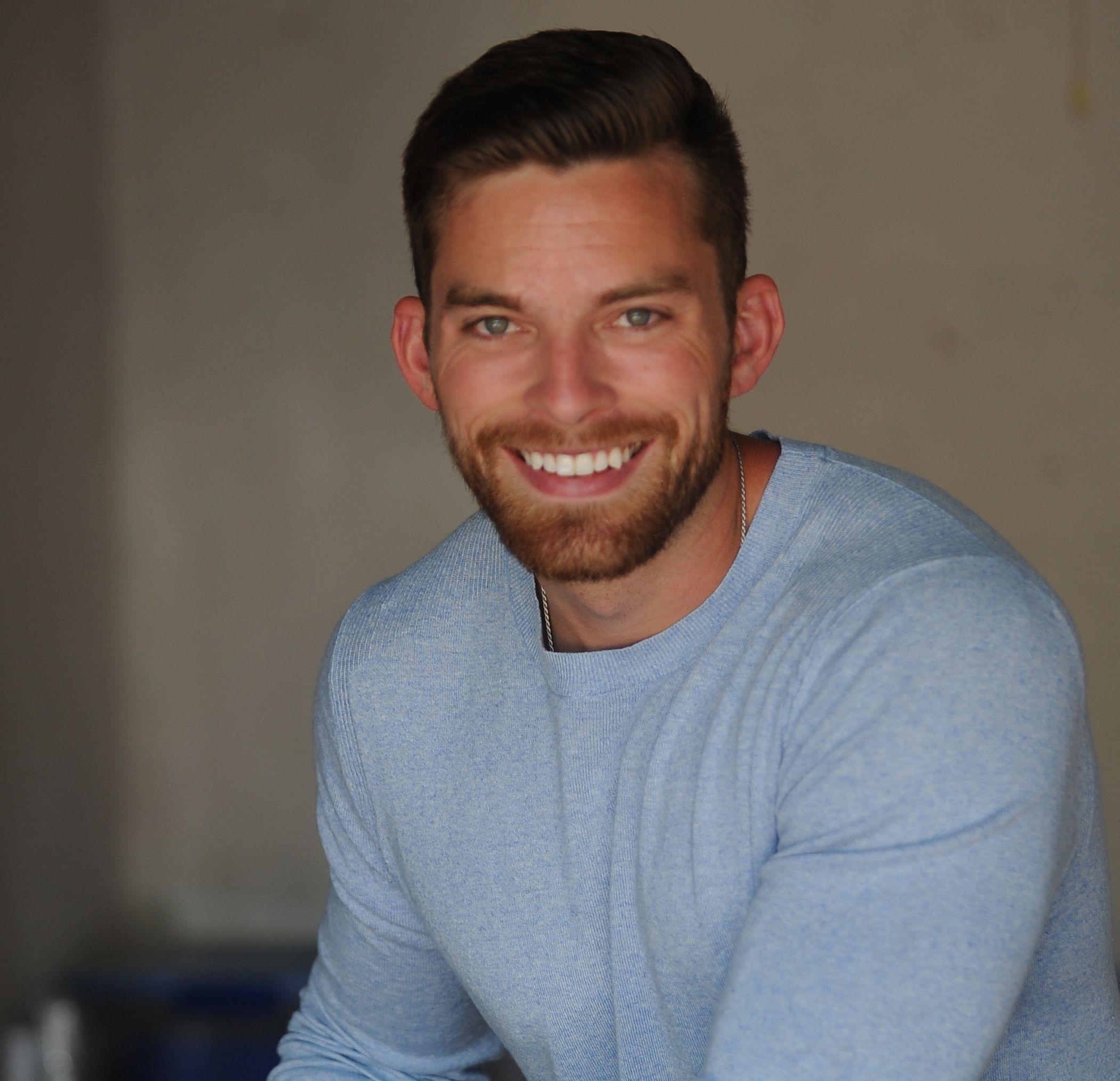 Ryan Fitzgerald
Hi there! My name is Ryan Fitzgerald, and I am a REALTOR®. My goal is to help you learn more about real estate through our Real Estate Blog! Hopefully, you enjoyed the above blog post and it found a way to provide help or value to you. When you're ready to buy or sell a home of your own let us know here. Please feel free to join the conversation by dropping us a comment below.