13 Best Places to Live in Colorado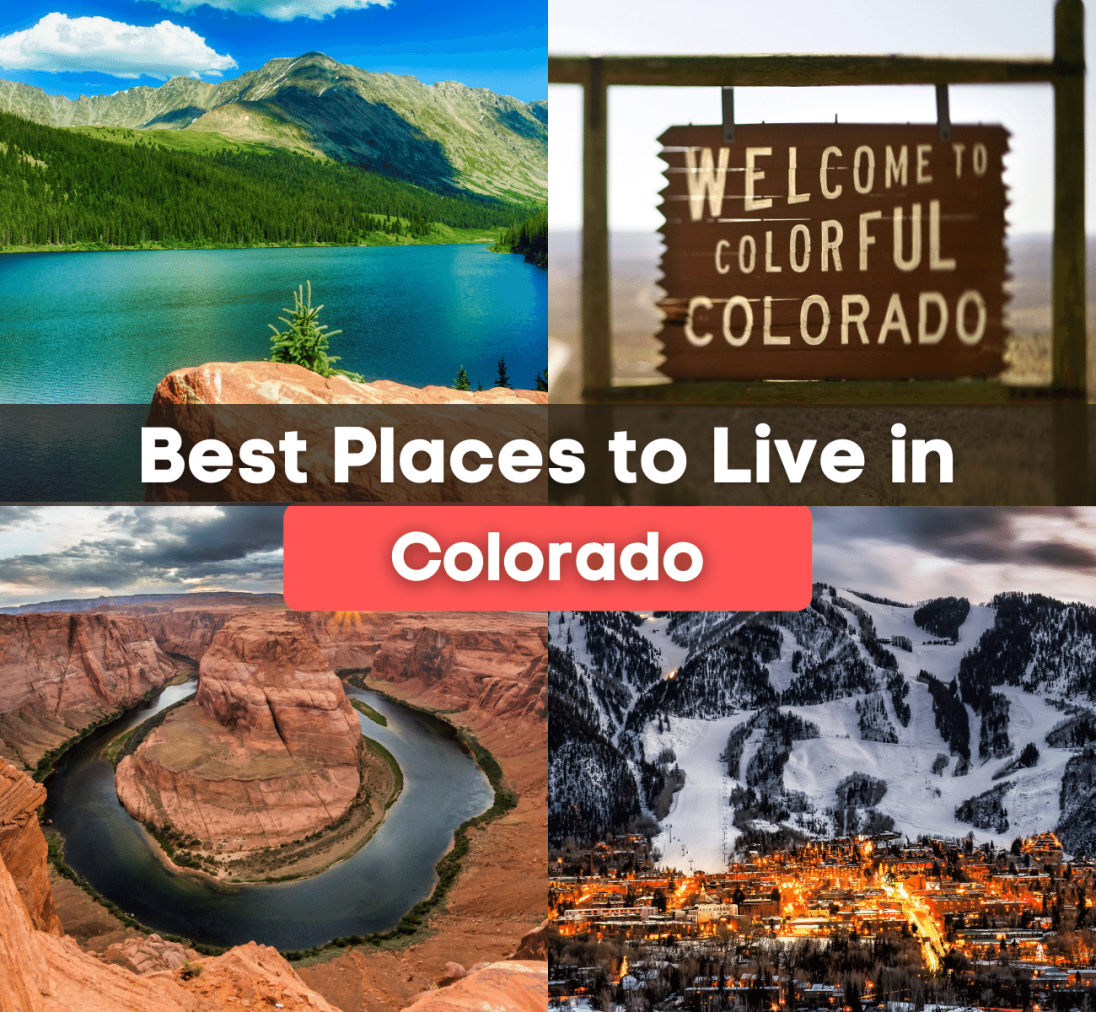 Best Places to Live in Colorado
It is no surprise people are moving to Colorado – the abundance of outdoor activities, thriving economy, adventurous people, and excellent schools are just some of the reasons why.
It's a state where you can enjoy skiing, fishing, snowboarding, white water rafting, and much more all year long.
Each of Colorado's cities is unique but one thing they all have in common is a natural beauty that surrounds them and the fresh mountain air.
The Rocky Mountain views can be seen from close up or far away and that's a plus for many of the Colorodian residents.
The state's booming economy also attracts successful professionals, students, and families from across the country.
Living in Colorado means hiking during the summer, drinking craft beers, enjoying public art and music, and hitting the slopes during the winter.
Our team has compiled a list of the Best Places to live in Colorado to show you options to choose from while making it easier to decide which area is perfect for you. Keep reading to learn more about the top cities and what it is like to live there!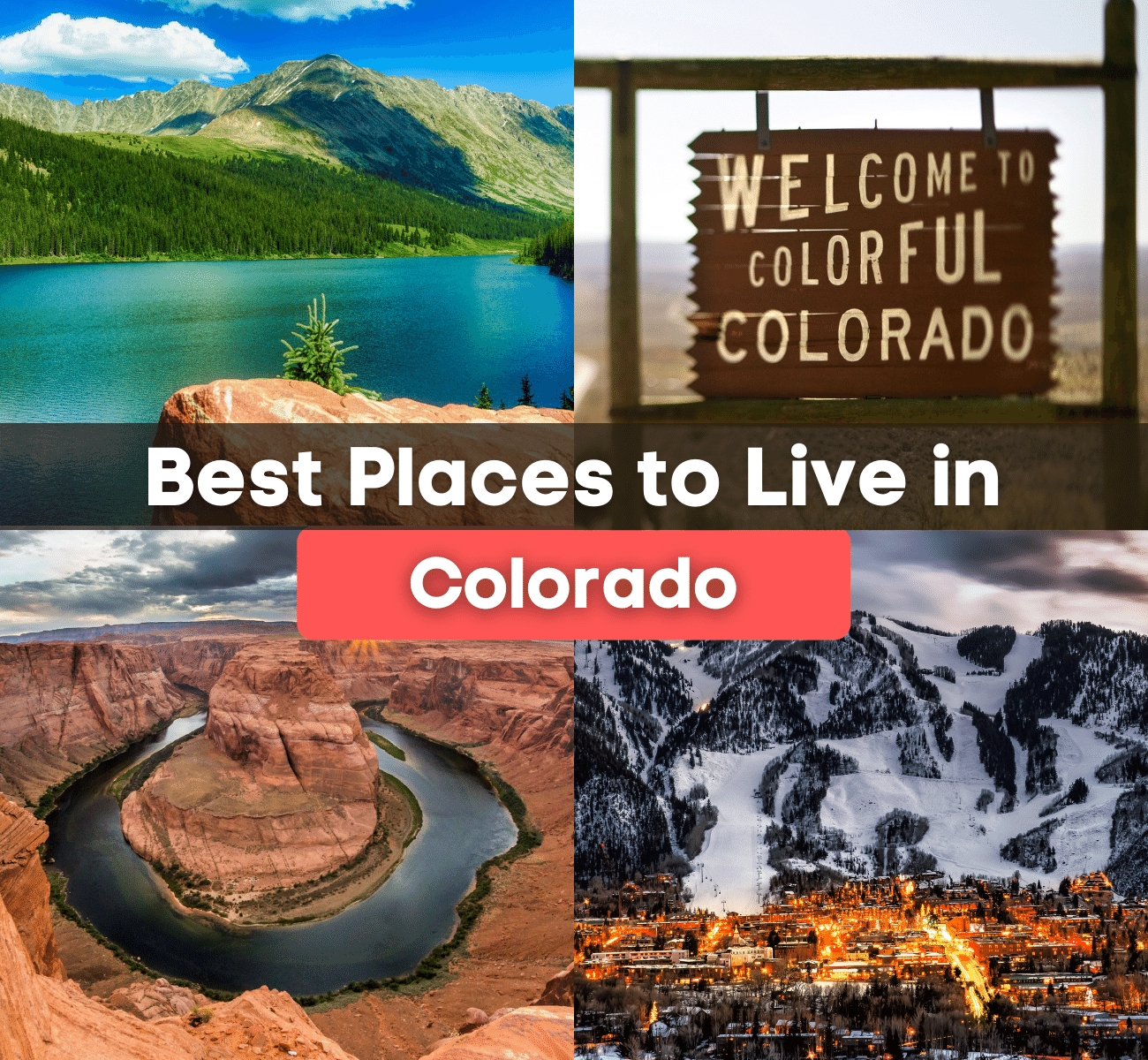 What are the best cities to live in in Colorado?
Boulder
Known as the gateway to the Rocky Mountains, Boulder is home to 20+ craft breweries and dozens of amazing restaurants.
Boulder is most famous for the University of Colorado at Boulder which is an excellent institution for higher education.
Boulder is an awesome spot for outdoor activities because the city has thousands of acres of open space. Eldorado Canyon State Park and Boulder Canyon are both right nearby. People love to go biking, climbing, hiking, and running.
The people who live in Boulder are outdoor enthusiasts and many residents even bike or walk to work!
The Boulder Reservoir is a popular attraction during the summer because it offers an area for boating, swimming, kayaking, paddleboarding, and much more.
Shoppers who live in Boulder flock to the Pearl Street Mall. It's a four-block outdoor pedestrian mall with restaurants, shops, bars, and shared working spaces.
The city has an awesome foodie culture as well. Along 13th Street, you'll find a restaurant like The Sink. If you're looking for beer, Bohemian Biergarten is where the annual beer holding competition takes place.
The real estate market in Boulder is hot and homes are in high demand. The median listing price for a house in the city is about $825,000.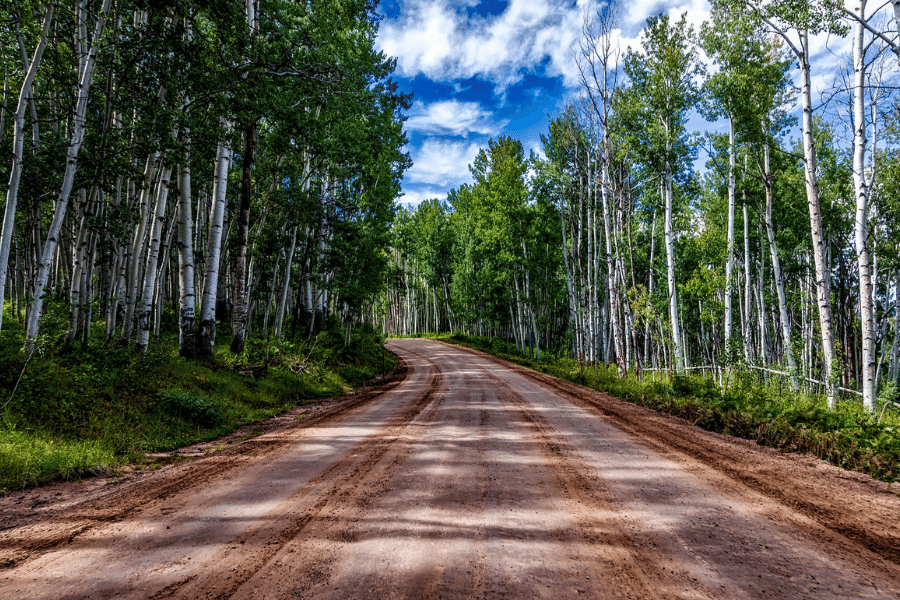 Castle Rock
Castle Rock is known for its excellent shopping and dining options as well as its outdoor amenities.
It's located about 35 minutes from Denver so it's situated in a great location. You can easily access the mountains to the west as well.
One of the most popular reasons that people love Castle Rock is the easy commute to Denver and the less expensive housing costs. It's a great option for those moving to Denver.
If you want to get outdoors, hike the 1.5-mile Mitchell Creek Canyon Trail during the spring, summer, or fall. Ridgeline Open Space has more than 13 miles of trails for hiking, biking, and running.
Castle Rock has been ranked one of the 10th fastest-growing cities in America and is one of Colorado's top tourist destinations.
Shoppers will love the Castle Rock Outlets which offer more than 100 name-brand stores in an open-air shopping center.
Castle Rock does not have any large mountains nearby so the landscape is more of a "rolling hills" type of view.
Colorado Springs
Colorado Springs is a popular city because of its reasonably-priced neighborhoods, beautiful outdoor scenery and parks, and low cost of living.
You can find one-bedroom apartments for rent for around $1,090 on average. The median home prices have gone up due to the rising demand for real estate but prices are much cheaper than what you will find in Denver and Boulder.
If you're looking for incredible outdoor scenery, head to the Garden of the Gods for an awesome hike through beautiful, natural rock formations.
You can also hike Pikes Peak for a challenging workout and some of the best views in the city. The city is located right at the foothills of the mountains.
Colorado Springs also has a strong military presence with nearby military installations including Fort Carson, Schriever AFB, Peterson AFB, and the U.S. Air Force Academy.
Residents who live in this city live a bit of a "slower" life when compared to the big city of Denver. It takes about an hour and a half to get to Denver with traffic.
Colorado Springs has consistently been ranked as one of the top 25 cities to live in the country, alongside Denver, by U.S. News & Report.
Colorado Springs is also known as "Olympic City" because it's home to the United States Olympic & Paralympic Committee, the U.S. Olympic & Paralympic Training Center, and the U.S. Olympic & Paralympic Museum.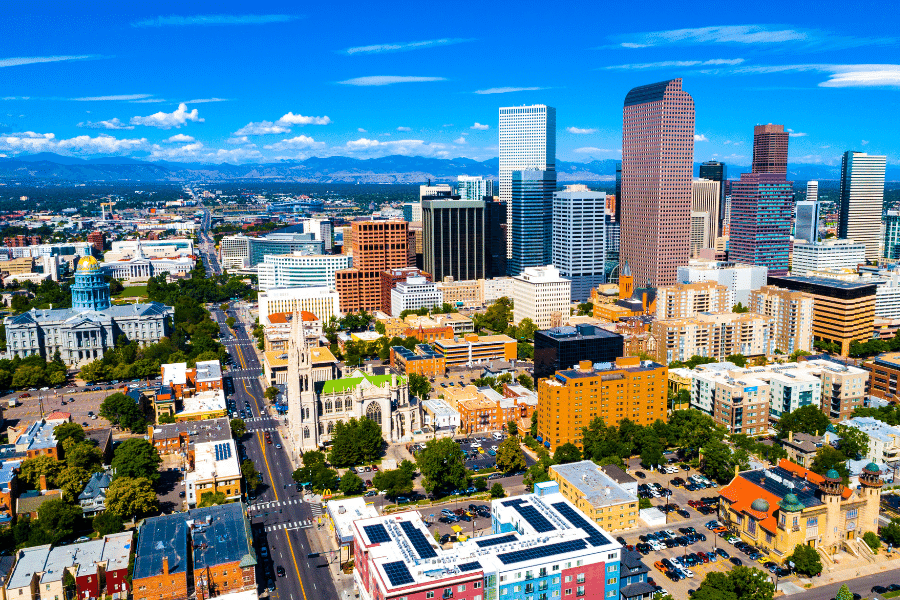 Denver
Known as the "mile high" city, Denver is one of the most popular places to live in the United States. The capital's nickname comes from its location, sitting 5,280 feet above sea level.
The city has 300+ sunny days a year, more than San Diego and Miami!
It's known as a top spot for beer drinkers with dozens of breweries and bars per capita. Make sure to check out Prost Brewing Co. & Biergarten, Banded Oak Brewing Company, and 10 Barrel Brewing Company.
If you're a sports fan, you'll love the sports scene in Denver. The city has professional representation from the four major sports: The Rockies (MLB), Avalanche (NHL), Broncos (NFL), and the Nuggets (NBA).
Getting around Denver is easy with its new expansive public transit system. It also has convenient access to some of the best locations for skiing and hiking. Denver International Airport is also located within the city.
Denver is growing at an extremely fast pace. By 2030, the area is estimated to have a population of more than 3.6 million. This makes affordable housing much harder to find.
The city has a growing economy and is known for its successful job opportunities in science, technology, engineering, and math.
Be sure to check out the Denver Botanic Gardens, the Denver Art Museum, and the Denver Museum of Nature and Science.
Fort Collins
Located along the Front Range Mountains, Fort Collins is the northernmost city along with the mountain range. It is 60 miles north of Denver situated alongside the beautiful Cache La Poudre River
It's a scenic college town, home to Colorado State University. It's a popular place for college, students, young professionals, as well as families.
The city is full of history. Old Town is a state and national historic district that has more than 25 historical buildings. You'll also love downtown Fort Collins because Disneyland's Main Street USA was modeled after it!
Fort Collins is another hot spot in Colorado for beer. You'll have 20+ craft breweries to explore including Snowbank, Odell, and New Belgium. Fun fact – Fort Collins accounts for 70% of the state's craft beer production.
It is also an outdoor-lovers paradise with more than 200 miles of bike lanes and 960 acres of public parks. Residents love to hike, bike, camp, kayak, fish, white water raft, and much more on the Cache La Poudre River.
The most popular water destination during the summer is the Horsetooth Reservoir – a great place to cool off!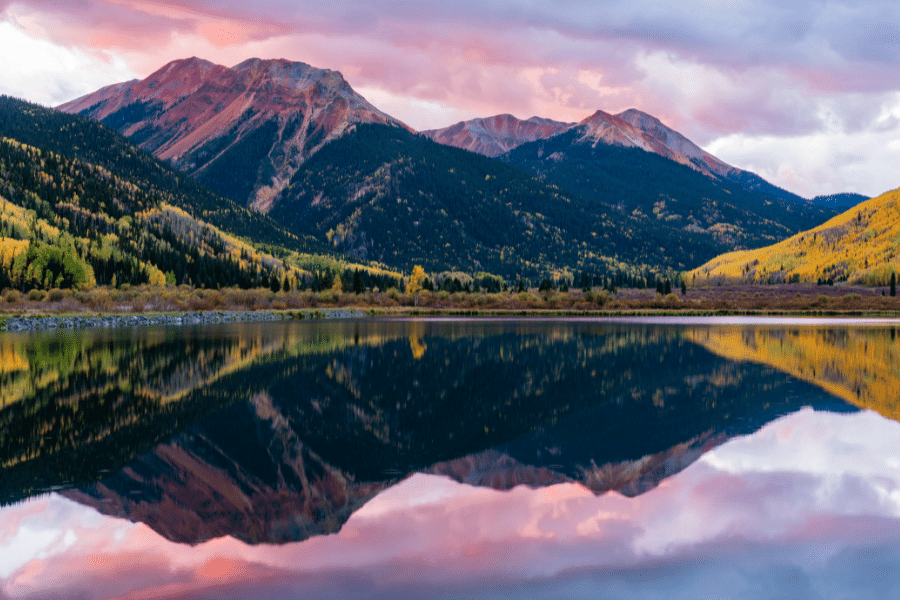 Aurora
Living in Aurora means you won't stop getting outside to see the beautiful views of the Rockies. Residents there enjoy biking, hiking, and playing golf.
The city has more than 100 parks to choose from. You also have to check out the Morrison Nature Center which is full of wildlife habitats.
Make sure to check out one of the state's largest indoor marketplaces. Stanley Marketplace offers more than 50 independently-owned Colorado businesses including boutiques, fitness facilities, restaurants for food and drink, and health practices.
Aurora is a fast-growing city full of families and professionals that work in and around Denver.
The median home price in Aurora is around $485,000 and the average price of a one-bedroom apartment is about $1,575 a month.
The city has dozens of neighborhoods to choose from in an area with current and former military installations, like Buckley Air Force.
Residents who live there have excellent access to health care with the University of Colorado Hospital and Anschutz Medical Campus.
Lakewood
Situated just a short drive away from Denver and the Rocky Mountains, Lakewood is a beautiful outdoor escape for the people who live there.
You have to explore Bear Creek Lake Park which provides 2,600 acres of open space with a lake for swimming, hiking, and equestrian trails and campgrounds.
The city has top-notch schools, restaurants, and job opportunities that attract its residents to the area.
Big shoppers can check out the Belmar Downtown Shopping District where you can find shopping, dining, and entertainment options. The area offers 80 shops, 20 restaurants, and bars, and is the venue for various festivals.
Lakewood has a strong economy led by the Denver Federal Center which employs 8,000 people. Other companies headquartered in the city include FirstBank Holding Co, Einstein Bros. Bagels, and The Integer Group.
Lakewood is an active community for people who want easy access to Denver without the hustle and bustle of living in the mile-high city.
The real estate market in Lakewood is a little cheaper than in Denver but the prices have been going up immensely recently due to the popular real estate market.
Pueblo
Pueblo is best known for its affordable housing and amazing deals that you can find.
Residents who live here enjoy the low cost of living while also reaping the benefits of beautiful weather, recreational opportunities, and convenient amenities.
Livability ranks Pueblo as one of the Top 10 Cities for Historic Preservation. Make sure to check out the El Pueblo History Museum.
Pueblo is a community rich with culture and celebrations. One of the most famous festivals is the Loaf 'N' Jug Chile & Frijoles Festival which celebrates Pueblo's famous green chiles.
Pueblo offers a much different feel than the cities that are located along the Front Range. It is located in the "High Desert" part of Colorado.
The landscape is desert-like with wide-open views, plains, and nice views of the mountains to the west.
A popular attraction during the summer is The Pueblo Reservoir which is a fun place to go for boating, swimming, fishing, and kayaking.
The city is also known for a 32-acre downtown entertainment plaza called the Historic Arkansas Riverwalk of Pueblo. It is an urban development with art displays, boat rides, and public events all year round.
The city boasts a hot and spicy food scene. You can find some of the best Mexican food in Pueblo and there are tons of restaurants to choose from!
Some of the best neighborhoods in Pueblo include University Park, Beulah Valley, The Landings at Eagleridge, Pueblo West, St. Charles Mesa, and Belmont.
Grand Junction
Grand Junction lies along the Colorado River and is the largest city in Western Colorado.
It's known as a major mountain biking destination if you're looking for biking adventures in Colorado.
Buying a home there is more affordable than in some of the other cities in the Front Range. The median home price is around $400,000 which is a great deal for Colorado.
Grand Junction provides residents with convenient access to the outdoors without a lot of the traffic that heads west from Denver.
A unique feature of Grand Junction is that it is known as the center of Colorado's Wine Country because it has more than 25 wineries and vineyards nearby.
The city is a rapidly growing city with all of the amenities of a mid-sized city with amazing views.
The cost of living is about 1% higher than the national average. Groceries, utilities, and transportation costs are all about equal to the national average.
You can get a great education and excellent health care with providers such as VA Medical Center, St. Mary's Medical Center, and Community Hospital.
One disadvantage to living in Grand Junction is more limited options for professional opportunities compared to some of the larger cities in Colorado.
Littleton
Littleton is a suburb of Denver, located in a family-friendly area 10 miles south of the big city.
The city is home to some of the best public schools and convenient transportation. The RTD light rail with stops in Littleton makes it easy to commute to Denver and other cities.
Several well-known schools in Littleton includes Arapahoe Community College and Collegiate Academy of Colorado.
Check out the South Suburban Complex and Family Sports Center for sports. You can also explore Splash Park at Robert F. Clement Park during the summer.
The median home price for a house in Littleton stands around $600,000. You can find a one-bedroom apartment for about $1,814 and a two-bedroom for $2,452 a month.
Downtown Littleton is a charming and unique area with a historic atmosphere. You can find shops, restaurants, boutique stores, antique stores, and other unique shops along the streets.
For outdoor activities, Roxborough State Park is the best place for a run or hike. There are 4,000 acres of trails surrounded by gorgeous red rock formations.
Residents who live in Lakewood enjoy its many amenities and low unemployment rate.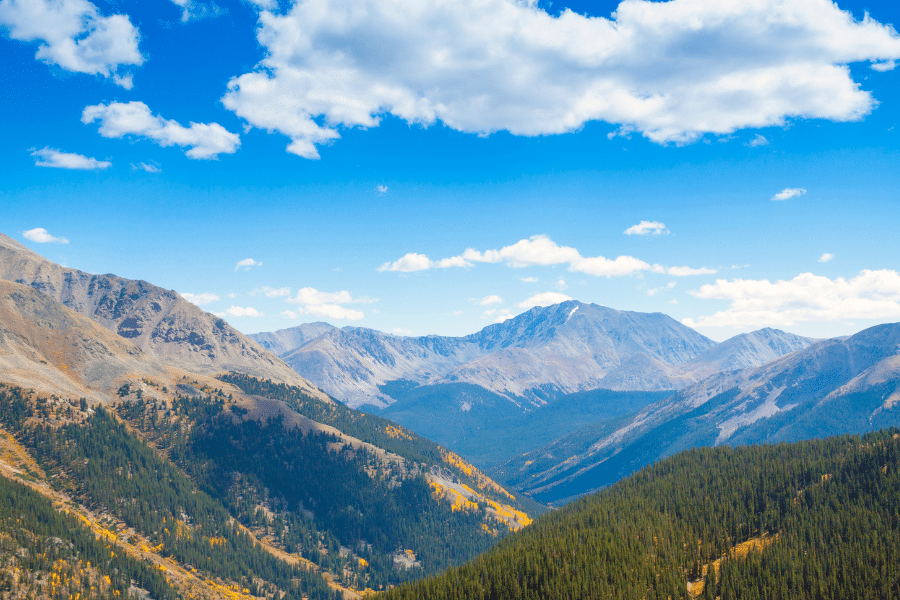 Longmont
Longmont is a city near Boulder known for its incredible mountain views, exciting restaurant and bar scene, and active residents.
Named after Longs Peak, a famous mountain, it is the perfect place for anyone who wants to live close to the city of Boulder.
The St. Vrain Creek flows through Longmont and provides trails that follow the river. You can also camp, fish, and tube along the river.
The city is a short drive away from the Rocky Mountains National Park and the Roosevelt National Forest which offer a plethora of opportunities for adventure.
Horseback riding and golfing are also popular activities among some residents in Longmont.
The city is known for agritourism, a type of celebration around agriculture. Longmont has many farm-to-table restaurants, local farmer's markets, and farms that offer tours, tastings, and other experiences.
Like many other cities in Colorado, Longmont also has a booming craft brewery scene. Two of the largest craft brewers in the state are located in Longmont: Oskar Blues Brewery and Left Hand Brewing Company.
If you're on the lookout for a tech career, Longmont has plenty of opportunities. Many startups have moved to the area in recent years. STEM majors, especially, will find tons of opportunities there.
The cost of living in Longmont has been on the rise but it is cheaper than living in Boulder. The average home value in Longmont is about $400,000 on average. Renting prices for a one-bedroom average $1,300 per month.
Louisville
Located in the center of the Denver-Boulder corridor, Louisville is a great place to live.
The convenient access to both Denver and Boulder is just one reason why residents love it. There are plenty of recreational facilities and outdoor activities located just a short drive away.
The city has a low unemployment rate because of jobs in healthcare, tech, aerospace, and clean energy.
There are plenty of parks to choose from and entertainment to keep you busy.
The historic downtown area of Louisville hosts concerts, farmer's markets, and other community events throughout the year. Check out the Labor Day parade or the Taste of Louisville in June.
It is one of the more secluded cities surrounding Denver and just over 20,000 people live there.
Louisville is also one of the safest communities in the Denver area!
Larkspur
Larkspur is a bit of a hidden gem in Colorado and is known as the perfect commuter town. Living in this city is like camping out in the Rocky Mountains with all the amenities of home.
The cost of housing starts at about $400,000 but for that price, you can get a huge home around 4,000 square feet and at least an acre of land.
All of the subdivisions have amazing views of mountains, buttes, rock formations, trees, and other parts of nature.
You can live in a quiet and peaceful place while working in the more bustling cities of Denver or Colorado Springs.
Castle Rock is the closest large town with all the amenities you could need and major chain grocery stores. A 40-minute drive will get you to either Denver or Colorado Springs so it's situated in an awesome location.
The community is also located in Douglas County which is one of the finest school districts in the area.
Larkspur offers one million acres of Pike National Forest and the addition of Mueller State Park. It's a great place for biking, fishing, skiing, mountain biking, horseback riding, and much more.
Larkspur has something for everyone!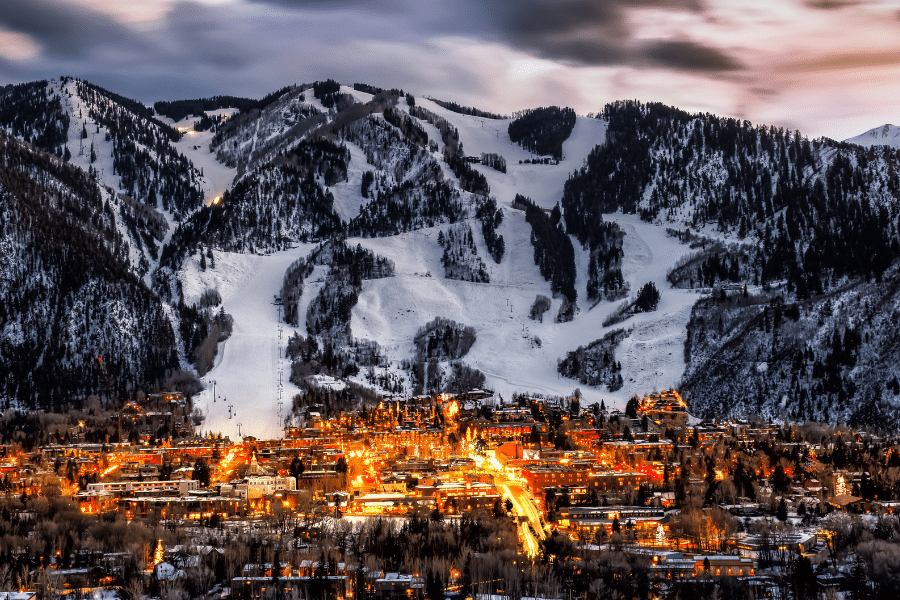 The Bottom Line on Best Places in Colorado
If you're moving to Colorado, these cities are some of the best ones to consider. From the exciting, bustling city of Denver to the beautiful, thriving Colorado Springs, choosing to live in one of these locations could be one of the best decisions you could make.
Reach out to one of our Realty Specialists today here at Uphomes.com so we can help answer more specific questions on each area in Colorado!
Fun Facts About Colorado
Colorado is home to the world's largest natural hot springs swimming pool and the deepest hot springs.
The capital city of Denver sits exactly one mile high.
Colorado is the only state in history to turn down the Olympics.
You can hike the tallest sand dune in America. The Great Sand Dunes National Park is located in the San Luis Valley.
The name Colorado means "colored red" which is derived from the Spanish language.
"America the Beautiful" was written about Pike's Peak.
Colorado is home to 58 peaks at least 14,000 feet tall or higher. Locals try to hike all of the peaks, calling them "14ers."
The cheeseburger was trademarked in Denver.
The highest suspension bridge in the world is over the top of the Royal Gorge near Canon City, Colorado.
Every year the largest rodeo in the world is held in Denver called the Western Stock Show.

Find your new home
Search real estate and homes for sale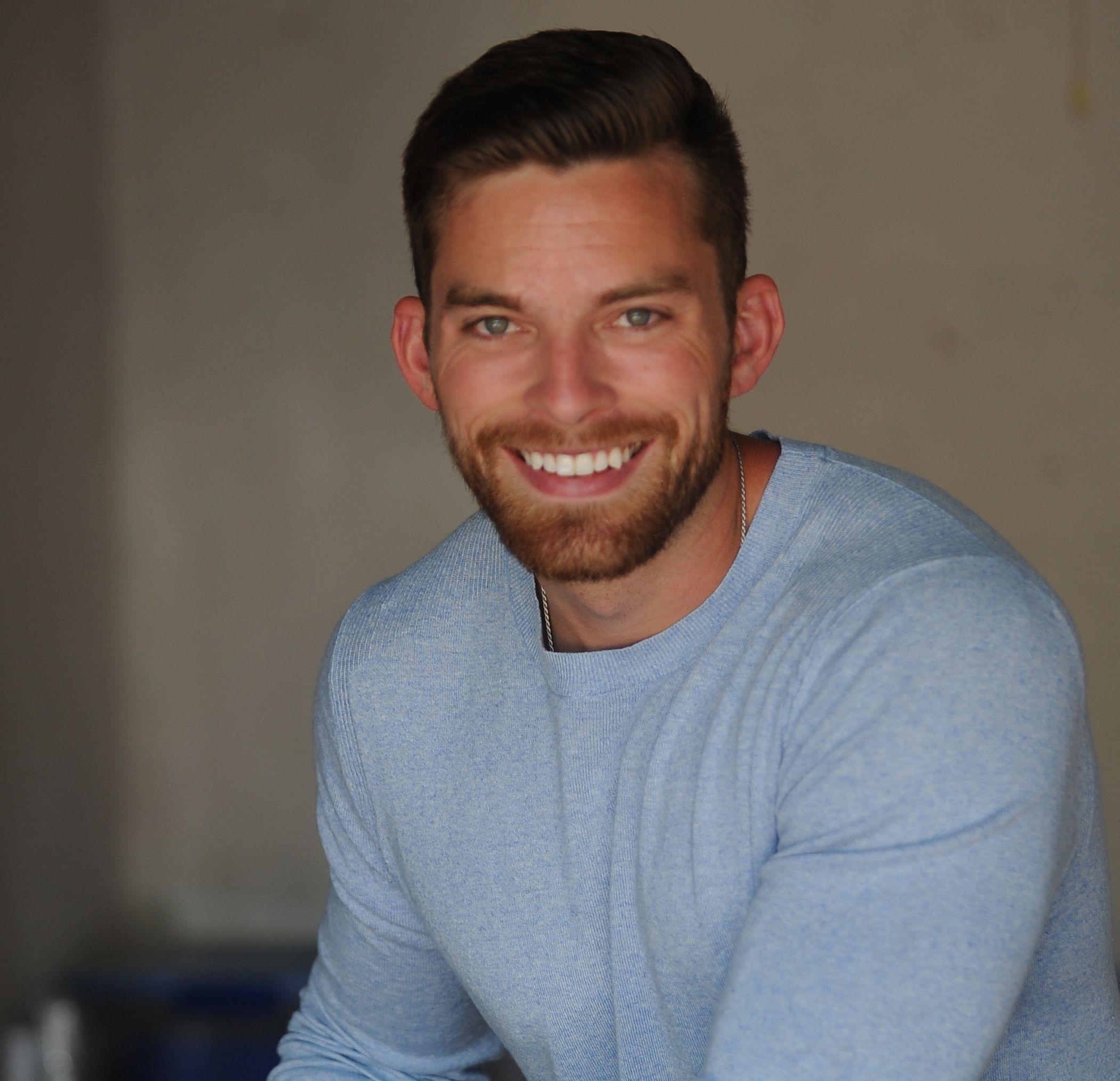 Ryan Fitzgerald
Hi there! My name is Ryan Fitzgerald, and I am a REALTOR®. My goal is to help you learn more about real estate through our Real Estate Blog! Hopefully, you enjoyed the above blog post and it found a way to provide help or value to you. When you're ready to buy or sell a home of your own let us know here. Please feel free to join the conversation by dropping us a comment below.