7 Best Neighborhoods in Phoenix, AZ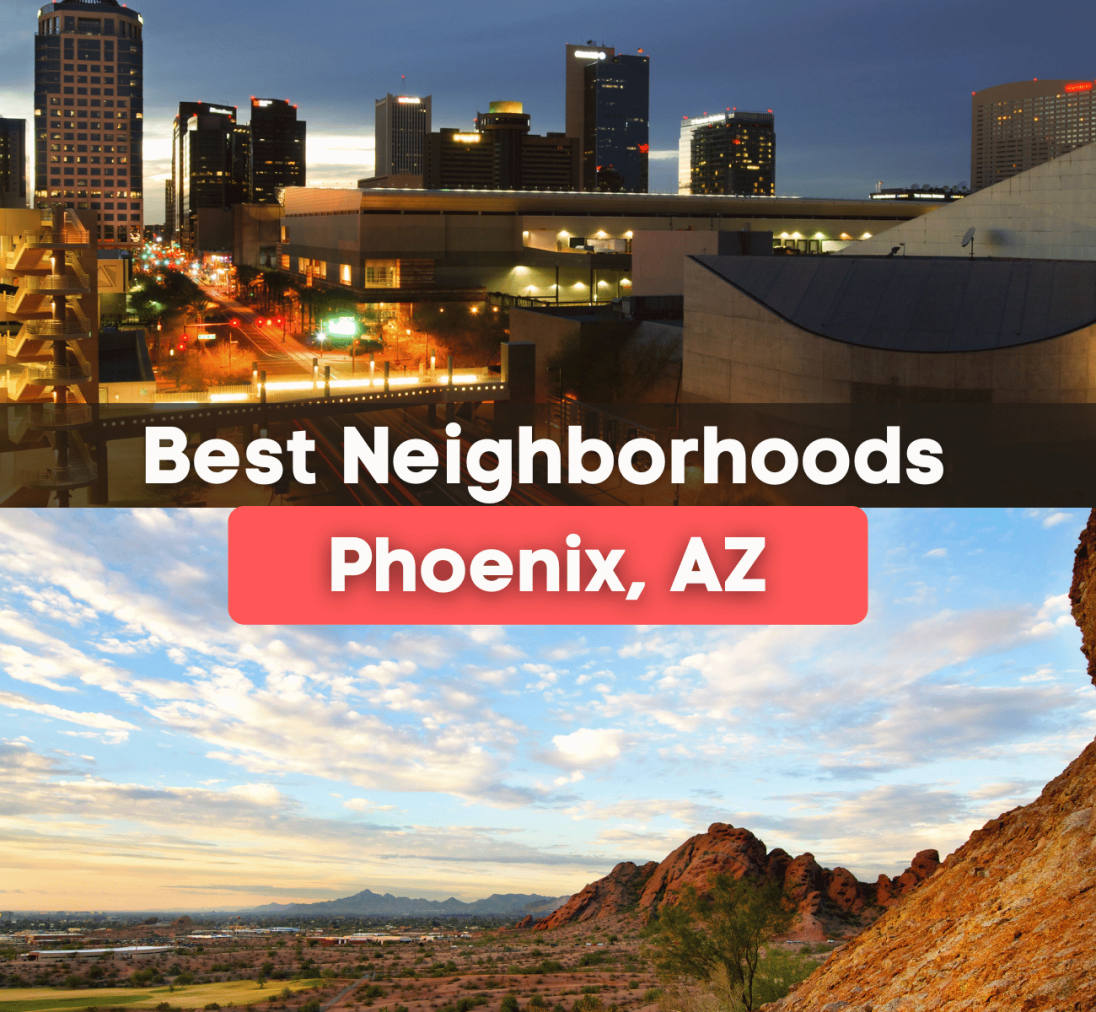 Best Place to Live in Phoenix
If you are considering moving to Phoenix, AZ, this is where you should live! Check out these top seven Phoenix neighborhoods while learning about local favorites!
Phoenix is one of the most exciting cities to live in the country due to its upscale business district and diverse nightlife. Considered a great place to live for young professionals, families, and retirees, many people are flocking to Phoenix for its affordable cost of living and low taxes.
If you are considering making the big move to Phoenix, then you should know what the best area to live in Phoenix is. Though the city may be notorious for its high crime rate, there are still plenty of friendly and safe neighborhoods to call home.
Whether you are looking for a single-family home in a quiet suburban neighborhood or are on the hunt for a townhome close to downtown, there are plenty of property types to choose from that are located just minutes away from some of the top amenities in Phoenix.
Since Phoenix is considered one of the best places to live in Arizona, it is no surprise that so many people want to live here. While moving, in general, can be overwhelming, sometimes the most stressful part of the moving process is finding a neighborhood that matches your lifestyle.
Fortunately, with the help of this neighborhood guide, our team has put together a list of the top neighborhoods in Phoenix to narrow your neighborhood search.
So without further ado, read on to learn more about the seven Best Neighborhoods in Phoenix, AZ, while also discovering local favorites in each neighborhood!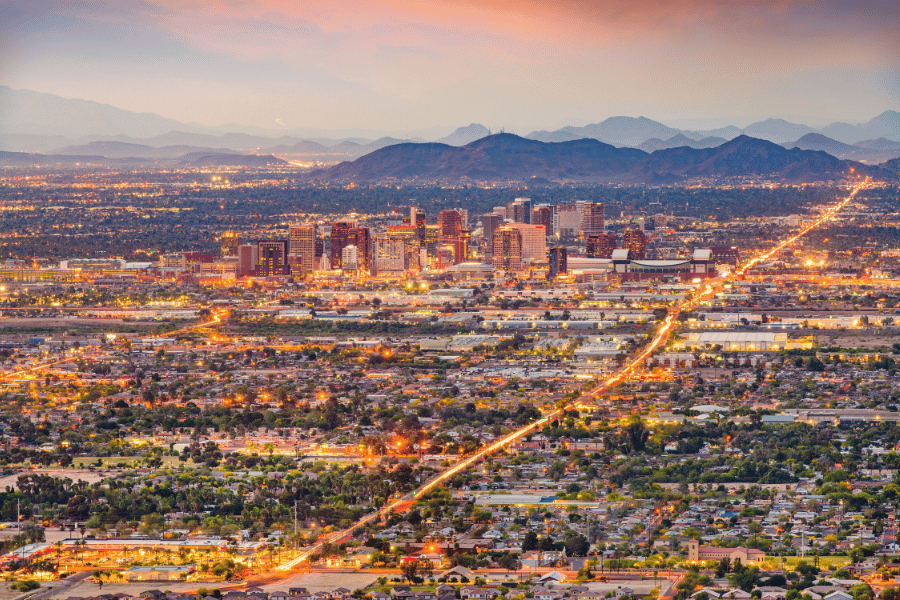 Here are the best neighborhoods in Phoenix! 
Downtown Phoenix
If you are moving to Phoenix, you must consider making Downtown Phoenix your new home. As the center of culture, business, art, and innovation, Downtown Phoenix has made a name for itself as one of the best places to live in Phoenix.
A top destination for young professionals and singles, Downtown Phoenix is an evolving neighborhood home to some of the city's trendiest bars, world-class restaurants, luxurious shopping, and entertainment options.
Full of live music venues, sports arenas, museums, galleries, and busy hangouts, Downtown Phoenix is one of the most walkable neighborhoods in the city due to its well-lit streets and the short distance between businesses.
Known to have one of Arizona's densest populations of employees, more than 65,000 residents of Phoenix's working-class travel to and from Downtown Phoenix every day to work within a one-mile radius.
With a population of over 6,500 and a median age of 34, most residential homes in the area include high-rise apartment buildings and historic single-family homes.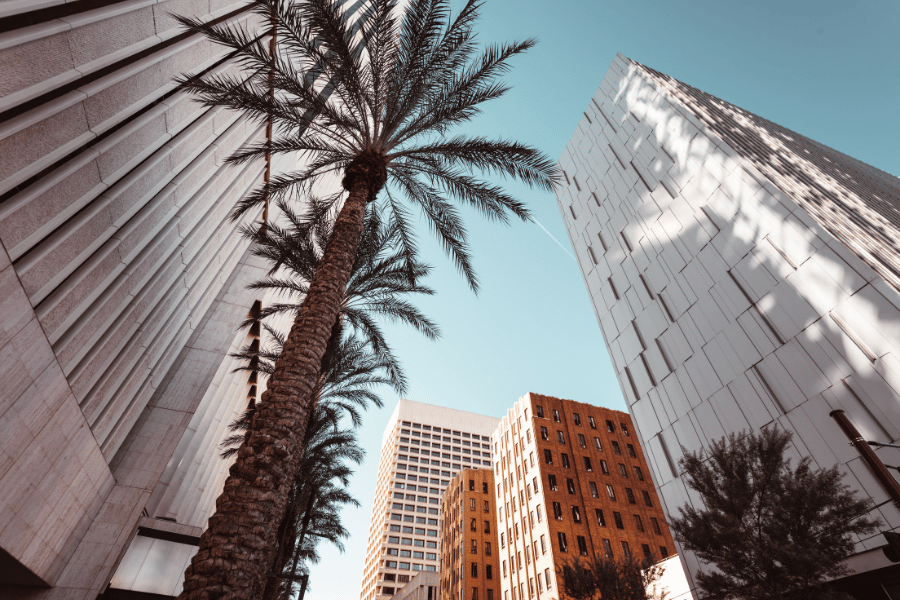 Local Favorites:
Arizona Science Center: An excellent place to bring the whole family together, this science center features an IMAX theatre, interactive exhibits, and a planetarium.
The Japanese Friendship Garden of Phoenix: This beautiful Japanese garden features a koi pond, tea garden, and tea house.
Chase Field: This famous ballpark is the home of the MLB's Arizona Diamondbacks. Come on out and see a game!
Rosson House Museum at Heritage Square: Built between 1894 and 1895, this historic home features tours of the grounds daily.
Civic Space Park: Since 2009, this park has featured beautiful sculptures and open green spaces.
Ahwatukee Foothills Village
Recognized as one of the safest places to live in Phoenix, the neighborhood of Ahwatukee Foothills Village constantly receives high ratings.
Located in the southernmost part of Phoenix near the East Valley region, this urban village is not only a nice place to live in Phoenix. Still, it is also one of the most sought-after neighborhoods for its family-friendly environment and many local events.
Found just 20 minutes from Downtown Phoenix, Ahwatukee Foothills Village is a top spot to raise a family just outside the city center. Plus, with its fantastic mountain views and suburban lifestyle, it is no wonder this neighborhood has a growing population of over 88,500 people.
Also ranked as the number two best neighborhood to buy a house in Phoenix, living in Ahwatukee Foothills Village is more than just a welcoming community with affordable prices.
For those moving with school-aged children, there are plenty of highly-rated schools in the area to take advantage of, including Ward Traditional Academy and Xavier College Preparatory Roman Catholic High School.
Local Favorites:
Phoenix Art Museum: Featuring amazing collections of art from the Renaissance to the present day.
Brunch Snob: One of the best places in town to grab brunch; all the food is tasty and decently priced.
Nello's Ahwatukee: Enjoy wood-fired pizza, pasta, and sandwiches.
El Fogón Taqueria: Dine on traditional Mexican dishes in a clean atmosphere. All tacos are nicely portioned.
RA Sushi Bar Restaurant: Best known for its delicious sushi rolls and happy hour deals. The shrimp dumplings are always fantastic.
Central City
Located two square miles southwest of Downtown Phoenix lies the neighborhood of Central City. Filled with both business and residential areas, Central City is the place to be for premier dining, shopping, and entertainment.
Described as an urban center and the core of Phoenix, Central City is a unique place to live that attracts many young professionals to the area. Central City, home to over 58,161 residents, is the go-to place for new employment opportunities and growing infrastructure.
Though Central City used to be an avoided area due to its high crime rate, the neighborhood has since cleaned up its act and now only experiences frequent crimes in other large urban communities, such as robberies and car break-ins.
Full of many great amenities, Central City is the location of Sky Harbour International Airport, which is the most popular and busiest airport in Arizona. Thanks to this airport, residents have easy access to both domestic and international travel.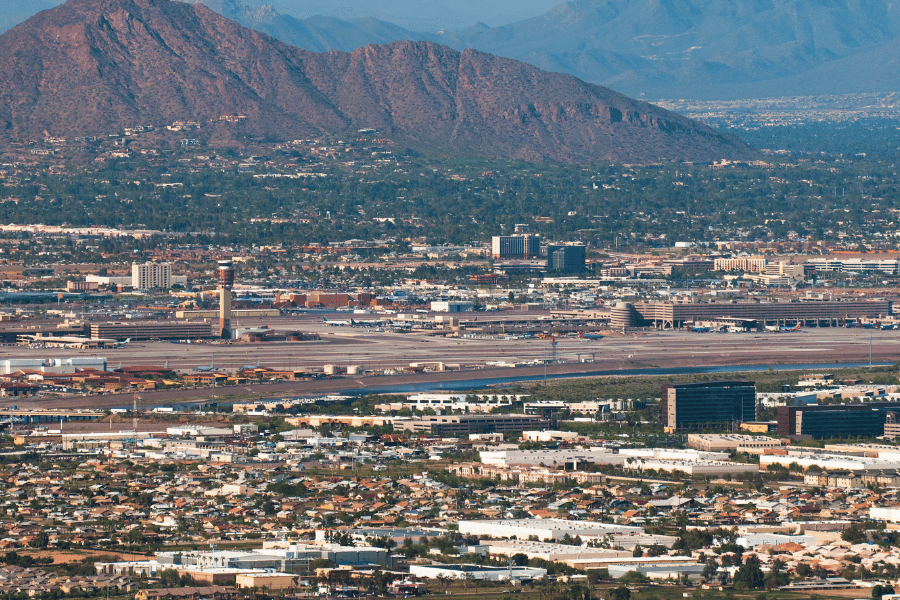 Local Favorites:
Blue Hound Kitchen and Cocktails: Serving sharable plates and delicious drinks.
Hanny's: Located in a former department store, this neighborhood restaurant and bar is a popular spot for late-night drinks and great food.
The Arrogant Butcher: Dine on steak and comfort food in an upscale setting. Make sure to order one of the many tasty appetizers with your meal.
Compass Arizona Grill: Found on the rooftop of the Hyatt Regency Phoenix, this New American restaurant serves seasonal meals alongside beautiful city views. 
Harumi Sushi and Sake: Offering both dine-in and take-out meals, this sushi restaurant only serves excellent food with quality ingredients.
Deer Valley
As one of the 15 urban villages in Phoenix, the neighborhood of Deer Valley has made our list as one of the best places to live in Phoenix for its family-friendly atmosphere and high safety rating.
Located in North Phoenix, Deer Valley has a population of 193,204 people and offers its residents a dense suburban feel. A top place to live for families and retirees, most single-family homes, apartments, condos, and townhomes in the area feature a variety of property types, including Ranch, Pueblo Revival, and Contemporary.
Plus, home to multiple master-planned communities and retirement homes, Deer Valley is a quiet and peaceful community to spend life after years of hard work.
Not only are yards well-maintained, but Deer Valley is also very dog-friendly and is home to multiple public parks and green spaces where residents love to hang out and spend time outdoors.
Local Favorites:
Hurricane Harbor Phoenix: This Six Flags water park is the largest theme park in the state. This water park is worth the money, featuring a lazy river and multiple raft rides, especially during the hot summer months.
Deer Valley Petroglyph Preserve: This 47-acre nature preserve features petroglyphs estimated to be between 500 and 5,000 years old. Listed on the National Register of Historic Places, this is an excellent place to hike.
Deem Hills Recreation Area: Featuring dog-friendly hiking trails, a playground, and soccer fields.
Cave Buttes Recreation Area: Located in the desert, this nature preserve is a go-to spot for hiking, biking, and climbing.
Deer Valley Park: A great place to bring your kids, this park has many things to do and features a dog park, playground, tennis courts, open green spaces, athletic fields, and a swimming pool.
Camelback East Village
Found between Camelback Mountain and Piestewa Peak, the neighborhood of Camelback East Village is a great place to live in East Phoenix. Home to a population of over 158,500 people, this neighborhood is centrally located in Downtown Phoenix and considered one of the city's most established neighborhoods.
Only a short commute from some of the best restaurants, bars, and boutiques in town, living in Camelback East Village is ideal for families and retirees. With homes dating back to the 1920s and 1930s, Camelback East Village has some of the most beautiful historic homes in all of Phoenix.
Often regarded as a welcoming community with friendly neighbors, this neighborhood is dog-friendly and hosts block parties and events throughout the year.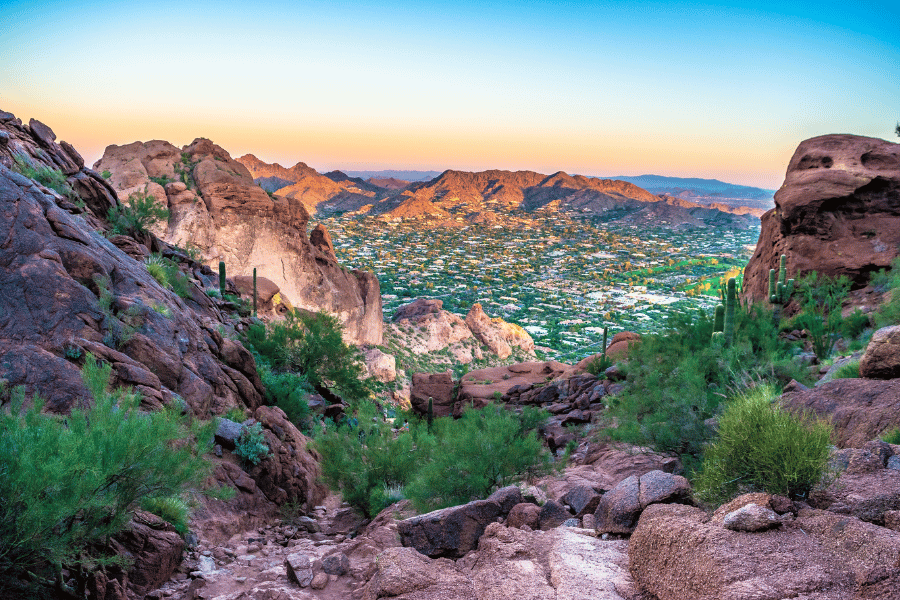 Local Favorites:
Camelback Mountain: This iconic mountain and landmark is a fantastic hiking spot.
Papago Park: Featuring incredible rock formations and hiking trails.
Phoenix Zoo: Home to 1,400 animals, this zoo is a must-visit for families to learn about animal conservation.
Echo Canyon Trailhead: A must-visit for sunrise and sunset, this trailhead features steep slopes that will surely give you a great workout.
Tovrea Castle at Carraro Heights: This historic castle which is now part of the Phoenix parks system, provides guided tours.
Encanto Village
Encanto Village comprises several districts, including the midtown and uptown districts of Phoenix. Found just North of Downtown Phoenix, this neighborhood is one of the oldest villages in the city and is the center of entertainment and neighborhood events.
Considered a good neighborhood in Phoenix, Encanto Village is a well-known commercial district with high-rise office buildings and high-rise apartment buildings. Since Encanto Village has a rich history, many single-family homes were built in the late 1930s and early 1960s and feature ranch-style architecture.
A perfect place to live for young professionals who work in Downtown Phoenix, living in Encanto Village offers its residents the perfect blend of urban and suburban living.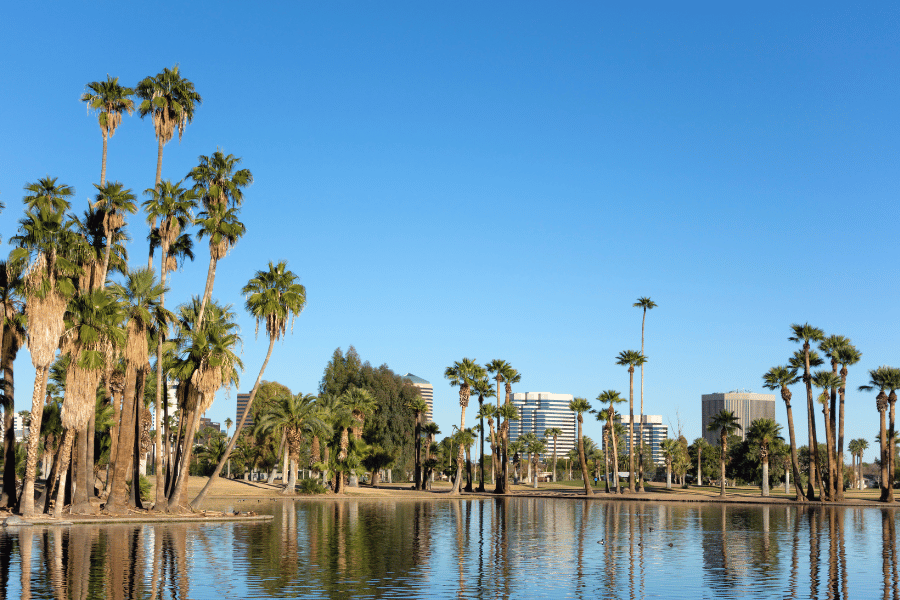 Local Favorites:
Encanto Golf Course: This 18-hole golf course is the third oldest golf course in the state of Arizona.
Encanto Park: Home to walking trails, picnic areas, a swimming pool, and the Enchanted Island Amusement Park.
Phoenix Theatre Company: Open for over 100 years, this is the oldest operating theater located west of the Mississippi.
Encanto Tavern: Located in the Encanto Golf Course, this restaurant is the go-to spot for a good meal after playing golf.
Restaurant Progress: Serving late-night cocktails and small plates in an intimate setting.
Paradise Valley
Known as the most expensive place to live in Phoenix, the neighborhood of Paradise Valley has a cost of living that is 114% higher than the national average.
Surrounded by Camelback Mountain and the Phoenix Mountain Preserve, this quiet community is the perfect desert oasis for wealthy homeowners in the Phoenix area.
A great place to live for retirees and well-to-do business moguls, Paradise Valley is a lively residential suburb with a meager crime rate.
Local Favorites:
Elements: An excellent place for a date night, the food here is delicious but pricey.
El Chorro: This upscale American restaurant is also an event space that can be rented out for weddings and gatherings.
O.H.S.O. Brewery - Paradise Valley: Enjoy craft beer and American food on a dog-friendly outdoor patio.
Cosanti Originals: This gallery innovatively blends art and architecture.
McCormick-Stillman Railroad Park: Featuring a playground and train rides.
Best Neighborhoods in Phoenix, AZ - The Bottom Line
If you are moving to Arizona and want to buy a home in Phoenix, this neighborhood guide has given you a glimpse into what life is like in the best neighborhoods of Phoenix.
With the assistance of our team of friendly and experienced Realty Specialists, finding a neighborhood in Phoenix that best fits your needs while staying away from any bad areas of Pheonix is possible.
Contact us today to help you with your home search in Phoenix, AZ!
Check out our other local area guides: 
Best Neighborhoods in Scottsdale 

Find your new home
Search real estate and homes for sale