10 Things to Know BEFORE Moving to Sedona, AZ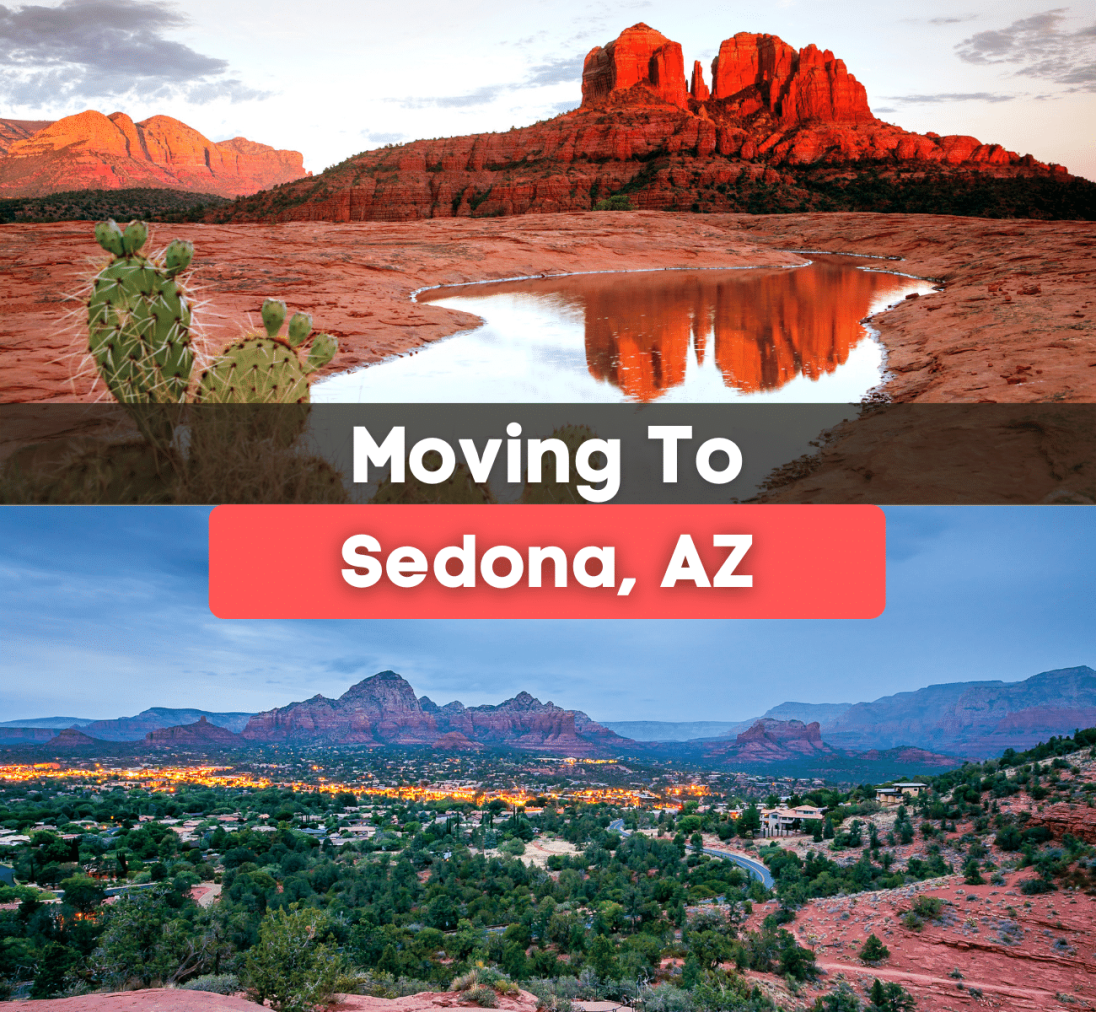 Living in Sedona
If you are moving to Sedona, AZ, you need to know these ten things before living in Sedona!
Most noticeable for its majestic red rock scenery, steep canyon walls, and evergreen vegetation, the beautiful Arizona desert town of Sedona is unmistakable. Worth visiting, Sedona is a true oasis found in the desert within an hour's drive south of Flagstaff and two hours North of Pheonix.
A great place to live for outdoor enthusiasts, Sedona is surrounded by picturesque nature trails and hiking spots which makes Sedona a vacationer's paradise and a fantastic home base in northern Arizona. With a thriving arts and crafts culture, a lively dining scene, and an emphasis on spirituality and wellness, Sedona is a great place to live in the southwest that has made a name for itself as a resort town.
Recognized as one of the world's most significant hotspots for psychic energy, Sedona is believed to be home to multiple spiritually rejuvenating vortexes used by visitors and residents alike for healing, meditation, and self-exploration. Attracting many experienced professionals and retirees to the area, there is always something exciting to do in Sedona, whether it be checking out one of its New Age shops, attending a relaxing spa, or going on one of its famous Sedona Jeep Tours through the red rocks.
Home to just over 10,000 people, if you are considering moving to Sedona, you have come to the right place since we have put together this ultimate moving guide about the city which will tell you all you need to know before you start packing. That said, you can just read on to learn more about the top ten Things to Know BEFORE Moving to Sedona, Arizona!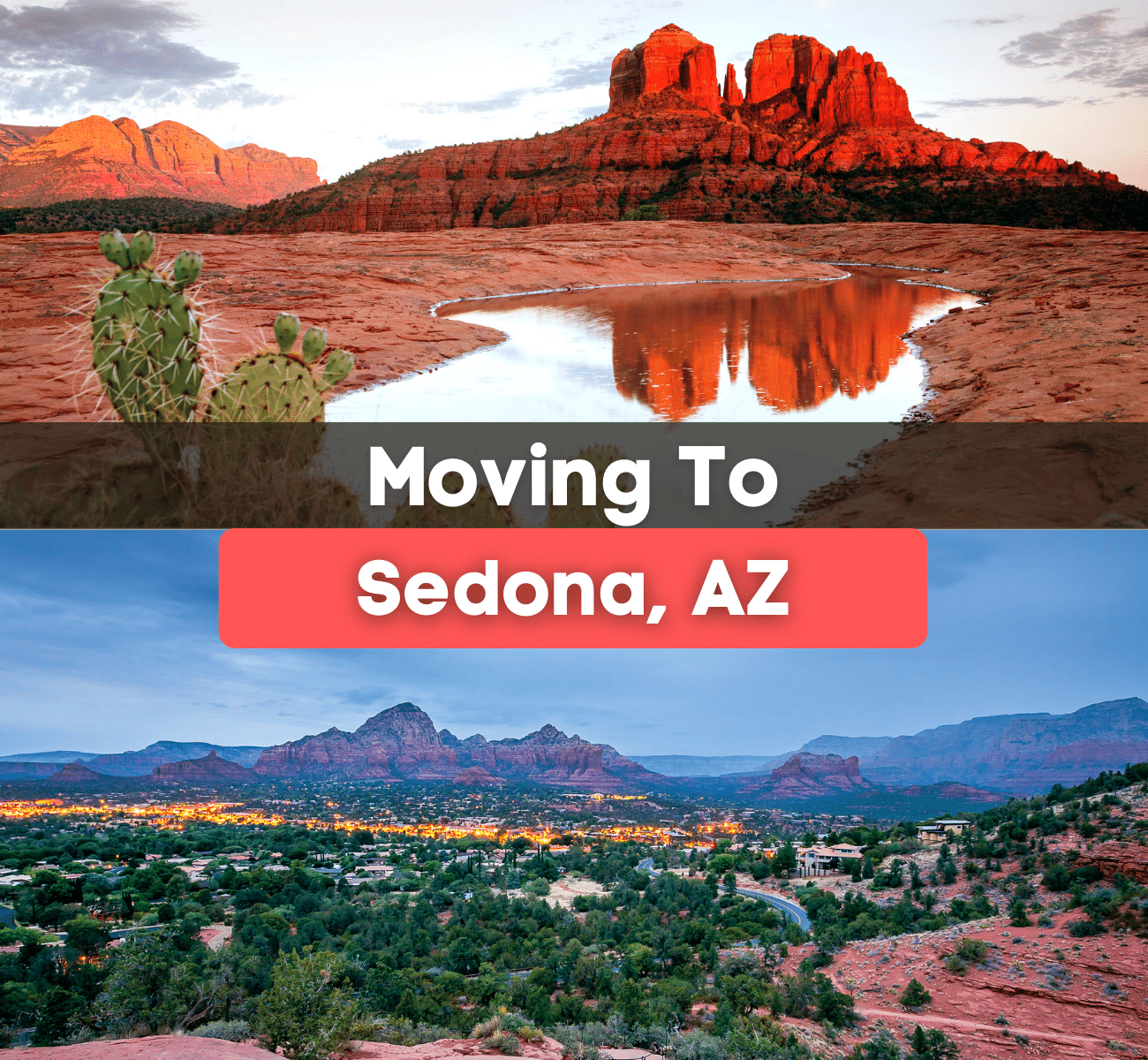 Make sure you know these top ten things about living in Sedona!
Location
Straddling the county line between Coconino and Yavapai counties in the northern Verde Valley region of the United States, Sedona is found in an ideal location in northern Arizona. About 119 miles North of Phoenix Sky Harbor International Airport, 122 miles North of Scottsdale, and 29 miles south of Flagstaff, Sedona is considered a prime location since it is close to other popular nearby Arizona cities.
While several small towns are found near Sedona and directly connect to the city, most tourists travel through Flagstaff or the greater Phoenix area when traveling to Red Rock Country. Situated near an abundance of hiking, biking, and climbing trails, as well as several wineries, luxury resorts, and family-friendly attractions, residents do not have to travel far when living in Sedona.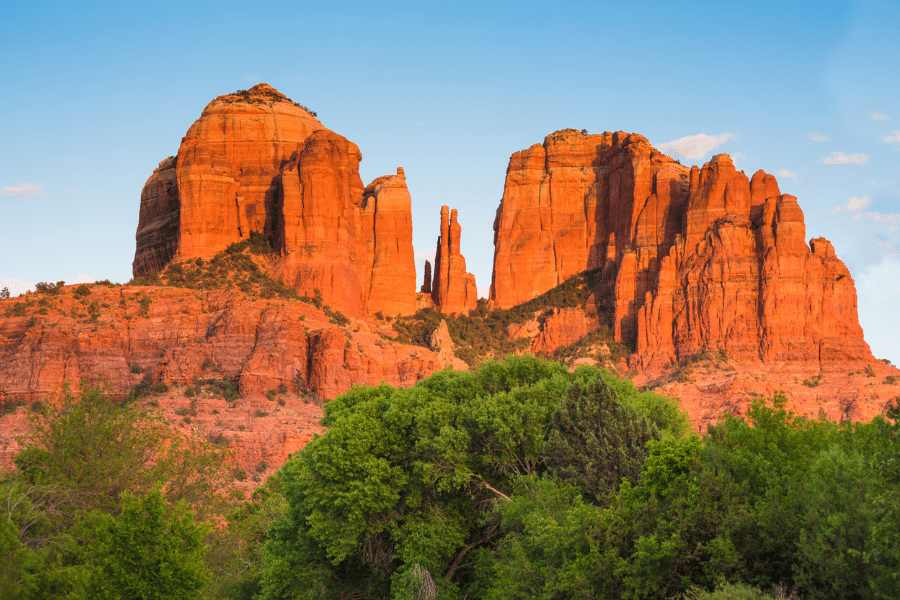 History
Three million years ago, the Colorado Plateau was uplifted and eroded by wind, rain, and snowmelt to create Oak Creek Canyon and exposed layers of sediment to create the fantastic red rock formations that we now know today as a prominent Sedona feature. While numerous Native American tribes inhabited the land and the surrounding region more than 1,000 years ago, it was not until the year 1902 that Sedona was officially established as an Arizona city.
Named after Sedona Arabella Miller Schnebly, Theodore Carlton Schnebly's wife, the first postmaster in the city, Sedona soon evolved into a thriving southwestern place to live for early settlers. A sought-after place to live, Sedona has grown much throughout the years and has featured in over 100 feature films, video productions, commercials, and western movies.
Creating an ideal setting for Hollywood's cowboys and real cowboys, the red rock city of Sedona has made a name for itself as a sought-after place to live in Arizona and a beloved canyon community.
Cost of Living
With a cost of living that is 27% higher than the national average, living in one of the most beautiful cities in the country is unfortunately not cheap. Since the cost of living in Sedona is also 34% higher than the Arizona state average, Sedona might not be an ideal place to live if you live on a budget.
Area prices in Sedona are currently up by 2.5% from a year ago, with the most significant increases found in transportation, food, and housing. Due to these higher prices, Sedona has become a top spot to call home for retirees and professionals high up in their careers.
Even though prices are higher in Sedona compared to other similar cities, the median annual income is only $61,470, which happens to be less than the national yearly income of $65,712 across the entire United States. The current minimum wage in Sedona is $12.15 per hour.
Jobs
Suppose you are moving to the area and actively searching for a job. In that case, you are in luck since Sedona has many employment opportunities available, whether you are looking for full-time or part-time work. Since the economy in Sedona depends mostly on visitors, more than 10,000 jobs and more than a billion dollars in annual economic impact link back to Sedona's tourism industry.
77% of Sedona's sales tax collections and 54% of the tax-funded portion of the Sedona Fire District budget have all been generated from visitor-related activities. Even though tourism is one of the city's most lucrative economic industries, some other popular economic sectors include health care and social assistance, accommodation, food services, administration and support, waste management, finance and insurance, and wholesale trade.
Some top companies to work for in Sedona are Boynton Canyon Management Company, L'Auberge de Sedona, Verde Valley School, Enchantment Resort, Sedona Rouge Hotel and Spa, and the City of Sedona.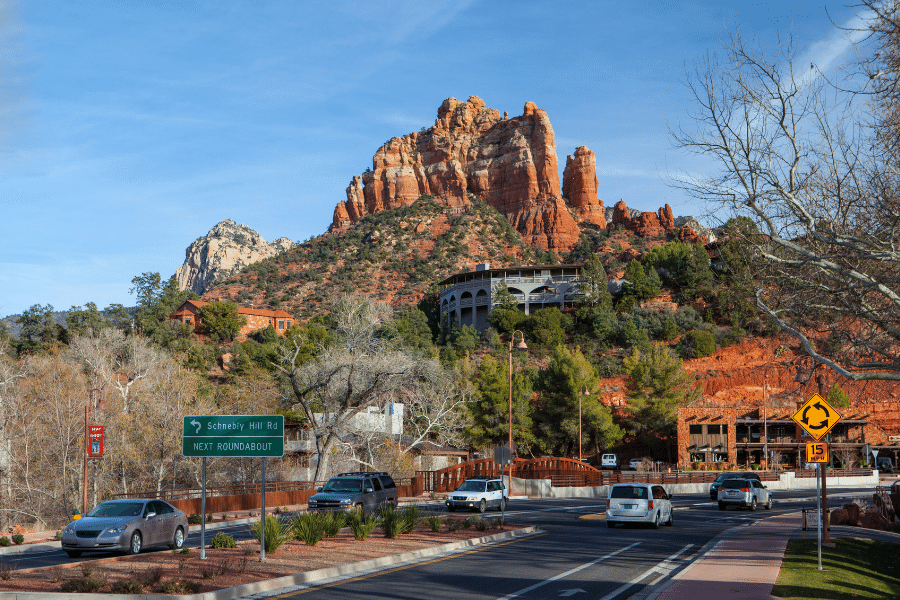 Education
As part of the Sedona-Oak Creek Unified School District 9, Sedona is home to several good public schools for students in grades PK and K through 12. Promoting relationships, rigor, and results, the schools in Sedona do an excellent job of providing students with a solid foundation in academic, social, and workplace skills to excel inside and outside the classroom.
For those moving with school-aged children, it might be a good idea to learn which neighborhoods feed into your chosen schools before officially buying a home in Sedona. Some of the top schools in the area include Verde Valley School, Sedona Charter School, and Sedona Red Rock High School.
If you are interested in higher educational opportunities, there is no shortage of highly-rated colleges and universities near Sedona. The Yavapai College Sedona Center is home to a fantastic Culinary Art program and is renowned as one of the top three gunsmithing schools in the United States.
As long as students do not mind the commute, Northern Arizona University and Coconino Community College are located in Flagstaff, not far away.
Arts and Culture
Sedona is a creative city that celebrates art and culture throughout daily life, home to hundreds of artists that use every medium and aesthetic possible.
Promoting individualistic expression through colorful art galleries, performance centers, and arts and crafts villages, Sedona's arts and culture scene are just as surreal as its red rock formations.
Check out these local favorite art centers in Sedona:
Outdoor Activities
One of the best ways to get to know the area is by simply exploring Sedona's red-rock buttes and pine forests.
Featuring numerous trailhead accesses that are great for hiking, birdwatching, or picnicking with the family, Sedona is the perfect place to live if you love to spend time in the great outdoors.
From biking, rock climbing, fishing, golfing, hiking, camping, horseback riding, and ATVing, there is always something cool to see in Sedona, no matter what time of the year.
Check out these local favorite outdoor activities in Sedona: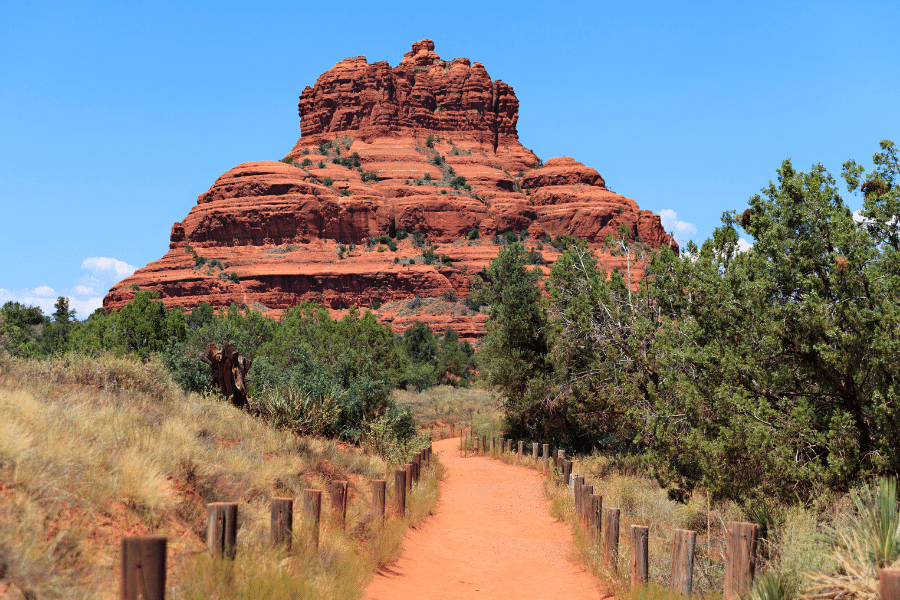 Annual Events
Do you love attending events and meeting new people? Then you are in luck since Sedona hosts several events and festivals throughout the year that unite the whole community.
Visit the Sedona Event Calendar so that you can plan!
Check out these local favorite annual events in Sedona:
Restaurants
Known for its diverse local food scene, Sedona is home to various top-rated restaurants, eateries, and local cafes that serve multiple dishes and cuisines.
From smoked brisket enchiladas and woodfire pizzas to homemade empanadas and rattlesnake sausage, you will never run out of new restaurants or fresh food to order when living in Sedona.
Check out these favorite local restaurants in Sedona:
Weather
With a warm and temperate climate in the heart of the Arizona desert, summers are mainly hot and clear, while the winters are cold and partly cloudy.
Receiving an average of 23 inches of rain per year and up to 11 inches of snow per year, Sedona is not your typical desert town due to its higher elevation.
While temperatures typically vary between 35 degrees Fahrenheit to 94 degrees throughout the year, the most comfortable months in terms of weather are May, September, and October due to milder temperatures and low humidity.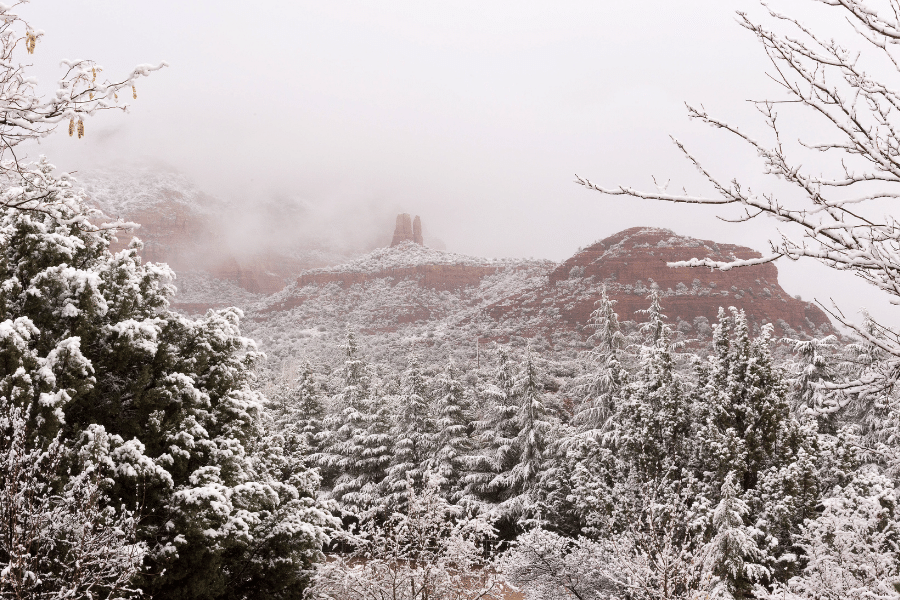 Moving to Sedona, AZ - Final Thoughts
Whether you decide to move to Sedona for a job opportunity or simply for the breathtaking scenery, living in Sedona is truly a one-of-a-kind experience. While living in Sedona might not be ideal for everyone, it is safe to say that this Arizona city is a must-visit at least once in your life for its many outdoor activities and exceptional housing options alone.
Even though our team here at Uphomes is dedicated to helping you with your move to Sedona, our website also features many other local guides and essential information about moving to Arizona, Phoenix, and Scottsdale. If you are looking for new construction single-family homes for sale in Sedona, townhomes for sale in Sedona, or luxury homes for sale in Sedona, remember to refer to our website for up-to-date listings.
For those interested in buying a home in Sedona, contact us today to connect with one of our Sedona Real Estate Specialists, who are ready to help kickstart your home search. We are always here to help and are prepared to answer any questions that you might have about the best neighborhoods in Sedona and the overall home-buying process.

Find your new home
Search real estate and homes for sale