7 Best Neighborhoods in Coral Gables, FL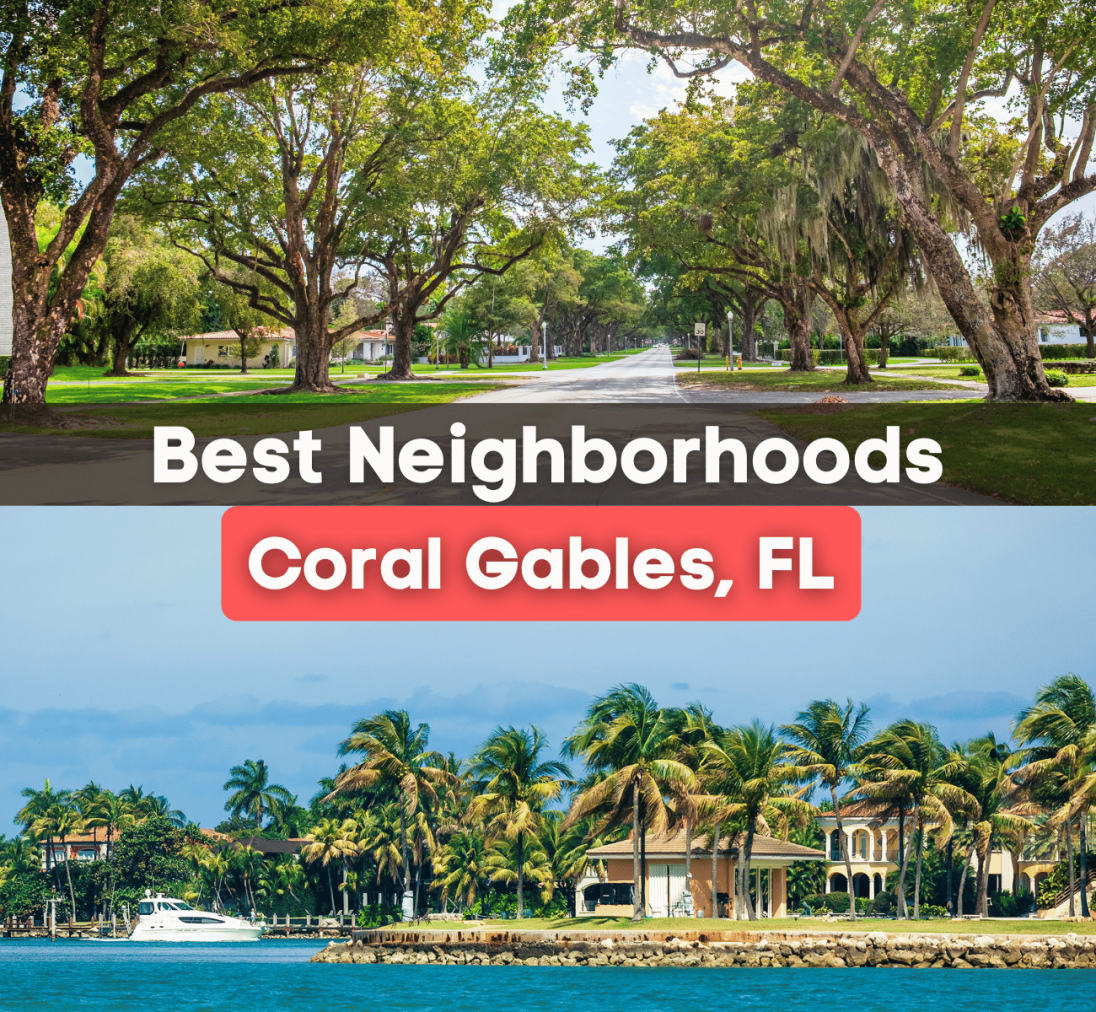 Best Places to Live in Coral Gables
If you are moving to Coral Gables, FL, you must consider living in one of these seven great neighborhoods in Coral Gables! 
Coral Gables has become a popular place to move to because it is a luxurious suburb of Miami. The population of this town is roughly 50,000 residents and keeps growing. Coral Gables is known for its luxury housing and stunning architecture throughout the city.
It was founded in the 1920s by George Merrick. The entire time Merrick was planning the development of this city, his sole focus was on the Mediterranean style of all plazas, parks, fountains, and homes! Coral Gables is lined with the most beautiful trees; they have ivy-covered mansions and some of the most historical landmarks, such as the famous Biltmore Hotel and the Venetian Pool.
Living in Coral Gables will allow you access to these charming locations and much more. Coral Gables is home to some of the best restaurants, shopping centers, parks, and more! All of these top-rated attractions attract plenty of new residents to the area. 
A critical factor in moving to a new town is finding a neighborhood that best suits your needs. Coral Gables is a luxurious development with some of the most impressive homes. Let's take a look at some of these neighborhoods!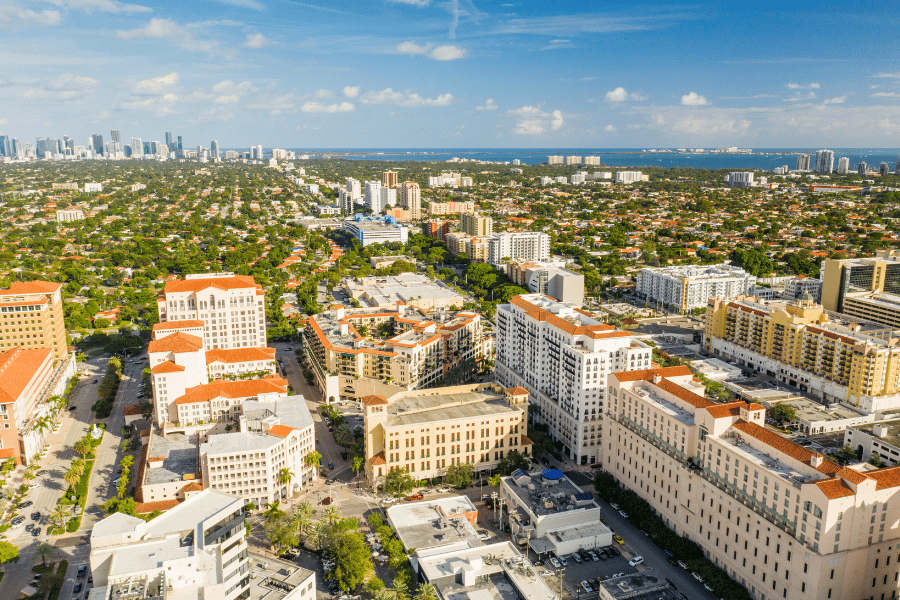 Here are seven of the best neighborhoods in Coral Gables!
Coconut Grove
This neighborhood is a highly sought subdivision when people are looking to move to the Coral Gables area. Coconut Grove is just east of Coral Gables, has beautiful scenery and a relaxed atmosphere, and is near Biscayne Bay. Coconut Grove is one of the oldest neighborhoods in the area and is sometimes referred to as "The Grove" by the locals.
If you are looking to move to a naturistic neighborhood that is nearby shops, boutiques, and top-notch restaurants, then Coconut Grove is the place for you! Residents living in Coconut Grove rave about this extraordinary village because it feels very private but is only minutes from the energetic streets of Miami.
Local Favorites:
Gables Estates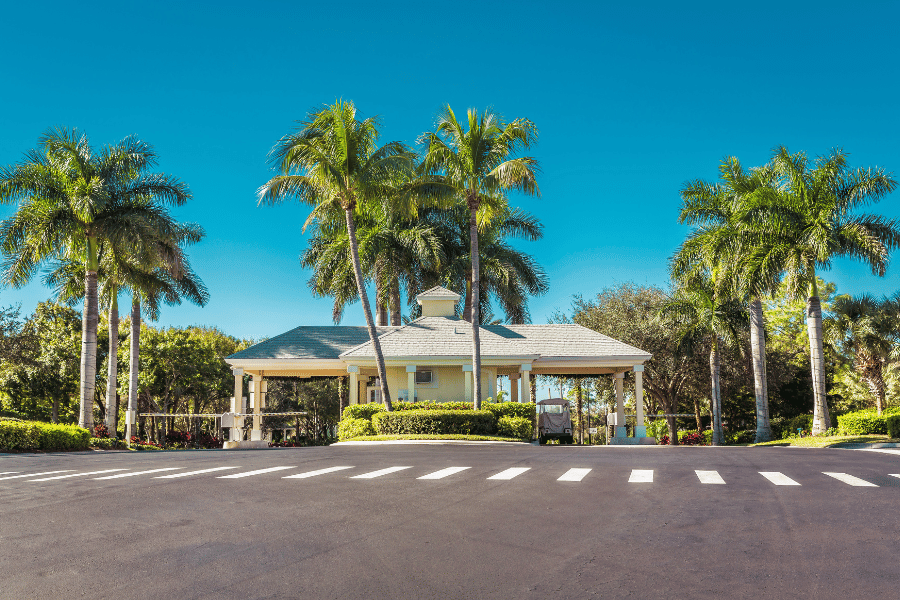 Gables Estates is a gated community in the southernmost part of Coral Gables. This neighborhood has just under two hundred mansions along the waterways connecting Biscayne Bay. On your front lawn, you can have direct access to the open waters and insane bay views.
This neighborhood is home to business executives, high-profile attorneys, and celebrities. Because of the history of this neighborhood and who its residents are, the HOA enforces strict standards. Some of these standards are letters of recommendation, a $75,000 deposit, and that new homes built are at least 3,000 square feet. 
This neighborhood is so private that it has security that patrols throughout the community and entry gates that are protected by guards 24/7. Each home has tropical landscapes, expansive pools, private docks, and entertaining outdoor areas.
Local Favorites:
Cocoplum
Cocoplum is also another prevalent gated community in Coral Gables. This neighborhood is a waterfront subdivision home to 300 stunning mansions, Tuscan-inspired villas, and modern estates. This community continues to be home to wealthy and elite residents. 
Cocoplum is known for its amenities. They have a private marina, a yacht club, a fitness center, tennis courts, a community pool, playgrounds, and a community clubhouse. Living in this neighborhood grants access to all these things to enjoy every day! This neighborhood has so much to offer and is a perfect place to call home.
Local Favorites:
Hammock Oaks
Hammock Oaks is one of the more prominent gated communities in Coral Gables. This neighborhood has over 100 homes that are all entirely custom-built, displaying architectural designs ranging from mid-century, Mediterranean, European, and contemporary. About half of the homes in Hammock Oaks are located on the lake at the heart of the neighborhood. These homes provide private docks and easy access to the water.
Hammock Oaks gets its name from Matheson Hammock Park, located adjacent to the neighborhood. Matheson Hammock Park is a green space full of canopies of mangroves and palm trees. Living in this neighborhood allows you to enjoy privacy and nature while only being minutes away from Downtown Miami.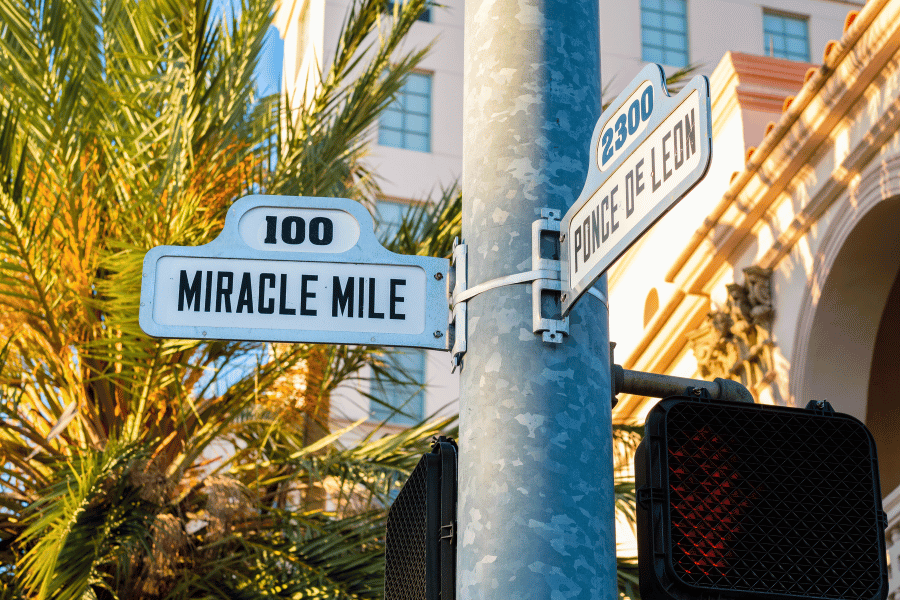 Local Favorites:
Sunrise Harbour
Sunrise Harbour is a community in the southern part of Coral Gables. This neighborhood is smaller than most of the other neighborhoods in Coral Gables. It is home to just 80 unique houses that are on the waterfront of Biscayne Bay or the inlets of the Coral Gables Waterway, 
Sunrise Harbour is known for its incredible views. Whether you are getting a picture of the beautiful waterways, or the Miami skyline, the views will not disappoint you! Another plus about living in Sunrise Harbour is that it is gated to provide privacy.
In this neighborhood, you will find huge yards and large floorplans. Most of these homes are the original structure, but many have been remodeled inside to give them a more modern, mid-century feel. Even though the interior of most of these homes has been updated, all the houses still provide a Mediterranean atmosphere that the entire Coral Gables has. 
Local Favorites:
Gables By The Sea
Gables By The Sea is one of the oldest and most established neighborhoods in Coral Gables. This community is full of beautiful mature trees creating the most fantastic scenery and atmosphere as you explore the neighborhood.
Gables By The Sea consists of ranch-style and multi-level contemporary homes on large lots. The interior of these homes is unique and adds so much character and value to the home. These designs include vaulted ceilings, imported stone, marble flooring, and much more. Some of the houses even have elevators! 
The neighborhood gets its name, Gables By The Sea, because of the inlets throughout the subdivision. Many homes have waterfront backyards where they can enjoy a private dock and easy access to Biscayne Bay.
Local Favorites:
King's Bay
King's Bay is located in the southernmost part of Coral Gables and is known for its tropical haven featuring luxurious homes and mansions. This gated community is protected and maintained 24/7 to give its residents a safe environment. The homes in King's Bay neighborhood are more modest-mid-century and ranch-style homes. 
Many of King's Bay's homes have water access and private docks located directly in their backyards. King's Bay also has a private marina that is available to the residents that live there. Living in King's Bay gives you a sense of resort-style living.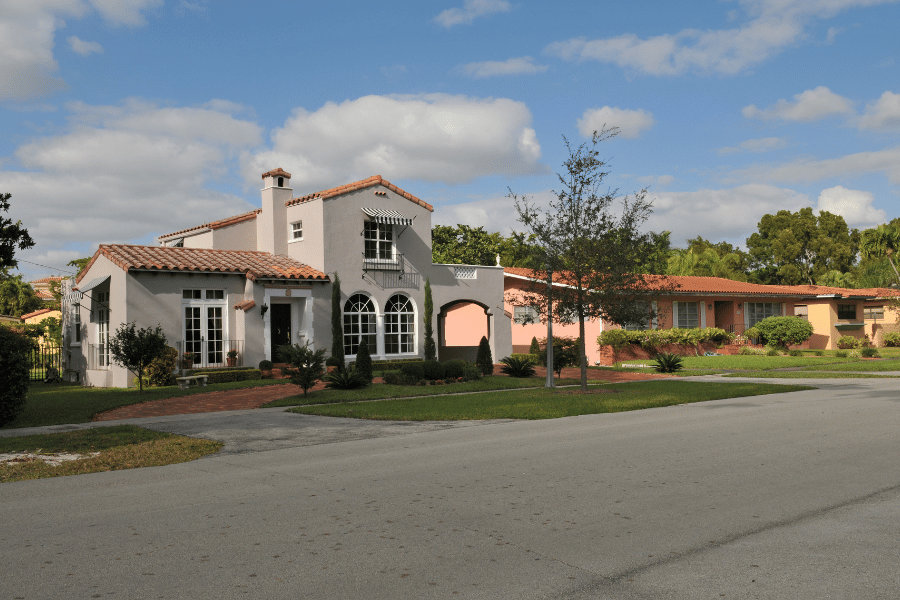 Local Favorites:
Best Areas to Live in Coral Gables - Final Thoughts
Coral Gables is a unique city that is just minutes from downtown Miami. However, Coral Gables has an entirely different environment and atmosphere than its neighboring cities. The founders and developers of the town worked hard to make sure the community had specific characteristics that would allow it to stand out from the other cities. 
Coral Gables is not called the "City of Beautiful" for nothing! It is a beautiful area full of beautiful homes and neighborhoods. There are so many great neighborhoods within Coral Gables city limits, so don't limit yourself! They all share the same Mediterranean feel (as does the entire town), but each neighborhood offers different views, sizes, parks, amenities, and more. 
When looking to move and purchase a home, it is essential to explore your options to see what is out there and available to you. Contact us if you want to connect with a real estate professional to help you navigate the buying and selling process! 
Check out our other local area guides: 
The Best Places to Live in Florida 

Find your new home
Search real estate and homes for sale