10 Things To Know BEFORE Moving To Coral Gables, FL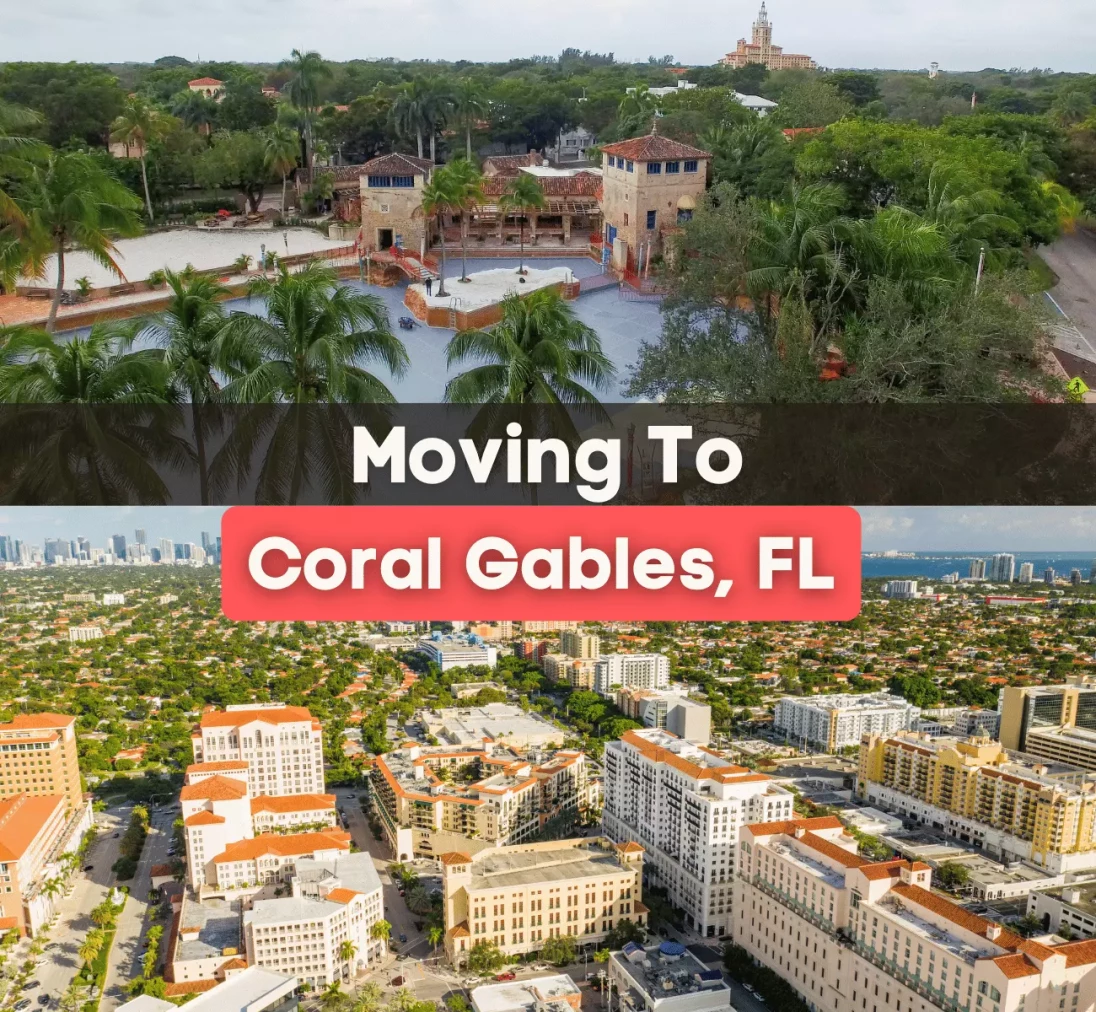 Living in Coral Gables
Are you considering moving to Coral Gables, FL, in the future? If you are, here are ten things you should know about life in Coral Gables!
If you are looking for a unique and eccentric place to live in, Coral Gables will be top of that list! Coral Gables is located just south of the well-known city of Miami. This city is known as "the city of beautiful" because of its well-designed development. As soon as you enter the city limits of Coral Gables, you will be greeted with a Spanish and Italian feel.
Developer George Merrick in the 1920s designed this city. It is full of Mediterranean Revival architecture complemented by charming plazas, parks, and fountains. Coral Gables is known for its ivy-covered mansions and is also home to world-famous landmarks such as Biltmore Hotel and Venetian Pool.
When moving to Florida, you may think that every town will look similar. Coral Gables is a city that'll prove that statement wrong! You will be amazed at this city and what it has to offer to its visitors and its residents.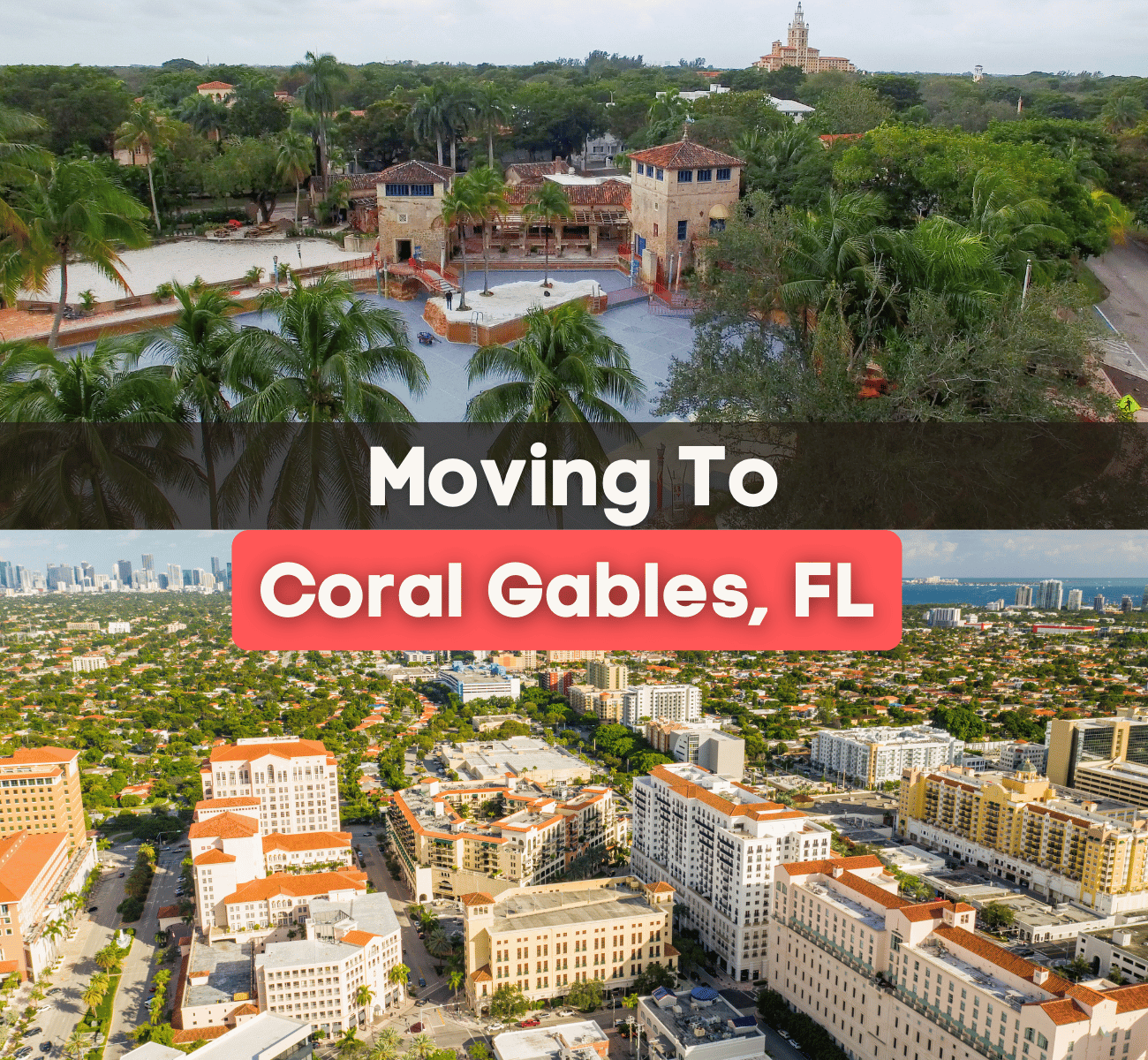 Here are the top ten things you should know about Coral Gables! 
History of Coral Gables
As mentioned earlier, Coral Gables was founded by George Merrick. He named the city "Coral Gables" because the home he grew up in was made of limestone, had a coral-like exterior, and had a gabled roof. Geoge Merrick funded the creation of the city, but his family members and friends helped design it and build it from the ground up.
Coral Gables is often described as the first planned city in the Miami area. George Merrick put all of his love and money into making this neighborhood what it is today. He used personal funds to plant the old trees that are still standing in Coral Gables today. He also had a tree nursery, where the Biltmore Hotel is located. 
The scenery of Coral Gables was all part of Merrick's plan. Today, you will see the 1920s Spanish architecture in jewel tones, Florida oaks, and lush greenery anywhere you look! It truly is a place to see and experience.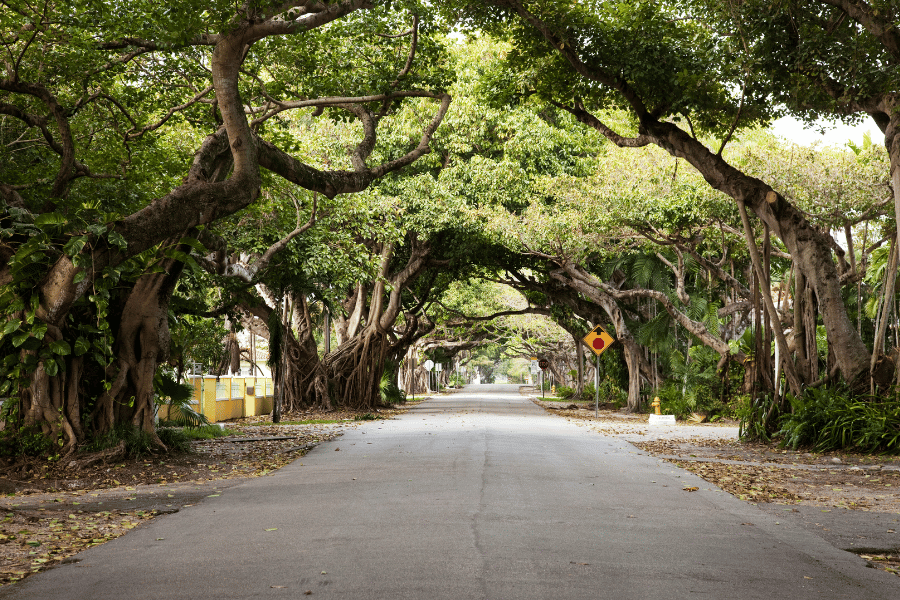 Cost of Living
When moving to a new area, the cost of living in that town can play a huge role in whether you live there or not. The cost of living in Coral Gables is expensive compared to its neighboring towns. Overall, it is estimated that the cost of living in Coral Gables is 16% higher than the national average, which makes it one of the more expensive cities in the country. 
| | | |
| --- | --- | --- |
| Category | Coral Gables | U.S. Average |
| Milk (1/2 gal) | $3.19 | $2.03 |
| Bread | $4.66 | $3.37 |
| Doctor Visit | $110 | $115.79 |
| Gas | $2.16 | $2.12 |
| Energy Bill | $151.49 | $165.76 |
Source: zerodown
Lately, the cost of living in Coral Gables has kept on rising. The most significant increases were found in transportation, food, and housing. However, it is essential to know that Florida is a tax-friendly state. This means you will not have to pay state taxes out of your paycheck, only federal. It helps provide more income for the essential cost of living purchases! 
It is also essential to consider the hot weather when moving to Florida. The long hot summers do have an impact on your cost of living, specifically your energy costs. You will likely have your air conditioner running most of the summer, which will cause an increase in your cost of living in those months.
Housing Market
Coral Gables has a population of around 50,000, which is smaller than the surrounding neighborhoods. This makes the housing market somewhat competitive. Fewer houses are going on the market than in a large city with a large population like Miami. However, waiting to find the perfect home in Coral Gables could be worth it because of the unique architecture and developments around the town.
At the end of 2022, 20% of Coral Gables' homebuyers were searching for moving out of the city, and 3% were looking to move to Coral Gables across the nation. The median home price is around $955k, 20% less than home prices in 2021. This shows that the costs of homes are starting to decrease, which is a good sign for those who want to move to Coral Gables.
In Coral Gables, Florida, homes sold for nearly 3% less than the asking price in November 2022. Homes usually sit on the market in this town for around 75 days before they sell. Coral Gables has only six neighborhoods, with single-family homes, condominiums, and apartments.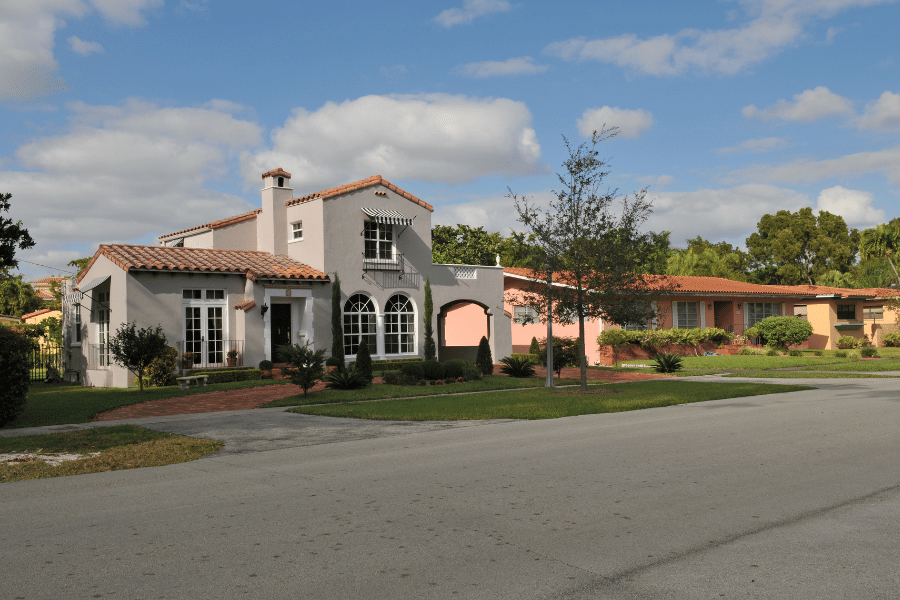 Job Market
Coral Gables is home to a vigorous downtown area with a significant employment center for local and international businesses. Coral Gables is also located near the University of Miami, which is always looking for new talent to hire. 
Some prominent roles are Office and Administrative Support, Executive/Managers/Administrators, Sales, Business and Financial Operations, and the Food industry. Coral Gables has 86,000 employees 23% are blue-collar, and the other 76% are white-collar.
The top two industries in Coral Gables are Professional, Scientific, and Technical Services and Banking, Finance, and Insurance. If you are seeking a job within these industries, Coral Gables is the place for you! Other leading industries are Health Care and Support services. 
Education
Coral Gables is part of the Miami-Dade County Public School District. This school district is the nation's fourth largest and serves over 330,000 students! There are 11 public schools within city limits, one public school per 4,628 people. Here are the top-rated public schools in Coral Gables.
On top of the variety of public schools, Coral Gables has a handful of highly rated private schools. Some of the most desired private schools in the area are Gulliver Academy, Riviera Schools, Saint Philip's Episcopal School, Saint Theresa Catholic School, and Saint Thomas Episcopal Parish School. 
Crime Rate
With Coral Gables being a smaller city, crime rates seem more prominent since residents per square mile measure them. Data from 2020 show that the total crime rate in this city is 4% higher than the national average. However, it is 74% less than the national average for violent crime. Property crime is what increases Coral Gables' overall crime. 
Even though the crime rate is higher than the national average, there are still safe parts of Coral Gables. The crime rate is higher if you live in the North East of Coral Gables, the area closest to Miami. If you live in the South East part of Coral Gables, the crime rate is much lower and it is considered the safer part of the city. 
Restaurants
Coral Gables is home to exceptional restaurants and establishments. If you are moving to the area, visiting, or currently living there and would like to know what the top-rated places to eat are, here is a short list of some local favorites.

Parks & Museums
You can access more of Coral Gables' parks at their community website. 
Visit the Venetian Pool
This aquatic facility is unlike any other in the country and is one of the main tourist attractions for those visiting Coral Gables. Venetian Pool was opened in 1924 as a casino. George Merrick, the founder of Coral Gables, created the pool. George Merrick wanted to build Mediterranean Style homes throughout Coral Gables. He got the limestone used for these homes from a quarry pit. The quarry became the pool, and it has transformed into a paradise! 
The pool was renovated in 1989 and is now one of the best places to visit. The history behind this pool is explained more in-depth as you walk through the entry fountain and look at the historical pictures! This destination is something everyone should experience in their lives. It is just that cool and beautiful!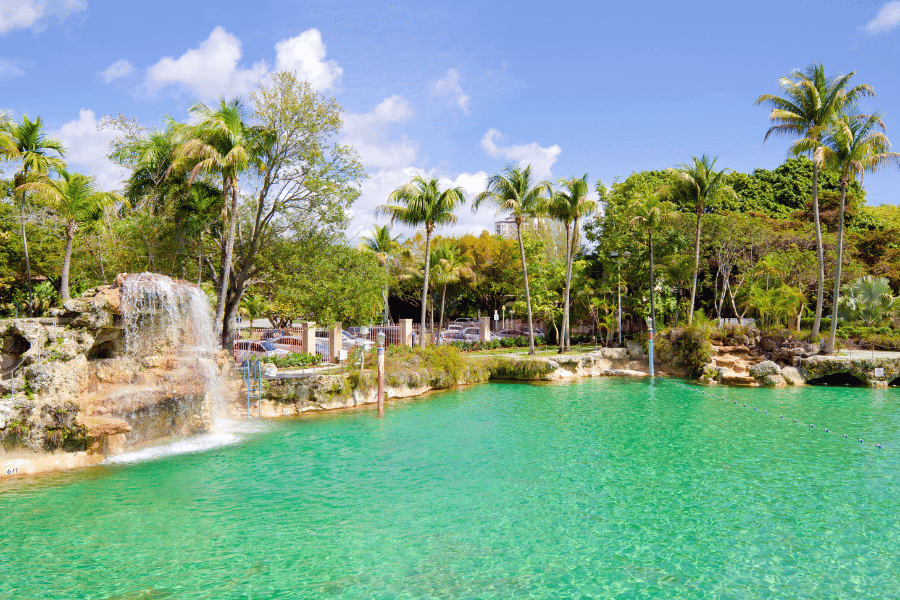 Stay at the Biltmore Hotel
This hotel is one of the most elegant National Historic Landmarks in the Coral Gables and Miami area. It sits on 150 acres of tropical landscapes and features Mediterranean architecture with Italian, Morrish, and Spanish influences. Biltmore Hotel has 271 rooms that, includes 174 suites. 
This luxury hotel has been a favorite for world leaders and celebrities since 1926. You will find Donald Ross's 18-hole, 71-par golf course, tennis courts, a European Spa, a modern Fitness Center, and the most prominent Hotel Pool on the East Coast! 
You can also enjoy the hotel's dining destinations that, include Fontana. This restaurant is a traditional Italian restaurant surrounding the Biltmore courtyard and fountain. You may also take hands-on cooking classes for adults and children! 
Living in Coral Gables - Final Thoughts
As you read through the ten things about Coral Gables, you can understand why so many people love this town and want to live there. This city is lovely and very unique compared to neighboring towns. The homes in Coral Gables are all different in their way and are well worth the purchase. 
Not only does Coral Gables have astonishing architecture throughout the entire city limits, but it also has the most fantastic history! Wherever you look, you will be able to experience its history firsthand. Coral Gables is also home to some stunning historical buildings, as we mentioned earlier! These places should be high on the "must-visit" list! 
Whether you are considering moving to Coral Gables or want to visit, you will have must-try restaurants, beautiful scenery, fun parks, shopping centers, and so much more! 
If you or anyone you know is considering living in Coral Gables, contact us today to connect with a Real Estate professional who can help you find your dream home! 
Make sure to check out our other local area guides, including: 
The Best Places to Live in Florida 
The Best Neighborhoods in Miami 
The Best Neighborhoods in Fort Lauderdale 

Find your new home
Search real estate and homes for sale