7 Best Neighborhoods in Cambridge, MA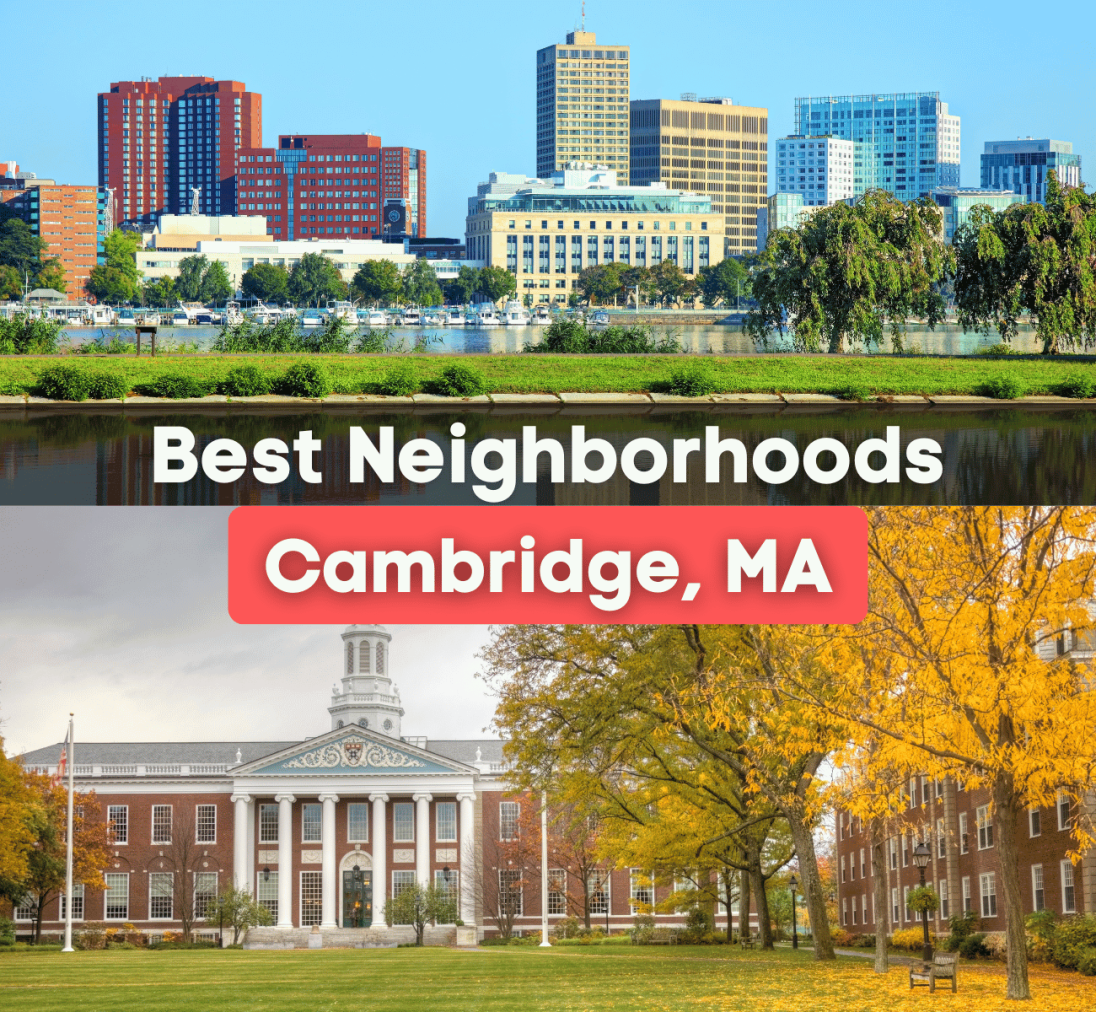 Best Places to Live in Cambridge
Are you looking for a great place to live in Cambridge, MA? Check out these best places to live in Cambridge, along with local favorites!
Located just 20 minutes from Boston lies the charming city of Cambridge, MA. Known to be an excellent place to live in Middlesex County and one of the best places to live in Massachusetts. Cambridge is attracting many young professionals, college students, families, and retirees to the area. As the home of two world-class universities, Harvard University and the Massachusetts Institute of Technology, Cambridge has made a name for itself as a unique city of academic excellence and success.
While Cambridge may be centered around its top learning institutions, there are many fun things to do for people of all ages. Famous for its rich history, youthful atmosphere, and wide selection of museums, Cambridge is worth visiting and moving to. Ranked as the fourth wealthiest city in the New England region and among the 10th wealthiest cities in the northeast, Cambridge is an affluent area that maintains the same quality of living as Boston.
If you are moving to Massachusetts, then you should know where you should live. Thanks to the city's lower crime rate, there are plenty of safe and friendly neighborhoods to choose from in Cambridge that will fit any lifestyle. Surrounded by many family-friendly areas and college student hangouts, this neighborhood guide was created to help you find the best place to live in Cambridge by outlining the city's top neighborhoods and discussing local favorites.
Read more about the seven Best Neighborhoods in Cambridge, MA!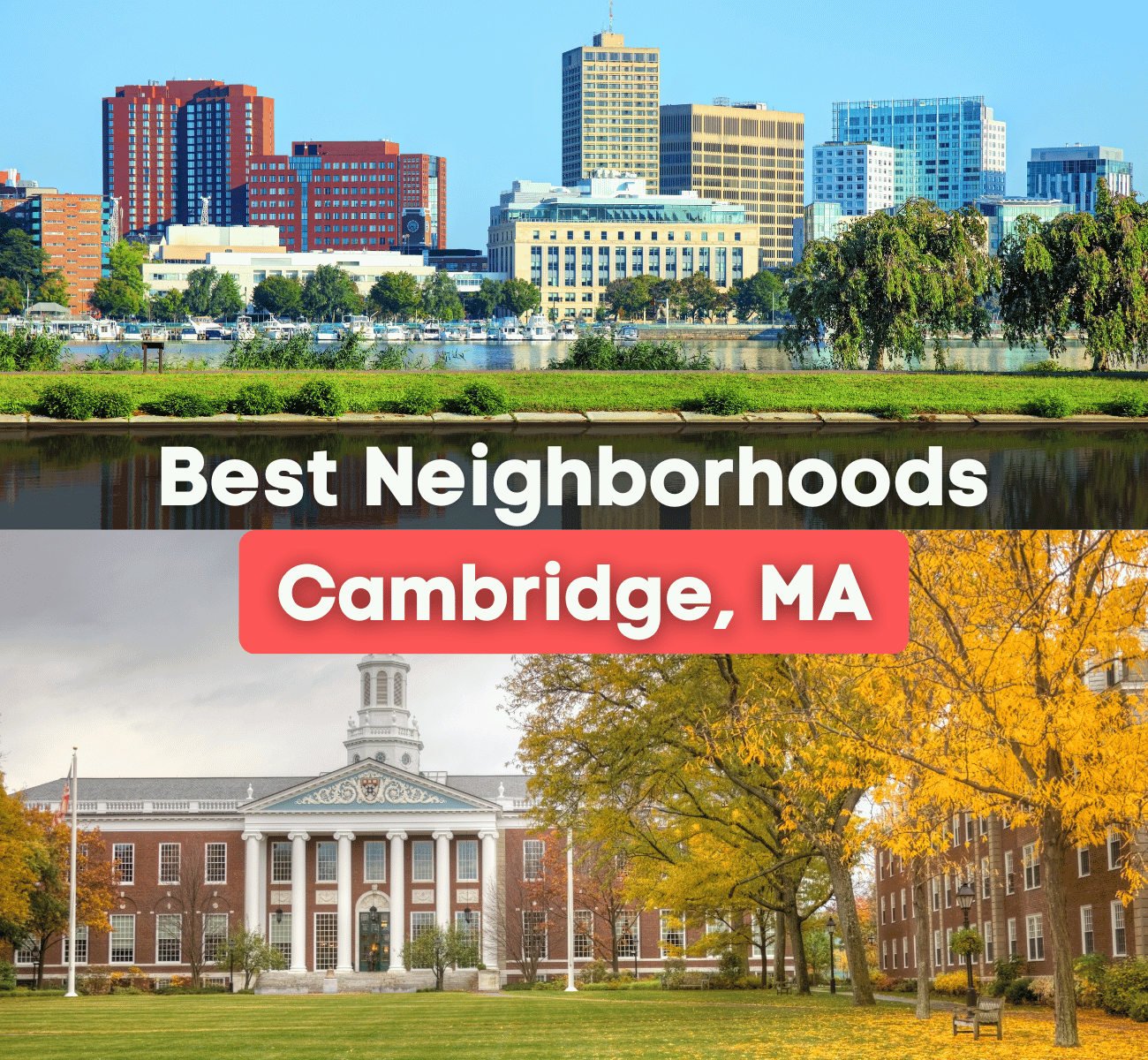 Cambridgeport
The neighborhood of Cambridgeport is found near the Charles River and Massachusetts Avenue. Described as a unique neighborhood, Cambridgeport has many things to offer its residents, including a safe and cozy atmosphere. Made up of historic single-family homes, traditional triple-decker-style homes, and industrial buildings, this picturesque residential neighborhood is one of the city's most coveted places to live. While the housing prices in Cambridgeport may be exceptionally high, its prime location, excellent safety rating, and family-friendly environment make it a great place to live. Plus, with top-rated local restaurants that line the streets and a large selection of parks and green spaces, Cambridgeport is beloved by many in the Greater Boston area.
Local Favorites:
The Pheonix Landing: This modern Irish pub serves excellent food and a wide selection of beer and cocktails.
Veggie Galaxy: Specializing in vegan and vegetarian dishes, this old-school diner always serves delicious food. Make sure to save room for dessert.
Middle East Restaurant and Club: This small and intimate club and restaurant is a famous rock venue that features indie bands and underground artists.
The Mad Monkfish: The best place in town to dine on sushi and Pan-Asian dishes. Make sure to order the spicy tuna and the wonton noodle soup.
Andala Coffee House: This Arabic coffee house serves all-natural menu items in a cute and cozy atmosphere. There is also an extensive tea selection for those not in the mood for coffee.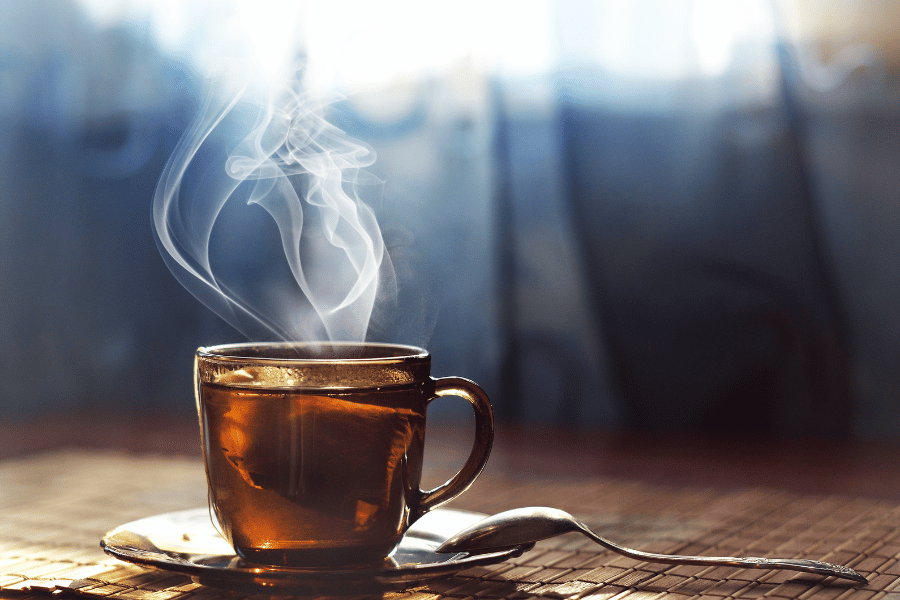 North Cambridge
Also known as Area 11, the neighborhood of North Cambridge is found near Porter Square and the Fitchburg Line Railroad. Covering 0.85 square miles in the northern part of Cambridge, this neighborhood is home to over 11,000 residents and welcomes many diverse backgrounds. Featuring housing types that range from small condos and apartment communities to large single-family homes, there is plenty of property types to choose from. Many young professionals and families are moving here, providing residents with a dense urban way of life. With easy access to public transportation, an abundance of parks and walking trails, and a highly-rated school system, North Cambridge is a top choice for residents to call home. Plus, with a high safety rating and well-lit streets, it is easy to see how North Cambridge is considered one of the best places to live in Cambridge.
Local Favorites:
Frank's Steak House: A local hot spot since 1938, this steak house is known for its excellent food and great prices.
Season to Taste: Opened by a "Top Chef" alum, this French eatery uses only the freshest ingredients to create quality dishes. Make sure to order the truffle fries.
Summer Shack: This New England fish house serves quality seafood in a fun atmosphere. The clam chowder is always a fan favorite.
Cafe Barada: Offering both dine-in and takeout, this small cafe serves authentic Lebanese food at reasonable prices. There is even outdoor seating available.
Gustazo Cuban Kitchen and Bar - Cambridge: Dine on delicious Cuban food, small vegetarian plates, and delectable desserts.
East Cambridge
Located near the Charles River on the east edge of the city lies the beautiful neighborhood of East Cambridge. Known to be a good area home to over 12,000 residents, this is one of the oldest residential neighborhoods in the city. Adjacent to the Massachusetts Institute of Technology, East Cambridge is home to many commercial buildings, offices, research labs, and college apartment buildings. Considered a prominent manufacturing area, this neighborhood has remained a lively and flourishing business district and commercial center for decades.
Providing its residents with a dense urban environment, many young professionals are drawn to the area for its many job opportunities, top-rated restaurants, cozy coffee shops, and public parks. Plus, ranked as the fourth-best neighborhood in Cambridge to raise a family, East Cambridge is a safe place to live with an above-average school system. For those moving with school-aged children, the top schools in East Cambridge are Boston Latin School, Cambridge Rindge and Latin School, and John M. Tobin Montessori School.
Local Favorites:
Cafe Beatrice: Get your fix of freshly brewed coffee, tasty pastries, and breakfast classics in a comfortable space. The danishes are a go-to menu item.
9Zaab Thai Street Food: Dine Thai street food, noodles, and hot pots in this authentic restaurant.
Lone Star Taco Bar: This hip Mexican cantina is known for its delicious tacos and many tequilas. Make sure to order the fish tacos and spicy chorizo tacos.
The Lexington: Serving burgers, fries, and craft cocktails in a chic and laid-back atmosphere. This is truly a hidden gem in Cambridge that is one to notice.
2nd Street Cafe: Serving hot breakfast sandwiches, classic breakfast dishes, soups, and salads on weekdays.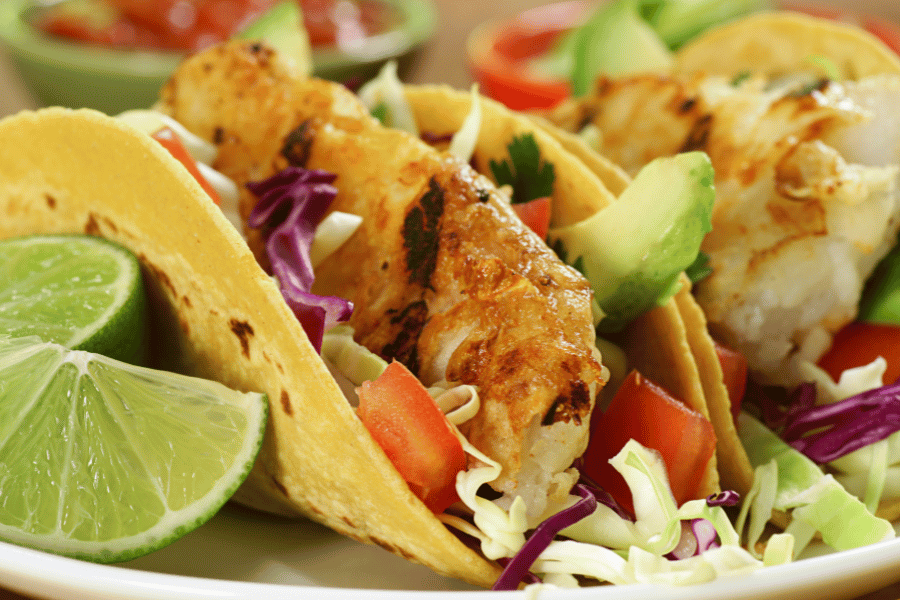 West Cambridge
Also referred to as Neighborhood Ten, West Cambridge is located near the Charles River on the west side of town and is home to over 11,000 residents. Only about a 13-minute drive to Downtown Boston, West Cambridge is a prime location that attracts many young professionals and families. Offering its residents an urban atmosphere, West Cambridge is one of the best places to live in Middlesex County due to its high safety rating and large stately historic homes.
Surrounded by American history, West Cambridge is home to the Longfellow House, owned by famous poet Henry Wadsworth Longfellow and used by George Washington in the Revolutionary War. Plus, known to be a friendly place to live with many safe and tranquil parks and dog-friendly areas, it is no surprise that West Cambridge is such a sought-after neighborhood. Even though housing prices are notoriously high, the top amenities and highly-rated public schools available to residents make the high prices worth it. West Cambridge is one of the best places to live in Cambridge.
Local Favorites:
The Red House Restaurant: Featuring a farm-to-table menu, this highly-rated seafood restaurant is known for its fantastic atmosphere and award-winning food options. Make sure to order a cocktail with your meal.
The Hourly Oyster House: Located in Harvard Square, dine on freshly caught seafood and sushi.
Talulla: Known for its rotating dishes and 5-course meals, this chic and intimate restaurant is a must-try in Cambridge. Make sure to check out the truffle-tasting menu.
Alden and Harlow: Specializing in New American food and craft cocktails, this is a must-try for brunch and dinner.
Harvest: Serving seasonal New England dishes in a beautiful garden courtyard.
Agassiz
Located between Porter Square and Harvard Square in Cambridge lies the neighborhood of Agassiz. Also referred to as Area Eight, this residential neighborhood covers a triangular area and contains a large part of Harvard University. A top place to live for college students, professors, and young professionals, the neighborhood of Agassiz is a unique place to live that is home to over 7,000 residents.
Made up primarily of large historical Victorian-style homes, academic buildings, and newly renovated student housing options, there are many property types to choose from when buying a home in Agassiz. Agassiz is one of the best places to live in Cambridge and Middlesex County, full of many local eateries, taverns, coffee shops, museums, and home goods stores. Not to mention, Agassiz offers its residents an urban feel and has some of the best public school opportunities in the city.
Local Favorites:
Harvard Museum of Natural History: Located on the Harvard University campus, this natural history museum features extensive collections of artifacts and intriguing exhibits.
Peabody Museum of Archaeology and Ethnology: Known to be one of the oldest and largest museums in the Americas that focuses on anthropology and archaeology.
Cambridge Common Restaurant: This relaxed and laid-back American restaurant features live music nightly and a wide selection of food and drinks. Make sure to order the mac and cheese.
Cafe Mami: Located near Harvard's campus, this Japanese restaurant serves authentic favorites, including noodles, curry, and steak dishes.
Stoked Pizza Co. - Cambridge: All pizzas are homemade and delicious. There are vegetarian and vegan options available.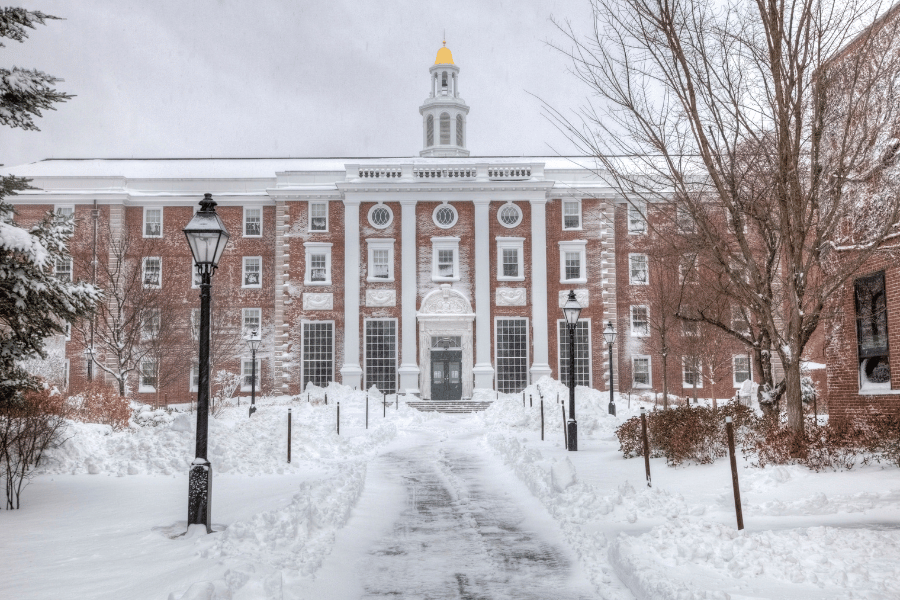 Mid-Cambridge
The residential neighborhood of Mid-Cambridge is home to a growing population of over 16,000 people. It is considered one of the best places to raise a family in the Cambridge area. Also referred to as Neighborhood Six, Mid-Cambridge comprises mostly historical Victorian-style townhomes and traditional wood-frame single-family homes. Home to Harvard Yard, the center of Harvard University and Central Square, this neighborhood has bookshops, boutiques, and cafes. Praised for its high walkability and bike-ability, many residents that live in Mid-Cambridge choose to walk or bike to and from work.
Local Favorites:
Pammy's: Serving homemade pasta and other authentic Italian dishes.
Moona: Specializing in Mediterranean bites and great wine.
Life Alive Organic Cafe: An excellent option for vegetarian and vegan eaters, this cute cafe serves healthy and organic salads, wraps, and smoothies.
Mr. Bartley's Burger Cottage: A favorite student hangout spot for good burgers and fries after class.
Shanghai Fresh: Enjoy seasonal Shanghai-style Chinese food.
Wellington-Harrington
Also known as Area Three, the neighborhood of Wellington-Harrington is home to Inman Square and Kendall Square and is located near Hampshire Street and Broadway. Known to be an extremely safe place to live both day and night, this neighborhood is home to over 10,000 residents and welcomes people from all cultural backgrounds. Featuring many high-tech offices and companies, highly-rated restaurants, local retailers, and movie theatres, there is always something to do when living in Wellington-Harrington. For those moving with school-aged children, some of the top schools in the area include Wellington Elementary School and Charles G. Harrington Elementary School.
Local Favorites:
Orale Mexican Grill: Get your tacos, quesadillas, churros, and other Mexican favorite dishes in this counter-service spot.
The Smoke Shop BBQ: Serving a variety of smoked meats and barbeque, including pulled pork and brisket.
Mamaleh's Delicatessen Cambridge: This famous Jewish deli is located in Kendall Square.
Earnest Drinks: Enjoy ice cream sandwiches, cobblers, and other desserts.
Puritan and Company: Serving brunch and dinner, this New England-style restaurant is the go-to spot for excellent service and American cuisine.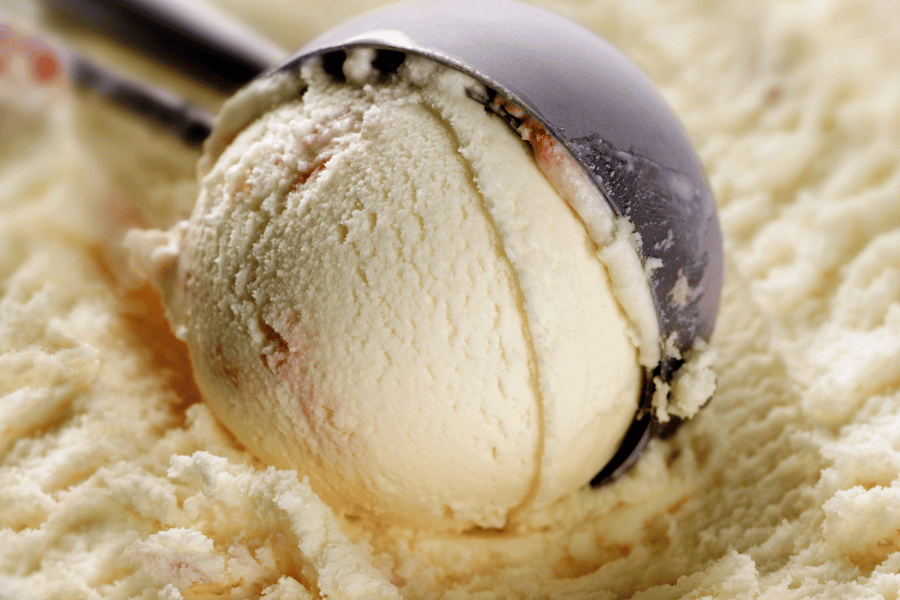 Best Places to Live in Cambridge, MA - The Bottom Line
Whether you are looking for a historical single-family home or student housing near one of the two world-class universities in the city, Cambridge has a variety of neighborhoods and housing options to choose from.
Known to be a safe community and an excellent place to live, there is a place for everyone looking for a home in Cambridge. Before moving to Cambridge, contact our Realty Specialists to help you with your neighborhood search and home-buying journey. Contact us today!
Make sure to check out our other local area guides with information about the best places to live, including the best neighborhoods in Boston, the best neighborhoods in Newton, the best neighborhoods in Lexington, the best neighborhoods in Northampton, and the best neighborhoods in Salem! 

Find your new home
Search real estate and homes for sale